GAZ-69
. It was also used by the Warsaw pact and exported, but replaced in the late 1950s and 1960s by a new generation of better protected amphibious armoured vehicles.
Design Development
The experience of World War II showed the strengths and weaknesses of Soviet military equipment, as well as its shortcomings in combat. For examplke the army lacked any amphibian vehicle (that is unarmoured, there were two light amphibious tanks in service, the T-37 and T38). But the need for amphibious trucks and cars was not identified yet. So USSR received many of such vehicles under Lend-Lease, notably the four-wheel drive Ford GPA and the six-wheeled DUKW trucks. During the counter-offensive of operation Bagration in June 1944, they helped crossing rivers in Eastern Europe. This assault capability offered by these vehicles was noted and immediately after the war, the new Stalin's long-range rearmament plan included amphibians alonsgide other softskin staff vehicles and trucks.
Mainly interested in a light military commander's car, capable crossing water obstacles and operate alongside amphibious trucks and armored vehicles, the study of the DUKW led to the design of the
ZIS-485
, acronym "BAV" (ZIS was the manufacturer) and with the prototype trials success, it was soon apparent the same could be done for the 4x4 "SEEP" (Ford GPA) as well, using similarly an available light 4x4 chassis.
General Design
The GAZ-46 thus retook most of the Ford GPA design, but replocated with the components and assemblies of the mass-produced GAZ-69 which was available at the time and judged the best suioted for this conversion. The vehicle was given a special waterproof metal hull for extra buoyancy, with boat-like features fore and aft, and got a propeller linked to the main propulsion. Like the original, the crew compartment was open air. There was no roof but a tarpaulin, usually folded back, but which can be quickly mounted on arches, covering the entire crew compartment from the windshield to the back. On the forward part of the vehicle, inclined to 45°, a winch was installed as well as two large headlights and a small complartment for marine equipments (small anchor, ropes). There was also a mooring post, and two attach points aft. The driver and co-driver were seated behind a retractable windscreen. Behind them was located a 3-4 seat bench.
The flanks of the boat-like hull was flat, with a more rounded front for better penetration, but straight back which was easier to produce. Both doe rigidity and help stability, there were several built-in ridges. These horizontal lines ran along the entire length, interrupted by the wheels arches. A single step at the middle helped access to the compartment. A spare wheel is mounted on the rear part of the hull. Under it was located a tunnel for the single propeller's protection against any shocks. There was a large white light headlight on the left and right front of the hull forward.
Engine and Performances
The GAZ-46 shared the same four-cylinder engine as the GAZ-M20 Pobeda, with its transmission and suspension borrowed from the GAZ-69. PThe vehicle had a four wheels configuration, on two spring-suspended axles, front and rear and wheel arches embedded in the hull.
Afloat, the GAZ-46 was powered by its three-blade propeller, driven by a cardan shaft from the transfer case. Direction was changed by the rudde, located aft of the propeller and manned by the driver, with a steering wheel cable-driven, via a coil mounted on the steering wheel shaft. The GAZ-46 most distinctive feature where its wheels of the run-flat tire type, strickly waterproof. It has a front engine, rear drive configuration and part-time 4×4 in effect due to the crank case and drives configurations.
The driver had on its instrument panel a tachometer and warning light in case there was water seeping in the hold when swimming. In any case, the body was divided by two bulkheads making a bow, middle and stern compartments. The PTO propeller was driven by a power take-off system.
Overall the GAZ-46 MAV was heavier than the Ford GPA at 1,850 kg versus 1,647 kg, slower on road at 90 km/h against 105 km/h and larger at 4930 mm - 1900 mm - 1770 mm in lenght, width, height. It could carry two men in forward, driver and co-driver, three at the back however (or even four), versus one forward, three back for the GPA. The 2112cc four-cylinder (compression ratio 6.2:1) delivered 55 hp at 2800 or 3600 rpm depending on the sources and 170 nm @ 1400 rpm. It was served by a 3-speed manual gearbox, 2-speed transfer case. With its PTO drive it had a swimming speed of 9 km/h but unknown range. This was enough for 90 kph on road, and a range inferior to 500 km. The vehicle was indeed equipped with two fuel tank of 45 liters each, with Fuel type A-72. Fuel consumption was 15 to 22 liters to 100 km.
Production and Operators
The GAZ-46 manufacture started in June 1951 under the name of GAZ-011 at the Gordky automotive plant. Pre-production comprised 68 vehicles which were abundantly tested in front units, revealing scores of defects and issue leading to further imprpvements and fixes, and still as more were reported, the initial improvement turned to be be a total overhaul of the design, ending as the GAZ-46, which final model production started in 1953 until 1958.
It ended in 1958 when the GAZ-69 production was transferred to UAZ. Since the vehicle shared many elements, GAZ until then was tasked for assembling the GAZ-46 and 68 at the same timùe but in a close facility. UAZ however lacked the facilities to assemble the GAZ-46, and given its relatively low demand (and limitations), production was terminated.
The vehicle was called in service either GAZ-46 and more commonly MAV-46 in ordnance (Russian "малый автомобиль водоплавающий" or "small floating car"). It was used by the Soviet Army in Europe, with units expected and trained to cross rivers during any offensive to the west in a smilar fashion as during the 1944-45 counter-offensive to Berlin. Production enabled to passe on vehicles to Warsaw Pact countries as well, but only East Germany and Czechoslovakia. Further use details are unknown. It seems they were retired from use around 1965-68 and apparently only took part in the Vietnam war with the NVA, as sole export. Overall between the laborious development, inferior caracteristics to the Ford GPA and short production run, it seems the vehicle was not very successful overall.
If production ceased in 1958, it's unlikely these vehicles were still around in the 1970s as a brand new generation of amphibious armoured vehicles replaced them in the same role. Apart the PTS which replaced the BAV-485, the GAZ-46 had no successor. As of today, thise which survived passed into the civilian sectors were seen valuable for use in swampy areas, rivers and lakes, and many were resoled after the fall of USSR, "transformed" as would-be Ford GPA by collectioners to be resold or used in reenacments. Many are still running today for this reasons, in the west and east. For the anecdote, one was featured in a spectacular chase in South America in the featured film Indiana Jones IV - Kingdom of the crystal skull.
Specs GAZ 46 4×4 amphibious jeep
Dimensions:
507 x 173,5 x 179 cm (200 x 68 x 70 in)
Wheelbase:
230 mm (91 inch)
Total weight, battle ready :
1270 kg (GVW: 1770 kg), 2600 kgs gross weight
Tires :
4
Crew :
2 +3
Propulsion:
Ft. engine, rr. drive 4×4, 4-cyl pet. 2112cc 55 hp, PTO drive
Speed :
90 km/h (55.9 mph), 9 kph (5.6 mph) swimming
Range (road/off road) :
240 Miles, 20 gal. tank (2×45L)
Payload :
3,000 pounds
Production
Circa 2,000 ?
Sources
Andreev, Konstantin. GAZ-46, "Avtolegendy SSSR" Nr 100, DeAgostini 2012
René Pohl: Mit dem Auto baden gehen. HEEL Verlag, Gut-Pottscheidt Konigswinter 1998
Best article by far: en.topwar.ru
krasnayazvezda.com
armyrecognition.com
ru.wikipedia.org
www.gaz-69.com
en.wikipedia.org
autocart.biz
russianarms.mybb.ru
russianarms.ru
fr.nextews.com
encyclopedie-des-armes.com
autoclassics.us
On armedconflicts.com
More photos
dbpedia.org
motor-car.net
volocars.com
milweb.co.uk
Author's Renditions

Basic vehicle, tarp folded.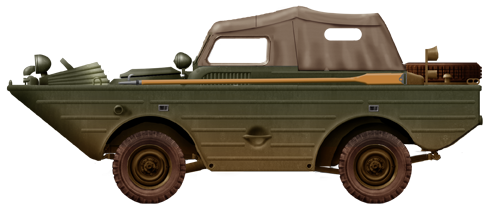 GAZ-46 with Tarpaulin
Gallery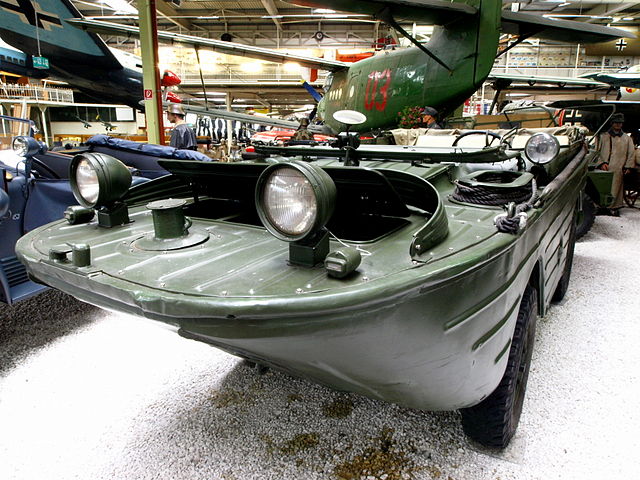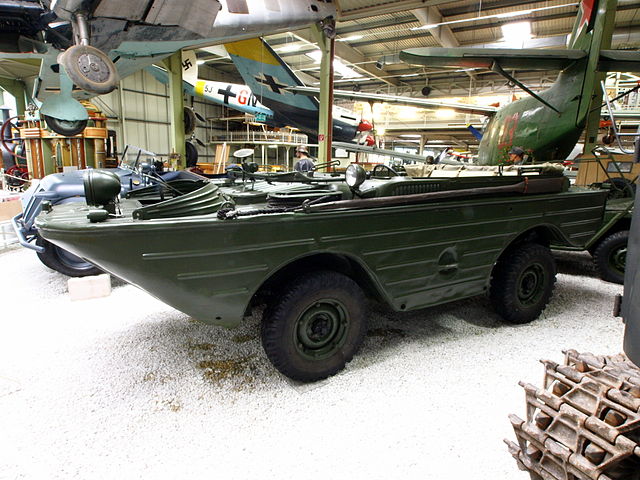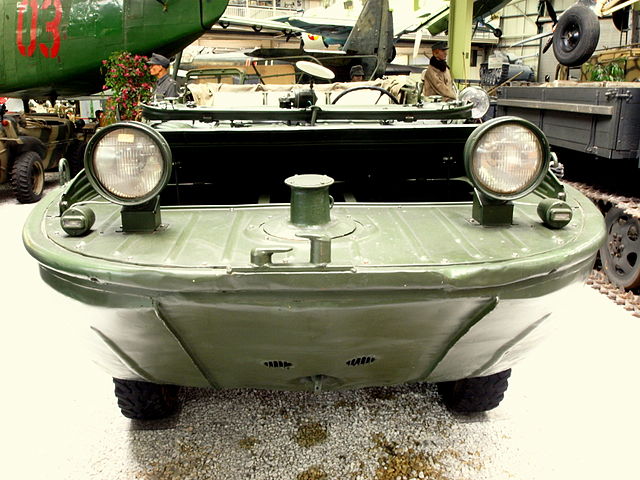 Vehicle on display at sinsheim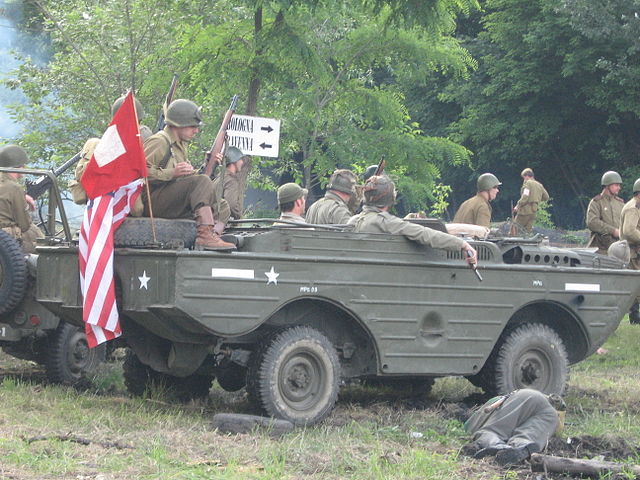 Vehicle maskeraded as a GPA at Krakow (VII aircraft picnic, 1945 elbe battle reenacment)
---
Axis Trucks

Purchase this pagemarker and support the site !
Sd.Kfz 2, 6, 7, 8, 9, 10 and 11 were half-tracks designed just before the war as prime movers, to carry supplies, ammunition, personal, and tow artillery. Many were also converted during the war as armored versions carrying AA FLAK guns (Flakvierling, 37 mm, or the legendary 88 mm Rheinmetall als used as tank hunters), or were converted as nebelwerfer (rocket launching armored vehicles). They were built by Hanomag, Steyr, Mercedes-Benz, Bussing and many other manufacturers until 1945, over 20,000 half-tracks.
---
Cold War & Modern Vehicles
Modern Trucks