Boeing Phantom Badger (2013)
The Boeing Phantom Badger, simply called the "Badger" is a combat support vehicle (CSV) made the joined efforts of MSI Defense Solutions and Boeing. It was tailored to be carried inside the V-22 Osprey's hold, and was worked to have the best of light materials and compact, modular construction, plus general versatility to fit all sub-missions profiles. Unlike most of comparable "offers", the Badger avoids non-standard equipment which is odd, while still amanging to keep its cost low. Officially certified for USN aviation it was also tested by the USMC's Spec Ops and USAF. It came after the M1161 Growler also designed as an
Internally Transportable Light Strike Vehicle
or "ITV-LSV" for the V-22 Osprey.
Development of the Boeing Phantom Badger Program
About the V-22 Osprey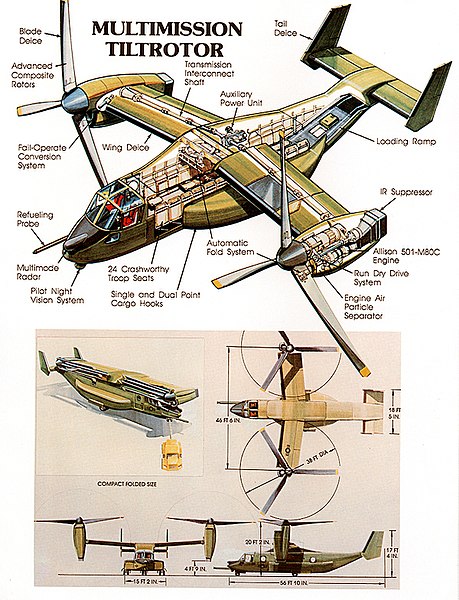 Despite long, controversial and difficult development, the V-22 is today a proven, reliable (with an undue reputation that was debunked since) and only large tilt-rotor aircraft operational anywhere. The whole program started in 1980, after the failure of
Operation Eagle Claw
the attempt hostage recue during the Iran hostage crisis in 1979. The staff quickly identified a need between conventional helicopters nor fixed-wing transport aircraft. The DoD then initiated a program for such innovative transport aircraft combining long-range, high-speed, but still vertical-takeoff and landing capabilities. In 1981 this was made into the Joint-service Vertical take-off/landing Experimental (JVX) program. At first Bell Helicopter partnered with Boeing Helicopters rather than entering competition due to the scale of what was to be developmed and in 1983 the V-22 tiltrotor aircraft was drafted and a model presented. Bell-Boeing signd an agreement for the production also and the first flight intervened in 1989 and commenced the long phased of tests and alterations which spanned most of the 1990s.
The United States Marine Corps started training eventually in 2000 with the MV-22B and it was first deployed by 2007, in place of their old CH-46 Sea Knights. That was nearly 22 years after the need was expressed, whocing the complexity of it. The USAF soon also fielded its own CV-22B in 2009. The Osprey also was tested in transportation and medevac operations in Iraq, but also Afghanistan, Libya, and Kuwait. The USN followed suit with the CMV-22B deployed on carrieroperation by 2021. Its is currently to be fielded on all amphibious assault transports with flight decks, with or without hangars, making for a further 41 years after the program was imagined, making one of the longest and most complex program ever. Now a new tilt-rotor, the Bell V-280 Valor, is poised to replace the "Hawk" S60 family in the 2030s if all goes well as a "little brother" of the heavy duty V-22.
The V-22 large bay was roomy enough to carry 24 troops (seated), 32 troops (floor loaded), or 20,000 lb (9,070 kg) of internal cargo, 15,000 lb (6,800 kg) of external cargo in a dual hook, like a Hummer vehicle, and internally the M1161 Growler ITLSV. And this was done at 305 kn (565 km/h; 351 mph) over 879 nmi (1,012 mi, 1,628 km) in one swoop, 390 nmi (450 mi, 720 km) in combat or even 2,230 nmi (2,570 mi, 4,130 km) on Ferry range.
Development of Boeing's ITVLSV
Not a company known for its four-wheeled conveyances, Boeing created the Phantom Badger with the aide of North Carolina-based MSI Defense Solutions. The process, from first computer design to running prototype, took only six months. MSI applied its expertise in off-road racing, Nascar and Formula 1 to develop the Badger's suspension and four-wheel-steering systems, and is presently handling the design and fabrication of the interchangeable mission modules.
The Phantom Badger is tough, but it is no armoured personnel carrier. It was designed primarily for expeditionary missions, where speed and maneuverability matter – just like the original Jeep. And like its heroic grandfather, the Phantom Badger will be a game-changer on the modern battlefield, able to go places and do things the outsize Hummer never could.
Although contracts with the US Department of Defense and other governments are in the works, Boeing has plans for the Phantom Badger that extend beyond the battlefield. The vehicle lends itself to fire-fighting, law enforcement, search and rescue and other applications. And how about a civilian version? "Absolutely, yes," says John Chicoli, Boeing's Phantom Badger program manager. "It is a commercial vehicle, and Boeing will gladly have a discussion with anyone is interested in purchasing Phantom Badgers for their collection or personal use." For now, however, Badger pricing remains classified.
General caracteristics
As Boeing states on its own website:
Boeing's latest technology is robust yet sleek, versatile and speedy, and it doesn't even leave the ground.
To increase its capabilities Boeing turned to a team of NASCAR-experienced engineers. To test the Phantom Badger engineers took it four-wheeling in North Carolina, and off-roading in the Nevada desert.
A small company in North Carolina, MSI, developed the Phantom Badger's shocks and suspension to tackle the challenging terrain and obstacles military customers would encounter.
"This is a vehicle that will last the customer a long time, and we truly think this weight class of vehicle closes a big capability gap," said John Chicoli, Boeing's Phantom Badger program manager.
The Phantom Badger is compact – just 60 inches wide – and, with four-wheel steering, it is highly manoeuverable. The setup gives the vehicle a turning circle of just 24ft – fully 10ft tighter than a Mini Cooper's. Such agility is particularly valuable in urban environments, where the ability to make tight turns and slip through narrow alleys can change the outcome of a battle.
In designing the Phantom Badger, amid the usual military concerns for battlefield capability and occupant protection, Boeing remained conscious of such factors as mechanical simplicity, global parts availability and field serviceability. So the vehicle is light on expensive futuristic technology, and heavy on proven, commercially available hardware. It embodies, says Boeing spokesman Garrett Kasper, "the best of what's out there today – tires, lug nuts, seatbelts, you name it."
Powerplant & Mobility
Like the original jeep, which employed a version of the Go Devil L-head engine from Willys' civilian Americar line, the Phantom Badger makes use of the 3-litre turbo-diesel V6 from the Jeep Grand Cherokee. The engine – which can run on JP-8 jet fuel as well as diesel – produces 240 horsepower and 420 pound-feet of torque, sufficient to enable the four-wheel-drive Badger to reach a breezy 80mph on paved surfaces.
Tactical Mobility is of course a king feature here: It is both amphibious and transportable by nearly anything. On 8 April, a series of torture tests including form-fit checks, pressure trials and structural evaluations had the US Navy officially certifiing the Badger for transport inside the Bell Boeing V-22 Osprey, also confirming US Marine Corps/USAF possible needs. Of course, the C-130 and CH-47 Chinook helicopter could carry two with room to spare, while the C-17 could have ten. It is considered also for the refurbished Waco CG-4 glider if a new one was to be produced.
Armament
The Badger's real trick is its extraordinary versatility. The vehicle is designed to accommodate a variety of mission-specific rear modules. Boeing has designed 10 so far, including packages for reconnaissance, combat search and rescue, casualty transport and explosive ordnance disposal, along with mounts for such weapons as a .50-caliber machine gun and a 40mm automatic grenade launcher. Modules attach to the Badger body with six bolts at six connection points, and are interchangeable in the field in 30min or less.
Protection
There is none basically, the best weapon is is speed. However Boeing announced modular packages were a possibility, to accomodate composite add-on panels either sets composite armor panels, composite ERA style boxes, or BAR armor depending on the needs, as well as smoke dischargers for active concealement. There is some IED/Mine protection as the driver's seat and passenger's are on suspended cradles.
⚙ 2014 specifications

Dimensions
180 x 60 x 60-65 in. (457 x 152 x 165 cm.)
Weight
7,850 lb (3,402 kg) base curb weight
Suspensions
Independent 4×4
Payload
3,356 lb (1,587 kg)
Engine
3L multifuel (DIESEL/JP8) turbocharged V6, 21 Mpg
Performances
Top speed 134 kph (83 mph), 450 miles (724 km)
Armament
Ring mount, general purpose (48 types)
Tactical Diameter
32ft (9.75 m) 2WD, 24.5 ft (7.47 m) 4WD
Tactical Mobility
4x4. Carried internally by V22 Osprey, see notes
Crew
1 driver +6 passengers depending on config.
Status
The development of the Phantom Badger was done by the
Special Pursuits Cell
at Boeing Phantom Works (hence the name) in six months from initial design to finished product reasdy for initial tests. Boeing and MSI Defense Solutions (North Carolina) combined their expertise in NASCAR for lighweight structures and power transmission for this new tactical vehicle. The vehicle completed a gruelling 5,000 miles (8,046 km) test runs in April 2014, and several airdrops from a C-17, followed by a production order in a new facility in Mooresville, North Carolina, including the mission modules. Andrew Wizorek, MSI's design engineer and program manager declared his experiences at Joe Gibbs Racing came in handy in this, as well as to fit inside the V-22, as NASCAR models are also heavily regulated in size and weight.
As for 2023, so ten years after the vehicle was made ready for testing, it was validated for naval use from 2021. It was subsequently validated also for the USMC and USAF. However there is little to now information to confirm the use of the vehicle post 2015.
Read More/Src
On breakingdefense.com
On wired.com
On army-technology.com
newatlas.com
Boeings's page
More news on Boeing's site
Illustrations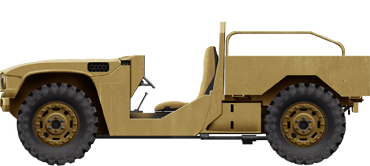 .
Photos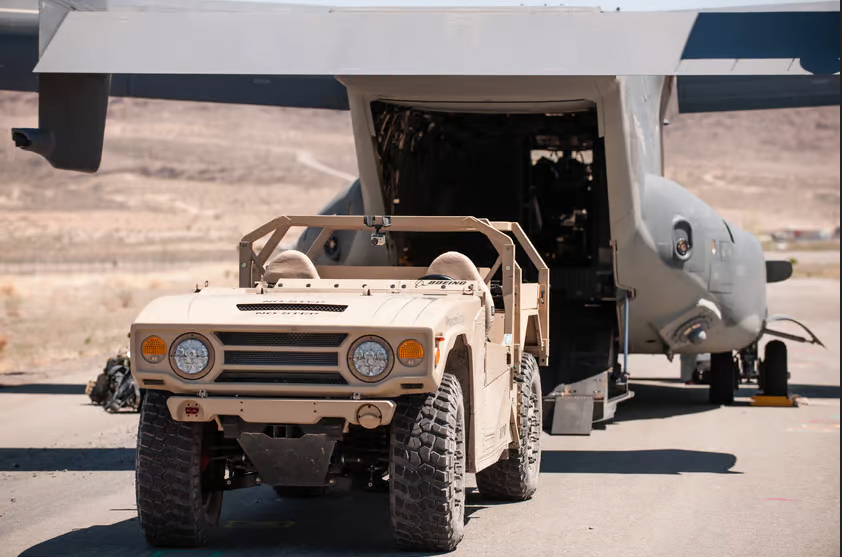 Boeing Phantom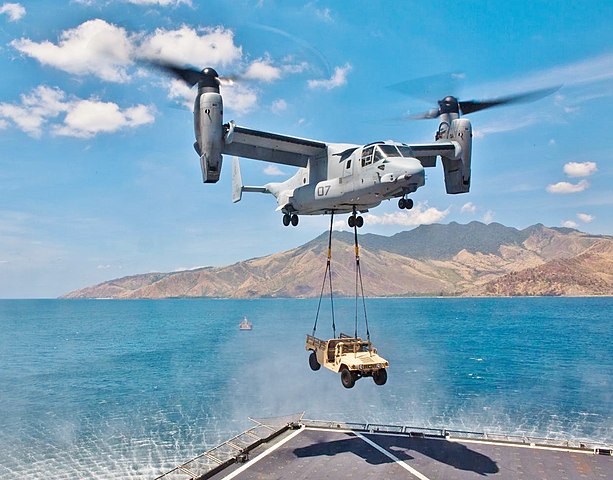 V22 lifting a HMMV frim USNS Sacagaewa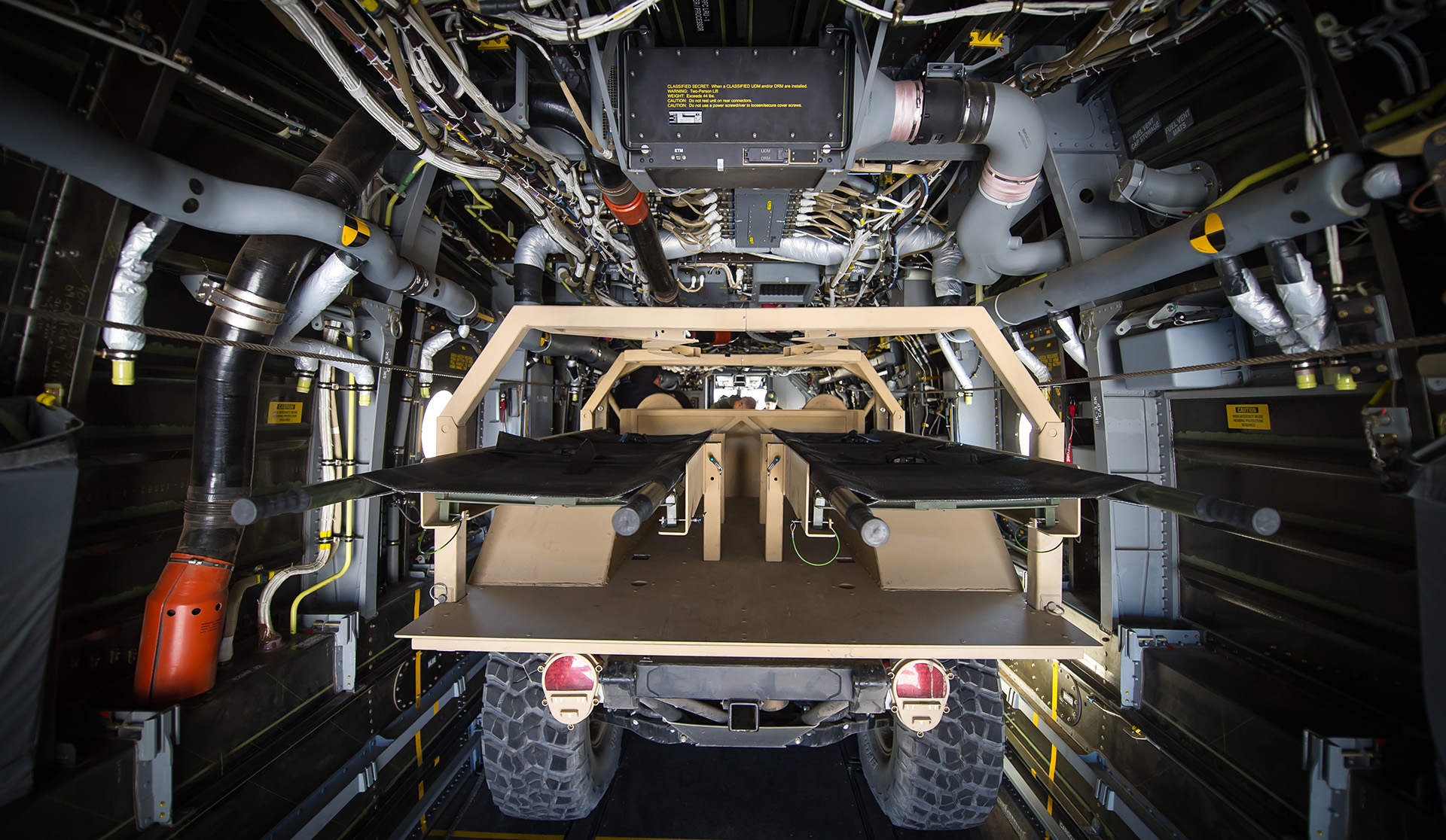 Badger inside a V22 Osprey's hold
Videos
The Badger 120mm mortar carrier version at AUSA 2014.
---
Axis Trucks

Purchase this pagemarker and support the site !
Sd.Kfz 2, 6, 7, 8, 9, 10 and 11 were half-tracks designed just before the war as prime movers, to carry supplies, ammunition, personal, and tow artillery. Many were also converted during the war as armored versions carrying AA FLAK guns (Flakvierling, 37 mm, or the legendary 88 mm Rheinmetall als used as tank hunters), or were converted as nebelwerfer (rocket launching armored vehicles). They were built by Hanomag, Steyr, Mercedes-Benz, Bussing and many other manufacturers until 1945, over 20,000 half-tracks.
---
Cold War & Modern Vehicles
Modern Trucks