The Vietnam era "Jeep"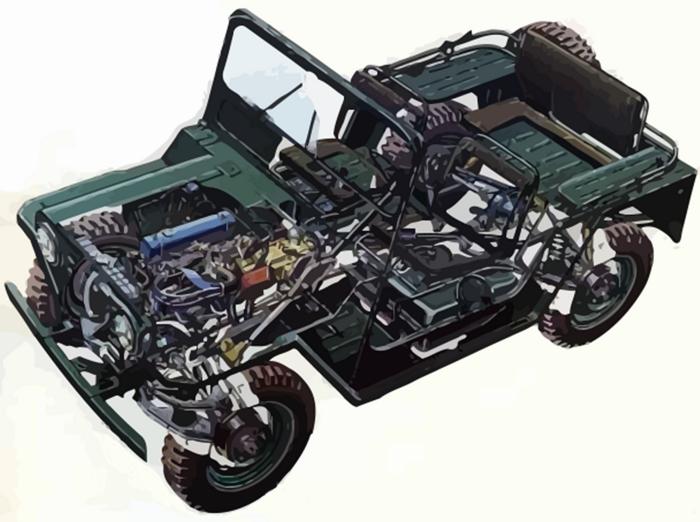 Cutaway, origin unknown
Although the iconic Willys model still was a familiar sight in Vietnam, notably with the South Vietnamese (ARVN) army, the type was considered already obsolete and reserved to some rear échelon units. Instead, and together with the M38, and later the Marine's tiny "mighty mite", the M151 Mutt was really the last "jeep-like" light tactical vehicle of the US Army. For the next generation, studied from the 1970s, it's the Hummer that came out from the process, still the main LTV today.
To process to get from the M38, still very close to the original Jeep, to the much more advanced M151, was long and interesting by itself. It was issued as a programme to replaced the M38A1 very early on, in 1951 when the Ford Motor Company was given a contract to develop a new vehicle called the "Military Utility Tactical Truck" or "MUTT", to replace at first the WW2 legacy MB Jeep and in turn, as production went on, the M38.
Ford did not went very far and proposed a new vehicle which structure was made a bit lighter, yet stronger, and with a robust gasoline home engine. It was engineerd with mass production in mind but also modularity. The base principle of a doorless "bucket" type vehicle was kept, with large openings for easy access, relatively low for pasengers to jump in and out. However the 1950s with their new regulations and specifics led to many new systems to be installed, notably new specific blackout lights. Still, the vehicle featured the same typical vertical louvres calander and folding windhield.
The first prototype was tested by Ford through most of the fifties and that including all kings of gruelling all terrain and all weather/temperature tests, load tests, and tactical transport tests, until the Army standardized the Ford final prototype into the M151, keeping its designation acronym MUTT when production was approved by 1959. A production contract was awarded in 1960 for the 1st batch to be evaluated in all active units, over 10,000 vehicles.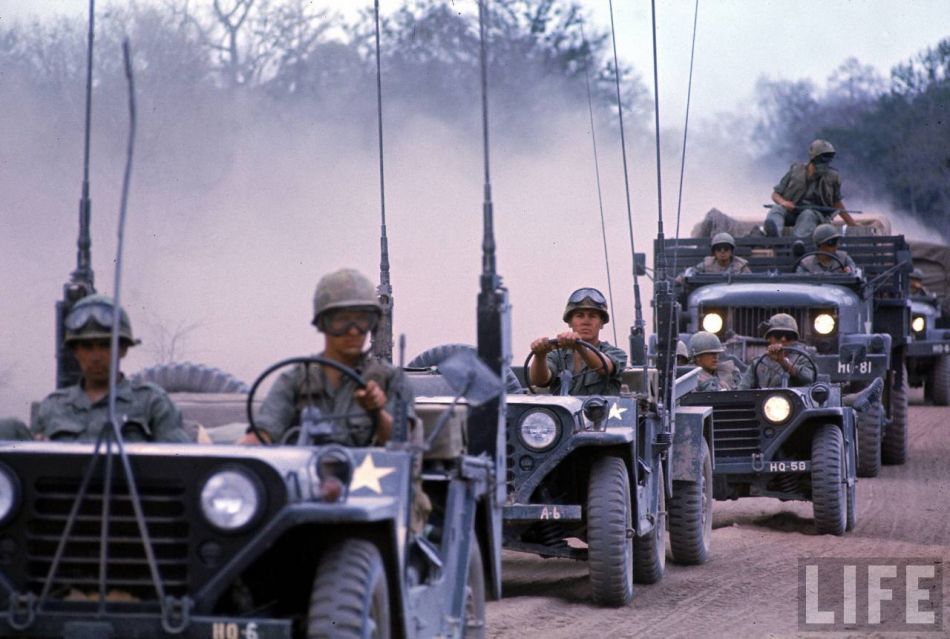 LIFE Magazine: M151s in Vietnam
After the Willys MB and the subsequent Willys M38 (CJ3) were showing their age in the military, of course also due to World War II, the American military decided around 1959 to replace the vehicle fleet with one "Military Utility Tactical Truck". Thus the Ford MUTT with the Army internal designation M151 got its nickname and the Army a life-threatening vehicle - but more on that later. Although the Ford MUTT M151 looks very similar to its predecessors, it is a completely new and, above all, differently constructed vehicle. While the predecessors had ladder frames, rigid axles and leaf springs, the MUTT was designed with a self-supporting body, independent wheel suspension and coil springs. The Ford MUTT is not a JEEP because only vehicles of Willys origin may legally be called JEEPs.
The technical data of the basic type of the M151: Powered by a 2.2 liter 4 cylinder with 72 hp and a manual gearbox with 4 forward + 1 reverse gears and selectable 4WD. The top speed is 65 mph/112 km/h, but with a tank capacity of 17 gal/72 liters you shouldn't drive too fast, as consumption is between 15 and 18 liters. With dimensions of 132.7 inches (3.37m) in length, 64 inches (1.63m) in width and 71 inches (1.80m) in height, the term "tactical truck" should probably not be taken literally, as it is also heavy more like a Golf II with an unladen weight of 1088 kg and a permissible total weight of 1633 kg and a payload of 0.25 t off-road.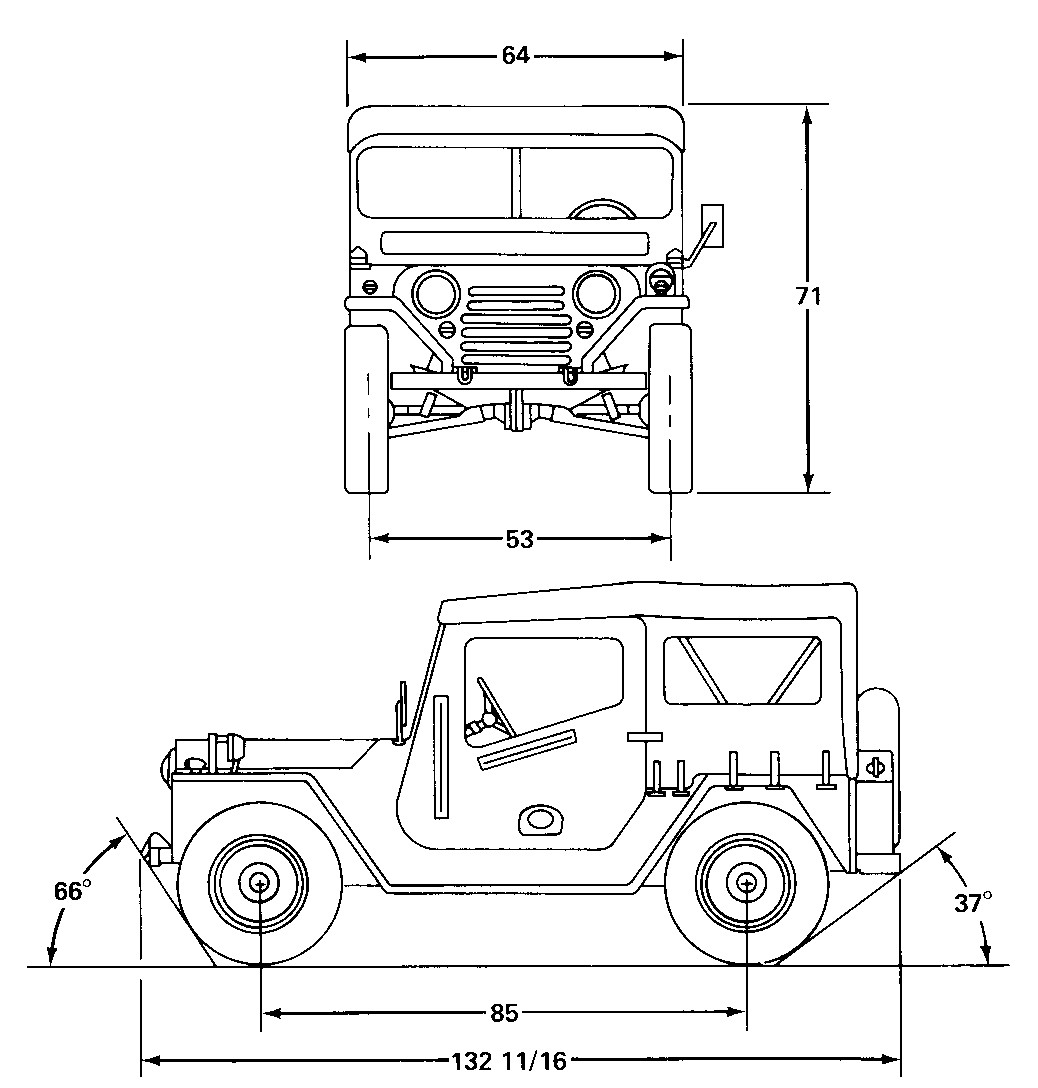 There were improvements compared to the Willys MB in the electrical system (6 volts, except for the radio truck), because all M151 were equipped with 24 volts. There were hardly any changes in the wading depth of 21 inches (0.53m) and then 60 inches (1.52m) with the deepwater kit, so the max. 4 people got wet almost up to their necks. The Ford Mutt was built in the years from 1960 - other sources speak of 1964 - to 1976 - there are also voices that say up to 1986 - not only at Ford, but also at Willys/Kaiser and AM General and a total of approx. 100,000 Supplied for various armies, the US Army received the largest part. And now to the dangerous thing about this vehicle:
In use, the new M151's powerful engine (at least 6 hp more than the Willys MB), the direct steering, the new type of suspension and the relatively light weight soon proved fatal (we remember the video at the end of the Willy MB story). With its rear wishbones, there were countless rollovers with many injured and dead. The original M151 was a safety hazard for inexperienced drivers when cornering at high speed, especially with the rear axle unloaded.
The M151A2 got a semi-trailing arm rear axle from about 1970, which alleviated the problem, in addition, several vehicles were equipped with roll cages. (We know this problem in a weakened form from the Iltis of the German Armed Forces). In the Army, it was mandatory to watch an educational film about the "dangers of jeeps" before moving these vehicles. The questionable driving characteristics prompted the US Army to gradually phase out the M151 as part of its renewal program. The US Army therefore decided that an M151 should never fall into civilian hands.
From 1973 onwards, the chassis of all decommissioned M151s were cut up with welding torches - countries that had received M151s through military aid also followed this form of demilitarization. The components that remained intact, such as the engine and transmission, were installed in new chassis by some companies, but significant production figures were never achieved. This is also due to the fact that the cut chassis were repaired outside the army - the army then completely destroyed the bodies. You can see what has become of it at the well-known dealers of ex-army vehicles... Today it can still be found occasionally in some armies, e.g. e.g. in Israel. The US Army still has a few M151s in its inventory for reasons of tradition.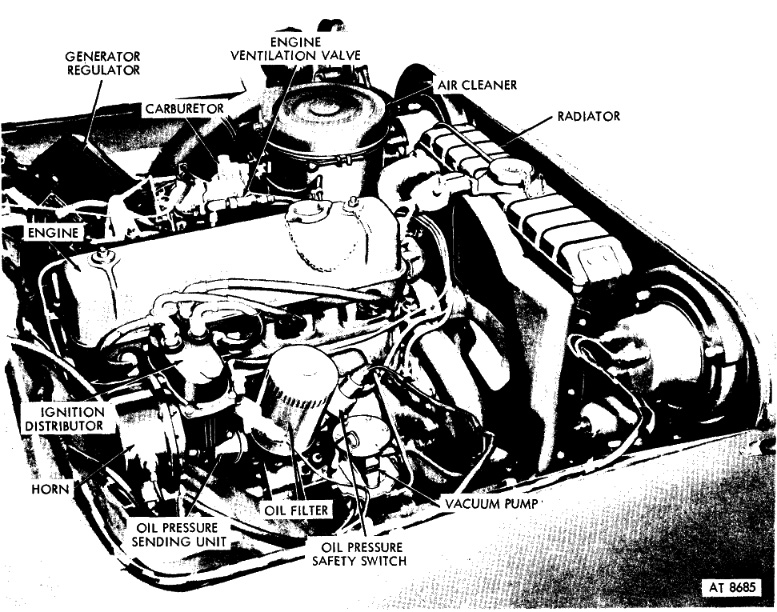 M151 Engine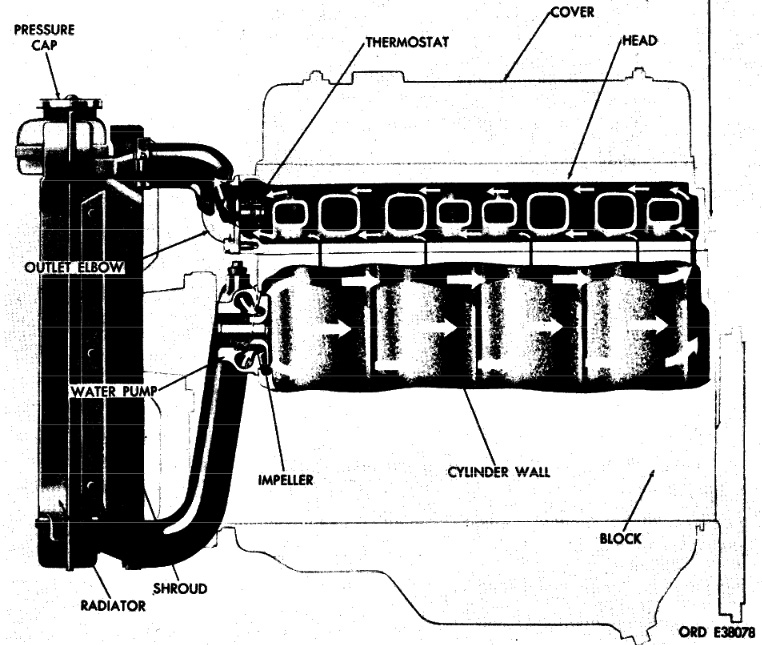 Engine Cooling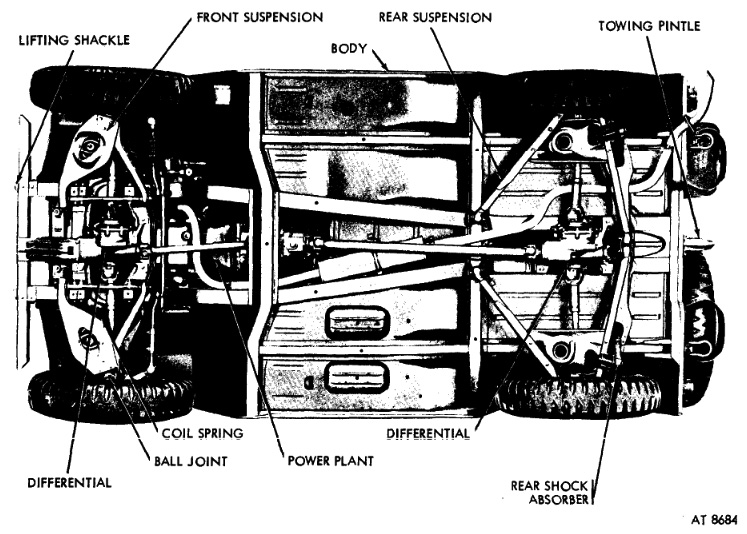 Detail of the chassis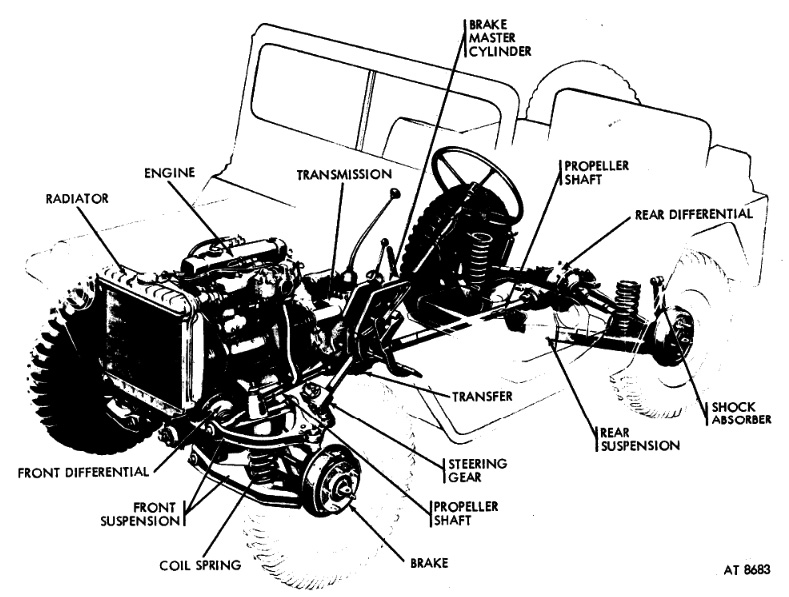 Interior scheme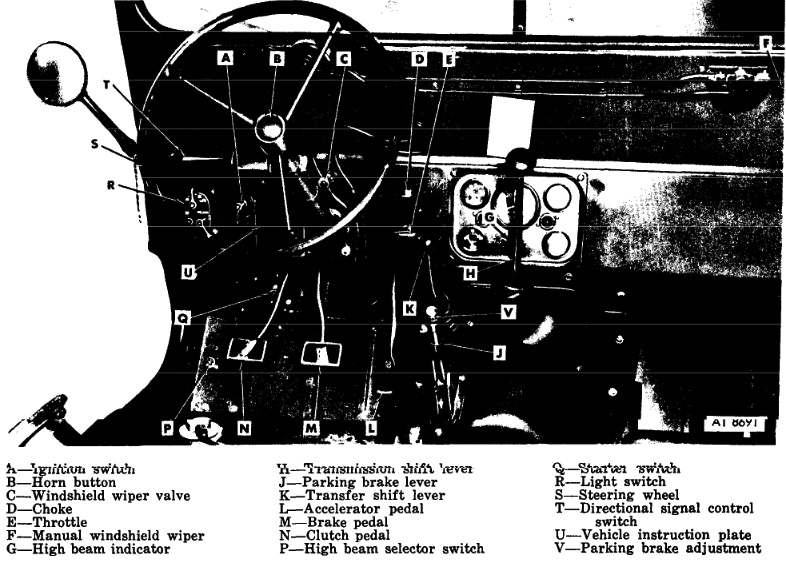 Dashboard instrumentation
Evolution M151 (1960)
The basic M151 was produced not only US units, including those in Europe, but it was also proposed to all NATO countries as well. If it was globally satisfying, it also earned a reputation as its rear suspension construction caused it to flip over when performing tight turns, by unskilled or careless drivers. After the number of accident reports piled up, this was reported to Ford, which started to work out these defaults. Its not even sure it reached the first order of 10,000 specified as within three years appeared the next evolution. M151A1 (1964)
The next step of development came out just as the vehicle was to be deployed in Vietnam. Here, conditions were harsh enough to really test it in combat. It seems adequate, but a number of shortcoming were identified, and if it was the principal combat Jeep of the Vietnam era, it was not that popular, leading to the need of changes passed on to the new M151A1 introduced notably with modifications to carry heavier loads.

Critics of users on the field were the following
-Suspension design making the M151 unstable, susceptible to roll-over in some situation
-Engine more fuel/oil hungry than anticipated in heavy use
-Limited load tolerances
-Minor ergonomics issues and electrical defaults.


The M151A1 arrived too soon to adress correctly all these, but at least the load problem, some ergonomics/electric problems and minor changes in the rear suspension as well as the addition of turn signals to front fenders. M151A2 (1969)
The need to correctly fix the rear suspension issues (more accidents were reported in Vietnam, especially in muddy terrain) led Ford to work on another evolution, with a completely reworked rear suspension: Ford changed the central articulation of the suspension arms, as lowering one wheel relative to the frame made it shift move inward, causing over-steering and an overturn. The installation of an 'A' arm with coil spring to each wheel corrected thus, not totally but at least partly. Indeed both the M151 and the M151A1 have pivots inside the wheels instead. The A arm to was now to pivot front to back, counteracting a natural tendency.



Another point was the fact despite the MUTT was designed for off road use, primary, its tires were of the Non-Directional Tread (NDT) type, whtout specific tread pattern to adress that kind of terrain. Instead the tire was for soft soil or wet unimproved surfaces and drivers did not properly trained to handle the vehicle, reusing their instinctive civilian automobile handling habits, with non-adapted tires, something which was revised by Ford in partneship with army tyre manufacturer Goodyear. The new A2 also had improved turn signals. The width was also a bit reduced, from 162.6 cm to 162.3 cm.


Drawing A2 Base Design
The M151, A1 and A3 is 337.1 cm long for 180.3m in height overall with the overall width varying from 162.6 to 162.3 as seen above.
Engine: 4 cylinder, petrol, displacement 2.2 l with 72 hp
Transmission: 4-speed, reverse gear, switchable four-wheel drive (4×4)
Top speed: 65 mph (104 km/h)
Tire size: 7.00x16
Tank capacity: 17 gals (60.5 l)
Consumption: 15-18 l/100 km
Length: 3.37m (132.7 inches), Width: 1.63m (64.0 inches), Height: 1.80 m (71.0 inches)
Wheelbase: 2.15m, Ground clearance: 0.24 m
Weight: 1088 kg unloaded, 1633 kg loaded
Payload off-road: 0.25 t
Wading depth: 0.53 m (21.0 inch), with special parts: 1.52 m (60.0 inch)
Electric Battery: 24 volts, waterproof, and protected from interferences
Crew: 4. Variants M151A1C: This was the standard antitank/bunker-busting variant, with a 106mm recoilless rifle on a pedestal-mount. Six rounds, weapon tools in the rera bay served by two men. M825: Second 106 mm Recoilless Rifle variant, the standardized US Army version. It has racks in the cargo bed for 4 shells.
M151A2: TOW: wire-guided anti-tank missile variant, mounted on pedestal, two operators, six refills.
M718: - Front-line ambulance variant.
M718A1: - Front-line ambulance variant.
M151A2 FAV: Fast Assault Vehicle variant. Lightened, Handbars and other modifications.
M1051: - Firefighting variant: Only used by the US Marine Corps.
MRC108: - Forward Air Control variant.
M151A1D: - Tactical nuclear variant.


OG-181 Piranha jammer on M151A2 chassis

Detroit Arsenal amphibious XM384 (1958-1959) based on the M151 components.

M151 Mutt (1953)

Dimensions (L-w-h)
132.7 x 64.3 x 71 in (3,370 x 1,630 x 1,800mm)
Wheelbase
85 in (2,160 mm)
Curb weight, battle ready
2,400 lb (1,100 kg)
Crew
1+3 (driver +3 passengers)
Propulsion
Ford inline 4-cyl. 141.5 cu in (2.319 L) 71 hp (53 kW)
Transmission
4-speed + reverse manual, single-speed, part-time transfer case
Top speed
65 mph (104 km/h)
Maximum range
442 km or 275 miles (A1C)
Combat use and users
Combat Debut
"Its first commissioning occurs in the Vietnam War, where the MUTT played an active role in US military operations until well into the 1980s, when it was replaced in favor of the Humvee. Despite its official replacement, the M151 does have some advantages over its successor; that it is much larger and heavier, such as being small enough to be transported inside a CH-53 heavy transport helicopter. This flexibility is one of the reasons the US Marine Corps kept its M151s deployed as FAV (Fast Attack Vehicle) variants until 1999, even in places like Kosovo. It currently serves in some US special forces units as an FAV-type vehicle.[citation needed]"
Several of the M151 series models have successfully served in military mode in 15 NATO countries and some of the M151 have been to many US allied countries, including Canada, Denmark, the United Kingdom; as well as its non-NATO allies such as Colombia, Egypt, Israel, the Philippines, Mexico, Pakistan, Peru, and Lebanon. Today, the M151 is used by more than 100 countries around the world.
Vigorous exports
The M-151 in Colombia: Due to the restrictions imposed by Venezuela in the attempt to modernize the armored fleet in Colombia, it was decided to recondition imported batches of M-151. They were equipped with a reinforced cabin and double-layer armored doors. The TOW system was adapted in the upper part in some, in others this would be replaced by M2 machine guns, of .50 caliber. The changed cooling system was the HUDD-200i. In some models the 4x4 traction was eliminated leaving, only a 2x4 traction.
The M151 was purchased and/or used by the armies of the following nations:
Saudi arabia, Argentina, Australia, Brazil, Canada, Cameroon, Chile, Colombia, Chad, Denmark, Ethiopia, France, Germany, Ghana, Greece, Luxembourg, Puerto Rico, South Africa, New Zealand, Morocco, the Netherlands, Singapore, Liberia, Sierra Leone, Turkey, Tunisia, Libya, Somalia, Senegal, Spain, Portugal, Philippines, Indonesia, Egypt, Israel, Jordan, Kuwait, Italy, Lebanon, Mexico, Pakistan, Peru, United Kingdom, Dominican Republic, Guatemalan, El Salvador, Honduras, Paraguay, Switzerland, Uruguay, Panama, Thailand, South Korea, Taiwan, Cambodia, the Khmer Republic, Zaire, Sudan, Venezuela, South Vietnam, Kingdom of laos, Cuba, Yemen and islands or small states such as Bahrain, Fiji, Cayman, Falkland, Jamaica, Turks and Caicos, Bahamas, Trinidad and Tobago, Guyana, Suriname, Grenada.
Replacement by the HMMV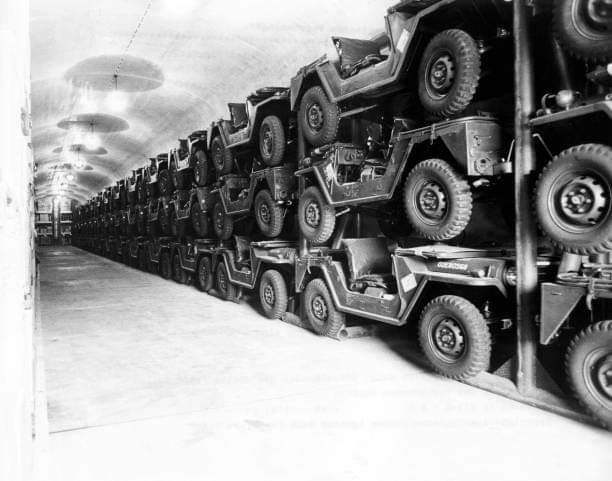 Stacked M151s in storage
"The M151 had the same basic layout and dimensions of its predecessors. It has a payload capacity of 360 kg off-road. Despite that is was completely new design. The MUTT can be easily recognized by a horizontal grille. Windscreen can be folded over the bonnet in order to reduce height of the vehicle. Vehicle can tow light trailers or artillery pieces. This military vehicle accommodates driver and three passengers. There is removable canvas top and side curtains. Hardtop kits were available for this vehicle. Despite its replacement the MUTT had a number of advantages over much larger and heavier HMMWV. It is small enough to fit inside the CH-53 heavy transport helicopter. The original M151 MUTT is powered by a 2.3-liter petrol engine, developing 71 hp. Engine is mated to a 4-speed manual transmission. Vehicle has a rear wheel drive. Front axle can be also engaged for traveling over rough terrain. The M151 is capable of high-speed cross-country travel. A front-mounted winch was available. Vehicle can be fitted with a deep fording kit."
Gallery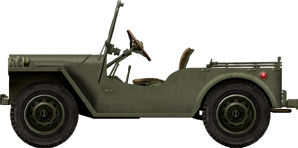 XM 151 prototype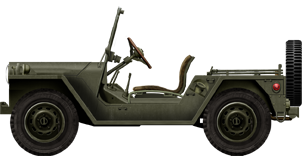 XM 151E1 prototype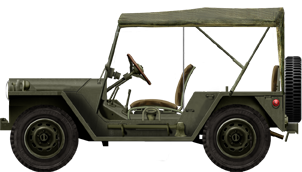 M151 Mutt, early serial vehicle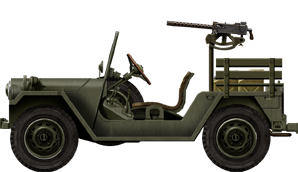 M151 with 0.3-in cal. Browning M1919A4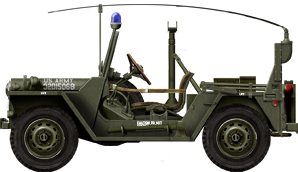 M151 Radio of the Constabulary force, Berlin 1959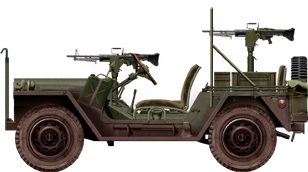 M151A1 with twin M60s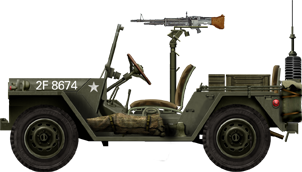 M151A1 in Vietnam, single mount M60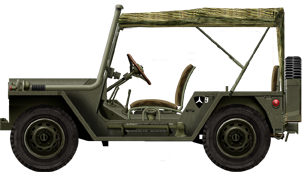 M151A1 with semi-tarpaulin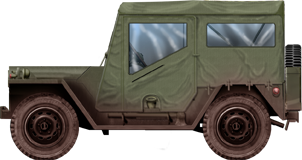 M151A1 with tarpaulin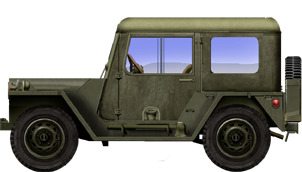 M151A1 Hardtop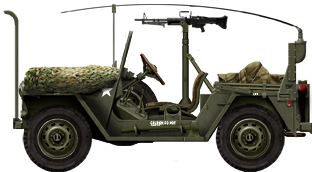 M151A1 Radio with camouflage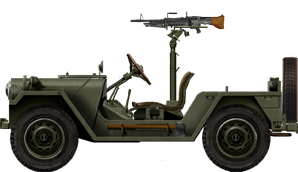 Thai M151A1, 1975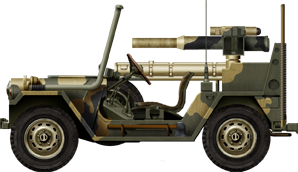 M151A2 HOT, Grenada 1983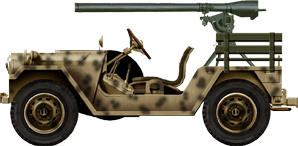 Iraqi M151A1C middle east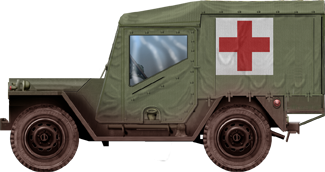 M718 Ambulance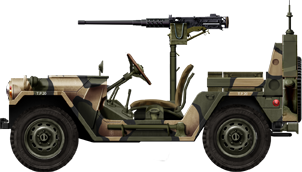 M151A2 2nd Ranger Bat. Grenada Oct. 1983
(To come)
(To come)
(To come)
---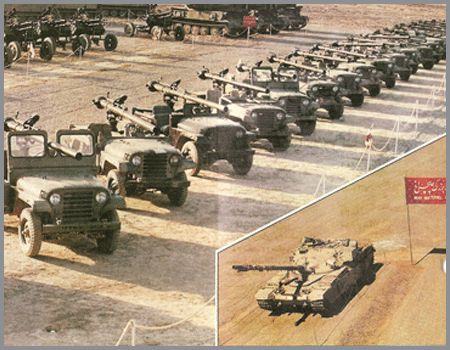 Operation Chelcheragh M151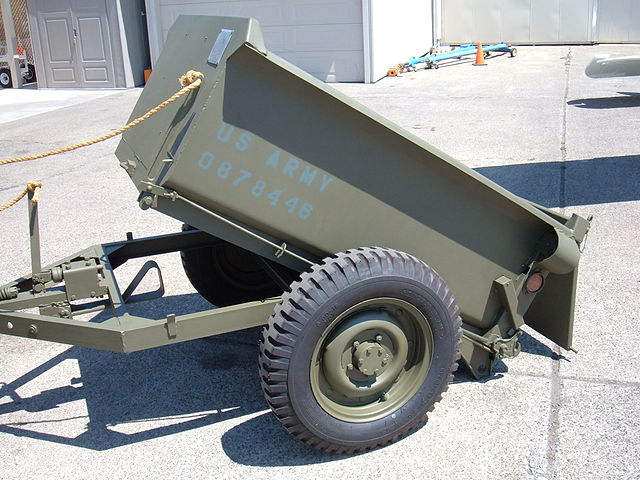 1945 Willys jeep with trailer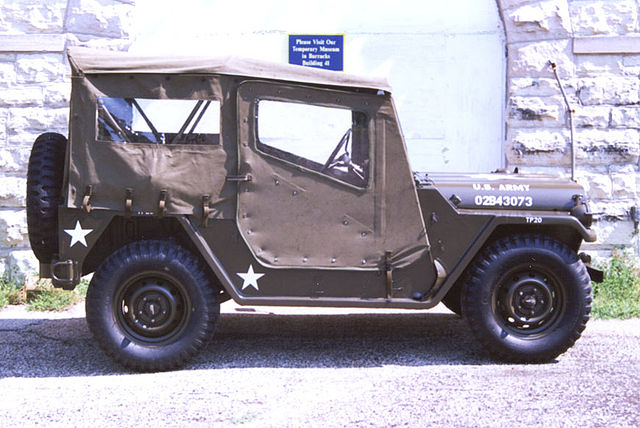 Jeep M151 Right Top Down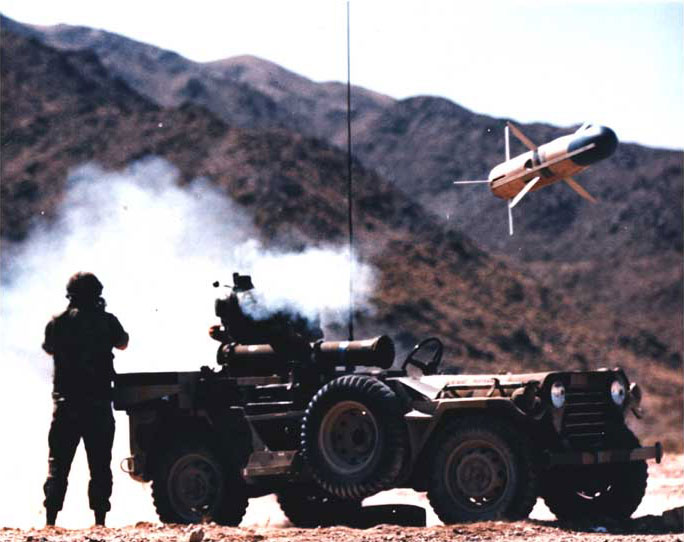 TOW fired from MUTT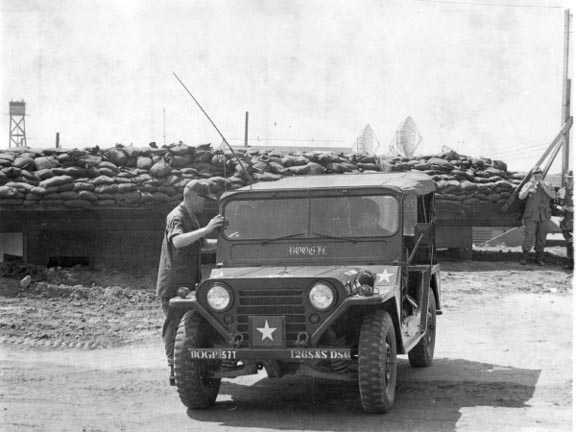 M151 in vietnam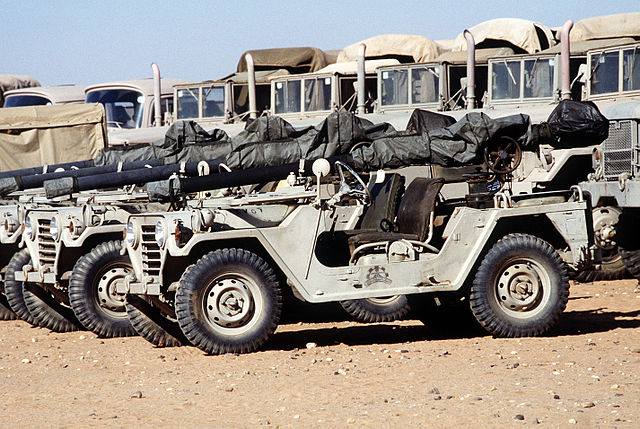 Saudi Arabian M151 with recoilless rifle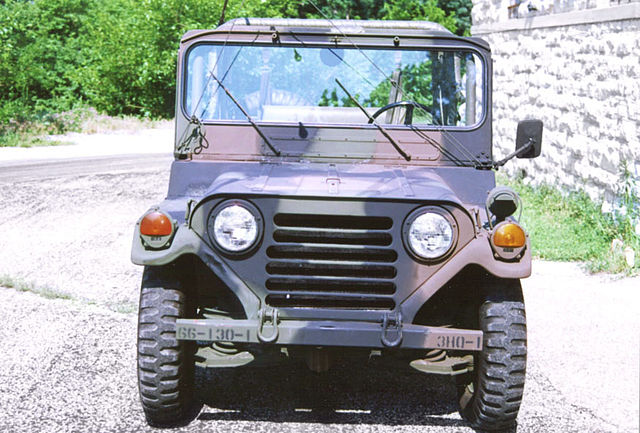 JeepFrontM151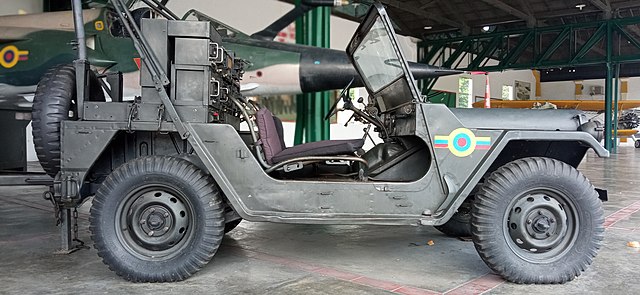 M151 in the Museo Aeronautico de Maracay, Bolivia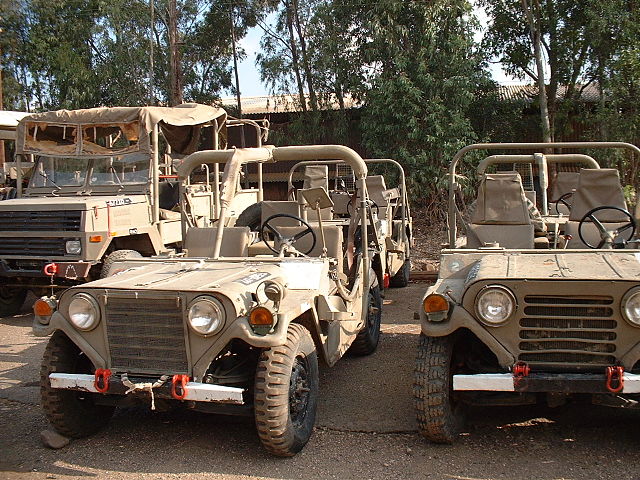 M-151 in the desert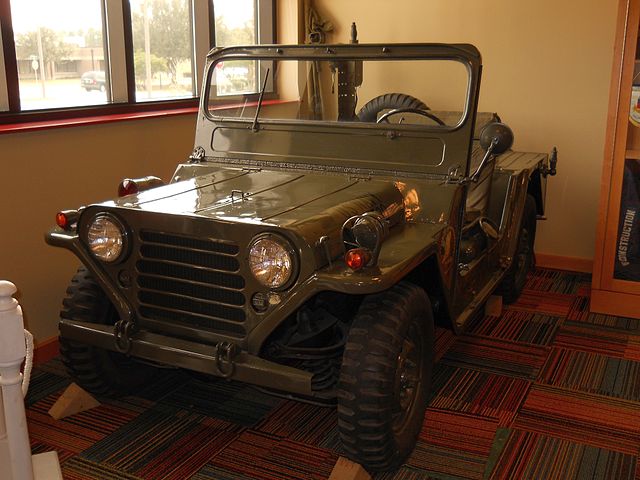 Mutt in the Seabee Museum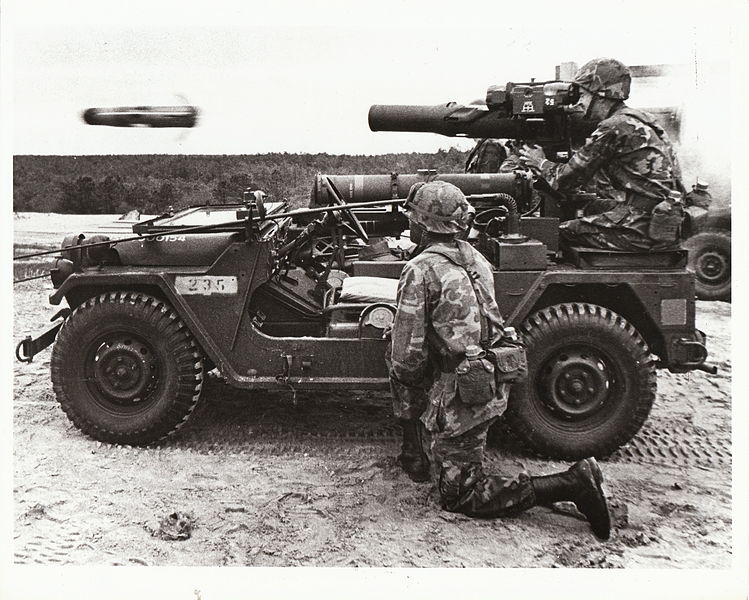 JEEP M151 firing a TOW Missile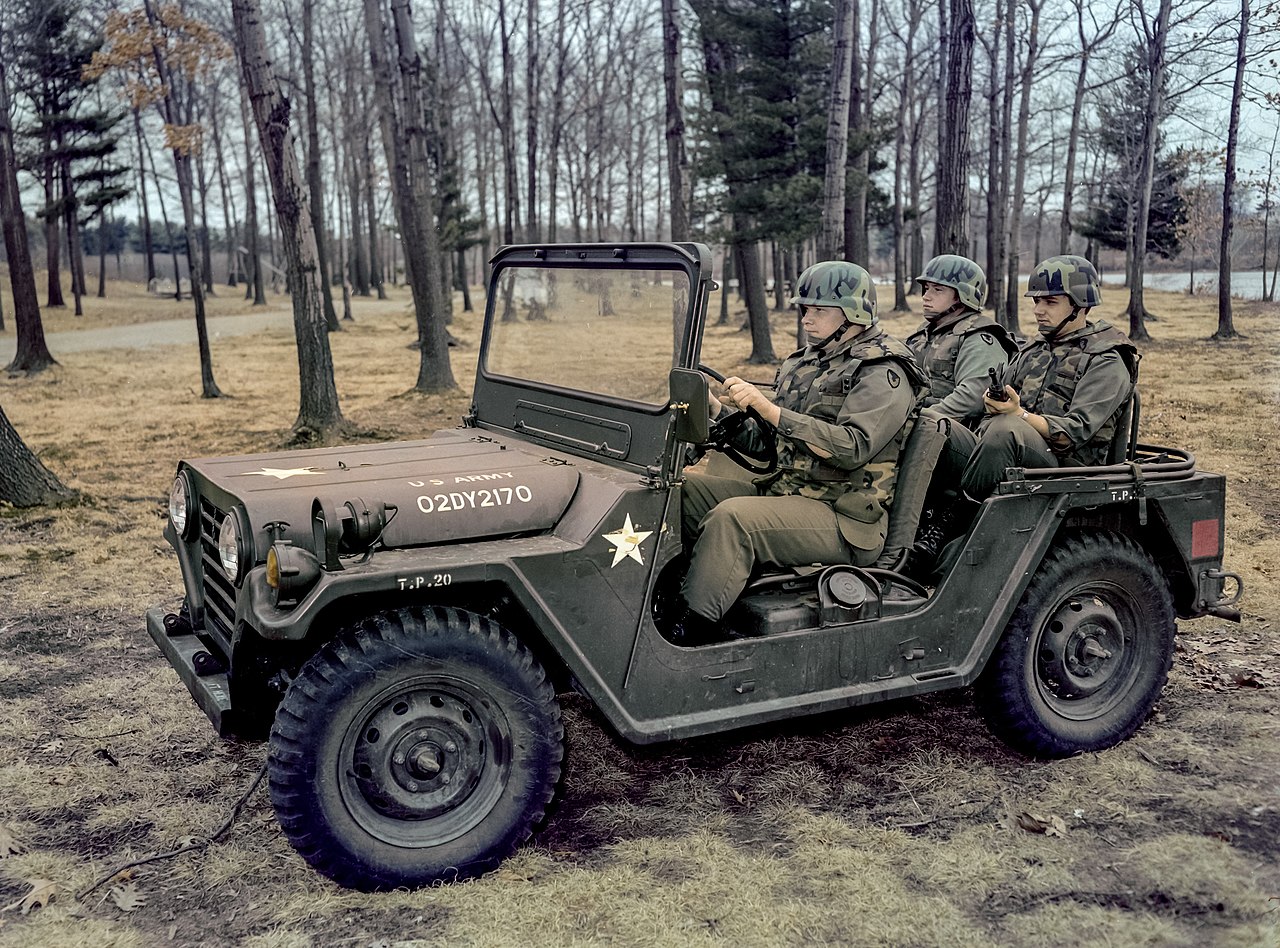 Commonwealth M151 Mutt, Europe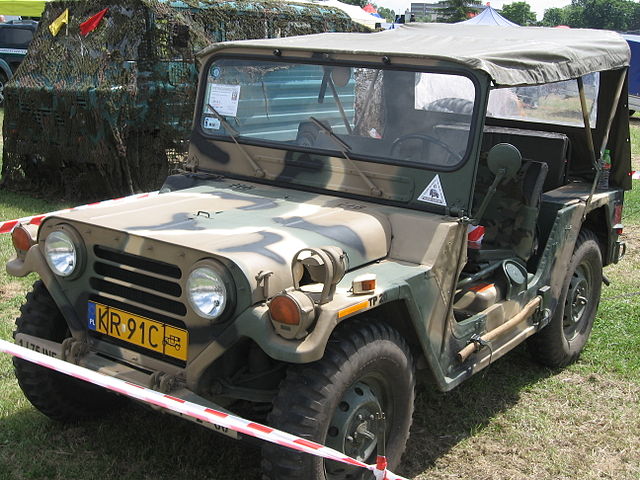 M151A2 during the VII Aircraft Picnic in Krakow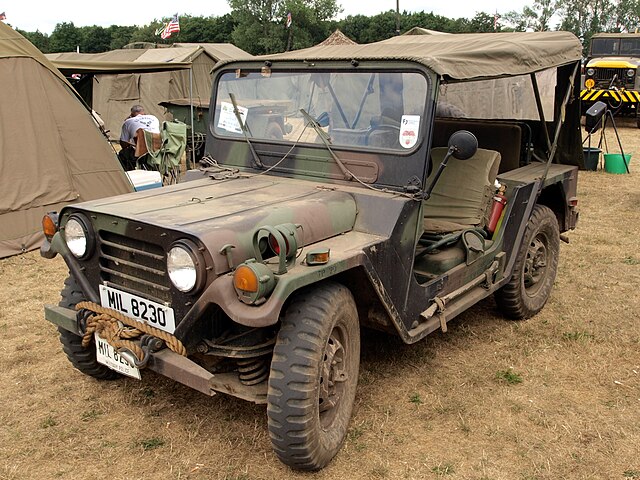 AMG M151A2 1978 GB owner Gavin Broad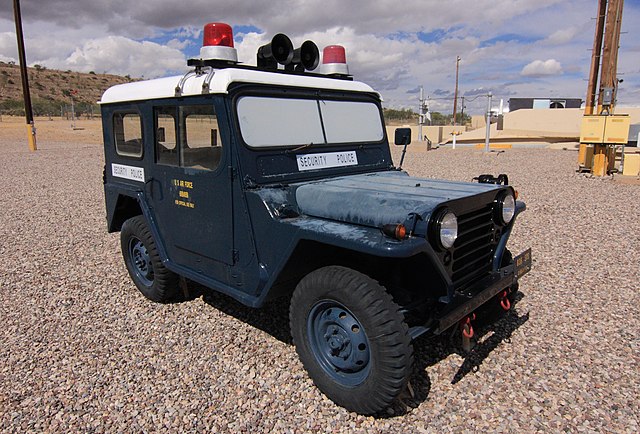 M151 security jeep on display, Titan Missile Museum Arizona
M151A1C FSN Marshallmuseum, Liberty Park, Oorlogsmuseum, Overloon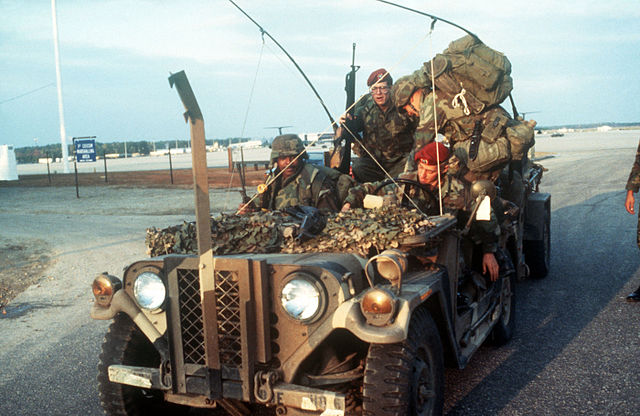 82d Airborne jeep Operation Urgent Fury, 1983.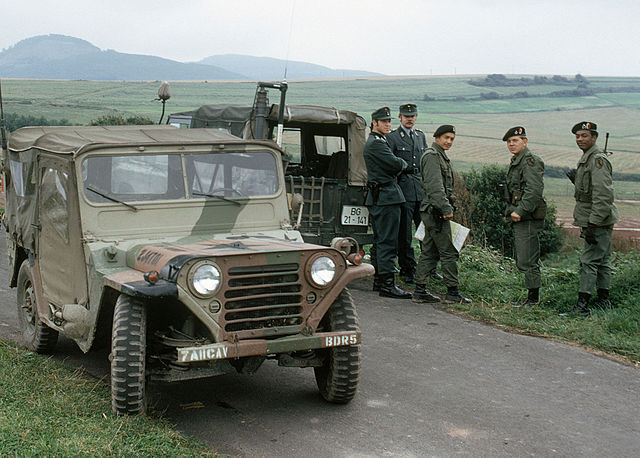 Bundesgrenzschutz Vehicle
MERDC Pattern for the M151, US Militia
Videos
See also
.
Links
Book: M151 MUTT in Action 80 pages, Squadron/Signal
militaryfactory.com
them151mutt.com
anca-aste.it
vintagemilitarytrucks.com/
carrosyclasicos.com
militarytoday.com
ar.motor1.com
cherokee-fr.com M151A2
cherokee-fr.com prototypes
nam-valka.cz
commons.wikimedia.org
M151 Mutt Operators Manual
military-today.com
IDF Djarpas
On warwheels.net
nam-valka.cz
ewillys.com
cherokee-fr.com/
---
M151 kitt on scalemates.com/
Tamiya Model Kit on 1999.co.jp
---
Axis Trucks

Purchase this pagemarker and support the site !
Sd.Kfz 2, 6, 7, 8, 9, 10 and 11 were half-tracks designed just before the war as prime movers, to carry supplies, ammunition, personal, and tow artillery. Many were also converted during the war as armored versions carrying AA FLAK guns (Flakvierling, 37 mm, or the legendary 88 mm Rheinmetall als used as tank hunters), or were converted as nebelwerfer (rocket launching armored vehicles). They were built by Hanomag, Steyr, Mercedes-Benz, Bussing and many other manufacturers until 1945, over 20,000 half-tracks.
---
Cold War & Modern Vehicles
Modern Trucks