UAZ 23632-148 Esaul(2018)
Russian Semi-armoured SUV, c400 in service.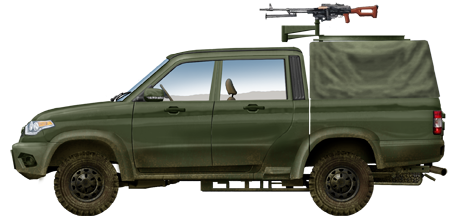 Based on the UAZ Patriot SUV of the civilian market, a military version called "Esaul" was developed in 2018 at the Ulyanovsk Automobile Plant to be become part of the logistics of the National Guard. It was developed as a successor to the previous UAZ-515195 Esaul, and took part in the 2022 invasion of Ukraine. Exact numbers or exact specifications are subject to caution. It is based on the UAZ Patriot already in border guards, police and special forces of the Russian military and paramilitary. Developed as a pickup version modified to carry a heavier armament, with a CBD armoured cell (reinforced steel) and/or kevlar inserts for the engine and fuel tank. The pickup compartment is modified with a cage bar and ring mount as well as pintles for various ordnance. The type has seen action since 2018 and already six had been destroyed or captured in Ukraine since 2022.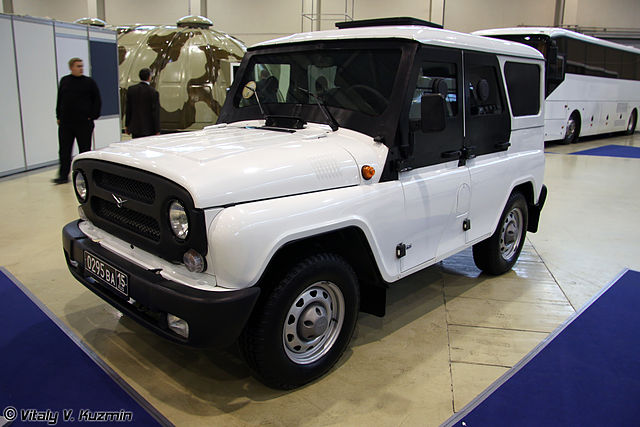 The previous "Esaul", UAZ-515195 here shown at Interpolitex 2011
According to
this source
, at the Ulyanovsk Automobile Plant in 2018 the armored UAZ "Esaul" was announced to be become part of the logistics of the National Guard. If the exterior of the UAZ "Patriot" is no different from the civilian model, it has hidden armor which are bullet-prooof, grenades and mine fragments (not the mines themseves !), with a hidden armored capsule and protection plus special options. It is unclear if that modification was done exclusively on the pickup but also applied to the standard fully enclosed SUV.
Already in 2013, an order for military patriots was made: The 2013 dispatch precised (
src
): Ministry of Internal Affairs ordered new armored vehicles with a tender for the purchase of 149 of these worth 537.69 million rubles opened on June 17. Delivery should be completed by October 31, 2013. It required 50 Ural-4320 armored vehicles (or analog) worth 5.34 million each, 29 UAZ-31519 armored vehicles for 1.63 million each, 28 UAZ-3163 Patriot vehicles (1.73 million each), 27 GAZ-2705 (2.73 million rubles per unit), ten KamAZ-43501 chassis worth 6.1 million rubles each, five Ural-55571 trucks (7.87 million rubles per unit).
Experience with civilian-looking armoured vehicles with the Russian army is not new: Deployed in several conflicts, and especially since 2014 in Donbass, are the UAZ-515195 Esaul (based on the previous UAZ ), or GAZ Sobol.
Based on the UAZ Patriot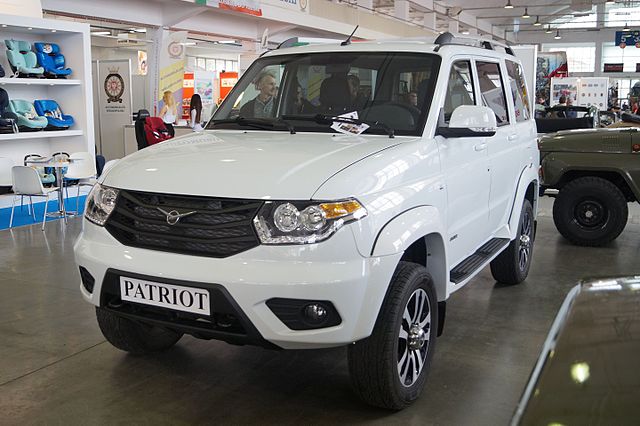 UAZ Patriot in 2010
The UAZ Patriot (UAZ-3163) is a mid-size body-on-frame SUV made at the UAZ faciliy of SeverstalAvto in Ulyanovsk, introduced in 2005. It replaced the UAZ Simbir (UAZ-3162) and saled went on well, with 12,011 sold in 2007 alone. The base vehicle could carry five adults and some 200 kilograms (440 lb) if the rear seats were folded. By October 2011, UAZ released a 70th anniversary edition. In May 2012, it was restyled with a different dashboard and new four-spoke steering wheel from Czech Takata-Petri as well as other modern features. By August 2013, the Patriot was fitted with a new electronic controlled transfer case Dymos. In 2014 the model had new bumpers, headlights, seats, and new multimedia system as well as chassis improvements and new turbocharger. The main and popular variant was the pickup, imported into the United States as Bremach Brio in 2022, but it was soon stopped with the invasion of Ukraine.
Versions are the following: UAZ Patriot Diesel (IVECO F1A 2.3 L 116 hp turbodiesel comp. Euro-4).
UAZ Cargo (UAZ-23602-050) commercial pickup with 3,000 mm (120 in) wheelbase, 2-seat cabin (2008).
UAZ Pickup (UAZ-23632) the 4-door 5-seat pickup truck with a 3000-mm long wheelbase were are interested in.
UAZ Patriot Sport (UAZ-3164) short-wheelbase reduced by 360 mm (14 in) to 2,400 mm (94 in) (2010)
UAZ Profi (UAZ-236021, UAZ-236022, UAZ-236323, UAZ-236324) commercial pickup with 3,500 mm (140 in) wheelbase. (2017).
Modifications of the Esaul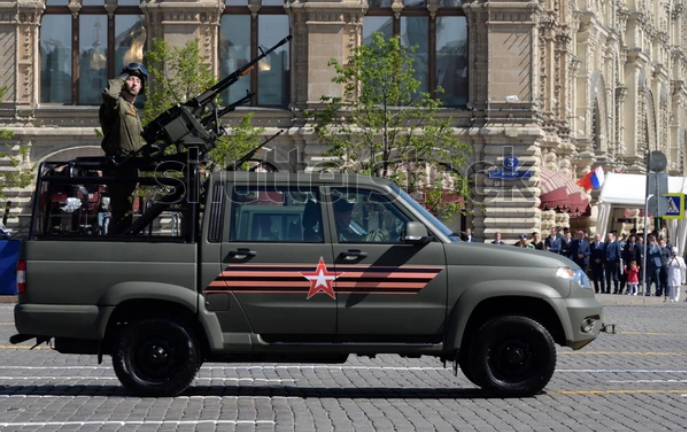 UAZ Esaul in Moskow parade with the two pintles configuration (Shutterstock)
The Esault ("") is based on the UAZ-23632 pickup variant, which features a 3000-mm long wheelbase. The rear part of the body is cutout and a usable cargo flatbed created. Naturally this made it a neat "technical", provided it was militarized, which was the case and the special operation units needed a new vehicle, as well as Wagner group to operate notably in Africa and Syria. Soon, base Patriot Pickups were used in Syria, which led to modifications, the installation of handbard and supports over the flatbed at the rear to support a MG-gunner. It's upon recommendations that UAZ undertook an armoured variant, only protected against light arms fire and grenade splinters.
This led to the development of the Esaul which is an armoured version of the Patriot Pickup. Apart the armor, it had (supposedly, unconfirmed) bulletproof glass with plastic openings usable as pistol port, a reinforced flatbed (presumably also) with a base to mount a 25kg+ machine gun or other hardware and a roll bar cage above the compartment, foldable seats on either side or storage, with a ring mount in the middle. It could be covered by a tarpaulin leaving only the ring open, but with an extra zipped part to cover it in turn. There is no apparent winch nor blakdout light but the chassis has been reinforced. Tyres seems stocks also, no run-flat types. In another configuration, no central pillar but instead two reinforced pintle mounts on either side.
Mobility
Moskow Parade, with two pintles, one Kord and one PKP Pecheneg
If the engine is the same as the standard pickup, it is the ZMZ-409.10 Inline-four engine displacing 2,693 cc (2.7 L; 164.3 cu in) (Bore X stroke: 95.5 mm × 94 mm (3.76 in × 3.70 in)), running on Gasoline A-92 capable of 135 PS; 133 bhp (99 kW) at 4600 rpm for a max. torque of 217 Nm (160 lbf/ft) at 3900 rpm. Mechanical, 5-stage transmission with 2-stage(I-1, II-1,94 planetary ratio) gearbox, capable of 150 km/h (93 mph) on highway. Fuel consumption at 90 km/h (56 mph) is 14 L/100 km (17 mpg/US) or 10.4 L/100 km (23 mpg/US) or 13.2 L/100 km (17.8 mpg/US) off-road and in mixed cycles. It is equipped with ventilated disk-type with two cylinders and floating caliper front brakes drum-type rear brakes, with one cylinder, with automatic adjustment of the clearance between the lining and the drum. The standard tyres, if not changed for a run-flat equivalent are the 225/75R16, 245/70R16.
Protection
This is quite diverse: According to focus.ua and other sources it is comprising the following:
-Armored CBD cell (likely internal kevlar panels in the doors and wings, it does not shows externally).
-Presumably bullet proof glass
-Partial protection against grenade splinters
-Some anti-mine protection of the chassis (alleged).
-Protection of the fuel tank (likely self-sealing or panelling)
-Protection of the engine (prolongation of the body).
It is assumed that it's thickness is just sufficient to stop standard 5.65 mm or 7.62 mm bullets, same as the panels used for body protection. Still, this makes the vehicle, including the armament (up to 67 kg for the Kornet ATGM and tripod, 25 kgs for the NSV MG) and other light weaponry like the AGS-30/40 grenade launcher (16-32 kgs). The "Captain" was derived from the Esaul with additional add-on armor panels on the sides.
Armament
Some variants had a ring mount and single weapon system, others had two pintle mounts on either side of the rollbar cage, for a tandem of NVS heavy machine gun and AGS-30 grenade launcher. These are the vehicles shown in the Moskow's parades.
Standard MG Variant
Heavy HMG variant, with a NSVT on an articulated pintle. src focus.ua. According to the source, "UAZ Esaul is a modification of the UAZ "Patriot" distinguished by the presence of an armored hull and glass, as well as some protection against mines and grenades blasts. In addition, the engine compartment is armored and explosion-proof fuel tanks are installed. A ring-mounted machine gun can be installed on the roof and the soldiers had five window openings from which they can fire. Supplied to the Russian army since 2018. On April 1, a military analyst at Focus wrote that in the occupied Torez, militants showed a new company of Russian UAZs. The OSCE also reported that the militants deployed about 270 units of military equipment in violation of the troop withdrawal."
Anti-Tank Variant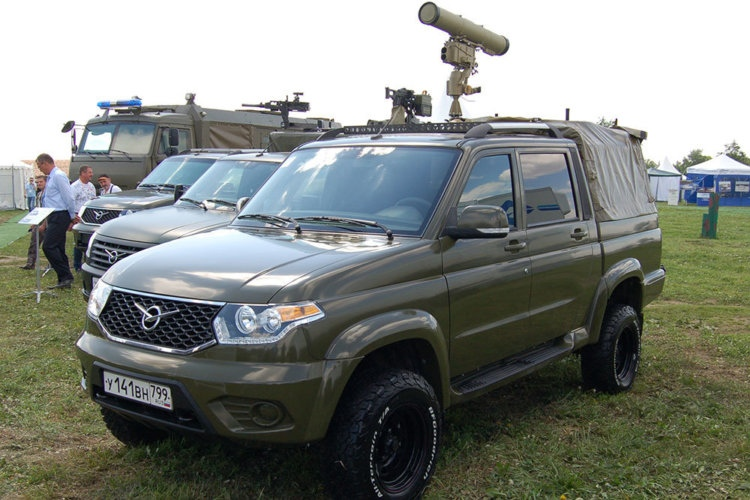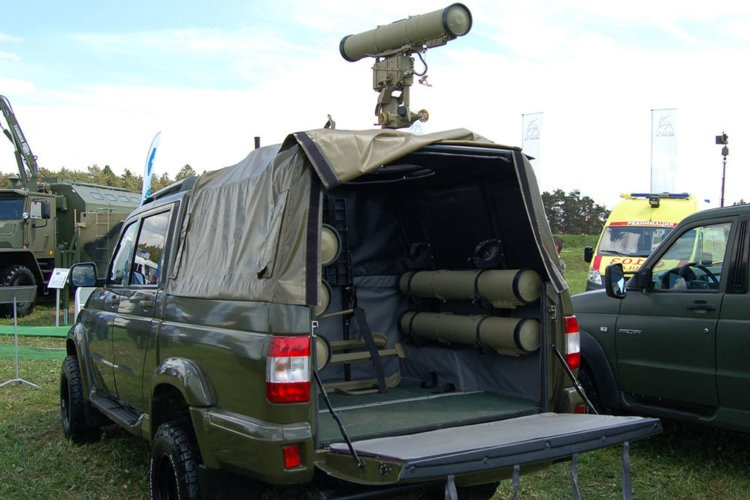 The Kornet ATGM variant. For organic anti-tank protection, some vehicles were converted as such. The pickup flatbed is converted to hold six spare missiles in theior container and additional equipment, whereas the Kornet launcher is installed on the ring mount to be used by a standing operator (src
twitter, Rob Lee
). The 9M133 Kornet could defeat 1,000–1,200 (9K135), 1,200 (E), 1,300 (D) mm RHA with a tandem HEAT 4.6 kg warhead at 5,500 m and up to 8,000 for the Kornet-EM.
⚙ UAZ-23632 specifications*

Weight
2,070 kg (4,560 lb), 2,670 kg (5,890 lb) FE
Dimensions
4,647 mm × 2,080 mm × 2,000 mm (183.0 in × 81.9 in × 74.8 in)
Propulsion
4x4, ZMZ-409.10 133 bhp
Speed
150 km/h (93 mph) max on highway
Range
c800 km at cruise speed
Armament
NSV/Kord, Kornet ATGM, see notes.
Protection
Kevlar inserts, HBS capsule, see notes
Payload
650-800 kg (1,800 lb)
Crew
5 (driver, co-driver, 2 rear seats, 2 flatbed aft)
*According to an Ukrainian source, the Esaul used in Donbass by 2014 weighted 2,125 kg (unarmed) with a payload of 525 kg and a tank volume of 68 l.
Deployment and Users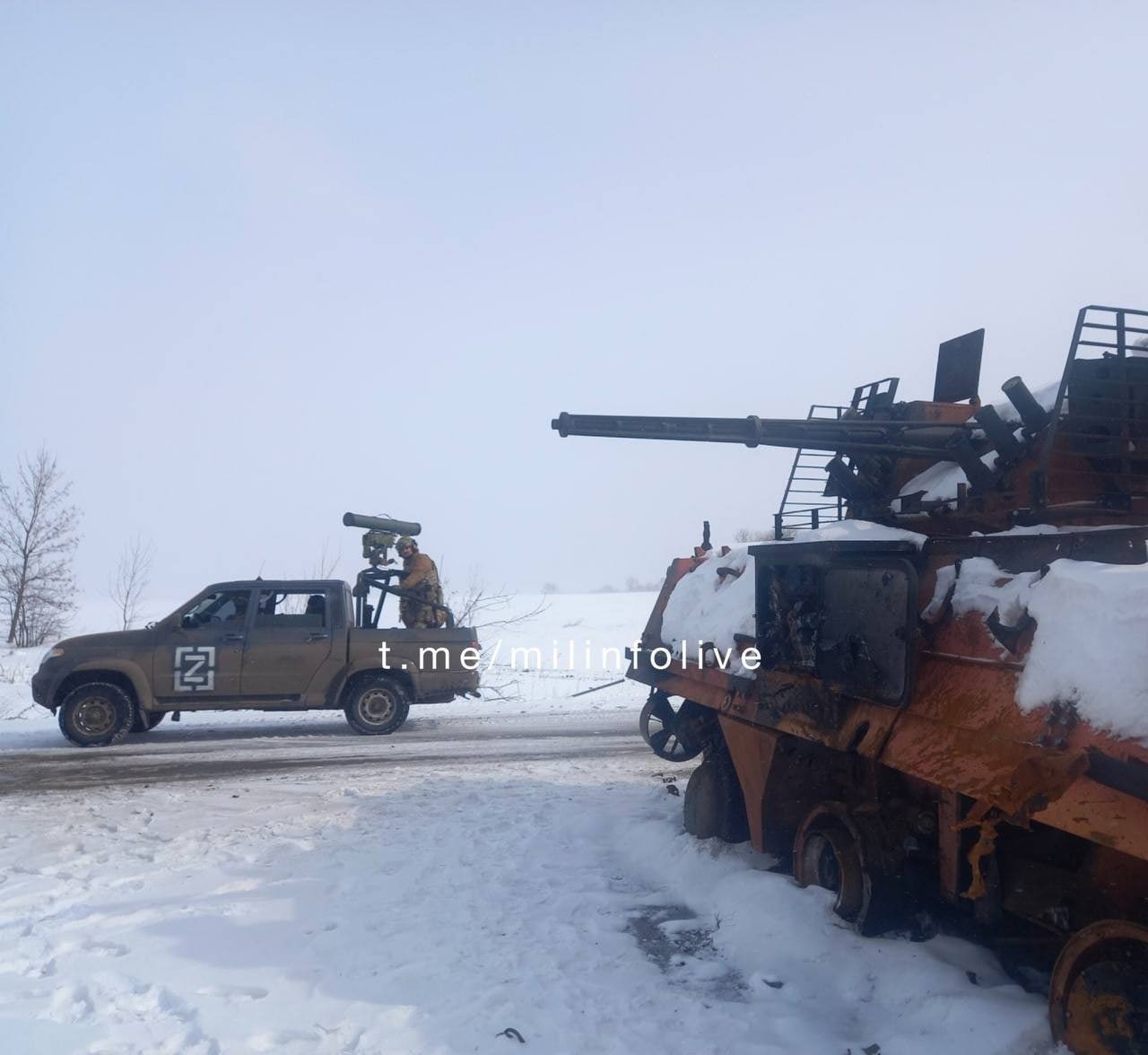 Customers of the militarized Patriot Pickup and Esaul are the Armed Forces of Belarus, of Nicaragua, the Russian Police (including 28 Esaul "armored cars") Russian Border Troops, Ground Forces and by late 2017, 90 UAZ Patriots served with 30th Motorized Brigade of the Infantry of the Russian Army near Samara. It is used also by the Serbian Armed Forces (56) and was deployed before the war of 2014 with the National Police of Ukraine and Ukrainian Border Troops. So technically this is a vehicle that has been used by both sides during the ongoing war since 2014.
The UAZ-3163 Patriot has been adopted as light utility vehicle for the armed forces of Russia as partial replacement of the UAZ-469, at an unknown date, circa 2010. As of 4 July 2023, at least 3 have been lost in the Russian Invasion of Ukraine. As for the Esaul, at least 300 has been manufactured and ordered, but are not listed officially as part of the armed forces. According to
spioenkop
, 5 UAZ Patriot "Jeep" (4 destroyed 1,captured), 1 UAZ-3151 destroyed, one UAZ-31514 captured, 7 UAZ-23632 pickup destroyed and captured, 6 UAZ-23632-148-64 armed pickup truck destroyed, and for what we are concerned, 5 UAZ-394511 "Esaul", destroyed, damaged and captured plus a single UAZ-515195 Esaul* destroyed as of 19 August 2023. *It's another vehicle entirely, same armour principle but older, based on the UAZ-294551
src
.
The up-armoured UAZ "Captain"
At the "Day of advanced technologies for law enforcement-2019" Ulyanovsk presented a special armoured car named "captain-394511" designed primarily for the border guards, which seems however truly armoured, by having a set of add-on plating on the side windows, with smaller cut-in ones meshed for good effect.
See the page
. It is armed with a "KORD" 12,7 mm based on the same ring mount and articulated arm and it is based on the Patriot with the use of an armored HBS-capsule providing protection from small arms of 5.45 and 7.62 mm, grenades and f-1 shrapnel protection, engine protection cell and fire-proof fuel tanks, weighting 3.5 tonnes in battle order for 800 kg payload. Same 135 HP Turbodiesel (highway 140 km/h). It is capable to fording 0.5 m, climb a 35° slope, and reach 680 km of range.
Read More/Src
Mark Galeotti & Adam Hook, Combat Vehicles of Russia's Special Forces – Spetsnaz, airborne, Arctic and interior troops, New Vanguard series 282, Osprey Publishing Ltd
threadreaderapp.com
mod.gov.rs
focus.ua/
Official UAZ site
twitter.com
en.wikipedia.org/wiki/UAZ_Patriot
informnapalm.org/
ukr.warspotting.net
Illustrations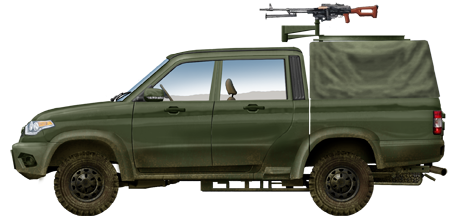 Basic vehicle with tarpaulin, Donbass 2014
Photos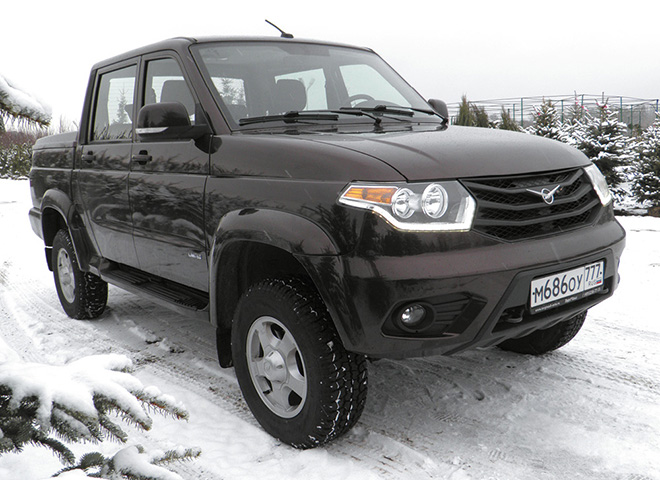 Patriot civilian base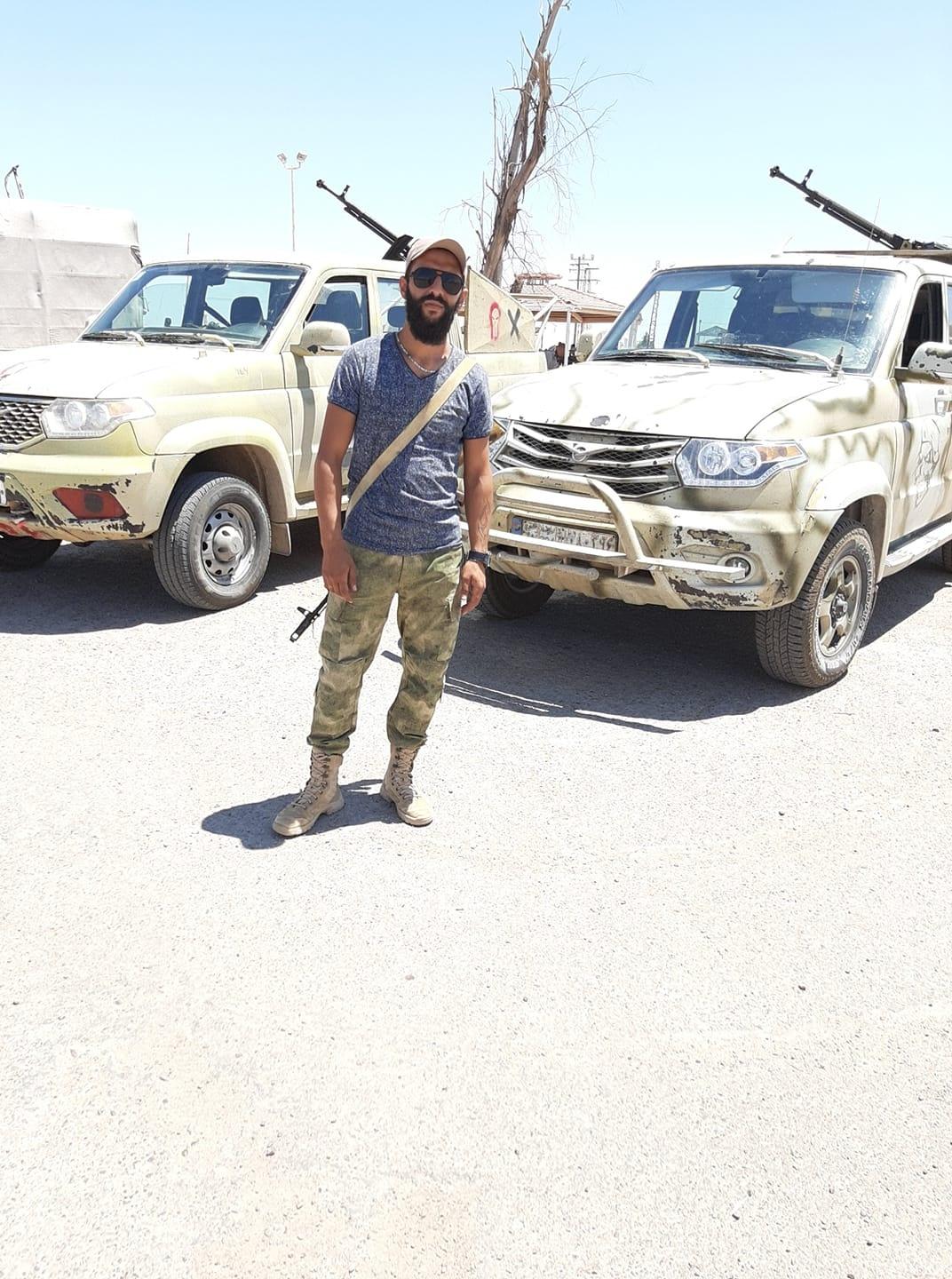 Camouflaged Patriot pickups in Syria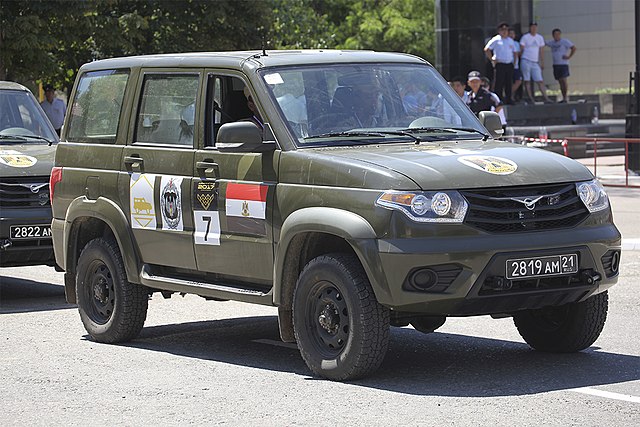 Patriot in a military rally, 2017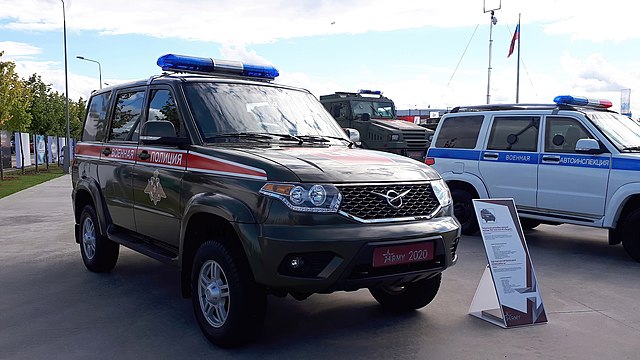 Patriot of the Military Police, Armiya 2020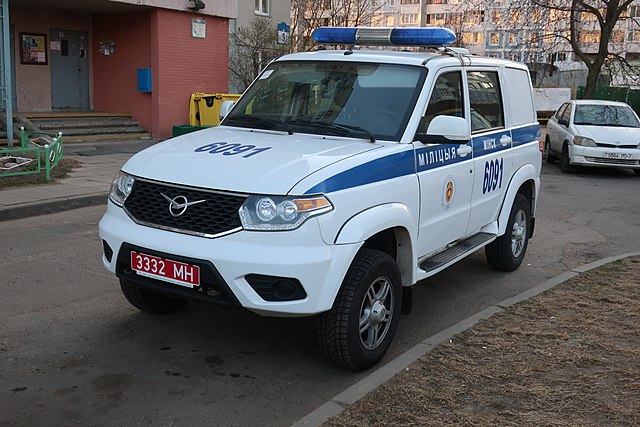 UAZ Patriot of the Belarus Police in Minsk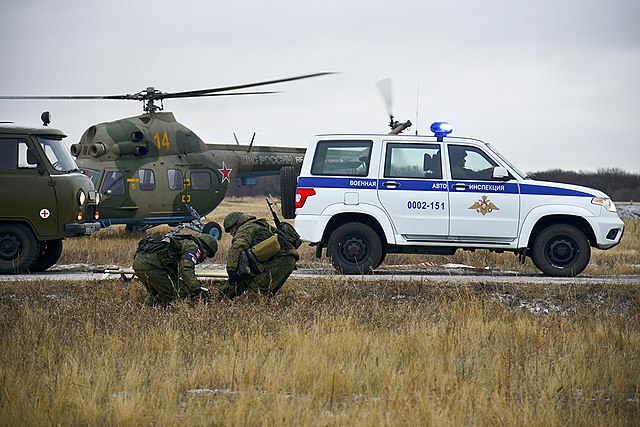 Patrior of the Military Police in 21 Nov. 2018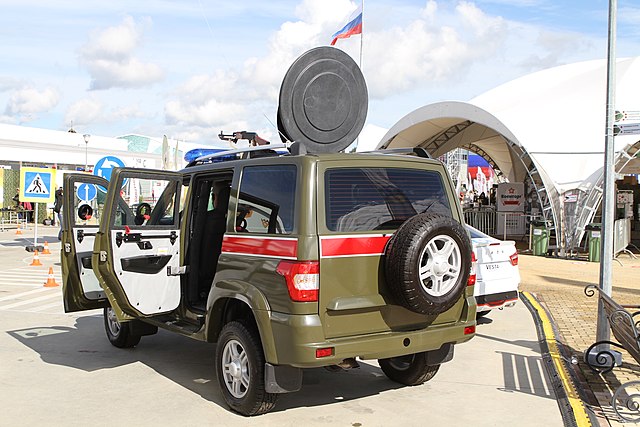 Another Patriot at Armiya 2020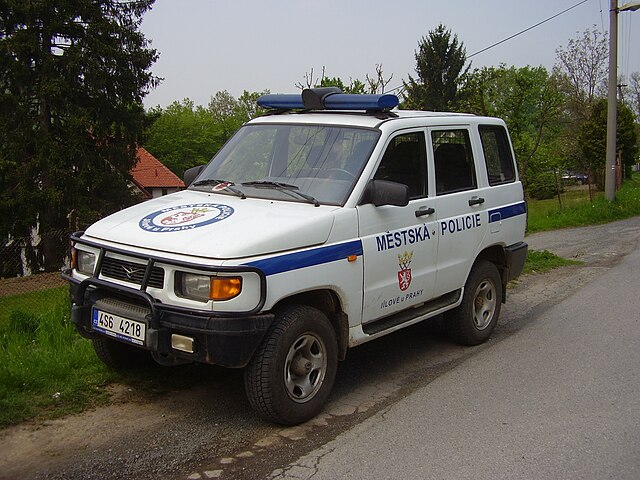 UAZ Simnir of the police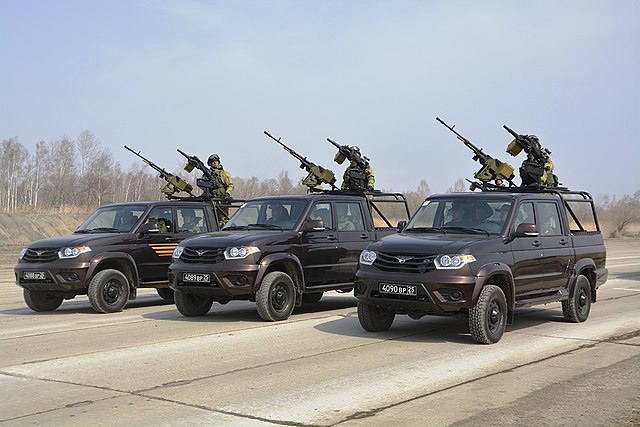 Esaul pickups during a rehearsal parade in 2018, first presentation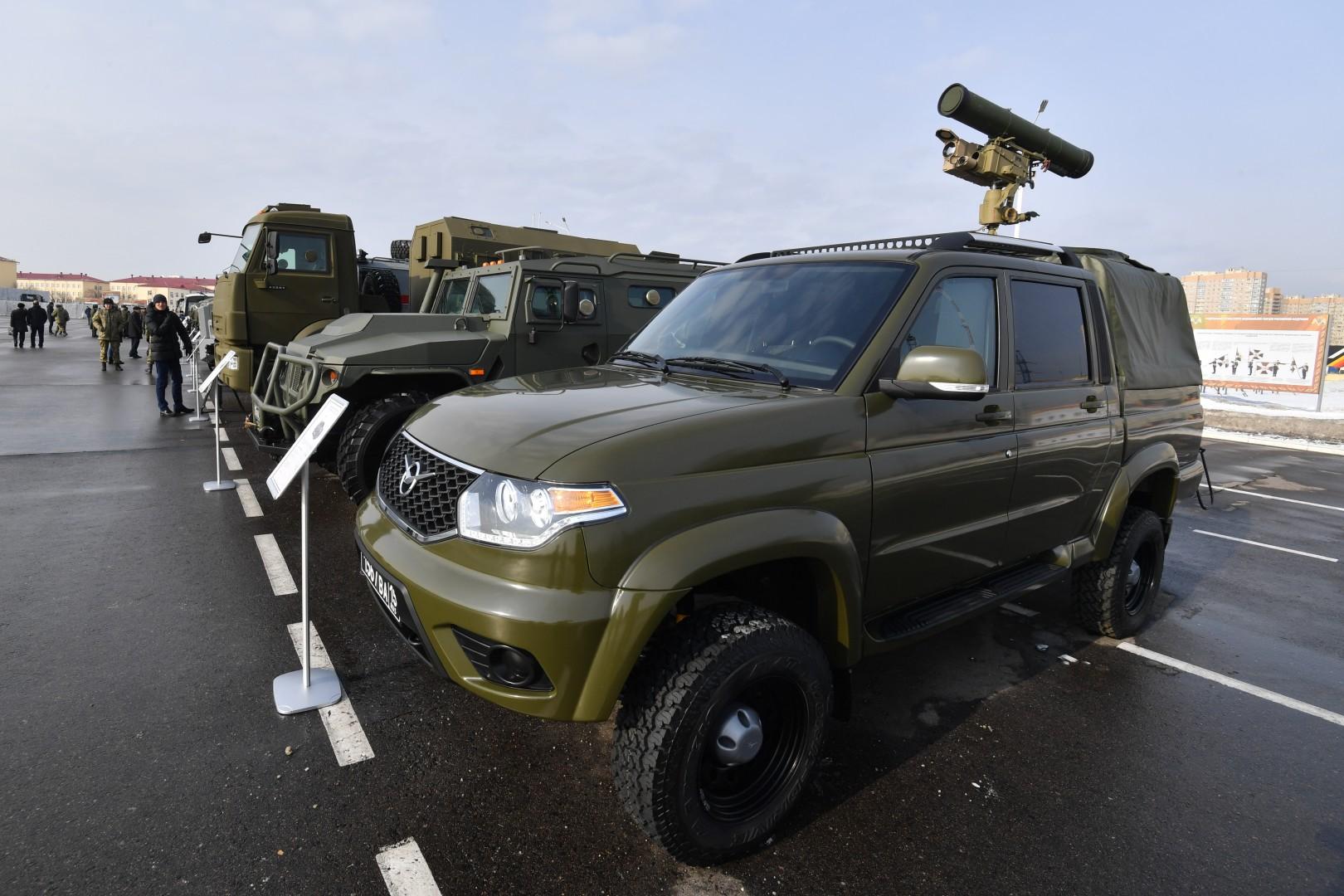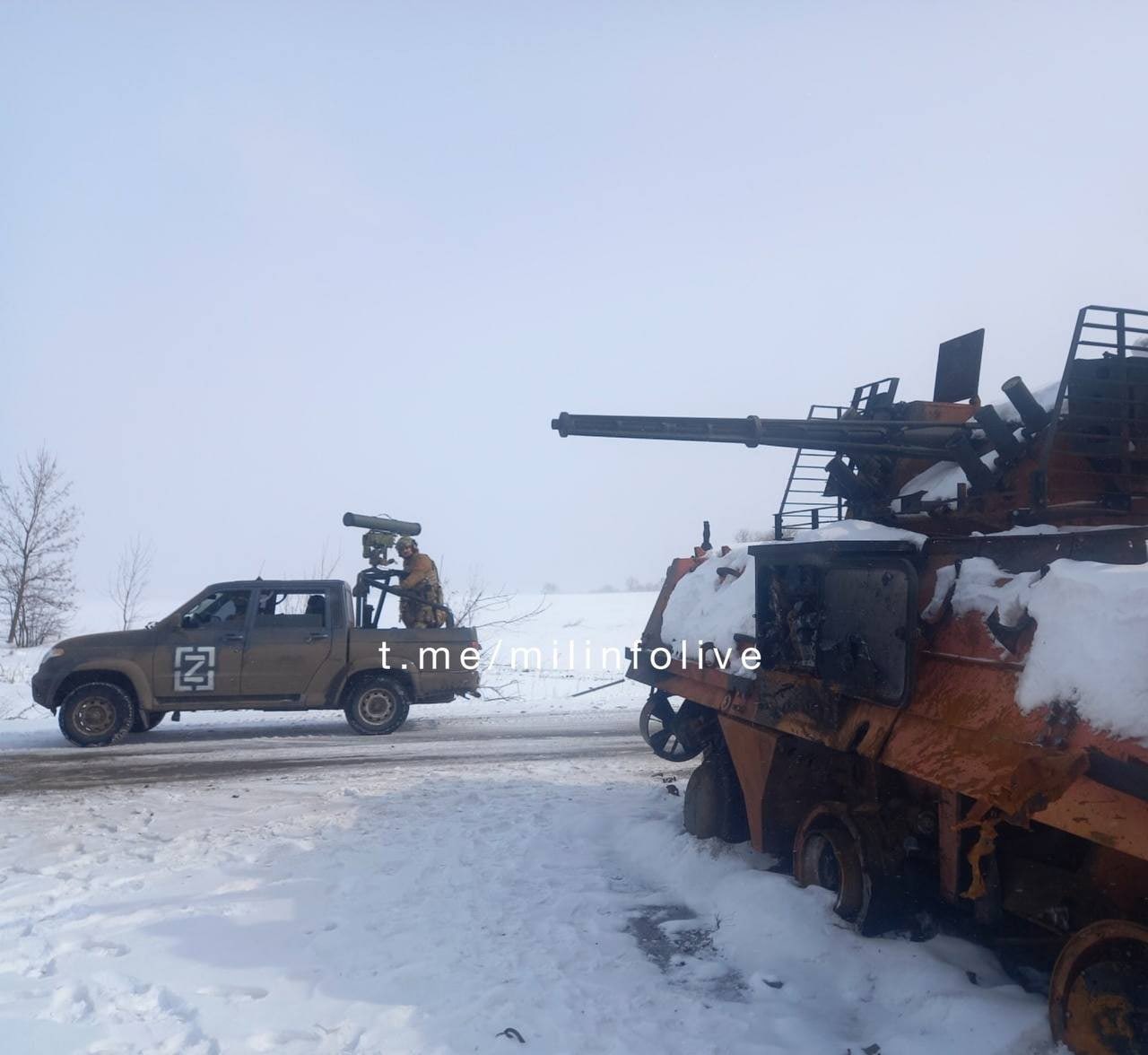 UAZ 39461 Esault with Kornet missile version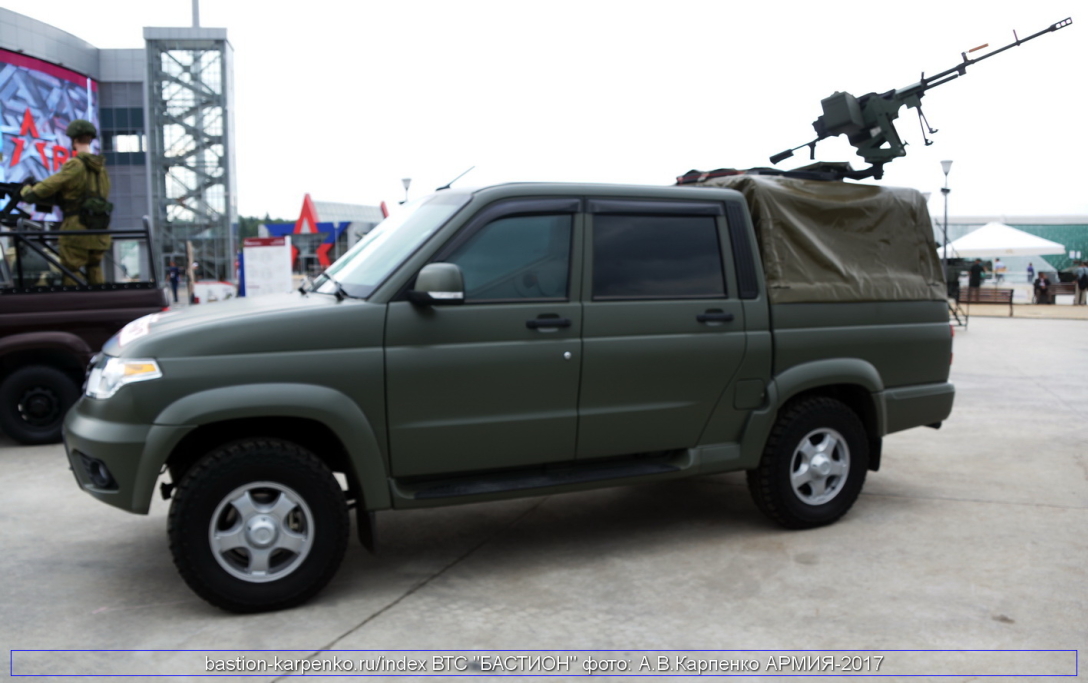 Esaul with NSV HMG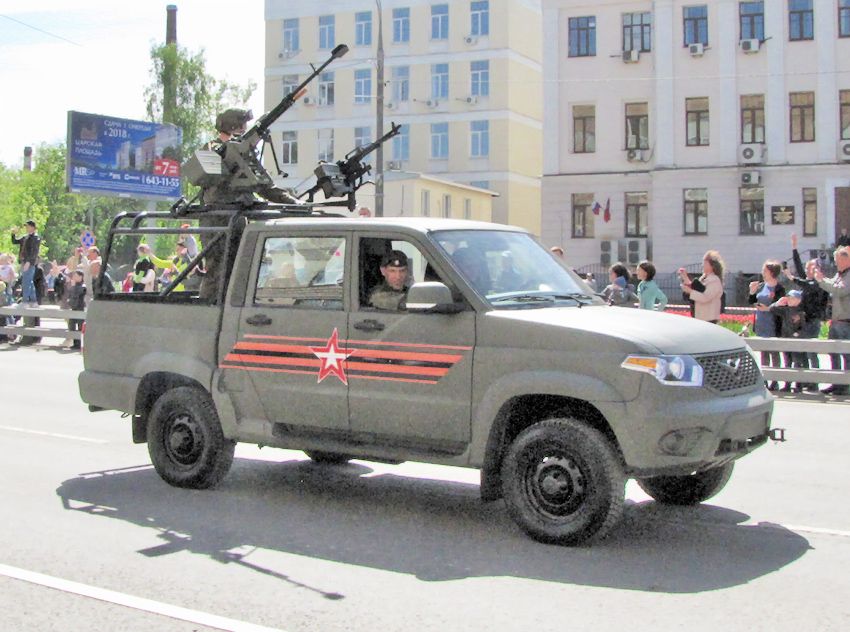 In a parade, Moskow
---
Axis Trucks

Purchase this pagemarker and support the site !
Sd.Kfz 2, 6, 7, 8, 9, 10 and 11 were half-tracks designed just before the war as prime movers, to carry supplies, ammunition, personal, and tow artillery. Many were also converted during the war as armored versions carrying AA FLAK guns (Flakvierling, 37 mm, or the legendary 88 mm Rheinmetall als used as tank hunters), or were converted as nebelwerfer (rocket launching armored vehicles). They were built by Hanomag, Steyr, Mercedes-Benz, Bussing and many other manufacturers until 1945, over 20,000 half-tracks.
---
Cold War & Modern Vehicles
Modern Trucks