Gallery of models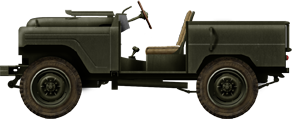 Nissan Patrol

Isuzu HST
Mitsubishi Type 73 Light Truck
The Mitsubishi Type 73 Light Truck is a series of military light trucks that are used as mini SUVs in the JSDF. They have been under production by Mitsubishi Motors since 1973. In JSDF service, it is officially known as the 1/2 Ton Truck. They are powered by Mitsubishi-made 4-cylinder diesel engines with a total of 123 horsepower.
Toyota Type 73 Medium Truck
The Type 73 Medium Truck is an all-terrain four-wheel drive (4x4) truck of the Japan Ground Self-Defense Force known as the 1 1/2 Ton Truck.
Hitachi Type 73 artillery tractor (1974)
The first production of the Type 73 was in 1974, built by Hitachi as a domestic replacement for the American M4 and M8 high-speed tractors. It was never produced in large numbers, as self-propelled artillery became the new focus. The cab and gun crew compartments of the Type 73 are fully enclosed steel, with ammunition carried in a separate compartment at the rear. A 400 hp Mitsubishi diesel engine powers full tracks, and armament is a single 12.7mm anti-aircraft machine gun. The Type 73 was intended to tow weapons such as the 155 mm Long Tom gun and the M115 203 mm howitzer. It can also be fitted with a dozer blade, or alternatively, the Type 92 mine roller.
Photo Gallery
---
Axis Trucks

Purchase this pagemarker and support the site !
Sd.Kfz 2, 6, 7, 8, 9, 10 and 11 were half-tracks designed just before the war as prime movers, to carry supplies, ammunition, personal, and tow artillery. Many were also converted during the war as armored versions carrying AA FLAK guns (Flakvierling, 37 mm, or the legendary 88 mm Rheinmetall als used as tank hunters), or were converted as nebelwerfer (rocket launching armored vehicles). They were built by Hanomag, Steyr, Mercedes-Benz, Bussing and many other manufacturers until 1945, over 20,000 half-tracks.
---
Cold War & Modern Vehicles
Modern Trucks