The BAV-485 was the Soviet standard amphibious truck, a faithful copy of the WW2 famous US-made DUKW made by GMC and generously provided to the Soviet Union via lend-lease. It was developed from 1949, produced from 1952 to 1962 by successive plants, and widely distributed between motorized infantry units for the crossing or rivers, as well as the Soviet Marines. Maintained into service until the 1970s, it was replaced by the tracked PTS. It is relevant to this site and not tank-afv.com due to its lack of armour protection.
The Soviet DUKW
Like the original, the BAV (the acronym stands for "big car waterfowl" or something equivalent) was designed as large floating amphibious made for the transportation and crossing of personnel, vehicles, artillery systems and materiel across wide water barriers. It was used for assaulting through rivers in the first and second waves and for amphibious assaults from landing ships. The BAV-485's prototpe was ready in 1949 and production greenlighted in 1952, and it was produced by successive manufacturers until 1962.
Origins
During the Second World War, the Soviet Army deployed most of their US-provided
GMC DUKW 353
to cross the rivers Svir and Daugava, during the Vistula-Oder operation. They were provided by lend-lease from 1944, with a total delivered 589. Their use showed high efficiency in offensive operations, since it was possible to cross rivers without delays, transferring soldiers and equipment to the other side in a very short span of time while not waiting for the construction of pontoon or temporary bridges, under enemy fire.

Original DUKW used by Rokossosvsky's 2nd Belorussian front in January 1945
Convinced of the usefulness of type of vehicle, the State Defense Committee as part of the post-war technical re-equipment of the Soviet Army, issued a tactical and technical requirement (TTZ) for the USSR Ministry of the Automotive Industry. The goal was to develop a local analogue of the American GMC DUKW-353 with available chassis. The developed amphibious truck was named "BAV", an acronym that remained unique in Red Army nomenclature. The following number was from the design bureau at ZIS.
Initially, it was planned to transfer development of the prototype to the 1st State Automobile Plant I.V. Stalin, but due to and intense workload, between the ZIS-150, ZIS-151, BTR-152 and other projects, it was proposed to entrust the Dnepropetrovsk Automobile Plant (DAZ) instead.
Development at DAZ
Engineers at DAZ, started work on the design by the end of 1948. After studying two American GMC DUKW-353, analyzing and trialling them, and then disassembling the vehicle entirely for a possible production tooling, it was decided to use part of these, replicated locally, coupled with sub-systems from the GAZ-63 and ZIS-151, but also the BTR-152 armored personnel carrier, the remainder being designed and purpose-built. By using that many components "from the shelf", they expected to deliver quickly a production model that could be cheapley produced and maintained.
DAZ working team included chief designer V. A. Grachev, lead designer L. A. Berlin, internal combustion engine designer S. I. Tyazhelnikov, transmission designer A. Kh. Lefarov, body designers B. T. Komarevsky and S. S. Kiselev. Yu. S. Paleev was responsible for the tests. For experimental tests, two prototypes were built.
The first prototype called "DAZ-485 BAV" was ready for trials by August 1950, although a mockup was made in 1949 and the first non-working prototype. The very first tests were done under the control of chief designer Vitaly Andreyevich Grachev, which at night crossed the Dnieper. These tests were rated as "excellent". By September 1950, the second prototype was ready and tested from July to September 1950 with the 1st one, undergoing a gruelling full cycle of factory trials, on land at on river, even at sea with the following stages:
-Trial run between Dnepropetrovsk and Zaporozhye and long swims along the Dnieper
-23-25 September run between Dnepropetrovsk and Zhdanov (Mariupol) and also Melitopol-Nikopol-Dnepropetrovsk
-26-30 September a run to Odessa via Nikolaev
-By October 1950 on Kakhovka-Evpatoria-Yalta-Feodosia-Kerch-Taman-Anapa-Temryuk and back.
By the spring of 1951, interdepartmental tests near Vyborg and Yukholonmyaki. Tests in the Crimea were marred by a storm during the crossing of the Kerch Strait, left alone as no accompanying boats were present; Driver Grachev managed to cross the strait, despite the presence of sea mines in the area, as it was not completely cleared of mines, but also wrecks of sunken ships. It arrived safely. According to April 1951 tests, B. T. Komarevsky, G. M. Grigoriev, G. V. Safronov, I. I. Thor, and V. A. Grachev were awarded the Stalin Prize while the BAV was greenlighted for mass production.
Production
In 1951, the BAV 485 was put into service, and at the DAZ factory a first small serie was created of 10 vehicle for further evaluation as a pre-production batch, while tooling and preparing the mass-production as the "DAZ-485". However by May 9, 1951 a Decree of the Council of Ministers No.1528-768 had the new R-1 nuclear warhead launch vehicle own production ordered instead at the factory. By July 1951, Grachev, and most designers and engineers of DAZ were transferred to the 1st State Automobile Plant I.V. Stalin (ZIS) for mass production, as the two prototypes and all the documentation. Grachev moved to Moscow with his family to continue the development of the vehicle.
Vitaly Andreevich was appointed as his Deputy Chief Designer. By August 1951, the special bureau "485" was formed at ZIS, giving its name to the vehicle. Sections for production of parts and assemblies were organized in all workshops and to speed it up, it was decided to have hulls made at plant No.586 (former DAZ). By July 1952, the first of the four serial vehicles rolled off the assembly line as ZIS-485. Until the end of 1952, 100 were produced, with hulls manufactured at plant No.586. From 1953 they were distributed to several units for operational tests. By 1953, 270 had been delivered but at that stage, Grachev moved to another project and was replaced by S. T. Deev as lead designer.
By October-November 1953, two random vehicles were selected for reliability and standard compliance tests by state official, carried out along the route Moscow-Stalingrad-Astrakhan-Grozny-Baku-Tbilisi-Batumi-Krasnodar-Novorossiysk-Crimea-Odessa-Kiev-Minsk and back to Moscow or circa 10,000 km. Swimming testswere performed on the Volga, Kuban and Dniester. They were all considered successful so ZIL received another go-ahead for urther production without change. By 1954, annual production was of 285 vehicles, and some received a 12.7 mm DSHK heavy anti-aircraft machine gun, mounted in front of the cargo hold. This was not common though, but resembled the cal.50 used on the original DUKW. By June 26, 1956, by decree of the Central Committee and Council of Ministers No.865, ZIS changed its name to ZIL and the BAV-485 was produced as "ZIL-485".
Successive Production runs and Variants
The BAV 485 was produced over a decade (1952-62) at the Dnepropetrovsk Automobile Plant from 1949 to 1951 under the designation DAZ-485 and prototypes
The 1st State Automobile Plant I.V. Stalin from 1952 to 1956 under the designation of ZIS-485 (first serial production)
The Moscow (twice the Order of Lenin, Order of the Red Banner of Labor) Automobile Plant I. A. Likhachev "from 1956 to 1959 under the designation ZIL-485 (second serial production);
The Bryansk Automobile Plant from 1960 to 1962 under the designation ZIL-485A (BAZ-485) which was third serial production.
ZIL-485A
With enough experience return from active units, compiled reports showed several ways of improvements to the vehicle. The design of an improved model soon absorbed all the developments teams from the end of 1956. In April 1957, two prototypes of the new version were assembled as "BAV 485A". From May to November 1957, they were tested on land and water and by September 1958, mass production as the ZIL-485A was approved. By mid-1959, due to the workload at Moskow's ZIL plant, it was decided to transfer it to the Bryansk Automobile Plant (BAZ). By December 30, 1959, the ZIL model rolled off the assembly line, with a total of 2005 being delivered at this plant. The first vehicles made by BAZ began were accepted by January 10, 1960, also as "ZIL-485A" to avoid confusion and became the BAZ brand was kept secret. Only 24 left BAZ, the last one at the end of 1962.
ZIL-485B
This was further development, with its first prototype appearing in January 1960, with a new 5-speed synchromesh gearbox and longer front springs, as well as an upgraded single plate clutch, a reinforced frame, a new power take-off and a new heat exchanger. However mostly because of cost reasons, these proposed modification were not greenlighted for serial production and to replace the ZIL-485A, the amphibious trawler UROM-2 was developed, used by fishing brigades and produced at a very limited pace.
By the early 1970s, the Soviet army had received all its BAV-485s but the strong need for NBC protection made the model obsolete. Production was discontinued, the Bryansk plant turned to other models. In the 1970s, a four-axle transporter GAZ-44 was built at Gorky, showing much better payload capacity during tests on the Dnepropetrovsk-Moscow-Bryansk road. However it was not greenlighted for mass production either, and the BAV program was terminated. No true replacement was done (in wheeled form) but the tracked PTS, judged way better in all areas.
DAZ-485: 1952 Initial base model, 10 preserie vehicles
ZIS-485: 1952-56 270 made
ZIL-485: 1956-59 Same (factory name change), circa 1,000 made
ZIL-485A: 1958, Improved version, 2005 made
ZIL-485B: 1959, New gearbox and other modifications, prototype only.
BAZ(ZIL)485: 1960-62, 24 made
UROM-2: Derivative of the ZIL-485B for civilian service, perhaps 20-30 built.
GAZ-44: 1972 new, better amphibious 4x4 truck by Gorky Plant, prototypes only.
Design of the BAV-485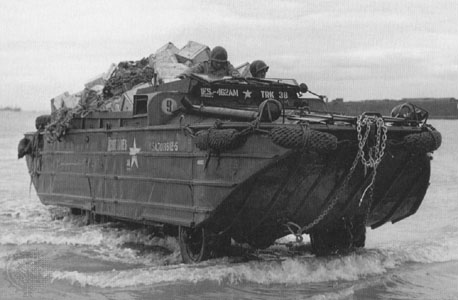 Hull and equipments
The hull design was similar to that of the GMC DUKW-353, precise to the bolt, and completely watertight in welded steel. It was 8.6 m long, 2.07 m in beam and 2.64 m heigh, weighting 7.15 tons, with a cargo and crew up to nine tons in working order.
Its Hood was called the deck and the cabin, flooring with floorboards made of bakelit and plywood, with storage areas under the deckhouse floorboards and cargo platform hold. Among other equipments, the vehicle was given a hand pump, lifebuoy hook fixed on deck to be usable by the skipper.
The hull was divided into three compartments: bow, center and stern. The hull bottom was recessed for the wheels niches and the back comprised two propeller with their tunnels and rudders. It was essential to pump water out of the hull when swimming at all times, and so two powerful pumps centrifugal pumps, one with with a capacity of 300 l/min and a vortex type with 150 l/min were installed. Both were driven by the same chain activating the propeller shaft, drive by the transmission. They could provide buoyancy for up to 500 cm² at any time.
To drain the oil from the crankcase, screw plugs were provided in the bottom. This engine "deck" was covered by two hatches enabling access, and around were welded two headlights, an additional air duct receiver and the skipper's hold (anchor, cables, lights, flares, and equipments). The rear hatch gave access to the engine compartment, the front one to the radiator and cooling system. On land, air ducts from the deck entered the radiator; but when swimming, a heat exchanger cooled the engine by outboard water. The bow had three upper earrings for towing it.
The central compartment comprised the cabin housing control and the driver and commander's seats, with removable cushions. The forward-folding windshield left the roof open. The cabin floorboard behind was removable to access the hold. At the bottom left of the floor was installed a valve to collect and drain water. In case the main pumps fails, the vehicle was provided a spare mechanical pump for emergency. Its winch was located behind the wheelhouse, under the cargo platform and could pull up 44.1 kN, normally coupled with the engine. The cable diameter was 13 mm, 60 m long. It could be used for self-pulling. Both the cabin and cargo compartment were heated and could receive a canvas with removable fitting bows all along the main compartment.
The latter comprised a large flatbed usable as cargo platform, 10.4 m² in area. To facilitate loading/unloading there was a tailgate and gauge ladders aft. Under the removable floorboards the hull frame was acessible, revealing several holds for a box of spare parts, water rudder drive, spare wheel cover and extra cargo in bags or boxes. This weight acted as ballast, lowering the center of gravity. Also in the bottom, there were six holes closed with plugs for draining oil. Fuel tanks and plus the towing system were at the stern. For extra loading/unloading capabilities, a cargo crane could be installed at the end of the platform.
Powerplant and performances
The vehicle was also given two fuel tanks with a total capacity of 240 liters, placed in the hold of the stern. Its bow compartment is fully sealed to contain the engine, a six-cylinder ZIS-123 engine (model 485) shared with the BTR-152. The 5.55 L engine had an output of 112 hp, for a 6.5 compression, and was fitted with a K-84 downdraft carburetor, with two mixing chambers and and capped with a 3,100 rpm limiter. It was not really multifuel, but could run on A-70 or B-70 gasoline.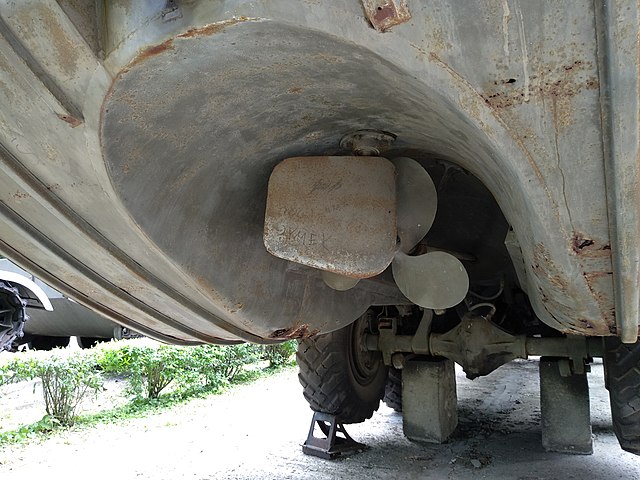 Detail of the propeller, rudder and tunnel, with the shaft drive right behind the rear axle
Chassis and transmission, significantly modified and integrated as a fully sealed body, came from a three-axle truck ZIS-151, quite close to the original GMC 353 truck delivered in lend-lease, which eased greatly the conversion. It was 6x6 with a 4x4 rear twin axles, single wheels, but all driving ones. The engine, transmission and running gear as well as the sealed folding tailgate were attached to it. The Suspension is dependent with two longitudinal semi-elliptical springs on the forward axle, and two double-acting hydraulic lever-piston shock absorbers aft on a balancing cart with jet rods. The five-speed gearbox coupled with the engine had three single-stage bevel main gears, helicoidal teeth for each drive axle while the suspension system and steering mechanism used a spherical worm with a three-ridged roller but no hydraulic booster, also from the ZIS-151.
The crankcase had two dry friction disk systems with a 2-speed transfer case, double-acting hydraulic shock absorbers from the BTR-152. The drum brakes were coupled with an pneumohydraulic drive on all wheels and there was a band parking brake acting only on the rear wheels. Like the interior heater, they came from the GAZ-63. The single disc wheels had a split rim, low-pressure tires 11.00-18" using a straight herringbone tread, attached to the hubs, with six pins. Air pressure could be regulated via the centralized inflation system working with pressure from 0.35 MPa for public roads up to 0.07 MPa on rough terrain. The track was 1620 mm on forward and aft axles.
Fuel range is estimated 570-690 km on land, 70 km when swmimming. Top speed on road was 73 km/h down to 40 km/h off-road and 10.7 km/h when swimming, with a 635 mm three-blade propeller, which torque was transmitted from the power take-off, also taken from fire trucks. It used a three-section cardan shaft, with two struts to the propeller shaft. Nine cardan shafts were installed in the transmission in total, for the driver to choose to connect the propeller tube and winch. When swimming, the rudder was used, driven by cables and connected to the front axle. Turning radius, on land, was 11.25 m, 9 m when swimming.
The vehicle had a relatively high ground clearance and still light enough to cross wooden bridges. It was found able to negociate 32° slopes unladen, 29° loaded, and moving along a 20° slope, cross a 0.75 m wide ditch or climb a wall 0.5 m high.
Additional equipment and cargo
The BAZ 485 had a single-wire circuit rated for 12 V and the amphibious electric power source used a G15-B DC generator producing 220 W plus two 6-volt 3-ST-84 batteries connected in series. The ignition system used this batteries, with an Electric starter rated for 1.32 kW. As for Cargo capabilities, the BAV 485 standard infantrey load is of 28 fully equipped troops or up to 3 tons of cargo. The list included also various ordnances: Any gun up to 85 mm in caliber and its full crew and ammunitions, or a 122mm howitzer with crew. It could also carry another vehicle, the GAZ-69 staff car with cargo and GAZ-63 light truck without cargo. On land the capacity was rediced to 2.5 tons. To facilitate loading, the folding tailgate and removable gauge ladders plus winch enabled the loading of any heavy equipment. There was even a coupling device under the tailgate to be usable for towing any load, or trailer, of the same weight or type as for the corresponding ZIL-151 truck.
Modernization
The vehicle on the long run knew a wave of improvements:
-The engine was was upgraded to the one from a ZIL-157 (122 hp)
-The 2-disk clutch was replaced with a single one
-The gear ratio, second gear in the transfer case, was increased to 1.44 (out of 1.24)
-A synchronized gearbox and separated reversible power take-off were installed for the propeller and winch
-The telescopic shock absorbers froward were upgraded. -New tures of the I-111 size 12.00-18 type installed, both larger and softer with the oblique Christmas tree tread pattern -New, better central inflation system installed through drillings in the wheel trunnions -New floating heads with seals inside the hub, having an air supply through flexible hoses in complement
-The spare wheel was moved to the cargo platform for better access.
-Reinforced drive axles with an expanded wheel track by 130 mm
-Increased road clearance by 27 mm
-Main brake drive replaced with a pneumatic system, better valve.
-New parking brake blocking the transfer case.
-New 3-STE-135 batteries with increased capacity, allowing to power army radio stations aboard.
-Dimensions increased to 9540 × 2485 × 2780 mm for the platform.
Operational History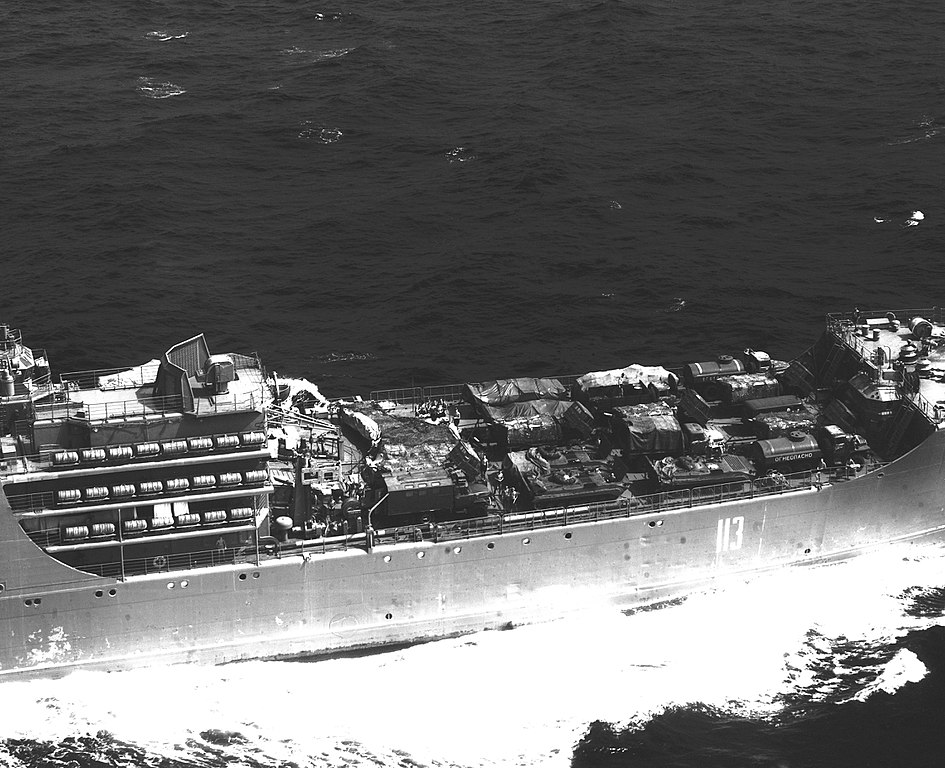 Two ZIS-485 amphibians under covers are visible on board the Ivan Rogov large landing craft
The BAV 485/BAV 485A was widely used in in the Soviet army, including by separate paratrooper battalions with 20 of these per company. By the late 1970s however they were worn out and actively replaced by the K-61, PTS, BTR-60, BMP-1 from the mid-60s, all amphibious and offering a better (notably NBC) protection. In the 1980s, attempts were made to use them for rescue at the very end of their life and they joined the civilian sector, seeing many applications over the years, and operated until the 1990s.
It seems the BAV 485 was only used by Soviet army and Polish army in the warsaw pact. It has established itself as a reliable and easy-to-use equipment and became a platform for testing and implementing new systems and leanr about amphibian vehicles specifics. This type marked the beginning of the systematic amphibian nature of all subsequent IFV and APC models, both off-road wheeled vehicles and tracked ones, as well as the central inflation system for wheeled vehicles, with single wheels of the same size on the front and rear axles.
Profiles

Basic vehicle is Soviet service in the 1950s

Vehicle covered by a tarpaulin

Vehicle with DSHK. No photo shows the details of the installation

Polish BAV-485 in 1980s camouflage, the only known used after USSR.
Gallery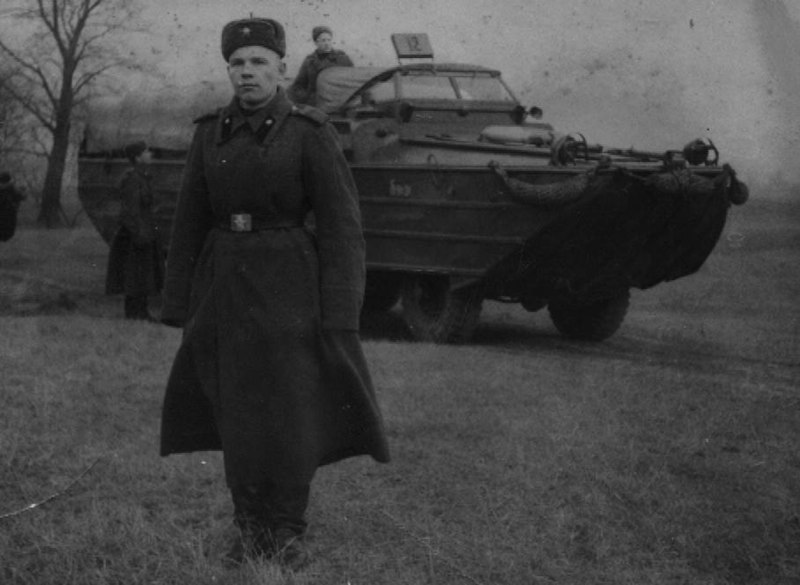 Presentation in the 1950s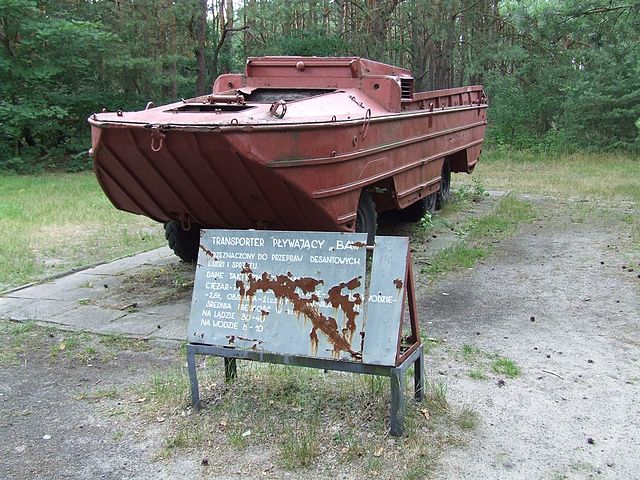 Polish vehicle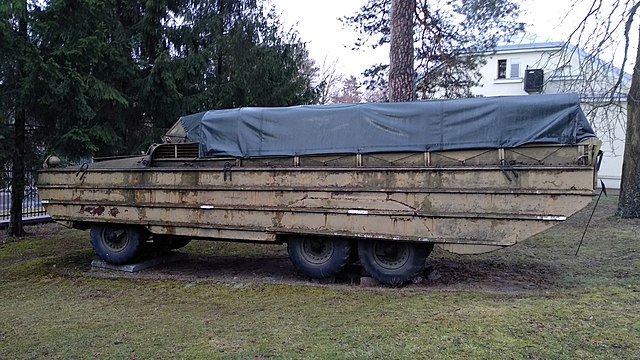 Polish BAW-485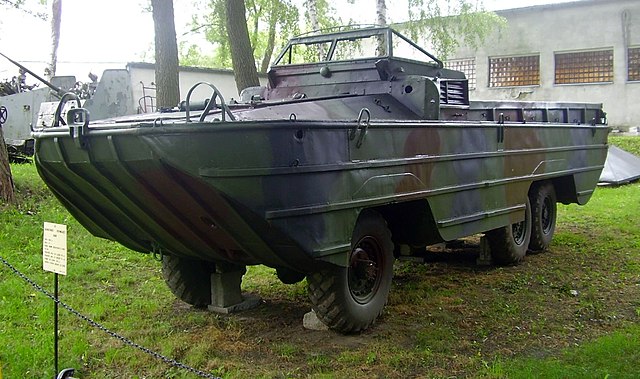 Samochod_plywajacy_BAW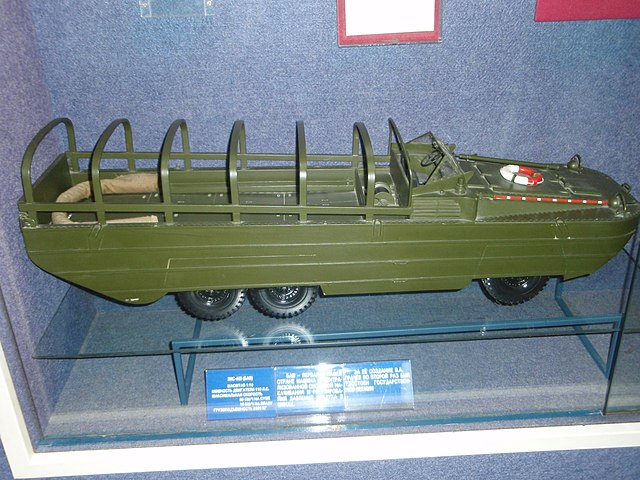 Model kit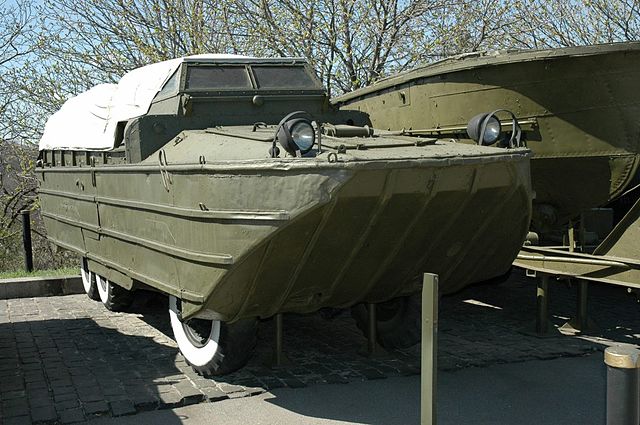 In Kiev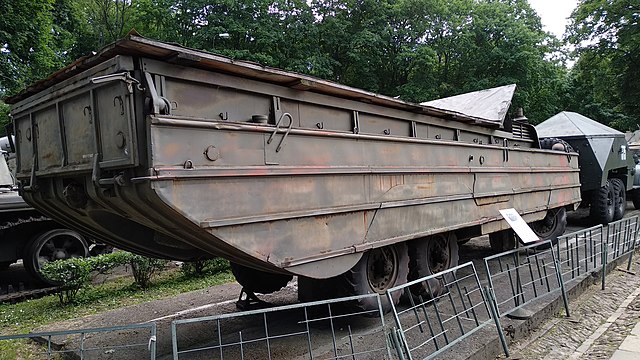 Polish BAW/ZiL-485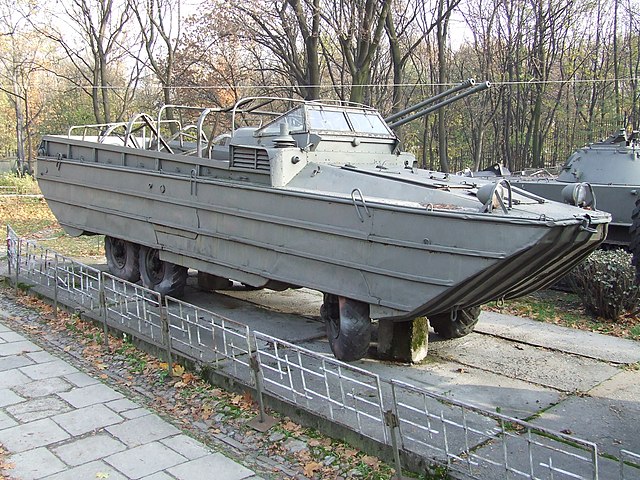 Same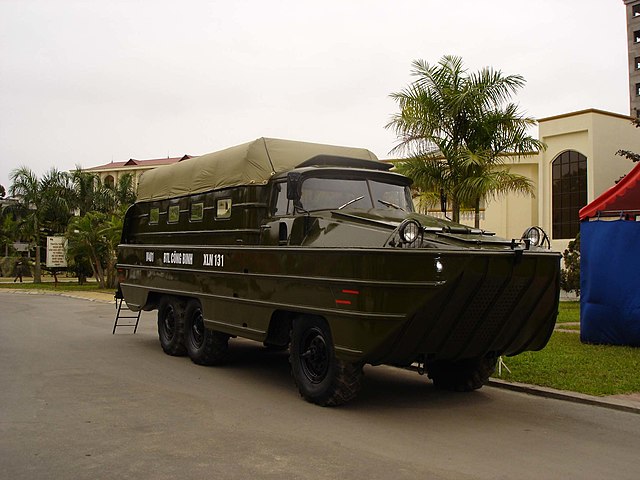 In civilian service: Vehicle used for tours in Vietnam
Sources/Read More
Links
Main Russian src
autotruck-press.ru
proauto.in.ua
army.armor.kiev.ua
tanky.dovidnyk.info/
leon-esman.chat.ru
lib.vkarp.com
armyrecognition.com
On scalemates
commons.wikimedia.org
Books
Hogg, Ian V., and Weeks, John. The Illustrated Encyclopedia of Military Vehicles. Hamblyn Publishing Group Limited
Prochko, Yevgeniy. «Bolshoi avtomobil vodoplavayushchiy». "Tekhnika i Vooruzheniye". 03/2009.
Hogg & Weeks, p.308, "BAV-485".
Fitzsimons, Bernard, ed. The Illustrated Encyclopedia of 20th Century Weapons & Warfare
Prochko, Yevgeniy. «Bolshoi avtomobil vodoplavayushchiy». "Tekhnika i Vooruzheniye". 03/2009.
Наставление по военно-инженерному делу для Советской Армии. — М.: Военное издательство МО СССР, 1966.
Военно-инженерная подготовка. Учебное пособие. — М.: Военное издательство МО СССР, 1982.
Изделие 485. Руководство по эксплуатации. Часть 1. — М.: Военное издательство МО СССР, 1952.
Гоголев Л. Д. Автомобили-солдаты: Очерки об истории развития и военном применении автомобилей. — М.: "Патриот", 1990. — 191 с. — 100 000 экз.
Павлов С. П. Большой плавающий автомобиль. — М.: Воениздат МО СССР, 1961.
Ангелов С. Танки и самоходные установки. — М.: "АСТ", 2000.
Кочнев Е. Д. Автомобили Советской Армии 1946 – 1991. — М., 2011.
подполковник в отставке Протасов А. и канд.техн.наук, подполковник Протасов В. Журнал «Грузовик-пресс» № 6-2004, Статья: ЗИС-485
Журнал «Моделист-конструктор» № 5-1981 г. Статья: ЗИС-485.
Прочко Е. Журнал «Техника и вооружение» № 4-2009, Статья: «Большой автомобиль водоплавающий».
Журнал «Автомобильный моделизм».
Video
---
Axis Trucks

Purchase this pagemarker and support the site !
Sd.Kfz 2, 6, 7, 8, 9, 10 and 11 were half-tracks designed just before the war as prime movers, to carry supplies, ammunition, personal, and tow artillery. Many were also converted during the war as armored versions carrying AA FLAK guns (Flakvierling, 37 mm, or the legendary 88 mm Rheinmetall als used as tank hunters), or were converted as nebelwerfer (rocket launching armored vehicles). They were built by Hanomag, Steyr, Mercedes-Benz, Bussing and many other manufacturers until 1945, over 20,000 half-tracks.
---
Cold War & Modern Vehicles
Modern Trucks