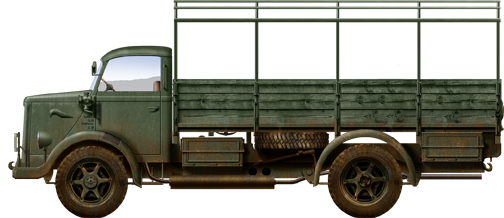 Development of the Bianchi-Miles
During the war, "Edoardo Bianchi" SPA of Milan produced a single medium type unified truck, the "Miles" ("Soldier" in Latin), nothing to do with the British company Miles). This was the ancient latin word. It was given a semi-rearward cab. Fiat, Alfa-Romeo, Lancia or Isotta-Fraschini, jut like Bianchi never developed a unified heavy truck type for the whole of Italy, which could have simplified production and made costs lower.
The Bianchi Miles was born, not as an adaptation of a civilian truck but directly from a military request which required a medium truck with an optional electric start, with or without battery and starter. Starting was indeed problematic at low temperatures without battery. Various bodies were studied at Bianchi until creating the Miles chassis, with a body treated with a special coating and possible sealing, but to eb used with special equipment in the event of chemical warfare.
The truck was to carry notably field showers for soldiers decontamination, probably the first ever Italian NBC dedicated truck but woould be used in normal condition as a model shower vehicle, for personal hygiene in the field. The army wanted to develop other versions like a refrigerated transport, a bus and a van bodies for ransport of medical material and patients for Surgical Units. Provisions were made to adapt various types of machine guns, including the common 20 mm Breda AA on the flatbed.
The Bianchi Miles saw a lot of action in WW2, with a total of 20,000 estimated being produced between Italy and German which shared manufacturing. It was mostly used on the eastern front, precisely because of its batter-powered starter well suited for winter conditions. The German use was also an incentive for an easier, common maintenance and supply channel. But some were also deployed in North Africa. Production stopped however in 1943 as Italy surrendered and Germany did not followed.
About Bianchi and the previous Mediolanum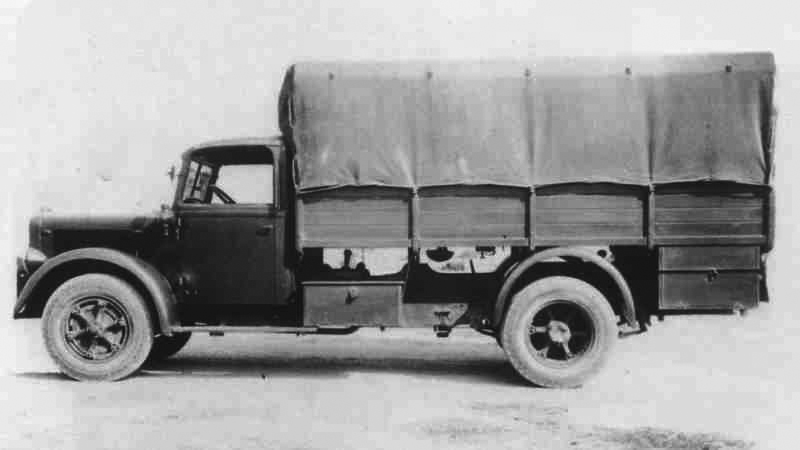 Fabbrica Automobili e Velocipedi Edoardo Bianchi was born in 1899 and starting producing 3 and 4-wheeled light vehicles propelled with De Dion Bouton engines. It's productionwas quite diversified, as in 1914, 45,000 bicycles, 1,500 motocycles and 1,000 cars were produced. Soon known in races as well, it's legend is associated with Tazio Nuvolari. It's only in the 1930s that the firl started to produce trucks. The Bianchi Mediolanum was the first, the Bianchi Mediolanum 36 from 1930 and the Bianchi Mediolanum 68A from 1938 - 1939.
The "Mediolanum" (Latin name for Milan) was produced from 1934 in two series which would serve in Italian northern Africa (200 Mediolanum sent there in 1938 for manoeuvres). It was a popular model, which driving and maintenance were considered easy, but also its speed, low consumption plus excellent adaptation to service in the Libyan desert. The Italian Air Force also used it. The improved 68A was produced from 1938 ad until replacement by the Miles in 1939. Its Technical characteristics were: Engine: 4 cylinder diesel 57 hp, 55 km/h and autonomy: 270 km. Empty weight: 3,730 kg.
Design
The truck took the major part of its design from the previous Bianchi Mediolanum. Is characterized by a peculiar cabin, a compromise between vehicles with an overhanging cabin and those whose cabin is placed at the rear of the engine with the bonnet, which makes it easily identifiable. For the rest, the chassis was a classic ladder type (6.05m long overall, 2.15m wide, 2.81m high), a semi-rearward cab as said, with a capacity of 3 tons, rear-wheel drive. The chasis had a Wheelbase of 3.35 m, a front track of 1.70m and rear track of 1.64m. It's turning radius was just 6.50m, unladen weight 3 tons 500, PTC 6,500 kg with the flatbed having a max capacity of 3000 kgs.
For mobility, it was powered by a 4,000 cm³ (4849 cc) Bianchi CDY 35 diesel engine with indirect injection rated for 65 hp, with electric start. It was coupled with a 8+2-speed manual gearbox. Its Range was 350 km, based on its 83 liters gasoline tank. Top speed 60 km per hour on road. Off-road capabilities were limited. It was known able to negociate a slope up to 27.7% and stay stable when crossing it longitudinally. It was not amphibious nor equipped to ford deep rivers and probably could only negociate one meter in bost cases.
It was unarmed and unarmoured, but due to its military nature, had reinforced leaf spring suspensions, carried extra tools for field work, and a single spare roadwdeel located underbelly behind the cab. Its main competitors were the Fiat 626 (626RN) and the Fiat 666 (666RN).
Production
Bianchi produced an estimated 10,000 vehicles, while Nazi Germany had 90-100 purchased or requisitioned from the factory in November 1943. In fact no Italian manufacturer ever communicated the number of vehicles delivered to foreign armies. The "Miles" was produced by Bianchi until November 1943 as a "unified truck", medium type, from 1938, replacing the Bianchi "Mediolanum" on the production lines. After the armistice, the Wehrmacht used them for own use mostly, and after the war, it was declined as a civil version called the 'Cives 46'. Soon after followed in the 1950s a flurry of new models, the Bianchi Fiumaro, Filarete, Visconteo, Audax, Sforzesco, Ambrosiano, Scaligero and Estense, both being produced until 1968.
Models & variants
Standard flatbed transport model
Refrigerating truck, with rigid rear cab, diesel-fuelled compressor, with eight refrigerated storage bins
Sanitary version: With six showers and a lavatory, plus personal hygiene supplies bins.
Chemical decontamination version: Same but only with the showers and changing room plus lockers
Surgical Units bus
Standard Bus Version (both had a full windowed, rigid, partly wooden body)
Van version (no info)
The Bianchi Miles Bus
In addition to the normal vehicle, the showers/chemical warfare one, probably the best known variant was the bus version and surgical van. The main variant was the bus: Produced from 1940 (until 1950), the base manufacturer delivered the naked motorized chassis to approved bodybuilder Dalla Via and Menarini workshops. They produced 23-seat buses at the Desio facility in Milan with a Bianchi CDU 35 Diesel 4,849 cm3 developing 65 ch for 72 km/h. It had the same rear axle transmission, 8+2-speed manual gearbox weight empty GVW 6,800 kg, 2 front doors for a 6.515mm x 2.320mm x 2.580mm chassis and a wheelbase of 3,350mm, front and rear tracks of 1,704 mm and 1,642 mm.
Operational use
Bianchi Miles in Tunisia, 1943
Bianchi SpA of Milan "Miles" (soldier in Latin) was widely used by the Italian army in North Africa and Russia, as a regular truck, but ambulance and bus were quite commo as well. The decontamination versions were never used and thus, used as mobile field showers, a true life changer in North Africa. In August 1943, the Italian army started to use these (as for many other trucks) as self-propelled guns. A first series of twenty were converted as anti-aircraft vehicles (Controaero) with captured French Hochkiss 25 mm guns. After the Italian armistice of November 1943, production was maintained by order of the Wehrmacht as Milan was under occupation, and a further 90 to 100 were received between May and December 1944. So the Italian production however stopped in 1943 with 10,000 vehicles.
They were used by the Wehrmacht alone as there is no photo or record of any use by the RSI. After the war, the bus was still used in the 1960s, but due to NATO standardization, they were gradually retired from the Italian Army in the early after being versed to secondary units in the 1960s.
After the war appeared the "Civis" (Civilian in latin) to make a difference with the wartime "Miles". Several versions were produced at the same facility and tooling used by Bianchi, the Civis 46, 51 and 75 differinf by the level of the cabin, equipment improved and for civilian use. Doors were fitted with lowering windows, grille had no longer the horizontal protection bars above the bumper. Production went on until 1952 at the rate of 100 per month. It was replaced by the Bianchi Audax and its payload of 4.6 tonnes. They became famous for delivering Coca Cola throughout Italy (and making quite an adverstisement of it) between 1945 and 1955.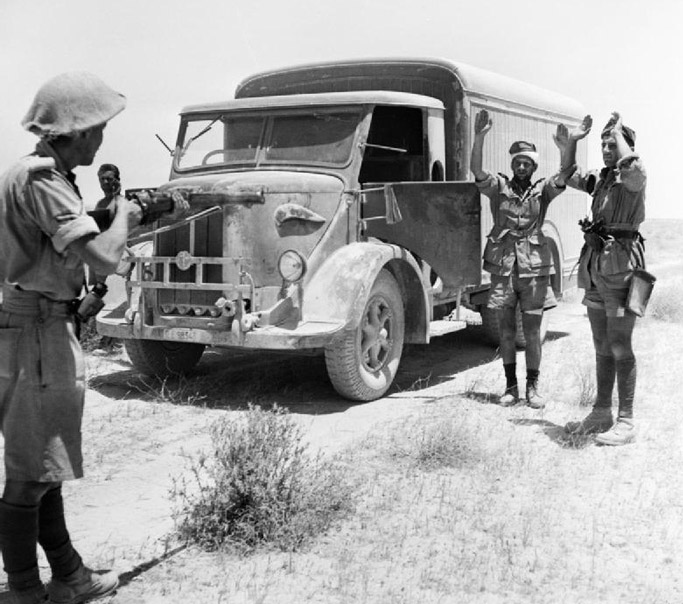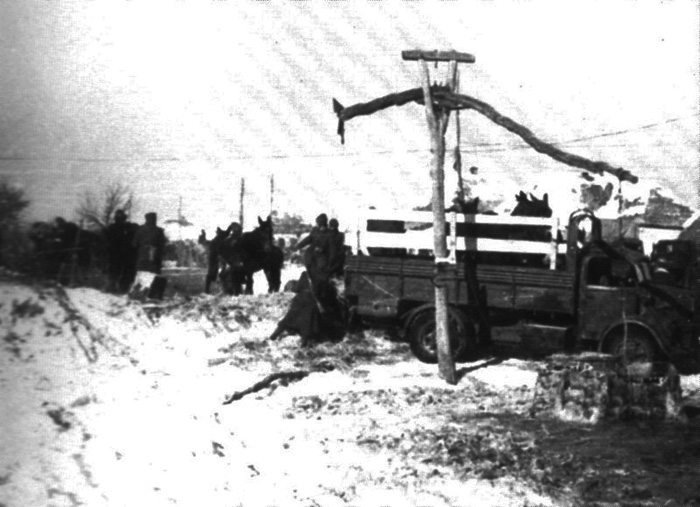 Links about the Bianchi Miles
on wikipedia.fr
www.centoventesimo.com
centoventesimo.com (generic on Italian trucks)
On kfzderwehrmacht.de
On o5m6.de
Bianchi trucks
On min.news/en
On scalemates
On italie1935-45.com
Video HISTORICAL MONOGRAPH - Italian military truck Bianchi Miles (WW II)
---
Gli Autoveicoli del Regio Esercito nella Seconda Guerra Mondiale, Nicola Pignato, Storia Militare, Parma 1998
Amatori, Franco; et al. (1992). Storia della Lancia — Impresa Tecnologie Mercati 1906–1969. Milan.
Stato Maggiore dell'Esercito archivos – Ufficio Storico, Roma 2005
Bianchi Miles specifications

Dimensions:
Length m. 6.05 x Width m. 2.15 x Height m. 2.81
Weight and payload:
6,500 kgs PTC, Capacity 3 tons
Payload
3.000 kg overall ( lbs)
Crew:
2 (cabon) +10 (flatbed banks)
Propulsion:
Bianchi CDU 35 Diesel 4,849 cm3 65 hp
Top speed:
65 km/h (? mph) road
Transmission & suspension
Manual 8+2 speeds, leaf spring
Maximum range (on/off road)
300 km (84 liters)
Armament
None, but as self-propelled platform
Production
10,000
Reference illustrations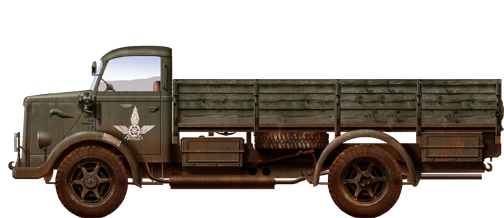 Model used by the Regia Aeronautica as a repair truck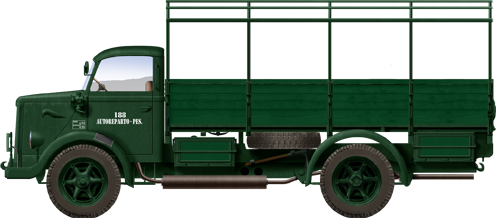 Basic Griogiverde truck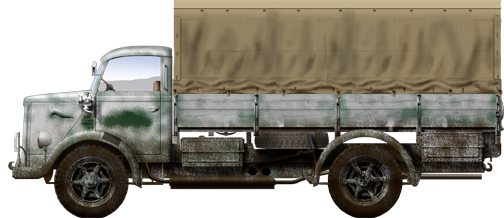 Truck in Grigioverde livery on the eastern front, late 1942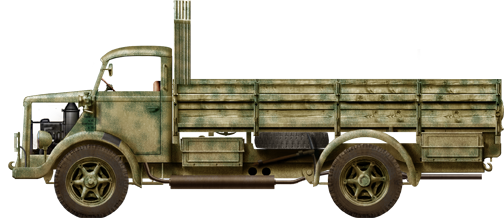 Bianchi Miles in Libya, North Africa, 1941. Note the open engine for ventilation

Same, Tunisia, 1943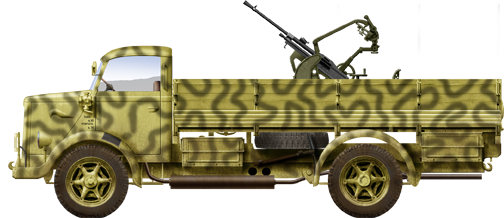 Converted SPG in Tunisia as a portee with a Breda 20 mm AA gun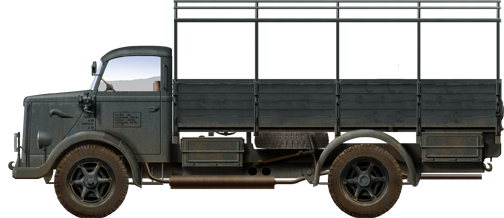 German vehicle in 1945
---
(To come) Royal Army Bus in 1941
(To come) Surgical unit van
(To come) Chemical Decontamination vehicle
Photos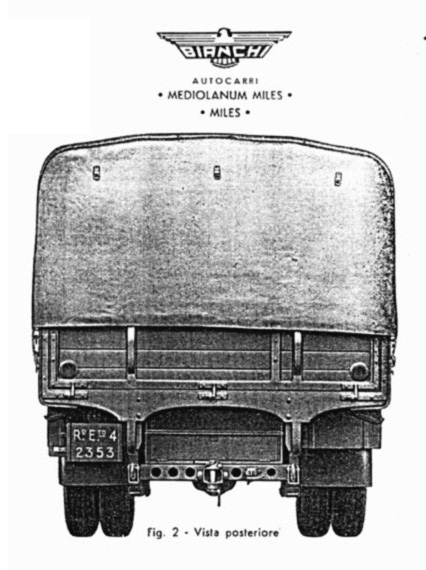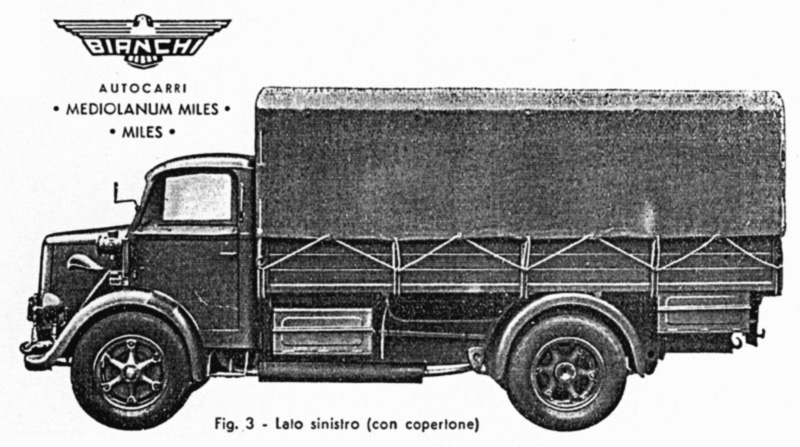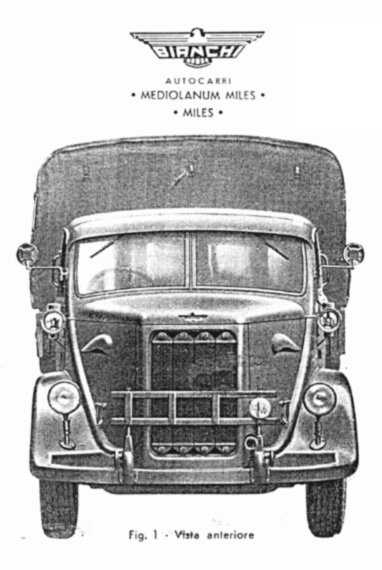 Face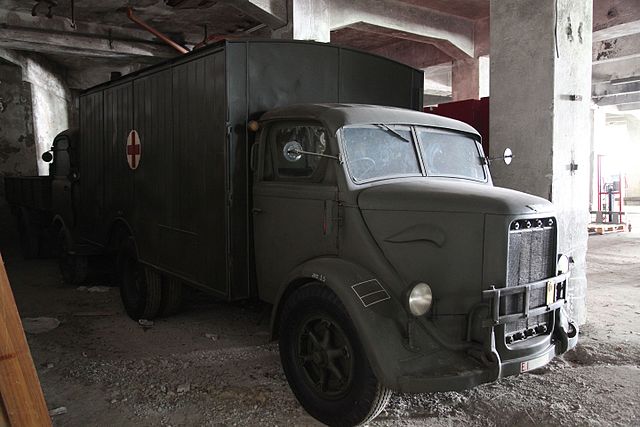 At the Museo Storico Italiano della Guerra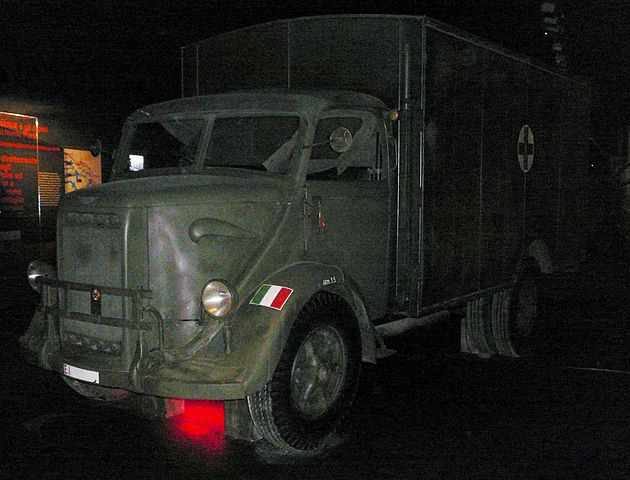 Ambulance
---
Axis Trucks

Purchase this pagemarker and support the site !
Sd.Kfz 2, 6, 7, 8, 9, 10 and 11 were half-tracks designed just before the war as prime movers, to carry supplies, ammunition, personal, and tow artillery. Many were also converted during the war as armored versions carrying AA FLAK guns (Flakvierling, 37 mm, or the legendary 88 mm Rheinmetall als used as tank hunters), or were converted as nebelwerfer (rocket launching armored vehicles). They were built by Hanomag, Steyr, Mercedes-Benz, Bussing and many other manufacturers until 1945, over 20,000 half-tracks.
---
Cold War & Modern Vehicles
Modern Trucks