WW2 IJA & IJN trucks, tractors & staff cars
Summary
Trucks
-Toyota 4x4 Su-Ki (Amphibious truck)
-
Isuzu Type 94 truck
-Type 94 6-Wheeled Truck
-Type 95 Mini-truck
-Type 97 4-Wheeled Truck
-Type 1 6-Wheeled Truck
-Type 2 Heavy Truck
-Toyota KB/KC Truck
-Nissan 80 Truck
-Nissan 180 Truck
-Amphibious Truck "Su-Ki"
Tractors
-Type 92 5 t Prime Mover "I-Ke"
-Type 98 6 t Prime Mover "Ro-Ke"
-Type 92 8 t Prime Mover "Ni-Ku"
-Type 95 13 t Prime Mover "Ho-Fu"
-Type 94 4 t Prime Mover "Yo-Ke"
-Type 98 4 t Prime Mover "Shi-Ke"
-Type 96 AA Gun Prime Mover
-Type 98 20 mm AA Machine Cannon Carrier
-Type 98 Half-tracked Prime Mover "Ko-Hi"
-Type 98 20 mm AA Half-Track Vehicle
-Experimental Heavy Gun Tractor Chi-Ke
-Experimental Crawler Truck
-T G Experimental Crawler Truck
-50 hp Gun Tractor
-Komatsu 3 ton Tractor
-Light Prime Mover
-Clarton Prime Mover
-Holt 30
Staff cars
-Toyota AA/AB/AC
-Type 93 6/4-Wheeled Passenger Car
-Type 95 Passenger Car "Kurogane"
-Type 98 Passenger Car
-Model 97 Nissan Staff Car, Nissan 70
Motorcycles
-Rikuo Motorcycle
-Rikuo Type 97 Motorcycle
-Rikuo Type 93 side car
Misc.
-Type 94 Ambulance
-Type 94 Repair Vehicle
Overview of Japanese trucks production
Work in progress !
Src
https://en.wikipedia.org/wiki/List_of_Japanese_military_equipment_of_World_War_II#Trucks
Models details (to come)
Isuzu Trucks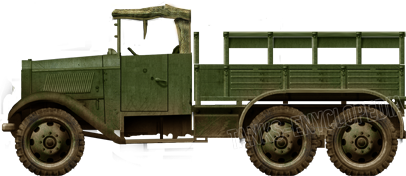 Isuzu Type 94 Lorry
WW1 Vehicles
Allied ww2 Vehicles
---
Axis Trucks

Purchase this pagemarker and support the site !
Sd.Kfz 2, 6, 7, 8, 9, 10 and 11 were half-tracks designed just before the war as prime movers, to carry supplies, ammunition, personal, and tow artillery. Many were also converted during the war as armored versions carrying AA FLAK guns (Flakvierling, 37 mm, or the legendary 88 mm Rheinmetall als used as tank hunters), or were converted as nebelwerfer (rocket launching armored vehicles). They were built by Hanomag, Steyr, Mercedes-Benz, Bussing and many other manufacturers until 1945, over 20,000 half-tracks.
---
Cold War