ZIS-6: The 6x4 ZIS-5 utility Soviet Army truck.
The two trucks widely used in WW2 were the ZIS-5 and GAZ AA with 1,5 million on the field, but they led also to a serie of variants, including a 6x4 version of the ZIS-5, called the ZIS-6. Its heavuer rear axles allowed to carry larger loads.

Author's illustration of the ZiS-6
ZIS-5 trucks as a base
The ZIS-5 was the first large scale production of ZIS (now ZIL), a factory founded in 1916 under the acronym AMP for "Avtomobilnoïe Moskovskoye Obshchestvo". It was an Imperial government creation for a domestic automobile industry in Russia back in 1915, one of six new automobile factories. FIAT won the contract to built the plant in 1917 and produce its universal 1.5 tonne truck Fiat 15, however work was suspended during the revolition and resumed only to be completed in 1919. Factory AMO P. Ferrero (April 1923) delivered its AMO F-15 in 1924, produced until 1931 (6,084), and the AMO-2 with a copy of the Hercules-WXB engine (1,715) and AMO-3 (1931) but in 1933 the company became ZIS (Zavod Imeni Stalina) and started military production as well. Its most successful product became the ZIS-5, produced from 1933 up to the end of WW2, with the wartime ZIS-5V and a derivative with two rear axles, the ZIS-6. The prewar ZIS-10 to 14 were cancelled and wartime ZIS-22, ZIS-32, ZIS-33 never took off. Better than two rear axles, tracks were also adopted, to give the vehicles better performances.
Production of ZIS-6
*According to Soviet registers, the most produced trucks in USSR ever was the GAZ MM (419,812), a derivative of the Ford built in USSR. Some sources goes as far as one million ZIS-5 but it's not corroborated by official sources and more probably the addition of the ZIS-5, 5V and 6 and all the other ZIS models. The factory records for production in 1933-41 (ZIS-5), 1942-48 (ZIS-5V) and 1933-41 (ZIS-6) shows respectively 325,051, 207,260 and 21,239 vehicles, so 533,550 vehicles. This is slighlty less than the famous ww2 GMC family (353, 352 and variants). They still were the most produced ZIS trucks, after the early interwar AMO-3 (34,969 produced), which stays on top. The latter was produced from 1931 to 1933, and derived from the AMO-2 (1930) and AMO-F15 (1924).
In 1933, the AMO factory was created in Moscow, named Factory No. 2 Zavod Imeni Stalina, and the first model manufactured here was the ZiS-5. In the fall of 1941, the production line of the Moscow plant was shut down, as German troops were close. The main ZiS plant was moved to Ulyanovsk, on the Volga and another was built in Miass, Chelyabinsk Oblast in the Ural. The Production in Ulyanovsk adopted the brand UASZIS and ran from February 1942 to 1944, and UralZiS Ulyanovsk really started on July 1944 and both contrentrated on the ZIS-5V. The Moscow plant relaunched its production from April 1942 until 1948 and concentrated on the remorotized ZiS-50. In 1955, UralZiS heavily modified the ZiS-5 with new engines, designated UralZiS-355 (ZiS-355).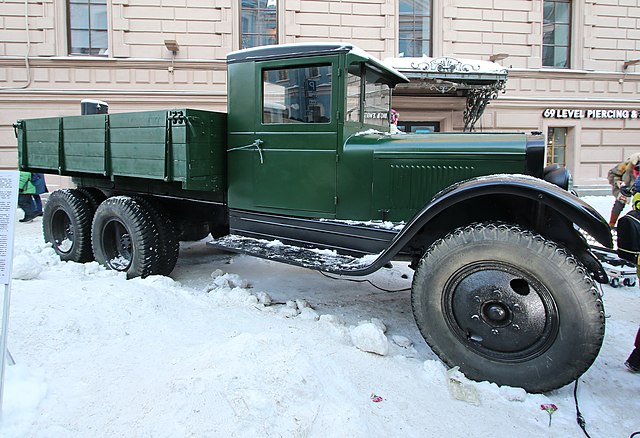 Design of the ZIS-6
The ZIS-6 was narrowly based on the ZIS-5. It was practically identical, apart some adjustments needed to the chassis, and the whole rear axle. The ZIS-5 has nothing to do with the initial Fiat-15 or the AMO-3 but it was a licenced version of the recently purchased American Autocar Model CA. Its initial payload was ranging from 2,500 to 3,000 kgs and it had better cylinders than the original 101.6 mm, better compression ratio and a 5555 cm3 capacity to produce 73 hp, also producing a better torque. Speed on road was 60 kph with a larger large fuel tank. This were all real improvements making the Russian vehicle far more than a simple copy. The ZIS-5 chassis was 6060 mm and wider, but using the same wheelbase as the AMO-2. The gearbox was also an older model used on the AMO-2.
On its part, 6x4 ZIS-6 was derived in 1934, but as a copy of the American Morris 2 10-CWT despite its appearance as a ZiS-5 with a rear twin axle.
It was propelled by a 73 hp 6-cylinder engine (2300 trpm) with a 4-speed gearbox, able to reach 55 kph. Its main caracteristic of course was its rear twin axle each with two roadwheels so eight tires back, two front. The back axle was mounted on a pivot to allow some move on an uneven ground, with double stack leaf springs; These were not military-grade tyres although well grooved for off-road trips, and two spare tires were carried, oblique-mounted on the lower chassis behind the cabin. The ZIS-6 measured the same as the regular ZIS-5, 6.060 m in lenght, 2.235 m in width and 2.160 m in height but weight more, 4,230 kg instead of 3,100 kgs. Some specialized variants like mobile workshops had a longer chassis. Other experimental vehicles tested better off-road caracteristics but never went into production: The ZIS-42 was a pure 6x6 quite promising for example, and so were the YAG-10 (3 axles, 1932-1941 and YAG-12 (experimental version 4 axles vehicle 1932). The latter had twin articulated axles, front and rear, with eight tires at the rear and four forward. This solution was intended to deal with snow and mud. The true successor of the ZIS-6 was produced from 1947 at the same factory and resolutely more modern lines, the ZIS-151.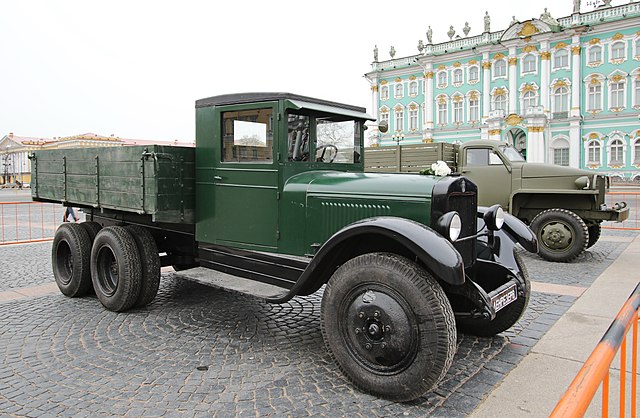 Characteristics (*ZIS 6)
Wheels arrangement: 6x4
Carrying capacity: 4 tons
Length: 6060mm
Width: 2235mm
Height: 2160mm
Wheelbase: 3700mm
Front wheel track: 1525mm
Rear wheel track: 1675mm
Full (Net) weight (kg): 4230 kgs
Engine: ZIS-5/5M*, 6 cyl. 101.6 mm stroke 114.3mm
Compression ratio/ Capacity: 4.6, 4.6/5.3*, 5555cm³
Output (hp.): 73hp
Max engine revolutions (r.p.min-1): 2300
Max Torque: 28.5
Gearbox type; 4-step
Final Drive Ratio: 6.41
Tires: 34x7 inches
Max speed: 55 kph
Fuel tank capacity: 60 liters
Fuel consumption: 33 l/100km
ZIS-6 Katiusha: Soviet rocket artillery
Relatively simple, innacurate, yet with a powerful schock value, the Soviet rocket launchers familarly known called "Katiusha" (after a common Russian girl name) became a very important component of Soviet mobile artillery during the war. The "Stalin's organs" were designed in July 1941, and built by the "Compressor" Plant's Design Office. For this, trucks available were requisitioned to carry ramps and rockets. It was only logical that two types in particular were favored: The 6x4 twin rear axles ZIS-6 and GAZ AAA. But the ZIS-6 was considered having the best off-road performances of the two was became the preferred platform, with three built, the BM-3, BM-6 and BM-12 which varied because of their ramps. Some had shorter ramps but carried more rockets, the other longer range, long ramps, fewer rockets. Not only the rear flatbed was completely modified and a tubular frame was installed mounted on a pivot for some traverse and hand-crank elevation but a compressor for electric or hydraulic elevation/traverse, and pivot-mounted multiple ramps plus the ignition system which allowed to fire the whole host of rocket in waves instead of all at once.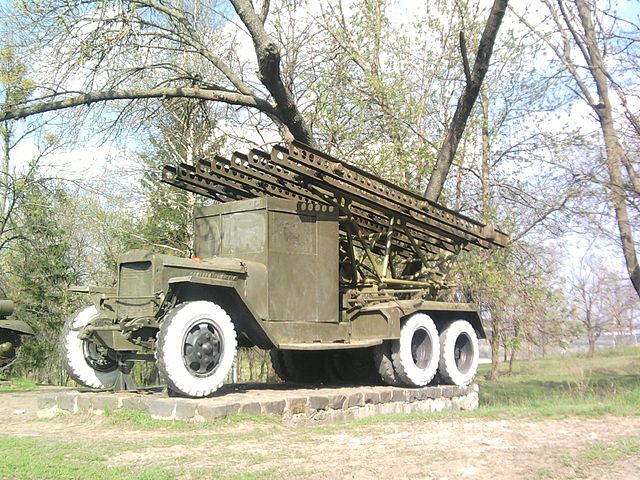 Variants
These reused the ZIS-6 as a base. Some combined a longer chassis and wheelbase with a single axle, others were half-tracks. Some were converted as searchlight truck, radio and radio repair station (Parm1) mobile field workshop, outside its troop carrier, prime mover for artillery (Carrying all Soviet AT guns and light field guns), and supply delivering vehicle. But the most famous one was the VVS-RKKA aircraft fueller BZ-ZIS-6.
ZIS-6: Standard three-axle version. (1934-1941)
ZIS-8: Bus based on the ZiS-11 (1934-1938)
ZIS-10: Tractor truck with semi-trailer (1938-1941)
ZIS-11: Extra long wheelbase firetruck (1934-1936)
ZIS-23: Three-axle ZiS-15.
ZIS-36: 6x6 Prototype version (1941) of the ZIS-6
ZIS-42: Semi-tracked version of the ZIS-6 (1942-1944)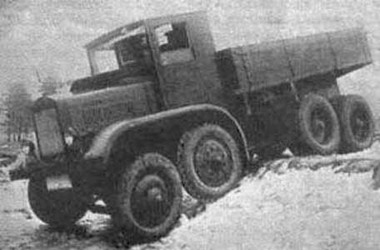 YAG-12 8x8 prototype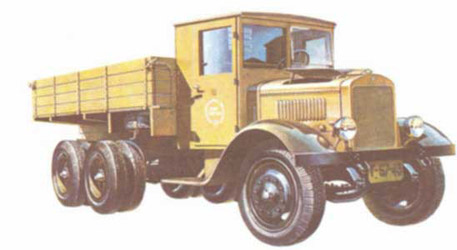 YAG-10 prototype
Unlike the sturdier GAZ-AAA chassis that was used as a base for the
BA-3
, the ZIS-6 was also though out as an alternative to it and armoured, with the same turret. Its story is typical of the desperation of early 1942: Izhorsk Plant in Leningrad, during the siege of 1942 decided to create is equivalent to the BA-3, using ZIS-6 chassis and spare BA-6 turret rather than a T-26 turret due to the weight differences between the BA turrets and the T-26 ones, although it's not impossible one or two had T-26 turrets from disabled tanks mounted, but welded in place. BA turret was 9 mm thick only versus 13 on the T-26 indeed. Production was limited due to the nature of the siege itself, with the ZIS-6 trucks available built previously at the Moscow Zavod imeni Stalina factory.
BA meant "BroneAvtomobil" for "armoured car", ISH were initials related to the Izhorsk Plant. The plant already had experience with armoured cars, building the experimental D-13 armored car in 1932 (not adopted) on the base of the GAZ AA, later turned into the
BA-I
based on the Ford Timken 6x4 truck, the designation referring to BroneAvtomobil-Izhorskiy (and not BA-1 as seen in Western literrature). This led to the development of the mass-produced BA-3 and BA-6.
With such knowhow and skills, plus turrets spare and ZIS-6 chassis, the Izhora plant was able to built a few armoured cars, used by the Leningrad militia, during the siege of Leningrad. Like the BA-3 it had a full armored body and the same turret as the BA-3 armored car, armed with a 45-mm 20K gun. However there is little information available on this model.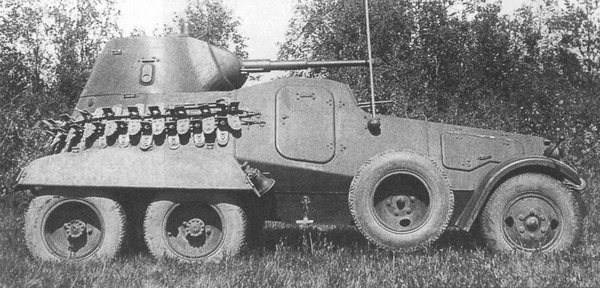 BA-11
In fact the Izhorsk plant also experimented with other improvised armored car, notably by armoring the rear with an armored box the turret mad it top heavy, others just house an antitank gun). The engine deck was covered in the same pattern armor all IZ trucks were plated with (so usual non-hardedened steel offering weak protection). Only one ZIS-6 armored car could have been manufactured as showing in just a single, rare photograph. There were at least 50 APC versions as well, with the cabin and rear bay protected by plating. As a product of desperation, these vehicles likely performed poorly.
The ZIS-6 in action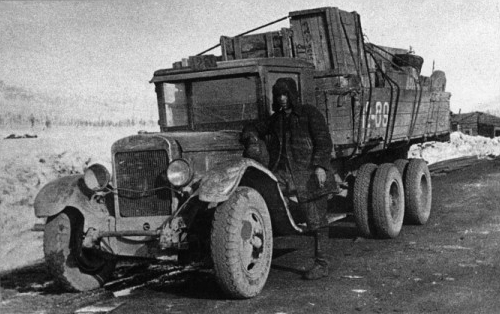 ZIS-6 on the Kolyma road
The main use of this utility truck, having a sturdied double rear axle allowed to carry heavier payloads and thus soon specialized the vehicle. More were used in specialized variants during the war than actual prime movers and troop transports. The most famous was the Katiusha variant, loaded with rockets (see above) but it was sturdy enough to be armored (BA ISH) as well. Towards the end of WW2, more specialized variants were in service than utility trucks. They also carried large payloads like artillery and aviation parts, fuselage and wings, and heavy tanks as fuel trucks and fire trucks. But the best adaptation of the ZIS-6 was without contest the last Soviet heavy armoured car, the BA-11, created on the basis of a shortened chassis. Its production was cut short during Operation barbarossa, after only around 18 were delivered at the Izhora factory at the start of the siege of Leningrad, based from the new prototype made in 1940 reportedly based on the ZiS-34 (a new 6x4 variant of the ZIS-6) in Moskow and produced as the BA-11D, the only production that ever took place.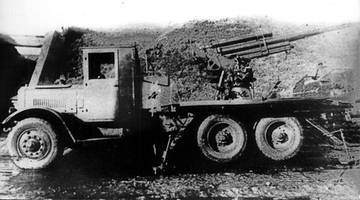 29K improvized tank hunter with a ZIS-3 antitank gun on the flatbed of a ZIS-6
Src/Sources
I. Moshchansky, "Shturm Karel'skogo vala", Vyborsko-Petrozavodskaya strategicheskaya nastupatel'naya operatsiya 10 ijyunia - 9 avgusta 1944 goda", Voyennaya Letopis'/Military Chronicle, 5/2005
A. Galushko, M. Kolomiets. "Boi za Kharkov v Mae 1942 goda", Frontovaya Illyustratsia/Frontline Illustration, 6/2000 (2nd ed.)
"ZIS-5, ZIS-5V" part 1, Muzei Tekhniki No. 6, Moscow, ~2000.
I. Moshchansky, A. Savin, "Bor'ba za Krym. Sentyabr' 1941 - Iyul 1942.", Voyennaya Letopis', No.1, 2002
T. Abashidze,. I.Moshchansky, "Okruzheniye Yugo-Zapadnogo Fronta. Kievsjaya strategicheskaya oboronitelnaya operatsia. 7 Ijulia-26 Sentiabrya 1941 goda. Chast'. 2". Moscow, Voyennaya Letopis/Military Chronicle, 4/2003
T. Abashidze, I. Moschansky, "Kievskaya Strategicheskaya Oboronitelnaya operatsia. Part 1. Tragedia pod Umanju" , 2003
https://www.o5m6.de/redarmy/zis_5.php
https://forum.axishistory.com/viewtopic.php?t=199748&start=45
http://armchairgeneral.com/rkkaww2/weapons/Trucks_buses.htm#ZIS
http://armchairgeneral.com/rkkaww2/galleries/trucks/ZIS_5.htm
http://calameo.download/001352928ff7f7488694a
http://www.wardrawings.be/WW2/Files/1-Vehicles/Allies/2-USSR/11-Trucks/Trucks/File/ZIS-Trucks.htm https://www.the-blueprints.com/blueprints/trucks/zis/
https://tanks-encyclopedia.com/ww2/soviet/izhorsk-improvised-armored-vehicles
Model kit of the BA-ISH; Regular truck: Zebrano, Toga 1/72, Ho-Ki Models 1:43, Ark models 1:35, MSD 1:35, also BZ-6 and BZ-35.
Full list on Scalemates
Illustrations
Main utility trucks
ZIS-5 4x4, base version for comparison

Basic ZIS-6 truck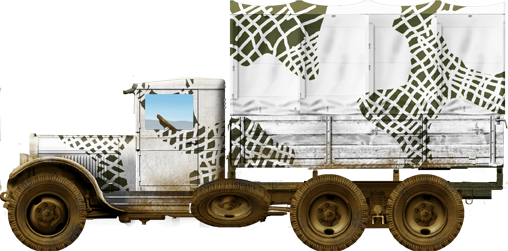 ZIS-6 in winter camouflage

ZIS-6 towing a M30 howiter, winter 1941/42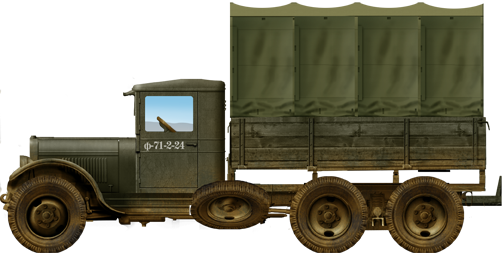 ZIS-6 with tarpaulin

ZIS-6 towing a ZIS-3 field gun and crew
---
Specialized variants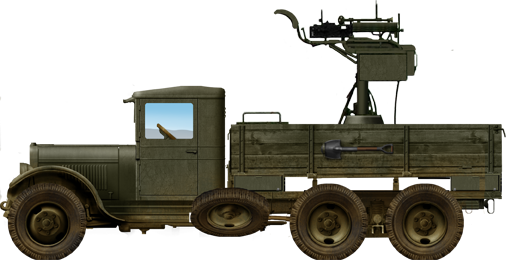 ZIS-6 AA: Quad PM M1910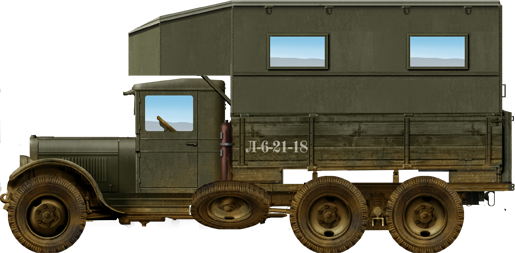 Parm1b mobile workshop truck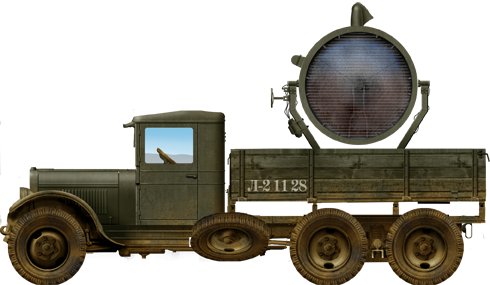 Mobile projector, for AA defence or river defence

BZ-ZIS-6 Mobile fuel tank truck in airfields. The BZ-35 was an upgraded variant.

Firetruck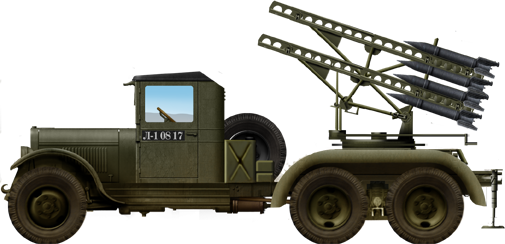 BM-3 basic Katiusha with eight double stack ramps, medium range
BM-8 Katiusha variant, same, short range
BM-13 Katiusha variant, same, long range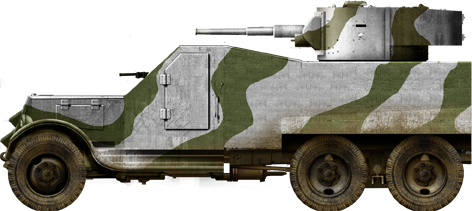 Armoured car Izhorsk BA ISH, winter Leningrad 1941-1942
BA-11 Armoured Car, 1941
Gallery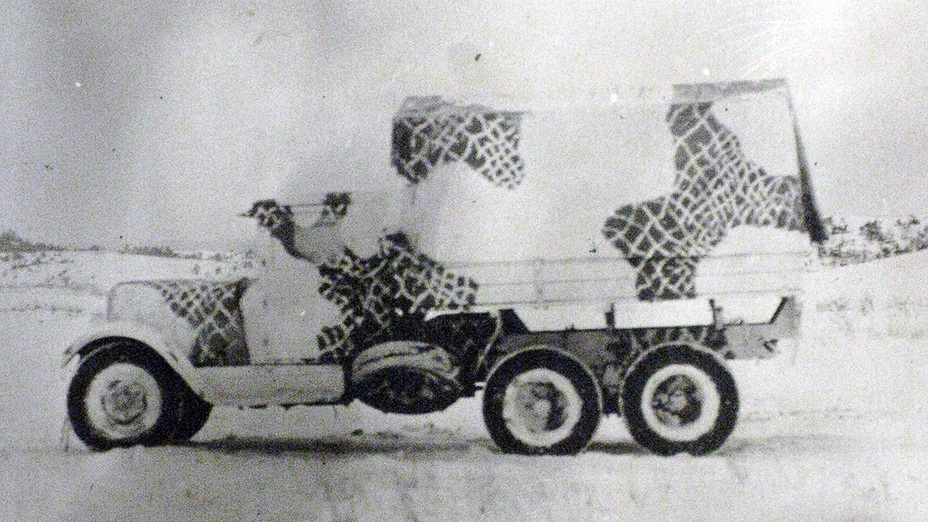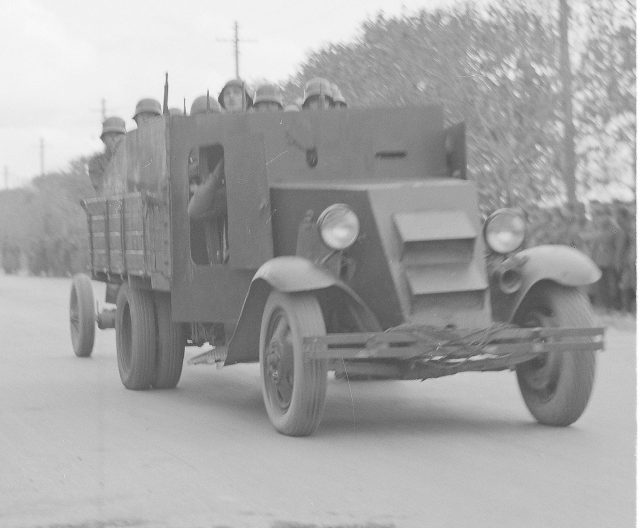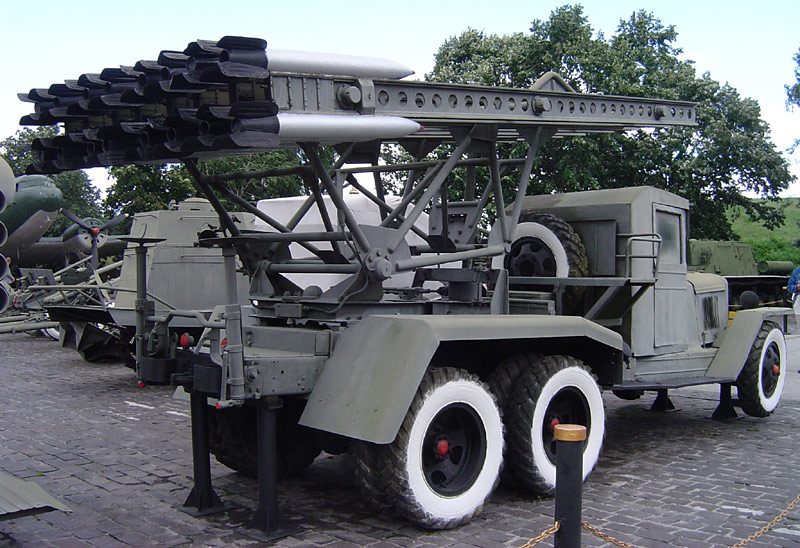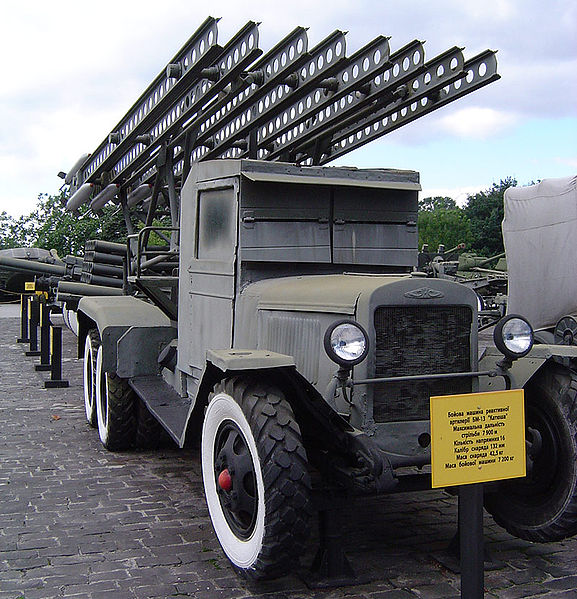 ---
Axis Trucks

Purchase this pagemarker and support the site !
Sd.Kfz 2, 6, 7, 8, 9, 10 and 11 were half-tracks designed just before the war as prime movers, to carry supplies, ammunition, personal, and tow artillery. Many were also converted during the war as armored versions carrying AA FLAK guns (Flakvierling, 37 mm, or the legendary 88 mm Rheinmetall als used as tank hunters), or were converted as nebelwerfer (rocket launching armored vehicles). They were built by Hanomag, Steyr, Mercedes-Benz, Bussing and many other manufacturers until 1945, over 20,000 half-tracks.
---
Cold War & Modern Vehicles
Modern Trucks