Laffly V15T (1939)

Light 4x4 Tractor/Recce, about 200 built 1939-40
About the Laffly Mil. vehicles lineage
Laffly was originally a known heavy vehicles manufacturer in France, delivering trucks and buses for the civilian market and for the military. For this, the company developed its range of all-terrain vehicles, notably introducing its trademark advanced transmission, innovative suspension system and extra bumper roller to overtake any obstacles. These recipes were already tested on the S15T light artillery tractor, and S15R personnel carrier and reconnaissance vehicle.
Development of the V15T
The French cavalry was in the process of motorization prewar. It was not satisfied with the performance Renault UE supply tankettes in their role, for towing its light artillery. This was prt due to the low power, low speed and complicated wheeltrain of the Renaults, to achieve reliability with high speed. For that, only a wheeled, more powerful vehicle would do. The new vehicle as planned was to be used as link "VLTT" (Off-road vehicle) as a tractor for light guns, especially the 25 mm antitank. Laffly S15 already had a nice model able to carry the heavier 47 mm APX and from its 6x6 drive extrapolated quickly the 4×4 Laffly V15T to answer this cavalry request.
Production by Laffly:
Impressed by the first tests of the vehicle, the cavalry ordered the first 100 in 1938. However, Laffly being already overloaded, its production line full with the 6x6, it could only deliver 80 in a first batch in 1939, followed by 20 in early 1940. With WW2 ongoing it became even harder to provide the vehicles, as more were to be ordered in bulk. Laffly by then was evedently no longer able to meet the demanding full-scale production.
After negociation of licences for a complete retolling and blueprints (by now property of the army, the standard procedure in wartime), production was given to La Licorne. It was setup in 1940 but was just getting started in May 1940, over 1.386 total to be deliver before the end of september 1940. However it is generally agreed that less than 200 exemplaires has been delivered by June 1940. Most of these vehicle were parked when France fell, not able yet to join their units, and captured afterwards by the Germans.
About Corre La Licorne: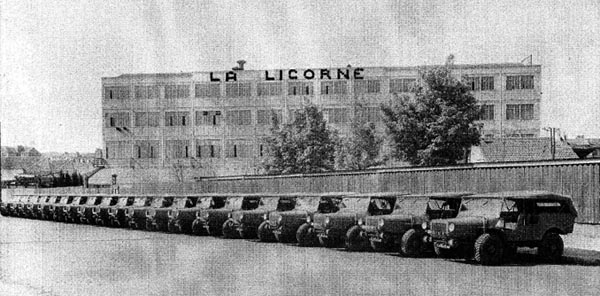 V15T parked in mid-1940 in front of the factory. src: http://www.corre-lalicorne.com
La Licorne ("the unicorn") was a small, but respected French car manufacturer, one of the numerous that disappeared after the war. Based in Paris, at Levallois, it was based on racing successes by a driver called Waldemar Lestienne, from an old family having a crest featuring a unicorn. A rather long name it was shortened as "La Licorne". Before WWI it was producing quadricycle single-cylinder cabriolet using De Dion-Bouton components. It soon became famous by the numerous races won by the company's co-funder, the main partner, which financed it being Jean-Marie Corre. After WWI, the company concentrated on simple, robust vehicles easy to maintain and repair.
Its four models sold well, even in urban centers. They were all given four cylinder engines and stayed affordable. After 1926 the company moved to Courbevoie, near Paris. The company was badly hit by the 1929 crisis, going from 1,972 cars produced in 1928 to 688 in 1938. So in 1940 the Army order came as a blessing, ahtough a daunting prospect as the company never built an off-road 4x4 vehicle before, which explained numerous delays to setup production at the worst possible time. During WW2 the company pioneered electric propulsion vehicles to try to go around the occupation use of dangerous gasogene, the Germans requisitioning all French petrol production following armistice conditions.
Design of the V15T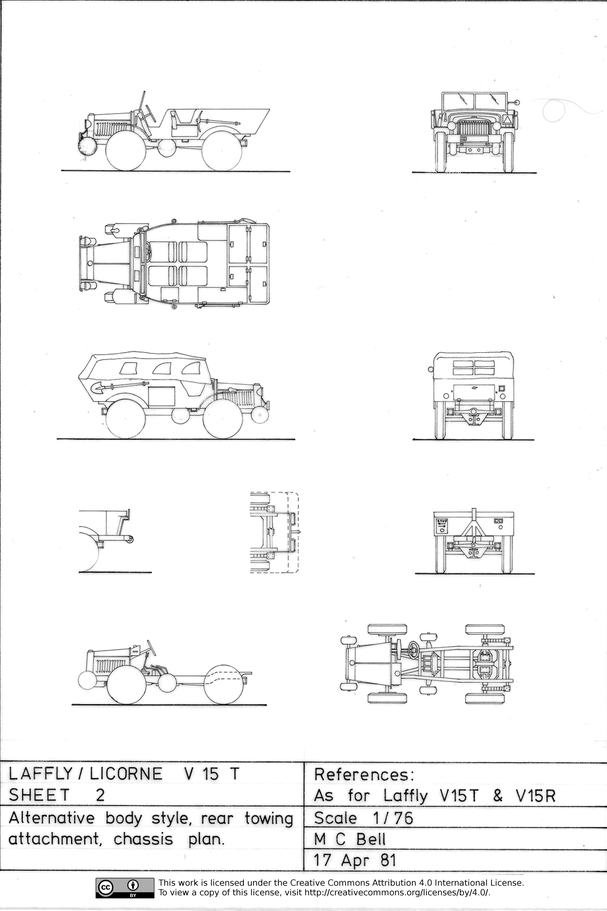 Laffly V15T scheme by Mick Bell (cc)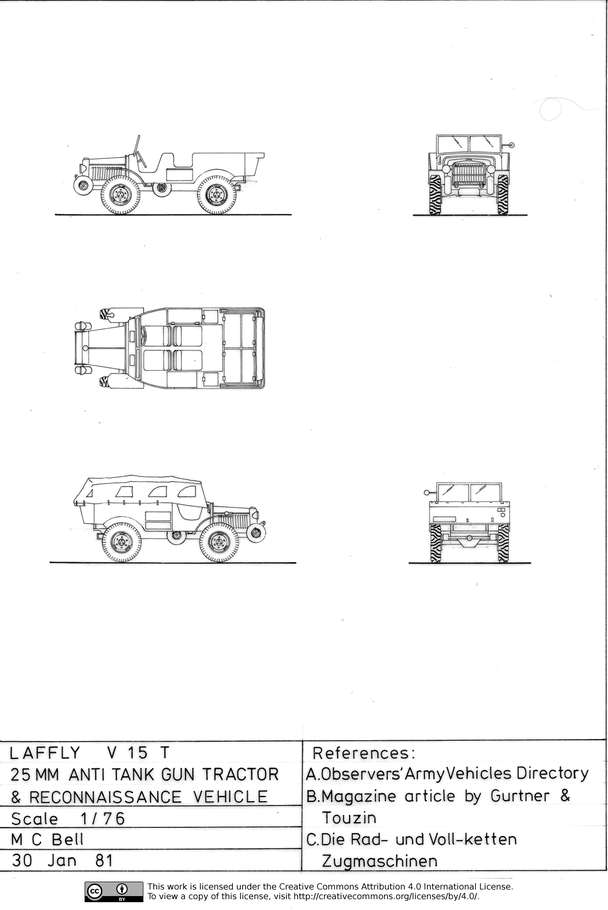 Laffly-Licorne V15T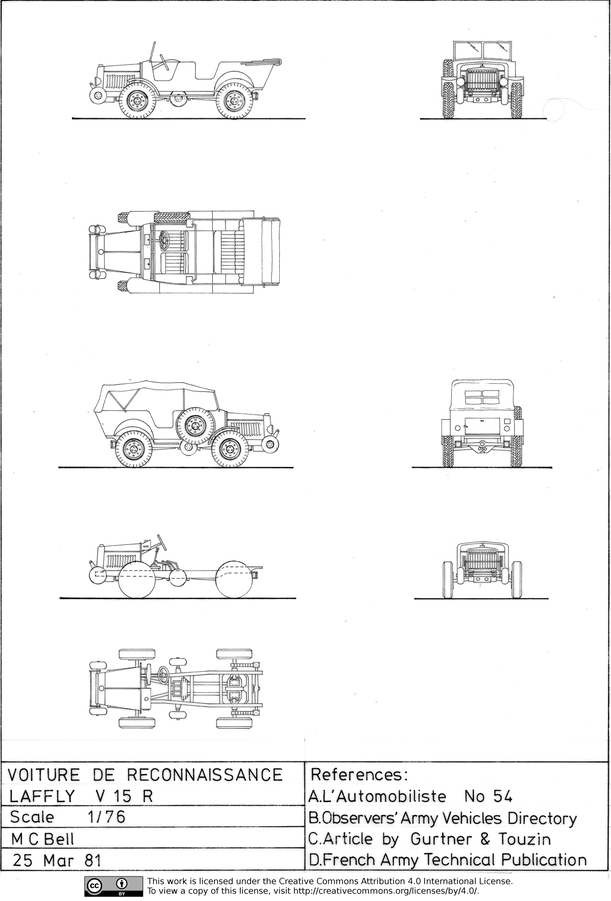 Laffly V-15R
The frame of the Laffly V15T was formed by two U-profile steel spars,two axles with each all-wheel drive. The front wheels and its steering lines had an helical damper, and the rear axles were independent, placed on crossbows. As customary for Laffly, a pair of small idler wheels were placed at the nose of the vehicle. They were intended to better deal with embankments and steps. There was a second pair of idler wheels placed between the first and second axle under the cabin to manage bumps, semi-hidden. Both models V15T/V15R also were propelled by an hotchkiss 486 with a cubic capacity of 2,300 cc, fed by gasoline. It was in a 4-cyclinder placed in the front axial position rated for 52 to 55 hp at 3300 rpm.
The V15T was the main and first version of the vehicle, it was given a "torpedo" body, open, with a front driving compartment, aft crew access compartment with a banks and body cutouts to easily step in and out of the vehicle. The rear part was occupied entirely by a storage space for ammunition. It occupied also the left side, with one large stowage bin preventing an access from this side, two others at the rea and one small on the right. So there were two independent seats forward and a bank aft surrounded by this storage space, with the bins opening from above. Therefere seating was reduce to four and the antitank gun crew comprised two gun servants, the pointer/gunner and a loader, plus an officer and the driver, acting as ammunition holder.
Canon de 25mm Semi-Automatique Modèle 1934 (25mm SA 34), illustration by the author. This gun had no problem penetrating the Panzer I, Panzer II, and Panzer 35(t) at any range and all others beyond 800m. Still, its performances were largely inferior to the excellent 37 mm.
The rear of the vehicle had a hook mounted on the rear of the chassis, with a total towing capacity of 700 kg. The vehicle was unarmed, but for personal weaponry, but it was designed for towing the
25 mm Hotchkiss Mle 34
and APX SA-L 37 anti-tank guns. In general a an antitank cavalry section comprised two 25 mm guns but four V15Ts: Two carried the guns and crews, while the other two carried a radion the section Sergeant in charge, and additional ammunition, food and other equipment if needs be. One of these was als armed with a single MAC 24/29 machine gun for close self-defense. A tarpaulin was folded at the rear, behind a metal rim running all along the back, used for storage.
When deployed it covered the whole vehicle and folded panels could be adjust to also cover the side cutouts. Two small storage spaces were also included behind the rear roadweels inside the body, below the main ammunition stowage bins. Also there was no shortage of spare tyres fixations either at the back or on the sides. The uncut right side was often used for that precise purpose on the V15T. The main design difference between Laffly and La Licorne vehicles were their back. It was the same on the Licorne on the V15T and V15R, without the tarpaulin rim guard, to simplify production.
The 25 was also carried in portee by the larger Laffly S20TL, which was impossible of the nimbler V15T. The lower silhouette of the Laffly V15T was preferred as a prime mover, although due to the seats being placed direclty on the floor to save height, the ride was very uncomfortable. It was nicknamed the "tapecul" ("kick-butt"). Src: warmotors.ru.
The V15R
The V15R was the reconnaissance version developed rapidly from the same chassis, with independent front suspension, and unchanged performances an charecteristics but a reducition of weight due to the free space aft. Also rigid front axle were replaced by two half-shafts articulated on the chassis side members, giving the vehicle more mobility and better off-road handling. The torpedo body was also slightly longer and lower, with this cutouts on both sides of the vehicle. It could carry five men and equipment, including a radio. A reconnaissance section comprised four of such vehicles. They also received MAC 24/29 machine guns for close defense. This was the type concerned largely by Corre La Licorne, so very few were delivered before the fall of France. In action, the vehicle did their job at bringing out cavalry unit antitank sections wherever needed, but their movements were plagued as a whole by poor command and bad communication. They were also easy preys for the Luftwaffe and German advanced reconnaissance armored cars armed with 20 mm guns.
The V15T/V15 in German service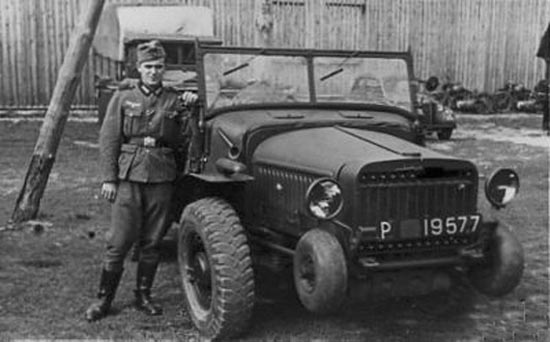 RadschlepperlafW15T(f) Src: http://worldwar2-bodong.blogspot.com
Between the vehicles destroyed during the battle of France, those left unsabotaged or scuttled, and those captured brand new at Corre La Licorne and Laffly, it is estimated that about a hundred of such vehicles were reactivated under German service. Although the Wehrmacht did not lacked 4x4 staff and utility vehicles, notably the Kübelwagen, Horch 100 and other Mercedes, the use of newly Designated Pak 112(f) for the SA 34 and Pak 113(f) for the SA-L 37 had them used on second line theaters such as the Balkans and Norway, and the Laffly V15 was a welcome addition for towing it, as reminding them the Krupp-Protze.
The Wehrmacht had it redesignated Radschlepper lafW15T(f) and the reconnaissance version Panzerspähwagen Lafv15r(f). Due to the difficulty of having spare parts shipped for these, they operated in France, notably used for anti-partisan warfare in 1943-44. Many were lost in the storm of 1944-45, but thos which survived still were reused until the final days of the war. As of today around 3-4 are in museum, static, and just two are in working conditions. One was sold on 26 april 2014.
Specs Laffly V15T
Dimensions :
4,21 x 1,54 x 1,85m, wheelbase 2.15m
Total weight, battle ready :
2,6 tons light, 2,85 Tons working order, 3,90 tons Battle ready, FL.
Useful load :
700 kgs.
Crew :
4 for the V15T, see notes
Propulsion :
Hotchkiss 486 diesel 2,300 cm3 60 ch 3,200 tr/min
Speed :
58 km/h (35 mph)
Range (road/off road) :
?
Production
Circa 300
Lins/Src
The TCC variant on tank encyclopedia
On the S15
At retromobile (FR)
All V15 Models kits on scalemate
https://boowiki.info/art/vehicules-militaires-francais-de-la-seconde-guerre-mondiale/laffly-v15.html http://www.wardrawings.be/WW2/Files/1-Vehicles/Allies/4-France/11-Trucks/File/French-Trucks.htm http://www.littlewars.se/french1940/laffly.html http://www.asphm.com/vehicules/laffly_v15t/laffly_v15t.html http://www.corre-lalicorne.com/NL-Laffly-Licorne.html https://fhsw.fandom.com/wiki/Laffly_V15t http://worldwar2-bodong.blogspot.com/2010/08/laffly-light-utility-vehicles-and.html
---
Axworthy, Mark; Scafes, Cornel; Craciunoiu, Cristian (1995). Third Axis, Fourth Ally: Romanian Armed Forces in the European War, 1941-1945. London: Arms and Armour.
G.N. Georgano, World War Two Military Vehicles: Transport & Halftracks, Osprey Publishing, 2004
Vauvillier, F. & Touraine, J.-M. L'automobile sous l'uniforme 1939-40, Massin, 1992
Tavard, Christian H. Les tous terrains LAFFLY 1934-1945, "L'automobiliste" n. 54, 1980
Illustrations
Laffly V15T, towing the 25mm Hotchkiss SA34
V15T with winter tarpaulin. This model would be almost entirely enclosed, with folds above the body cutouts covering the whol opening and seven small embedded plastic windows.
Laffly V15T camouflage
V15 in Libya, Free French summer 1941
V15R during the French campaign, May 1940
Photos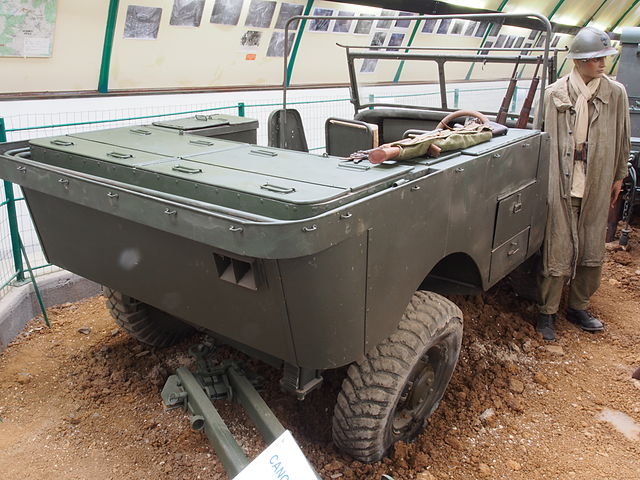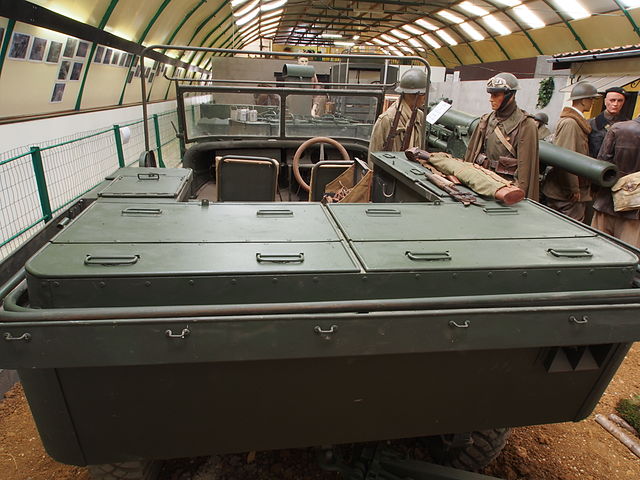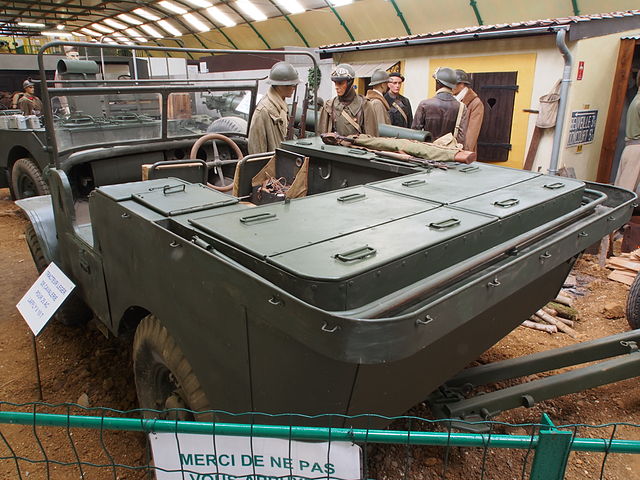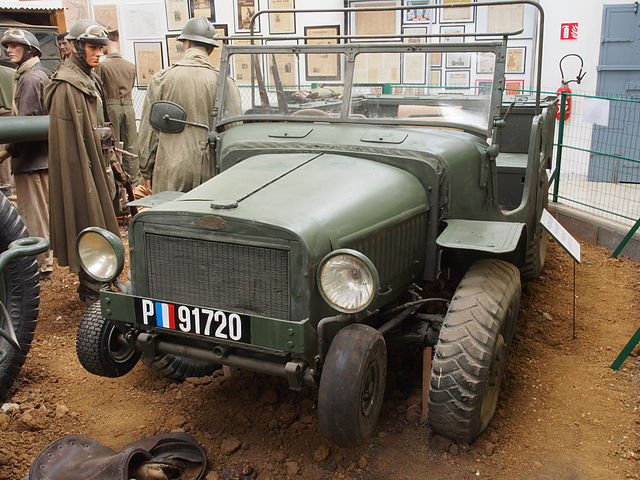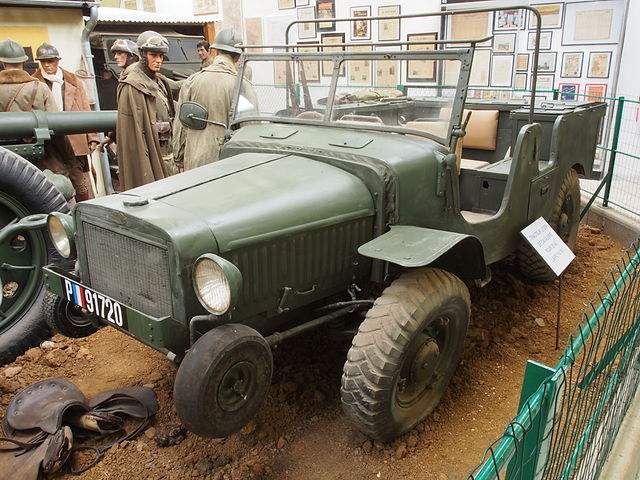 Various views of a vehicle on display at Fort de Fremont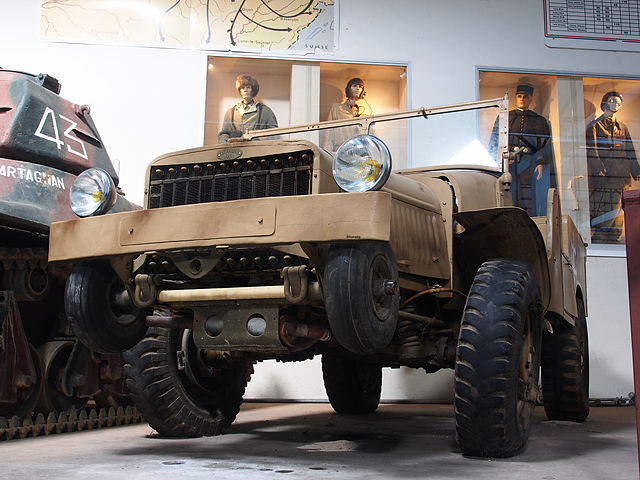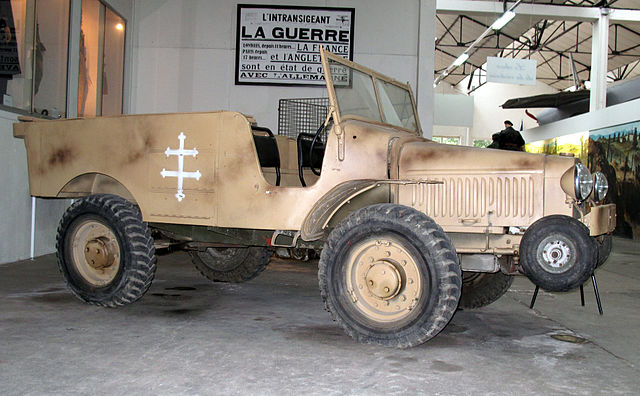 Vehicle on display at Saumur tank museum in FFL "Koufra" livery
V15T at Saumur
---
Axis Trucks

Purchase this pagemarker and support the site !
Sd.Kfz 2, 6, 7, 8, 9, 10 and 11 were half-tracks designed just before the war as prime movers, to carry supplies, ammunition, personal, and tow artillery. Many were also converted during the war as armored versions carrying AA FLAK guns (Flakvierling, 37 mm, or the legendary 88 mm Rheinmetall als used as tank hunters), or were converted as nebelwerfer (rocket launching armored vehicles). They were built by Hanomag, Steyr, Mercedes-Benz, Bussing and many other manufacturers until 1945, over 20,000 half-tracks.
---
Cold War & Modern Vehicles
Modern Trucks