Bedford RL (1953-1973)
Early Cold war British Medium Truck standard
The Bedford RL (later TK) represented the bulk of British motorized regiments mount for the entire cold war. The RL had the hard task to replace the otherwise excellent QL series of WW2. This was an army vehicle derived from the civilian SCL 7-ton truck. The military version had the all wheel drive and larger wheels, plus increased ground clearance. It was rated at 3 tons originally, as all RL GS (general service) trucks in the British Military. Later, they were re-rated at 4 tons, but without mechanical modifications, the figure indicating now rated cross country payload weight. The last RL left Bedford's production line in 1973, for a grand a total of 74,000 vehicle. This was even far more than the wartime QL series (52,247), and for this reason it became the standard British military truck for most of the cold war.
Development of the Bedford series R
Design and development of the R-series started in December 1950, by Vauxhall Motors Limited. A single prototype was sent to Fighting Vehicle Research & Development Establishment (FVRDE) in May 1951. There, the chassis was validated and given the FV13100 series number. Production started in April 1952 at Vauxhalls Trucks, Luton. Headlights were moved down in order to comply with British regulations and the radiator grille was later modified while it also reached the civilian marker from October 1953, declined in many body styles and variations (with/without dual rear tyres for example). The army also obtained and tried an armoured open-top cab variant.
The R-range started to appear in infantry units and other services from 1952 in the British Army, replacing advantageously the WW II Bedford QL, but also the Austin K5 and Ford WOT6. It retained its generic truck appelation "3-tons", which equates to "medium", but it was later up-rated to a 4 ton capacity in 1968. On the production line, it was replaced by the M-type.
Design of the Bedford 3-tons
Powerplant: The RL had a 4.9 litres (299.0 cu in) petrol engine, rated for 110 brake horsepower (82 kW; 112 PS). Some were equipped also with diesel engines.
This engine was mated on a Bedford 4WD chassis cab, chassis being mounted by drilling rig at the Ruston-Bucyrus facility. Specialist variants comprised recovery vehicles, mobile workshops, radio vans and cable layers and the fire engine "Green Goddess". The R-series resued the 7-ton SLC-chassis and kept both the engine and cab. The RL was the "long" version (L = long wheelbase) while the RS was the shorter version (S = short wheelbase) both produced alongside.
The basic cargo vehicle had a fixed-sided steel body, later modified as drop-sided, with a drop tailgate, and the payload protected by canvas cover supported by a tubular framework. The base vehicle was unarmed, but some users modified the cab to introduce a gunner's hatch.
There was a choice of Engines from Bedford/ At first the 6-cylinder 4.930 cm3 (300 cubic inches) in displacement, petrol, was the standard. Later a 6-cylinder 5.410 cm3 (330 cubic inches) diesel engine, liquid cooled was proposed. Te former developed 115 hp at 3000 rpm (petrol) and the latter 99 hp at 2600 rpm. Fuel capacity rested on a main tank of 118 liter (25 gallons) allowing for a range of 400 km (250 miles) - actually it was less than the Bedford of WW2. Transmission was a 4-speed model with a 2 speed transfer case. Electrical system rested on a 12 volt, negative ground (early models, positive ground) battery. For mobility the vehicle had Hydraulic brakes, servo-assisted. It mounted 11.00 - 20 tyres. On trials it was tested able to fordi about 0.76 m (30 inches) without preparation, but it was also provided with a deep water fording kit. In option, the vehicle could be equipped with a 5 ton Turner winch driven by a power take-off.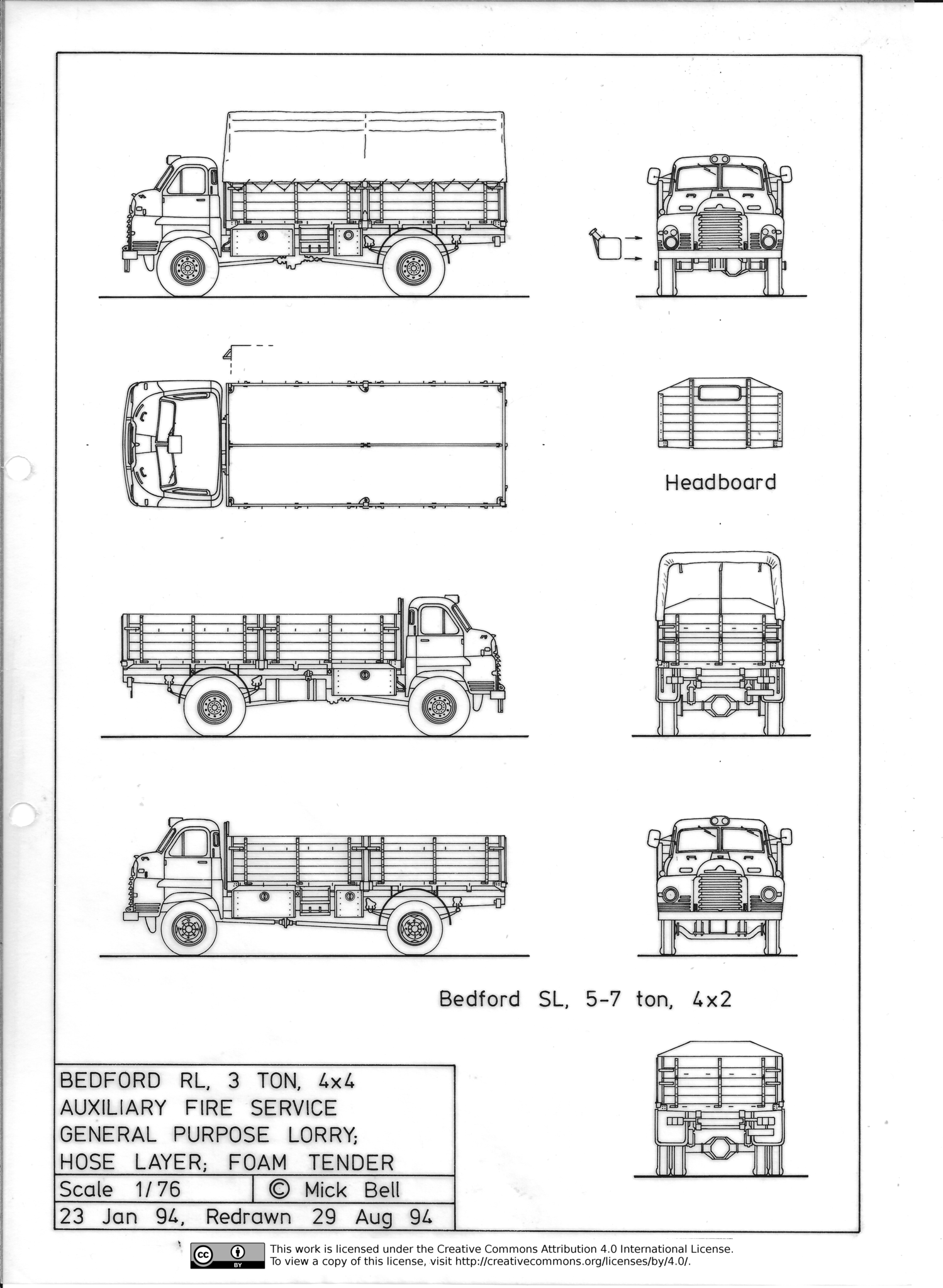 Variants
Bedford RLE office van
Bedford RLW GS
Bedford RLE TTY van
Bedford RLC Facility Control truck
Bedford RLH HF radio truck
Bedford RLC Radio HF truck
Bedford RLC cable layer
Bedford RLC telephone construction
Bedford RLC telegraph maintenance
Bedford RLC spare parts van
Bedford RLE spare parts van)
Bedford RLE Direction Finder Center
Bedford RLE NBC squad truck
Bedford RLE electronic maintenance
Bedford RLG Tipper
Bedford R-series Command and Control
Bedford RL (Long Wheelbase) specifications

Lenght
6.35 m (247 inches)
Width
2.45 m (95 inches)
Height
3.35 m (130 inches)
Total weight, battle ready
8.025 kg (17.655 lb.).
Crew
2 + 12-16 infantry
Propulsion
Bedford 6-cylinder gas. or diesel, see notes
Suspension
Leaf springs
Speed (road)
50 kph (60 mph)
Range
400 km (250 mi)
Armament
None (personal weapons)
Production
74,000 (RL+RS) 1952-73.
Service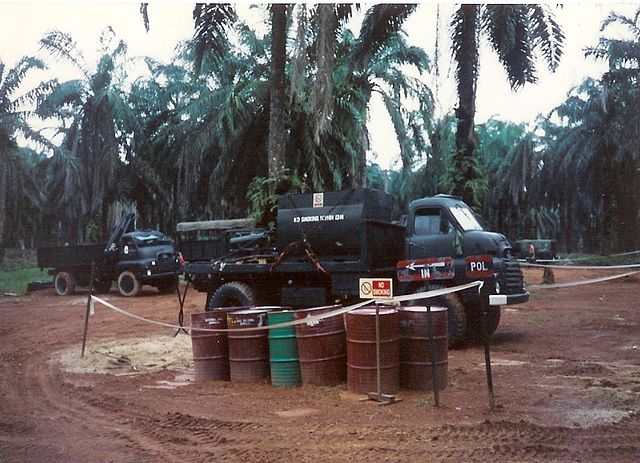 One of the last appearance of the Bedford RL, fuel-tank version, here the NZ-built version in the NZAOD exercize in 1988 at Kerbside refuelling point.
The RL equipped all units previously given the QL series. The RL and variants continued to serve alongside the later Bedford MK and Bedford TM trucks until well into the 1990s. The mythical TL was not replaced by the TK which was built in parrallel from 1959, but by the TL range in the 1980s. The RL and variants nevertheless continued to serve alongside the later Bedford MK and Bedford TM trucks until well into the 1990s.
The Home Office also purchased many of such vehicles to be placed reserve for a national emergency. They were disposed of recently and reached the civilian market some with just 2,000 miles (3,220 km) on counter.
The Danish R type
The Bedford R-series entered service in the Danish Army in 1956, as standard medium truck. Some RLC5 chassis were delivered to GM International, Copenhagen to be refitted locally with new upper-cabs and bodies, patterned on US Army post-war vehicles. The RL saw was declined into Command and Control, Office-vans, Switchboards, Teletype and other versions as well in Danish service. There was a second batch of around 375 units bought in 1963-1967. Now all were replaced by the Magirus Deutz 168 M11FAL (IVECO 110 - 16 AWM).
It was assimilated to the Assault Class 30 trackway equipment upplied as a standard between NATO countries, all by Laird Company in UK. These were used for soft ground, up to 30 tons. The kit comprised 32 meters of trackway, setup by a team of 5 men in about 10 minutes and removed in about 15 minutes.
The Australian R type
There was also the Australian R serie used from the 1960s to the 1980s by Victoria's Country Fire Authority (CFA). They were modified wiith a 800 gallon water capacity, 4 wheel drive bushfire tankers, known as "State Spare Tankers". They were larger than most brand rural fire attack tankers, and bolstered other models. They were painted in the CFA's standard "Carnation (dark) Red", fitted with rear Godiva pumps (2,250 litres per minute output).
The Malaysian Army RL
The Malaysian Armed Force (ATM) purchased ans used Bedford RL trucks from the mid-1960s to the mid-1980s. They were mostly used for logistics, troop and ammunition transport. They were given two rows of wooden bench along the entire bed, lined along opposite bed edge and a central nacl-to-back bench to maximize troops capacity. This seating compartment was covered by a tarpaulin supported by steel-tube frame like for the british version. The Driver and co-driver took place in an unchanged cab, but a machinegunner hatch was installed on it roof. The other difference with the Civilian market vehicle was its enhanced 4x4 features. They were phased out in the Malaysian army by the Mercedes Benz L Series and the Hino Ranger TK, starting frim the late 1970s. Bedford RL has been deployed in the Konfrontasi conflict and Second Malaysian Insurgency.
Singaporean Army Bedford RLs
The Singapore Armed Forces also operated the Bedford RL from the mid-1960s to the late-1970s, mostlt as troop transport and logistics (food, ammo, water and spare parts). The entire infantry platoon, including its 60mm mortar team could and ammunition crates could fit into just one RL truck. Seating was the same as for the Malayrian truck, with wooden bench facing inside and each other. The vehicles were likely handed-down from the British military after Singapore gained independence in 1965 and until 1971. They were slowly phased out by the Mercedes lorry, and in the Singaporean nomenclature they were called "3-tonners". Complete withdrawal was done in 1978.
New Zealand's Bedford RLs
The Bedford RL became also the main troop transport in the New Zealand military, from 1958 to 1989. The main difference was it was not purchased, but built locally under licence in New Zealand. Some were aso resold in the South East Asia. Arrangements were pretty similar to the British version, and unarmed. The NZ Bedford RL was gradually replaced by the Mercedes Benz UNIMOG. The New Zealand Army also used several versions such as the GS, the Tipper,and several Recovery and Mobile workshops.
Others users
Within NATO, Belgium, Ireland, the Netherlands also used it. The vehicle was also exported to Pakistan and South Africa.
Testimonies:
Anon
"I like this shape of truck, just reminds me when my father took me with him on his work about 40 years ago. Went from a 650 BSA to an RL in 1970 with the Marines at Eastney, passed first time, smashing to drive, still amuses folk when I tell then I have never taken a test in a car, especially the salesman who accompanied me on a test for a new car last year, thought he was about to have a heart attack. I was stationed with Royal Scots Greys in Germany and after some fiddling with the governor we actually saw 90mph out of one of them, it was quite frightening, but fun to see our ferret "escort" disappear behind us. Legendary vehicle, soldier-proof with unreal cross-country performance... The GPO registration ELP737C (Simon Polecat) is just readable. One of 60 Polecats registered in May'65. Another batch of 40 Bedfords from ELP773C up were fitted with King Tel-e-lect cranes. The easiest way to disengage four wheel drive in an RL...was to engage reverse gear, take up the clutch and then push the lever. EASY, when you knew how !."
Blue Roan.
"My memory of the RL truck in Germany in the 60's is of a lovely big softie. Powerful enough and easy to drive. No need to double declutch as I found once - rounding a very tight corner I changed down to bottom and on driving away though there was something funny about the change. I had double declutched with tha dip switch! No prob. Also, on ice, you could wind on full lock quickly and unwind it quickly, and the RL would travel straight on without a twitch. Useful?"
Eddie H.
Passed my driving test in the bedford RL in portsmouth 1964 whil`st stationed at bordon hants REME loved this vehicle.
Roelf
"I passed my HGV test in the army in 1981 in a Bedford RL. It was awful!. I passed :-)... I do remember that when trying to get the beast out of 4 wheel drive the easiest way was to try and hit 20 mph in 3rd gear (took ages !), dip the clutch, and then throw the transfer lever down. To do this you almost had to dislocate your left shoulder, as the lever was in such an awkward position high up between the 2 seat backs. If you didn't know how to double de-clutch then there was no way you were going to drive this vehicle. Power steering ? no way !. In 1984 I drove an RL down to the island of Elba from my base in Germany, two and a half days later we got there at an average speed of 40 miles per hour. The only way to keep warm in this vehicle was to prop the engine cowling open and rely on the heat from the engine filling the cab. This also had the added benefit of allowing us to heat our tinned "compo" rations by placing them on the exhaust manifold. Aaaah ! happy memories !"
Scr: https://web.archive.org/web/20170211222741/http://y2u.co.uk/%26002_Images/Bedford%20RL%2001.htm
Src/Read More
JANE's Military Vehicles and Ground Support Equipment, 1985
Army Sustainier Magazine. RNZALR. August 2010. p. 41, Issue 2.
"Repairs to the Heavy Workshop RL Bedford". armymuseum.co.nz. Retrieved 6 October 2016.
On the Bedford RLG
On armyvehicles.dk
un-bedford-en-el-crater.html
On wikipedia
Models kits on scalemate
Gallery of models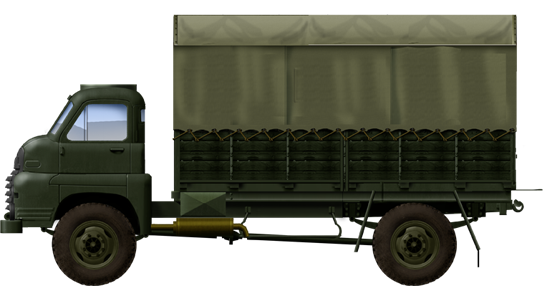 Early Bedford RL, late 1950s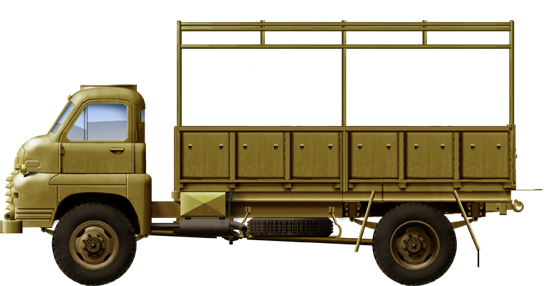 Bedford RL in desert tan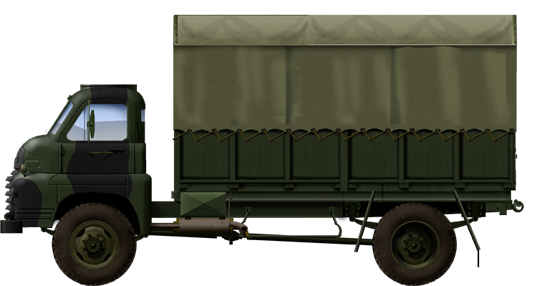 Northern British army Camouflage green/dark grey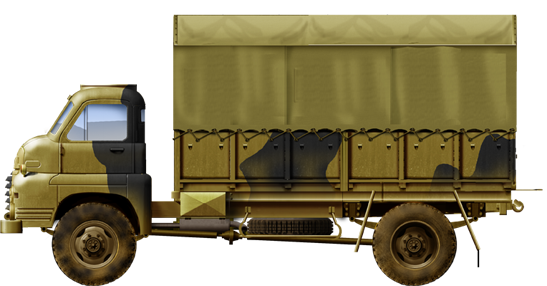 RL in desert camouflage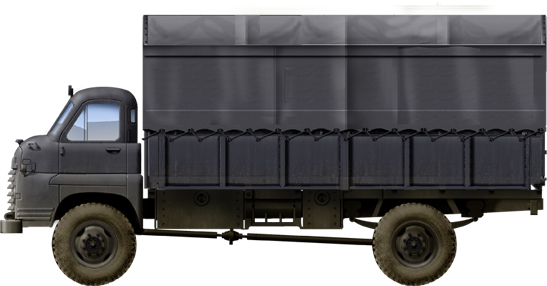 RL long chassis used by the RAF in the 1960s. Long bed type, same wheelbase.

Beford RL long bed type with wooden panels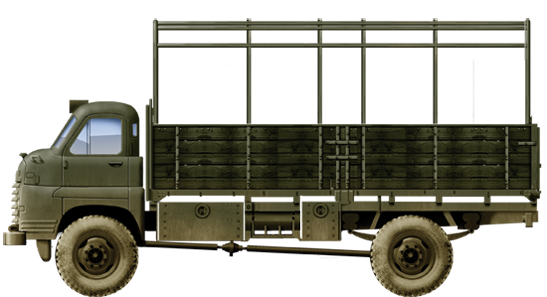 Late version, long bed type and modified bedframe
Photo Gallery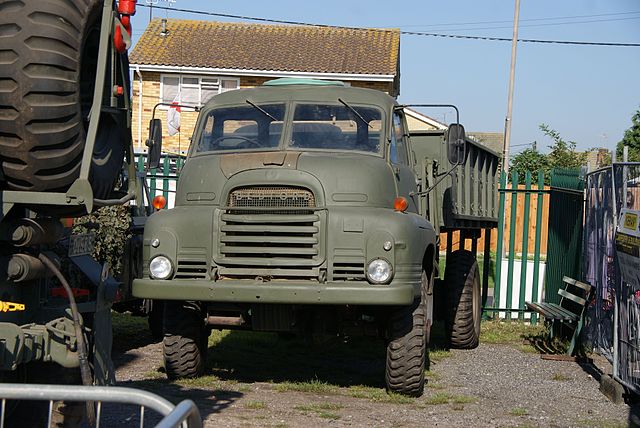 BEDFORD_ARMY-openbed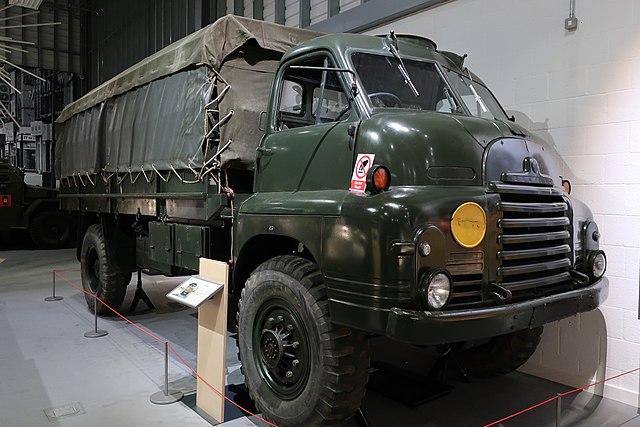 Bedford_RL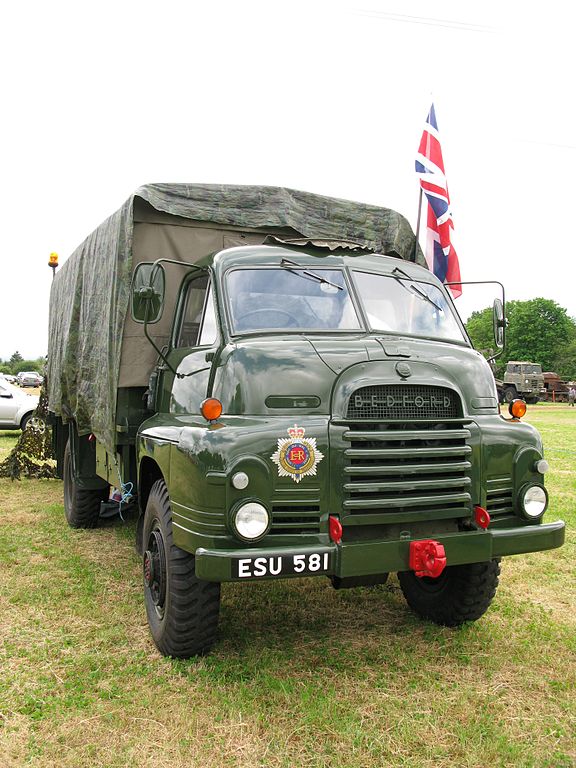 Bedford_RLgreenred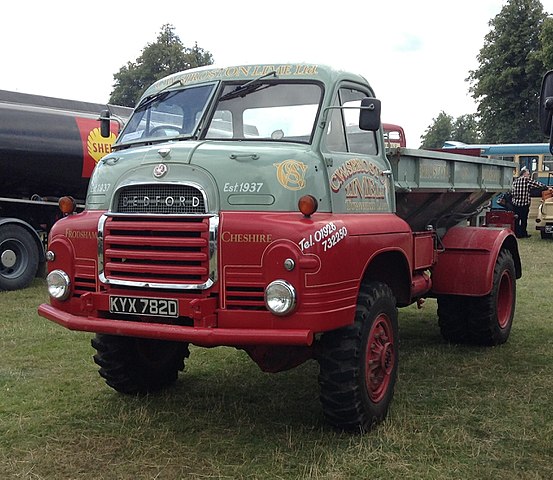 Bedford_RS_truck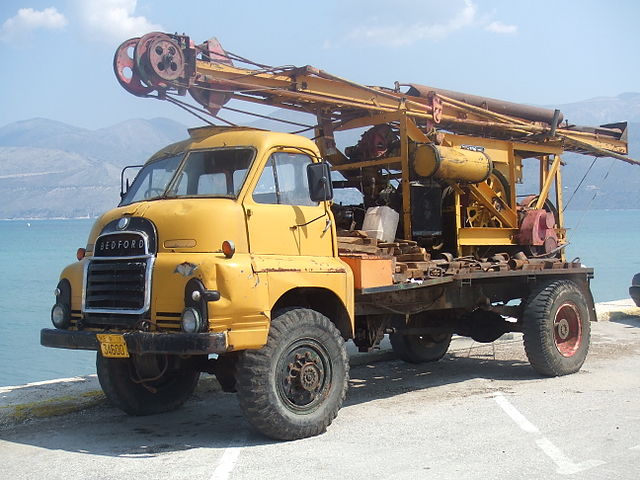 Bedford_Ruston-Bucyrus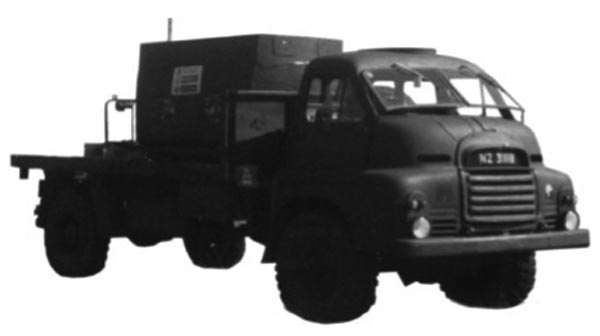 RL_GS_DROP_SIDES_UBRE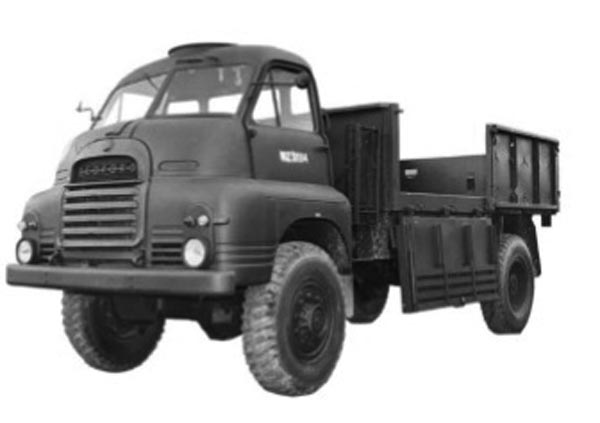 RL_GS_dropsides-nocanvas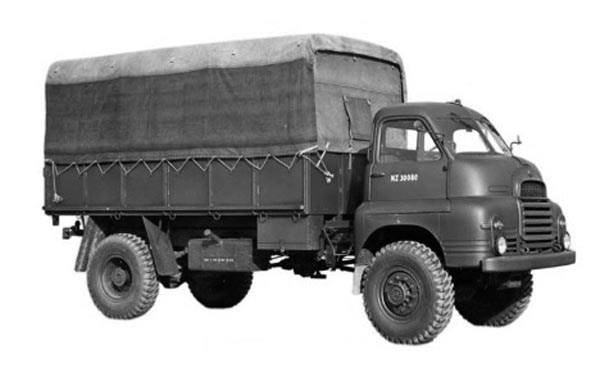 RL_GS_FIXED_SIDES

RL_WRECKER
---
Axis Trucks

Purchase this pagemarker and support the site !
Sd.Kfz 2, 6, 7, 8, 9, 10 and 11 were half-tracks designed just before the war as prime movers, to carry supplies, ammunition, personal, and tow artillery. Many were also converted during the war as armored versions carrying AA FLAK guns (Flakvierling, 37 mm, or the legendary 88 mm Rheinmetall als used as tank hunters), or were converted as nebelwerfer (rocket launching armored vehicles). They were built by Hanomag, Steyr, Mercedes-Benz, Bussing and many other manufacturers until 1945, over 20,000 half-tracks.
---
Cold War & Modern Vehicles
Modern Trucks