Willys Overland CJ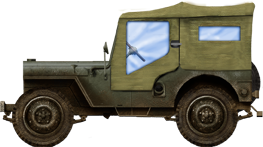 General purpose vehicle (1944-70)
USA - Around 100,000 vehicles in the military.
The American myth Civilized
The Willys GP was followed by CJ at the end of the war. It was followed itself by the Willys M38 (Willys MC). After 61,423 MC in 1950 to 1952, the M38A1 (Willys MD) followed in 1952-57 with 101,488 units and the Willys M606 in 1954-64 (6,500), and until 1968 with th M606A1 and 155,500 vehicles. All these create a relatively uniform family 972,830 vehicles strong also produced under licence by many NATO and non-aligned countries. Only the Humvee is considered its true, modern successor. But the story did not ended there, all these WW2 surplus would have been wasted if scrapped, so Willys sold already thousands to GI that grew fond of the vehicle, under collection licence, but also "civilized" its model sold as the "CJ", the MB civilian version. Willys in the meantime inherited from Bantam, that went bankrupt in 1955 the name "Jeep" which ended as a standalone brand, the oldest of all SUVs.
The CJ was essentially the "civilian jeep" (hence the initials). It should have been provented to anything else but a peaceful, civilian service, but it was not the case. It was produced under licence around the worlds for armies ad soldiered in many occasions aound the globe well until the 1990s.
---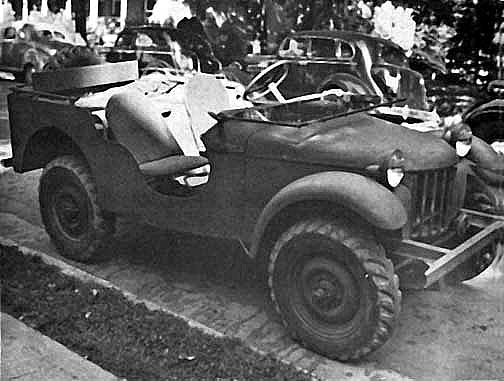 Karl Probst's 1940 Bliz Buggy, Bantam answer to an army specification, ancestor of a famous lineage...
Development of the CJ
The grandaddy: CJ-1 (1942)
In 1942, the US Department of Agriculture tested the MB and considered adopting the vehicle but it went no further. The bulk of the production was reserved for the armies, immense numbers sold also to the allies via lend-lease. In early 1944 however it became evident the Allies were winning, and wartime production dwindled down. Willys started immediately to think on how the Jeep could reach the postwar civilian market and started drawing up updated plans, creating two prototypes dubbed CJ(-1) following the simple acronym "Civilian Jeep", faithful to previous uses. In May 1944 they underwent extensive road tests. They were born from quick modifications to civilian norms, such as adding a tailgate, a lower gearing, a drawbar, civilian-style canvas top, which did not required extensive tooling. That way, Willys was confident its first CJ as a quick proof-of-concept could evolve into more refined versions. The CJ-1 was manufactured from 1944, but production remained almost confidential, until the CJ-2s appeared in 1944 also. However after september 1945, far more stock military GPs were kept by returning GIs, just taking a special collection licence to drive them. Many others were resold to various militaries or ended in the civilian amrket with more or less modifications to make them legal. A hefty number survived to this day.
The Agri-Jeep: CJ-2 (1944)
As said previously, the minister of agriculture was interested by the vehicle and in 1944, Willys-Overland created the CJ-2 not available for retail sale but only the ministry. Only around 40 to 45 of these now rare and well searched for CJ-2s, the "AgriJeeps", appeared as second-generation prototypes for production, also for testing. They used the stock Willys Go Devil engine but were stripped of all military features (like the blackout lighting, pivot gun mounts, etc) and their body features included tailgates, power take-offs and engine governors, a column-shift T90 manual transmission with 5.38 gears and 2.43:1 low-range transfer cases plus new driver tool indentations. The rear wheelwells were redesigned to maximize seating, confort wa improved, and they were moved rearward. Also new canvas tops with new weathertight designs were adopted. The new canvas half-top with roll-down doors appeared. The Go-Devil L-head engine also had a different carburetor and ignition system, also civilian grade.
Two batched of CJ-2s were built with small differences between them for powertrain components notably and these "pilot models" were still painted olive-drab with a brass "JEEP" badge on the windshield base, and later the "Willys" stamping on the hood sides and rear. Some had the "AgriJeep" plaque. CJ-2A Jeeps built from 1945 also had a spare tire mounted forward of the passenger-side rear wheel, or aft of the rear wheel at the end of the serie.
The mass-produced: CJ-2A (1945-49)
The CJ-2A of 1946. Still military, DNA but this semi-experimental "agri-jeep" with fancy colors only led the way. Many GIs not able to purchase their military Jeeps after their service went for the CJ-3 instead.
From tests with the CJ-2 a first batch of CJ models appeared in 1945 as the Willys-Overland CJ-2A. It was also called the "Universal Jeep" and sometimes in documentations caleled the "agrijeep" as a brand. The CJ-2A had the same tailgate and side-mounted spare wheel as the CJ-2 but its engine grilles were different. Instead of recessed headlights, nine-slot grilles, the CJ-2A had larger and bulging headlights, plus a seven-slot grille. The engine was swapped for the L-134 Go-Devil coupled with the T-90 transmission, three speed, better suited for road use. Production started as the war was not over yet, on 17 July 1945 and around 9,000 were manufactured until September 1945, many using in some cases WW2 stock MB components. Somtimes the frames themselves were stock WW2as smetimes also the full floating rear axle until exhaustion of spares.
The stronger Dana/Spicer model 41 axle was used afterwards, but for long, production was plagued by suppliers strikes, quite common after the war, and production was sluggish until early 1946.
Soon, happy GIs purchased their Jeep for farming, ranching, go campign/fishing/hunting in the wild for leisure, but the vehicle had industrial applications and were soon completed with many options such as driver side mirror, new front passenger and rear seats, a center rear-view mirror and new canvas top, a front and rear power take-off or a belt pulley drive, a capstan winch for woodsmen and safari goers, a governor and rear hydraulic lift, and for Canada a snow plow and heater, while the payload could be equipped with a welder, a generator and mower.
New brake discs also, a new redesigned front bumper weight and heavy-duty springs, dual vacuum windshield wipers and dual taillights plus hot-climate radiator and brush guard, driveshaft guards, and side steps. In addition the initial olive army green was now superseded by a range of lively color combinations. Until 1949, the CJ-2As production was ramped-up and these Vehicles sold as pastries, with a grand total of 214,760 CJ-2As. Due to their similarity with the original MB, many collectioners later retrofitted them with WW2 stock components.
To be clear, the C2JA was tested, but not used by the US Army. However they ended in many south american and caribbean armies, in Africa and in Europe as well in full military service. Two countries for example had it in large numbers: South Africa and the Swiss Army, possibly refurbished with WW2 stock parts. In the case of SANDF, they received 249 CJ2a's in 1948, and they differed by the color of the tub, a darker olive drab and all other parts painted black. There was also a specific rectangular indentation and stamping on the passenger floor.
CJ-2A tested as a tractor in the netherlands. The long history of SUVs started with rustic "agri-jeeps", like the Range Rover.
CJ-3A, the fifties jeep (1949-53)
Still "rough and ready", much beloved in its simplicity, the 1950s millesime of the Willys Jeep CJ was powered by Willys' 60 hp (45 kW; 61 PS) L-134 Go-Devil four-cylinder engine. It had a same T-90 transmission as before and a Dana 18 transfer case, Dana 25 front axle, Dana 41/44 rear axle. Also there was now a one-piece windshield with a vent, plus automatic wipers at its bottom. The CJ-3A also had beefed-up suspensions to perform agricultural and woodslands tasks and carry heavy loads. There was also a shorter rear wheelwell of 32 in (810 mm) (instead of 34 in (860 mm)) while the driver's seat was moved a bit rearward. In 1951, a "pure" barebone "Farm Jeep/Jeep Tractor" was offered, for field use only with a a power takeoff. Total production of the CJ-3A reached 131,843, less than the previous vehicle, until 1953. Japan soon was interested by the models, used during the occupation, and about 550 CJ3-As were assembled by Mitsubishi. They were called J1/J2, from late 1952 tod early 1953, but were not used by the JSDGF but instead only the police and forestry agency. The army tested it again and this time was interested enough to order Willys a modified army vehicle, that became the Willys MC, or M38, complementing the WW2 stocks of tired Ford and Willys jeeps. Its successor, the CJ-3B was not the last iteration of the mode, far from it. The CJ-4 was a prototype of 1951 also called "X-151" to test the new Willys Hurricane engine. I also had a longer wheelbase at 81 in (2,057 mm). Its body tub mixed the shaped later found on the CJ-3B and CJ-5. It was rejected but used anyway by factory employee. The CJ-4M and CJ-4MA (XM170) were paper projects which were precursors of the M38A1 and M170 military models.
CJ-3B, back to the army (1953-68)
Despite the far larger duration of the production, this model proved less popular on the civilian market, and much more on the military market, declined under licence around the world. Compared to the WW2 stock model, this much-improved variant found enough interest for massive purchases from various armies around the world. This happened as the same year the new model appeared, Willys-Overland was acquired by Kaiser Motors. And it became the "Kaiser Willys" jeep. The CJ-3B had a distinctive higher grille and higher hood as well to house the much larger Willys Hurricane engine, tested on the CJ-4. It was coupled with the same transmission alsthough an optional four-speed manual transmission became optional in 1963. Its turning radius was a bit shorter also at 17 ft 6 in (5.3 m) and the total production in the US alone, for the cvilian market only reached 155,494 vehicles on a grand total of 196,000 cumulated worldwide.
Indeed, with little modification, the CJ-3B was became the M606 military jeep, exported until 1968. It was given many heavy-duty/military options (larger tires and reinforced springs, black-out lighting, olive drab paint, black interiors, trailer hitch. The M606 was also shipped as the CJ-3B, largely distributed through the Mutual Defense Assistance Program (MDAP) in the 1960s. It was also licenced:
Licenced versions were ofte produced in civilian and military variants, even long after 1968: Mitsubishi in Japan and Mahindra in India were the most notable of these. Mitsubishi's J3 competed with the the Nissan Patrol and Toyota Land Cruiser, and production stopped production in 1998, but Mahindra went on, amazingly, until October 2010... The Mahindra CJ was produced as a four-seater CJ 340 and a six-seater CJ 540 fitted with Peugeot 64 hp (48 kW; 65 PS) engines. The Mahindra CJ saw action notably during the Indo-Pakistani war of 1971, famously fitted with 105 mm recoiless rifles. The CJ-3B became also a Turkish best-seller as Tuzla 1013, produced by Türk Willys Overland, Tuzla (Kocaeli, the first first off-road vehicle plant in Turkey by 1954). In Japan, the final military version was called J24A, with a 135PS, improved 4DR5 engine and front-mounted air-to-air intercooler, used by the JSDGF until the 1980s.
CJ-5, the "universal Jeep" (1954-83)
Probably the most famous of all these was the CJ-5, mostly for the civilian market. The Willys CJ-5 and "Jeep CJ-5" in the 1960s was both the fruit of Kaiser's own additions to the design and the Korean War M38A1. Production ran parralel to the CJ-3B, and went on for three decades. It was basically a civilian, "tamed" version of the Willys M38A1, so logically, never used by the US Military. New, more modeen diesel engines appeared in the 1960s such as the British-made Perkins 192 cu in I4 (62 hp) and as kaiser purchased the licence for the Buick 225 cu in (3.7 L) V6 Dauntless engine, it became an option on the CJ-5 and CJ-6. Until then the Willys Hurricane was believed rather primitive and underpowered. The V6 met instant success and after 1968, three quarters of of CJ-5s were sold with that option, until 1971 when a purchase was made by the American Motors Corporation (AMC). Also The "Trac-Lok" limited-slip differential appeared that same year, ad under AMC the vehicle acquired a decidedly more sporty one, inundated with modern features. It really became a SUV, especially at a time of muscle cars, when fitted with AMC's 304 cu in (5.0 L) V8 engine... Also in 1970 appeared one of the most successful sub-brand, the "Renegade". The CJ-5 was the further away verspn from the military model to the point there was little incentive to convert it back to military use or for any army to purchase it. The vehicle was also licenced in Australia and Brazil.
CJ-6, the civilian M170 (1954-83)
Honorable mention too for the CJ-6 which was basically a civilian declination of the army M170, adopted by the US Army in 1953, and "civilized" in 1955. Production went on until 1981, sometimes refusbishing surplus M170s. It was basicallly a stretched CJ-5, with a 20 in (508 mm) longer wheelbase at 101 inches and from 1972, to 103.5 inches. This extended chassis made possible a second row of seats (so 6 seats and more), competing with the British range rover. The M170 was close stilll to the M38A1 but its passenger-door opening extended back to the rear wheel well. V6 and V8 engine were proposed, and many options and features. The state was also interested and the U.S. Forest Service used it massively. The model was no longer proposed in 1975, to not spil the introduction of the CJ-7. Only 50,172 were produced until 1981, making this vehicle a moderate scarcity as of today. Better success was obtained under licence in Sweden and South America, and South Africa with Volkswagen's pats or Israel, by Kaiser Haifa and in Nazareth.
CJ-7, the last hurrah for the CJ (1976-86)
The CJ-7 succeeded to the CJ-5, but had a longer wheelbase (10 inches more) and curved side entry cutouts more squarish to accommodate hinged doors. The chassis was now made of two parallel longitudinal main c-section rails and the rear section stepped out to allow a closer mounting of the springs and shock absorbers, helping stability immensely. In all, 379,299 were over 11 years. It also featured the automatic all-wheel drive "Quadra-Trac", an optional molded hardtop and steel doors. The rest were cosmetic range colors, markings and accesories. The engines too, 145 cu in (2.4 L) diesel, 258 Cu-in straight si, 150 cu-in four-cyl., or AMC V8 or General Motors diesel common to Isuzu produced in 1980-1982. Interestingly, this model attracted military orders: The Canadian Army took delivery of 195 militarized versions in 1985, as a stop-gap measure between the M38A1 retirement and introduction of the local Bombardier Iltis. The "last hurrah" of the brand was incarnated by the CJ-8 Scrambler, a long-wheelbase version of 1981-1986 (103.5 in (2,629 mm) wheelbase) with a popular pick-up style. Apart in the south-american drug cartels where it could have been modified, armed and armoured, this was a purely civilian vehicle, followed by the Jeep CJ-10, where the brand went "full pickup", also exported to Australia. But the ultimate CJ-10A was only produced in Mexico.
Links about the Jeep
The Willys CJ on Wikipedia
On thecj2apage.com
On cherokee-fr.com
On kaiserwillys.com
On silodrome.com
On jeepfederation.com
On classic-car-history.com
Original brochure, Israel 1970s
cj3a.info
thecj2apage.com
Brazilian Jipe
Willys Viasa
Japanese Mistubishi J0
CJ5 super jeep
Car Folio
J7 Jamboree
Jeeps in Australia
about_willys_jeep_cj5_
Mahibdra Jeep
On imcdb.org
Video: The CJ3B on the road
Willys CJ-3B specifications (1953)

Dimensions (L-w-h)
129.875 in (3,299 mm), rest as CJ-3
Wheelbase
80 in (2,032 mm)
Curb weight, battle ready
1080 kg ( lbs)
Crew
1+3 (driver +3 passengers)
Propulsion
Willys 134 cu in (2.2 L) Hurricane I4
Transmission
3-speed manual 2 reverse, 2-speed Dana-18 transfer case
Top speed
110 km/h (65 mph) road, 50 km/h (29 mph) off-road
Maximum range
500 km (290 mi)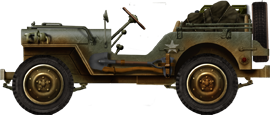 Willys MB of WW2, the legend.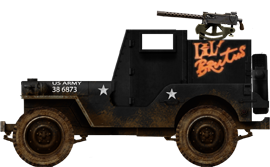 A Willys MB used in Vietnam, 1968; Lil'Brutus, armored.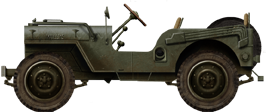 CJ-2A in military service
Mahindra CJ-3B used by the Indian Army in the 1971 indo-pak war.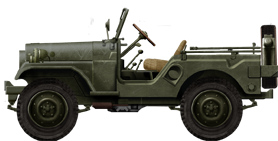 US Army M38A1, from which was derived the CJ-5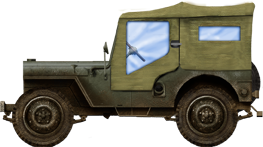 CJ-3B with tarpaulin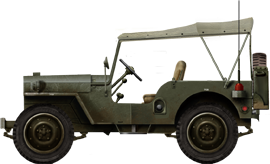 M606, the military equivalent to the CJ-3B
Gallery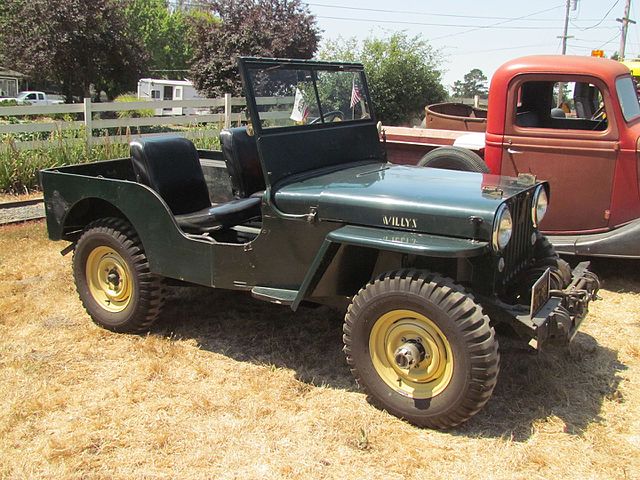 Willys_CJ-2A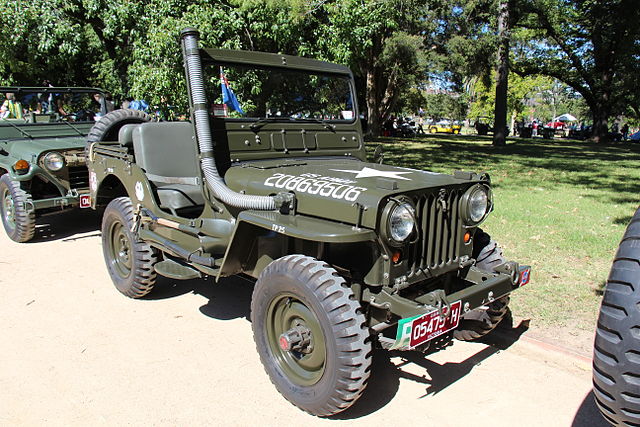 Willys_Overland_CJ-3a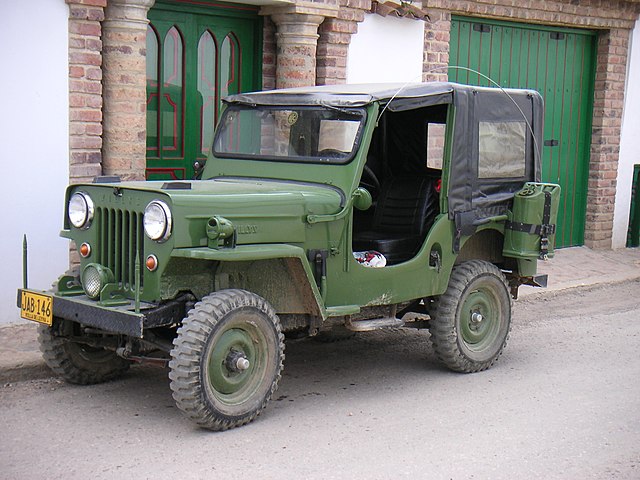 Willys-jeep-CJ3B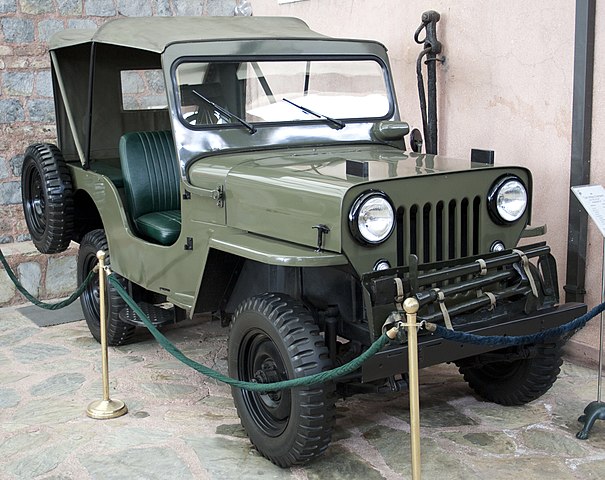 1963_Turk_Willys_CJ-3B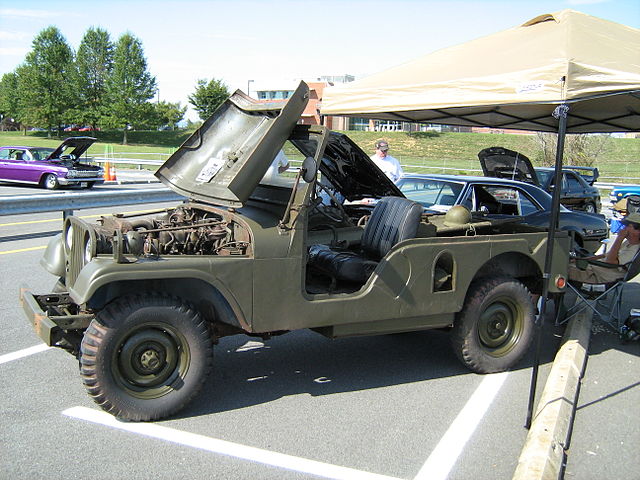 Jeep_M170_Ambulance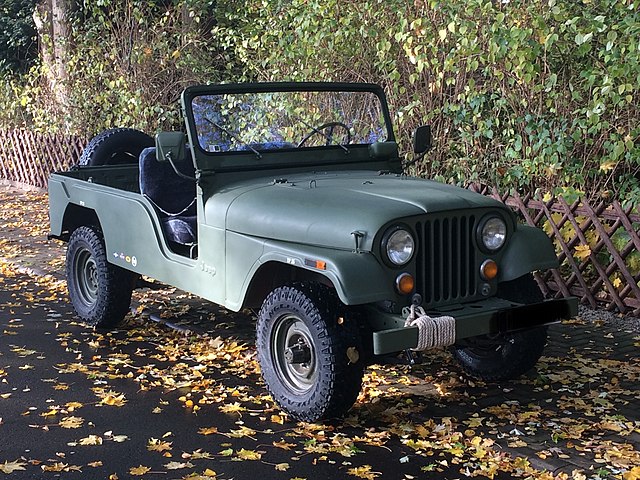 Jeep_CJ6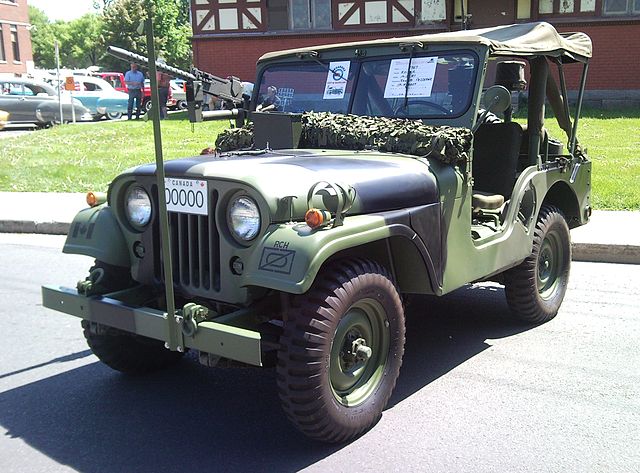 Kaiser_Willys-M38A1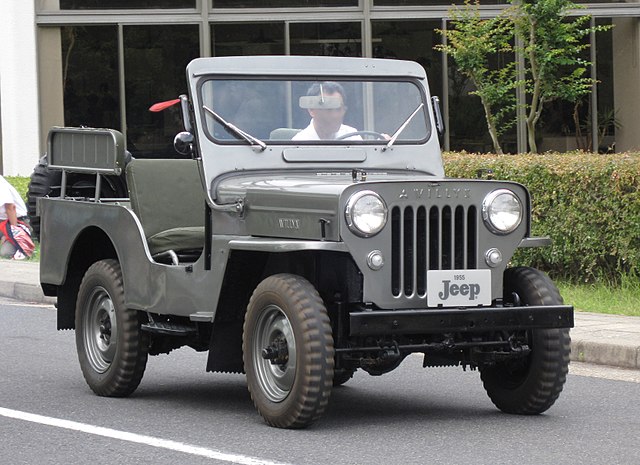 Mitsubishi_1955_J-serie-Jeep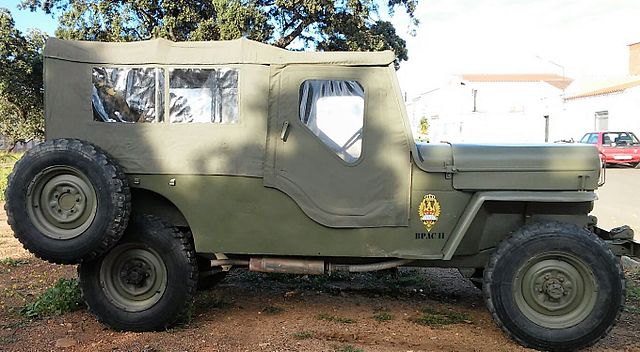 Spanish-Cj_6
---
Axis Trucks

Purchase this pagemarker and support the site !
Sd.Kfz 2, 6, 7, 8, 9, 10 and 11 were half-tracks designed just before the war as prime movers, to carry supplies, ammunition, personal, and tow artillery. Many were also converted during the war as armored versions carrying AA FLAK guns (Flakvierling, 37 mm, or the legendary 88 mm Rheinmetall als used as tank hunters), or were converted as nebelwerfer (rocket launching armored vehicles). They were built by Hanomag, Steyr, Mercedes-Benz, Bussing and many other manufacturers until 1945, over 20,000 half-tracks.
---
Cold War