BEML Tatra Prithvi TEL (1994)
The Prithvi launcher system is installed on a tailored 8x8 T813 BEML Tatra military truck designed to operate and launched the tactical nuclear ballistic Prithvi, known as the "Prithvi Launcher System". The Air Force and Army versions were developed and produced for both services. The vehicle in question was used as main TEL for other systems outside the Prithvi.
About Tatra/BEML trucks
If Tatra produced a range of reliable military and multiplatform 8x8 trucks since years, India started to produce it via a parneship between the Indian manufacturer BEML in a joint venture with Tatra. They went to produce a wide variety of 8x8 trucks for multiple uses in the Indian army, like the Saravatra bridge layer, MRLs and TELs.
Started in the 1990s, with importations, the partenship's flagship was showcased at DefExpo India 2018 in actual dynamic demonstrations, with in common a 402hp air cooled diesel engine to face the Indian subcontinent temperatures, coupled to a 2x10 speed transmission. Its main nfeatures are swinging half axles for better cross-country mobility, and centralized tyre inflation system. This vehicle tokes its root in the 813 truck family using traditional rigid backbone tube, swinging half-axles and declined into 4x4, 6x6, 8x8, 10x8, 10x10, 12x8 and 12x12 variants with a range of diesels and gasoline engines from 230 to 440 kilowatts (310–590 hp) and up to 35,500 kg (78,264 lb) in gross weight, so common road/brigde compatible which enables standard tactical mobility outside off-road caracteritics. Apart a few exceptions, these trucks are not armoured or armed.
About the Indian Nuclear Program
The story of the Prithvi is narrowly linkied to the birth of a domestic nuclear weapons industry. The Prithvi (Hindi for "Earth") is indeed the subcontinent's first internally designed ballistic missile. It is Short-Range (SRBM) and evolved from the
Integrated Guided Missile Development Program
. Tata was involved in this process. The Tata Group, now a solid multinational conglomerate (HQ Mumbai) was established in 1868. Founded by Jamsetji Tata it is sometimes referred as the "father of Indian industry". A heavy wight operating in more than 100 countries round the world, the company is also the largest car manufacturer in India, "putting India on wheels". It was involved with Tata Advanced Systems for aviation construction, electronics and weapons systems, notably missiles. It was able to provide components to the Prithvi launcher, and interfacing with the vehicle.
Design
The BEML-Tatra T815 is a multi-role all terrain vehicle. It is normally used to transport heavy equipment and personnel of the Indian Army with a payload capacity of 11,750 kg. The T815 can also tow trailers up to ten ton on flat, and 2,5 ton on uneven ground. I is fitted with a winch forward used for self recovery, and loading of crippled tanks onto the trailer. It is also provided with a centralized tyre inflation and deflation system actived from inside the cabin, depending on terrain conditions.
Characteristics
The chassis uses a central load-carrying tube, with independently suspended swinging half-axles, bolted as one. This enables exclellent driving qualities on all terrains as well as higher off-road speeds compared to a classical rigid axle system. The core is the central load carrying tube (backbone frame) while all the rest is mounted to the rigid assembly. The high torsion and flexing rigidity overall isolates the payload and cabin from motions and forces applications on the axles. Torque distribution is carried within the backbone.
Tatra differentials uses two opposing spiral bevel gears. They are part of the input drive shaft. They used locking pins forcing the differential gears to rotate together and thus locking the differential. The axles can swing around the drive axle without universal couplings while in motion, for a full, all time 8x8,and the input drive shaft passes through the differential housing which enables a simple coupling to another swing axles, a modularity helping a universal design which can accept with ease from two to six axles if needed, all driven.
The forward axles uses Mechanical suspension, with forces up to 8 tons per axle and single torsion bars but leaf springs for longer steered axkes from 6x6 up to 12x12 which is the case here. In that case, forces can go up to a 9 tons charge per axle or 11.5 tons for the rear axles, plus a ground clearance regulation. Tatra's "King Frame" suspension system combines air-bellow with coil spring inside the axles, which capacities that can go to 13, 15 and 16.5 tons per axle. Additionally, they uses either telescopic shock absorbers or stabilized torsion bars.
Mobility
The Tatra-BEML truck is powered by a T3B-928-70 diesel, a V8 Cylinder Air-cooled, 4-Stroke, with direct injection and fed by a turbocharger with intercooler. It is built compliant to the Indian Bharat Stage – II (EURO – II) Emissions norms. Its Horse Power is 300 kW (402 HP) at 1800 rpm. It uses a Synchromesh transmission with ten forward and two reverse gear, with optional shifting, either manual, or mechanical, with pneumatic booster. The 8x8 vehicle is specifically using Leaf springs and telescopic shock absorbers on the front axles, leaf springs on the two rear axles
The military grade type tyres ar of the run-flat tubed type 15.00 x 21. Top speeed is around 86 kmph max unladen.
The Prithvi missile
"An Indian Prithvi short range ballistic missile (SRBM) on display, mounted on its Tatra transporter erector launcher. The original liquid fueled Prithvi had a 150 km range for a 1,000 kg payload. The missile in this picture looks like a Prithvi II, which has a 350 km range but with a 500 kg payload. This development version still has the markings of India's Defense Research and Development Organization (DRDO)."
The prithvi missile is launched from the surface against a ground target and declined to several versions with increase range. Considered a bit dated now, it is from 2003 interated in the new Strategic Forces Command.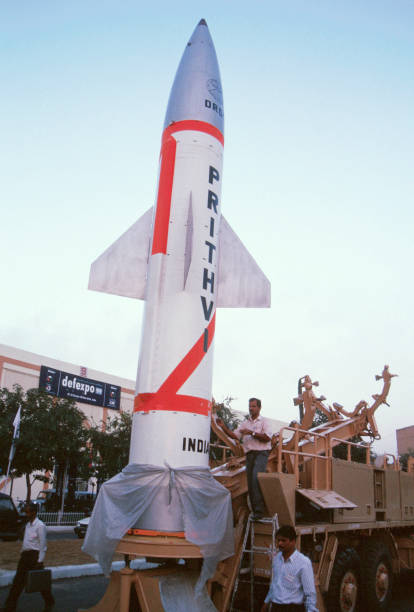 Its origins lays in Soviet SA-2 provided in the past, and is essentially a reverse-engineering project with a similar propulsion system. The prototype programs were called "Project Devil" and "Valiant" led by the Defence Research & Development Laboratory (DRDL) which developed engines using solid or liquid fuel propulsion. Although the main purpose is to carry a nuclear warhead, the Prithvi also can carry a powerful conventional warhead.
By 1988 the project was reorganized and became a joint programme between the Defence Research and Development Organization (DRDO) and Bharat Dynamics limited. All three versions were developed in sucession to answer the needs of all three branches (Army, Air Force and Navy), respectively Prithvi I, II and III. The Prithvi I entered service in 1994, followed by the Prithvi II (1996) and III (2000).
The first had a shorter range but a 1 000 kg payload, the two others circa 500 kg. For what we are concerned with, the Tata truck carried the Prithvi I, first introduced in 1994. It uses a liquid fuel propulsion, inertial guidance and range between range between 40 and 150 km. (see later). The one-ton payload is more coherent when using a conventional warhead. It's enabling "bunker-busting" types. This conventional 850 kg warhead uses pre-fragmented elements with an optimal destruction radius of 250 m. It is designed to suppress radar installations and missile launching as well as infantry concentration.
The other two had better range. The air force model has an inertial navigational system to evade interception after launch, and a liquid fuel propulsion. The naval Prithvi III has a two-stage propulsion system (solid and liquid) to make the "initial jump" out of the water if carried by a submarine, with a solid fuel rocket motor. It uses the Dhanush stabliliztion system, was tested from INS Subhadra and INS Rajput. The only Indian SSBN of the Ahirant class however instead uses the long-range K-4 SLBM.
All three versions are continuously upgraded at the missile testing range in Chandipur, but replacement by the Prahaar missile system is close.
Quick Specs (Prithvi I)
-Missile length: 8.53 m (I)
-Missile diameter: 1.1 m ()
-Fin span: 2.6 m ()
-Launch weight (full): 4,4 ton
-Warhead weight: 850-1,000 kg.
-Warhead type: Conventional/Nuclear
-Range: 150 km
-Precision: 10-15 m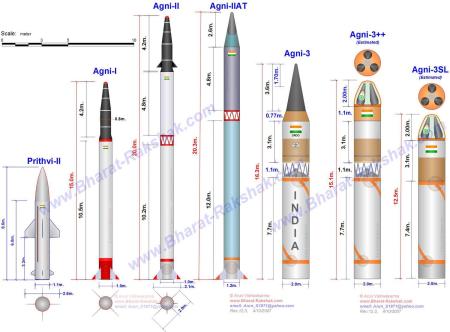 Comparison between the Prithva and Agni series.
Variants
Tata Akash
Apart the Prithvi TEL, the company also delivered on the same platform the
Akash TEL
, each equipped with a ramp to launch three medium-range Akash AA missiles. They are also featured on a modified BMP-2 chassis.
B05 Program
A Tatra truck completely redesigned to carry a submarine-based ballistic missile. Before their adoption with Ahirant class K-4 ballistic submarine silos, the Tata platform uses a pontoon launch system, open, to carry and fire the ballistic missile. It seems a single vehicle has been built for this purpose.
Tarta QRSAM MVL
Another modified Tatra truck was fitted with the SRSAM Mobile Launcher Vehicle and Canister. The rear pivot launcher allows 10-60° elevation and 360° azimuth. The vehicle can brings the canister on ground slopes up to 5° thanks to hydraulic feets. It is operative night and day, with slewing and tracking rates, precise positioning with an automatic high speed deployment system.
Tata Shaurya TEL
The Shaurya Missile is a canister-launched hypersonic surface-to-surface tactical missile. It is usually launched from underground silos, but could also be carried by the Tatra 8x8 truck on a modified Erector Launcher System.
Tatra Pinaka RL
By December 2017 India announced an order for two regiments of 18 Pinaka systems each to be procured to the Army, for a total of $350 million. The programme was led by L&T and Tata Power SED with DRDO. The Pinaka rockets are primarily operated and launched from a modified Tatra-BEML 8x8 truck. The Pinaka Mk.I (30 km range) is undergoing replacement by the Mark-II (65 km) and from 2019, 90 km with greater accuracy. The Pinaka MRL saw action in the Kargly War, proving successful in neutralising Pakistani positions on mountain tops. Each vehicles carries twelve 214 mm (8.4 in) rockets, each with a 100 kg (220 lb) to 250 kg (550 lb) warhead.
Read More/Src
armyrecognition.com
firangionindia.wordpress.com
More photos of the Prithvi truck on gettyimages
---
military-today.com
www.b14643.de
newindianexpress.com/
defensenews.com/
raksha-anirveda.com
ssbcrack.com
defence.pk/
bemlindia.in
drdo.gov.in
ssbcrack.com/wp-content/uploads/2016/03/Shaurya-Missile
defensenews.com/
strategicfront.org
Illustrations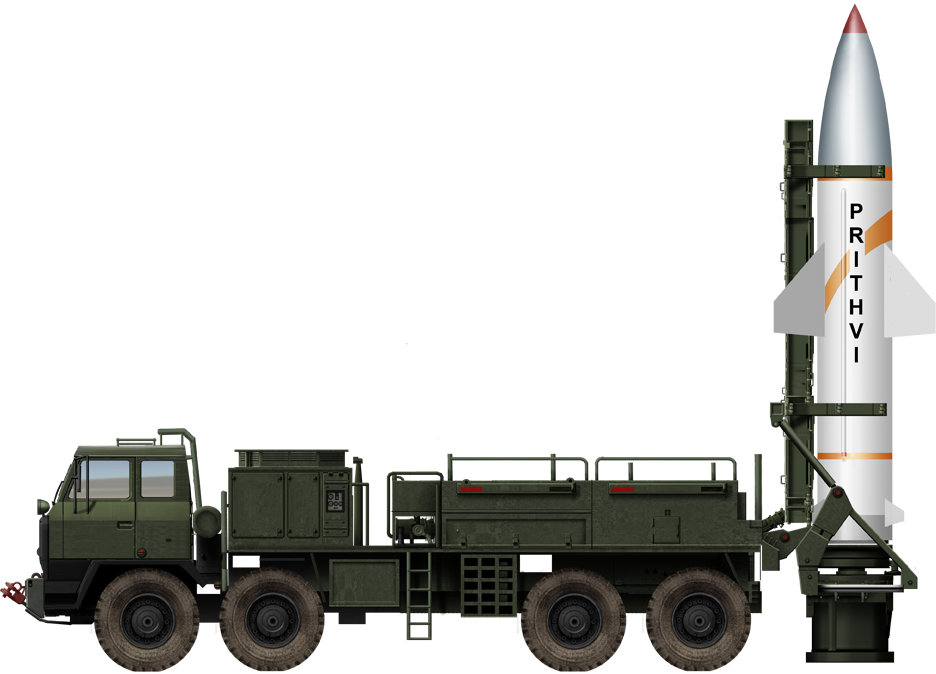 Basic green vehicle with the Prithvi I ready for launch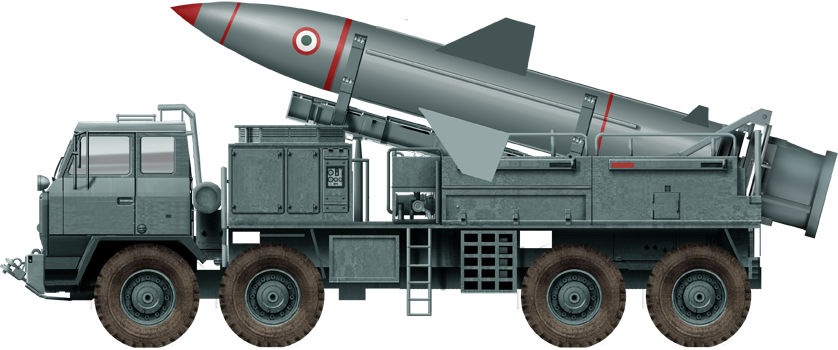 Grey livery (Navy truck, Prithvi II ?)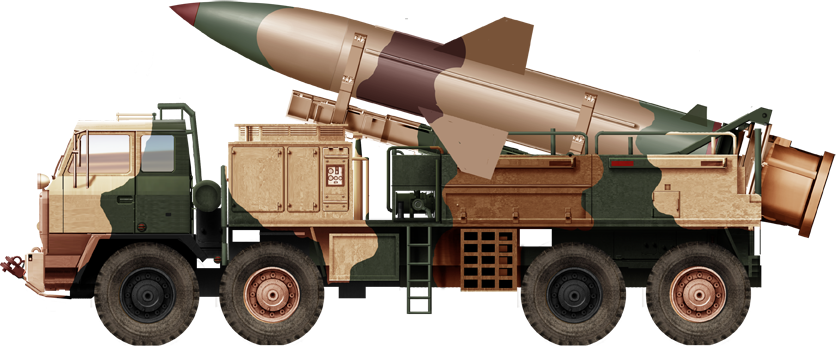 Tatra Prithvi of the army, camouflaged, 2016 parade.
Photos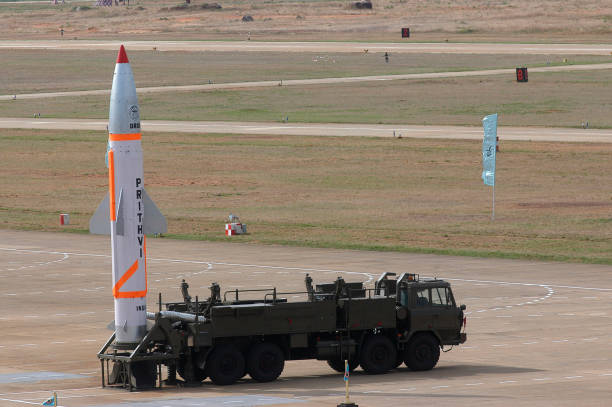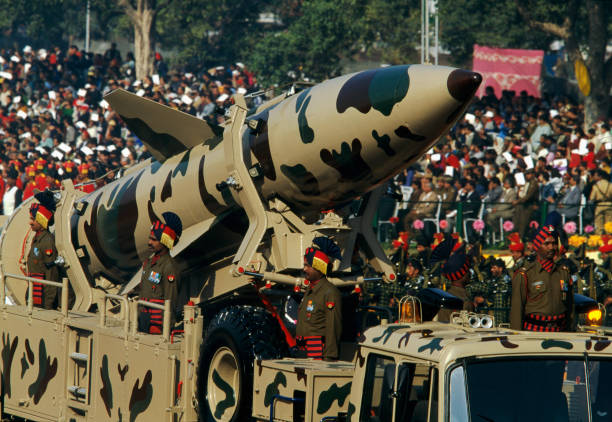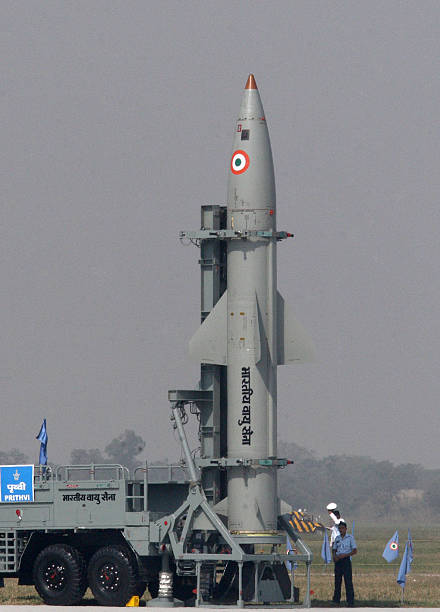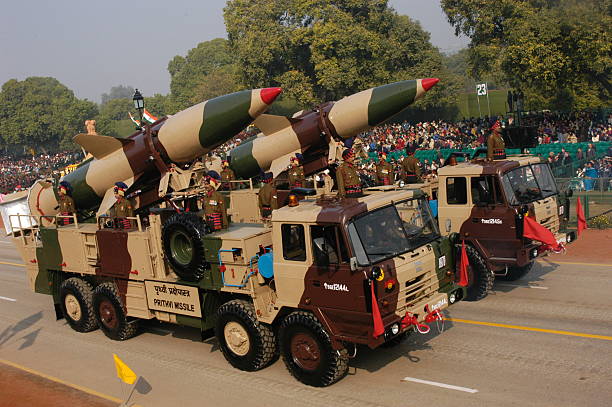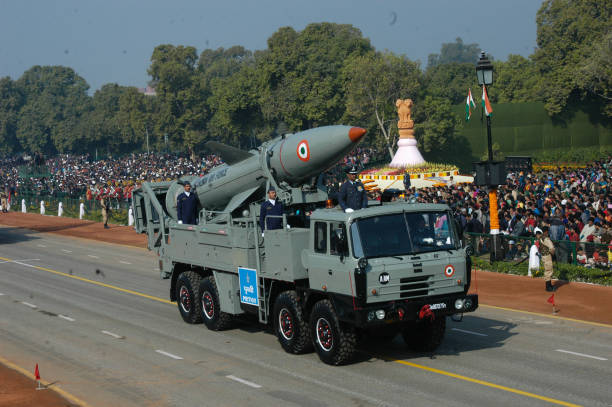 Prithvi III TEL in its marine grey livery
---
Axis Trucks

Purchase this pagemarker and support the site !
Sd.Kfz 2, 6, 7, 8, 9, 10 and 11 were half-tracks designed just before the war as prime movers, to carry supplies, ammunition, personal, and tow artillery. Many were also converted during the war as armored versions carrying AA FLAK guns (Flakvierling, 37 mm, or the legendary 88 mm Rheinmetall als used as tank hunters), or were converted as nebelwerfer (rocket launching armored vehicles). They were built by Hanomag, Steyr, Mercedes-Benz, Bussing and many other manufacturers until 1945, over 20,000 half-tracks.
---
Cold War & Modern Vehicles
Modern Trucks