Design development 1936-38
Preliminary design for all German half-tracks was led by Dipl.Ing. Ernst Kniepkamp of the Military Automotive Department (Wa Prüf 6) before 1933. When production was confirmesd, these designed were proposed to commercial firms for development and testing of prototype. At the very top of the lineage, it's Fahrzeug- und Motorenbau GmbH (FAMO), in Breslau, which received the contract for the largest variant, the 18 t heavy prime mover. The first prototype built was the FAM gr.1 completed in 1936. Powered by a 200 hp Maybach HL98 TUK engine it was 7.7 metres (25 ft) long but had some issues. The corrected F 2 prototype of 1938 solved most of these and only differed in detail.
The F 3 of 1939 was further refined, obtained a new Maybach engine, and was approved by the RMT to be the production version. The design was simplified during manufacturing, especially when Albert Speer started to reform production in Germany by 1943, reducing and making simple parts, omitting some, in order to reduce costs, decrease use of strategic metals and double production. However soon, the vehicle was such in high demand that production was arranged also at Tatra, fitted with a local 12-cylinder air-cooled Type 103 diesel. Also as the war progressed, the vehicle was fitted with large spades at the chassis's rear to improve its grip when recovering stranded tanks.
Design
Sd Kfz 9/1 and late modified version from Skoda
Body
The Sd.Kfz. 9 used basically the same ladder frame chassis as all other halftracks of that time. There was the usual forward wheeled axle and the rear interleaved section on which the useful payload rested, wit six axles, double for interleaved wheels and tracks.
The upper body had a crew compartment on all versions, with a forward bench for the driver, his assistant and another free space, plus the rear bench seat for the crew. The rear upper body flatbed was modular and adapted for its intended role.
-The standard artillery model (towing artillery) had two extra bench seats behind to accomodate the gun's crew and space behind for the ammunition.
-The cargo version had two large storage compartments, in front of the cargo compartment on either side and opening outside. There were also special types using all the flatbed surface (see later, variants).
The windshield could fold forward but could also be removed entirely. In normal conditions, the drive was procured a rear mirror, direction tail activator, whipers for the windshield. The vehicle could also be entirely covered: There was a convertible canvas top mounted fromp the windshield on a double framing over the forward benches, and a second part attached also on four frames, doing to the upper part of the rear body. Ths could be completed by extra canvas doors, and even a wider canvas on the cabin's sides, with plastic windows for winter. There is no evidencehowever of a rigid cab ever mounted.
Propulsion
SdKfz 9 Type 3 Maybach Engine
It was powered at forst by a Maybach 12-cylinder water-cooled, 10.838 litres (661.4 cu in) HL 108 gasoline engine. It was rated for 270 horsepower (270 PS) and well filled the generous nose of the vehicle. It was coupled with a syncromesh ZF G 65 VL 230 transmission, which had four forward and one reverse gears. The engine was fed by two fuel tanks, one of 90 litres (24 US gal) immediately in the engine compartment, activated by pump and another of 230 litres (61 US gal) activated by gravity. A hand-pump was provided anyway.
Both tracks and wheels were used for steering, with a system set up to make shallow turns by using only the wheels, brakes being applied to the tracks when the steering wheel was turned to the full. The drive sprocket was different from tanks as having rollers rather than teeth to smooth out the friction and spare the mechanics on the long run. The rear suspension (for te overlapping wheels) presented six double sets (Schachtellaufwerk layout) of stamped and bolted roawheels which were proper to the SdKfz.9 in design: They were not interchangeable with other models. They were suspended by their mounting on swing arms, sprung by torsion bars. The rear idler wheel was used for track tension control like for most tanks. The front wheels were suspended by classic leaf springs, but also with shock absorbers.
Performances
The Sd.Kfz. 9 had a towing capacity of 28 tonnes (28 long, 31 short). Thus, it could tow away anything in the Wermacht inventory up to the Panzer IV, including when towing it on the dedicated transport trailer. However for towing larger tanks sich as the Panzer V, VI (Tiger) or VII (King Tiger) two or three, even four for the latter, were necessary. The standard transport trailer was the Sd.Anh 116 low-loader model, used to carry disabled vehicles on the long run. The immediate "towing train" was on,ly valid up to the latest depot or trailer to be transport to a rear workshop unit. The SdKfz 9 also was equipped to self-unditching itself or another vehicle, with a winch powered by the engine and mounted at the middle of the vehicle under the cargo platform. It was not easy to access, but at least less exposed than at the front bumper.
Production versions 1938-45
Sd Kfz 9/2 blueprint
After FAMO, another manufacturer was contacted, Vomag of Plauen, to start also the production of the Sd.Kfz. 9 in 1940. Tatra only joined production in 1944 when all setup. peoduction numbers were as follows:
? in 1940
855 on 20 December 1942.
643 in 1943
834 in 1944. unknown for 1945.
2,500 total since 1939.
FM Gr Prototypes
FAMO FM Gr.1 (1936), GR.2 (1937) and GR.3 (1939) setup the production standard.
Sd.Kfz.9 Artillery Tractor
The vehicle carried up to 13 gun crew on benches and ammunitions. The standard issue guns towed were the 105lFH 18, 21cm Krupp 1916, sIG-33 15 cm howitzer, shf 18 15cm, 17cm Kanone 18 and 21cm Morser 18. The 24 cm K3 was to be towed by a "train" of five loads, Krupp 21 cm K38 and some Skoda heavy howitzers.
More more rarely it was seen towing the 8,8 cm FLAK (most were towed by the Sd.Kfz.8). It was the onl vehicle designating for towing the super heavy 12.8 cm FLAK 40 from 1943 as well.
Some were refitted to carry engineer equipments, and one was a tractor towing for bridge units and a towing trailer could carry 15 engineers.
Sd.Kfz. 9/1
The 9/1 was designed with flatbed mounting a 6 tons (5.9 long; 6.6 short) capacity crane. This particular vehucle was issued to tank maintenance units from September 1941, but was always in short supply.
Sd.Kfz. 9/2
The same, but developed to deal with heaveier tanks on the eastern front: On the flatbed was installed a gasoline-electric powered ten tons (9.8 long; 11 short) crane. In order not to have the vehicle dancing around, outriggers were fitted to stabilize it at the start of operations. A specially designed tank recovery version also was fitted at the rear with a giant metal spade connected to the rear frame for rigidity. The spade holding frame was lifted up when not in use. It allowed to stabilize the vehicle during heavy winching, on soft ground.
8.8 cm Flak 18 (Sfl.) auf Zugkraftwagen 18t (Sd.Kfz. 9)
The only armed/armoured variant, it was developed on the eastern front as an expedient tank-hunter, and quite a fierce one.
The flatbed was reinforced to accomodate a pivot-mounted 8.8 cm Flak 18 anti-aircraft gun. The rest of the vehicle received 14.5 mm (0.57 in) armor panels on the cabin, radiator and hood, so as to make it at least partially armoured. This conversion was made on fifteen stock vehicles in 1940, using the famous "88". It was known as the "8.8 cm Flak 18 (Sfl.) auf Zugkraftwagen 18t (Sd.Kfz. 9)" and not meant for AA defence but specifically for anti-tank duties. The crew and engine compartments were protected, but the gun could not deflect when firing directly ahead. The rear bed had drop-down sides whith outriggers bracing the platform sides, making for a platform, supporting the weight of the gun crew when deployed. The vehicle after these modifications jumped to 25 tonnes, and it was 9.32 metres (30.6 ft) long. A fully dedicated article on tank encyclopedia is going to follow on it.
The Sd.Kfz.8 in action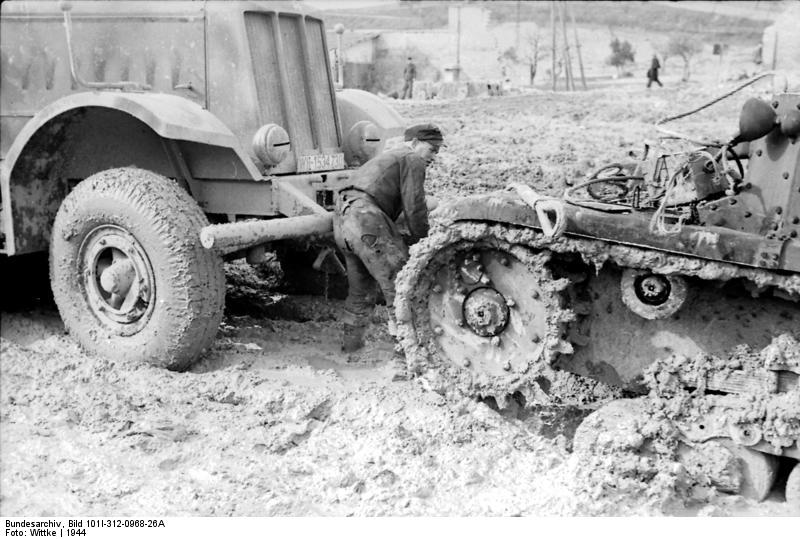 Bundesarchiv on the Italian Front 1944 tries to unditch a bogged Panzer towed Sd Kfz.9
The basic vehicle was used in the campaign of France and of the low countries in 1940. It was deployed afterwards in the Balkans (Yugoslavia and Greece), north Africa (DAK campagn 1941-43), in Italy 1943-45, on the eastern front on 1941-45. It was part of the wehrmacht logistics chain, notably for transport, recovery and repair. Due to its large size and original role, the artillery towing vehicle role was gradually dropped for tank revovery almost excusively notably on the eastern front, in the aftermath of great tank battles such as at Kursk and Kharkov. Recovering tanks in potentially hostile territory was always a dangerous task, for which the vehicle was rarely fit to answer. As the war sent on with the Soviet Army progression, tanks could not be recovered, and they usually were called for those which broke down or went stuck on the rear of the front (often between the railway depot and the frontline).
As said above, it the vehicle really proved its worth when two or three were chained together to pull out a pricy Tiger Tank. Northing less could do the trick. However due to its limited capacity of 28 ton per vehicle, three would only pull together 84 tons, which in theory could save a King Tiger, but even also the massive
JagdTiger
(80 tons in working order).
In the end, the vehicle prove indispensible, but produciton cased in 1944 fault of engines, requisitioned entirely for the late Panzer IV production. Allso, Speer redirected priorities again, and the SdKfz.9 while not having the same impact on the battlefield as a panzer was still costing 60,000 RM, versus 117,100 for a Panther, probably the best German tank at the time. Something to consider for a country now essentially defending itself with more and more limited resources as the allies advanced.
Links about the Sd.Kfz.11
TnT Trucks And Tanks Magazine no 47 Janvier 2015, "Sd.Kfz.9 FAMO", le buffle de la Wehrmacht.
"Chars et véhicules blindés": Encyclopédie visuelle, Robert Jackson juillet 2011.
Marcus COWPER, Christopher PANELL, Tank Spotter's Guide", Osprey Publishing, 2011
Chamberlain, Peter, and Hilary L. Doyle. Thomas L. Jentz (Technical Editor). Encyclopedia of German Tanks of World War Two: A Complete Illustrated Directory of German Battle Tanks, Armoured Cars, Self-propelled Guns, and Semi-tracked Vehicles, 1933–1945. London: Arms and Armour Press, 1978 (revised edition 1993).
Spielberger, Walter J. Halftracked Vehicles of the German Army 1909-1945. Atlgen, PA: Schiffer, 2008
Seifert, Walter E. Der schwere Zugkraftwagen 18 t (Sd. Kfz. 9) FAMO. Waffen-Arsenal Special No. 36. Wölfersheim-Berstadt: Podzun-Pallas-Verlag, 2003
On lexikon-der-wehrmacht.de
The Sd.Kfz.9 on wikipedia.com
On 2iemeguerre.ca
On kfzderwehrmacht.de
walkaround
The Sd.Kfz.9 on weaponsandwarfare.com
On imodeler.com
Hanomag Sd.Kfz.9 specifications

Dimensions
8.32 x 2.6 x 2.85 (27 ft 4 in x 8 ft 6 in x 9 ft 4 in)
Total weight, battle ready
18 t (40,000 lb)
Crew
2 (driver, co-driver) +3-12 crew
Propulsion
10.8L Maybach HL 108 petrol, 12-cylinder, water-cooled 270 hp
Top speed
50 km/h (31 mph) road
Range
260 kms (160 mi) road, 100 km cross-country
Payload
2,620 kilograms (5,780 lb)
Transmission
4 + 1 speed ZF G 65 VL 230
Fuel Capacity
290 litres (77 US gal)
Suspension
Torsion Bars
Ground clearance
44 centimetres (17 in)
Production
FAMO, Vomage, Tatra 1938–1945 - 60,000 Reichmark
Gallery

Basic vehicle in Feldgrau livery, France 1940

SdKfz 9 towing a 15 Howitzer

Sdkfz 9 with partial canvas, eastern front July 1943

SdKfz 9 in North Africa with a FLAK 37mm in portee

SdkKfz.9 on the eastern front winter 1942-43

F3 variant in Russian summer 1943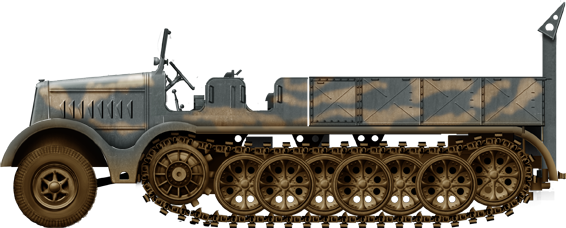 Unditching vehicle with the optional rear spade

Towing vehicle for a 88mm FLAK

SdKfz 9 in Italy, summer 1944
SdKfz 9/1 crane vehicle (to come)

8.8 cm Flak 18 (Sfl.) auf Zugkraftwagen 18t (Sd.Kfz. 9)
---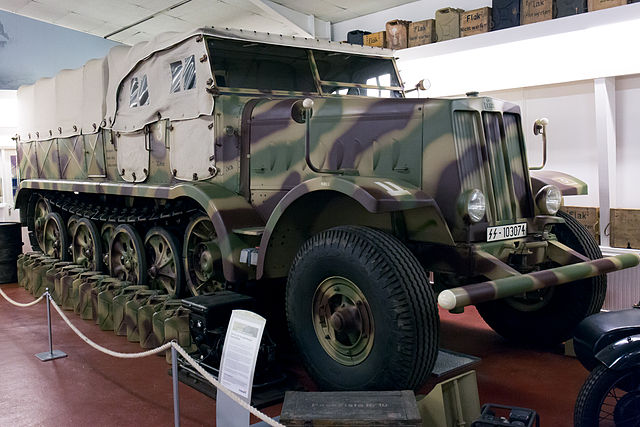 Bovington Museum - Donington Gd Prix coll.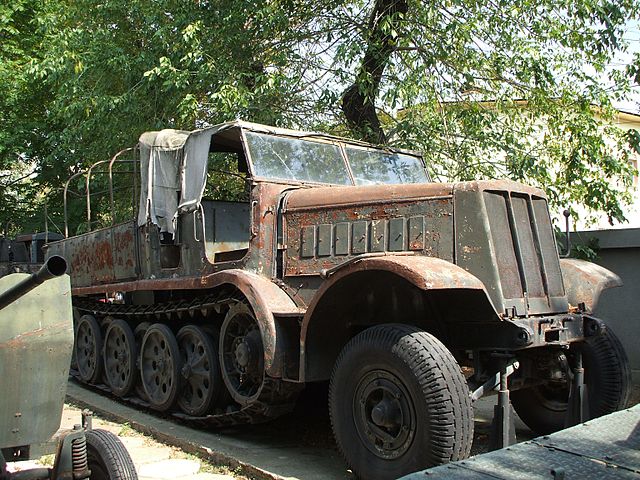 SdKfz 9 FAMO in Bucarest Museum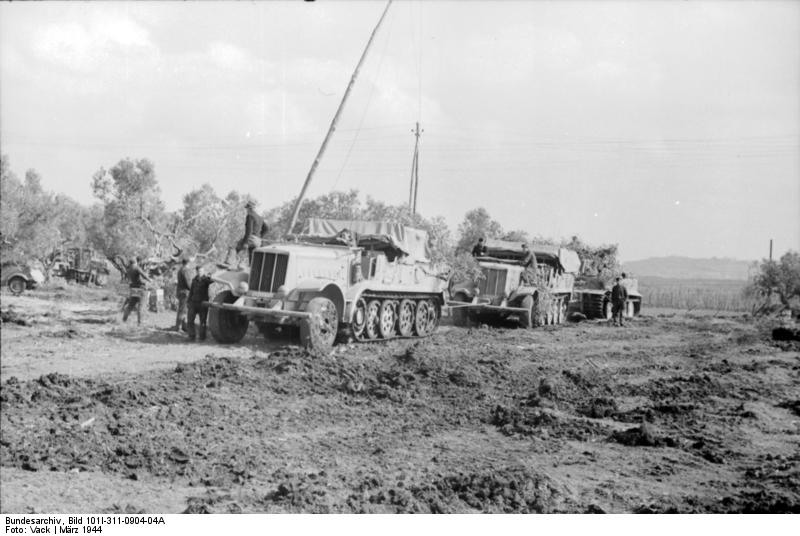 Bundesarchiv - "Zug" on thr Italian Front towin a Tiger I tank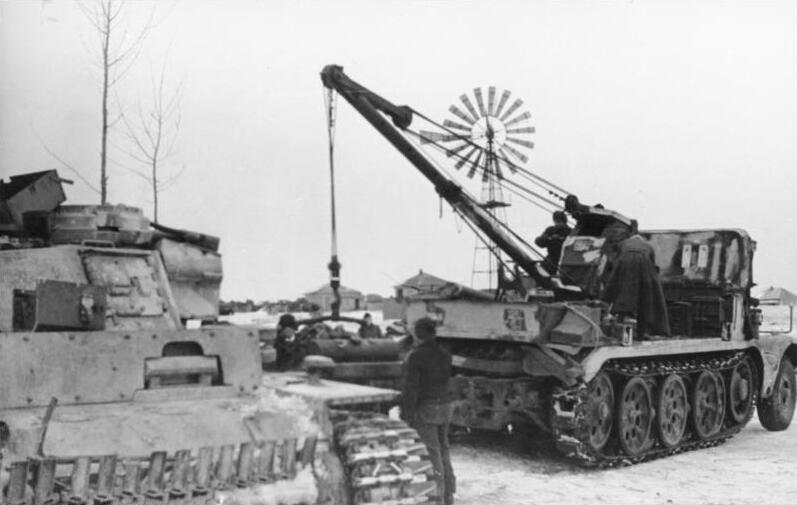 Bundesarchiv_Reparatur_Panzer_III_mit_Sd.Kfz._9-1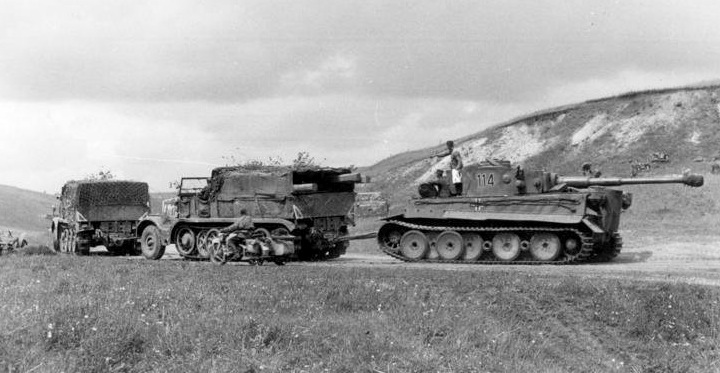 Bundesarchiv_RussFt_Tiger_towed-SdKfz9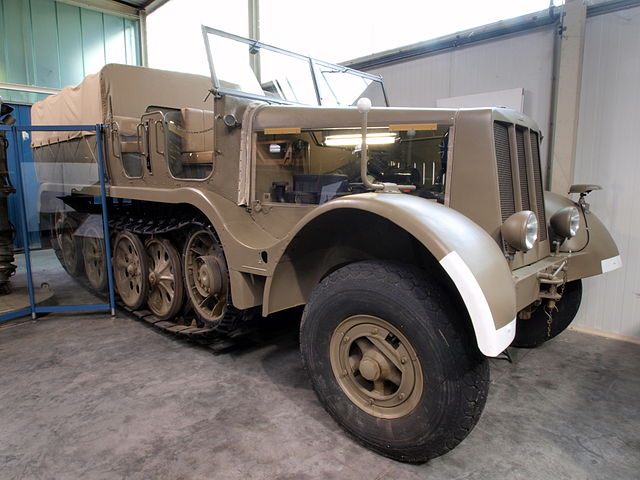 SdKfz.9 Type at 3 Koblenz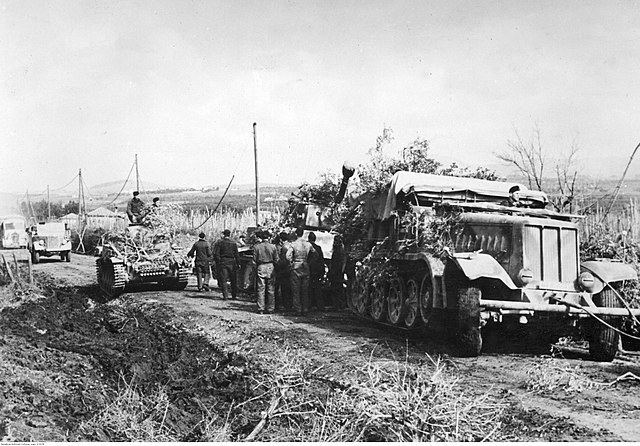 SdKfz9 at Anzio March 1944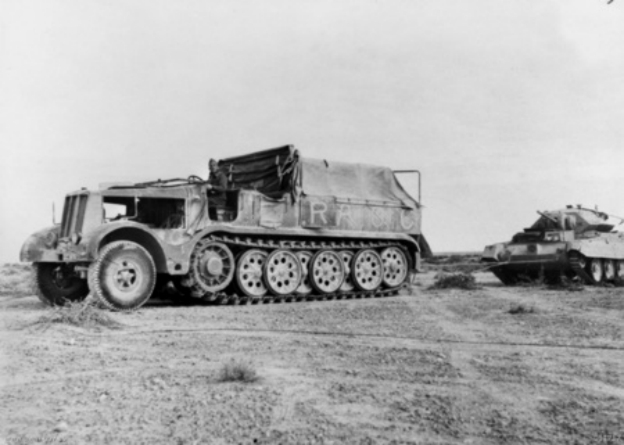 SdKfz 9 pulls a Crusader tank in North Africa, 1942
Videos
Video: On the move
---
Axis Trucks

Purchase this pagemarker and support the site !
Sd.Kfz 2, 6, 7, 8, 9, 10 and 11 were half-tracks designed just before the war as prime movers, to carry supplies, ammunition, personal, and tow artillery. Many were also converted during the war as armored versions carrying AA FLAK guns (Flakvierling, 37 mm, or the legendary 88 mm Rheinmetall als used as tank hunters), or were converted as nebelwerfer (rocket launching armored vehicles). They were built by Hanomag, Steyr, Mercedes-Benz, Bussing and many other manufacturers until 1945, over 20,000 half-tracks.
---
Cold War & Modern Vehicles
Modern Trucks