Origin and Design
About Studebaker

The ancestors of the Studebaker family descended from Solingen, Germany and arrived in America on September 1, 1736 from Rotterdam. Peter Studebaker was the "wagon-maker, which trade later became the foundation of the family fortune and the corporation which now bears his name." They started a business in York County, Pennsylvania in 1798–9 and their mobility speciality thus made them in WW2 one of the foremost, most ancient pioneers in the Americas. In the XIXth five Studebaker brothers created the Studebaker Corporation. The modern business thus dated back February 1852, so 171 years ago.
The company saw the end of horse-drawn era, as in 1895, John M. Studebaker's son-in-law Fred Fish urged for the development of "a practical horseless carriage", seeing developments in Europe. Development of an automotive branch with Fish as chairman of the executive committee in 1897 was somewhat troubled by the fact the Studebakers opted for electric, battery-powered types over gasoline propulsion, still untested and contested at the time. Studebaker Electric vehicles were made from 1902 to 1911, and body-manufacturing and distribution agreements were made with gasoline engine maker Garford of Elyria in Ohio, as well as Everitt-Metzger-Flanders in Detroit and Walkerville in Ontario. A true partnerhip started with Garford in 1904.
The Studebaker marque was established in 1911 and the catalog grew, with capital input by Lehman Brothers and Goldman Sachs. The company produced both electric and gasoline vehicles, but not trucks, rather personal cars. Hit by a strike in 1913, the company however soon renewed with prosperity when WWI broke out: The British government ordered 3,000 transport wagons, 20,000 sets of artillery harness, 60,000 artillery saddles, ambulances and staff cars. In 1918 thanks to the "three musketeer", brillant engineers Fred M. Zeder, Owen R. Skelton and Carl Breer, new types of engines were created.
Studebaker was one of the few companies that still put to shame all other car businesses even after the crisis: By 1929, the catalog was expanded to 50 models for cars only. Benefits were at an all-time high. Production went on in seven different plants across the country. Even after the wall street crash, the company bounced back and focused on a new small, low-cost car, the Rockne. Under Erskine, the company was able to acquire 95% of the White Motor Company, but this was later rescinded. Many other poor choices had seen the company plummiting. With new input from Lehman Brothers, new management and torough reorganization on March 9, 1935, the company was profitable again. Thanks to Delmar "Barney" Roos a new car was introduced which met success, the Champion, styled by a dream team, Virgil Exner and Raymond Loewy. Aptly named, this car was the best seller of the company in 1939.
Studebaker's Trucks
When WW2 broke out, the company was already experienced in trucks, which business started in 1929 with the GN series (1929–1930), S series (1930–1934), T series (1934–1936), W series (1934–1936), J series (1937), Coupe Express (1937–1939), K series (1938–1940), M series (1941–1942, 1945, 1946–1948) and the legendary US6.
The company even created a tracked amphibious design, the
M29 Weasel
(1942–1945). Postwar were made the 2R (1949–1953) 3R (1954) E series (1955–1964), Transtar (1956–1958, 1960–1964), Champ (1960–1964) and the Zip Van (1964) as well as keeping a foot in the military by replacing the US6 on its production lines for the standard M35 2-1/2 ton cargo truck (1950-1964).
Already prior to WW2, French, Belgian and Dutch armies used 1939 Studebaker K-Series. Studebaker sold perhaps 500+ civilian trucks to the French army, especially the K30 3-ton which only mofification were forward brush guards, dual rear wheels, canvas canopies. Many were captured by the Germans and like most French tanks, thrown into the eastern front furnace in 1941-43. A testiment to the company's attention to mechanical reliability was then the US Army officially purchased from the company its own 800-acre Studebaker Proving Grounds on March 29, 1943 in order to test all softskin vehicles destined for service. Tanks were however tested at Aberdeen and Rock Island proving grounds.
The Studebaker US6
Blueprint US6
In late 1939, with new urgent needs from belligerent nations such as France and the UK, Studebaker aligned itself to look for orders, and notably started work as private venture on its own 6x6 truck based on generic specifications. This was the Model K15 1-1/2-ton only showed by a 1940 photo. They were sold to China, in several variants, notably ambulances. Many were still running along the Burma road until 1945, bringing precious supplies. One familiar sight closer to the frontline against the Japanese were the Studebaker K15 ambulances.
Also in 1940 the
US Army Ordnance Corps
defined a range of 6×6 tactical trucks capable of carrying 2½ tons (2,268 kg) and capable of off-road in all weather. Not only Studebaker, but Yellow Coach from GM group and International Harvester submitted a model. They were all accepted and entered production in 1941. And now that the state by order made all licenced designs free to use across the US manufacturing landscape, Studebaker created on the M-serie a military-style hood, rock solid fenders simpler to manufacture, and poured into the chassis the best components made by other companies the team could find. This combination was a winning one.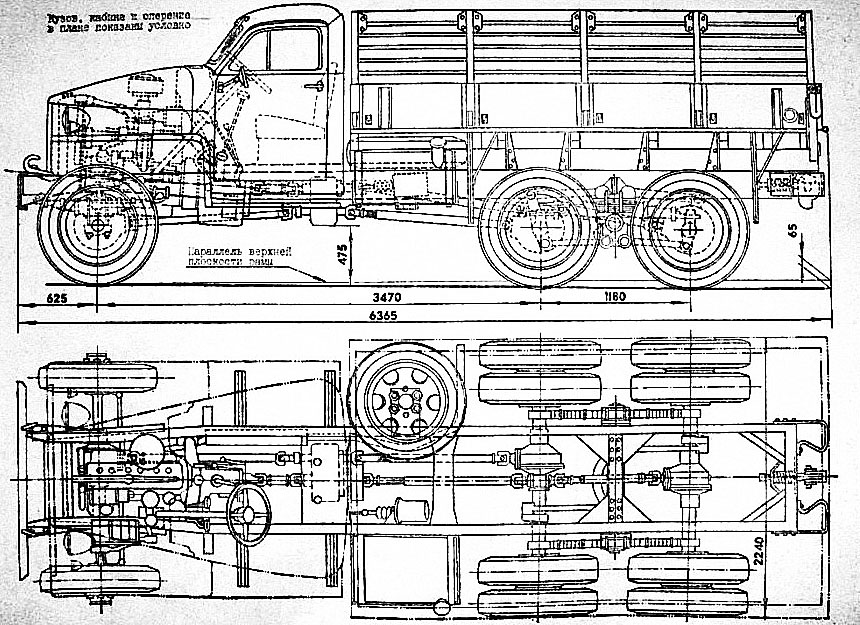 Blueprint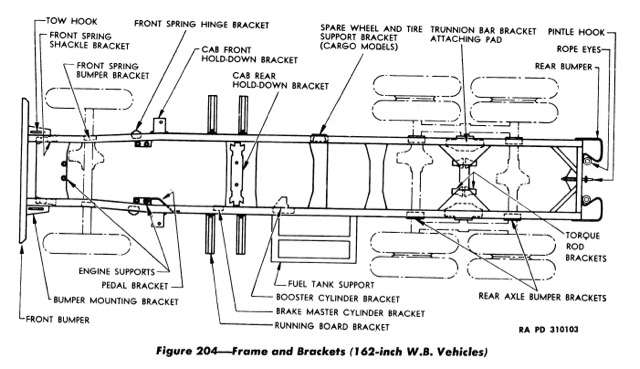 Chassis
Studebaker answered to the same specs issued to Reo, Chevrolet, Chrysler for a medium standard military off-road truck on the 2-on payload category. The Studebaker G630 became the factory name of the prototype, later standardized as the 2+1⁄2-ton 6×6 truck, with a lighter variant called the 5-ton 6×4 truck. The only different between the two was their rear axles, with single or doubled roadwheels. However the quantities wanted by the US Government meant Studebaker's own capacity were overwhelmed. So the order in 1944 was passed onto REO Motor Car which obtained blueprints to produce in turn the US6 design. The US6 itself was based on designed shared by Chevrolet and Chrysler. In wartime these designs were passed onto all manufacturers by presidential orders. In peacetime conditions these designs would have been copyrighted and licenced.
Production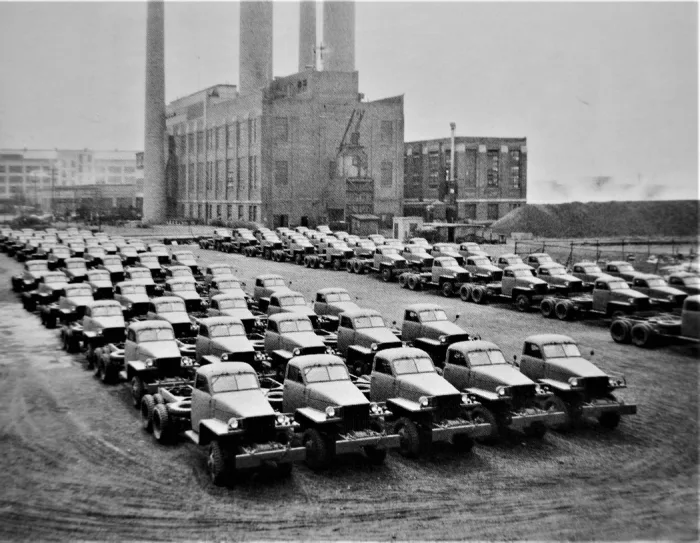 The company started work on the US6, setting up a new line and its subsidiaries to create intermediate modules. However production was slow at first, as tension on the civilian market kept the compaby occupied. Menawhile the government compared its immediate and prospective needs and compared them to actual production. In the end they were concerned about the slow progress across all manufacturers, so to boost it, it was decided to halt civilian auto production for good early in 1942, now the US were at war and no longer only feeding lend-lease contracts. To compare stats, Studebaker manufactured by the end of 1942 4,000 vehicles monthly, compared to 4,724 military trucks in 1941... But the company not only made trucks, but also 63,789 air-cooled 9-cyl. Wright Cyclone R-1820 engines for the B-17.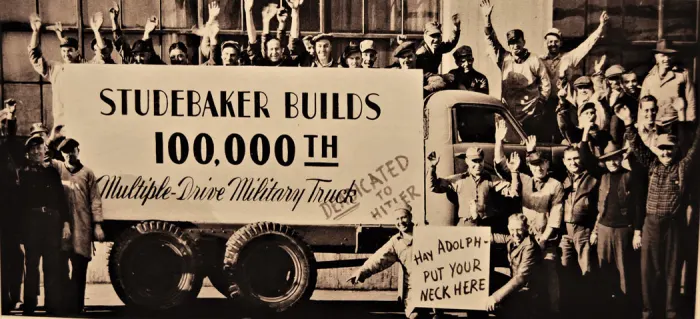 Company workers posing for the 100,000 US6 delivered.
In total, 219,882 2½-ton (2,268 kg) 6×6 trucks and 5-ton (4,536 kg) 6×4 US6 tactical trucks were made along with thirteen variants. Studebaker was the primary manufacturer and delivered 197,678 trucks at its South Bend factory, and REO Motor 22,204 at its Lansing, Chicago factory (Michigan) from 1944, as subcontractor. They were identical to the Studebakers, but had their own 6×6 cargo-style version with longer wheelbase, without the front-mounted winch called the Reo US6/U9. Production was terminated in August 1945 by Government's order. Most of these were exported to the Soviet Union under Lend-Lease. Indeed the competing GMC 6×6 CCKW was found more suitable for Western Front conditions. Nevertheless, this contract came at the right moment for the company. In 1938, unable to emrge from long-standing effects of black thursday, it declared $1.76 million loss on $43.8 million in sales but by 1941 it turned a $2.49 million profit (for $115.7 million in sales).
Engine and mobility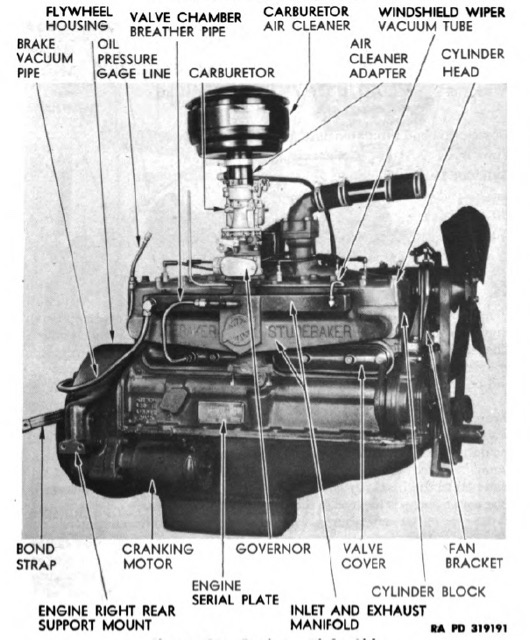 Hercules JXD engine
The US6 was powered by an Hercules JXD inline-6 gasoline motor rated for 86 hp (64 kW) coupled with a transmission comprising 5 speed and 2 range transfer case. Suspension comprised beam axles on leaf springs. Top speed on flat was 45 mph (72 km/h) and range 236 mi (379.8 km).
The Hercules JXD engine had a capacity of 320 cu in (5.2 L) and shaped as L-head inline, 6 cylinder. The output was 64 kW at 2800 rpm and 200 lbf/ft (271 Nm) of torque, at 1150 rpm. Nothing fancy there, only proven systems. This was highly-reliable, with a compression ratio of only 5.82:1 so to use 68-octane gasoline. Thus engine was also shared by the
M3 Scout Car
in 1940, and it was also found in the
M8 Greyhound
/M20 armoured cars that saw service for some until the 1970s. The Soviets, comparing this to their British-leased trucks, were much impressed. This rock solid power unit depended on an equally trusted Warner T 93 gearbox featuring dive speed for transmission. It had a very low first but direct fourth and overdrive on the fifth gear. From military requirements, the U6 also featured a power take-off applied to a front-mounted, long bumber squared winch, below and in front of the radiator; But it could also be the hydraulic hoist on dump trucks such as the U10 or U11 and U12 ot U13 rear and side swinging models.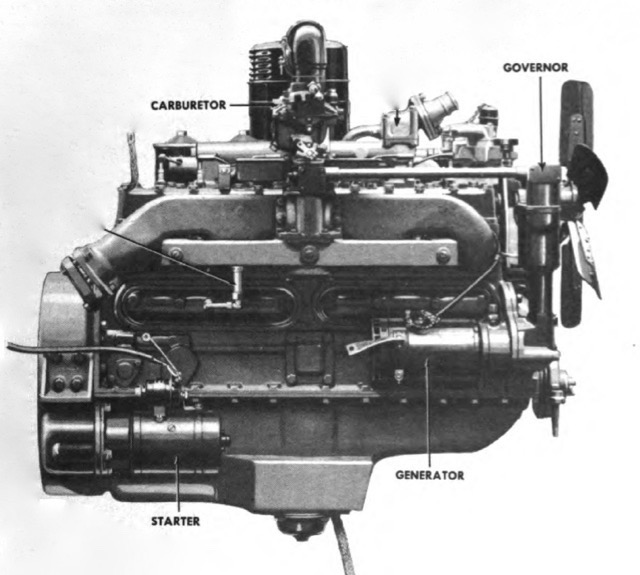 Hercules RXC engine
This transmission included also a sturdy Timken T-79 transfer case with high and low ranges, neutral, to engage or disengage the front axle, for better grip. This depended on an output shaft mounted forward, front axle and absent in the 6×4 configuratons. There were two to the rear, per rear axle. Front and rear axles used the Timken split and showed a ratio of 6.6:1. The front axle had ball-type constant-velocity joints. On the aft axles they were fully floating.
Variants
U1/U2 cargo trucks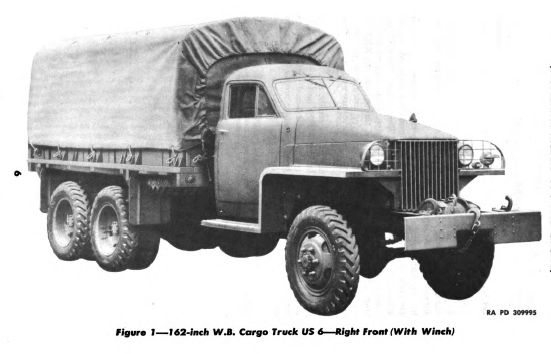 U2 Cargo
Frontally-mounted winch, short wheelbase (20 ft 11 in (6.38 m)oa, 9,875 lb (4,479 kg), spare tire mounted behind the cab, 9 ft (2.74 m) long flatbed. Prime mover style bodies (not a success).
U3/U4 & U7/U8
6×4 cargo trucks: Longer wheelbase, 27 ft 11 in (8.51 m) oa, spare tire mounted under the 12 ft (3.66 m) truck-bed. 197,000 built.
U5 tank truck: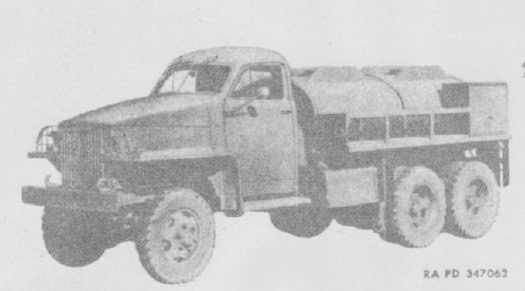 U6 Tanker U5
Long wheelbase, 20 ft 11 in (6.38 m)oa, 10,585 lb (4,801 kg), two-compartment 750 U.S. gal (2,800 L) tank, no winch.
U6 semi-tractor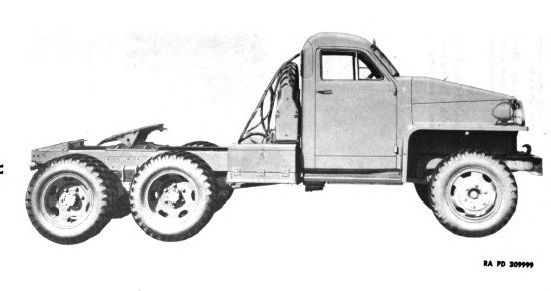 Semi-Tractor U6
6×4 semi-tractor version with reduced off-road perf., rated for 5-ton load on good roads. No front winch.
U9 cargo truck
Long wheelbase,no winch. Only sent to USSR. Soviet Katyusha base.
U10/U11, U12/U13 dump trucks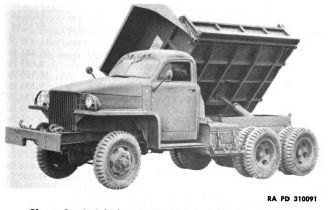 U13 Dump truck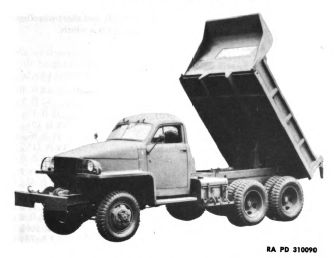 U11 Dump truck
Short wheelbase, 2 types with dump-body mounted on sub-frame, rear of the truck, elevaiton mech rear (U10/11) and side (12/13). 10/11, Hydraulic cylinder attached to the chassis, lever arrangement. 12/13 Side-type dump with hydraulic cylinder mounted directly to the truck body.
US6 U1 mobility trials
The US6 in action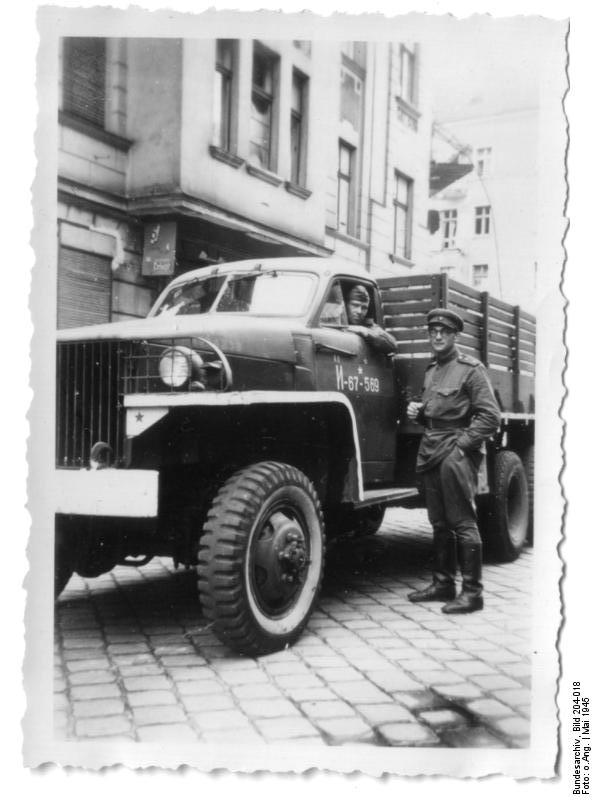 Soviet Army, US6 in Berlin, photo by Henryk Gorovits
The US6 was used by the British Army in limited quantities, and by the US military only in specialized units such as those involved in the construction of the Ledo Road (Burma) or Alcan Highway back home. The US6 was mostly made for export and Lend-Lease with the Soviet Union as largest operator. The first arrived in the USSR in the autumn of 1941, and they were tested by the Red Army wit a bunch of eleven "Studebekkers" al locally phonetized. Alongside standard deliveries, they were tested between July 1942 and May 1943. This determined an enlargement of the payload up to near 4 short tons or (3,600 kg). In 1945 they had been modified to enable a 3+1⁄2 tons (3,200 kg) payload on improved roads and even up to 5 tons (4,500 kg).
Supplies came via the Persian Corridor. In the Soviet military they were used for towing artillery larger than those towed by standard ZIS trucks, notably the largest anti-tank guns. They also carried more troops over long distances and appreciated for their sturdiness. Crews found them extremely reliable, the engine even being capable of reunning poor grade fuel. Appreciation went further with conversion as Katyusha rocket launchers in three main variants. They were later nicknamed "Studer" and became on the rare time the Soviet Union recoignized the importance of some lend-lease deliveries in the war effort by Joseph Stalin going so far as sinding a personal letter of appreciation to Studebaker, praising the superb quality of his trucks.
Read More/src
lrdg.hegewisch.net
militarytrader.com
daviddoylebooks.com (book)
kfzderwehrmacht.de
usautoindustryworldwartwo.com
On en.wikipedia.org
www.ewarbirds.org redball, studebaker trucks 1942
On militaryfactory.com
---
scalemates.com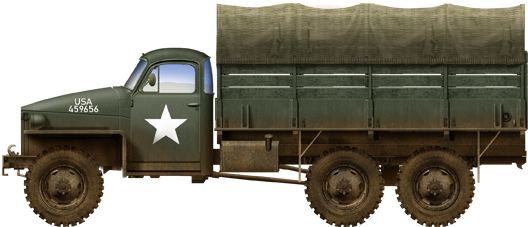 US Army Studebaker US6 as built with partial tarpaulin, 1942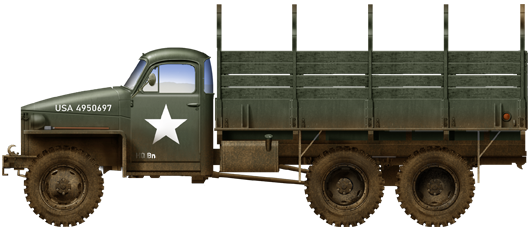 US Army US7/US9 type without tarpaulin, 1943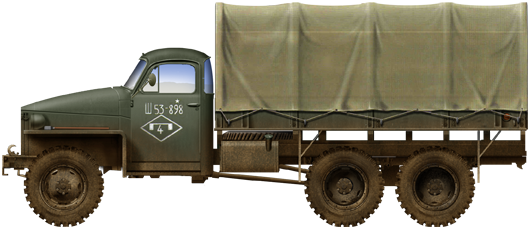 Studebaker US9 in soviet service, 1944

U6 U3 13 QM Battalion France Summer 1944

U6 U4 Ukrainian Front, Kiev summer 1944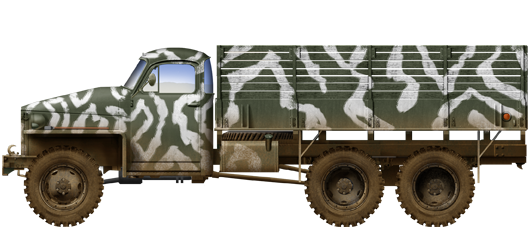 US6, Soviet Army, winter 44/45

US6 U3 of the Red Army in Czechoslovakia, May 1945
Polish U6/U3 in Berlin, May 1945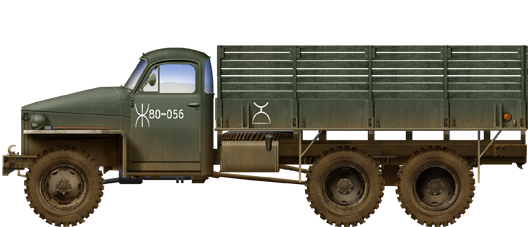 U6 U3 from the Ukrainian Front, Lomnice, Czechoslovakia, May 1945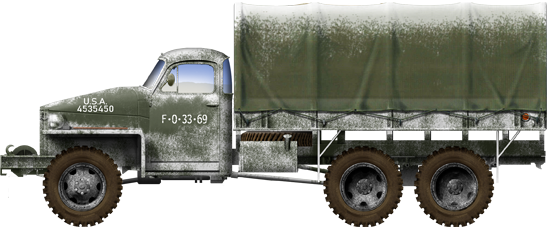 US6 U4 1st Polish Tanks Corps Germany March 1945
(More to come)
Photos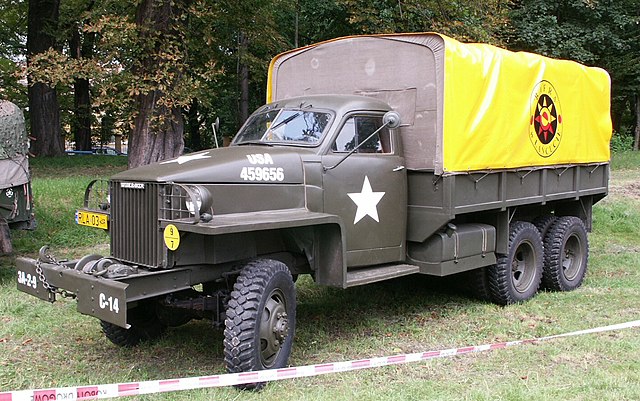 Studebaker_US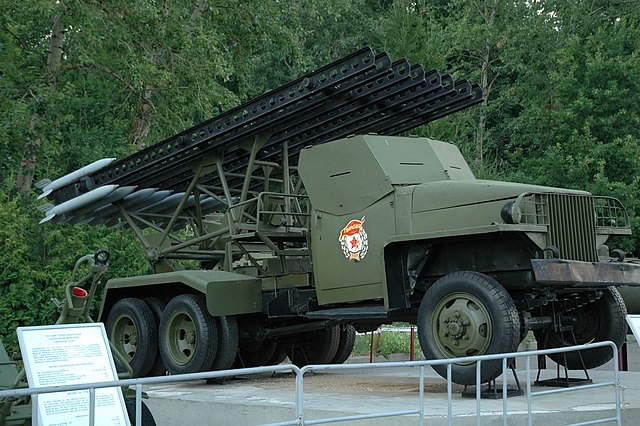 Katjuscha US5, Moscow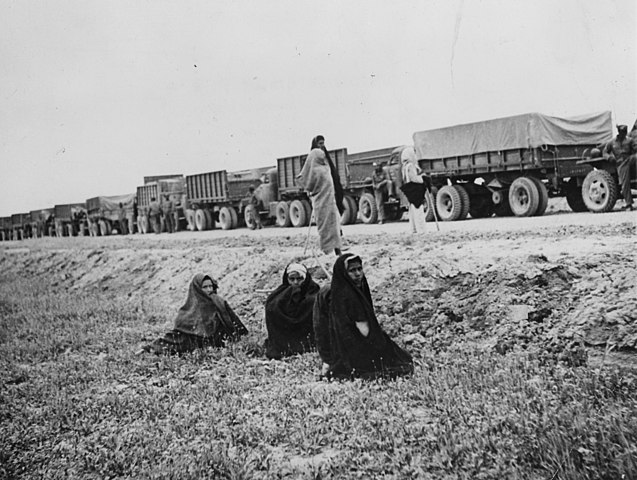 Near_East_Iran_StudUS6_truck_convoy_US_supplies_for_USSR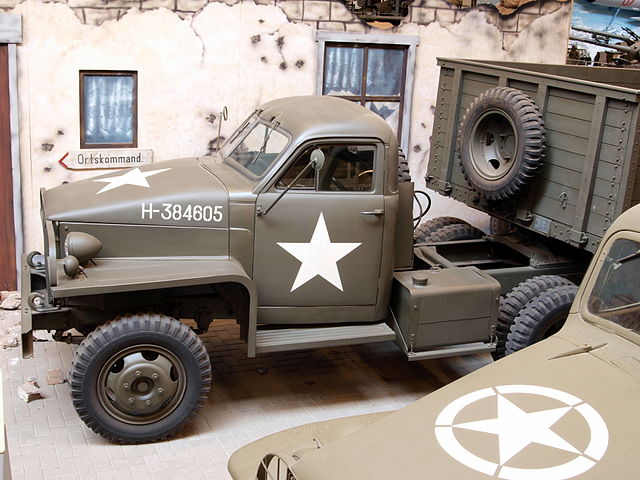 G-630_Tractor_Studebaker_US6-U6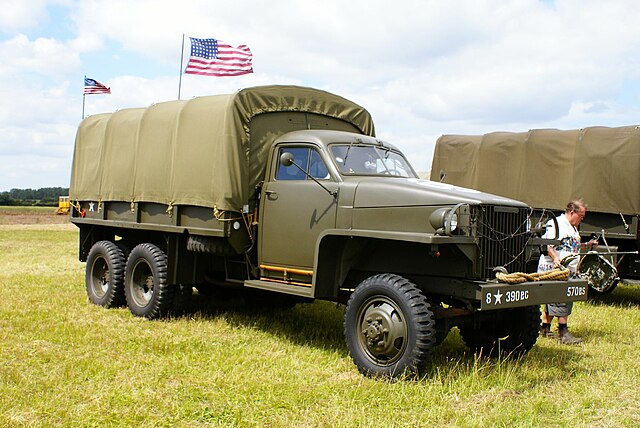 StudebakerUS6-pres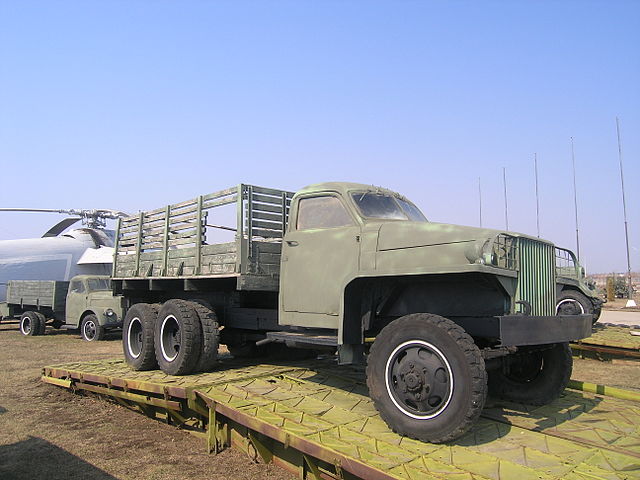 Studebaker_US6_in_Techical_museum_Togliatti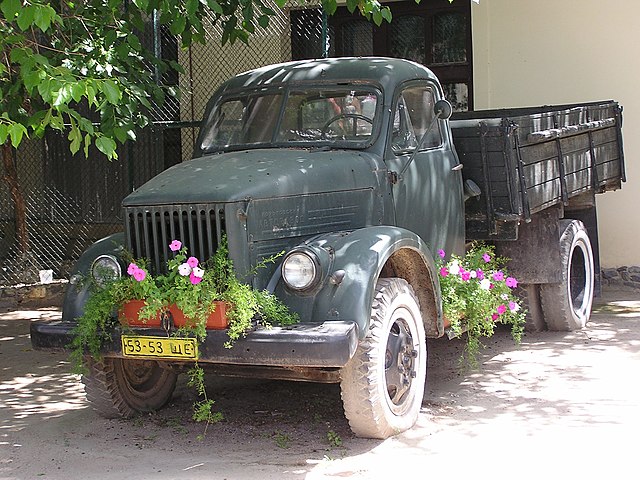 GAZ 51, inspired by the US6
US6 as troop transport with the Red Army
Army Motor journal N°77 cover
US6 2 1/2-ton Dump Truck
US6 front
US6 front
Videos
3D
---
Axis Trucks

Purchase this pagemarker and support the site !
Sd.Kfz 2, 6, 7, 8, 9, 10 and 11 were half-tracks designed just before the war as prime movers, to carry supplies, ammunition, personal, and tow artillery. Many were also converted during the war as armored versions carrying AA FLAK guns (Flakvierling, 37 mm, or the legendary 88 mm Rheinmetall als used as tank hunters), or were converted as nebelwerfer (rocket launching armored vehicles). They were built by Hanomag, Steyr, Mercedes-Benz, Bussing and many other manufacturers until 1945, over 20,000 half-tracks.
---
Cold War & Modern Vehicles
Modern Trucks