Terrapin (1942)

Morris Commercial - 500 produced
The Terrapin was an amphibious 8x8 truck designed by Thornycroft and of which 500 were manufactured by Morris in 1943-44, featured in British landings notably at Walcheren and De Schedt.
Development
Due to a shortage of DUKWs for the British Armt, the British Ministry of Supply commissioned Thornycroft to design an amphibious vehicle for the same role. Being able to ferry troops and cargo from ship to shore. They were to be ready for the planned invasion of France, the D-Day landings. Since Thornycrof lacked the industrial capacity, being a shipbuilder, the vehicle was given to Morris Commercial, which delivered 500 Mark I in a short span in 1943-44. Morris Motors Limited was also contacted to create an improved Mark 2 variant with many improvements, but it never passed the prototype stage, as the war ended prefore any order for production.
Design
The Terrapin was a very simple vehicle with a standard chassis assorted with a "boat-like" shape, larger upper part fir extra buoyancy and water guard. The chassis was powered by two Ford V8 engines mounted side by side. They each had a distributed drive to all four wheels on one side only. Wheel braking was used to steer like a tank, operated through levers.
When on the ground, the vehicle used its four middle wheels, while the front and rear ones remaining clear of the surface, and the front ones being raised significantly, the rear one just slightly to oppose less friction. On muddy/sandy ground, the front and rear wheels were added to the drivetrain for a better traction whereas the front upper axle was ideal to attack slopes and riverbanks. When swimming, the two rear-mounted propellers provided propulsion.
Not a successful design
In the light of early use, the vehicle shown seriou limitation, which were not evident on paper:
-Large diameter tyres making it high and difficult to enter and exit.
-Too tall, making it a conspiscuous target, and when troops tried exit over the side, exposed themselves to enemy fire and a dangerous fall.
-The Terrapin side engines meant it used skid steering, an awkward arrangement, with voilet moves if one engine broke down, to the point of toppling over.
-The two centrally located engines split the cargo compartment in two which was not practical.
-Due to this issue, payload was limited despite being a 4-ton vehicle.
-Eventually it could not handle the load carried by the DUKW.
-The driver had poor visibility, as centrally located in the middle.
-The use of a canvas cover over the forward hold made this even worse.
In fact the driver needed to be guided by another crew member standing behind the driver.
-The Terrapin was sluggish and far too slow on land.
-Too heavy, when swimming in rough weather it was swamped easily, so it was excluded from sea operations.
The specification indeed limited the length to 23 feet (7.0 m) and so it was prone to more rocking/rolling compared to the longer DUKW.
These issues led to a complete redesign, a model developed in 1945 as the Mark 2, but the growing availability of the large production DUKW meventually led to the program's cancellation. The Mark II had a forward driving position, was much longer at 31 feet (9.4 m) instead of 23 feet (7.0 m) and had a 5-ton payload. Five were built and tested until the project was cancelled.
Terrapin specifications

Dimensions
7.01 x 2.67 x 2.92 m (23 ft x 8 ft 9 in x 9 ft 7 in)
Total weight, battle ready
7 tonnes (6.9 long tons)
Crew
2 (Driver, co-driver) +payload and men
Propulsion
2x Ford V8 190 hp (140 kW) total
Suspension
Leaf springs
Speed (road)
24 kph (18 mph), 5 mph when swimming.
Range
240 km (280 mi)
Armament
None (personal weapons)
Production
500 1943-44.
The Terrapin in action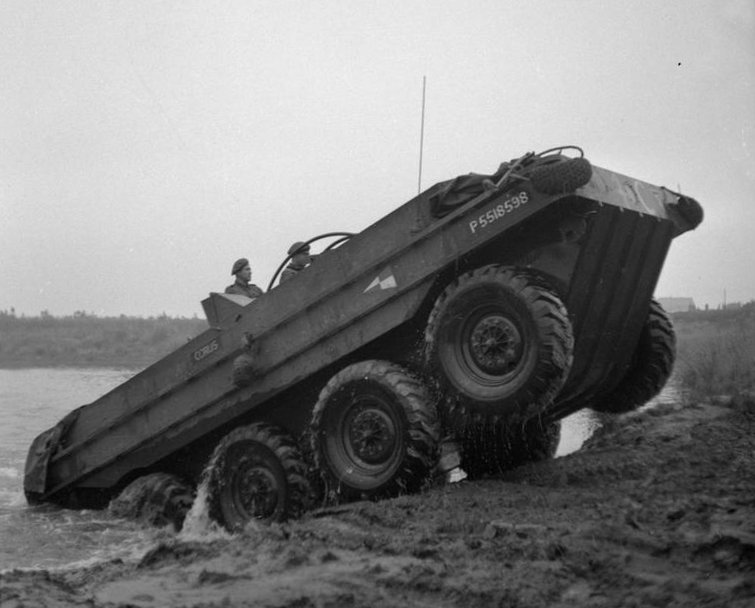 "Corus" in action at Walcheren
Terrapins served with the Royal Engineer assault teams, 79th Armoured Division to carry Canadian and British infantry units in riverne Operations. It was fortunately never used at D-Day as initially planned, as this day's sea conditions would have doomed the assault.
During the operations against Walcheren, Terrapins and Buffalo jointly carried across the 9th Canadian Infantry Brigade as a diversionary attack; This was a "mad dash" at a few mph over a mile wide inlet, on 9 October 1944. A large bridgehead resulted in this effort, whhich enabled to turn the German defences and unlock the front.
Terrapins were also used in
Operation Vitality II
, on 26 October 1944 when carrying the British 52nd (Lowland) Division across the Scheldt, preceded by Amphibious Sherman DD tanks, which unlike at D-Day all arrived safely to shore and proved their weight in gold. This was another successful attack. After the war both Terrapins and DUKWs were used as public transports during the historical Inundation of Walcheren circa 1946. Many survived into the 1950s in civilian service.
Read More/src
Brissette, Richard and Bannerman, Mark: "The Terrapin", Military Modelling Magazine 29 Feb 2008
First British Amphibian War Machine archive.commercialmotor.com 30 November 1945
The Amphibious Jeep, Aqua Cheetah, DUKW, Terrapin (Part 1). Directorate of Army Kinematography. 1943.
Ware, P World War II Military Vehicles – Transport & Halftracks p. 155
Trewhitt, Philip (1999). Armored Fighting Vehicles. New York, NY: Amber Books.
wardrawings.be
On commercialmotor.com
On corazzati.it
IWM footage of the terrapin
Terrapin_(amphibious_vehicle)
Operation Infatuate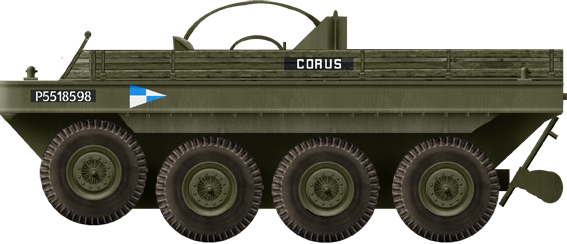 "Corus", of 52 ASRE (Assault Sqn. Royal Engineers) 6th ARRE, 79th Armoured Division, 1st November Walcheren 1944.
---
Additional photos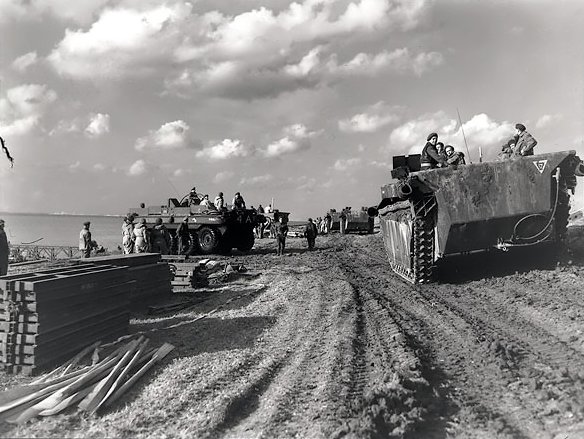 Alligators and Terrapins at the battle of Scheldt, October 1944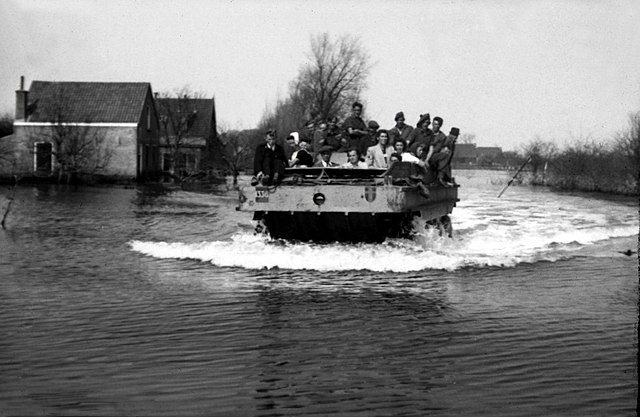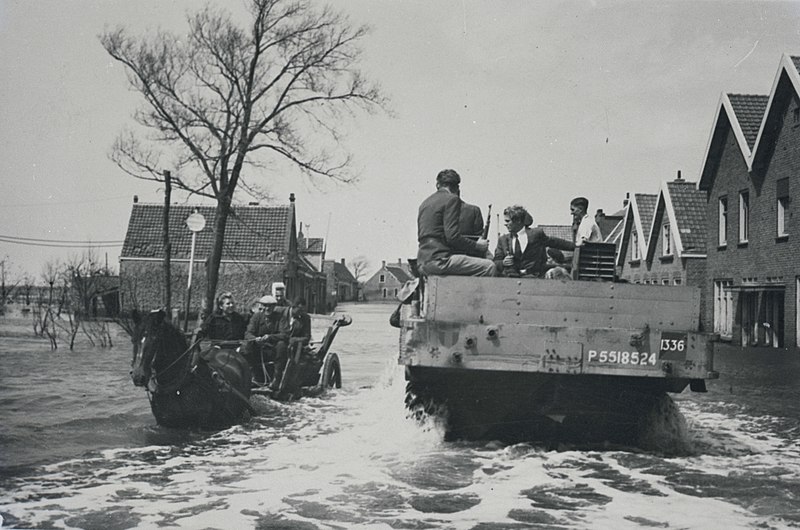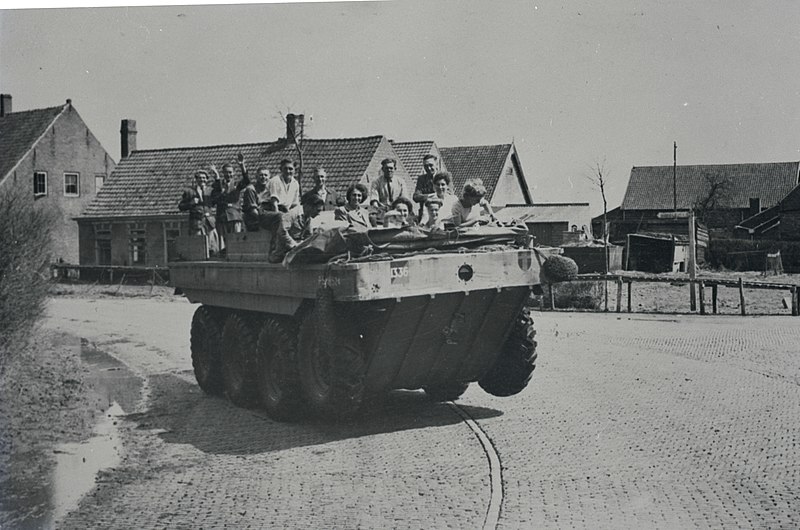 Terrapin used during the great flooding of Walcheren in 1946
---
Axis Trucks

Purchase this pagemarker and support the site !
Sd.Kfz 2, 6, 7, 8, 9, 10 and 11 were half-tracks designed just before the war as prime movers, to carry supplies, ammunition, personal, and tow artillery. Many were also converted during the war as armored versions carrying AA FLAK guns (Flakvierling, 37 mm, or the legendary 88 mm Rheinmetall als used as tank hunters), or were converted as nebelwerfer (rocket launching armored vehicles). They were built by Hanomag, Steyr, Mercedes-Benz, Bussing and many other manufacturers until 1945, over 20,000 half-tracks.
---
Cold War & Modern Vehicles
Modern Trucks