3-in GMC M10
.
About the WC series
The Dodge WC series (nicknamed by some GIs 'Beeps') was a prolific range of light 4WD and a late medium 6WD military utility truck. All came from Dodge or Fargo during the war, completing the mass of ​1/4-ton jeeps from Willys and Ford. The Dodge ​1/2‑tons and moreover the ​3/4‑tons completed this provision of light 4WD trucks, Dodge contributing to some 337,500 of "WC" 4WD range, half as many as jeeps. Of these, about 255,000 were of the factory G-502 series (WC-51 to 64). The wartime Dodge WC Series were highly standardized, purpose-built from the factory. They were not modified in the field like was the Jeep.
The WC series, still was part of a large prewar family of trucks whith reduced costs thanks to parts commonality, and declined into open or closed-cab cargo trucks. They also came as weapons carriers (like the M6 GMC), radio command cars, reconnaissance vehicles, ambulances, lorries and panel vans, telephone carriers, mobile emergency and field workshop trucks. Two generations of vehicles were built in wartime, first the 1940-early 1942 ​1/2‑ton 4×4 (circa 82,400 built) also called "VC series" but from 1941 it was called the WC series, was declined into the most prolific WC-55 3/4 tonnes truck. In U.S. Army G-505 Ordnance Corps Supply Catalog they had the same number and were seen on all fronts.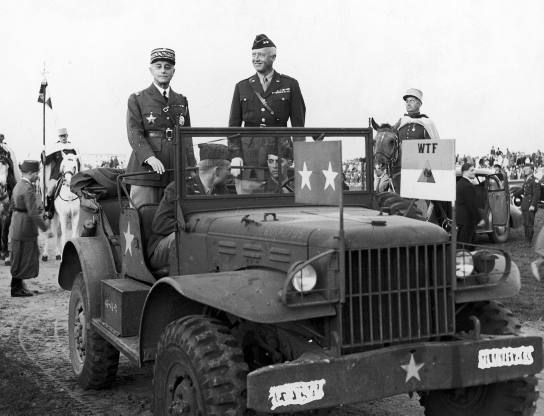 The "beep", almost as famous as the Jeep; Here used as a command car for Gen. Patton and Free French Gen. Nogues during a parade in Morocco, 1942.
The 1942 large payload G-502 ​3/4-ton 4×4 Truck also was declined into a much larger 1​1/2‑ton 6x6 cargo truck, still under the same WC serie code, but was a completely new animal. The ​3/4‑tons were much improved while still retaining 80% interchangeable components with the former ​1/2‑ton models to fit maintenance and operability in the field. The ​1/2‑ton truck was also supplied by Fargo, as the modified M6 GMC. But Dodge remained the sole supplier of the ​3/4 and 1​1/2‑ton trucks.
With over a quarter million built until termination in August 1945, the G-502 ​3/4‑tons took the bulk of the industrial effort of the company. After the war, the ​3/4-ton was further developed as the civilian 4×4 Dodge Power Wagon and succeeded in 1951 by the 4x4 Dodge M-series, this time for the Army. The majority of these G-502 were 'Weapons Carriers' ("WC") which seems confusing. It has nothing to do with the army designation. Indeed, the Army ordnance Dodge model code was "W" for 1941, and "C" for "(nominal) half-ton payload" rating. This code was retained after 1941 nevertheless and only the WC-51-52 series were the proper "weapons carriers". Ordnance designation for Dodge was G502 while the factory designation was T214. The WC series, in all, spawned 52 model versions (38 for the 1/2‑ton (2x4 and 4x4), eight ​for the 3/4‑ton and two for the 1​1/2‑ton (6×6). Creating so many vehicles from a common platform had no equal during WW2. It was quite a feat for that time in the WW2 auto industry, really reflecting the huge impetus and priority accorded to standardization by American planners.
Design and characteristics of the WC-55 3/4 Tons truck
Produced from 1942 to 1945, ​3⁄4-ton and 1​1⁄2-ton WC series became indispensable to the US war effort, in complement as the Jeep and APCs such as the White M2 and M3. The ​3⁄4-ton and 1​1⁄2-ton came from the T-214 redesign and had a distinctly different look and proportions from prewar WC series. In 1940 indeed, the Army revised its standard payload-based general-purpose truck range. In 1939 the standard was the ​1⁄4-ton chassis, replacing the ​1⁄2-ton and soon to be replaced in turn by the ​3⁄4-ton. The Quartermaster General at first started negociations with Dodge, GM and Mack to test early models but it would wait until February 1941 for the Quartermaster Corps could choose to contect and work with the manufacturers directly, judging for their engineering and production capabilities.
Some critical parts helped single-out a manufacturer in particular, transfer cases and constant-velocity joints. Both were not used on commercial trucks. Military grade 4x4 vehicles however crucially needed them. It was planned to provide them two or three times the amount of driven axles, more gears for all differentials. These types were produced by few specialized firms and they had limited capacity. However from the spring of 1942, Ford, Dodge and Chevrolet were able to mass built them.
Dodge was famous for making quality, precision parts and soon became a favorite. Technically the WC-52/57 were identical to the WC-51/56, but the former had a longer allowing to carry a protruding front bumper mounting the front winch. Although it was less powerful than White's models, the operating principle was the same. It used the engine to drive it and allowed the vehicles to climb impossible slopes, or save other vehicles buried in the mud. In the far east and pacific, these became really valuable assets.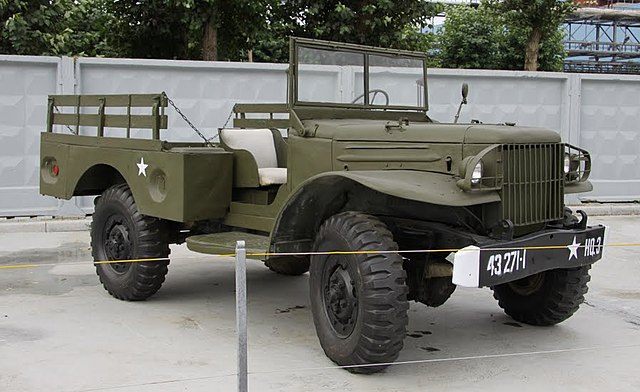 Dodge WC52 at Verkhnyaya Pyshma Tank Museum, 2011.
The Dodge WC in service
The ​Dodge 1/2-ton WC truck entered service in 1940, soon to be supplanted by new ​3⁄4‑ton trucks, by late 1941. These redesigned WC‑series 4x4 trucks were uprated to ​3⁄4‑ton. Their SNL code was changed to G-502. The ​3⁄4‑ton had a lower profile truck bed, accomodating eight troops. It also had underseat stowage compartments. Still service-parts were 80% interchangeable with the ​1⁄2‑ton series, greatly facilitating maintenance and training. The ​3⁄4‑ton therefore were swiftly deployed, replacing in many case the ​1⁄2‑ton (G-505), but both remained side by side in use until 1945.
WC-62 armored car prototype (one built).
Dodge was the U.S. Army's sole producer of ​3⁄4‑ton trucks during the war. With a total of 255,193 vehicles, delivered from April 1942 to August 1945 they became an appreciated Standard. Soon the GI's became familiar with the WC-51/WC-52 Weapons Carrier, the bulk of these deployed on all theaters of operations. They became dependable all-terrain APCs, often completemnted with the Jeep. The WC-56/57/58 Radio and Command Reconnaissance versions were deployed with reconnaissance units, with larger, long range radios than jeeps often, making them valuable in operations.
The WC-53 Carry-all became a familiar beat of burden on European roads, used to urgently supply units in the field, notably food and ammunitions. The WC-54 Ambulance saved dozens of thousands of lives. They were so dependable than most of them were still active under various operators well in the 1960s. One critical aspect was their excellent off-road characteristics, allowing them to close in to the frontline's on the most forbidding terrain nd adverse conditions.
The U.S. Army reorganized their squads, from eight-troop to twelve, so the ​3⁄4‑ton was no longer large enough to accomodate it and Dodge proposed a stretched versions which became the 1943, G-507, 1​1⁄2‑ton, 6x6 troop and weapons carriers. It was noew large enough to carry 12 men per vehicle, so a full homogeneous rifle squad. Later a single armored car prototype was built based on this 1​1/2‑ton, 6x6. It was called the Dodge WC-62 but never passed tests phase.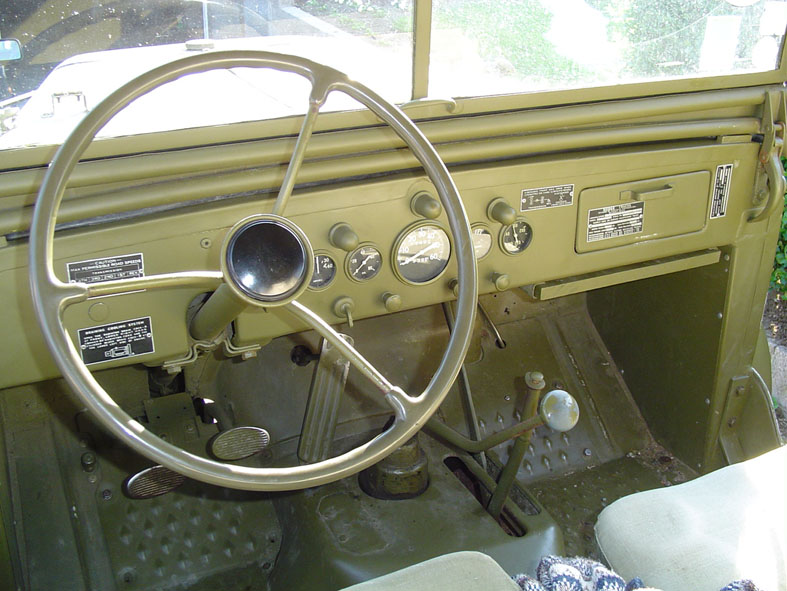 Dashboard WC 51.
Variants of the Dodge 3/4 truck
By late 1941, the Dodge WC range was revised, reinforced, uprated and standardized as 3/4 ton payload, extended by a 1943 a six-wheel drive (1​1/2-ton). These models were widened for their front and rear tracks with a wheelbase ported to 164 cm or 64 in, 5 inches (13 cm) for the front track while the tires went from 7.50×16 to 9 inches/23 cm wide for a better grip.
Wartime production also implied to concentrate on just five models with the same square proportions and commonality like the new ​1/4‑ton. These were Troops & weapons carriers, the radio, command/reconnaissance version useing the same shortened 98 in (249 cm) wheelbase (instead of 116 in, 295 cm). Ambulances, carry-alls and technical service truck kept the long wheelbase. Panel vans were abandoned. Some soldiers started to call them 'Beeps' (for "Big jeep"), and it stuck.
In time, pick-up/weapons carrier received a new rear bed with seating troops over rear wheels while they became wider at 6 ft 11 in (2.11 m). It was a practical, yet small and light all-terrain transport, carrying t battle a full eight man rifle squad and equipment. Many were also armed, with a central pintle mount equipped either with a 0.3 cal. or M1920 0.5 Browning meachine guns. The ​larger 3/4-tons had the same 6-cylinder inline L-head 92 hp (73 kW) model extrapolated from the late production ​1/2‑ton WC series. Half the production went to the WC‑51 & WC-52 cargo/troop, weapons carriers with one third given the engine-powered front winch. So in short:
Dodge WC51/52 ​Truck, Weapons Carrier 3/4 ton (G-502)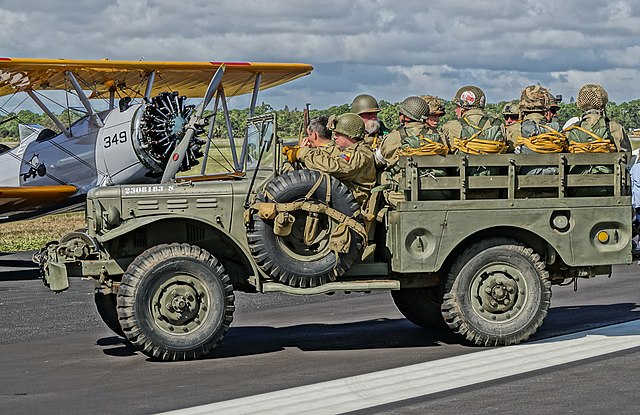 WC52 at the Stewart Air Show
The WC-51/52 was a low-profile vehicle, carrying up to ten troops and their equipment, a regular squad in 1942. The WC-52 was virtually identical to the WC-51, but had a power take-off front winch. The WC-51 and WC-52 represented the bulk of the total G-502 WC series ever produced, both under the "Truck, Cargo, ​3⁄4‑ton, 4x4, Weapons Carrier" denomination. 123,541 WC-51 (no winch), 59,114 WC-52 (winch) for 182,655 total, including 5,380 WC-55s M6 GMC, used in north africa and returned as WC-52s, for 188,000 in all.
They typically had a top and bows down, low-profile design doctrine and their lenght varied by 10 in (25 cm) due to the winch. The open cab pickup was given fixations for a M24A1 machine gun mount, centerline behind the driver's seat. It was bolted forward of the bed and could support alternatively the M1918 BAR, M1919 Browning or the mighty "ma deuce" M2 Browning machine gun. This enable firepower close to the action, copvering the squad when out. The WC-52 had the power take-off driven Braden MU-2 7,500 lb (3,400 kg) capacity winch. It was mounted just behind the front bumper, which needed a longer frame. It could on theory be mounted on the field but necessitated to blowtorch-cut the frame and adding additional pieces to move it forward, which required a workshop. There are no records of the vehicles converted.
Length: 13 ft 11 in (4.24 m) – 14 ft 9 in (4.48 m) with winch
Width: 6 ft 11 in (2.11 meters)
Height (with canvas cover): 6 ft 10 in (2.08 m)
Height (with top down): 5 ft 2 in (1.57 m)
Weight: 5,250 lb (2,382 kg) net – 5,550 lb (2,518 kg) net with winch
Payload: 1,750 lb (800 kg)
Tires: 9.00 x 16 in., 8ply
Dodge WC53 ​3/4-ton Carry All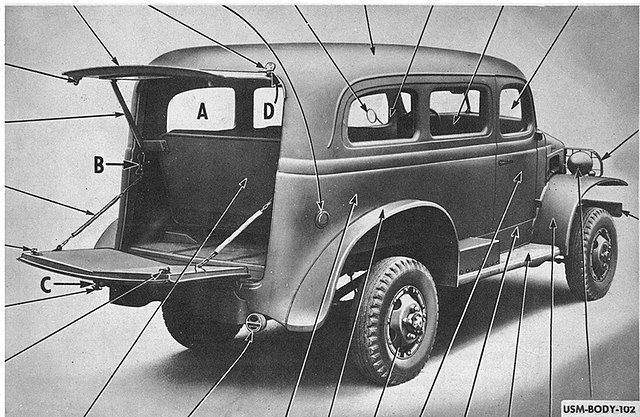 WC53 Carryall
The WC-53 ​3⁄4-ton "Carry-all" was quite different than any other version: It was close to the WC-54 and basically a military grade version of the 1939 civilian carryall. It had a split tailgate at the rear, four rear side windows with wind-up opening, front folding passenger seat to facilitate rear access, an ans also folding second row with three seats. Its external door spare wheel on driver's side prevented its opening so the latter had to access from the passenger's side. Some were used as radio trucks with a bench on the left side. The operator seated sideways. In all, 8,400 WC-53 Dodge Carryall were delivered, none with a winch (still possible as field modification though, but not record).
Length: 15 ft 6 in (4.72 m)
Width: 6 ft 7 in (2.01 m)
Height: 6 ft 8 in (2.03 m)
Weight: 5,700 lb (2,590 kg)
Payload: 1,750 lb (790 kg)
Dodge WC54 ​3/4-ton Ambulance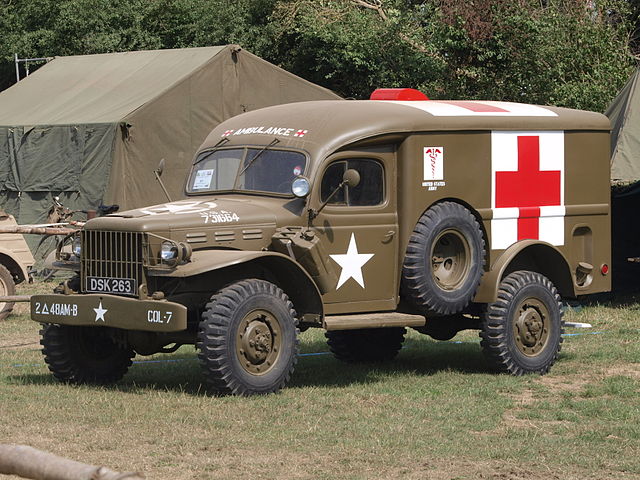 WC54 Ambulance
The "WC-54 Truck, 3/4 ton, 4×4 Ambulance, Dodge (G-502)" was a military ambulance with a few converted as radio/telephone trucks for the US Signal Corps. 26,002 WC-54 were delivered in 1942-1944, and replaced by the WC-64 in 1945 (see below). Specs for both are the same.
Photos
Length: 16 ft 3 in (4.95 m)
Width: 6 ft 6 in (1.98 m)
Height: 7 ft 6 in (2.29 m)
Weight: 5,920 lb (2,685 kg)
Payload: 1,800 lb (820 kg)
The M6 37 mm Gun Motor Carriage, 3/4-ton, 4×4 (M6 GMC) or "M6 Fargo Gun Motor Carriage with 37mm Anti-tank Gun" (Dodge WC-55), was a modified WC-52. It was designed and built to carry the shielded M3A1 37mm anti-tank gun, mounted on its cargo bed in portee configuration, facing rearward, although it can pivot 360°. Its SNL supply code was G-121 and a total of 5,380 were built by Fargo (so the factory name it often associated), in 1942. It was a transitional solution until the M10 Wolverine was available, and soon after their arrival in North Africa, they were passed onto the Free French or dismantled, or returned to service as regular WC-52 cargo trucks. Outside the US Army Tank Destroyer Battalions in north africa, it was used in the Pacific War in 1943/1944, already "limited standard" in 1943 and obsolete by early 1945.
Length: 14 ft 8​1⁄2 in (4.48 m)
Width: 7 ft 2 in (2.18 m)
Height: 8 ft 2 in (2.49 m) to top of gun shield
Weight: 5,600 lb (2 540 kg)
Storage: 80 rounds of 37 mm munitions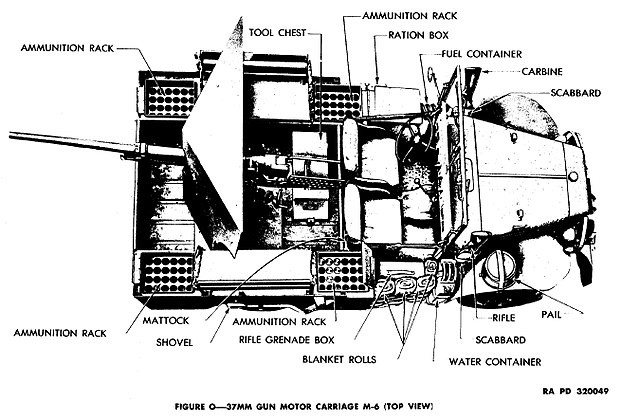 WC55 GMC overview schematic
Dodge WC56 ​3/4-ton Command Reconnaissance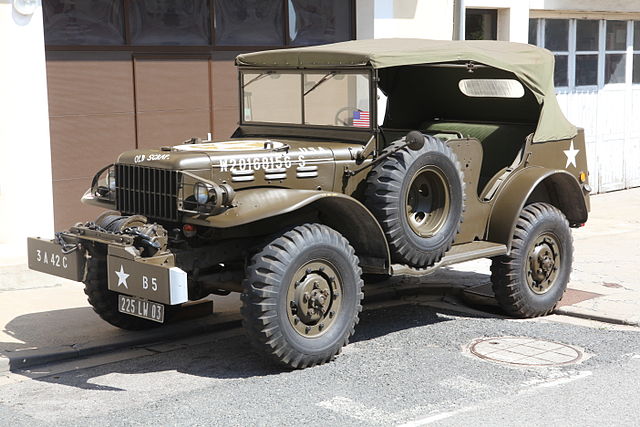 The WC-56 was wider and shorter than the regular ​1⁄2‑ton command car, designed as a command and reconnaissance vehicle. It was not popular, much heavier and less agile than the jeep and a larger target. Its soft-top however had side-curtains, better protecting from the elements. 21,156 were delivered.
Length: 13 ft 10 in (4.22 m)
Width: 6 ft 7 in (2.00 m)
Height: 6 ft 9 in (2.07 m)
Weight: 5,335 lb (2,420 kg)
Payload: 1,750 lb (800 kg)
Dodge WC57 ​3/4-ton Command Reconnaissance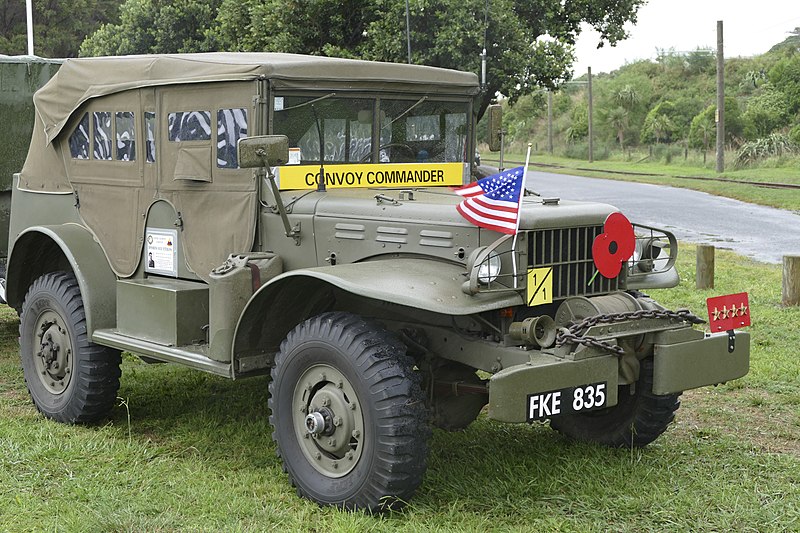 Dodge command cars had a soft-top with canvas sides and but a winch, which instanntly distinguished the versions. 6,010 units were delivered.
Length: 14 ft 8 in (4.46 m)
Weight: 5,644 lb ( 2,560 kg)
Dodge WC-58 ​Truck, Radio 3/4 ton (G-502)
The WC-58 was the same as the WC-56 Command/Reconnaissance Car but mounted a Signal Corps Radio set, placed at the front of the rear seat. It was supplied by a 12-volt electrical system. Some were based on the WC-57 chassis (winch). A total of 2,344 were delivered, either as part of the WC-56/WC-57 serie and modified or brand new chassis.
Length: 13 ft 10 in (4.22 m)/14 ft 7 in (4.46 m) with winch
Width: 6 ft 7 in (2.00 m)
Height: 6 ft 9 in (2.07 m)
Weight: 5,644 lb (2,560 kg)
Payload: 1,750 lb (800 kg)
Dodge WC-59, ​3⁄4-ton K-50 telephone truck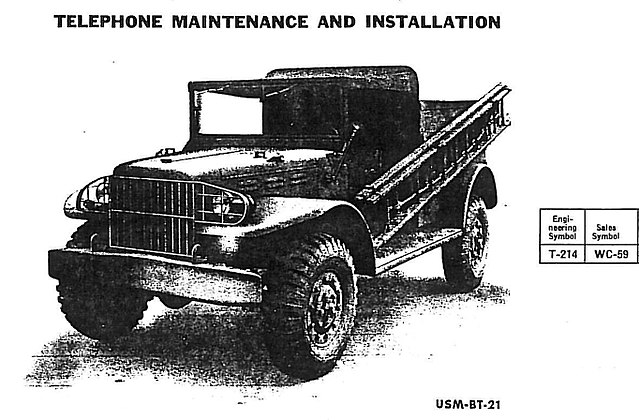 The WC-59 Truck, Telephone Maintenance, 3/4 ton, 4×4 Dodge (G-502). A specific vehicle was designed to install and maintain telephone lines. It used the WC-54 ambulance chassis of 23 in (58 cm) longer wheelbase. The spare wheel was carried behind the seats. There was a step ladder fitted instead. 549 WC-59 were built.
Length: 16 ft 0 in (4.88 m)
Width: 6 ft 6 in (1.98 m)
Height: 6 ft 9 in (2.06 m)
Weight: 5,357 lb (2,430 kg)
Payload: 1,750 lb (800 kg)
Dodge WC-60 Emergency Repair Chassis, M2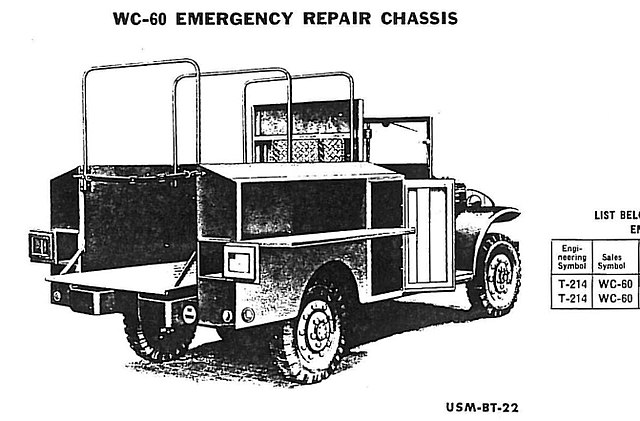 The WC-60 chassis was mated with the WC-61 bed by American Coach and Body Co. (Cleveland, Ohio), creating the M2 Emergency Repair truck. Its SNL supply code was G-061. It was a mobile workshop, used for field maintenance. It had an open-top service-type bed which was well equipped, with tool trunks and stowage bins and it was accessible from the outside. In all, 296 units were delivered.
Length: 15 ft 6 in (4.73 m)
Width: 6 ft 10 in (2.08 m)
Height: 7 ft 5 in (2.26 m)
Weight: 5,952 lb (2 700 kg)
Payload: 1,750 lb (800 kg)
Dodge WC-61 (K50-B) Light Maintenance Truck ​3/4-ton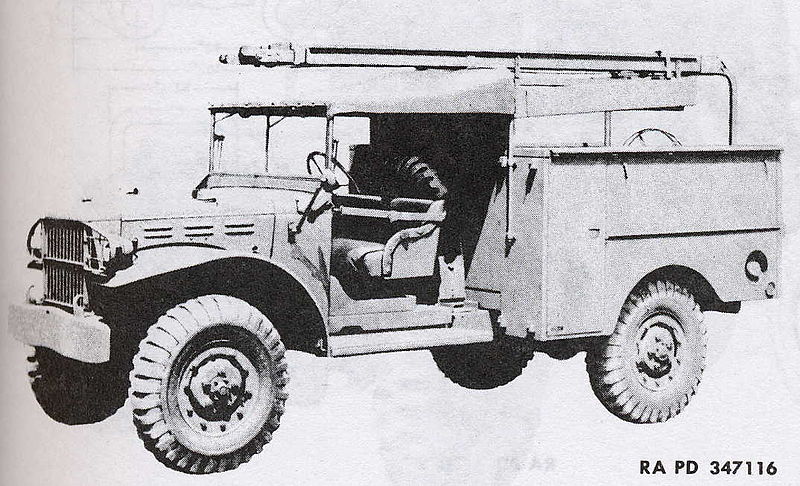 The WC-61 was designed to install and repair telephone lines, and replace the WC-59. It had its step ladder mounted on the roof, but spare wheel still behind the seats. I also carried tool trunks, accessible from the outside. 58 built. Used also by the US Signal Corps as the K-50B truck (WC 59 was K-50).
Length: 15 ft 6 in (4.73 m)
Width: 6 ft 10 in (2.08 m)
Height (without ladder): 7 ft 5 in (2.26 m)
Weight: 5,952 lb (2,700 kg)
Payload: 1,750 lb (800 kg)
Dodge WC64 KD ​3/4-ton Ambulance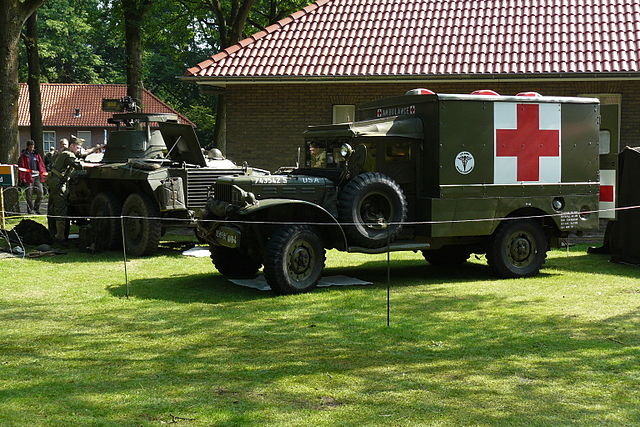 The "WC-64 KD Truck, 3/4 ton, 4x4 Ambulance, Dodge" was a military ambulance based on the WC-54 chassis with a knock-down body allowing for better storage and tranport. The rear box was supplied in a lower and upper parts, The lower one being attached to the chassis at the factory. The upper one was crated and fitted in the field. 3,500 Knock-down ambulances were built in 1945. 2,531 units of them went to lend-lease, notably 1,123 to the Free French, 644 to British Commonwealth, 475 to China, 149 to Brazil and 82 to other Latin American countries.
The Dodge 3/4 truck in action
Lend-Lease Vehicles
The first of these arrived in time for the first major engagement of the US Army in the European theater, Operation Torch in November 1942. Others already saw action woth the Marines in limited quantities in the Operations notably at Guadalcanal that same year. Of the grand total of 337,600 vehicles of all WC models, about 60,000 were provided under the Lend-Lease program to the following:
44,000 WC-51/WC-52 troops/WC
650 ​1/2-ton Panel vans radio
886 ​3/4-ton Carry-all
2,500 WC-64 knock-down ambulances
3,800 ​3/4-ton WC-56/57 Command Cars
650 ​3/4-ton WC-58 Radio cars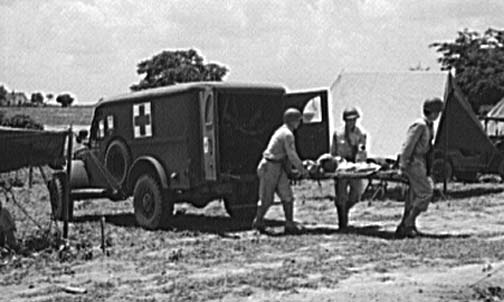 WC54 in New Guinea, 1944
The British army obtained ​1/2-ton Panel vans radio, 3/4-ton Carry-all, was the sold operator of the 3/4-ton WC-58 Radio car, but shared its WC-51/WC-52 ​3/4-ton Troops/WC with the Chinese nationalist forces and Free French. The Soviet Army operated the ​3/4-ton Carry-all and WC-51/WC-52 ​3/4-ton Troops and Weapons Carriers for a grand total of 25,000 Dodge vehicles from 1942. As all-wheel drive ​3/4-ton multi-purpose models, they were so innovative they fitt no standard in the Red Army and were much appreciated, filling the gap between 4WD cars and heavier trucks. Locally they were called "Dodge three-quarters". US data shows 25,202 Dodge WC (notably 24,902 WC-51/52) but Soviet data only mentioned 19,600 Dodge WC delivered and assembled, the difference being explained by shipping losses in the northern convoys to Murmansk.
At least two survived in running condition in Russian museums, in Padikovo (Istrinsky District near Moscow) and at the Museum of Military and Automobile Technique in Verkhnyaya Pyshma near Sverdlovsk. The Dodge 3/4 had a considerable influence on postwar vehicles design, some featured being integrated in a variety of all-terrain trucks of the early cold war. A quarte of all ./4 ton series weapons carriers (a total of 44,229 WC-51 and WC-52), were provided through Lend-Lease to the Allies: 24,902 to the Soviet Union, 10,884 to Britain, 3,711 to China, 3,495 to the Free French forces, 954 to Brazil and 204 to other Latin American countries.
Cold war Operators
The Austrian and Belgian armies used it. The Brazilian Army Expeditionary Force in WW2 used it ("Jipão") and well as the Free French Forces, so both armies kept it in service in the 1950-60s, the latter in Indochina, Suez and Algeria. Greece was also provided many after the war, both for the Army and Air Force. The Iranian Army received many in the 1950s and Israel. The Guardia Nacional de Nicaragua kept them until the 1980s. Other users includes the Norwegian and Portuguese Army (Dodge m/48). The latter used it in Angola and Mozambique. The Philippine Commonwealth Army also kept theirs until the 1980s. In the US, the Constabulary and Marine Corps kept theirs also until the 1960s. The British Royal Army Medical Corps kept their medical versions until the early 1960s. During the Korean war, both the U.S. Army Medical Corps and U.S. Signal Corps actively used their WC series. The Swiss Army purchased surplus vehicles and at some time had 600 ​3/4‑tons, ​1/2, 1​1/2‑tons and ambulances versions, kept well until 1960.
Read More/src
The WC series on wikimedia
Olive-drab.com
TM9 Dodge 3/4 ton tech manual
On usmtwt.com
On warhistoryonline.com
Ordnance supply catalog
materielsterrestres39-45 (FR)
vintagemilitarytrucks.com
steel-toys.com
---
Chief of Ordnance Office; Military Vehicle Preservation Association, eds. (2010). Summary Report of Acceptances, Tank-Automotive Materiel, 1940–1945 (Revision). Detroit: U.S. Army Service Forces, Office: Chief of Ordnance-Detroit, Production Division, Requirements and Progress Branch (published December 1945).
Crismon, Fred W. (2001). US Military Wheeled Vehicles (3 ed.). Victory WWII Pub. pp. 96, 98, 240–241.
Doyle, David (2003). Standard catalog of U.S. Military Vehicles. Iola, Wisconsin: Krause Publications. pp. 45–49, 55–62, 100–101.
Doyle, David (2011). Standard Catalog of U.S. Military Vehicles - 2nd Edition. Iola, Wisconsin: Krause Publications.
Richards, T. and Clarke, R.M. Dodge WW2 military portfolio 1940-45. Brookland Books LTD (Surrey, UK).
Ware, Pat (2010). The World Encyclopedia of Military Vehicles. Lorenz Books. pp. 232–233.
SNL G-657 – Master Parts List, Dodge Trucks. Standard Nomenclature Supply Catalog. Ordnance Department, United States Army Service Forces. 1 December 1943. Ten page sample here (pdf)
TM 9-808 – 3/4‑Ton 4x4 Truck (Dodge), Technical Manual (PDF). Technical Manual. U.S. War Department. 31 January 1944.
TM 9-810 – 1 1/2-Ton 6x6 Truck (Dodge T-223, models WC-62 and WC-63) (PDF). Technical Manual. U.S. War Department. 28 February 1945.
TM 9-2800 – Standard Military Motor Vehicles. Technical Manual. Washington: U.S. War Department. 1 September 1943.
TM 9-2800 – MILITARY VEHICLES (PDF). Technical Manual. Washington: Department of the Army. 27 October 1947.
TM 10-1443 – 1/2 Ton 4 x 4 Dodge Trucks for U.S. Army (PDF). Maintenance Manual. Washington: U.S. War Department. 20 February 1942.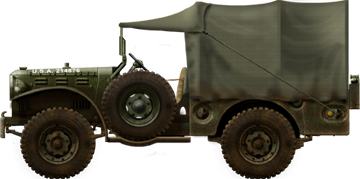 WC-51 weapons carrier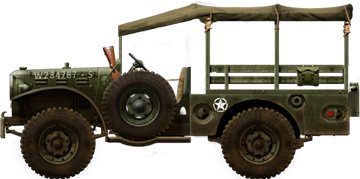 WC-51 tarp light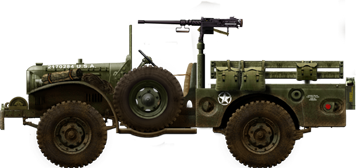 Dodge WC-51-winch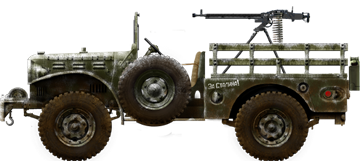 Dodge WC-52-Soviet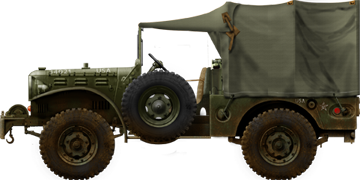 Dodge WC-52-tarp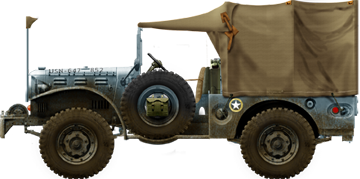 Dodge WC-52 in Navy blue livery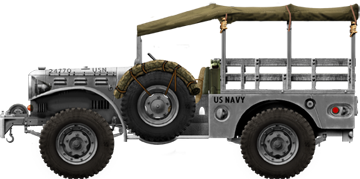 Dodge WC-52 Navy Grey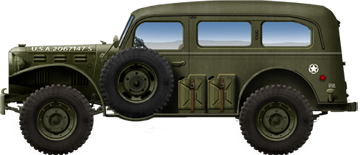 Dodge WC-53 Carryall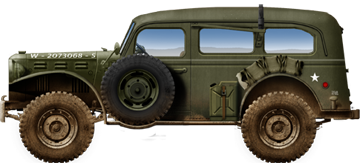 Dodge WC-53 Radio version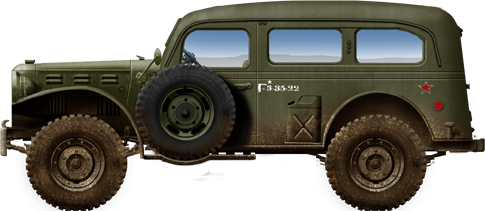 Dodge WC-53 in Soviet service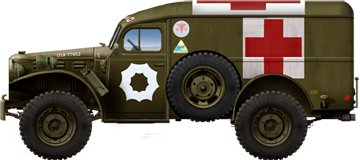 WC 54 Ambulance, Alaska Mot. Cavalry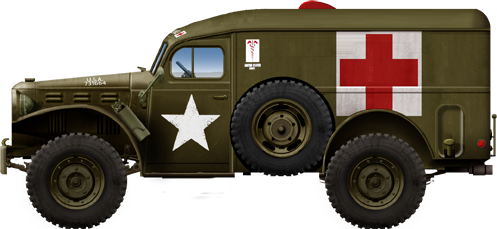 WC 54 Ambulance, unknow unit, brown livery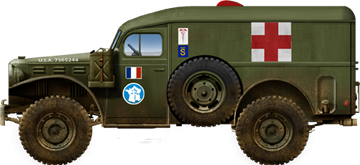 Dodgle WC 54 Free French 1944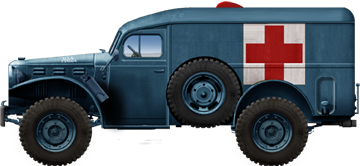 WC-54 Hellenic army cold war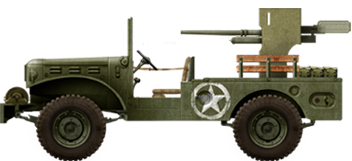 Dodge WC 55, M6 GMC, 601st TD batallion, Tunisia, November 1942.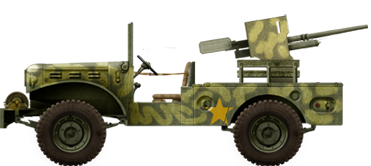 Camouflaged Dodge WC 55/M6 GMC, Tunisia, winter 1942-43.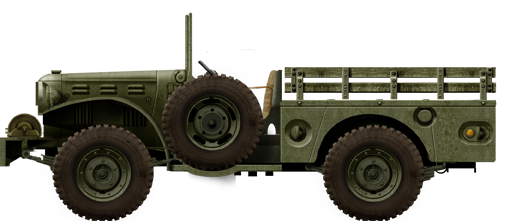 WC-55 3/4 ton converted back as a weapon carrier, Normandy 1944

WC-56 with the windshield down, 1942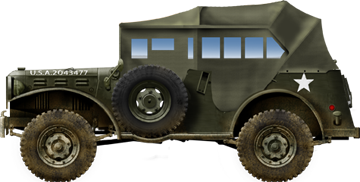 WC-56 with full canvas, Nancy, France, late 1944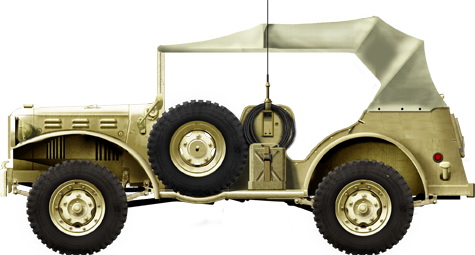 Dutch WC-56 command car, postwar (vehicle of Magnus Manske)
Dodge WC 57 used as staff car, north africa Dec. 1942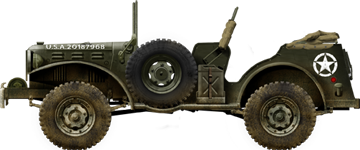 Dodge WC-57 in Operations, Italy 1944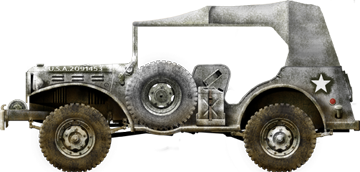 WC-57 Ardennes, winter 1944-45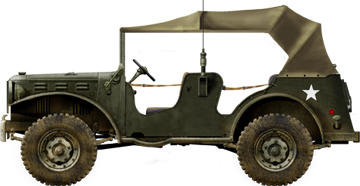 Dodge WC-58, the radio version.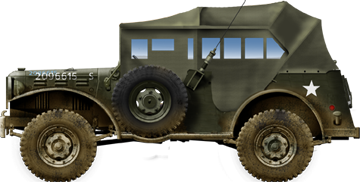 A WC-58 reconverted as a command/staff car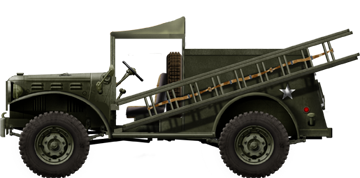 Dodge WC-59 K50 telephone truck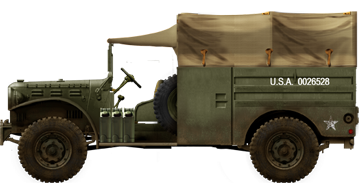 WC-60 Emergency Repair Chassis for the M2 Emergency Repair Truck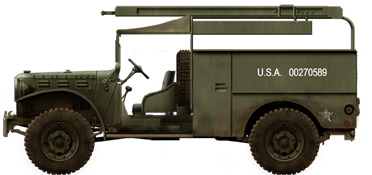 Dodge WC-61 (K50-B) Light Maintenance Truck ​3/4-ton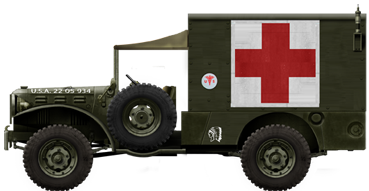 Dodge WC-64 KD ambulance
Photos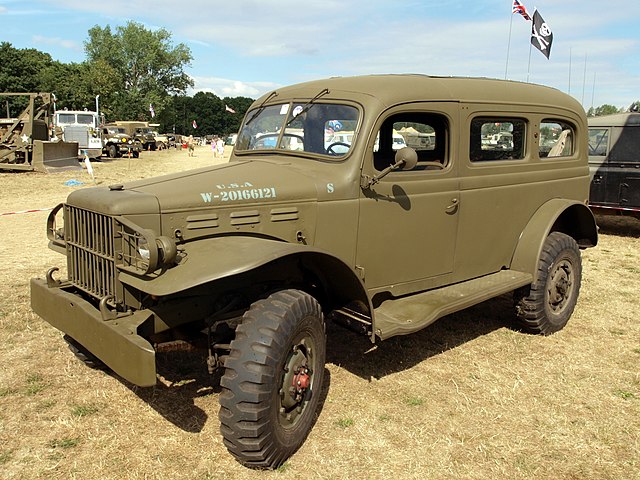 Dodge WC 53 Carryall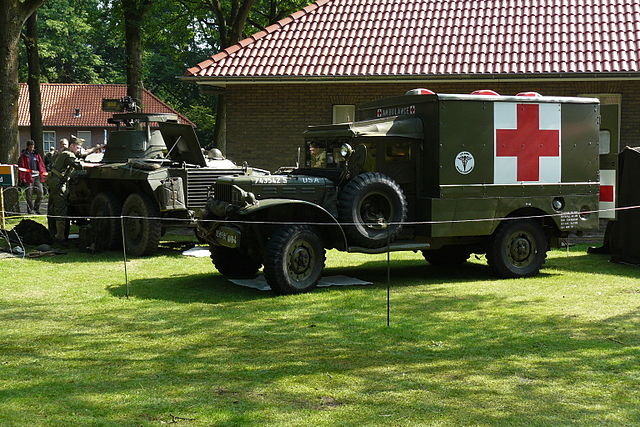 Dodge WC64 ambulance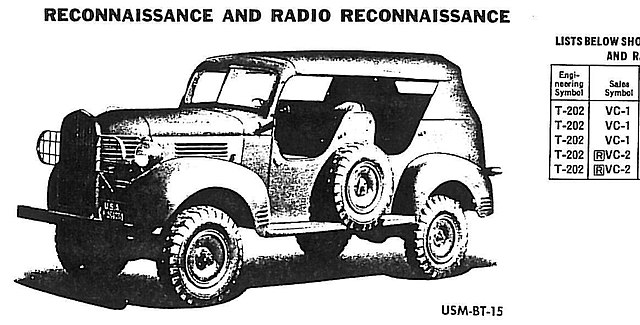 Dodge T-202 VC-1/VC-2 Command Reconnaissance Car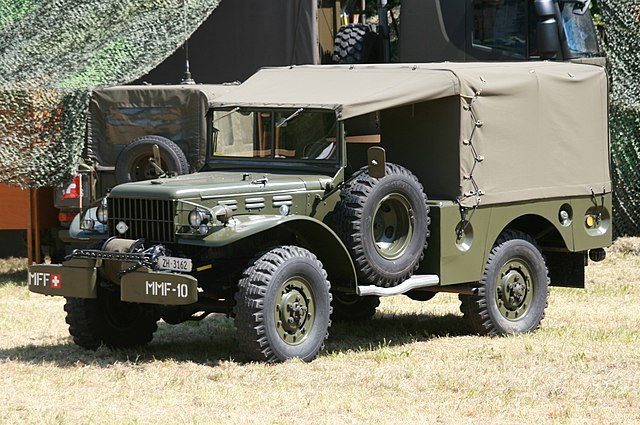 WC 51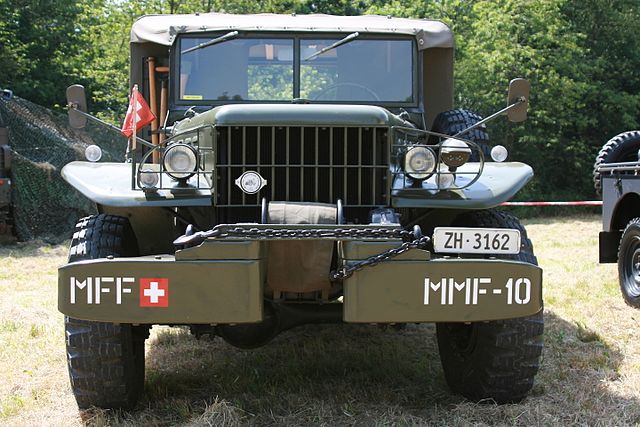 WC52 front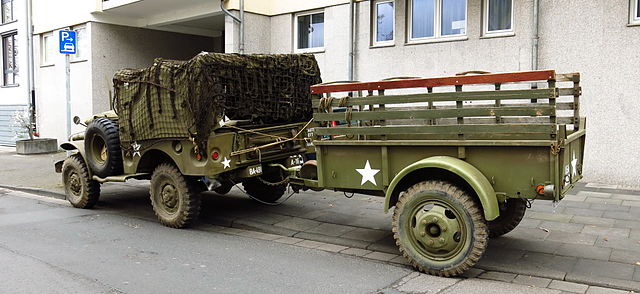 Beuel classics WC51 weapons carrier and trailer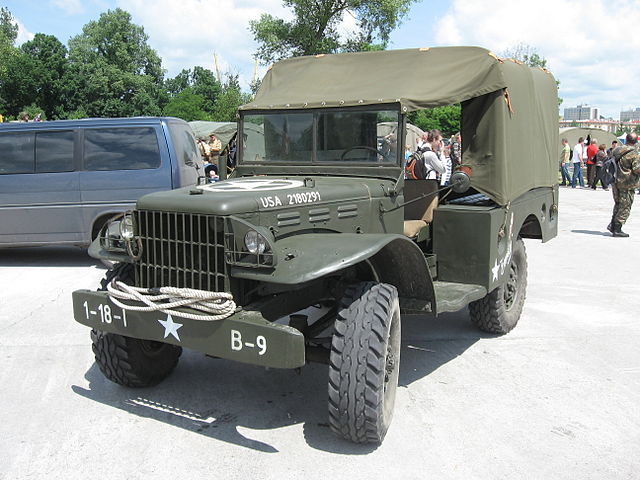 Dodge WC-51 during the 7th Aircraft Picnic in Krakow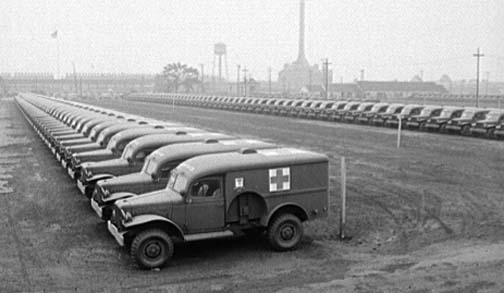 Dodge WC54 ambulance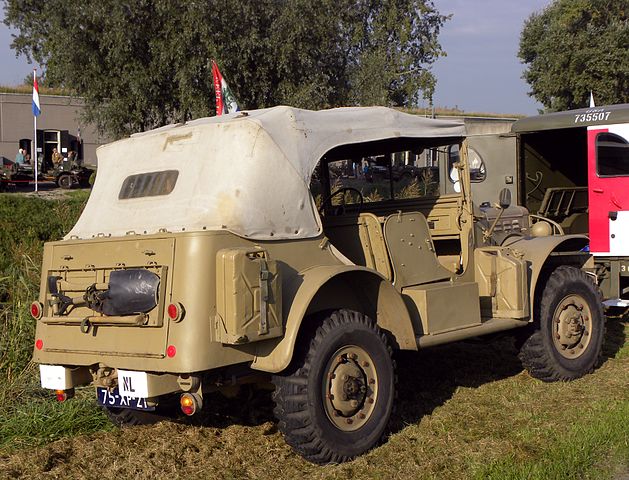 Dodge WC-56 in desert tan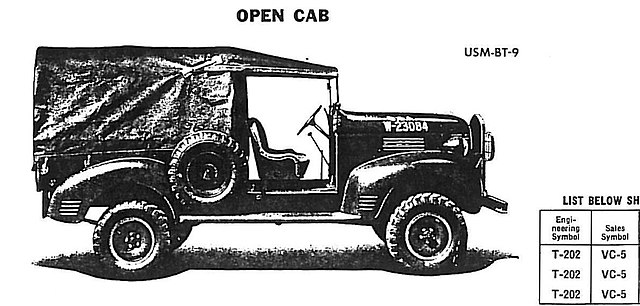 Dodge T-202 VC-5 Open Cab body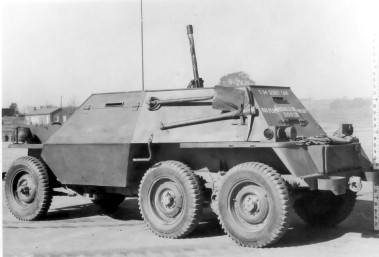 T24 Scout Car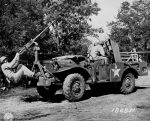 M6 GMC with a front mounted 0.4 cal. M1920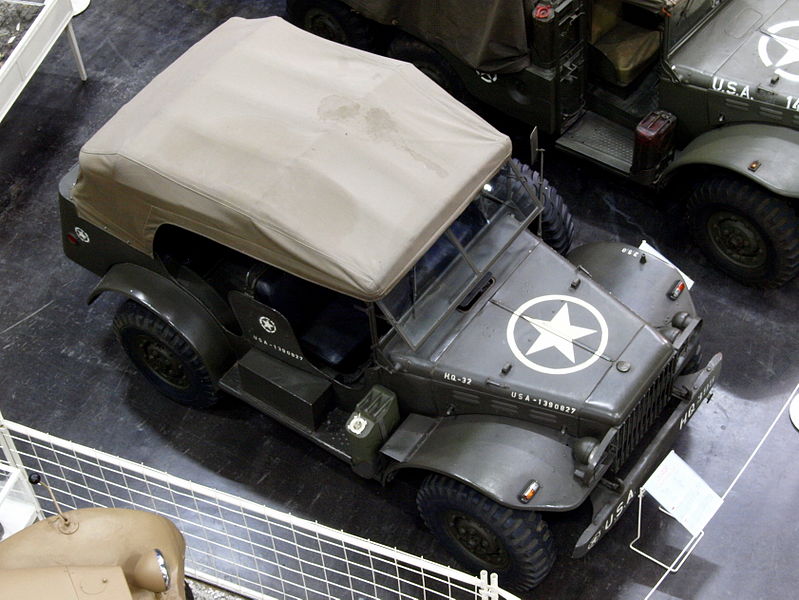 Top view of a WC 51 in Sinsheim, Alsace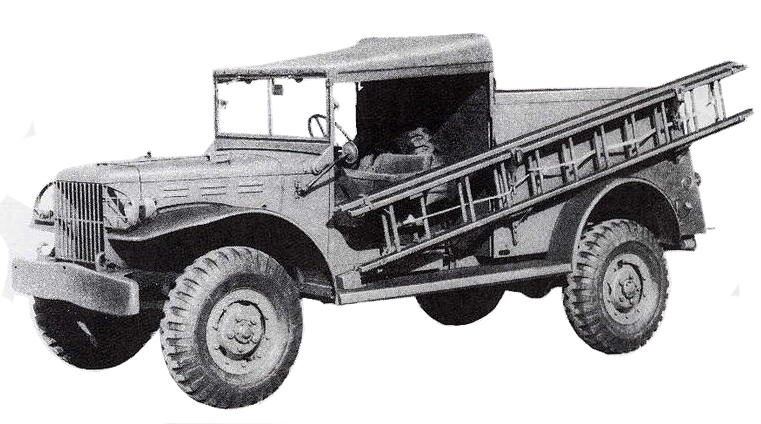 Dodge WC-59 telephone truck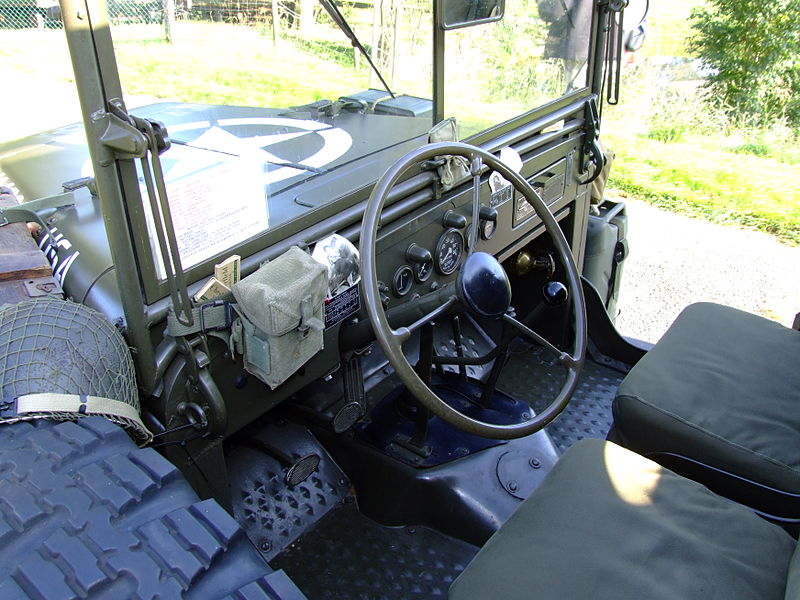 T223 WC-62 6x6 dashboard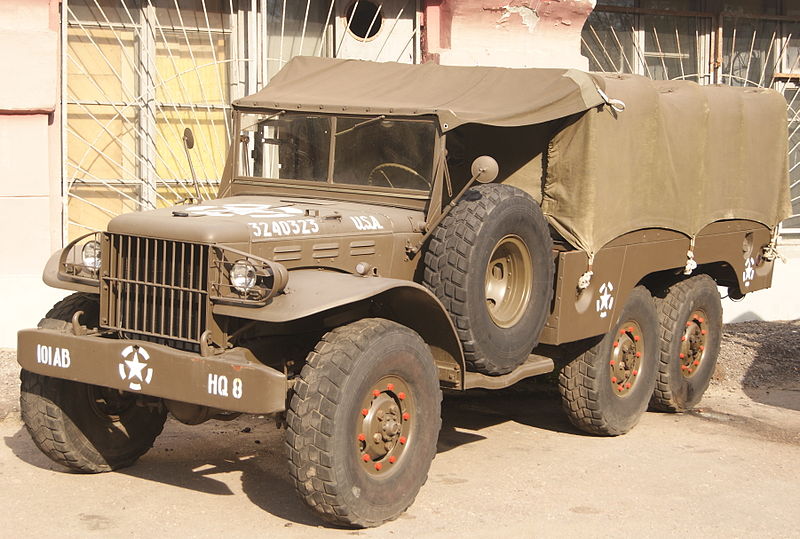 Dodge WC-63 at the Museum of Retro Cars
Videos
---
Axis Trucks

Purchase this pagemarker and support the site !
Sd.Kfz 2, 6, 7, 8, 9, 10 and 11 were half-tracks designed just before the war as prime movers, to carry supplies, ammunition, personal, and tow artillery. Many were also converted during the war as armored versions carrying AA FLAK guns (Flakvierling, 37 mm, or the legendary 88 mm Rheinmetall als used as tank hunters), or were converted as nebelwerfer (rocket launching armored vehicles). They were built by Hanomag, Steyr, Mercedes-Benz, Bussing and many other manufacturers until 1945, over 20,000 half-tracks.
---
Cold War & Modern Vehicles
Modern Trucks