The Soviet ZIS-151 was the first postwar Medium Truck, a general-purpose model based on the ZIS-6 and lend-lease Studebaker US6. It was developed in many versions included the armored BTR-152 armored personnel carrier and BAV 485 amphibious vehicle. Having issues only solved by the ZIL-157 it was not widely exported but was licence-built as the Jiefang CA-30 in China. With some 150,000 delivered until 1958 it saw it fair share of action in the early cold war.
Trucking Lessons of WW2
Avtozavod im. Stalin, from the mid-forties, led the development of a two-axle all-wheel drive truck based on the ZiS-150. A prototype car built in 1944 was designated ZiS-150P. However, the car turned out to be heavy, it did not meet the requirements of the USSR Ministry of Defense, and therefore it was decided to develop a three-axle version of the car. At the same time, on the basis of the two-axle GAZ-63 and Lend-Lease Studebaker US6 (6x6), which was being created at the Gorky Automobile Plant, a three-axle off-road vehicle GAZ-33 was being developed.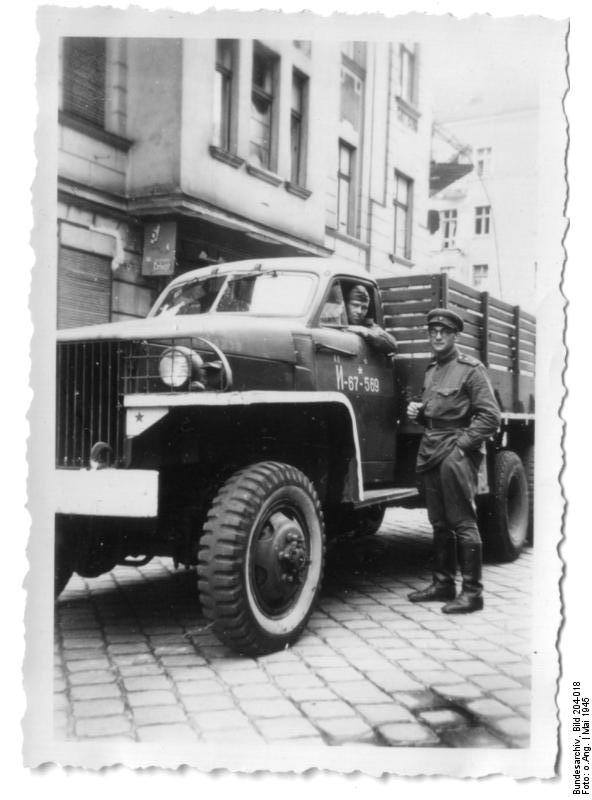 Moskow-built Studebacker US5 in Berlin, 1945
These developments, as well as design solutions adopted on other American army three-axle trucks with an off-road carrying capacity of 2.5 tons (International M-5-6 and GMC CCKW-352), formed the basis for the three-axle all-wheel drive truck developed from the winter of 1945 at ZiS ZiS-151 (in some sources, the chassis of this car and the truck tractor based on it are designated ZiS-121).
First prototype 1946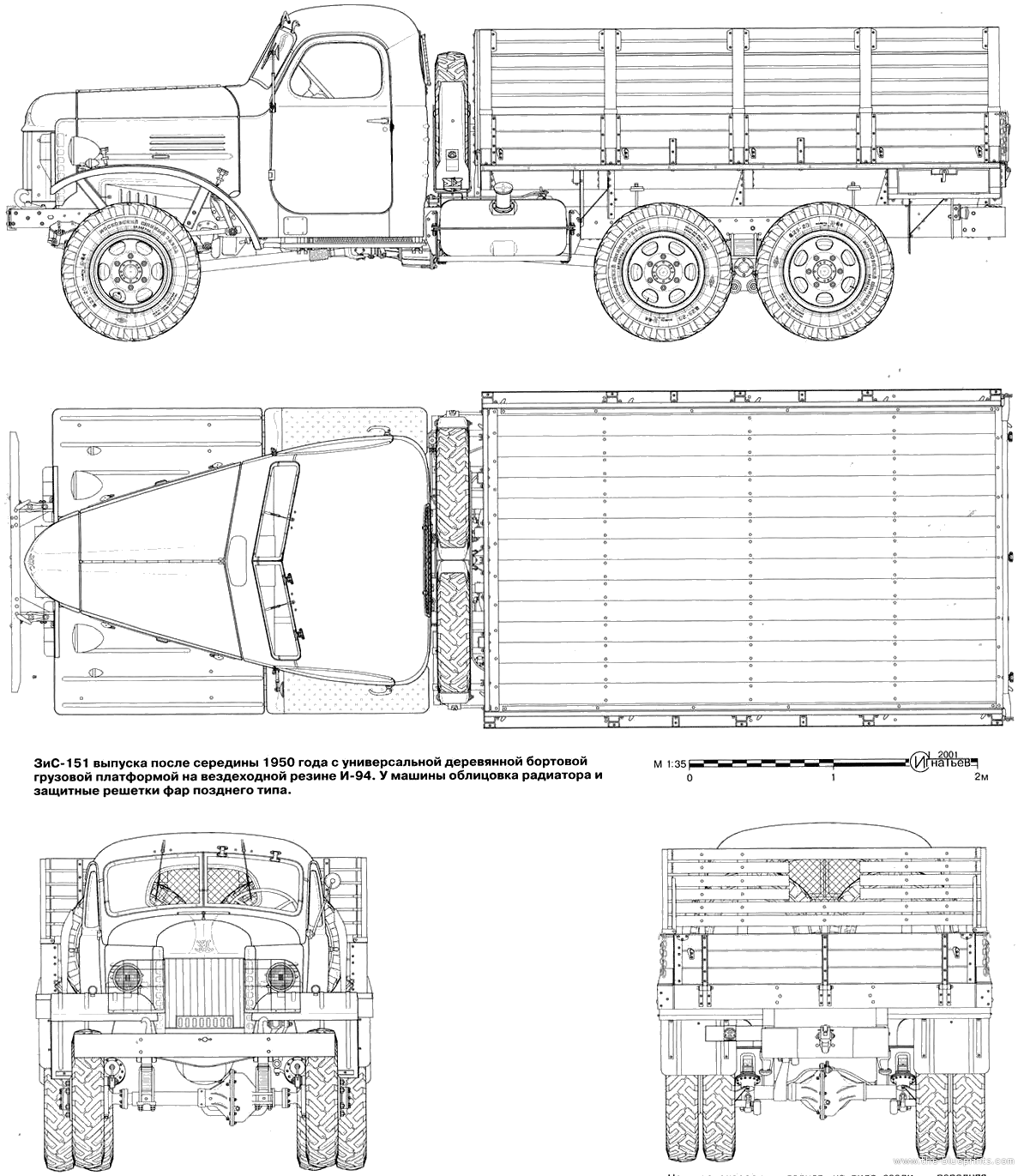 ZIS-151 Plan
In 1946, two prototypes of the ZIS-151 were built. In May the first version with dual rear wheels (ZIS-151-2) was ready for testings. In the autumn a second prototype (ZIS-151-1) was also tested with single rear roadwheels and ZIS-150 cab. In the 1947 summer, ZiS received a technical assignment for a wheeled three-axle armored personnel carrier derived from this chassis, called "Object 140" (future BTR-152).
This summer of 1947, comparative off-road tests pitted the new ZiS-151 against the Studebaker US5 built in Moskow, and International models. The ZiS-151-1 using large bus tires 10.50-20 showed in the end the best cross-country ability and off-road speed, except in swampy areas. Single tires required less energy but the Russian Procurement agency at the time insisted on using dual rear wheels, despite more less favorable test results for the sake or redundancy and standardization. This proved a short-sighted vision that would plagued Soviet transport in the muddy and snowy seaons in Russia and led to the development of the ZiL-157, this time with single tires on rear axles (see later).
The ZIS-151 however on the whole compared still well against the Studebaker, International Harvester or General Motors GMC-352. Their purpose, layout, design and flatbed dimensions with slatted sides and longitudinal folding benches were all very comparable. At the same time, the ZIS-151 inherited the GAZ-33 drive axles also identical to this of the GAZ-63 and completely different from those of the 4x4 ZIS-150.
The new truck's mass was superior to the Studebaker (a ton more) due to extra Red Army requirement of two fuel tanks (instead one on the Studebaker) plus two spare wheels instead of one. They were located side by side behind the cab's back, in vertical cradles for easy access unlike those under chassis. Designers to fit them in between the chassis and cab had to increase the loading frame, added extra weight. In the end, this all concurred to lower the relative power-to-weight and as consequence made the final truck underpowered. The first pre-production batch was released in April 1948, and until 1950, its wooden backed metal cabin used the weak ZIS-120 engine. Later the cab became all metal and the more powerful ZIS-121 was swapped in production 1950-58.
Pre-production Issues
During the Cold War, American authorities banned the sale of certain types of special machining tools to the Soviet Union, ended a possible parts compatibility with the new Soviet trucks. Among them were gear-cutting machines for the manufacture of the helical teeth of bevel gears, for the main gear, for Gleason Inc.
When serial production of the ZiS-151 started in April 1948, a bottleneck created by the lackof proper tooling held back production numbers as long as the final drive issue was solved. Gleason machines purchased before the war proved soon not numerous enough to equip each ZiS-151, and soon it was establshed three times more gears were needed than for the 4x2 ZiS-150. Director of ZiSa I.A. Likhachev decided to manufacture the necessary machine tools at the plant, cooperating with other industrals in USSR to resolve the issue, which took time. It was all solved only by 150 when production revisions were made and numbers rapidly rose to a heatlhy monthly delivery.
ZiS-151 1948 Design and tires
Engine, brakes, suspensions
The ZiS-151 engine was a ZiL six-cylinder, gasoline, four-stroke liquid-cooled carburetor engine called "ZiS-121" and until 1950, the ZiS-120. It developed and output of 92 hp. It was coupled with a five-speed gearbox transmission (41 reverse) in a two-disk dry clutch, transfer case with two-stage demultiplier, five cardan shafts and ten joints.
The front suspension used two longitudinal semi-elliptical springs, with double-acting hydraulic shock absorbers, and Bendix-Weiss constant velocity joints inspired by the Stuebaker. The rear suspension with its two sets of doubled wheels axles used two balanced longitudinal springs only.
The service brake used a shoe type braking system on all wheels, with pneumatic drive, and a rear bumper outlet to connect the trailer brake system.
Tire size was 8.25-20". There were two gas tanks with 150 liters capacity each (see later for performances).
ZIS-121 engine - src trucksreview.ru
Transmission - src trucksreview.ru
ZIS-151 cab design
Until 1950, the cabin was of wood-metal construction with wooden steps and using a stamped plywood lining and a metal front wall. Later in production it was of reduced dimensions of all-metal. The body was wooden-backed and of universal type slatted front and side walls. There were folding benches in the rear cab, to carry four and especially a special buffer (see later). In engine, there was no engine preheater nor heater for the driver's cab making it fairly primitive compared to Western production especially under harsh Russian winter conditions. The ZiS-151A only introduce a well-needed self-recovery winch, installed between the engine and the front buffer. A special buffer located on the same level as the forward bumpper made it possible to overcome difficult terrain especialy when using a pusher vehicle. As seen below, the vehicle was know to behave poorly in muddy terrain.
Further Development and issues
ZIS-151 Was the first Soviet domestic mass-produced truck with three drive axles, widely used in the armed forces. The chassis was also declined for the Katyusha versions BM-13-16, BM-14-16, BMD-20, BM-24, but also armored for the BTR-152 based on the ZIS-152 as well as sub-versons of transport and tankers, the KMM bridge layer (mechanized track bridge), but also cab variants such as a mobile communications vehicle, ambulance and HQ or with shielded electrical equipment. The main sub-variants were the ZIS-151A fitted with a winch, ZIS-151B tractor for utility trailers (like tank and missile transport) plus the experimental ZIS-153 half-track.
Known disadvantages of the ZIL-151 were corrected by this version:
The three-axle ZIS-151 had aat the rear doubled roadwheels but the suspension was not up to the task with long run off-road use. It was significantly inferior in terms of cross-country ability to the two-axle GAZ-63, often used to pull out of the mud and snow the more powerfl Zil-151. It also was noted as having too small roadwheels, and insufficient ground clearance.
It was also recoignised as underpowered. Its rear axles with dual tires were nicknamed "iron" and drivers often had to remove the second axle to push the stuck vehicles with other trucks, as it was fit with specially robust rear bumpers. In the memoirs of the drivers, these small wheels acted as liquid mud "vacuum claners" soon overwhelmed by clogging mud, turning the two roadwheels as "barrels", helplessly rotating in the mud.
Removing this mud and picking off the dirt with a crowbar, became a staple of the life of Soviet drivers our of the summer and winter. It was also established that Dual wheels required more engine power due to the additional surface friction, and rto "push" additional tracks in the mud, whereas a single wheel axles GAZ-63 had its rear wheels eperfectly aligned in the same channels created by the front track. All this created the need for a reapid improvement of the basic truck:
The ZiL-151 was indeed replaced by ZIL-157 with larger, single axle wheels which had much better off-road caracteristic and replaced it with little changes on the production line from 1958.
Chassis rear axles - src trucksreview.ru
Cab board - src trucksreview.ru
Flatbed - src trucksreview.ru
ZIL-151 Specifications
-The ZIS-151 engine, a 5.55 L (339 cu in) L-head inline 6 cylinder (5555 cc) gasoline engine
-Output: developing 92 hp (69 kW) at 2600 rpm, bore/stroke: 101.6/114.3 mm, compression ratio: 6.0.
-Fuel tank capacity 2x 150 litres (39.6 US gal; 33.0 imp gal), consumption 42 L/100 km (6.7 mpg-imp; 5.6 mpg-US)
-The transmission was a 5 speed with a direct 4th gear and overdrive 5th.
-The Clutch was a dry twin plate.
-The transfer case had high and low ranges, and selectively engaged the front axle.
-Both front and rear axles were a split type.
-The chassis was 6×6, with three live beam axles, adapted and strengthened for conditions in the USSR.
-Reinforced ladder frame type chassis with three live beam axles
-Front on semi elliptical leaf springs
-Rear tandem on quarter elliptical leaf springs with locating arms.
-The Wheelbase was 4,225 mm (166 in) to the center of the rear bogey and 4,785 mm (188 in) to the center of the rear axle.
-The tires have a larger cross section, 8.25 in × 20 in (21 cm × 51 cm) versus the US6's 7.50 in × 20 in (19 cm × 51 cm).
-Both axles had dual rear tires. The wider tires spread the load over a wider area. This allows the truck to be operated on softer surfaces.
-The drive shafts were laid out like the US6, but as a mirror image, the front axle differential was offset to the left, while American trucks were offset to the right.
-Air brakes were used.
Data and Stats
6×6 4,500 kg (9,921 lb) ZIS-150 based truck
Engine: ZIS-121 6-cyl, 92 hp (69 kW) at 2600 rpm, 5.555 L (339 cu in)
Bore/stroke: 101.6 mm (4.00 in) × 114.3 mm (4.50 in)
Compression ratio: 6.0
Clutch: dry twin plate
Gearbox: 5×2 speeds
Length: 6.93 m (22 ft 9 in)
Width: 2.32 m (7 ft 7 in)
Height: 2.31 m (7 ft 7 in)
Wheelbase: 4,225 mm (166.3 in), rear axis clearance: 260 mm (10 in)
Front wheel track: 1,590 mm (63 in)
Rear track: 1,720 mm (68 in)
Turning radius on front outer wheel: 11.2 metres (36 ft 9 in)
Weight (without load): 5,580 kg (12,302 lb)
Maximal speed (loaded, highway): 60 km/h (37 mph)
Tyres: 8.25 in × 20 in (21 cm × 51 cm)
Fuel tank capacity: 2× 150 L (39.6 US gal; 33.0 imp gal)
Fuel consumption: 42 L/100 km (6.7 mpg‑imp; 5.6 mpg‑US)
Production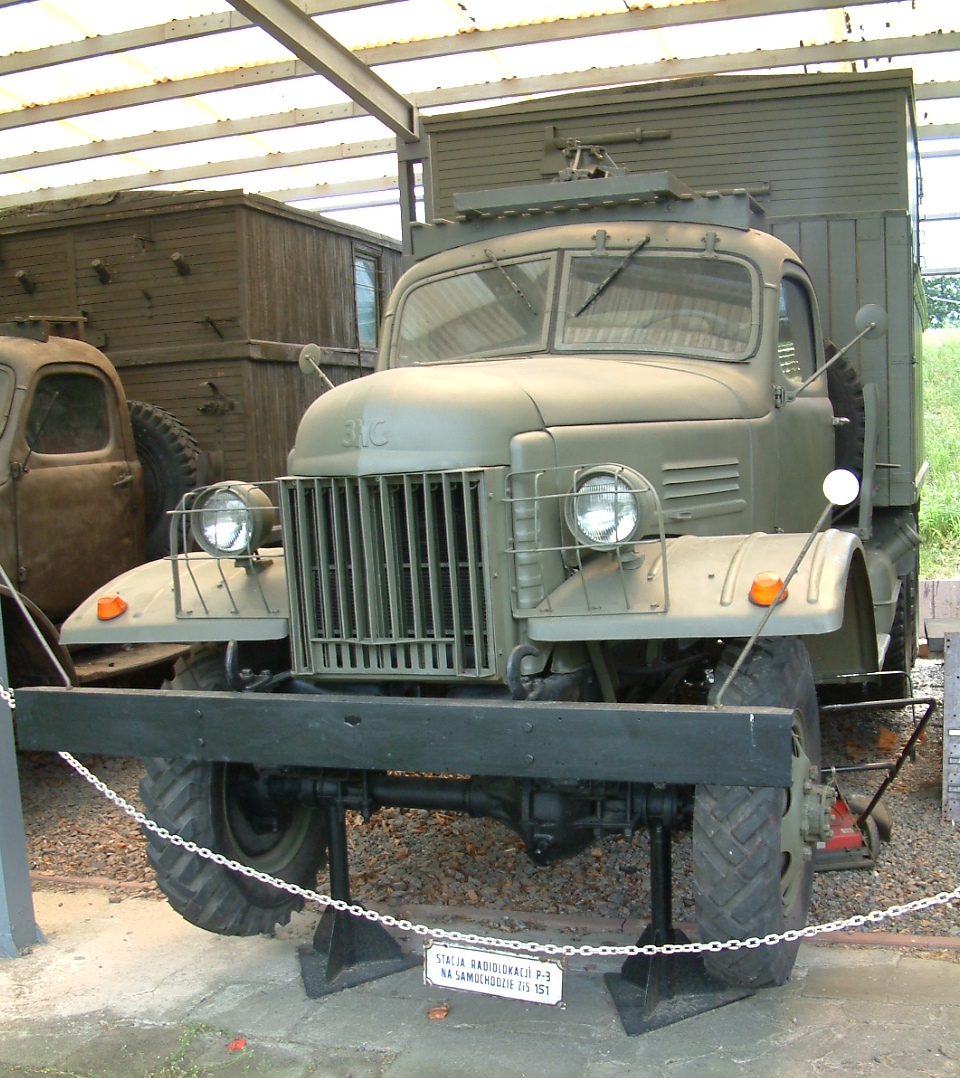 Automotive Factory No. 2 Zavod imeni Stalina started production of the initial version from 1948 to 1850 and the, after some changes, until 1958. In 1956, the factory was renamed to "Zavod imeni Likhacheva", dropping the "Stalin" in the nname, and thus going from "ZiS" to "ZiL". The model was from 1956 called ZIL-151 (ЗИЛ-151). The ZIS-151 was the first major Soviet military, modern all-wheel-drive truck built after the war, and following the complete stop of supply from US manfucaturers, had to replace the ageing, battered fleet of lend-lease U.S. Studebaker US6 and the obsolete ZIS-6.
In early 1948 came the first production change with cabs backed by made wood replaced by all-steel. Old habits of materials-saving inherited from WW2 had no longer relevance. Production, including the local machining of US-part in swindling stocks now resolved, it soon rose considerably and included more production lines for further specialized versions. The Red Armr also had a full line dedicated to the BM-13 Katyusha rocket launcher variant alone, replacing the old 1930s designed fleet of WW2 vehicles.
But many issues with the truck were found, notably the imposed four-wheels axles and the lack of engine power urged the need of a proper replacement which came in 1957-56 with prototypes, validated in 1957 for production as the ZiL-157, and production starting in 1958, largely based on the same parts, and thus, replacing completely the previous model on the production line. It also forced a transition for specialized variants due to the swap or the main production line. Externally, the 157 differed by its forward grille but moreover single rear tires, and some weight-saving measures, plus a more powerful engine, which cured all the issues of the 151.
It also used much larger and wider 12.00 in × 18 in (30 cm × 46 cm) single rear tires which had far better off-road performances in the mud and snow. Just like on the BTR-152 and most wheeled APCs, a centralized tyre-inflation system was added for the first time on this verhicle, moderating the tire pressure and surface contact to fit the softest terrain. They were re-inflated fully for regular road use. The standard onboard air system was also improved to supply this new system.
Less rebuffed by the issues of the ZiL-151 in China, a local production with Soviet help was started in 1956 for the mass production of the vehicle under license, called "Jiefang CA-30", at First Automobile Works. It succeeded to the Jiefang Ca-10, local version of the smaller ZiL-150, and was later itself replaced by an improved Ca-30 inspired by the better Zil-157 soon before the Sino-Soviet split, acted in 1961. The Jiefang C-30 had slightly more power plus angular front fenders to simplify production. The 157 had its simple traduction into an improved CA-30, with single rear tires in 1958. It soon became the staple of Chinese production, being manufactured to the hundreds of thousands until 1986 (and exported). Back in USSR, it had been long replaced by newer models.
Variants
ZIS-151D
: Shielded electrical equipment. Produced 1955-1958.
ZIS-151E
: Export version, produced 1949-1958.
ZIS-151P
: Cab-chassis version for the PMZM-3 fire truck, produced 1951-1956.
ZIS-151U
: Tropical climates export variant. Produced 1956-1958.
ZIS-121B
: Tractor-trailer version. Produced 1954-1958.
ZIS-121D
: As ZIS-121B, except powered by a ZIS-121D engine. Produced 1955-1958
ZIS-151A (ZIS-121G)
: Prototype modernized version of ZIS-151. Produced in 1953; entered production as the ZIL-157
ZIS-151B
: Unknown
ZIS-151V
: Tractor version for a tank transport trailer or missile TEL
ZIS-121V
: Prototype for BTR-152
ZIS-153
: Prototype halftrack version. Produced in 1952.
ZIS-151G (ZIL-E157)
: Prototype for ZIL-157
ZIS-128
: Unknown
BTR-152
: Armoured personnel carrier
ZIL-485A
: Amphibious military version, also called BAV-A
BM-13 Katyusha
: Rocket Launcher Truck version
ZIL-153
: Half Track Variant*
ZIL-157
: Advanced truck
Jiefang CA-30
: Chinese Variant
*In the late 1940s, an experimental semi-tracked chassis ZiS-153 was built, created according to the type of German tractors with a staggered arrangement of road wheels, metal tracks with rubber shoes and needle-bearing hinges, with a front non-driving axle. In the process of fine-tuning the machine, a front drive axle was installed. The late version had a chassis with a traditional arrangement of rubber-coated rollers. It was supposed to be used as a base for a future armored personnel carrier.
Operators
USSR: Bulk of the 150,000 produced, in service until replaced by the ZiL-131 from 1963. It's unlikely any was still in service when USSR collapsed in 1991.
Warsaw Pact Countries: Unknown numbers to countries devoid of a solid truck industry such as Bulgaria, Romania or Poland.
China: Jiefang Ca-30, in reserve for the 1980-86 production and scrapped for 1970s vehicles, replaced by modern domestic models.
Vietnam (Possibly confounded with the Jiefang Ca-30), probably in reserve.
Specs ZIS 151
Dimensions :
6.93 m (22 ft 9 in) x 2.32 m (7 ft 7 in) x 2.74 m (9 ft)
Wheelbase :
3,665 + 1,120 mm (144.3 + 44.1 in)
Curb weight :
5,540 kg (12,214 lb)
Tires :
8.25 in × 20 in (21 cm × 51 cm)
Crew :
2
Propulsion:
Front 5.55 L ZIS-121, 92 hp (69 kW) 6×6
Transmission :
5-speed manual with 2 range transfer case
Speed :
60 km/h (37 mph)
Range (road/off road) :
300+ miles, 2x150L tank
Payload :
2 tons
Production
Circa 150,000
Sources
Kochnev, Evgeny (2011), Автомобили Советской Армии 1946–1991 [Soviet Army Vehicles 1946–1991]
G. B. Armand, S. I. Kuznetsov: Автомобиль ЗИС-151. Ministry for defence of the soviet union. Moscow 1955.
Каталог запасных частей автомобиля ЗИЛ-151. Mashgiz, Moscow 1957.
Best source, on oborudow.ru
Clement Hourbe & Aymeric Lopez on krasnayazvezda.com
archive legion.wplus.net
Walraround
On mortarinvestments.eu
PMZ-13 Fire Truck Variant
On armedconflicts.com
Specs on sovavto.net
Kit on hobbyboss.com
1950s Footage
Author's Renditions

Regular army truck

Parade vehicle towing a D20 122mm Howitzer

Civilian vehicle

Civ. vehicle of technical assistance, Avtokombinat N°1 Mosstroytransa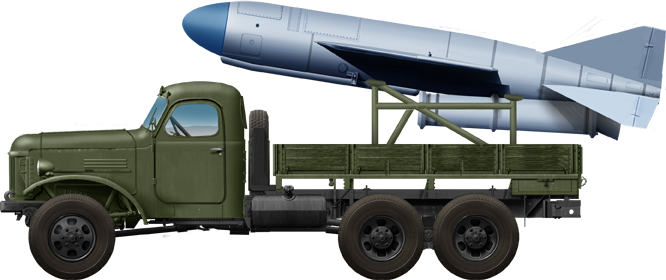 Zil-151 carrying a P-15 "Termit" antiship missile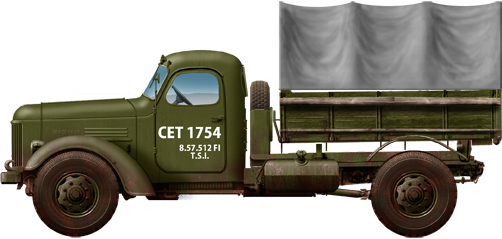 Jiefang CA-10 first People's Republic of China's truck completed on July 13, 1956 from First Automotive Works, Changchun, Jilin province based on the ЗИС-150 (Studebaker-US6) from Moscow's Stalin Automotive Factory with a 90-hp 6-cyl. gasoline engine, with a payload of 4 tons at 65 kph. It was produced for 30 years and soon joined by the Ca-30 Medium Truck based on the ZIL-151.

Jiefang CA-30, main Chinese PLA medium truck, produced 1958-86. The 1964 version was the same as the ZIL-157
---
BTR-152 APC, based on the ZIL-153, itself on the ZIL-151. Circa 15,000 built and exported.

ZIL-485 BAV-A, amphibious variant of the ZIL-151, close of the GMC-based "DUKW" also provided under lend-lease. Produced 1952-62 by the Likachev Motor Factory to 2005 vehicles. Mostly replaced by the PTS in the 1970s.
Gallery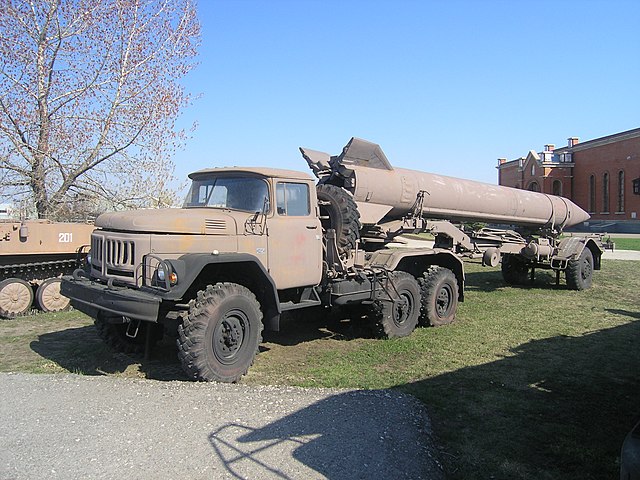 2TZM-5306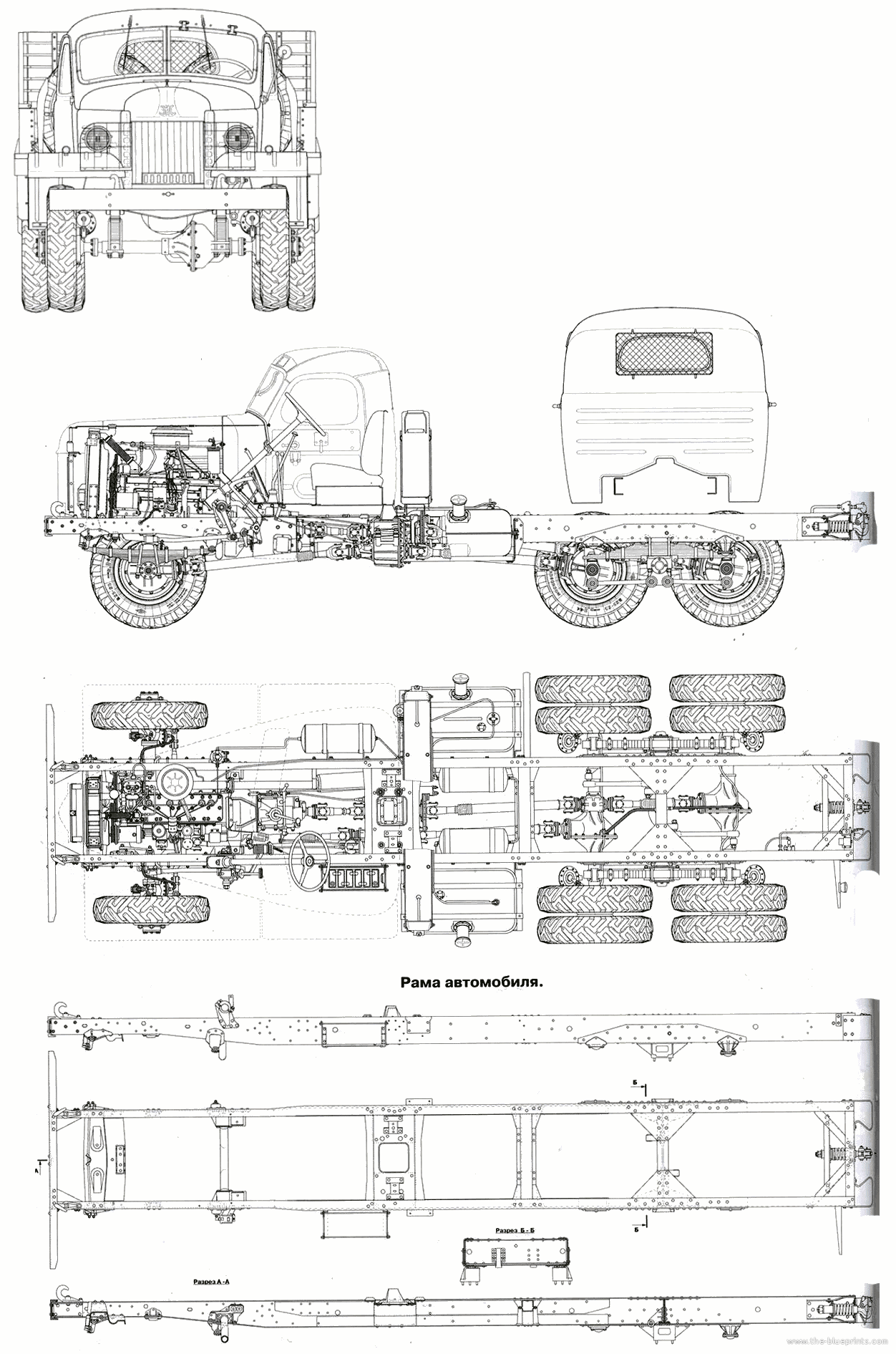 zis-151-chassis-arrangement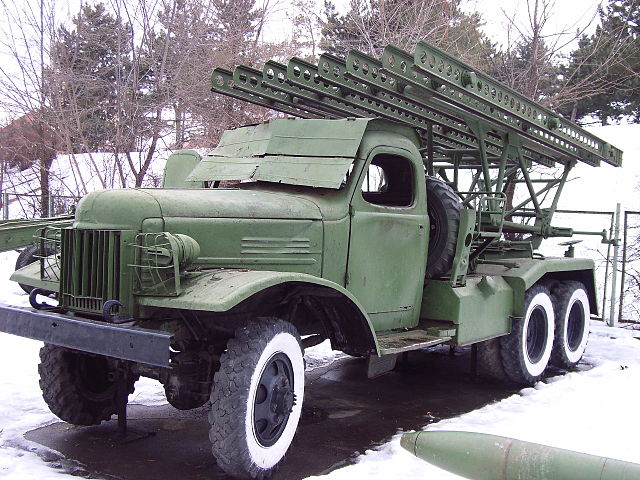 BM-13-16_ZiS-151_chassis_Chisinau_Moldova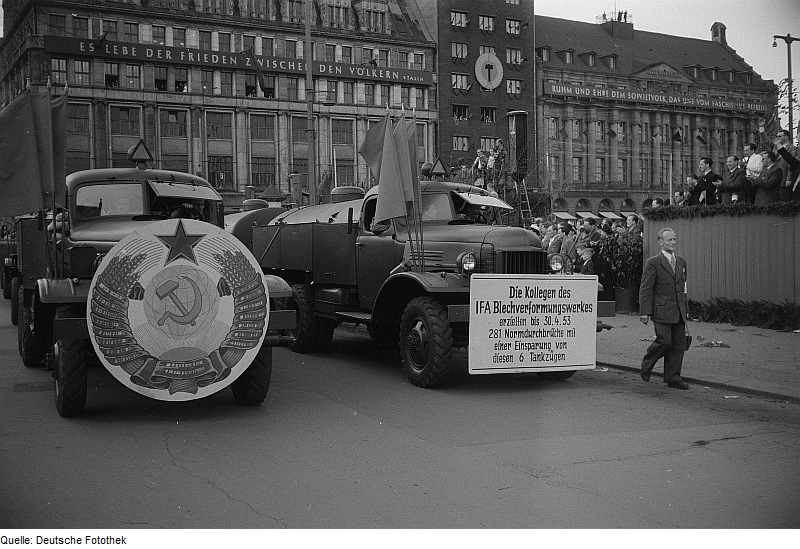 ZIL-151_EastGermany_Demonstratiion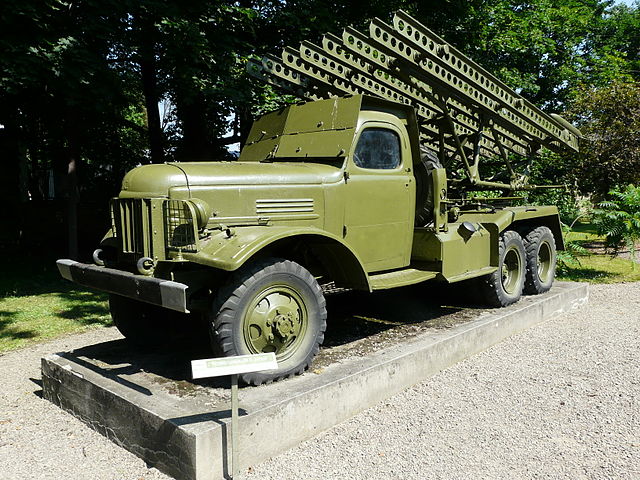 Dukla_muzeum_ZIL151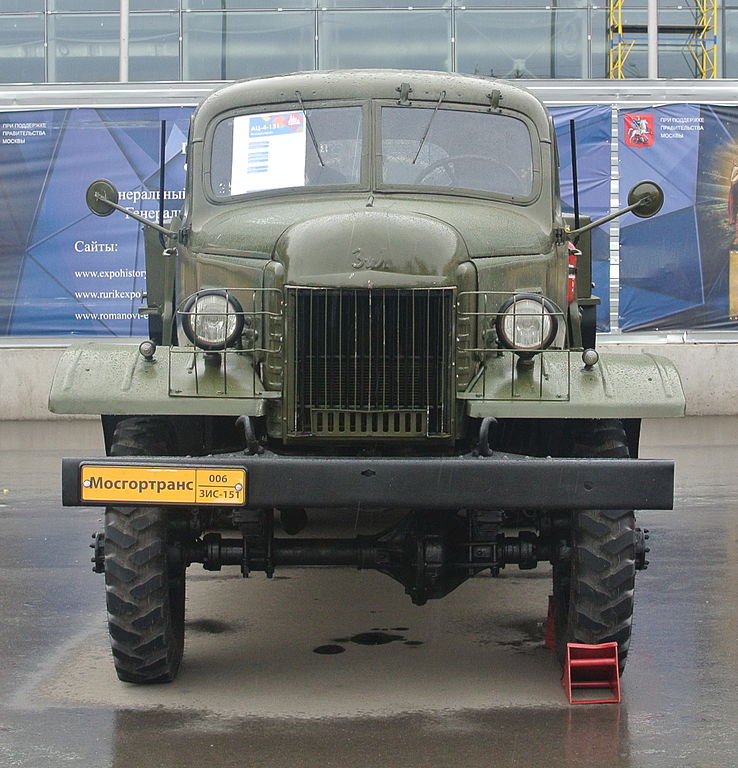 ZIL-151_fwd-hood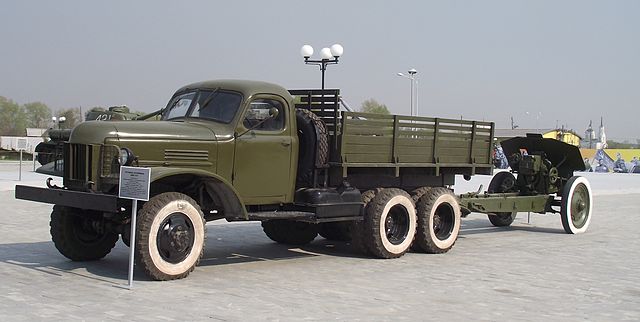 ZIS151_V_Pysma_Museum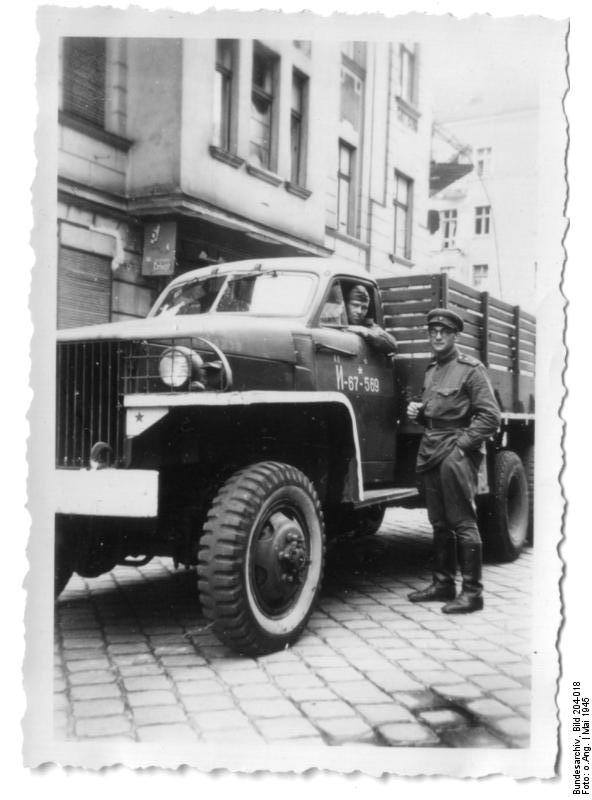 Bundesarchiv_Berlin_Studebarker-US5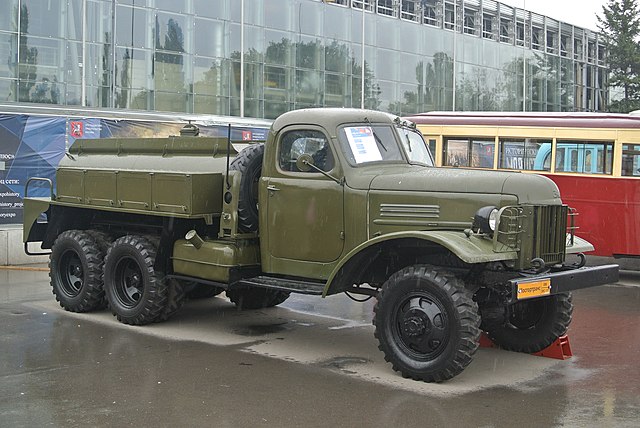 Tank-truck_ATs-4-151_Mosgortrans_exposition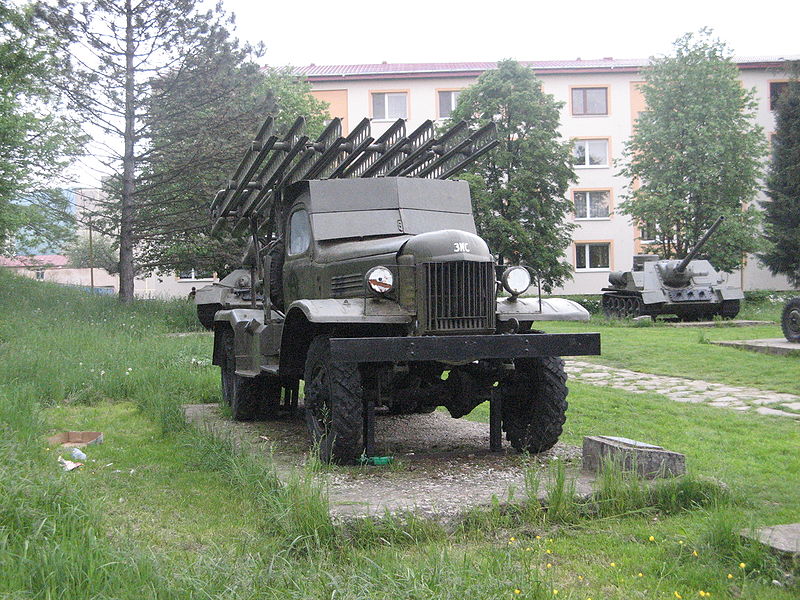 Katyusha_ZiS-151_Svidnik
---
Axis Trucks

Purchase this pagemarker and support the site !
Sd.Kfz 2, 6, 7, 8, 9, 10 and 11 were half-tracks designed just before the war as prime movers, to carry supplies, ammunition, personal, and tow artillery. Many were also converted during the war as armored versions carrying AA FLAK guns (Flakvierling, 37 mm, or the legendary 88 mm Rheinmetall als used as tank hunters), or were converted as nebelwerfer (rocket launching armored vehicles). They were built by Hanomag, Steyr, Mercedes-Benz, Bussing and many other manufacturers until 1945, over 20,000 half-tracks.
---
Cold War & Modern Vehicles
Modern Trucks