Bedford MK (1967)
The mid-Cold war British Medium Truck
The Bedford TK launched in 1960 was to replace the Bedford S type, a military version was developed later to replace the Bedford RL. The TK was to be replaced by the Bedford TL in 1981, but production went on as it was cheap. The military 1967 4x4 Bedford MK (later MJ) soon became a staple of the army (and others). When the Dunstable factory was sold in 1987, production was restarted for the military until 1992. The British Mk saw action in the Falklands war and Gulf War in 1991, among others.
Development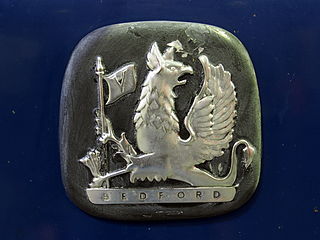 Vauxhall/Bedford hood logo
The previous Bedford S type produced from 1950 to 1959 became a "classic" on British civilian market, being used for many roles. Launched at the Commercial Vehicle Show in 1950 it was quickly nicknamed the "Big Bedford" as the largest Bedford lorry at the time, weighting 7 long tons. Initially ot was powered by a 4.92 L (300 cu in) 6-cylinder Bedford petrol engine rated for 110 bhp (82 kW) at 3200 rpm. It was driven by a four-speed manual gearbox with synchromesh on the top three gears, hypoid gears on the final drive. In 1956 was introduced the Perkins R6 diesel, Leyland O.350, and eventually the Bedford diesel of 1957. This success led to two new variants, the Bus Bedford SB, and the military version, a 4x4 produced from 1953 to 1970 as the Bedford RL.
As or the MK, military variant, the Royal Army in 1960 wanted a replacement for the Bedford S and besides the 4.5 tons load capacity it had to meet the "medium mobility" spec, meaning cross-country mobility, and an optional engine, petrol or diesel. For tactical operations it was to be also air-portable. To meet this requirement BMC (Austin FJ), Rootes (Commer CB) and Vauxhall (Bedford RK) submitted their own prototypes.
After comparative trials the Vauxhall model based on the 4x2 TK cheap due to its commercial components, but given an aluminium body for lightness, was selected and standardised as "Truck, Cargo" with a 4.000 kg. payload. Field tests lead to a revision back to steel construction, and led to a first contract for 2.000 vehicles in left- and right-hand drive configuration in April 1968. Mass production started in May 1970. Further orders came afterwards, bringing total production to around 50,000 vehicles, but many more kits were assembled overseas. New Zealand alone for example produced around 500,000 of these.
All these vehicles had a reduced "nose" already and rounded shapes, but the new TK had even a more "flatter" face and more modern features while keeping the essentials of the previous model. The TK was introduced in 1960 and production went on until 1986 at the Bedford factory and was taken over by AWD to be extdended from 1988 to 1992, uniquely the MK and MJ versions. What was remarkable about the new TK was its advanced cabin version with the engine at the rear of the cabin, allows three seats forward, in the normal cabin. Quite improved over the previous RL, it spawn no less than twenty different model versions and became available as platform or tipper. The MK version was mostly a military 4x4 tractor.
The 2WD Bedford TK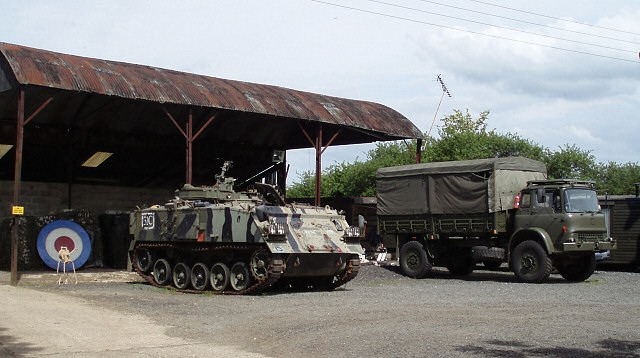 A TK in a barn at spring farm
The basic TK/MK design used the same chassis ladder type and layout as on the Bedford RL. The TK/MK were Originally designed with a aluminium body, for a 5 ton payload. This proved too expensive, so production models used a steel body, produced by Marshall of Cambridge Limited. Sides could be folded down as the tailgate, or entirely removed, the body floor had lashing points for securing many load. Cargo trucks could be converted quickly for any uses. There was also rarer custom flatbed bodies using wooden walls, but the regular model had foldable steel panels on the sides and back for easy access and storage. They were provided all with three frames to hoist a tarpaulin, for weather protection.
The 4WD Bedford MK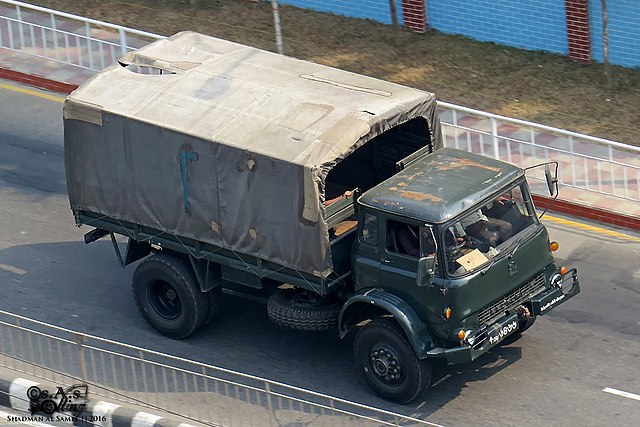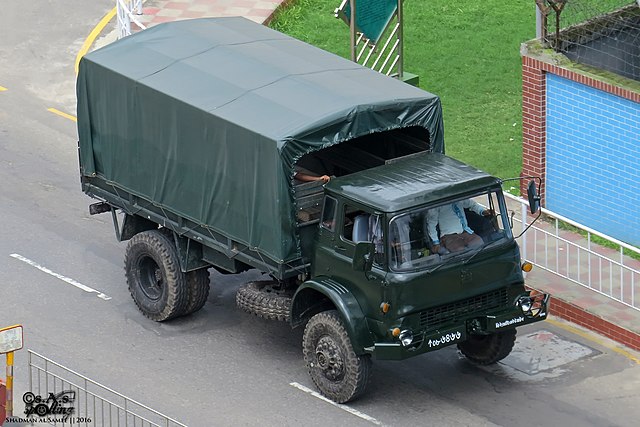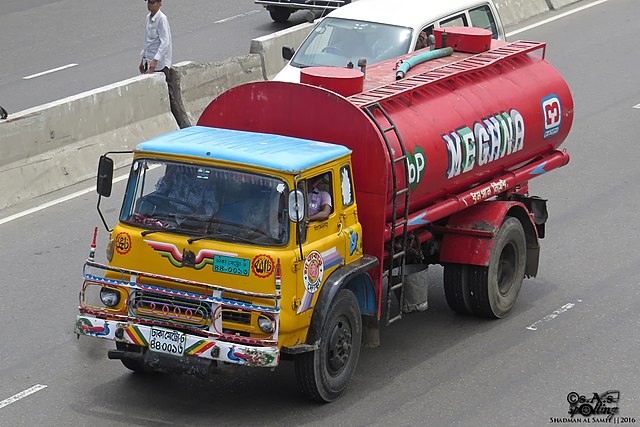 Various photos of the standard MK with cabin top platform, British and Bangladeshi armies.
The MK can haul 4,530 kg of cargo in cross-country travel and tow a 5,080 kg trailer. 6,000 kgs was the maximum tested. The rear cargo section is built and fitted by Marshall of Cambridge. It is given folding side uprights, tailgate, and the same removable arches for a tarpaulin as on the TK. The base model is equipped with a six-cylinder Bedford diesel rated for 103 hp (76.8 kW). It was connected to a manual gearbox, four forward and one reverse gears with a two-speed gearing. The forward and rear suspension is suspended on semi-coil springs, with hydraulic shock absorbers.
The MK, had larger military grade tires, which were not of the run-flat type, and there were no central inflation systems nor NBC protection provided. The MK has a range of optional equipment, notably a self-unditching winch with 3,500 kg of traction power, single or double wheels on the rera axle, and flatbed's seats for troops in the cargo area. Mechancical options also included a five-speed gearbox, and various stowage racks for ammunitions and various miliyary payload. In fact an AA version was also developed, at least in the Danish Army.
Military equipment
In general, these trucks were intended for rear operations in a secured area, and had no passive (armour) or active (smoke projectors) protection, apart the cab supposed to resist a mine blast. Armament aboard was limited to the driver and/or co-drivers own personal weapons, the 20 troops carried and their equipments. However the all-steel cab, fully enclosed had a version including a hatch to the cabin roof to fit a 7.62mm machine gun for low level air defense. A typical MK army tractor was towing a howitzer and carried the crews and ammunition on the flatbed.
The powerplant
The TK was built with the same ladder type chassis as the previous RL, with a more modern longitudinal front engine, and later available with an inline four cylinder, or and inline six cylinder petrol engine. The basic 90 hp diesel gave a 77 kph max speed on road, and the vehicle was able to climb a Gradient up 50%, a side slope of 30%, a vertical step of 0.5 m gap a trench roughly 0.6 m wide and ford 0.76 m without preparation.
Soon also diesel engines from Bedford, Leyland and Perkins just like for the S and RL found their way into the engine compartment, diverisifying options depending of the use or mission. It was available in rigid type with flatbed or dumpster with tilting bed, or light tractor unit, coupled with the Scammell semi-trailer.
Engine-wise, the Bedford TK in 1986 was fitted with arguably its post powerful unit so far, the turbocharged "Red Series" 3.6-litre and 5.4-litre diesel engines rated for 72 and 102 bhp. They also made their way into the military production in 1988-93.
Variants
The TK and MK served as the basis for a variety of derivatives, including firetruck, tankers, tippers, utility boxes, specialized flatbed, crane, wercker, dumpsters, and others. A General Post Office (later British Telecom) version used for installing telegraph poles was known as the "Pole King".
MK troop carrier/Tractor
MK with hydraulic crane
MK with utility flatbed box (many sub-variants)
MK Dump truck: Tipping rear dump holder
MK Tanker: Refueller (water version exists also)
MK Roadway laying vehicle
MK Wrecker or recovery vehicle used by the Royal Engineers
MK light reconnaissance drone carrier (box)
MK signals vehicle (box)
MK Artillery control center (box)
MJ: Main variant with a new J diesel engine and platform over cab
Bedford MK/MJ
The Bedford MK/MJ was the 4x4 variant of the TK. It was deployed as the main medium British Armed Forces truck, but was exported to many and other countries. The Bedford MK was introduced in 1970 to replace the Bedford RL. It was very successful, with over 37,000 of the base model and over 50,000 produced when including variants and the MJ. The MK/MJ was declined into many variants and from April 1981, the MK became MJ due to the adoption of a J diesel engine instead of the military grade multifuel one. by March 2014 that all British MK/MJ were disposed of (but a few remaining specialist vehicles) fully replaced by RMMV HX60 4x4 trucks family. Bedford's Dunstable factory was sold in 1987 to AWD and a small series of MK mainly for export restarted until 1992.
Local Productions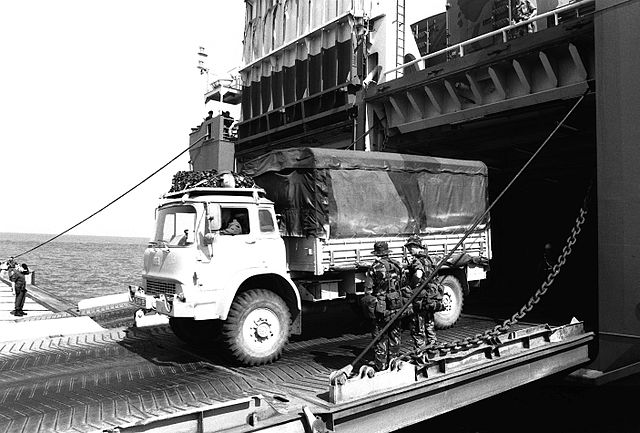 GMNZ Bedford TK
TKs were also assembled for many years by General Motors New Zealand (GMNZ), Petone truck plant. Very popular it competed with the local Ford D series, succeeded by the TM series. GMNZ also manufactured Bedford-by-Isuzu models, still assembled locally from Japanese kits with over 500,000 produced, far more than the original. They were also assembled by Holden in Australia in very large quantities, both for civilian and military roles. Many New Zealand army trucks are still in service today.
The Danish army also adopted the MJ for its own army: The local MJP2 was a 4.500 kg truck which entered service in 1972, later replaced by the Magirus 110-16. They were assembled by GM International in Copenhagen from June 1972, supplied in kits by Vauxhall Motors Ltd. The Danish version had a load-sense device and 2-line air-and trailer braking system.
Australian Bedford TK in civilian service as of today
Bedford MK specifications

Lenght
6.58 m (260 inches)
Width
2.45 m (100 inches)
Height
2.50 m (100 inches)
Total weight empty
5,130 kgs
Max Payload
4-6 tons
Crew
2+ 20 infantry
Propulsion
Bedford 6-cyl.diesel 98 hp
Suspension
Leaf springs and hydaulic dampers
Speed (road)
77 kph ( mph)
Range
560 km ( mi)
Armament
Optional hatch pintle mounted 7.62 mm GMPG
Production
50,000 (TK+MK/ML) 1960-92.
A 3D rendition of a Bedford MK, looking at the flatbed.
Service
A specialized vehicle with trailer, UBRE Units, Royal Engineers Src
The Bedford TK was not in principle pressed into military service as lacking a proper 4x4 capability and those produced were used in many civilian roles. Some were however sold in various militaries it seems. The Main medium truck of the British Royal Army in the 1970s-90s became the MK and later MJ. Among others, they were used in northern Ireland, the Falklands, and even the 1991 Gulf War.
The Bedford MK was so available it was also used by the Royal Navy (as above) and RAF as a main utility truck and for specialized variants.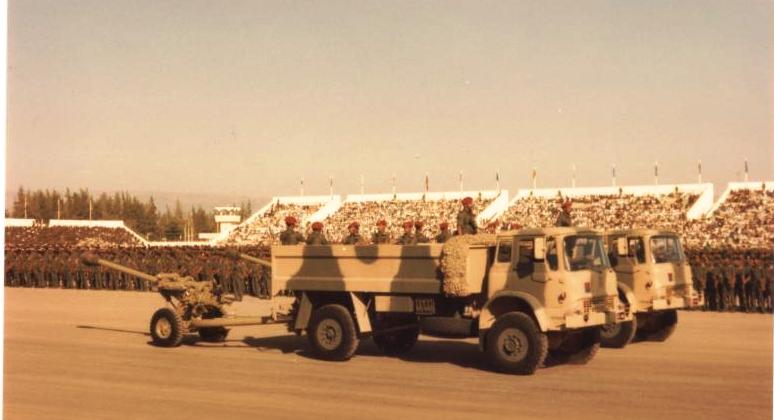 Omani army Bedford MK towing the L118 Howitzer
Bedford MJ, still operational in the 1990s. Externally difficult to differenciate from the MK.
A specialized armoured variant: The Bedford MK MPV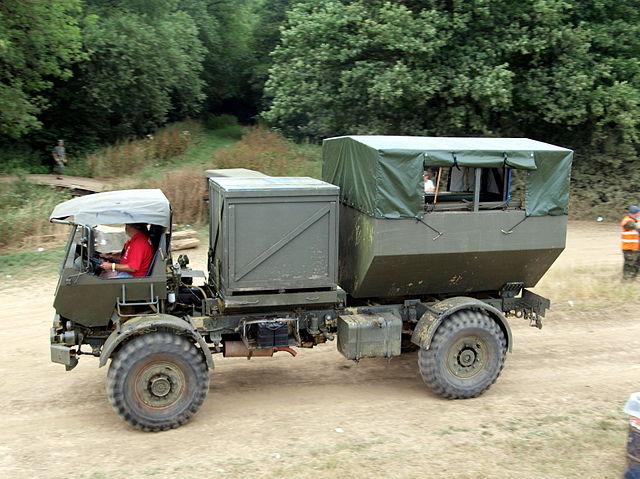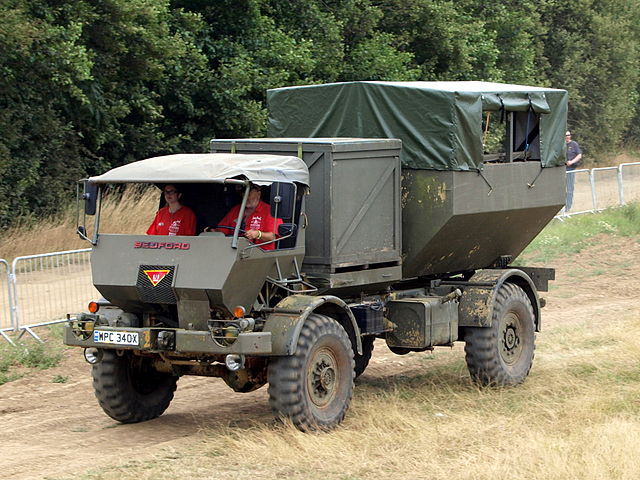 Bedford_MJ_mine_protection_truck
The Bedford MJ Mine Protection Vehicle (MPV) is a rather obscure variant of the MJ, developed in UK in 1982. In fact the Casspir built originally by TFM (Ply) Limited, was based on a Bedford heavy commercial truck chassis, but rather the RL type. It seems to have been equipped with a diesel 5200cc, served as a testbed for mines and a possible conversion inspired by Rhodesian vehicles. It returned to civilian immatriculation in 1996, and had cranked up 29,533 Km on 05 June 2017. It is a regular sight on military shows in UK and the Netherlands. It had a V-shaped protected cab, a storage area behind, and the main troop compartment aft, uncased in a V-shaped structure, with rear doors access. According to the photos, this rear compartment could accomodate up to eight troops, facing each others. It was not enclose but tall enough to offer some ballistic protection up to the shoulders and head.
Source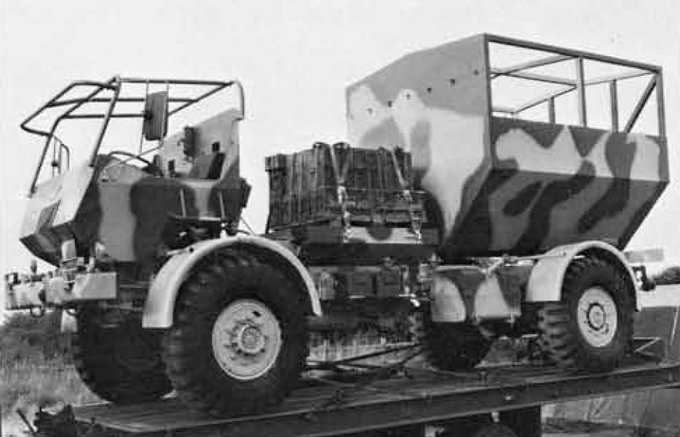 Modified MK in 1992.
Src/Read More
A quirky Beford TK reconverted as a camping car.
JANE's Military Vehicles and Ground Support Equipment, 1985
Army Sustainier Magazine. RNZALR. August 2010. p. 41, Issue 2.
"Repairs to the Heavy Workshop RL Bedford". armymuseum.co.nz. Retrieved 6 October 2016.
On motor-car.net/
On armyvehicles.dk
On military-today.com
On trucksplanet.com
Model kits on scalemates
Video: Bedford MK restoration
Video: MK in the mud, Bovington
The Bedford RL "mine Cab" variant
Bedford on heritage Machines
Leyland on heritage Machines
On missing-lynx.com
On archive.commercialmotor.com awd-wins-mod-order
strategic-defence-review
the-specialist-models
red-turbo-bedfords
perkins-six-354-conversion-for-bedford-tks
wiki
Gallery of models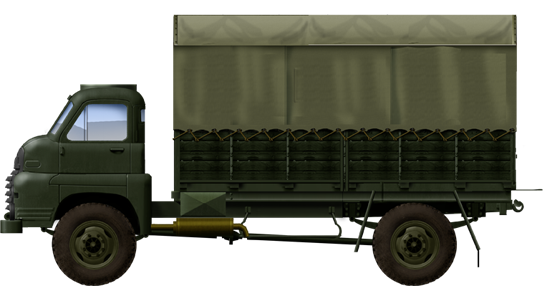 Bedford RL to compare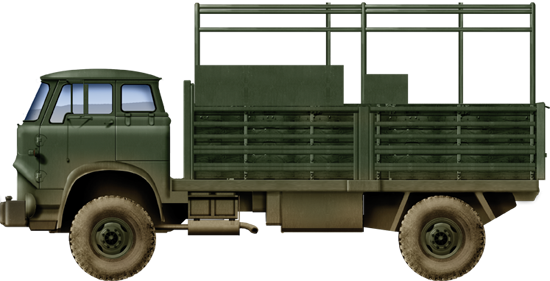 Bedford TK, in military service (1960)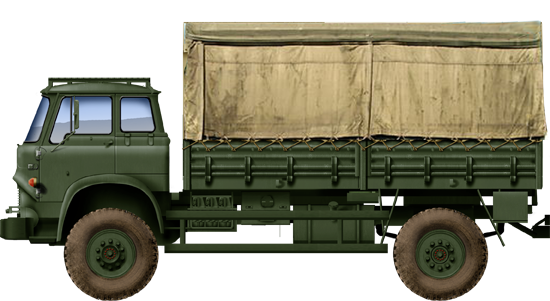 Bedford MK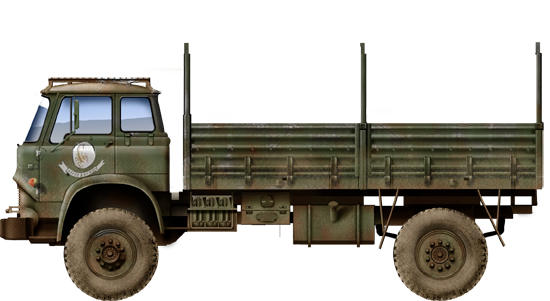 MK in Africa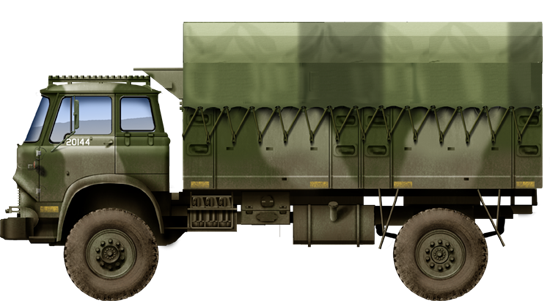 Danish MJP2 troop carrier. Other variants includes a trackway-layer, bridge carrier, AA-truck, HF radio, SIT-room, Office van, Communications and NBC-squad truck.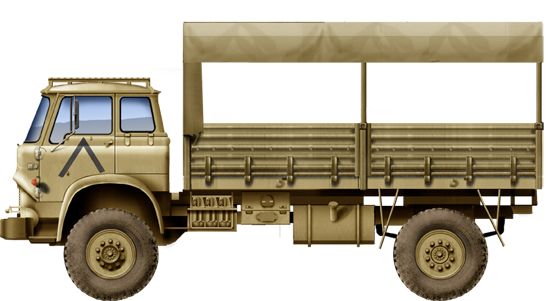 MK used during operation Desert Storm 1991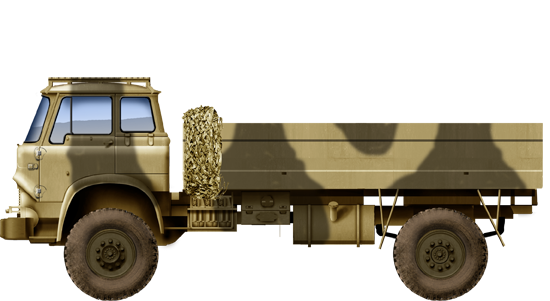 Omani MK, used as artilery tractor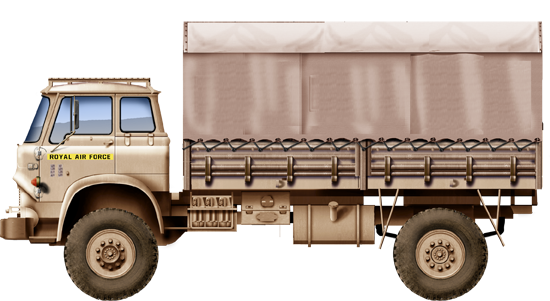 MK RAF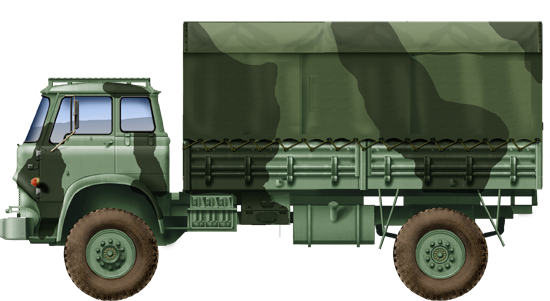 Bedford MJ of the Royal Army in the late 1980s
Photo Gallery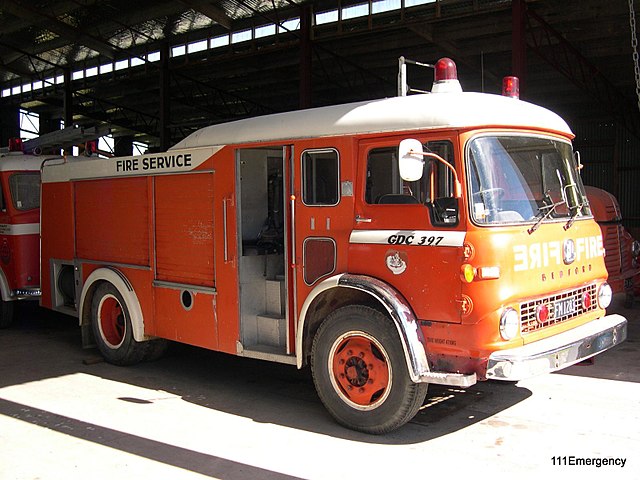 Firetruck variant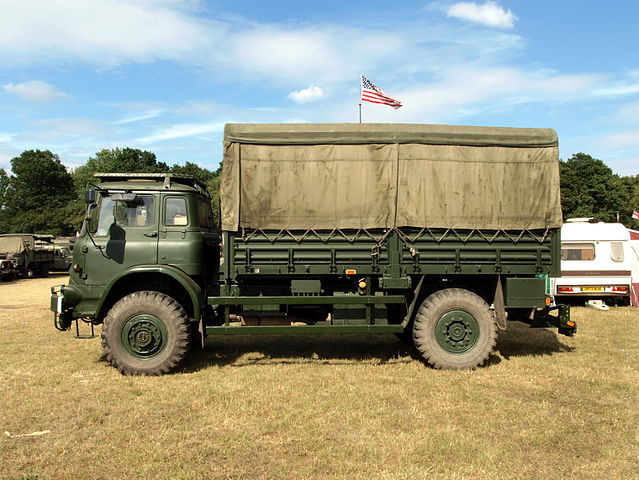 MJ series truck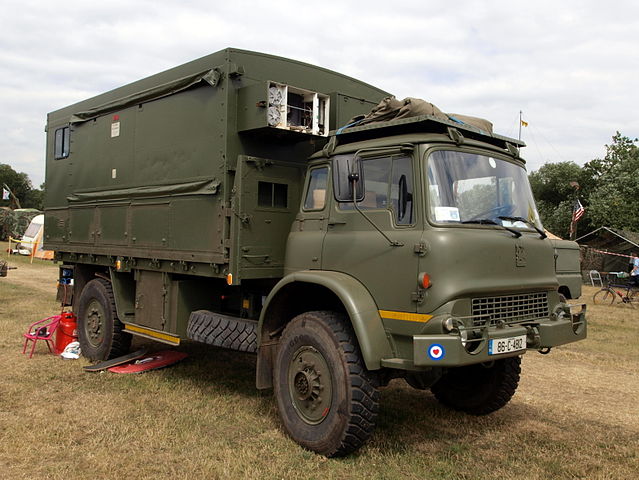 MJ series again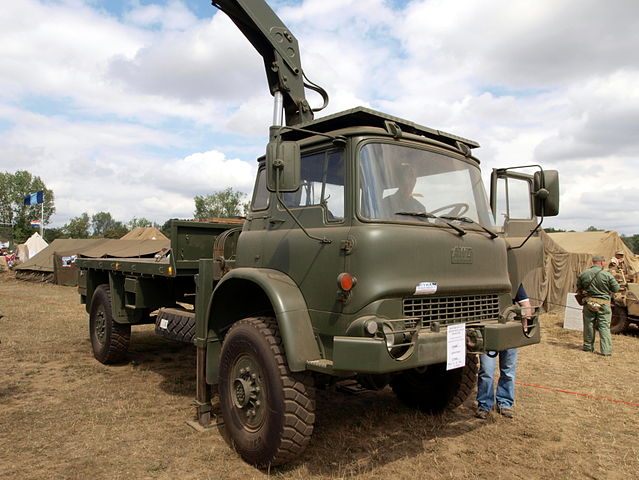 MJ series still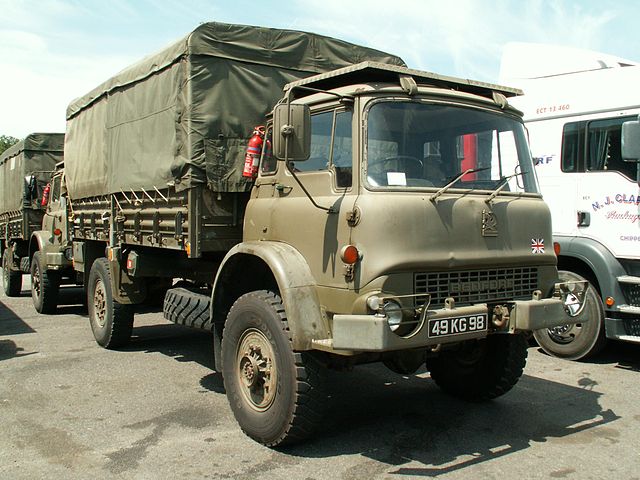 An MK GS type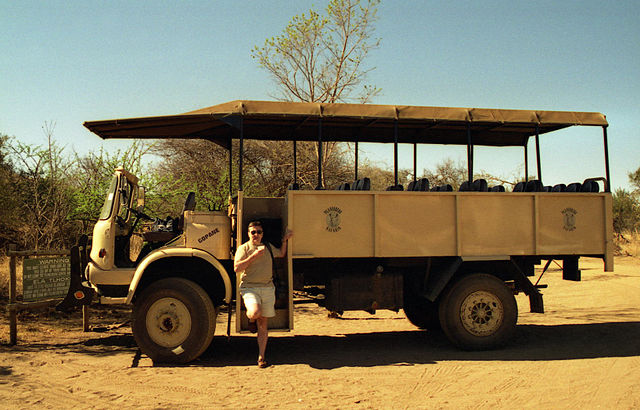 Bedford_MK-game_drive_truck_Pilanesberg_National_Park_South_Africa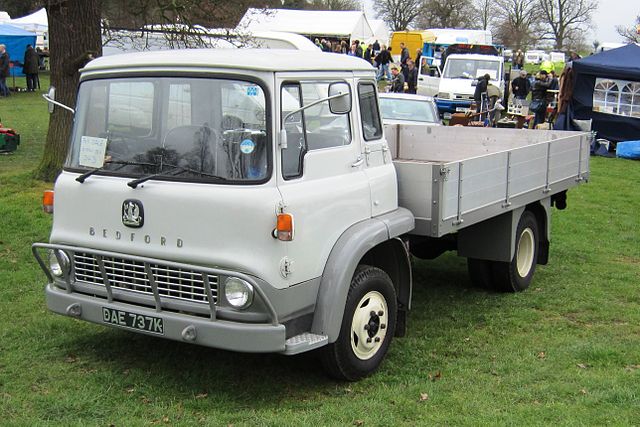 Bedford_TK_truck_3519cc_August_1971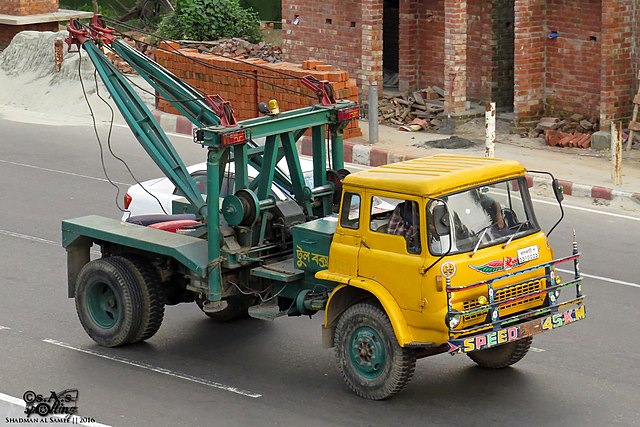 Bedford_TK_wrecker_Bangladesh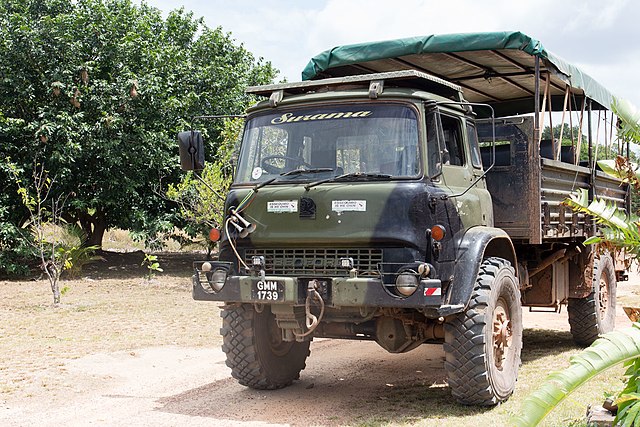 Bedford-2349_Ragnhild_and_Neil_Crawford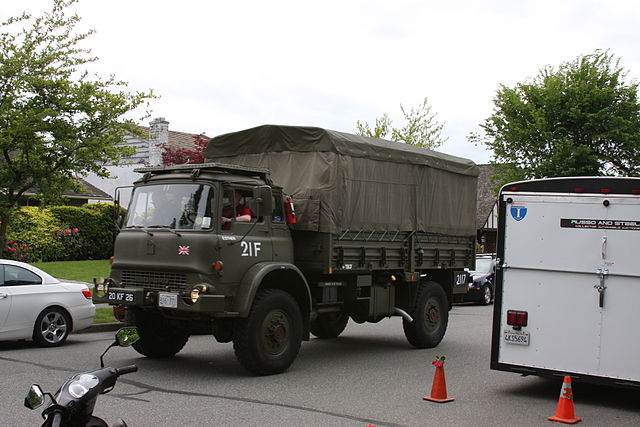 Bedford-MJ-series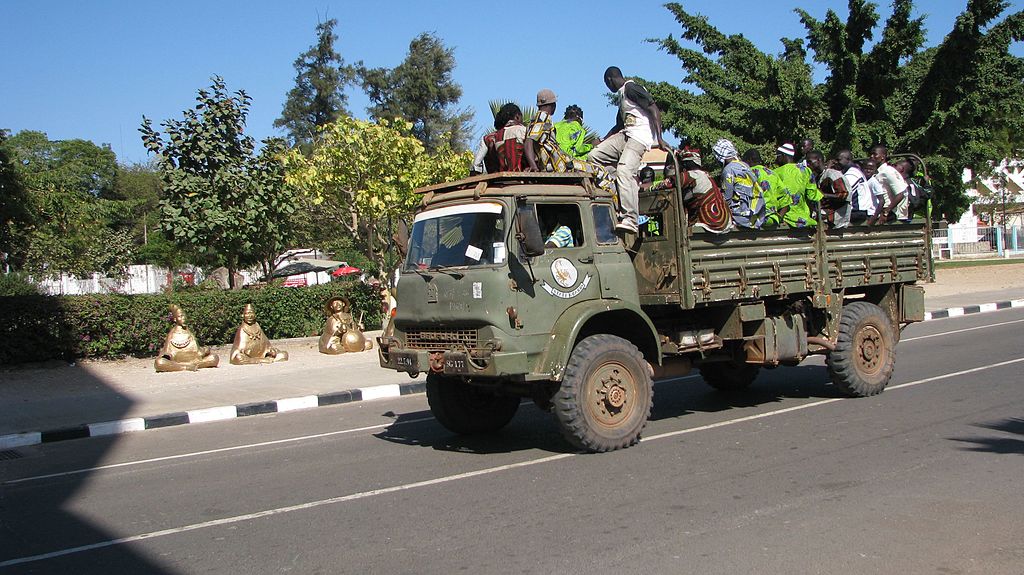 Bedford-MK-Independence_Day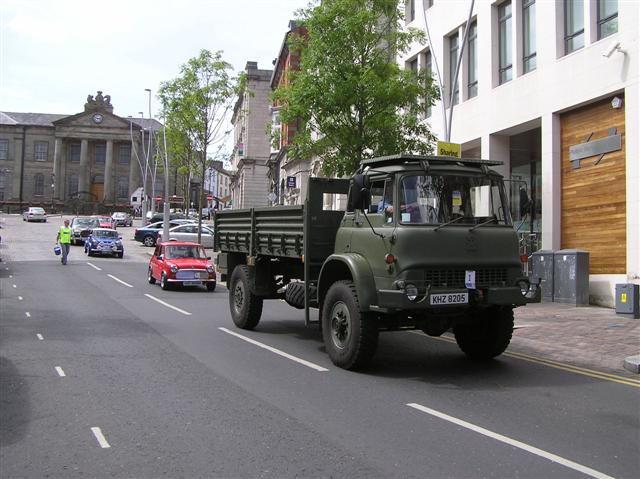 Bedford-Dump-Truck-Marie_Curie_Action_Care_Rally_Omagh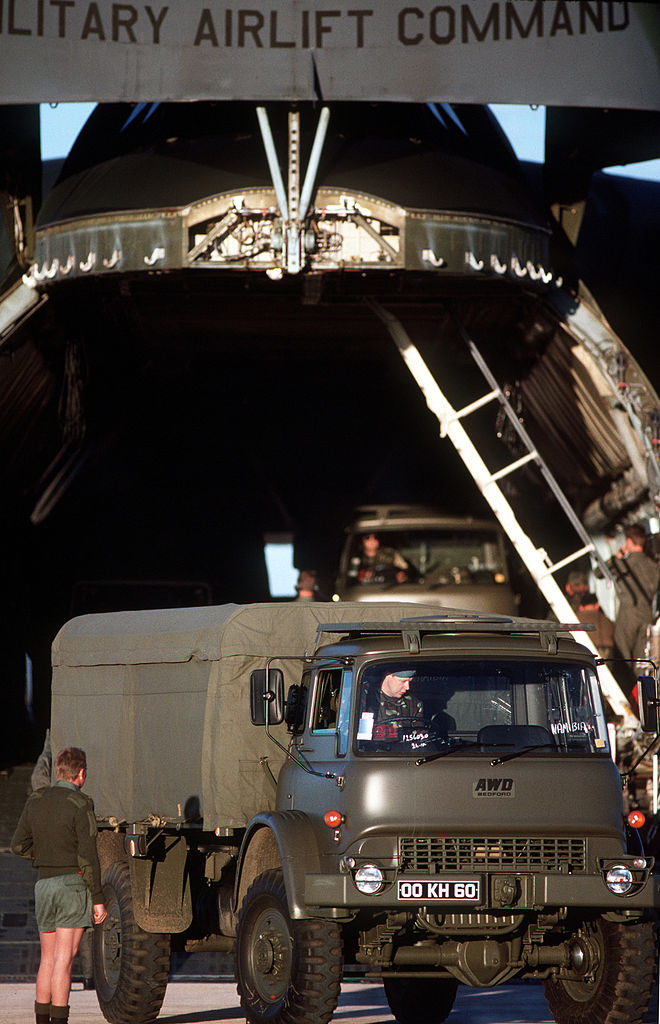 British_Bedford_4x4_truck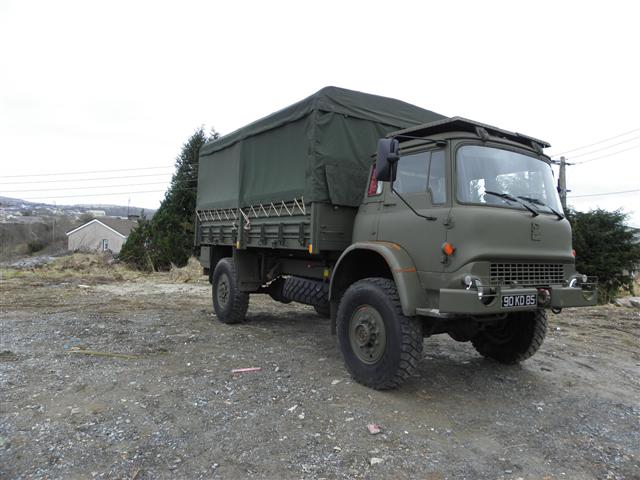 Ex-army_truck_Letterkenny_geograph.org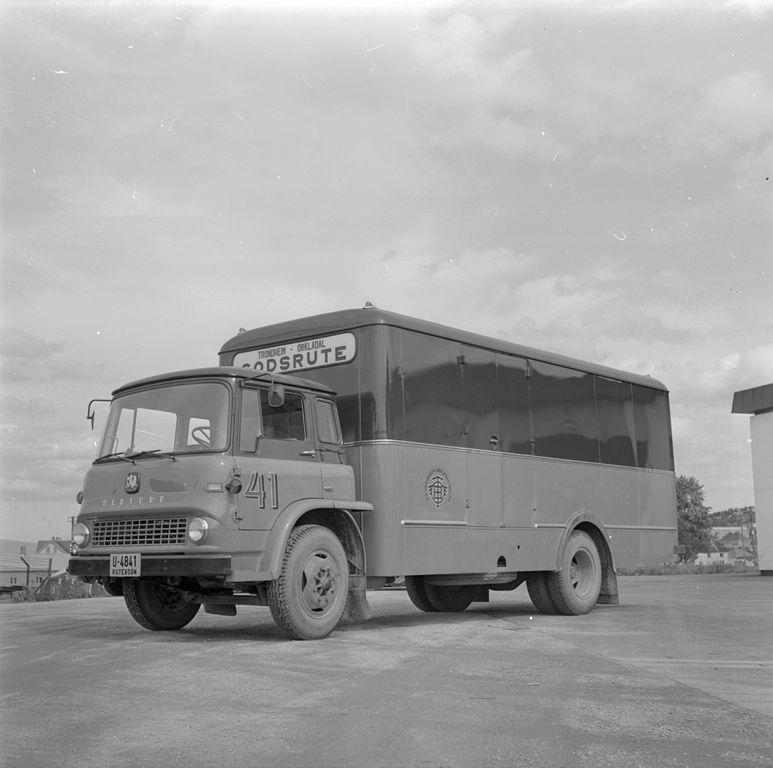 Godsbil FB Bedford MK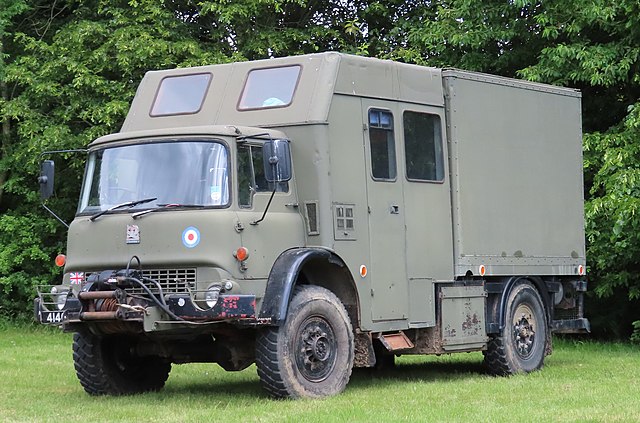 RAF Bedford MK
A winter camouflage Bedford MK (pinterest)
---
Axis Trucks

Purchase this pagemarker and support the site !
Sd.Kfz 2, 6, 7, 8, 9, 10 and 11 were half-tracks designed just before the war as prime movers, to carry supplies, ammunition, personal, and tow artillery. Many were also converted during the war as armored versions carrying AA FLAK guns (Flakvierling, 37 mm, or the legendary 88 mm Rheinmetall als used as tank hunters), or were converted as nebelwerfer (rocket launching armored vehicles). They were built by Hanomag, Steyr, Mercedes-Benz, Bussing and many other manufacturers until 1945, over 20,000 half-tracks.
---
Cold War & Modern Vehicles
Modern Trucks