About Praga
Bearing the name of its residence city, "Praga" was founded in 1907 for the business of motor cars, as a venture between entrepreneur František Ringhoffer and the First Bohemian-Moravian Machine Works, later ČKD factories, also involved in tanks production for the Czech army. Ringhoffer departed in 1909 while the name Praga was definitively adopted. Licence production vehicles from Isotta Fraschini helped the company to start its business in what was at the time the Austro-Hungarian Empire. It also started to supply engines and gearboxes, even to aircraft. After WWI, the company started a restructuration and by 1929, merged with ČKD.
That same year its BD motorcycle was re-branded and distributed as a Praga, replaced in 1932 by the BC, but this was discontinued in 1933. The company from there forcused on tank production. Adter the invasion of Czechoclovakia it fell under German supervision, now a part of the axis industrial effort. For this, the factories were razed by air raids in 1945. The company also provided artilery tractors for the Czech army, most of which were reused by the Wehrmacht. Let's cite the Praga T-3 (1935-1941), T-4 (1935-1939), T-6 (1937-1944), T-7/8 (1937) and T-9 (1937-1943), tailored according to the artillery size.
After WW2, the rebuilt factories were tasked to produce trucks and bus, as there was a real need in Czechoclovakia. Nationalized in October 1945, under Soviet supervision at first, the company also started to produced Passenger cars like the "Lady" until 1947, used by the country's elites, and of course developed a "universal" off-road truck for military use, the Praga V3S covered here, which was derived into multiple variants and produced until the end of the Warsaw Pact. In 1985, Praga tried to replace its V3S with the UV100 and UV120, which stayed at prototype stage.
In 1992, Praga tried again with the UV80 (Produced 1992-2001) which effectively replaced the V3S as multi-purpose 4x4 medium truck. In 2006 Praga was purchased by International Truck Alliance and the factories relocated in Lublin, Poland. Later it returned and became Praga-Export s.r.o. unveiling a race car, the Praga R1 (2012) to return on the manufacturer's map. During its operation, Praga manufactured a serie of trucks outside the V3S, certainly it's more famous of all.
Praga N (1915-1931) - 4 ton truck (4x2)
Praga TN - used for the Romanian ČKD TN SPE armoured car (8 built)
Praga RN (1933-1953) - 3 ton truck (4x2)
Praga RND (1934-1955) with a diesel engine
Praga RV (1935-1939) - 2 ton army truck (6x4)
Praga ND (1938-?) - 7 ton heavy truck (4x2), stopped by the war
Praga A150 (1947-1951) - 1.5 ton light truck (4x2)
Praga V3T (1949) - Medium 3/5 ton 6x6 truck (prototypes)
Praga S5T (1956-1974) - 5 ton truck (4x2)
Design Development
The post-war situation in Czechoslovakia was shaky to say the list. The new Czechoslovak army had to be content with a very large and disparate collection of military trucks or various origin, Local, Italian, German, Russian, and American via lend-lease. This complicated maintenance, and was aggravated by their general poor technical condition. Logistics and maintenance post 1945 needed a great change in standardization according to the new policies of replenishment and unification. At last the army received the new Praga RN and Praga A 150 trucks, essentially civilian types with bad off-road characteristics.
Development of the Praga V3T
In 1947, the General Staff of the Czechoslovak Army issued requirements with a universal model which can replace all trucks in service, with good off-road caracteristic and rugged, with military accessories. Load capacity was fixed at 3 tons off-road, and up to 5 tons on road. The specifications also called for a ladder frame with rigid axles, and air-cooled engine. Projects based Western vehiicles like the Ford CMP proved to be politically and economically impossible now that the iron curtain has fallen, especially post-February 1948.
Autovývoj Mladá Boleslav started work on the civilian-derived V3T truck, based on the Praga N5T in development. The intent was to procure not only a "universal" military truck, but one that can be reconfigured to the civilian market and back, with many shared parts and systems to lower the costs. Czechoslovak Automobile and Aviation Works (ČZAL) was to participate in mass production as others. Army and ministry pressure to get the two-axle V3T and and derived 3 axles V4.5T into production led to rushed development, and the protoyypes were riddled with problems.
Enters the interim truck, Tatra 128
The interim Tatra 128 (1950)
Initial schedule for the V3T was to start production by September 1950. But it proved impossible to meet this deadline. Final assembly by Auto-Praga, was eventually blocked by the ministry and instead moved to Tatra Kopřivnice. The management of Tatra opposed this, while its own engineers and designers came with the Tatra 128 instead, using the trusted and well-produced ten-ton Tatra 111. By February 1951, the Tatra 128 started a serie of comparative tests with the V3T, emerging from it victorious. However, concept and weight were out of the specifications, whereas its weaknesses became apparent in this regard. Production of the Tatra 128 could start quickly however as promised, and the vehicle was approved for production, and ordered by the Ministry of National Defense as an interim vehicle until a definitive truck could be procured, supplied until late Indeed, 4,062 trucks were soon supplied to the Czech Army.
Failure of the V3T and replacement by the V3S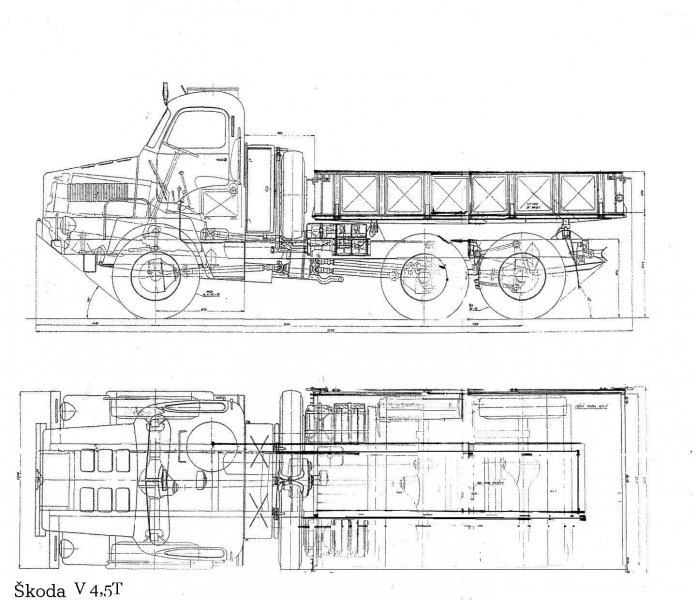 Technical drawing of the Praga/Skoda V3T
At the root of its development, was a 1950 requirement for a new Czechoslovak-buit equivalent to the Soviet ZiL-150 but also took inspiration from the Studebaker US6. Soon after decision was made to start production of the Tatra 128, the end of June 1951, a meeting was held in the State Planning Office about how to obtain the new intended truck. The Military Technical Institute (VTÚ) was to procure new specifications by July. It was issued by the General Staff on August 28, 1951.
On August 31, VTÚ issued technical conditions for the new 6×6 truck stringent to meet, notably:
-The use of experience and solutions of proven off-road vehicles
-Adaptation of design solutions seen on the Soviet type ZiS-151
-Max weight up to 5,500 kg
-Payload 3,000 kg in the field, 5,000 kg on road
-Total hight no higher than 1150 mm
-Top speed 65 km/h
-Three-axle chassis with two wheels mounted on the rear axles
-Ground clearance 550 mm
-Tatra diesel air-cooled engine no more than 570 kg
-Four-speed gearbox
-Air brakes.
-Minimum speed of 4 km/h at the highest engine speed.
In order to develop and build the vehicle answering these new requirement, called the V3S, a design center was established at Auto Praga in Libeň, as ordered by the director of the Czechoslovak Vehicle Manufacturing Plant. Praga's Chief engineer Jan Lanc was appointed as lead designer and the development team included also designers from AZNP Mladá Boleslav, from the team designing the V3T and V4.5T. Work started on September 3, 1951, still in the context of labor shortages and time pressure, the team worked laregly overtime and the weekends. Technical solutions from foreign and domestic vehicles were discussed and adopted and to make things faster, a modified cabin of the Tatra 805 truck was used. The new Tatra 908 engine was to be its centerpirce. It was an air-cooled in-line five-cylinder engine 6.2 l and with a planned output of 100 hp.
The Praga V3S prototype is ready and approved
The final design was submitted to the acceptance bureau (MNO) on September 20, 1951, compared by VTÚ to the ZiS-151 and gained a generally positive opinion from the Main Automobile and Tractor Administration. It was approved and on September 27, the Ministry of General Engineering (MVS) looked for subcontractors, Auto Praga being designated as final manufacturer. The first prototype still waited for its engine and the design bureau was dissolved on January 2, 1952 while the Tatra 908 engine was only installed on February 10. A first V3S was ready for field tests on February 20, 1952. On the 26th, acceptance, technical and tactical trials too place, and the T908 engine was found weak, delivring just 90 hp. The crankcase also cracked and the cylinders burst. Praga proposed to fit instead their own water-cooled six-cylinder N5T, agreed by the army to continue the tests, but denied for production. Tatra then announced a better worked-out, reliable T912 engine by July 1952.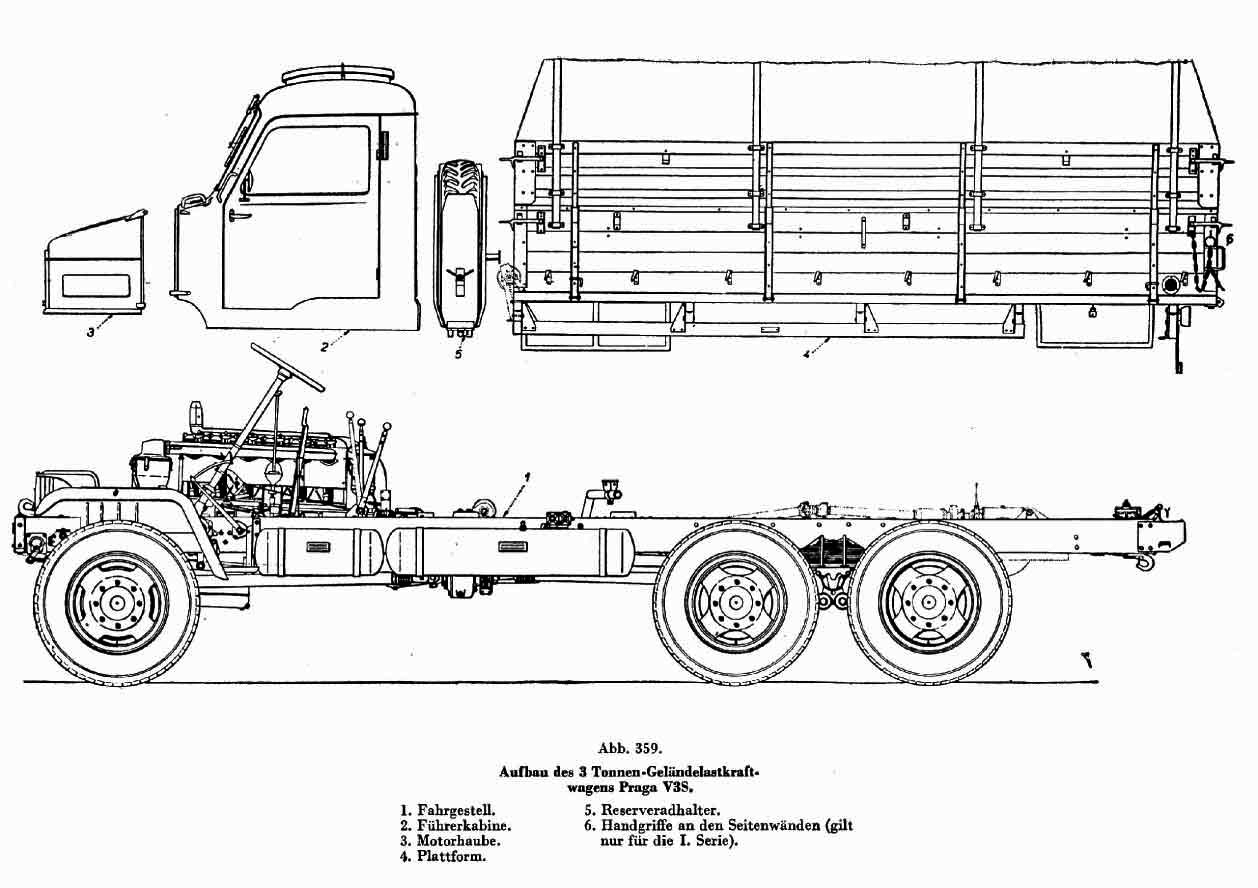 V3S Chassis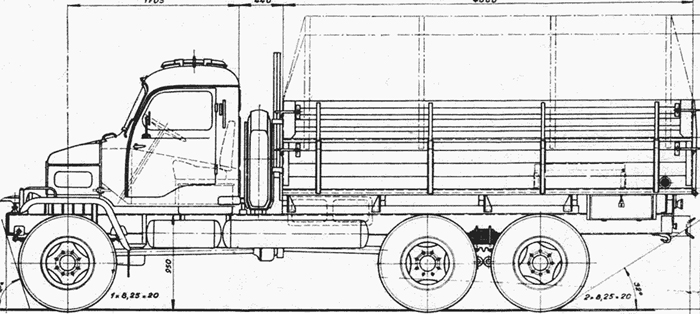 V3S Plan
Trials and modification of the Praga V3S
On May 13, 1952, the Minister of National Defense and of General Engineering issued an order to proceed with state tests of the V3S. The commission tasked of evaluation asked for a 125 km circuit, startiong on 21 May, and a second prototype fitted with the new T908 engine was to start trials when it caught fire due to a short circuit. Tests went on with the first prototype, showing it could tow the 105mm and 122mm howitzers or a 37mm anti-aircraft gun on and off-road.
On June 4, 1952, a 3rd prototype, with the T908 engine arrived to be tested, and received in between rear axle differential locks, as well as a winch, while fuel tanks were moved from under the seats to the frame, protected by the ladder beams. The accumulator was relocated under the driver's seat. The 1st and 3rd prototypes also proceeded to stress tests with wading, fording water, driving in low-bearing terrain, and alwaus compared to the ZiS-151, Studebaker US6 and Tatra 128. The V3S was priased for its high passability between high ground clearance, low ground pressure, all appreciated by the commission. It was question of fording no less than two meters but this was the only requirement modified, to be not above 0.8 m.
Until then, only short distances has been made ands it was asked for the 3rd prototype, the closest for production to undergo a 10,000 km tests on and off-road drives by the summer of 1952. Once disassembled the wear and tear of the structure and mechanical elements was evaluated. It was proven quite durabl and satisfactory. The ladder frame chassis, cabin and bearing seals, cross-joints in the drive shafts, starter and dynamo were all however not proven durable enough. More prototypes were needed while the commission issued a generally positive opinion so n July 12, 1952, the General Engineering Minstry ordered to prepare production. On 31 December 1952 the new vehicle was noted as only standard off-road 3-ton truck.
It was supposed to carry troops on the flatbed, carho, as well as artillery ammunition and crew, in a towing configuration. A further 52 modifications were made to have the vehicle militarized as much as possible. By order of the Minister of National Defense on March 29, 1953 it was declared ready for service as the "Automobil trágoj terrainní, 3 t" (or "V3S"). MVS received authorization to start production on April 2, 1953. Though, more prototypes were delivered to be tested in 1953 this time with the new Tatra 912 engine while fixing all issues saw a refinement in solutions later ported in production. Brake tests for example were peformed in March 1954. By May 1954 still many issues identified in 1952 had to be cured. In March-November 1954 two Praga V3S and two Tatra 805 were requested to be trialled in Soviet Union, controlling the procueement of it's Warsaw Pact member states. The committee appreciated the air-cooled engine and its drive axles with wheels reductions as its differential locks. But they estimated the vehicles still lacked in reliability and durability.
Design
For the development untile reaching prototype stage, designers were given only four months. Instead of startng from a black page, they resued all interesting featires of American and Soviet vehicles and went to design axle gearboxes positioned high above the wheels axis for better ground clearance, and great terrain passability. The tradeoff was to limit maximum speed to 60 km/h (37 mph), compounded by the relatively low torque of the engine. The V3S overall proved anyway quite fit for its job, being durable, popular and extremely adaptable. It was also well exported over time and meny still runs today in specially and heavy work use, in particular those equipped with an hydraulic arm. Many are used for logging and construction/demolition work.
Chassis and specifics
The chassis was a classic ladder-type, resting on left suspension sets on the front axle and rear twin axles (doubled roadwheels for ten military grade tyres total). There was no central inflaton system. Drum Brakes were used, air-powered. The original all-sheet metal cabin from Karosa Vysoké Mýto of the rar Cab variant presented three windows on each side with blackout shutters and double doors at the back, with windows. Interior equipment differed according to variants. The standard cargo truck had a flatbed aft, wooden-covered with wooden flaps, and tarpaulin mounting braces.
The vehicle was unarmed, but there was a caracteristic well hatch on the right side of the roof, just above the co-driver. There were two seats only in the cabin, and the co-driver could therefore use the hatch for observation and man a VZ.59 light machine gun for ground support and AA defence. The vehicle was unarmoured and not amphibious. It could be carried by heavy duty soviet planes of the time in the 1980s like the Ll-76.
Powerplant
The engine is an air-cooled diesel six-cylinder "Tatra 912-1" (modified engine from Tatra 111), with a capacity of 7412 cm³, direct fuel injection and overhead valves. It is relatively noisy, but works reliably even in extreme conditions. Climbing ability is up to 75% (without tow). Ten wheels (rear are four dual, front are two) help the truck not to bog down in soft soil, therefore it does not experience any problems in forests or in the field. Consumption is 30 liters of diesel per 100 km, the fuel tank has a capacity of 120 liters. The truck is able to get over 40 cm high perpendicular obstacle, wading depth is 80 cm. There are two batteries (12 V, 125 Ah), they connected in parallel during traffic, but serially when engine starts. The payload of 5 tons was only measured on paved surfaces, it was reduced to 3 tons practical on rough terrain.
Mass production
Serial production officially started by in 1953. However thtat year only 185 were delivered. The actual start, after fully geared for mass production and some process changes, started really at the end of 1954 but production data differ among sources, complicated by military and civilian orders, vehicles that went to one and then the other category, conversions and variants. The first which went straight to military units, ended driven by soldiers with a basic training, quickly revealing any shortcoming, to verify their characteristics and reliability in real conditions.
After an exercise at VVP Doupov by late 1954, a report written afterwards highlighted that it perfectly met the right tactical and technical requirements, with room for development in order to fulfil not only its assigned tasks but to be modified for taking others. Shortcomings were few, but still mentioned teething problems due to poor production quality standard of the time, and something that would come bacl time and again, its low specific power, especially evident off-road with heavy tow. The Army soon discovered how to avoid towing too heavy equiments in the field. This process went on, with continuous implementation of solutions along the 1950s.
From 1956, the military administration required 7,876 flatbed V3S and 2,185 V3S cab cars to cover peacetime needs. Discussions about how to rapidly ramp up production in the event of war, resulted in asking for a complement of 28,800 trucks, 17,300 of which would be stored in reserve and the rest resold to the civilian market, marked as "mobilization reserve". In fact this increased with the replacement of the old Tatra 805 type and WW2 models, most of which were worn out.
By the 1960s, Praga was already starting production of new models, and the V3S's manufacture was transferred to Avia, in Letňany (Jiří Dimitrov plant), until June 1964 but still manufactured gearboxes and other components. From June 1968, the chassis went to Opravy zemědělské mašíchna, and soon cabins and parts followed, in complement of Avia. Final assembly was made at Vinoř. It all stopped in 1988, with 60,000 vehicles assembled in Vinoř making for a grand total of about 130,000.
Still in the 1980s the Government Decreed a production transfer to the Bratislava Automobile Works (BAZ), gradually. BAZ first models came in 1985-86, providing still components from Avia and from Vinoř. By late 1986 full assembly was reached, with full autonomous production by mid-1989. Of course with the end of URSS and Warsaw Pact, it ended in 1990. Nevertheless, this made the Praga V3S the longest-produced Czechoslovak truck and one of the longets production of any trucks in history.
Modernization & Variants
Many changed were brought up, especially during the early production phase in the 1950-60s: These were minor modifications for extra reliability but the general design was obsolete in the 1970s already, with a number of issues that were never really solved. It was planned to replace the V3S entirely by the mid-1960s with the Avia S 430 developed at the time, but the latter did not fully meetf ČSLA requirements, which combined woth the limited insudtrial output of the company, led to the cancellation of this program.
In 1980s the replacement of the now antiquated V3S became urgent. Work started on a quite extensive modernization in two phases: M1 and M2, in succession, but still produced in parallel, respectively in 1983–1987 and 1984–1990.
V3S M1
The main issue was the weak original Tatra 912 engine. Lacking replacement it was modernized like the Praga S5T engine.
-Tatra 912-4 engine with 115 mm cyl? bore, for 8102 cm³ capacity
-New performances: 88 kW (120 hp) at 2100 rpm, torque 452 Nm, top speed 75 km/h.
-New fuel and air cleaner
-Centrifugal oil cleaner
-Gear ratios modified on road mode for main and auxiliary gearboxes
-Hydraulic control and an air booster for the clutch.
-New double exhaust muffler for noise reduction.
-Double outlet compressed air system
-Better electrical system with more capacious accumulators.
-Non-opening front windows (Fixed glazing to smplify production). The old ones were tilting.
-New Windshield washers
-New windshield Wipers, electric rather than pneumatic, with separate motors
-Redesigned bumper's contour with bar outlines.
V3S M2
It is sometimes described as the Praga V3S-2. Includes all M1 modifications. This penultimate evolution argeted driver comfort and more modern interior and exterior:
-Two-circuit air brakes connected to a four-circuit air pressure system for brakes and trailer hitch
-New adjustable, air-suspended driver's seat.
-Batteries moved under the left side of the booth.
-Dynamo replaced by an alternator
-Electrical system upgraded to 24 V.
-Front axle, telescopic shock absorbers
-T912-5 engine, multi-fuel. Performance characteristics very close to the T912-4.
-Cabin interior modernized
-Better engine cover insulation.
-One spare wheel removed and replaced by a tool box.
-Relocation of the main headlights to the bumper's cross-sections
-Two side cabin direction indicators mounted.
-Large battery box
-Headlights relocated in the bumper
-Detail settings and under-chassismodifications for better fordability and protection.
All of this had an impact on the weight, with degraded performances, which also explains the end of the production.
Further Modernizations
Despite the production ceased in 1988, scored of extra modifications led to improved models, made on demand by small workshops and without industrial support. Sme were intended to prolongate their opeation, others to just improve omnfort and modernize the interrior and introduce several modern features notably due to changes in regulations, especially after the Czech Republic integrated NATO and the European Union.
Some companies started to offer modernization programs focusing on economy and comfort, and went alongside replacement/repair work:
P-V3S M6
The P-V3S M6 for example had a large mesh cover between fenders. It was proposed by the Military workshop 081 Přelouč, s.p. by the mid-1990s, but meeting success mostly with civilian customers:
-Water-cooled 4-cylinder Daewoo Avia engine for 76 kW (103 hp) (Meeting Euro I and II emission standards).
-Optional D 421.85 and D 421.90 (85 kW/95 kW) power units compatible with Euro II standard, all for 3596 cm³.
-New five-speed Praga 5P20M type gearbox
-Hydraulic power steering with mechanical booster
-Mechanical clutch with spring booster.
-Cabin hot water heating.
-Smaller engine cover and addition of a third intermediary seat.
-Modernized cabin controls and dashboard.
-Oprional front axle differential lock
-New large air intake cover between fenders.
-New modern headlights in the bumper, same as M2, oval or round
-Optional adjustment of the headlight from the driver's seat.
-Decreased curb weight for larger trailer.
-Top speed 80 km/h.
P-V3S M6T
Also called PV3S M8, it inclded a "trambus cab" from Avia. This was for standardiztion and temporary production stop of V3S hood cabs. In option it was possible to mount an extended cab to the rear, with a second seats row. Same engines, but the additional old D 407.02 engine. Curb weight further decreased. They met success with civilian customers, although the Czech army tested sone as container carriers.
It should be mentioned that by 2001, AOV Benešov offered a further modernization package, quite radical as it consisted in replacing the power unit by the Detroit Diesel HR 694 HT3 engine under license by VM Motori. This turbocharged in-line six-cylinder had a 4164 cm³ capacity with 100 kW (136 hp) and Euro III standard. Hot water heating was added and the dashboard modified. The vehicles modified were repurchased from army stock. Externally they only differed by two two horizontal oval openings under the ribbed hood.
Operation
The Praga V3S was designed, and served with, the Czech military. Several dozen modifications over time filled various needs, after the basic flatbed and rear cab. The flatbed kept its all-wooden bed with folding sides, and optional tarpaulin. Instead of a 5/3 tones payload, it could also load 22 soldiers, installed on foldable benches, with their gear stored beneath. The rear cab version could be accomodated as mobile workshop, ambulance, radio car, laboratory, chemical batallion vehicle, electrical support and mobile auxiliary power unit.
"Pure" military versions included two models:
-Praga 30mm vz.53/59 Ješterka (1959). The "lizard" saw action also in Yugoslavia and Iraq.
See the full article there
.
-130mm Rocket Launcher Vz.51 on Praga V3S (1956). Unarmoured variant on which a rocket launcher installed on the flatbed. It was designed from 1949 by Brno Armory and the VTÚ. It could be traversed to 360° and elevated to 45°. Extra 130 mm rockets were stored in bins froward/aft or under the main pivot table. The crew seated on a back bench. It was deployed as a Czech "Katiusha", alternative to the RM-51 mounted on ZIL-157 truck, and in the inventory until 1990. Many were sold in between to countries such as Iraq.
See also
.
On the civilian side:
V3S vehicles grew on the civilian market, put of 130,000 built, since extra orders in the early 1960s went straight to civilian owners, staying still "mobilizable". To this were added all the extra reserve storage vehicles, some of which are still waiting for a revival. The Czech army replaced them to comply to NATO standards in the 1990s. In addition to flatbeds, these civilian vehicles received tippers and were derived into special duty trucks, for water treatment, chemical treatment, mobile cranes such as the AD 060 and AD 080 (6 or 8 tons), fire trucks among others. Some were identical to those used in small numbers in the military until 1990. Civilian vehicles are often recoignsable as not having the roof hatch, or tilting windows.
Praga V3S specifications

Dimensions
6.91 m (272 in) x 2.31 m (91 in) x 2.92 m (115 in)
Weight, curb
5,470–8,650 kg (12,059–19,070 lb)
Weight, gross
kgs
Payload
Crew
1 driver, 5-6 personal
Propulsion
Tatra 7.4L Tatra 912-1 I6 diesel
Transmission
3+1 speed
Top speed
60 km/h (37 mph) Road
Fuel consumption
5 L Range km (road)
Suspension
Leaf springs.
Maximum range (on/off road)
600? km ( mi)
Armament
None
Production
Tatra 130,000 built
Read More/Src
On motomuseum-hostalek.cz: Everything technical and detailed
Dedicated Facebook group
On Valka.cz
On nakladaky.predseda.com
On klub-vm.eu
The praga V3S in movies
Praga M53/59 on Tank Encyclopedia
Extra photos
Wiki
Videos
Road Test
Off road footage
Illustrations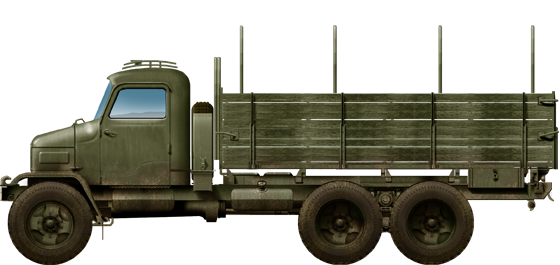 Basic vehicle in 1953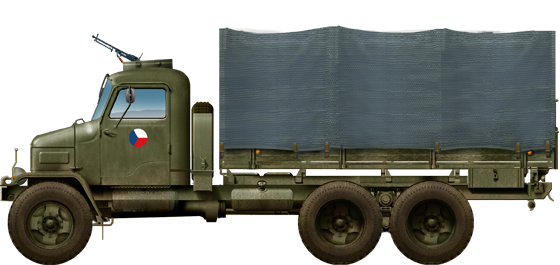 Fully equipped Vehicle with tarpaulin of the Czech Army in the 1960s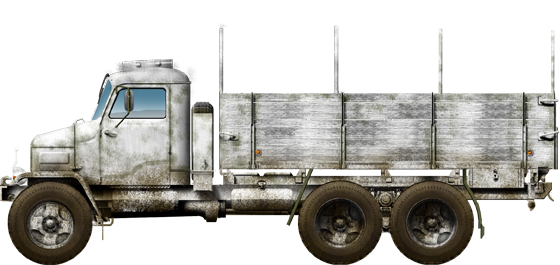 V3S in winter exercizes with a washable paint

V3S Dump Truck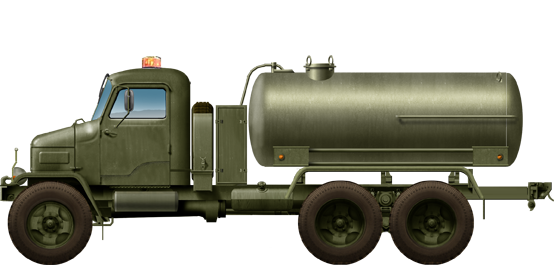 V3S Tanker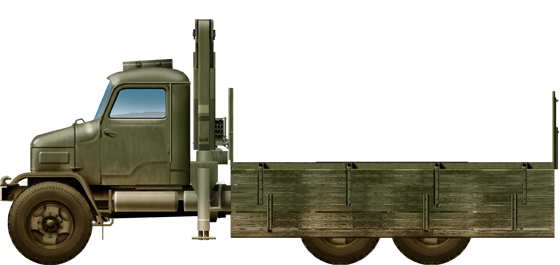 V3S with HS3000 hydraulic arm used by the army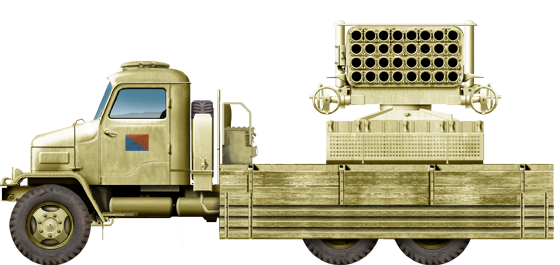 Vz 51 used in Iraq, 1991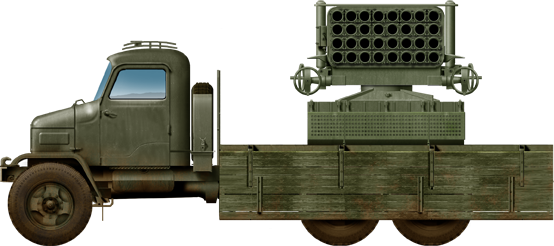 Vz-51, deployed with the flatbed panels down.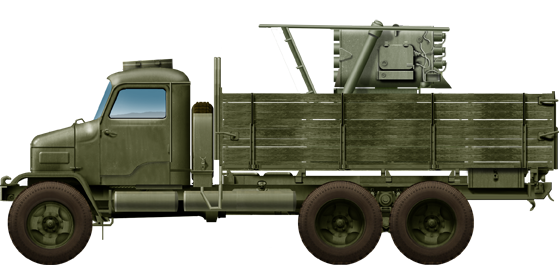 Vz-51, with the launched in road configuration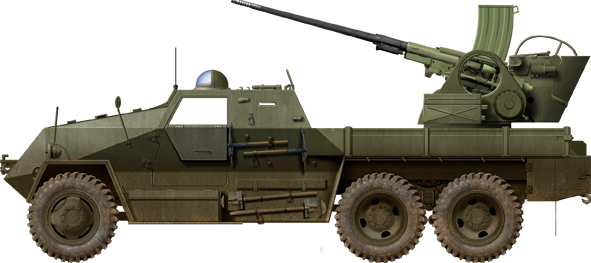 Praga M53/59 "lizard", the derivated SPAAG, 1959.
Photos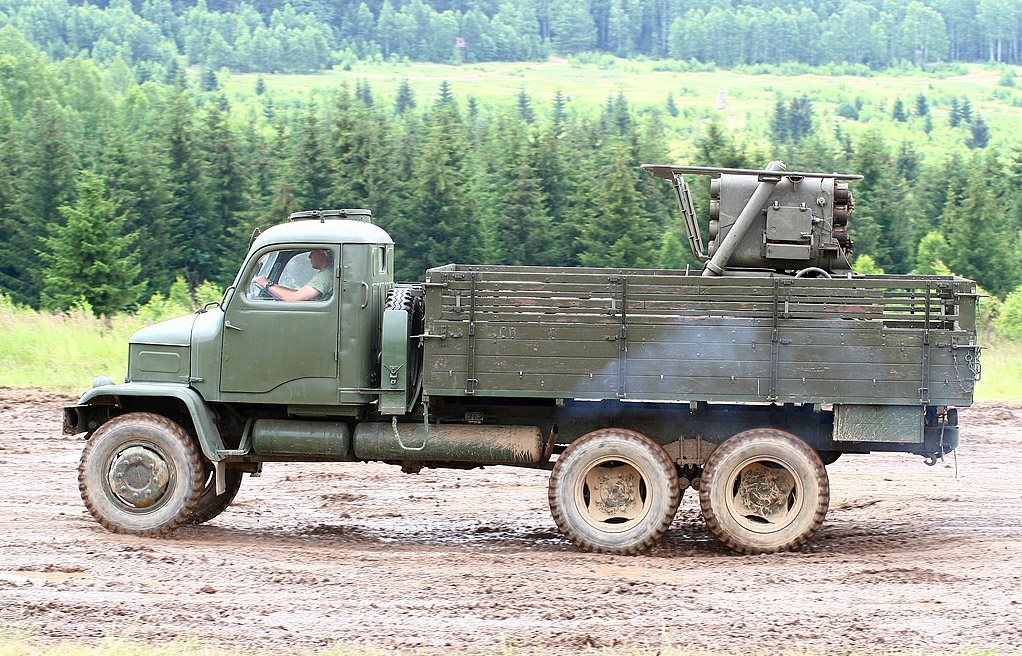 Wz.51 truck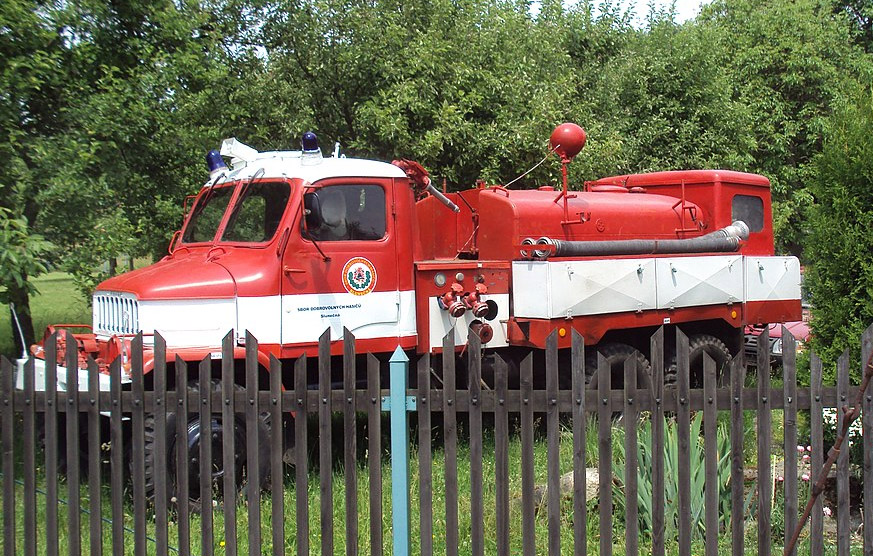 VS3 ASC-16 Firetruck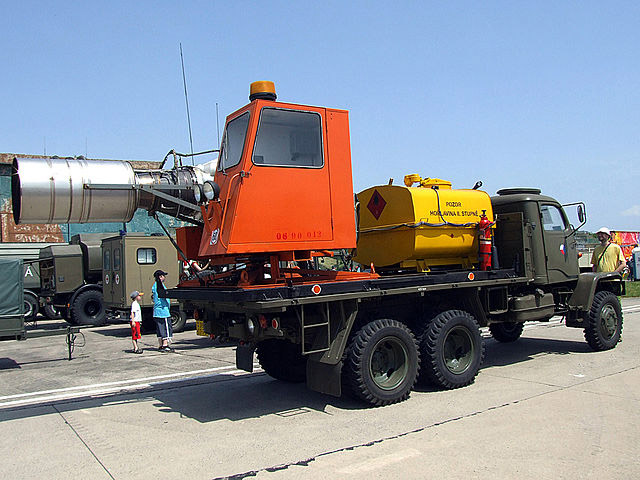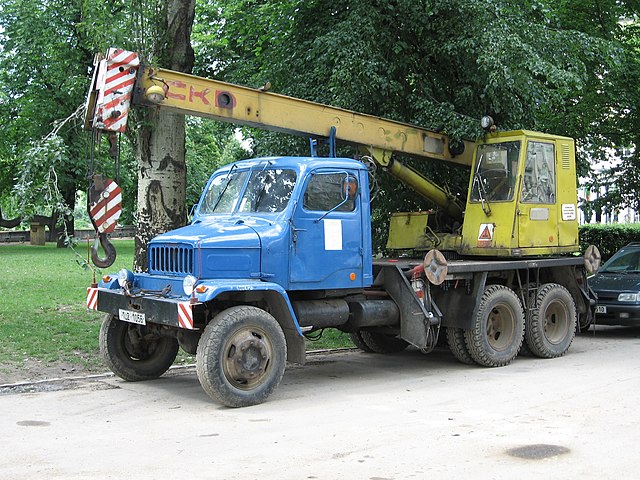 V3S Oz 88 crane truck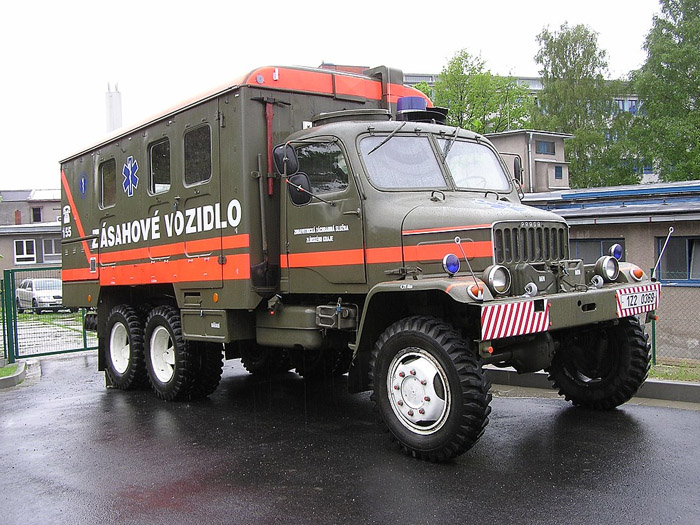 V3S X-Ray Cab vehicle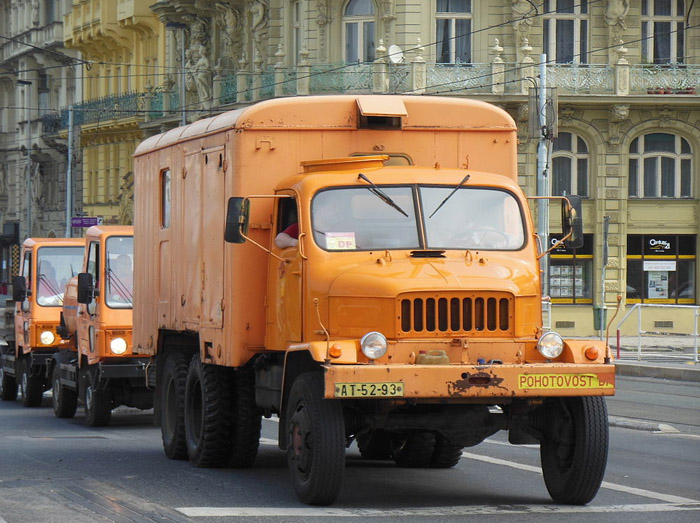 M1 Cab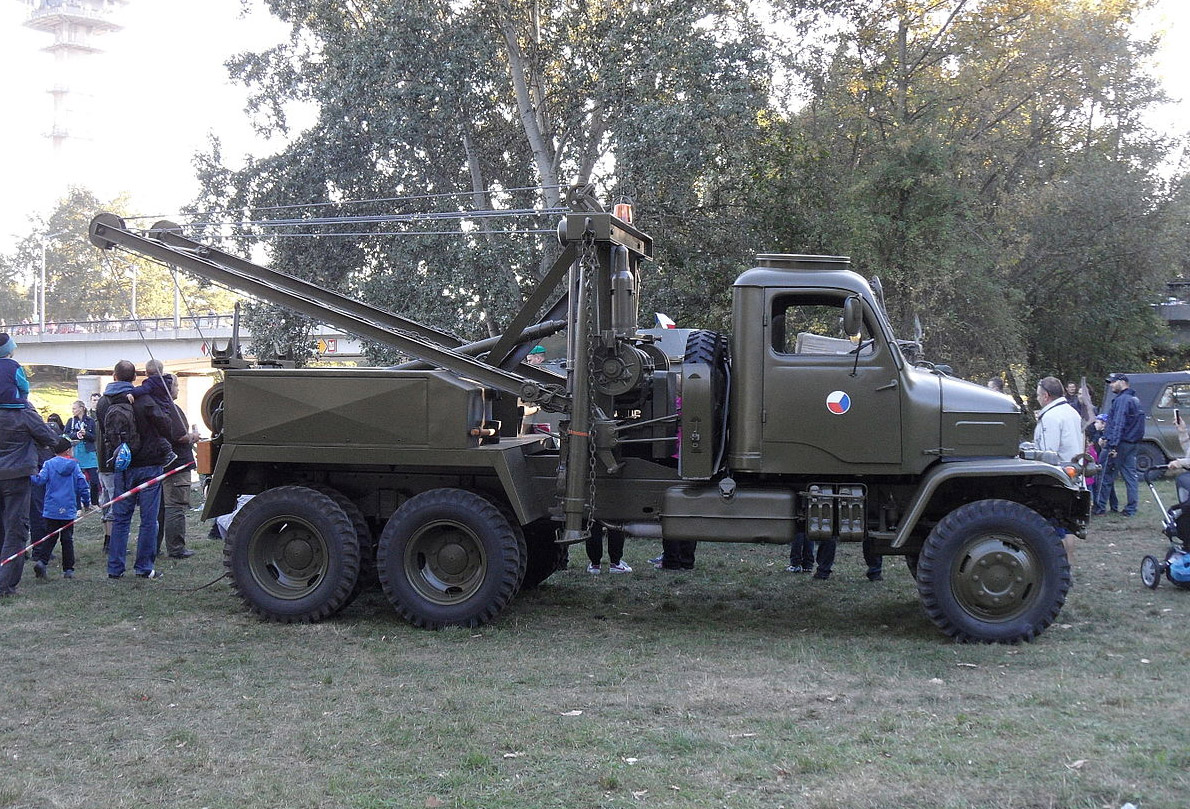 AV3 Wrecker variant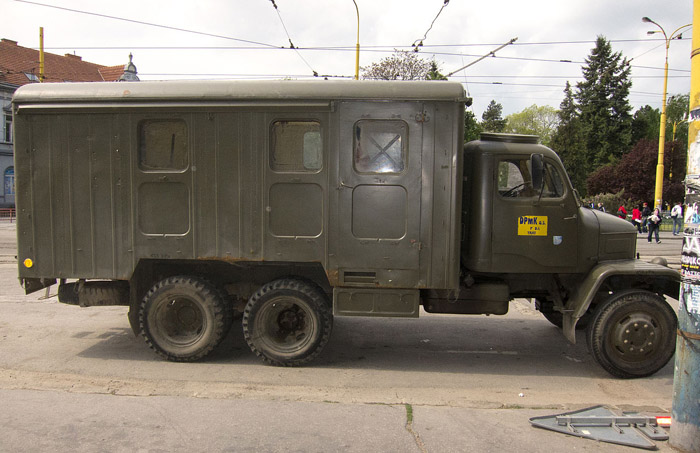 Universal Cab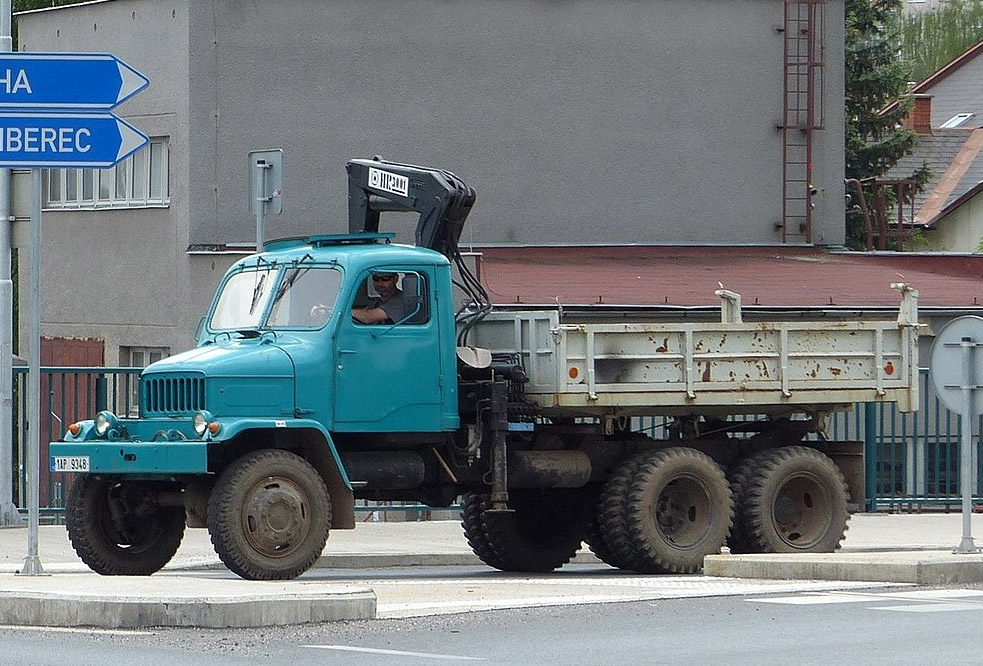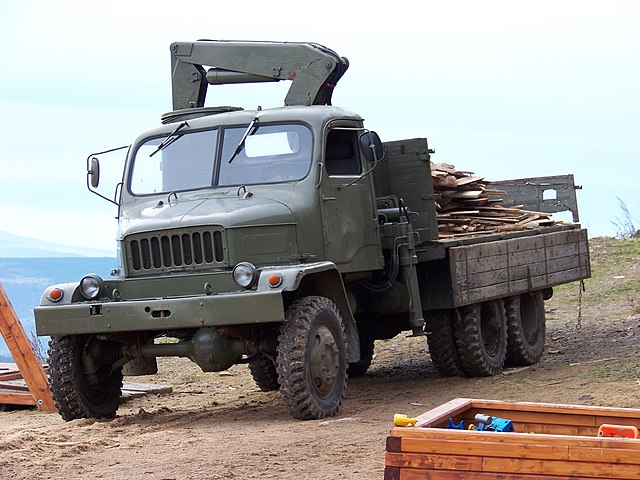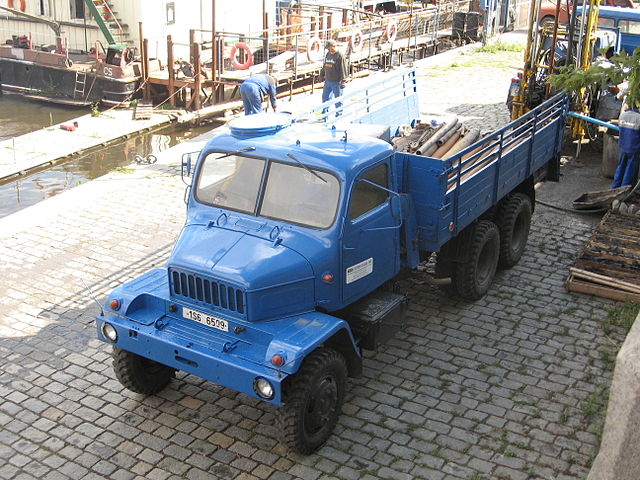 V3S utility flatbed cargo with HR3001 Hydraulic Arm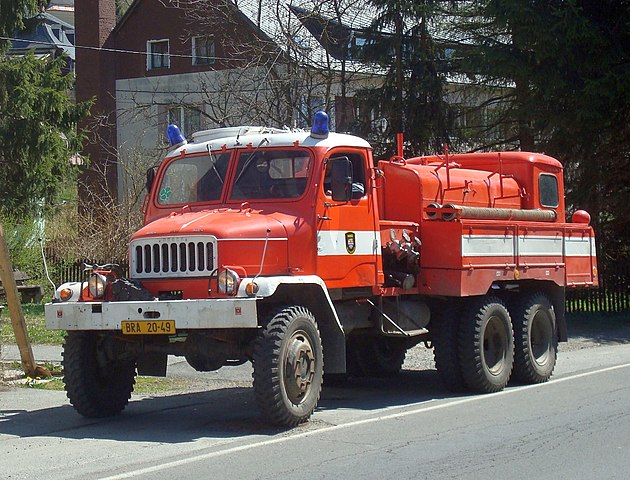 V3S Fire truck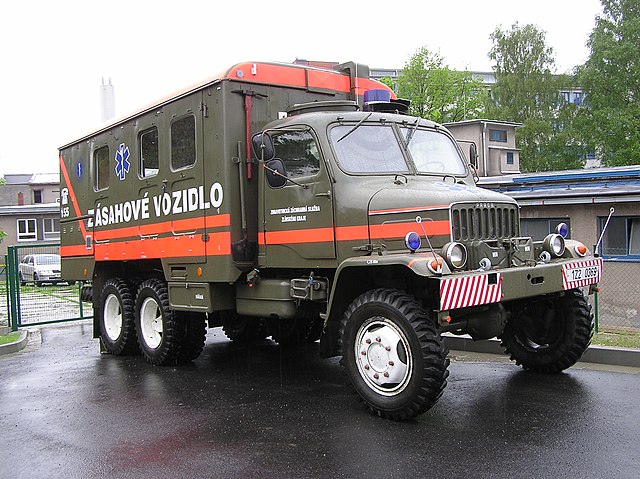 V3S Ambulance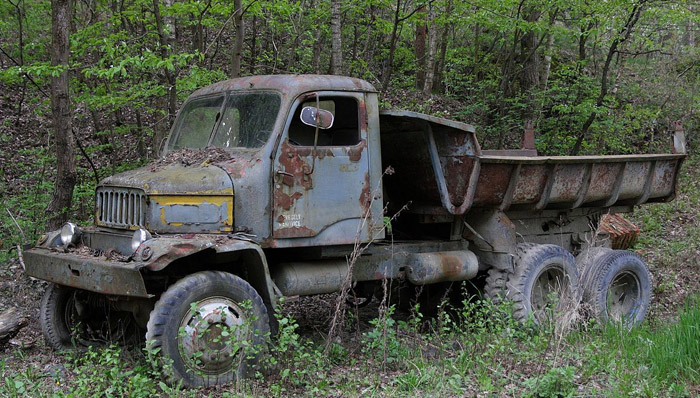 V3S Dump Truck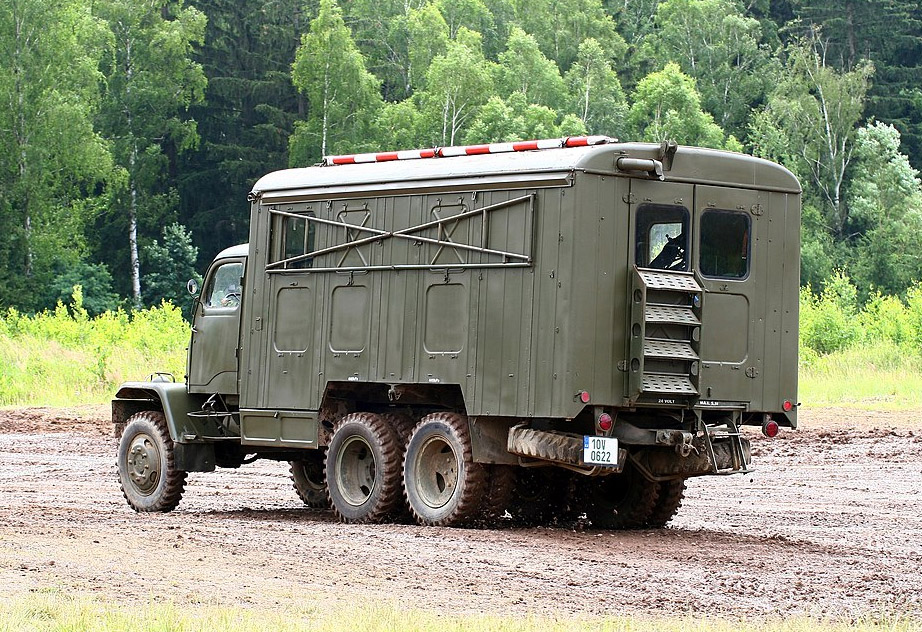 V3S with Command Cab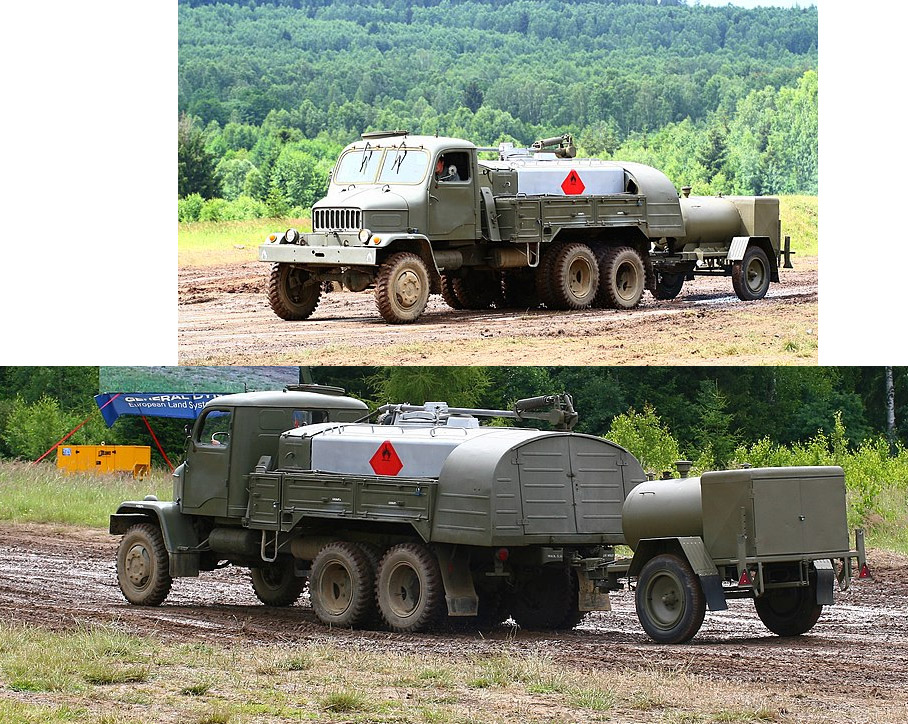 V3S Chemical Batallion Tank Truck
---
Axis Trucks

Purchase this pagemarker and support the site !
Sd.Kfz 2, 6, 7, 8, 9, 10 and 11 were half-tracks designed just before the war as prime movers, to carry supplies, ammunition, personal, and tow artillery. Many were also converted during the war as armored versions carrying AA FLAK guns (Flakvierling, 37 mm, or the legendary 88 mm Rheinmetall als used as tank hunters), or were converted as nebelwerfer (rocket launching armored vehicles). They were built by Hanomag, Steyr, Mercedes-Benz, Bussing and many other manufacturers until 1945, over 20,000 half-tracks.
---
Cold War & Modern Vehicles
Modern Trucks