Design Development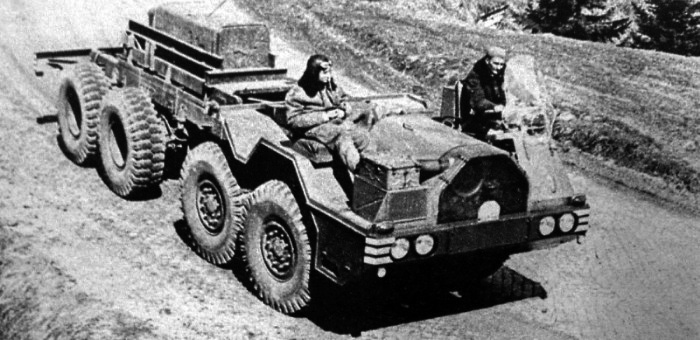 The first working prototype of the new T 813 chassis (to replace the Tatra 138) was built by personal from the design office of Bánovce (Bebravou) company branch in 1960. It was built as much as possible from aggregates and parts for the Tatra 138 whose production was just started at the time. It was an unbodied eight-wheel chassis, with four unprotected seats on the fenders of the first two axles, but still some motorcycle Plexiglas shield in front of the driver's seat, for tests. It ran on several test fields to gather experience with the first Czech four-axle truck ever. Further development was stopped as the Bánovce plant concentrated on the production of Tatra 111 specialized types and the new heavy tractor Tatra 141. This eight-wheel chassis was not forgotten, and still tested from time to time.
At the beginning of 1964, development of the eight-wheeled military truck was at last officially resumed, and this time for a proper production, and receiving a dedicated body and all needed modification, named Tatra 813. The prototype was presented in Bánovce, at Tatra's economic workers ground by August 1964 with basic structural parts from the T 138 and T930 V12 engine (17,640 cm³, 250 hp). It was connected to a five-speed gearbox with two reduction gears, making for a total of 20 speeds forward, 4 speeds backwards. Thanks to this concept, the new truck was tested and found able to overcome a 1.5 meters wide trench, 60 centimeters vertical obstacle and drive on a 30° slope. This were world's best figures for a truck at the time, and not surpassed by any of the later (1980s) T 815 type.
In addition to the chassis, the new Tatra truck differed from previous vehicles by using a simple mounting of wide-profile tires on all axles coupled with a central tire inflation system. It also had a new spacious, five-seat+ cabin and overall angular shapes, which were futuristic at the time. By the fall of 1964, 4 prototypes were created based on this first vehicle, and serial production was prepared. The first of 50 chassis preserie vehicle left the assembly line on Friday, March 24, 1967.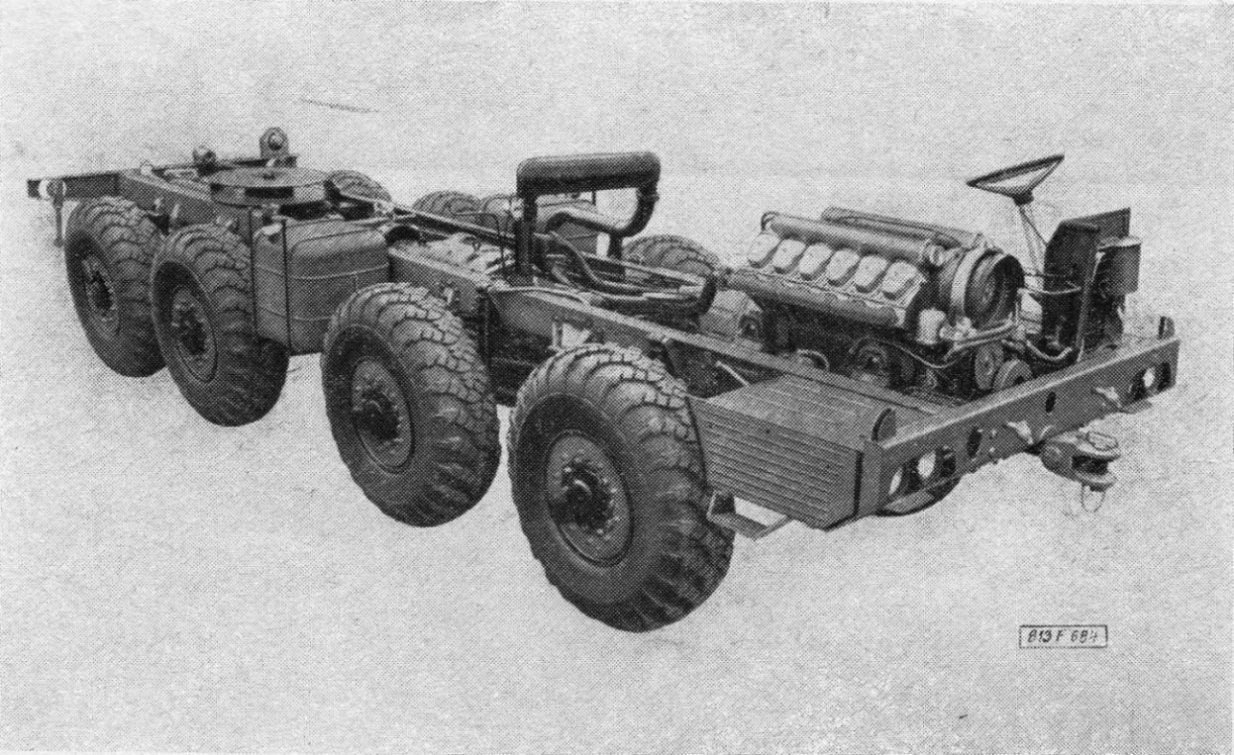 In connection with a more favourable, lenient political atmoshpere in Czechoslovakia, it was considered the T 813 could also be used in the civilian sector, replacing the obsolete Tatra 141 based on the prewar Tatra 111. In 1969, the department of the chief designer presented new models of the T813 declined in a 4×4 version, as a tractor for 60 t trailers, as well as a 6×6 capable of towing up to 80 t and the 8×8 for a 100 t trailer, with reworked axles creating more sub-variants. They entered service as tractors or chassis for cranes vehicles or othr heavy duty specialists. In cooperation with the West German company SEMEX, a powerful airport tractor handling aircraft up to 300 tons was also created. However soon the "Prague Spring" and USSR fierce repression mant Tatra had to stop all its developments and work with Germany or any NATO countries. The sole vehicle was used at Ruzyně airport.
Design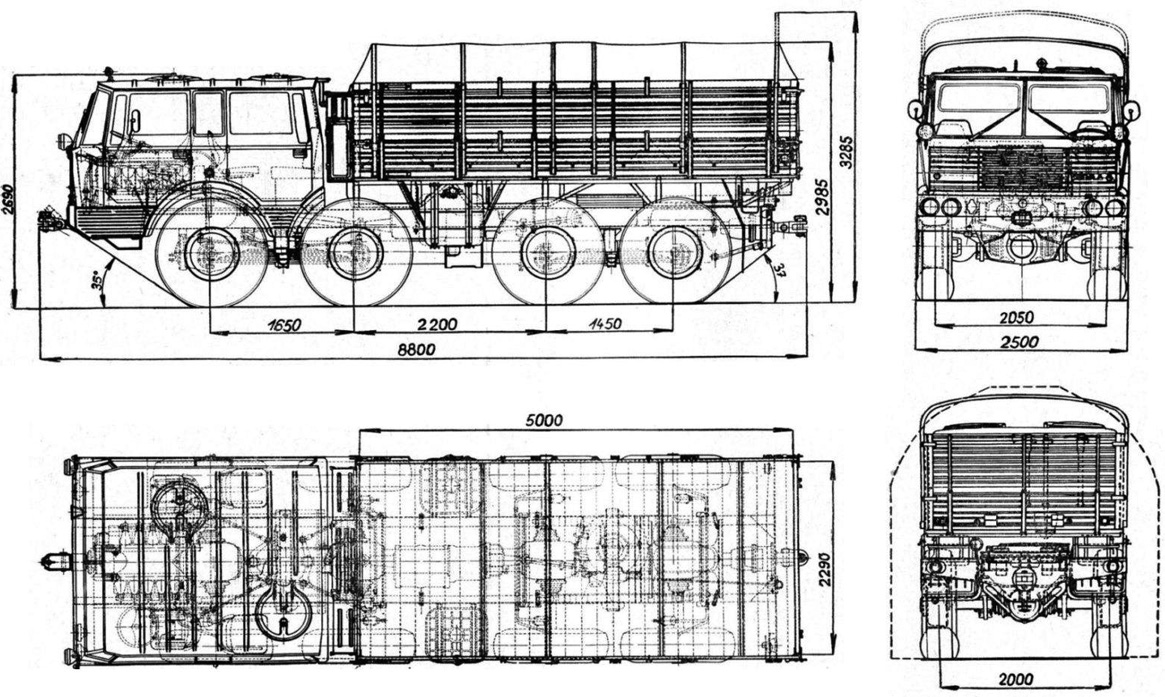 Chassis and specifics
The basis was typical for Tatra with a backbone, central support tube and swinging semi-axles. It had two front (steerable) axles and two also driven rear axles, but the front axles can be switched off. These axles were all separated from each other by inter-axle differentials, and the entire chassis had a total of 7 front differentials. Between the second and third axles, the intermediate section of the additional gearbox was mounted on the central backbone "spine" on which the main gearbox was also mounted. Derived types differ in the absence of the last, first and last axles, making for 6x6 and 4x4 declinations. Depending on the type, the individual semi-axles receives leaf springs, torsion bars, bellows springs or combinations. All semi-axles were also equipped in addition with liquid suspension shock absorbers.
The individual axles were composed of a transfer case, half-axles, drive shafts and wheel reducers, reduce the stress on the entire drive system. There was a simple tire assembly, however army versions had a central tire inflation system with a compressor able to pressurize a tire with up to 12 punctures without deformation, or for easy change of pressure according to the terrain conditions. The steering axles had also a liquid booster copied on the T 138 cars, which had a greater effect on the wheels.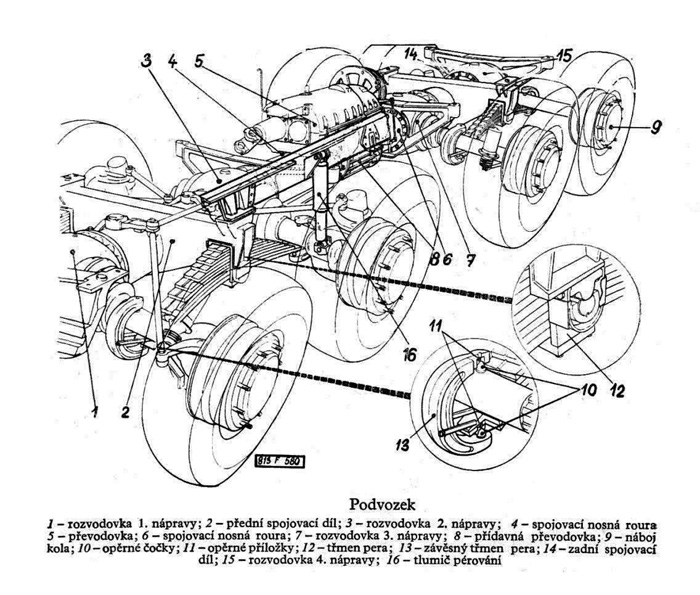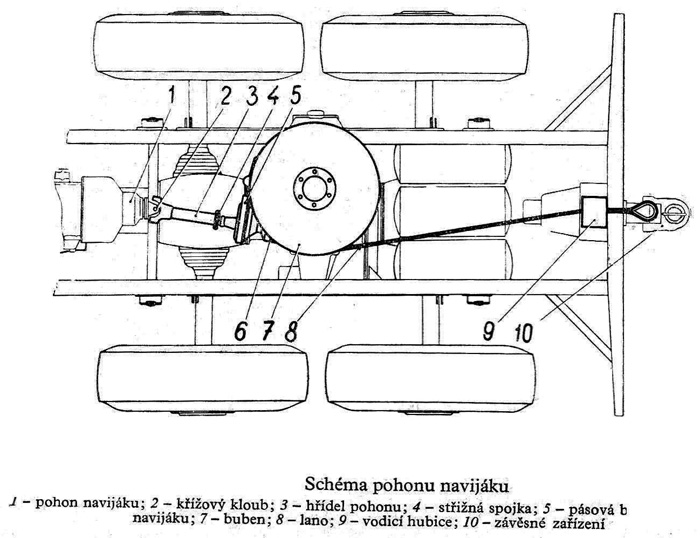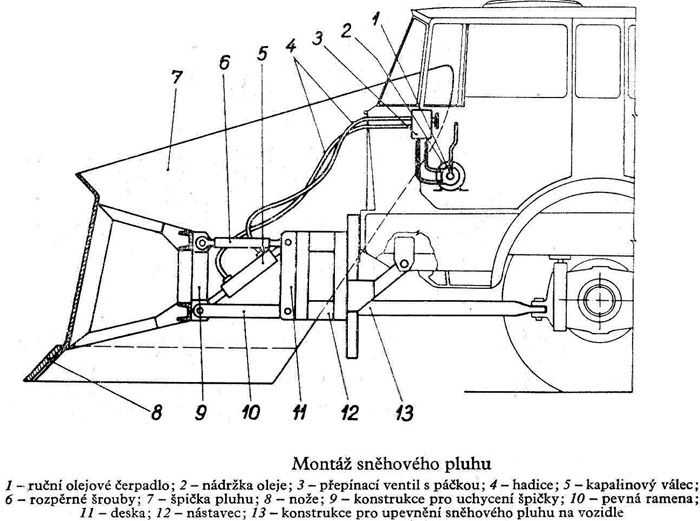 Tatra T 813 engine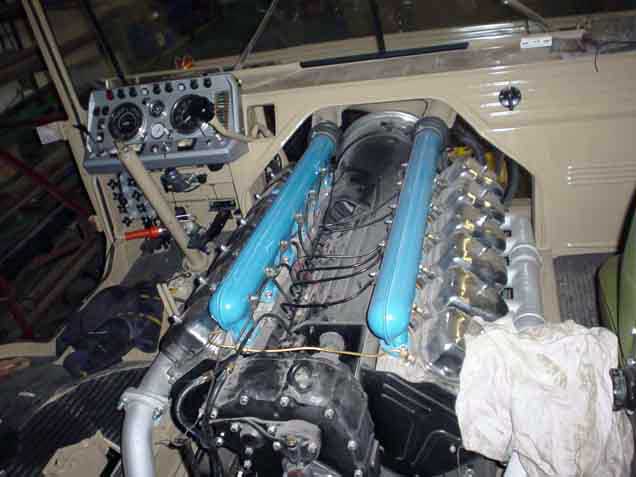 The T930 type power unit is rated for 17,640 cm³ (bore 120/stroke 130 mm) air-cooled V12 at 75° angle, four-stroke, and naturally aspirated diesel, provided with direct fuel injection, OHV distribution, one camshaft for all cylinders. It had in its first version an output of 190 kW (258 hp) and 990 Nm Torque at 1300 rpm. Diesel consumption varied between 44 liters for 100 km and above, depending on the load and terrain, on road of off-road.
Cooling counts on a fan controlled by a fluid clutch, setup in part by the thermostat which controls the fan speed automatically. Engine lubrication used a dry crankcase, with an engine oil cooler located in front of the fan, on the hinged hood section. The starter was designed to work at very low temperatures, with a two starters system fitted, whereas the engine is heated via an independent diesel heater. Later the T813 was tried with new engine prototypes, notably a smaller, eight-cylinder gasoline engine, which failed its tests, only 10 being produced (fate unknown).
Transmission
As for the clutch and transmission, the former uses dry friction in a two-disc configuration for the 4x4, but three in the 8x8 and TP 6x6 versions, and booster. The clutch is connected to the transmission by a universal shaft. This made for a 5 forward gears and 1 reverse gear on the 4x4, but the 8×8 and TP 6×6 versions had an addition two-speed overdrive. Mechanical control meant there is a lever located next to the instrument panel; on the right side. The second to fifth gear are secured by the "blocked synchronization" from Tatra.
The additional transmission is two-stage, whereas on road and off-road gear, controlled electropneumatically, using a selector on the shift lever. The 8×8 and 6×6 versions had however a single downward gear. Neutral is selected electropneumatically, with a switch on the instrument panel. By combining these, the driver could master 20 forward gears, 4 reverse gears, all selectable. In addition, some 8×8 versions had overdrive, an expetional feature for trucks with the first stage in direct engagement for driving with a heavy trailer and the second performing as overdrive at maximum speed.
Brakes
Service brakes used the drum system, but with pneumatic drives and located in the wheels. The braking system was composed of the front axle circuit, rear axle circuit and trailer brake circuit. The drum parking brake is located on the auxiliary gearbox. There was also an extra relief engine brake. The electrical system is based on a 24 V voltage, with grounded negative pole two 12V batteries (175 Ah) and a 24V alternator (30 A).
Cabin
The cabin of the 8x8 is the "trambus", twin seating, four doors type. But there were also versions with a short two-door cabin for civilian use mostly. The military version is distinctive as having 5-7 seating for extra personal outside the driver, and on the roof, two circular hatches to man machine guns. The double cabin counts two rows, and could accomodate up to Seven including the driver if needed. Between the front seats there is a tunnel for the engine cover, both thermally and sound-insulated. The cabin has its own independent diesel heating as seen above.
Winch
Military options, in addition to the double cabin, central inflation system, also comprises an optional drum winch mounted on the frame between the third and fourth axles. The latter has a worm with a friction clutch, and is equipped with a drum brake. The pulling steel rope could 60 m long (196 feets) with a diameter of 22.4 mm (0.88 in). Maximum force supported as tested was 98 kN (unwound 176.5 kN).
Production
Until 1970, serial production was planned according to the individual departments needs and export, with for example 375 T-813 to East Germany and Poland. After 1970, 1447 were produced for the needs of the Czechoslovakian Army while the armored RM vz.70 rocker launcher version was also reiceived, and the bridgelayer (417 delivered). Record shows that between 1961 to 1982, 11,751 T-813 were delivered in 4×4, 6×6 and 8×8 versions, which is the generally accepted figure.
Variants
The chassis existed in the following variants:
8×8 KOLOS (all-purpose chassis) – two steerable axles, front and rear suspension with longitudinal leaf springs
TP 6x6 (trailer tractor) – two steerable axles, torsion bar suspension at the front, longitudinal leaf springs at the rear
TP 4x4 (trailer tractor) - one steered axle, front and rear suspension with torsion bars
NT 4x4 (semi-tractor or crane chassis) - single steered axle, front torsion bar suspension, rear bellows air springs with automatic ground clearance control
Trailer tractor
Bridge Layer
Pontoon vehicle
Special use rear cab variant
Civilian Variants
T 813 cars were produced in different types of designs:
TP 4×4 – trailer tractor; NT 4×4 – trailer tractor; chassis for AD 125 mobile crane
TP 6×6 – trailer tractor; several prototypes were created as a tipper with a single steering axle
TP 8×8 – trailer tractor; tippers, chassis for heavy-duty mobile crane AD 350; firefighting superstructures
Also due to its exceptional off-road characteristics the vehicle was popular as trials truck, in raids and competition, generally equipped with a bar framing and self-recover system.
Operation
The vehicle was used by the East German, Polish and Czech Militaries. For example the East Germany Army used these as tractors for the 130mm M-46 guns in the 1970s. Czech vehicles in winter were used T-813 with a snow plow. Its length was 2520 mm for 850 mm high, 250 mm plughing ability on average at 3 kph. The vehicle came in three basic flatbed variants, with the six-framed basic flatbed, additional wooden paneling on the sides and read up to the cabin rood level, and completely covered by a tarpaulin. The vehicle was also sold to Iran.
Tatra 813 specifications

Dimensions
Length 8,800 mm, Width 2,500 mm, Height 2780 mm
Weight, curb
13,800 kg
Weight, gross
22,000 kgs
Payload
7,500 kg (or 65 tons trailer as tractor)
Crew
1 driver, 5-6 personal
Propulsion
Tatra V12 diesel 17.6 l 199 kW (270 hp)
Transmission
5+1 speed synchronized, 2 sages Redux Gbx
Top speed
80+ km/h Road
Fuel consumption
44 l/100 km, range 650 km (road)
Suspension
Leaf spring, coil-springs, torsion bars, etc.
Maximum range (on/off road)
300/150 km (190/93 mi)
Armament
None
Production
Tatra only 1938–1940 - 550+
Read More/Src
cs.wikipedia.org
On auto.cz
On tatraportal.sk
Tatra in movies, imcdb.org
.valka.cz
On archive.armorama.com
behance.net
taringa.net
tatra-modell.de
Videos
Illustrations

Basic Czech Vehicle, with tarpaulin

Iranian Vehicle, exported in the early 1980s and involved in the Iran-Iraq war
East German Vehicle

Iraqi Vehicle (presumably captured)
(To come) TM-70 Czech Rocket Launcher Truck
Civilian Vehicle, with the simple flatbed configuration
Photos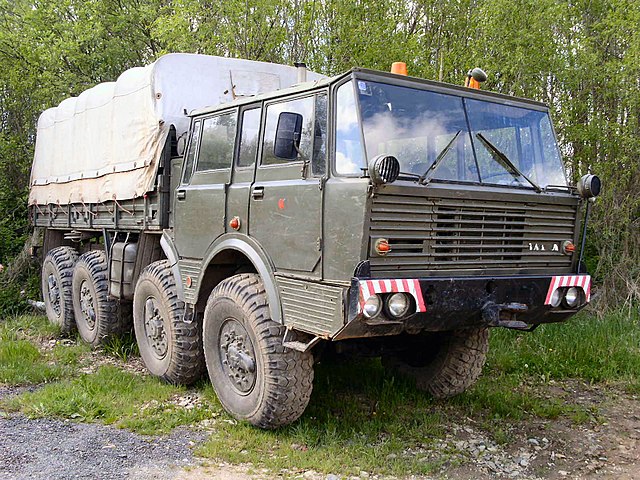 East German model with canvas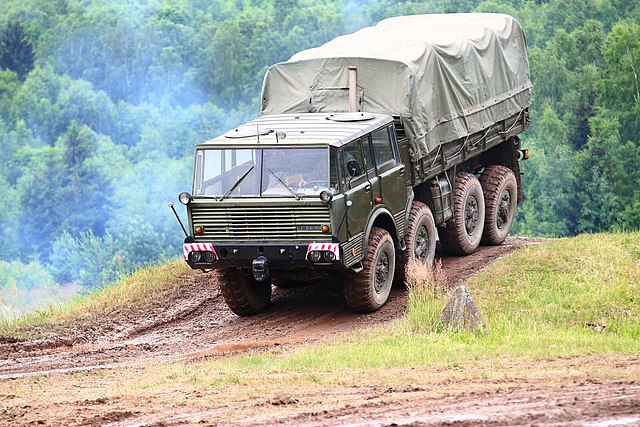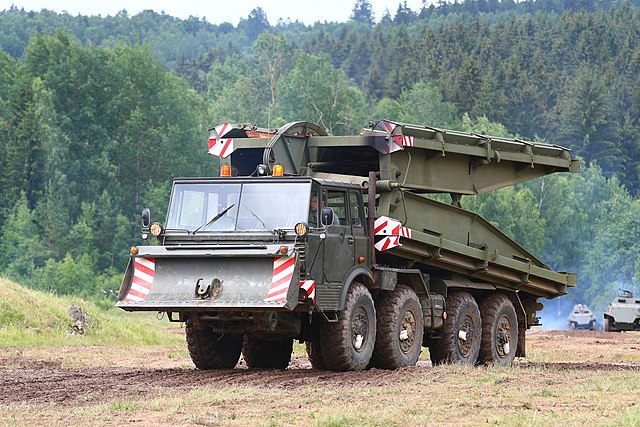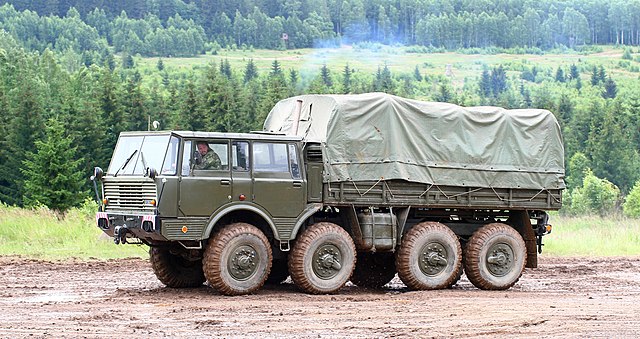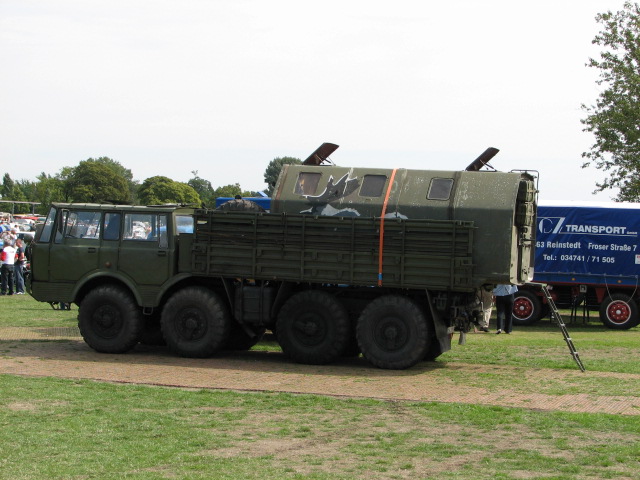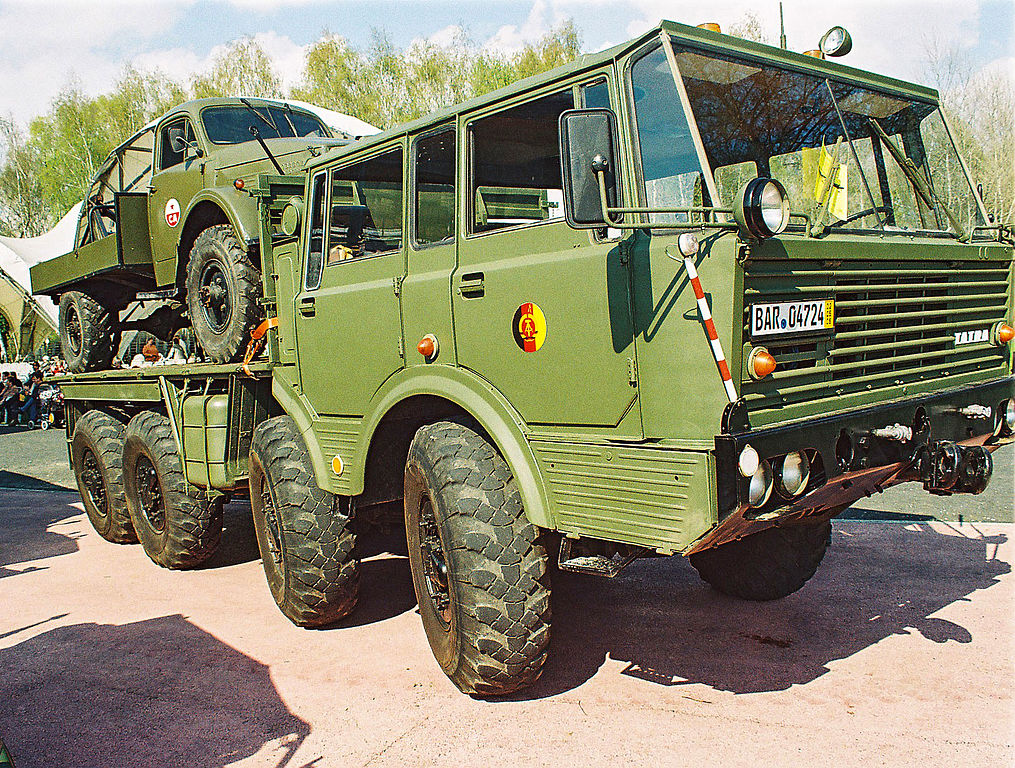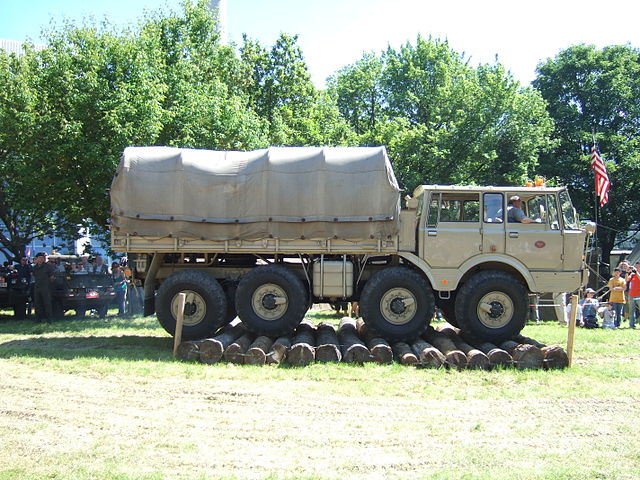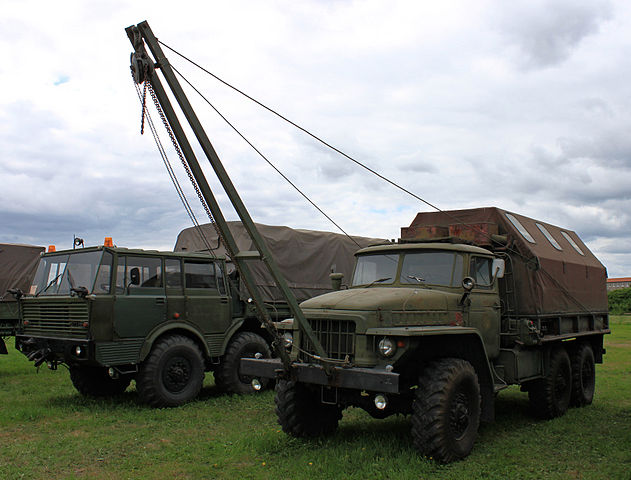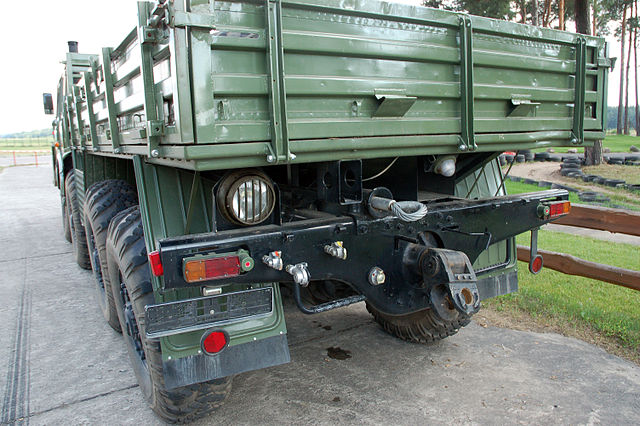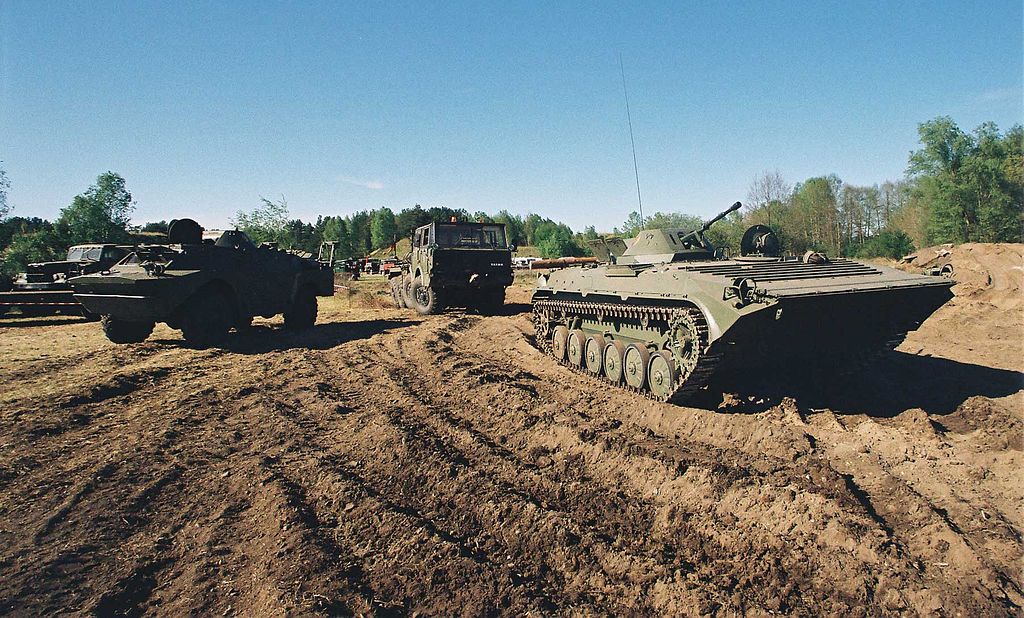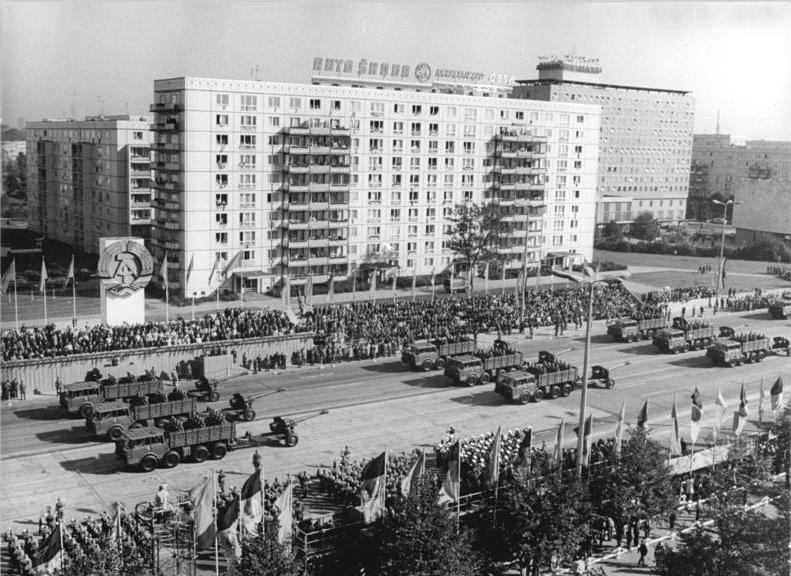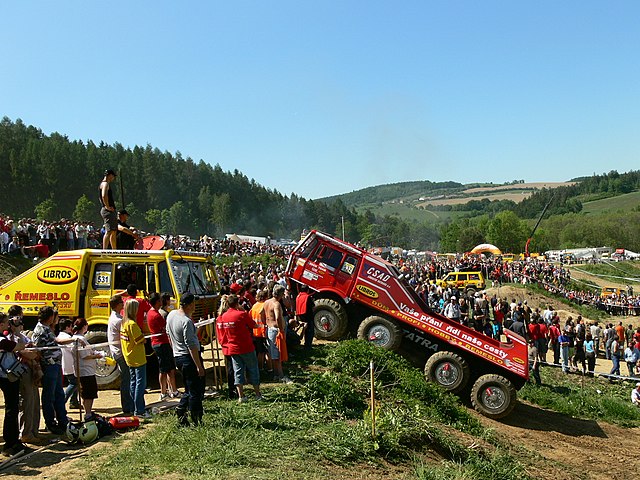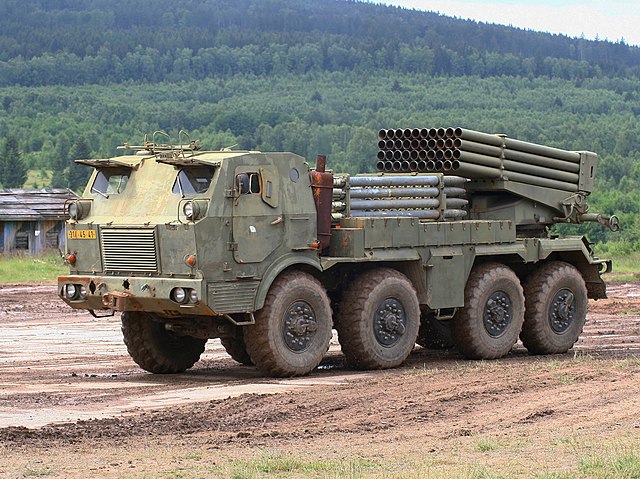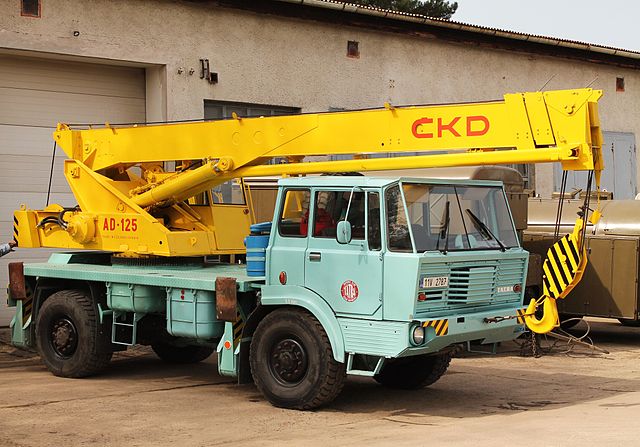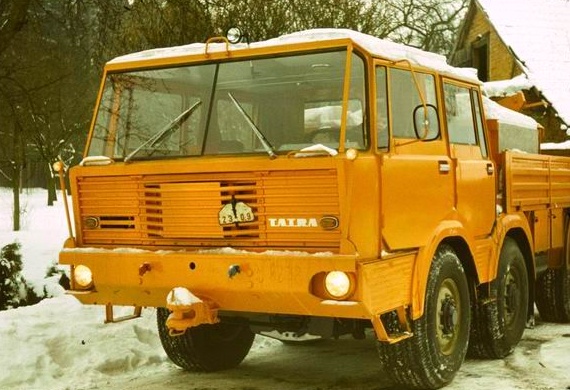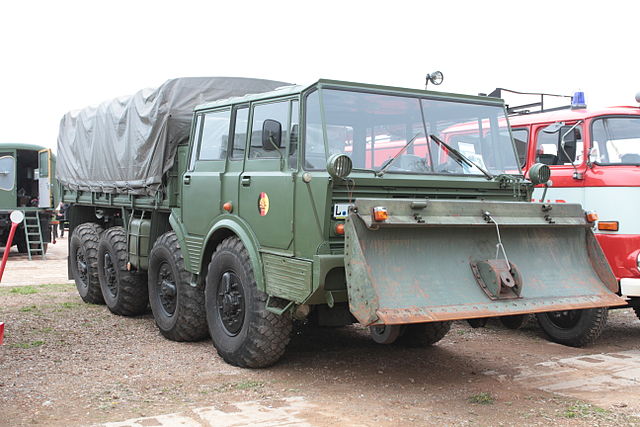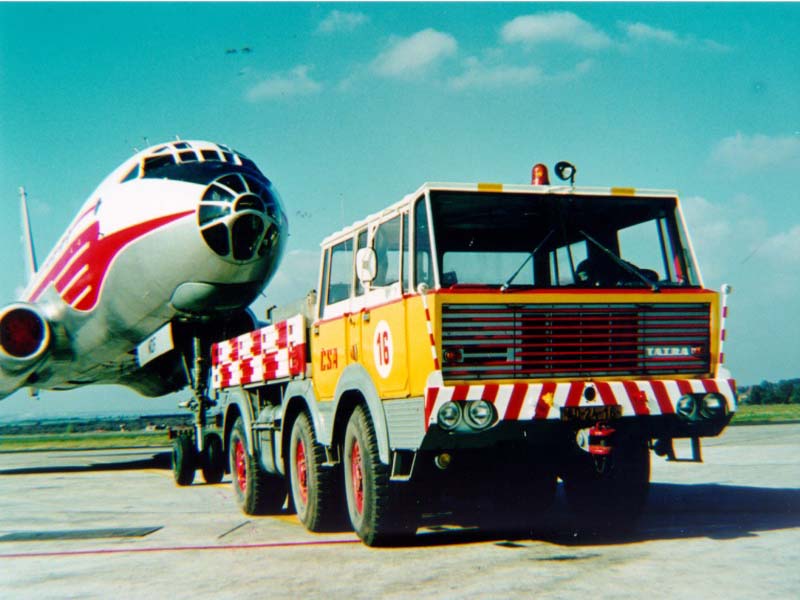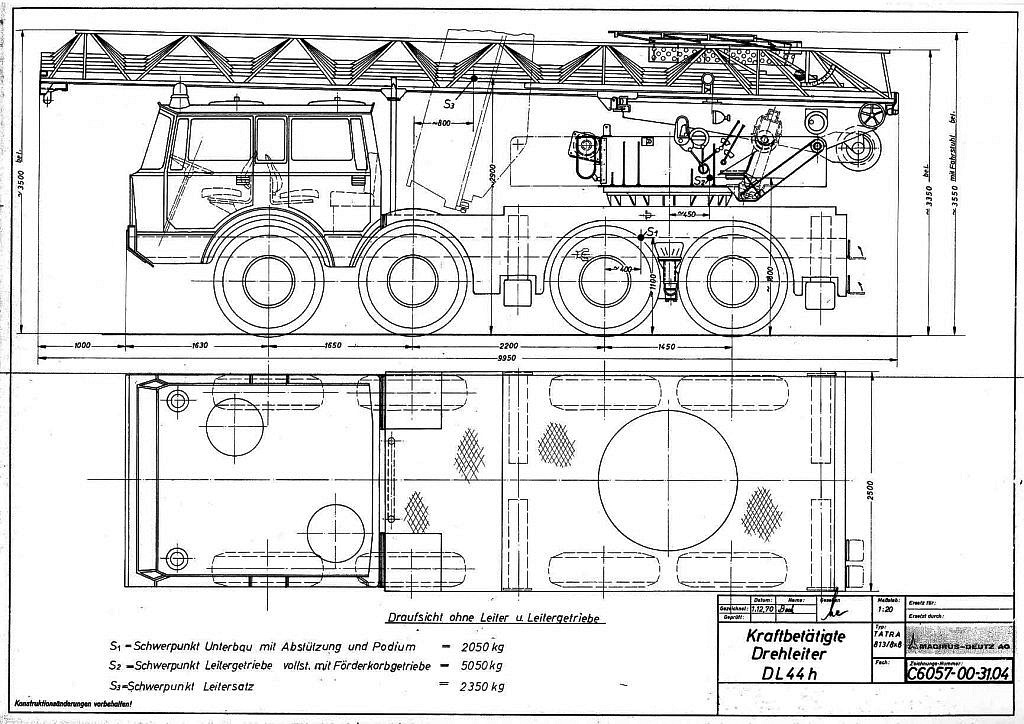 Crane variant
---
Axis Trucks

Purchase this pagemarker and support the site !
Sd.Kfz 2, 6, 7, 8, 9, 10 and 11 were half-tracks designed just before the war as prime movers, to carry supplies, ammunition, personal, and tow artillery. Many were also converted during the war as armored versions carrying AA FLAK guns (Flakvierling, 37 mm, or the legendary 88 mm Rheinmetall als used as tank hunters), or were converted as nebelwerfer (rocket launching armored vehicles). They were built by Hanomag, Steyr, Mercedes-Benz, Bussing and many other manufacturers until 1945, over 20,000 half-tracks.
---
Cold War & Modern Vehicles
Modern Trucks