The forgotten Chevy COE (Cab Over Engine)
The GMC AFWX-354 (longer nomenclature names) is perhaps the least well-known version of the prolific GMC 353 6x6 chassis (CCKW-353). This model had earlier siblings which inaugurated the chassis, the GMC ACKWX-353, 3-ton, 6x6, General Service, "long nose" (and its 4x4 British cousin the GMC ACX-504, 3-ton, 4x2, Cargo Truck), and the GMC AFWX-354, 3-ton, 6x4, General Service, both designed at first for the French Army in 1939 and exported in 1940. Of the two, the '354' as it was simply known according to General Motors nomenclature, was the only one on this chassis to have not only a COE (Cab Over Engine) also dubbed colloquially the "cabbover" with a rear two seats cabin (enough for the five men crew of a projector).
The French ordered 150 of them by the fall of 1939. 116 were delivered, some to anti-aircraft units. They are found in North Africa (67th B.C.C.). The orders not honored by the French army will be absorbed by the English, later delivering most to Russia. the Germans captured those delivered (so around 150) and deployed them in several fronts. These very specialized vehicles arrived in France too late to take part in the action and the bulk of the 800 produced ended in British Hands. They soon got rid of them, and they were shipped to USSR via lend-lease. A few saw action with the French still as shown by photos of the early 1941-42 campaign.
The "better known" COE was the 4x4 G506 COE based on the
G506 (Chevrolet 7100 1.5 Ton 4x4 Cargo Truck)
and the single-row cabin AFKWX-353 (7,235 made).
The mass-produced GMC COE was the AFKWX-353
The AFKWX (The "F" stood for forward cab) had a cab over engine configuration, and longer cargo bed than the CCKW. It was developed from 1942 and went into production alongside the regular CCKW at Yellow's Pontiac plant and Chevrolet's St. Louis plant. Mechanically it was the same, but with a compact cabin "over" the engine allowed. This freed aft spave, enough to manage a 15 ft (4.57 m) up to 17 ft (5.18 m) cargo bed. The first 50 produced had closed cabs, but for design simplifaction, all the remainder of the production had open cabs. No front-mounted winch was ever mounted on this version, and mechanics often complained about its engine location for maintenance, which was difficult. The type was not as successful as only 7,235 were built, condiderable numbers, but still a pinprick compared to the main CCKW production. Of these, 2,232 units had the "short" 15 feets body, and 5,000 had the "long" 17 feet cargo bed. It seems almost all were used by the US Army.
Design of the AFWX-354 ("COE double cab")
Civilian Roots:
The extended cab GMC searchlight truck were used in the continental US as transport trucks in 6 x 4 with no driven front axle for tactical work. They kept their searchlight mounts and models, some were also used by cavalry units. The other well known COE at the time in the US was Ashby's WK60 COE Dodge 6x4, with an ordinary COE cab, not extended. COE never really made it on the battlefield as they were too conspicuous for tactical use, but were perfectly fine for rear line transport duty.
Specifics:
Called the GMC AFWX-354, 3-ton, 6x4, General Service (full name), the GMC Model AFWX-354 was a specialized vehicle built initially to carry a searchlight unit and crew. Therefore it was very specialized and with a limited payload, more tall, bukly than heavy. Thus the French asked for a reduced motorization, and this export model was initially powered by the GMC 256 cu. in. 6 cyl. 77 bhp engine. As part of the US Quartermaster reference this first model was known as
"Truck, GMC, 2 1/2 Ton, 6x4, Searchlight Body, COE (AFWX-354-10A)"
. Its dimensions are of 7.29 m X 2.41 m X 3.43 m for a weight of 4991 kg. The model barely had the time to be deployed in France, alondside the Berliet GDLS 30.
An underpowered lot
1409 were built from 1939 to 1941, of which 149 were sold to the Corps of Engineers and the remainder were sent to France, England and the Soviet Union. In 1940 indeed, France ordered 800 of the 3-ton 6x4 GMC AFWX 354, to carry anti-aircraft searchlights. They started to arrive in France when the invasion took place and the remainder of the order was taken over by the British Army. The latter were later given to the Soviet-Union under lend-lease. But some AFWXs were actually captured by the Wehrmacht in France and reused but rheir history is foggy at best. The "ex-French-contracts" were not alone, they went with the Dodge T-203-B and and GMC ACKWX-353, differing from those of the US Quartermaster due to their smaller engine (248 cid to 256 cid, respectively.
The British Army used them as initially intended, as Searchlight lorries. From late 1941 however they were rebuilt, possibly as G/S lorries, they found these underpowered in this new role, and even unsuitable for military use. They were parked, waiting for their fate until ot was decided to send them via lend-lease from 1941 onwards as soon as the Murmansk convoy system opened. They were still welcome in USSR (at first), until their initial issues were found out.
Their records on the eastern front are unknown, but they were certainly overburdened under broken out and abandoned due to the lack of spares, other than those compatible with the CGC 353. Note that the Russian Army also made use of the GMC ACKWX-353, which pretty much shared the same unfortunate story. Ordered by the French in 1940 and underpowered, absorbed by the British and send via lend-lease to USSR. The latter reused the French order vehicles in their intended role, with Russian-built Russian Z-15-4 searchlights for AA defense.
Today these vehicles had disappeared. Only one wreck-state wheeled, functional truck was found in the US, built on 02/1941, not in running conditions, with a frozen transmission linkage/transfer case, broken up brakes and in a rusty state, with holes filled with body filler. Its owner kept it for 40 years. It seems it had been made running again.
Specs GMC AFWX 354 1939
Dimensions :
7.29 m x 2.41 m x 3.43 m ()
Total weight, battle ready :
Circa 4,991 kg
Tires :
10.50x20
Crew :
5
Propulsion:
216 or 235 CI Chevy in-line 6 cylinder*
Speed :
50 km/h (30 mph)
Range (road/off road):
240 Miles, 20 gal. tank
Payload :
3,000 pounds
Production
Circa 1400
Read More/src
lrdg.hegewisch.net
mapleleafup.net
www.ww2cckw.org
https://auto.vercity.ru
https://carscoms.com
https://www.tapatalk.com
http://www.mapleleafup.net
trucksplanet.com
forums.g503.com
o5m6.de in wehrmacht service
o5m6.de Red Army
---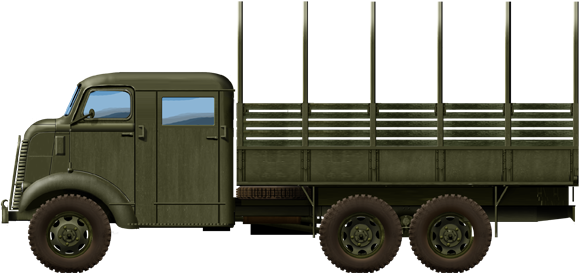 Standard US signals truck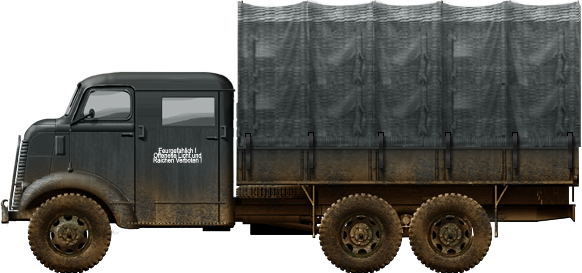 Former French vehicle is Wehrmacht service, France, 1941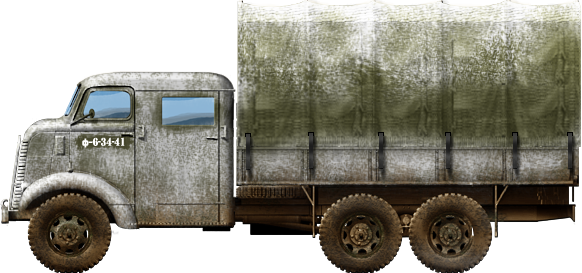 AFWX 354 in the Red Army, winter 42-43.
Photos
Vehicle seen in LIFE Mag., US Quartemaster
Book, Chevy COE 4x4
Unknown origin
Documentation extract, camouflaged vehicle
Vehicle being delivered in Britain, 1940
Ex-French Vehicle in German service
The related AFKX 4x4
Unknown origin
---
Axis Trucks

Purchase this pagemarker and support the site !
Sd.Kfz 2, 6, 7, 8, 9, 10 and 11 were half-tracks designed just before the war as prime movers, to carry supplies, ammunition, personal, and tow artillery. Many were also converted during the war as armored versions carrying AA FLAK guns (Flakvierling, 37 mm, or the legendary 88 mm Rheinmetall als used as tank hunters), or were converted as nebelwerfer (rocket launching armored vehicles). They were built by Hanomag, Steyr, Mercedes-Benz, Bussing and many other manufacturers until 1945, over 20,000 half-tracks.
---
Cold War & Modern Vehicles
Modern Trucks