The proverbial Soviet light Truck
Two trucks really made the bread and butter of motorized units on the eastern front during WW2: The ZIS-5 and GAZ AA/AAA/MM. Together they represented a total of 1,400 000 light utility trucks. They still could tow a small artillery piece, machine gun, trailer, and carry troops and supplies to the battlefield. Many were also converted as half-tracks to operate in winter and autumn (with the terrible "rasputitsa"). They represented together about 50% of the trucks produced in USSR and used by Soviet troops. The ZIS-5 and its wartime simplified version ZIS-5V were the second most common do-it-all trucks in USSR, long-derived from a simple and reliable 1919 FIAT F15 truck.

Author's illustration of the ZiS-5, click for the HD
About ZIS trucks
The ZIS-5 was the first large scale production of the the company ZIS (now ZIL). The factory was founded in 1916 as Avtomobilnoïe Moskovskoye Obshchestvo (AMO), part of a government program to create a domestic automobile industry in Russia (this was 1915), planning six new automobile factories in Russia. An international call for tenders was launched for six specialized vehicles, and on six one was retained for the construction of trucks. The contract was awarded to FIAT on March 7, 1917 with a license to produce a standard, universal 1.5 tonne payload truck. This model was the Fiat 15, for which a factory was dedicated, built on the model of Fiat-Turin. However the factory was only completed by 1919 but the truck was consideraby improved meanwhile in Italy. By the time it was ready to roll, the 15Ter version was chosen for production, but political events soon thwarted those projects.
Although the new government after the 1917 revolution proceeded with the construction of the plant, the civil war hampered the launch of a production. Originally, the plant was a private venture, property of the brothers Sergey and Stepan Riabouchinski. They had to accept the forcible nationalization, renamed Factory AMO P. Ferrero in April 1923 in homage to the Italian trade unionist Pietro Ferrero (1892-1922). The AMO F-15 rolled of the line in 1924, and was manufactured to 1931 to a mere 6,084 vehicles. In 1930, the AMO-2 followed with a more powerful engine Hercules-WXB (1,715) and the AMO-3 from 1931, with a factory engine, and also first mass-produced model of the company. In 1933 the factory was renamed ZIS (Zavod Imeni Stalina, in homage to Stalin) producing both civilian and military trucks.
The next model was the ZIS-5, produced from 1933 to WW2 and beyond. In 1941 the last of these rugged and dependable beast of burdens rolled of the factory line. They never were really replaced. In 1942, however, the war production needs urged the simplification of the model, which ended wit the ZIS-5V. A 4x6 model was also mass-produced, the ZIS-6, but it never met the success of the ZIS-5. The ZIS-10 to 14 were also produced alongside in smaller series in the late 1930s and until 1941, when all where terminated by order of Stalin to concentrate on the ZIS-5 alone. Only the planned replacement for the now argely obsolete ZIS-5 was the ZIS-21 (1938) which production was maintained and ramped up until 1941, with a total of 15,445 vehicles. Others models were half-tracks or convertibles* like the ZIS-22, ZIS-32, ZIS-33 also knew small series, and the wartime ZIS-42, ZIS-42M and ZIS-44 were produced in small quantities. These were half-track variants of earlier models (future separate articles).
*A convertible stores spare tracks that can be fitted on the rear drivetrain in winter.
Production
*According to Soviet registers, the most produced trucks in USSR ever was the GAZ MM (419,812), a derivative of the Ford built in USSR. Some sources goes as far as one million ZIS-5 but it's not corroborated by official sources and more probably the addition of the ZIS-5, 5V and 6 and all the other ZIS models. The factory records for production in 1933-41 (ZIS-5), 1942-48 (ZIS-5V) and 1933-41 (ZIS-6) shows respectively 325,051, 207,260 and 21,239 vehicles, so 533,550 vehicles. This is slighlty less than the famous ww2 GMC family (353, 352 and variants). They still were the most produced ZIS trucks, after the early interwar AMO-3 (34,969 produced), which stays on top. The latter was produced from 1931 to 1933, and derived from the AMO-2 (1930) and AMO-F15 (1924).
In 1933, the AMO factory was created in Moscow, named Factory No. 2 Zavod Imeni Stalina, and the first model manufactured here was the ZiS-5. In the fall of 1941, the production line of the Moscow plant was shut down, as German troops were close. The main ZiS plant was moved to Ulyanovsk, on the Volga and another was built in Miass, Chelyabinsk Oblast in the Ural. The Production in Ulyanovsk adopted the brand UASZIS and ran from February 1942 to 1944, and UralZiS Ulyanovsk really started on July 1944 and both contrentrated on the ZIS-5V. The Moscow plant relaunched its production from April 1942 until 1948 and concentrated on the remorotized ZiS-50. In 1955, UralZiS heavily modified the ZiS-5 with new engines, designated UralZiS-355 (ZiS-355).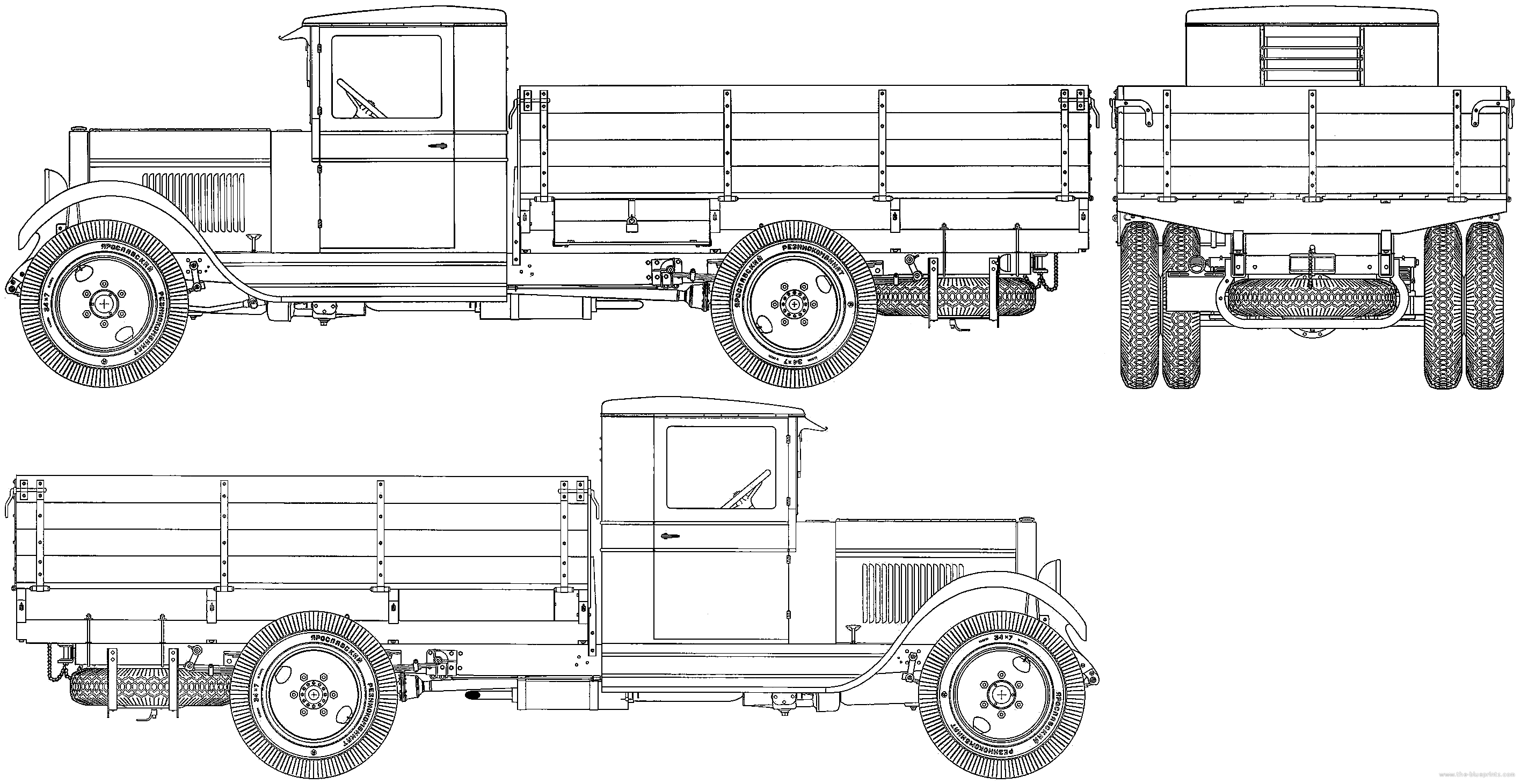 Design
Development
The ZIS-5 was not based on the previous AMO-3 designed two years previously, but on the American Autocar Model CA, faithfully copied under licence. Studies were launched in 1933, for a vehicle that can carry a heavier payload, from 2,500 to 3,000 kgs. It rested on a more powerful engine, ZIS-5, with an increased capacity, larger cylinders (101.6 vs. 95.25 mm), slightly better compression ratio, 5555 cm3 capacity and 73 hp, instead of 60, as well as a greater torque. The speed was also better at 60 kph instead of 52, and a large fuel tank to compensate the higher consumption. The chassis was also larger at 6060 mm versus 5,950 mm, and wider of 95 mm, but on the same wheelbase since the AMO-2. The gearbox was also essentially the same. The simplified 5V version differed on some points (see below). The longer and heavier 6x4 ZIS-6 was however a 1934 copy of the American Morris 2 10-CWT, not just a ZiS-5 with a rear twin axle.
Characteristics (*ZIS 5V)
Wheels arrangement: 4x2
Carrying capacity: 3 tons
Length: 6060mm, 6100mm*
Width: 2235mm, 2250mm*
Height: 2160mm
Wheelbase: 3810mm
Front wheel track: 1525mm
Rear wheel track: 1675mm
Full (Net) weight (kg): 3100 kgs
Engine: ZIS-5/5M*, 6 cyl. 101.6 mm stroke 114.3mm
Compression ratio/ Capacity: 4.6, 4.6/5.3*, 5555cm³
Output (hp.): 73hp, 76hp*
Max engine revolutions (r.p.min-1): 2400
Max Torque: 28.5
Gearbox type; 4-step
Final Drive Ratio: 6.41
Tires: 34x7 inches
Max speed: 60 kph
Fuel tank capacity: 60 liters
Fuel consumption: 33 l/100km, 36 l/100km*
Simplified Mass-production: ZIS-5V
At the end of 1941, shortages in raw materials forced changes in manufacture all across the board, and this also naturally impacted the ZiS-5. Changes focused on simplification in construction, les parts and simplified ones: The most recoignisable were the stamped round fenders replaced by simple flat sheets, while both the cabin and running boards were in wood, and front axle brakes were removed as the right headlight and bumpers. The ZiS-5V ("V" standing for "simplified"), was produced from May 1942 in Ulyanovsk, and later in Miass and ultimately in Moskow as well. This helped reaching a large production in shorter time for a total of 83,000 ZiS-5 and ZiS-5V during wartime, in 1941-45.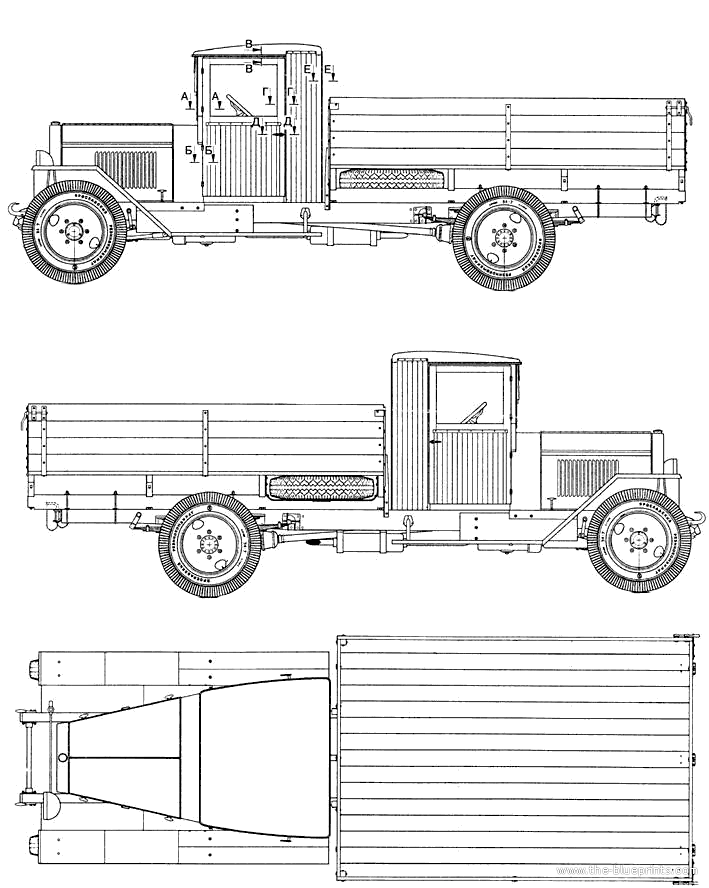 ZiS-5V blueprint
Variants
ZIS-6: Standard three-axle version. (1934-1941)
ZIS-8: Road version based on the ZiS-11 (1934-1938)
ZIS-10: Tractor version for semi-trailer (1938-1941)
ZIS-11: Extra long wheelbase version (1934-1936)
ZIS-12: Long wheelbase version (1934-1938)
ZIS-13: Gasifier version based on ZiS-11 (1936-1939)
ZIS-14: long wheelbase version (1934)/li>
ZIS-15: Prototype replacement (1939)
ZIS-16: Bus version (1938-1941)
ZIS-17: Prototype bus (based ZiS-15, 1939)
ZIS-18: Gasifier ZiS-15
ZIS-19: Dump truck version (1939-1949)
ZIS-20: Prototype dump truck version.
ZIS-21: Main Gasifier version (1939-1941)
ZIS-22: Early halftrack version (1940-1941)
ZIS-23: Three-axle ZiS-15.
ZIS-24: Four-wheel drive ZiS-15
ZIS-25: Improved Gasifier ZiS-15
ZIS-26: Tractor semi-trailer ZiS-15
ZIS-28: Engine test prototype ZiS-15
ZIS-30: Multifuel version (1940-1941)
ZIS-31: Gasifier version of ZiS-21 with NATI-G23 coal unit
ZIS-32: Four-wheel drive version (1941)
ZIS-33: semi-tracked version (1940)
ZIS-35Sh: Semi-tracked version
ZIS-36: 6x6 Prototype version (1941)
ZIS-41: Gasifier version (1940-1944)
ZIS-42: Semi-tracked version (1942-1944)
ZIS-44: ZiS-5V Ambulance version
ZIS-50: ZiS-5 with ZiS-150 engine (1947-1948)
ZIS-S1: Dump truck version (1947-1949)
LET: Experimental electric vehicle (1935)
ZIS-LTA: Halftrack logging truck prototype (1949)
The ZIS-5 in action
During wartime, the ZiS-5 was used on all fronts and highly regarded for being of reliable construction. it carried all sorts of payloads as well as troops, 25 seated on banks. It was also used as a light artillery tractor, notably carrying the interwar standard antitank gun, ans its platform could accomodate fuel or water tanks or a field workshop, or sever as an ambulance. The ZiS-5 glory time was on the "life road", only access route to the Besieged Leningrad on the frozen surface of Lake Ladoga. It was repeated in the winters of 1941-42, 42-43 and 43-44. The ZiS-5 was also exported prewar, 100 sold to Turkey in 1934, but after the war surplus trucks were purchased by Afghanistan, Iraq, Iran, Spain, China, Latvia, Lithuania, Estonia, Mongolia and Romania.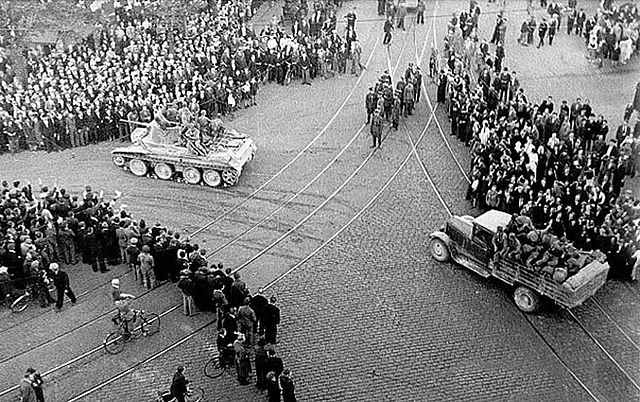 The Finns captured many during the Russo-Finnish War (1939-1940) as the Germans, which renamed them, possibly "Beutelastwagen ZiS-5(r)". Numbers are unknown, most of them from large pockets of soviet troops during the late summer 1941, probably in the order of magnitude of 3,000 vehicles. They were often camouflaged, both with paint and foliage. Variants were used, like the boat carrier, refueller, ambulance, etc. They were also passed onto other axis powers like Romania (photos). A swatiska flag was often also placed on the hood to avoid friendly fire from the Luftwaffe as shown in photos.
Since the production was maintained until 1948, and given their longevity, ZiS-5s were still around in the late 1960s in second line and reserve, as much more modern models replaced them. Outside exports, the remainder were either scrapped or found a new life in the civilian market. Simple to maintain, they are still used in remote parts of Siberia or Afghanistan and other places.
Src/Sources
I. Moshchansky, "Shturm Karel'skogo vala", Vyborsko-Petrozavodskaya strategicheskaya nastupatel'naya operatsiya 10 ijyunia - 9 avgusta 1944 goda", Voyennaya Letopis'/Military Chronicle, 5/2005
A. Galushko, M. Kolomiets. "Boi za Kharkov v Mae 1942 goda", Frontovaya Illyustratsia/Frontline Illustration, 6/2000 (2nd ed.)
"ZIS-5, ZIS-5V" part 1, Muzei Tekhniki No. 6, Moscow, ~2000.
I. Moshchansky, A. Savin, "Bor'ba za Krym. Sentyabr' 1941 - Iyul 1942.", Voyennaya Letopis', No.1, 2002
T. Abashidze,. I.Moshchansky, "Okruzheniye Yugo-Zapadnogo Fronta. Kievsjaya strategicheskaya oboronitelnaya operatsia. 7 Ijulia-26 Sentiabrya 1941 goda. Chast'. 2". Moscow, Voyennaya Letopis/Military Chronicle, 4/2003
T. Abashidze, I. Moschansky, "Kievskaya Strategicheskaya Oboronitelnaya operatsia. Part 1. Tragedia pod Umanju" , 2003
https://www.o5m6.de/redarmy/zis_5.php
https://forum.axishistory.com/viewtopic.php?t=199748&start=45
http://armchairgeneral.com/rkkaww2/weapons/Trucks_buses.htm#ZIS
http://armchairgeneral.com/rkkaww2/galleries/trucks/ZIS_5.htm
http://calameo.download/001352928ff7f7488694a
https://www.the-blueprints.com/blueprints/trucks/zis/
https://tanks-encyclopedia.com/ww2/soviet/izhorsk-improvised-armored-vehicles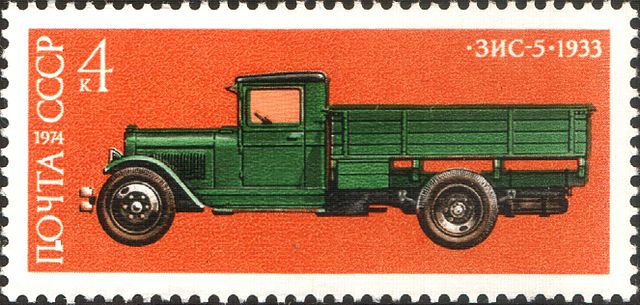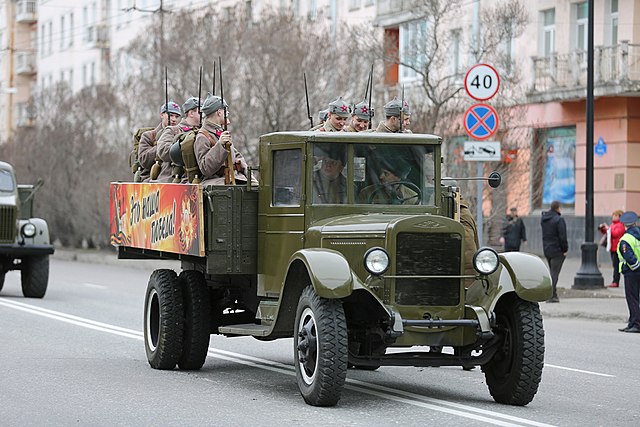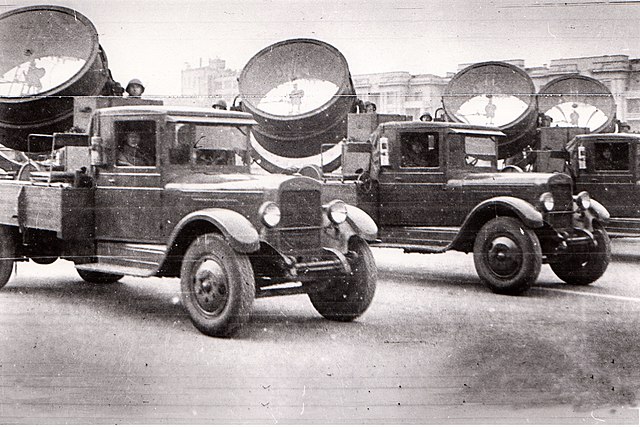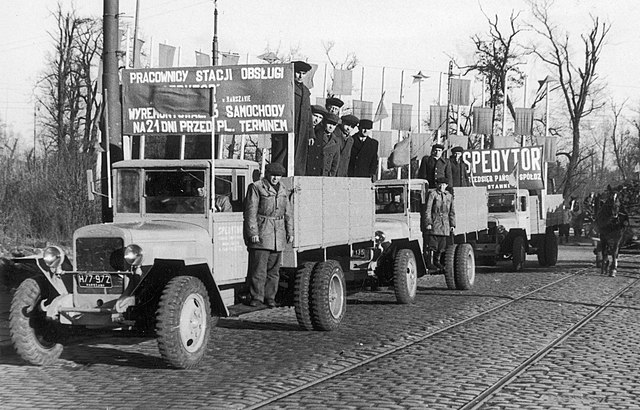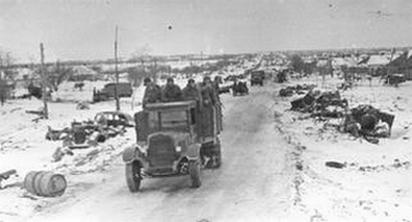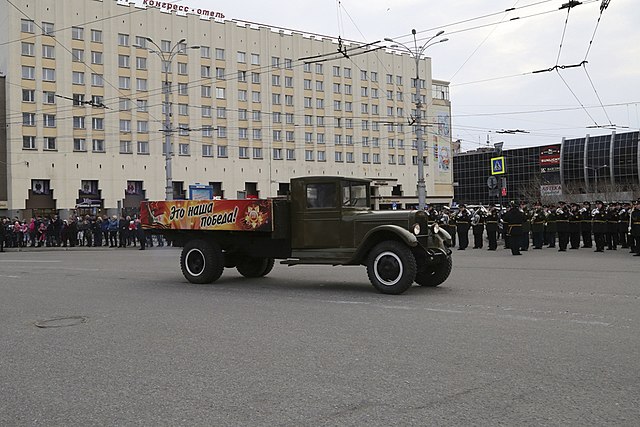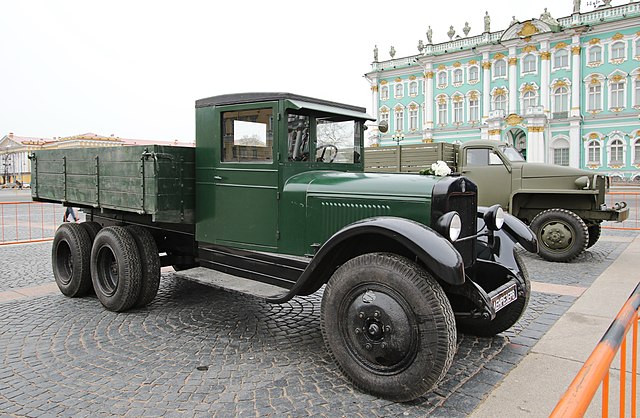 Illustrations
Main utility trucks

ZIS-5 4x4, base version 1940

ZiS-5V

ZIS-5 of the 51th Soviet Army in Crimea, April 1942

ZIS-5V Reg. No. B-0-56-29 and its driver Tchaika, 3rd Byelorussian Front, Dec. 23, 1944. Note the washed up light green paint.

ZiS-5 in sand camouflage, Ukraine summer 1941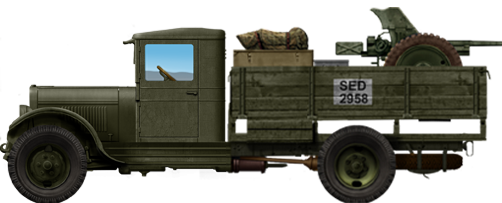 ZIS-5 carrying a 37mm 1K antitank gun and ammo supplies

ZiS-5V in winter camouflage, Siege of Leningrad 1941-42

A rare multi-colored pattern, summer 1941. Paint stocks were by then plentiful.

Another rare pattern

Same here

A more classic "checkered" winter pattern, winter, Moskow 1941-42
---
Specialized variants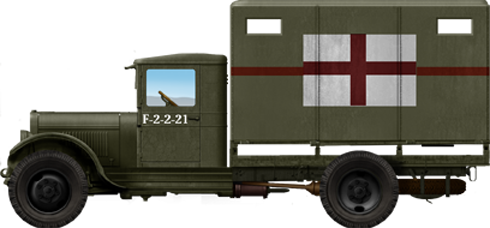 Ambulance version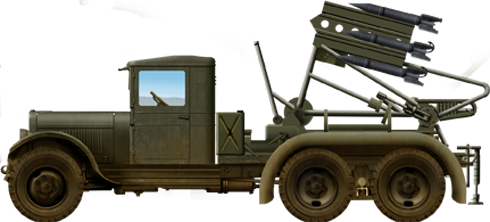 BM-8 Katiusha variant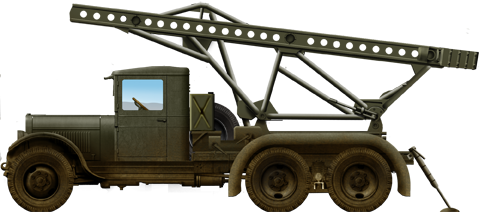 BM-13 Katiusha variant

Fire truck
Izhorsk AC-1 Armoured Car
Gallery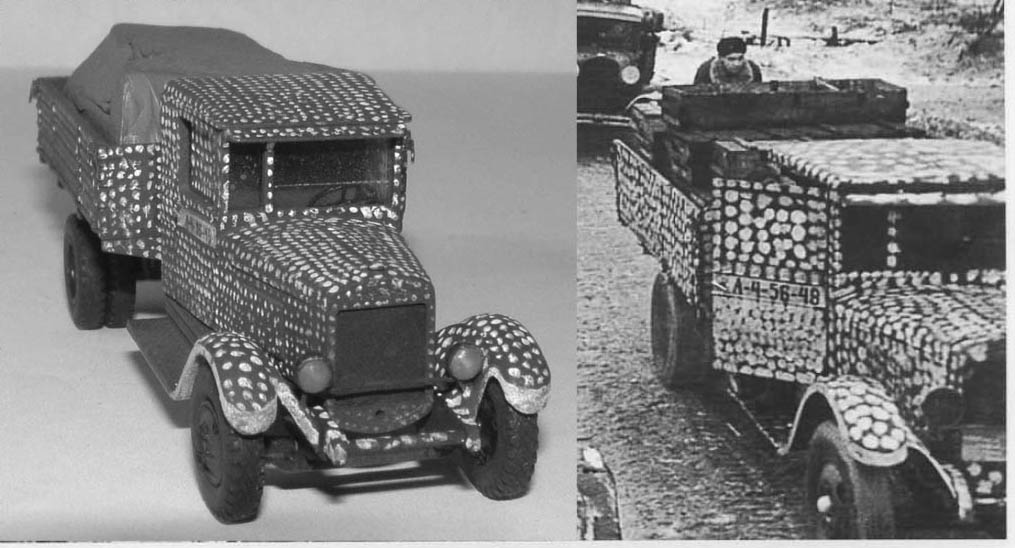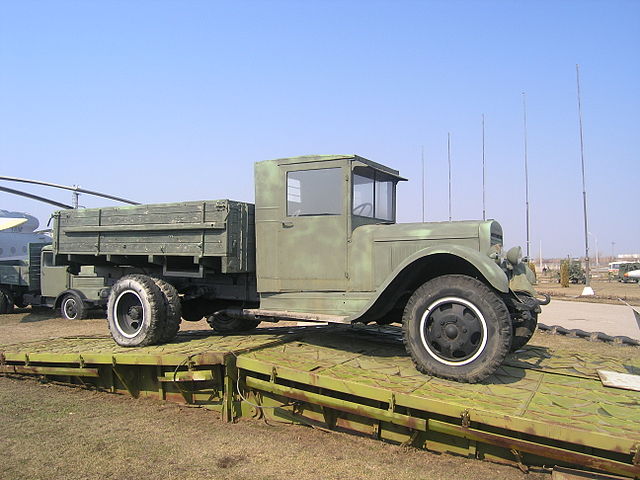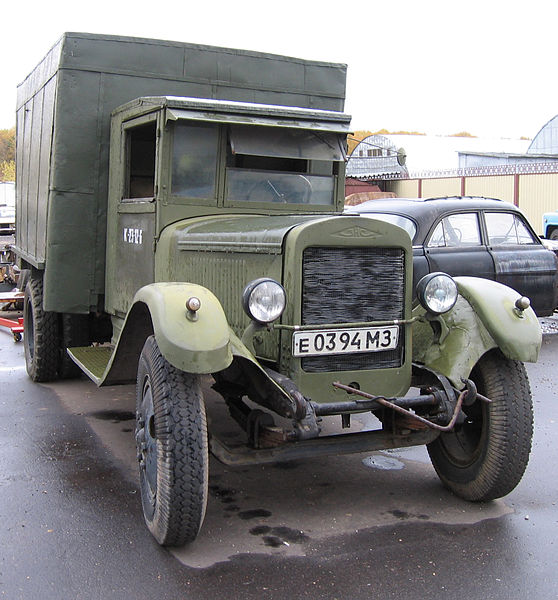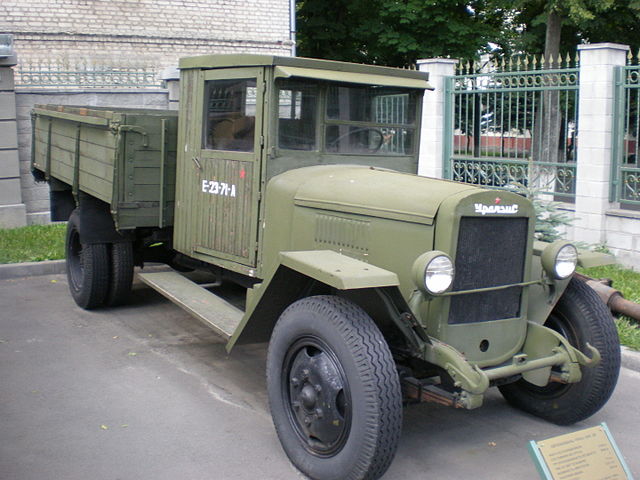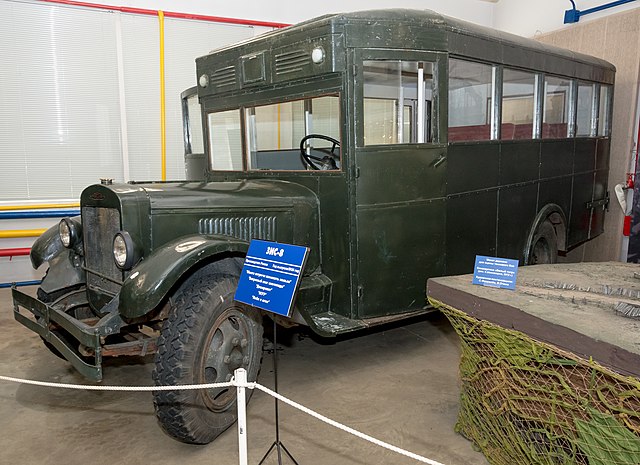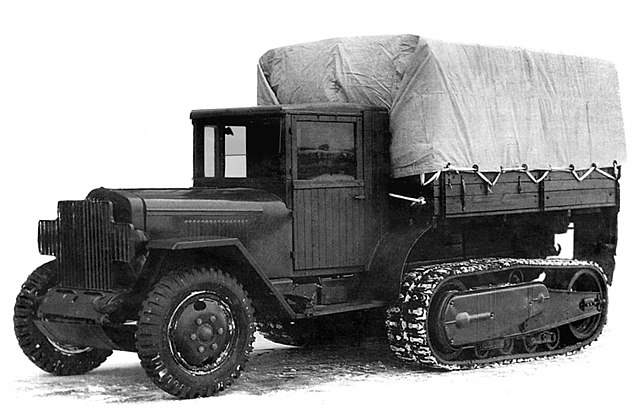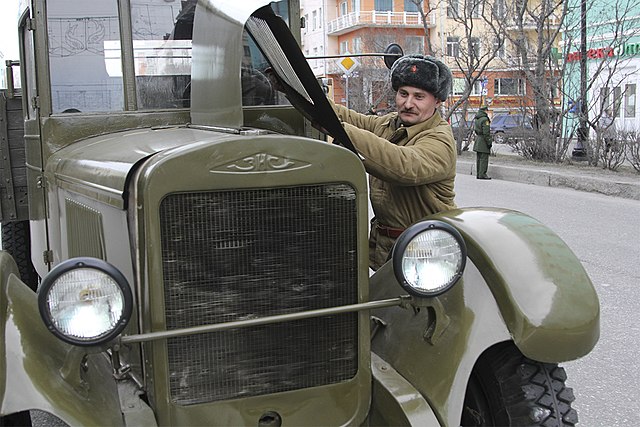 ---
Axis Trucks

Purchase this pagemarker and support the site !
Sd.Kfz 2, 6, 7, 8, 9, 10 and 11 were half-tracks designed just before the war as prime movers, to carry supplies, ammunition, personal, and tow artillery. Many were also converted during the war as armored versions carrying AA FLAK guns (Flakvierling, 37 mm, or the legendary 88 mm Rheinmetall als used as tank hunters), or were converted as nebelwerfer (rocket launching armored vehicles). They were built by Hanomag, Steyr, Mercedes-Benz, Bussing and many other manufacturers until 1945, over 20,000 half-tracks.
---
Cold War & Modern Vehicles
Modern Trucks