Genesis of the "Big Dodge"
Called the "beep", the WC series by Dodge during WW2 was the second best known serie of vehicle after the Jeep to roam the battlefields, present everywhere where GIs were deployed. With more than 200,000 vehicle, the large WC familiy of 4x4 3/4 tons truck was amazingly successful, proving the missing link between the light Jeep and 5+ tons trucks of the US Army. However, the main version of the Dodge 4x4, the WC-51/52 weapons carrier (G-502), the standard troop carrier of the US Army reached its limited when doctrines changes mid-war.
Indeed in late 1942, the U.S. Army reorganized its lowest échelon, after learning from early wartime lessons, going from eight-troop rifle squads (which could be carried by the WC-51/52) to twelve-men squads. That became a problem, and in the meantime, two vehicle carried a single platoon, with extra room for storage and ammo. But for small operations it was more practical to have just one vehicle per platoon. So under the direction of Major General Courtney Hodges, Chief of Infantry, the G-502 was ordered to be simply stretched out by Dodge in 1943, adding an additional driven rear axle. The operation could be done on a basic chassis in about a week by the manufacturer, saving precious design time and ensuring the new vehicle could be delivered quickly afert some retooling of the assembly line.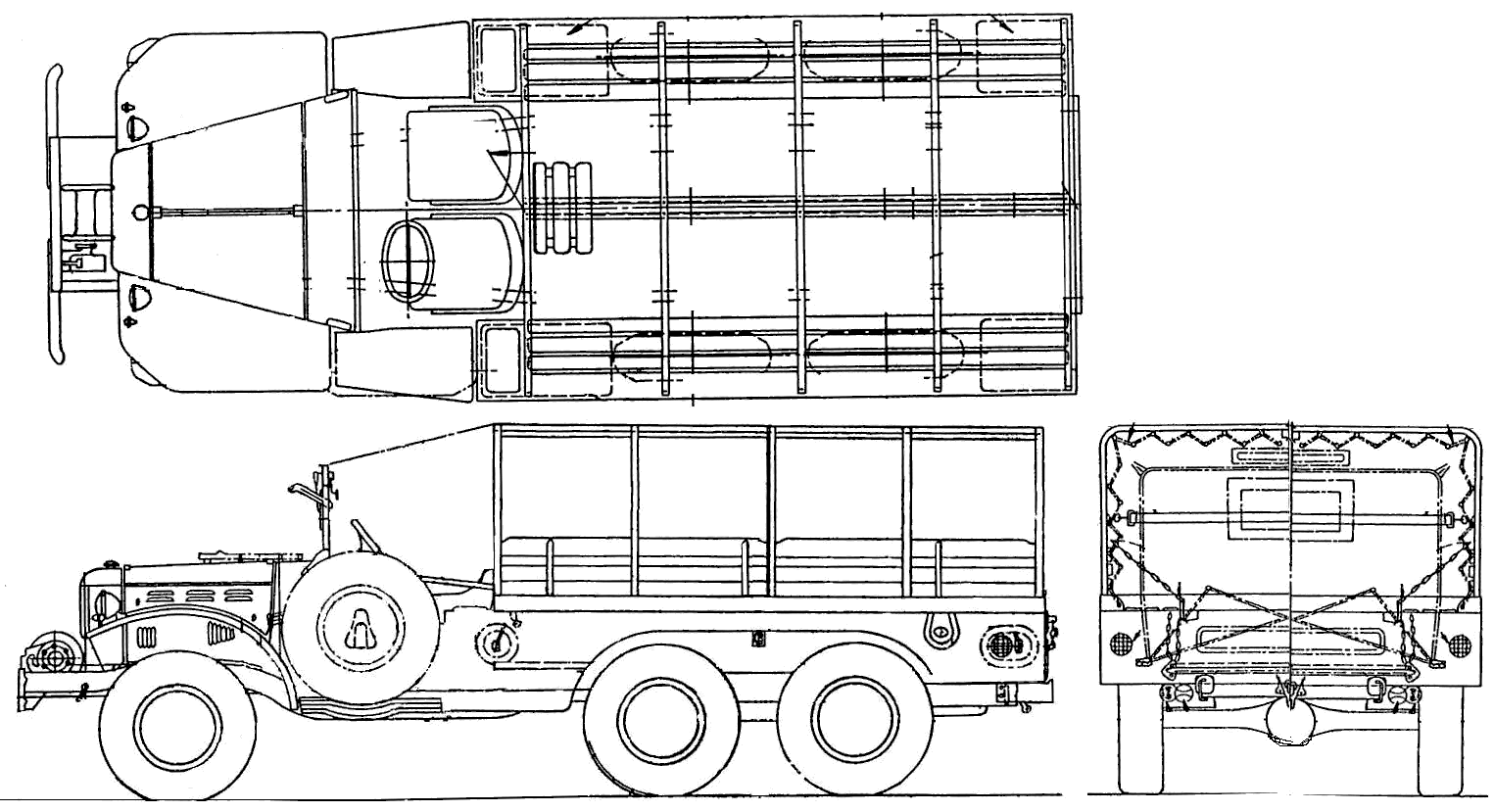 Of course, the new vehicle would benefit maximal commonality with previous WC-51/52 to take their place without changing much of the well-oiled supply chain. After it was factory tested, then field tested, the new WC-62 was approved without a hinch and almost no modifications, just to start a production run as soon as that was possible. The new vehicle was indeed urgently needed. And so Dodge procured until the end of the war, a new, larger 6x6 to the US Army, fighting on all fronts (and US Marines) which also saw service for long after the war.
Design of the G-507 serie
The G-502 chassis was stretched by 48 inches (1.22 m) to accomodate an extra axle. This longer 6-wheel drive truck however used exactly the same engine, gearbox, cockpit, mechanicals parts, up to a near-identical front-half sheet-metal cab. It was delivered to save materials in open cab configuration, unarmed for the most, with just a tarpaulin to cover the cabin in bad weather. The new G-507 was now rated as a 11⁄2-tons and had at least a single real difference, the only real challenge of its redesign: Its dual-range transfer-case, (an no longer single-speed case) of the earliers series, 1⁄2-tons and 3⁄4-tons. The WC-62 troop/weapons carrier now had a flatbed long enough to carry six men seated, so 12-troop squad per vehicle as requested by the army.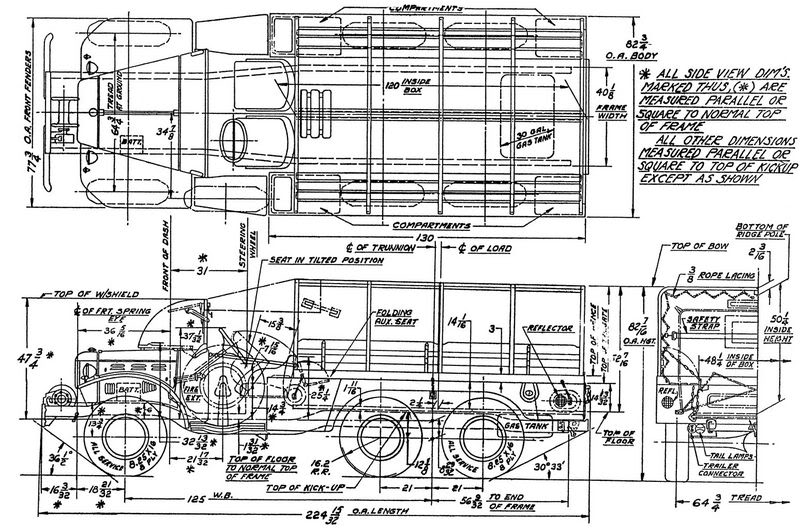 The chassis had a longer frame which housed the engine power take-off and drive-shaft, from the transfer-case forward on the WC-62, but the WC-63 was soon created, with a longer even frame so that the bumper was further forward (10 inches (25 cm) more), housing in between a Braden MU2 winch, which capacity was rated at 5,000 lb (2,270 kg) pull-strength, same as the WC-52. However by late 1943 it was obvious the larger weight of the 6x6 asked for a larger winch and its wire rope size went from 3⁄8 inch (9.5 mm) in diameter to 7⁄16 inches (11 mm) for a rated capacity now of 7,500 lb (3,400 kg).
Another change was in the engine, going from the standard Zenith 29 BW-12R carburettor, but it was changed at the end of the war by a more powerful Carter ETW-1 model. As many components were strengthened in the new design model which offered twice the payload, many of these changes were also incorporated back into the running production of the 3⁄4-ton G-502 model along the way in 1944-45. Mechanical uniformity of the 3⁄4-tons series was somewhat dented, but both models still shared most common parts and overall, uniformity and ease of production and maintenance of all different models seemed a bigger benefit overall. All were produced at the Mount road plant in Detroit, none at Fargo.
WC-62 armored truck
David Haugh coll. Fargo 6x6 armored truck prototype
A single WC-62 armored car prototype was built to test the possibility of replacing the new obsolescent M3 Half Track Car, for infantry units operatin on the front line. The master idea was to provide the chassis a brand new armoured shell, which main feature was its sloped armored walls. They were no longer flat as in the M3, which offered a poor protection to its occupants. Not only the sloped armour offered the advantage of an artificial increase in armor thickness, but provided also some extra protection in case of artillery bursts, since the crews could take shelter under the half upper part of the sloped walls. The vehicle was still open top for practical reasons, but the driver cab was entirely armored. It had armored shutters and an access to the rear. It was planned to install a ring mount for a 12.7 mm Browning cal.50 M2 heavy machine gun as well and two pintle mounts for M1919A4 0.3 inches MGs as well. Plans for future adaptation included a tank hunter and various self-propelled howitzers. However the model tested on the field still had the original engine, and was a bit overwhelmed by the new armour. As a result, performances were mediocre, and given the time needed to adapt a brand new powerplant, the program was shelved. The prototype was scrapped after the war and only a few photos survived.
WC-62 - Production 23,092
Length: 16 ft 0 in (4.88 m)
Width: 6 ft 6 in (1.98 m)
Height: 6 ft 9 in (2.06 m)
Weight: 5,357 lb (2,430 kg)
Payload: 1,750 lb (800 kg)
WC-63 - Production 20,132
Length: 16 ft 0 in (4.88 m)
Width: 6 ft 6 in (1.98 m)
Height: 6 ft 9 in (2.06 m)
Weight: 5,357 lb (2,430 kg)
Payload: 1,750 lb (800 kg)
WC-62 in combat
The WC-62/63 was not only able to carry ore men, it was also able to carry twice te payload as well as having a front axle and the 3rd axle be powered separately when driving off-road. The end result was a 6x2, 6x4 and 6x6 vehicle, bringing amazing versatility to Infantry squads on all terrains. Total production which ceased at the end of 1945 only reached 23,000 vehicles (Other sources cites 43,224, comprising both the WC-62 and 63) so about one tenth of the total Dodge WC series, but it looked the way forward.
The WC-62/63 arrived made its combat debut not in North Africa nor Sicily but Italy, in February 1944. For the first time, these vehicles were in numbers, supplying frontline units, while rear echelons were still equipped with the WC-51/52, which started also to replace older 1/2 tons Dodge models, still used by rear units. In June 1944, also, frontline units were provided the new 6x6 Dodge, which soldiered on until September 1945.
Meanwhile, the allies also were provided with the 6x6 of both versions, 6,344 total being delvered by lend-lease, including 4,074 to the Free French, 2,123 to British Forces, and 137 to Brazil (expeditionary corps in Italy). The French used theirs in Indochina until 1954 and Algeria until 1962. Afterwards many ended on the civilian market, in lumberjack sites or as firefighting vehicles. After WW II, a large number of these surplus vehicles ended in various NATO countries, notably France, Norway, or Italy, and while none hit the civilian market, some stayed in service in various fire brigades, until the 1980s sometimes. In the US, only a limited number of decommissioned army vehicles were converted to civilian vehicles, on a per-vehicle authorization basis. In some cases, a new cab was fitted, like the 1950's power wagon cab. Restomod companies offered many of such late converions almist all using a Cummins 4 cylinder (turbo) diesel or V8 petrol. For collectioners, a WC-62/63 can range from
Read More/src
The WC series on wikimedia
On 6-wheels-drive.com
ww2armor.org
2iemeguerre.ca
On tankograd pub.
Mil. manual Pdf
vintagemilitarytrucks.com
wc 63 cc photos
wc 62 cc photos
discounthobbyzone.com
guntruck.com
---
Chief of Ordnance Office; Military Vehicle Preservation Association, eds. (2010). Summary Report of Acceptances, Tank-Automotive Materiel, 1940–1945 (Revision). Detroit: U.S. Army Service Forces, Office: Chief of Ordnance-Detroit, Production Division, Requirements and Progress Branch (published December 1945).
Crismon, Fred W. (2001). US Military Wheeled Vehicles (3 ed.). Victory WWII Pub. pp. 96, 98, 240–241.
Doyle, David (2003). Standard catalog of U.S. Military Vehicles. Iola, Wisconsin: Krause Publications. pp. 45–49, 55–62, 100–101.
Doyle, David (2011). Standard Catalog of U.S. Military Vehicles - 2nd Edition. Iola, Wisconsin: Krause Publications.
Richards, T. and Clarke, R.M. Dodge WW2 military portfolio 1940-45. Brookland Books LTD (Surrey, UK).
Ware, Pat (2010). The World Encyclopedia of Military Vehicles. Lorenz Books. pp. 232–233.
SNL G-657 – Master Parts List, Dodge Trucks. Standard Nomenclature Supply Catalog. Ordnance Department, United States Army Service Forces. 1 December 1943. Ten page sample here (pdf)
TM 9-808 – 3/4‑Ton 4x4 Truck (Dodge), Technical Manual (PDF). Technical Manual. U.S. War Department. 31 January 1944.
TM 9-810 – 1 1/2-Ton 6x6 Truck (Dodge T-223, models WC-62 and WC-63) (PDF). Technical Manual. U.S. War Department. 28 February 1945.
TM 9-2800 – Standard Military Motor Vehicles. Technical Manual. Washington: U.S. War Department. 1 September 1943.
TM 9-2800 – MILITARY VEHICLES (PDF). Technical Manual. Washington: Department of the Army. 27 October 1947.
TM 10-1443 – 1/2 Ton 4 x 4 Dodge Trucks for U.S. Army (PDF). Maintenance Manual. Washington: U.S. War Department. 20 February 1942.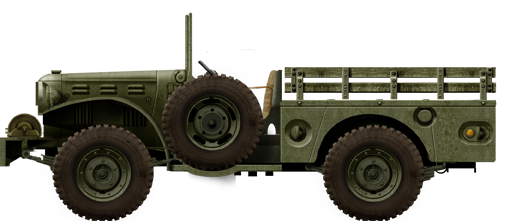 WC-55 for comparison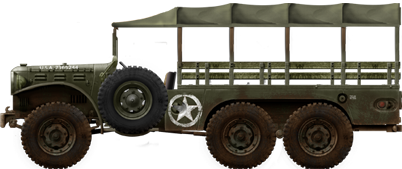 WC-62 in standard configuration, with tarpaulin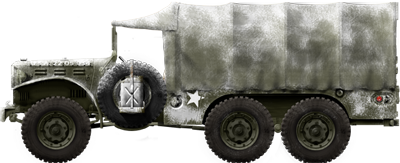 WC-62 Ardennes, Dec. 1944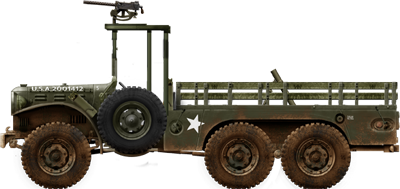 WC-62 carrying a mortar, Italy 1944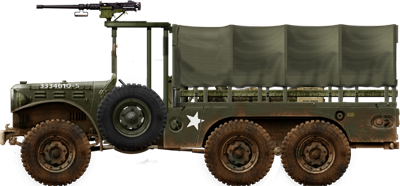 WC-62 with a cal.05 pintle mount

WC-63 without winch

WC-63 with tarp

WC-63 of the Free French, Alsace, 1945
Photos
Videos
---
Axis Trucks

Purchase this pagemarker and support the site !
Sd.Kfz 2, 6, 7, 8, 9, 10 and 11 were half-tracks designed just before the war as prime movers, to carry supplies, ammunition, personal, and tow artillery. Many were also converted during the war as armored versions carrying AA FLAK guns (Flakvierling, 37 mm, or the legendary 88 mm Rheinmetall als used as tank hunters), or were converted as nebelwerfer (rocket launching armored vehicles). They were built by Hanomag, Steyr, Mercedes-Benz, Bussing and many other manufacturers until 1945, over 20,000 half-tracks.
---
Cold War & Modern Vehicles
Modern Trucks