Jiefang CA-30

Chinese PLAN - c600,000 built
After China established the First Automobile Works (FAW) in Changchun, the Jiefang CA-10 lorry was introduced, followed by the larger CA-30. The latter was developed in the same factory and reused some of its elements, but overall was closer to the Soviet ZIL-157, a 6x6 truck with better overall offroad characteristics. It was produced to very large numbers until the 1980s, ensuring a steady source of transportation to the PLA, seeing action in Vietnam among others (until 1973 vs. US and ARVN, then in 1979 against the NVA). Replaced now by vastly more modern trucks after the opening on China to the West in the late 1970s, it is only still used by some civilian services.
Origin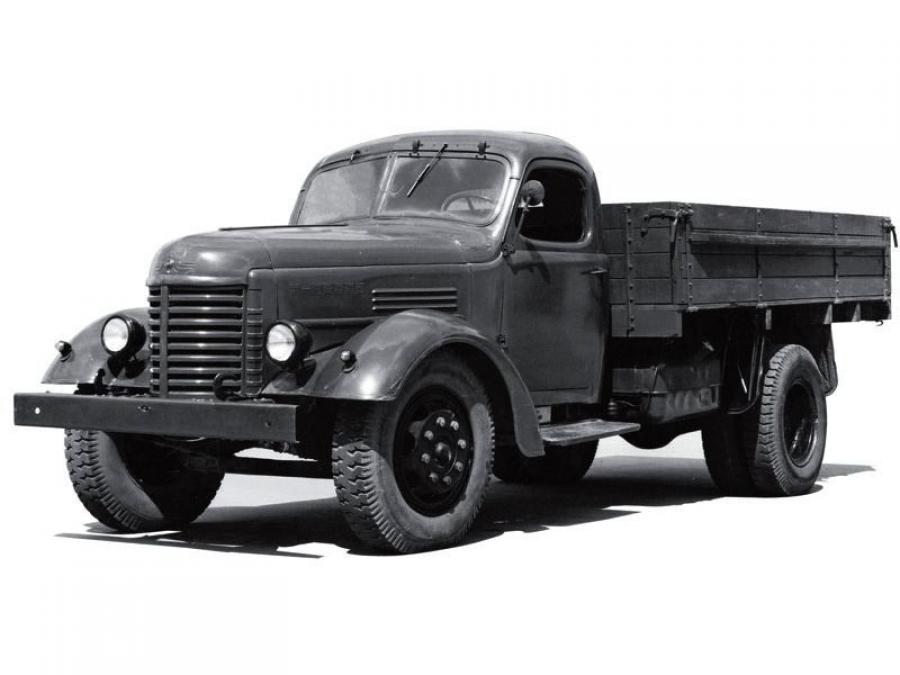 The previous CA10 2x4 truck delivered from 1956
The founding of the People's Republic of China in 1949, was supported by USSR, which provided armoured vehicles, and help to setup factories, for tanks, tractirs and trucks. It was even made more obvious during the war in Korea, as Chinese troops were carried by leased soviet trucks, when they were not on foot. Thousands of ww2 Russian trucks were sent to China, some ex-US land lease models, and with the Sino-Soviet Treaty of Friendship, Alliance, and Mutual Assistance a first production line was setup in 1956 in the North of China, the "inner Mongolia Factory 617 ("Baotou Tank Plant") and the First Automotive Works in Changchun (Jilin province) on July 13 the same year to built the Soviet ZIL-151 6-axle truck, soon locally known as the Jiefang CA-30.
Jiefang (解放) means Liberation. This commercial vehicle brand of First Auto Works (FAW) was a faithful copy of the ZIL-150, an off-road variant which production started earlier in 1956 until 1986. But the more complex CA-30's own production started in 1958 and it was manufactured until 1979 or 1986 depdending on sources. Although it existed for the civilian market, its largest customer was the People's Liberation Army (PLA). It had a much greater capacity compared to the CA-10 and thus became the main heavy general purpose duty truck of the army. But FAW also sold them to oil exploration, construction, forestry companies and services. Soon several versions of the CA30 emerged: A flatbed truck, a flatbed troop transport truck, a transport truck, a fuel transport tanker, several types of recovery vehicles, and a command vehicle with a dedicated rear cabin (see later).
Design of the CA-30
The Jiefang CA30 developement depended strongly on the assistance of the Soviet Union. It was based on the Soviet ZIS-157, derived fom the
ZIL-151
, itself based on the former US-manufactured lend-lease American International KR-11 truck used in large numbers by the Soviet Union in WWII. A successful model, it rivalled for the PLA the also well-known Nanjing NJ230 truck. Dimensions were pretty close to the
ZIS-157
, circa 3,665 + 1,120 mm (144.3 + 44.1 in) for the wheelbase, 21.93 ft/6.684 m in lenght, 7.595 ft/2.315 m in width and 7.74 ft/2.36 m in height, with a Curb weight of about 5,500 kg (12,000 lb). It had massive steel bumpers with twin-hooks for pulling vehicles out of the mud. Front were protected behind mesh. There was no blakout light.
The empty Weight was circa 12,015.19 lb/5,450 kg with a maximum Load of 9,920.8 lb/4,500 kg on road and 5,511.56 lb/2,500 kg cross-country. Apparently one sure way to distinguish the CA30 from the ZIL-157 was its fenders, rounded in early production, then simplified with flat surfaces. Unlike British or WW2 US trucks, there was no hatch inside the cabin for a MG mount. There was no cantral inflation system and the tyres were not yet of the run-flat type.
Powerplant and Performances
The CA30 was powered by a 336 cu in or 5.5 liter 6-inline diesel Jiefang 120 gas I6 rated for 95 hp (71 kW) instead of 90 hp at 2,400 rpm for the CA10. Transmission was a 5-speed manual gearbox with 2 range transfer case. Top speed based on the nimbler CA10 was probably around 65 km/h (40 mph), fuel consumption however rose to 40+ liter for 100 km according to comparative data. Thus range was not stellar, especially in off-road conditions. It has also large tyres in cross section, circa 8.25 in × 20 in (21 cm × 51 cm) and single rear tires (6x6) unlike the CA10 which was a 6x4 with rear dual tyres, smaller. Fuel tank capacity consisted in two 150 L (39.6 US gal; 33.0 imp gal) tanks. Turning radius was circa 12m.
⚙ specifications 2 1+1⁄2 ton 6x6 cargo truck

Year of introduction
1959 (service 1964-90s)
Main specs
3,540 total weight
Propulsion & perf.
90-hp 6-cyl. gas. 65 kph
Payload
4 tons
Production
800,000 in 1986 (circa)
Service
Semi-armoured CA 30 Katiusha, Vietnam 1973
Like the Russian ZIL-157, the FAW JS30 had excellent cross-country capabilities and its large flatbed and payload authorized many configurations. This it was used in the PLA as cargo transport or tractor-trailer. Many were destributed to the Vietnamese, and it was used by China, Vietnam and other countries like North Korea until the 1990s, phased out. This longevity is properly amazing as it was essentially a 1940 US design. A few few still remain in private hands, specialized off-road dump trucks/construction vehicles. Iveco acquired Jiefang and changed its name to "FAW First Auto Works".
Read More/Src
Ware, Pat (2010). The World Encyclopedia of Military Vehicles. Lorenz Books.
https://carnewschina.com/
carnewschina.com/2021/11/28/the-big-read-faw-part-2
automuseum.bjft.gov.cn/automuseum
chinacarforums.com
Wiki CA-30
chineseposters.net
tractors.fandom.com
Illustrations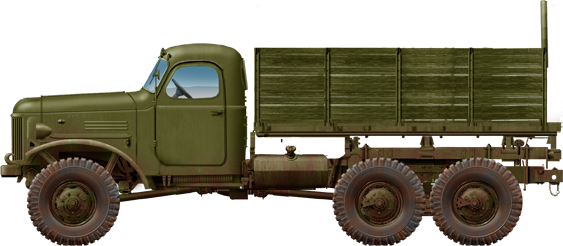 Only made so far, more to come in an update.
Photos
Jiefang CA 10
Jiefang CA 10 during the 1969 cultural revolution
Rusting CA 30 in China (cc)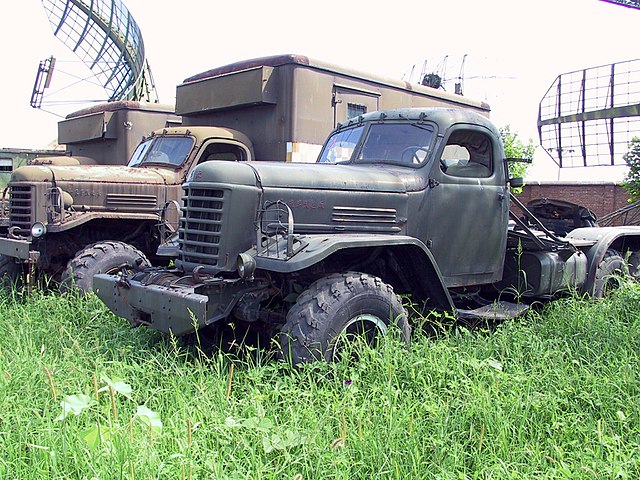 Bangladeshi Jiefang Bridge carrier
Model kit
Videos
---
Axis Trucks

Purchase this pagemarker and support the site !
Sd.Kfz 2, 6, 7, 8, 9, 10 and 11 were half-tracks designed just before the war as prime movers, to carry supplies, ammunition, personal, and tow artillery. Many were also converted during the war as armored versions carrying AA FLAK guns (Flakvierling, 37 mm, or the legendary 88 mm Rheinmetall als used as tank hunters), or were converted as nebelwerfer (rocket launching armored vehicles). They were built by Hanomag, Steyr, Mercedes-Benz, Bussing and many other manufacturers until 1945, over 20,000 half-tracks.
---
Cold War & Modern Vehicles
Modern Trucks