Nissan Patrol (1958)
The Nissan/Datsun Patrol
The Nissan Patrol was the second generation "Nissan Jeep" distributed by Datsun on export. A true, simple 4WD vehicle it seduced a large customer base around the world as a cheap alterantive to the mythical Land Rover. Taking on the same hostile environments. It was one of the most common 4WD vehicles, produced for 20 years, in the sixties. Its Military was shorted however. Its predecessor was used by the JSDF, but not the G60, although in 1964 appeared a "military" version for this market; Only it's Indian variant, the Jongla was specifically manufactured for an Army, taking part in the 1971 Indo-Pak war.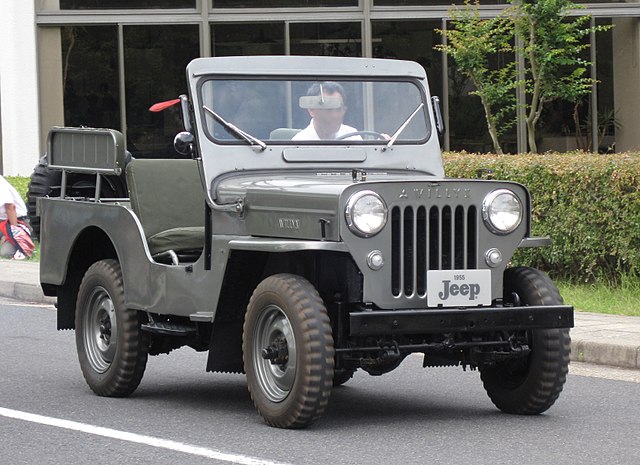 Mitsubishi Jeep 1955
Datsun: Already in 1918, the first DAT trucks were produced for the military market. DAT was forced to merge with another truck maker, Jitsuyo Motors, in 1926, leading to the creation of DAT Automobile Manufacturing Co. (Osaka until 1932) then moved to Yokohama and the name changed for DATson, (son of DAT) which was a small car destined to the civilian market. The company became Nissan Motor Co. Ltd. in June 1934. It provided the IJA during WW2 with converted civilian lorries, and the Nissan 80, 180, 94, 95, 97 and of course the Type 95 Kurogane, main liaison and staff car of the IJN in campaign.
Datsun's production resumed from 1958 to 1986, only export vehicles by Nissan were still labelled as "Datsun". The brand was terminated in March 1986, relaunched in June 2013 for low-cost vehicles in emerging markets. Apart Nissan, Mitsubishi also created a "Jeep" 4WD, produced from 1953 à 1998 as a local CJ variant with a new badge, in 3 and 5 door versions and cabriolet. In 1981, it was replaced by the Pajero. Like other Japanese car makers post WW2, Nissan decided to take on the Willys Jeep, reverse engineered and go for its own off-road 4WD. It started from 1951 and the first model called G40 in 1958, earne dits own Patrol badge.
By 1960, the new (2nd gen.) Patrol was ready for all markets ats the G60.
Nissan's take with the "Japanese Jeep"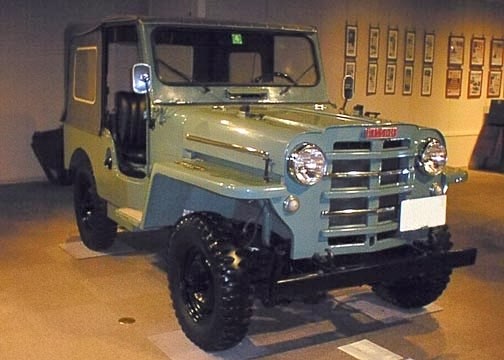 Nissan Patrol 4WD 61
Evolution of the Nissan patrol
The Nissan Patrol (日産・パトロール or Nissan Patorōru) were full-size SUVs from Nissan, a long lineage started in 1951. The Patrol has been available as either a short-wheelbase (SWB) three-door or a long-wheelbase (LWB) five-door chassis since 1951. The LWB version has been offered in pickup truck and cab chassis variants. Between 1988 and 1994, Ford Australia marketed the Patrol as the Ford Maverick. In some European countries, such as Spain, the Patrol was marketed by Ebro as the Ebro Patrol. In 1980 in Japan, it was rebadged and alternately sold at Nissan Prince Store locations as the Nissan Safari.
The Patrol was soon seen as a way cheaper alternative to the mythical Range Rover, and was soon available in Australia, Central and South America, South Africa, parts of Southeast Asia, and Western Europe, as well as Iran and the Middle East, evolving into three generations. The 2011 model was a hit in North America as the Infiniti QX56/QX80, first Patrol since 1969 and from 2017 competed with the Nissan Armada for the same entry.
The Nissan Patrol 60
The soft-top Nissan Patrol 60 (two-door; 2,200 mm (86.6 in) wheelbase and G60) (two-door; 2,500 mm (98.4 in) wheelbase) some converted to left-hand drive GL60 sold well both in Australia. Canadian US and Canada. They were distributed from 1962 until 1969 but sold through Datsun dealerships. An extra-long wheelbase H60 was also proposed. In 1963, the KG60 (and KGL60) hard-top models were introduced.
Design
Mid-size off road vehicle. It had a manual transmission type-F3B83L at first with three and later with four speeds, and a two-speed transfer case with part-time four-wheel drive. The motor was the P engine, a 3,956 cc (241.4 cu in) inline overhead-valve six-cylinder, featuring bathtub-shaped combustion chambers and a fully balanced seven-bearing crank shaft. With two doors in front and one at the back and four seats (driver and companion in front, two parallel back seats), the extra-long wheelbase version (the H60) was available with eight-passenger capacity.
It was delivered in several bodies, with the 3-door soft-top body (SWB) being by far the most popular. It was a solid alternative to the Range Rover. It was a 4x4 part-time with rear permanent, front engaged manually in off-road conditions and a transfer case with a ratio of 2.264/1, and the same manual 3-speed gearbox all along. The engine displaced 3956 cm3/240.8 cui, with an output of 92 kW, 123 hp or 125 PS (SAE) and a torque of 285 Nm/210 lb-ft. The overall lenght was 4070 mm (160.2 in) for 1,693 mm (66.7 in) in width and a wheelbase of 2500 mm (98.4 in) by default (SWB). Its base curb weight was 1640 kg (3,615 lbs) and gross weight 2105 kg (4641 lbs). It was able to reach on road no less than 120 km/h (75 mph) with an acceleration of 0-60 mph 15.9 s; or 0- 100 km/h in 17.3 s and 1/4 mile drag time (on 402 m) in 20.2 s. Cinsumption was 17.8 l on 100km or 15.8 mpg (imperial gallons) or 13.2 mpg (U.S.) equivalent to 5.6 km/liter.
Body Styles
⚙ Body Styles

60 (SWB)
G60 (LWB)
H60 (Super LWB)
60 soft top
K60 hard top
WG60 station wagon
G60H-A cab/chassis
VH60 van
62ZG60H pickup truck
FH60 fire truck
3-door hardtop
3-door softtop
3-door wagon/van
2-door pickup
fire truck
Nissan Patrol specifications

Type
Lenght
3,650–4,250 mm (143.7–167.3 in)
Width
1,740 mm (68.5 in)
Height
1,720 mm (67.7 in)
Wheelbase
2,200–2,800 mm (86.6–110.2 in)
Total weight
1,200 tons
Crew
2+6
Propulsion
4.0 L P I6
Layout
Front-engine, four-wheel-drive
Transmission
3/4-speed manual
Suspension
Leaf springs
Speed (road)
50 kph (60 mph)
Range
400 km (250 mi)
Armament
None (personal weapons)
Production
1952-73.
Manufacturer
Hiratsuka; Yokohama; Zama (1965–1980)
Service
G60 Army series 1964. It was marketed as such to the JSDF, with a serie of modifications:
Larger military Tyres
Reinforced Suspensions
Raised Ground guard
Bull Bar
Step
Back fuel Jerrycan holder
Blackout Lights
Bumper-mounted SR Winch
Engine's Deep-fording Exhaust
However it seems not to have been adopted by any army in significant numbers. It is different also to the Indian Jongla, more primitive.
Indian Jongla P60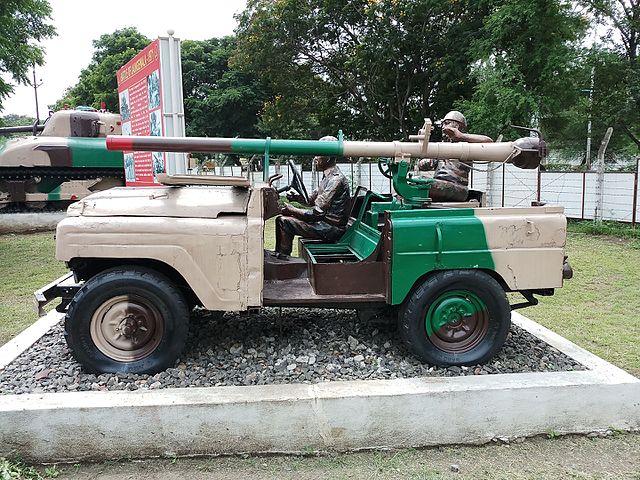 Jongla with Recoiless Rifle of the 1971 Indo-Pak War.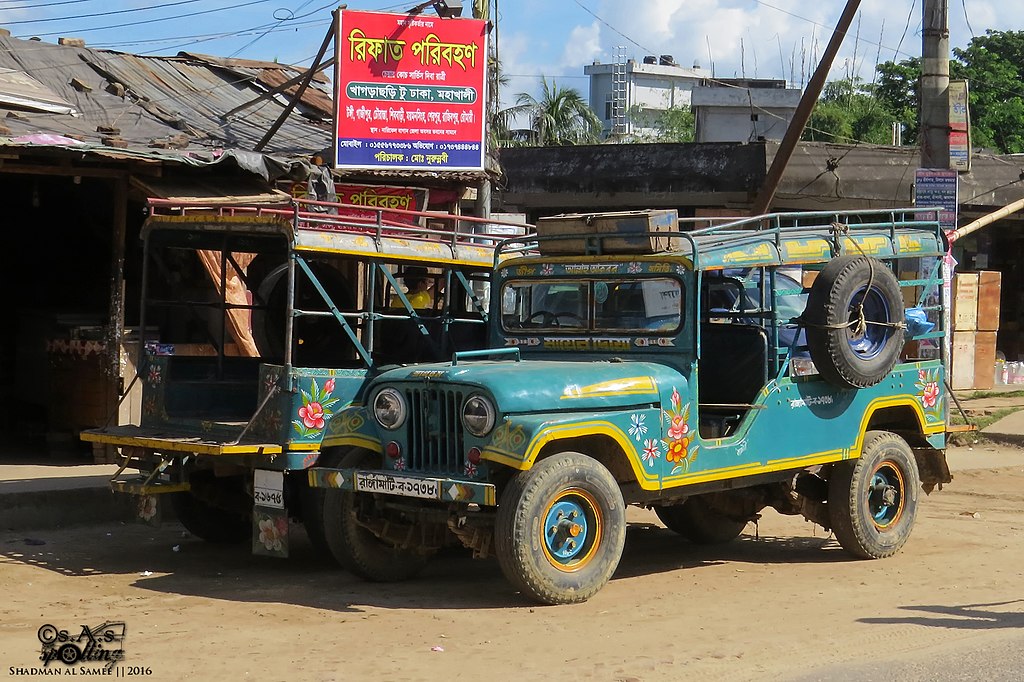 Willys M38A1 of the Indian Army
Beginning around 1969, the Indan G60 was licence-built in Jabalpur (1965–1999). The Indian Army's Vehicle Factory began assembling the Patrol G60 as the "Jonga" along with the Nissan 4W73. It seems the name was an acronym, of "Jabalpur Ordinance aNd Guncarriage Assembly". The two Nissan vehicles shared the same engine and many parts.
But the shining moment of the Jongla was the Indo-Pak war of 1971. It was one of the main Indian staff and reconnaissance vehicle of the Indian Army, some heavily armed, notably with recoiless rifles. Of all the customers, this was the only proper military version of the Nissan Patrol G60 to see action.
The Jonga was briefly also was sold to civilian customers, but with a 4.0-litre Hino diesel engine in 1996, though demand was low and less than 200 were sold. The Jonga was still used by reserve units of the Indian Army in the 1990s, replaced by the Mahindra MM550. Those surplus were auctioned sometimes streched and converted as passenger transports, and are still quite common in some rural areas of India.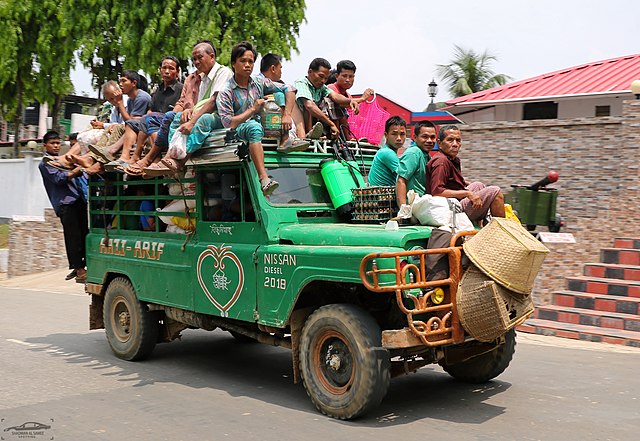 Patrol 60 Chandar Gari
Patrol 60 converted as a passendger "bus" in rural India as of today.
Philippines Makati (1961–1983)
The Nissan G60 was also built in the Philippines, at the Makati plant between 1961 and 1983. Numerous local versions were used. It is not known however if the G60 was used in its 1964 military version, although many are circulating today in the country.
Australian G60 (19–1983)
There's debate over what year the G60 was imported to Australia, Nissan Australia claiming it was the first ever "European" crossing of the Simpson Desert not using camels or horses in 1962, with a G60. The idea of a 4x4 made its way in to the public and the vehicle became a serious contender for an emerging, but vigorous 4x4 market. It was not aimed at the military, which at the time relied on the Land Rover. It was also not market for civil engineering or agricultural use. Soon it went against the Toyota LandCruiser. The Aussies judged it "downright primitive" with its separate ladder chassis and bolted-down chassis, leaf spring suspensions front and rear, drums brakes and no power steering, 3 speeds manual gearbox.
Australia played a significant role in its heritage, becoming one of the first international markets to sell the rugged off-roader outside of Japan from 1961, with the introduction of the second-generation G60 Datsun Patrol. The SWB G60 was not only the first to cross the Simpson Desert in 12 days, this was also a scientific breakthrough as its crew comprised geologist Reg Sprigg, his wife Griselda, and children Marg and Doug, which charted a over more than 1,100 sand dunes from the Northern Territory to Queensland. Today G60s are still around thanks to their simple mechanics, in the outback.
South Africa Rosslyn (1959–1983)
The Nissan G60 was built in South Africa since 1959 with the 4.0-litre in-line six-cylinder petrol engine and same transmission. It was not used by the military.
In the Middle East, the first previous 4WD Patrol arrived in Kuwait in 1957. It was followed by the G60 in the 1960s.
G60 in the US
The G60 arrived there in 1961. The local Japanese marketing pushed the idea of the perfect vehicle for the off-roader able to take on the world's greatest mobility challenges and it was called the "King of the Off-Road." This was also the first branded as "Nissan" in the US and earning the title 'King of the Cowboys' by Roy Rogers himself in 1967.
Src/Read More
Nissan_Patrol
carsguide.com.au
me.nissanmotornews.com
nissanpatrolg60.blogspot.com
www.patrol4x4.com
nissanpatrol.com.au
whichcar.com.au
cars-directory.net
news.carsalesportal.co.za
www.patrol4x4.co.za
javehicles.weebly.com
global.nissannews.com
Gallery of models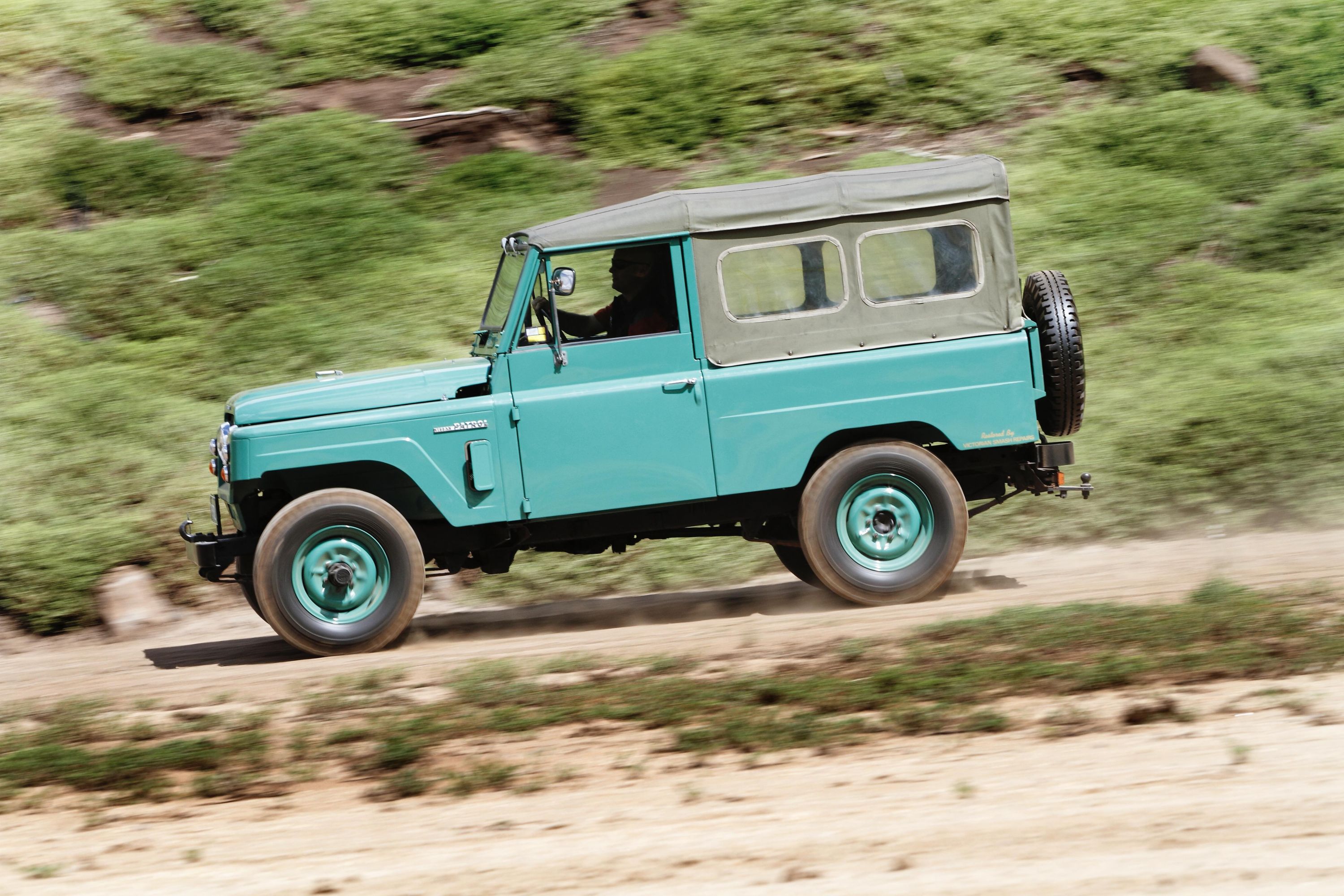 Patrol G60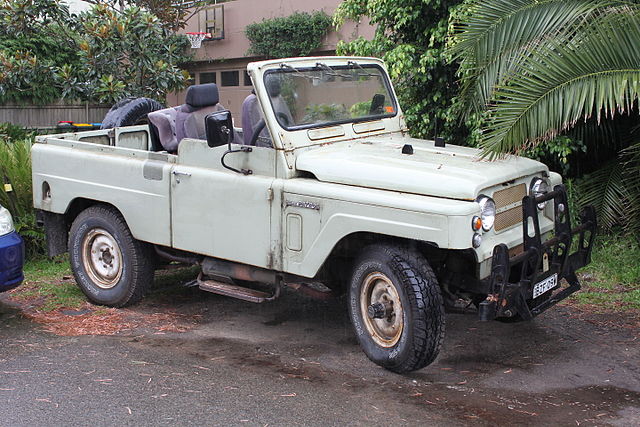 1979_Nissan_Patrol_G60_soft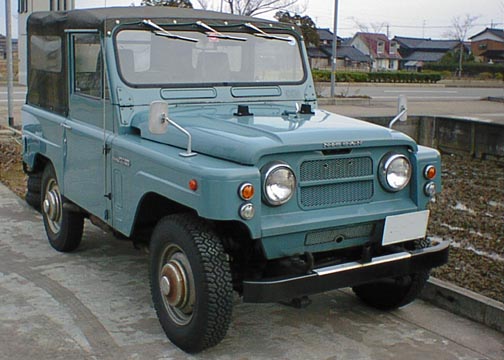 NissanPatrol60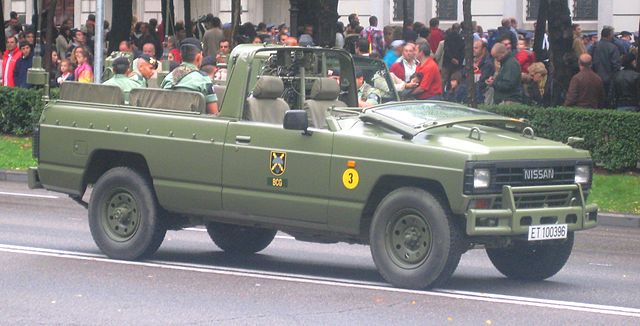 Nissan_Patrol_ML-6_ET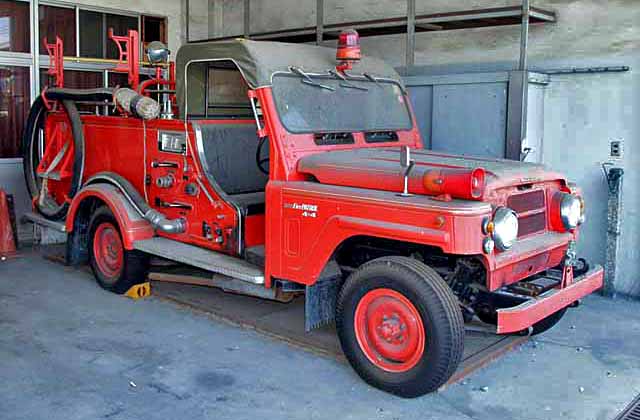 Fire-patrol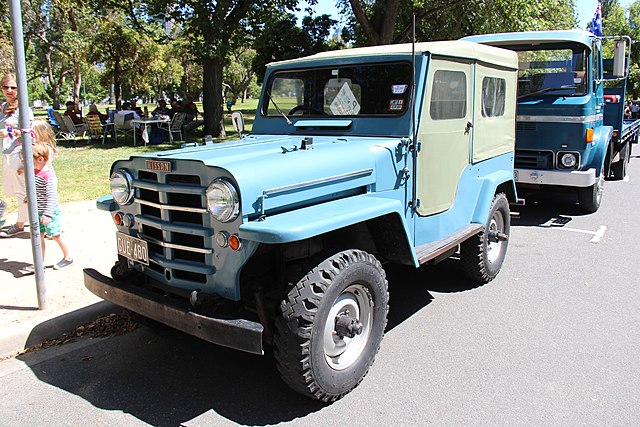 1958_Nissan_Patrol_4W61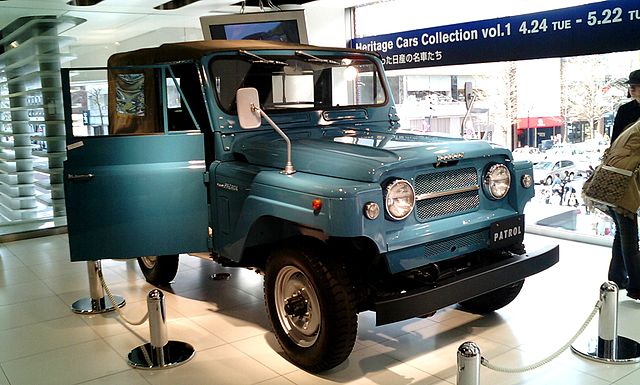 Heritage_Cars_Collection_vol1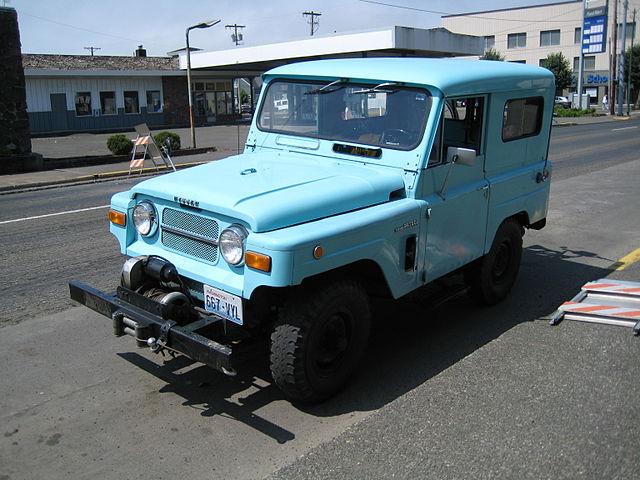 Patrol K60
Illustrations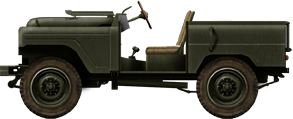 Basic Nissan Patrol G60 in military livery, SWB soft top variant, windshield folded.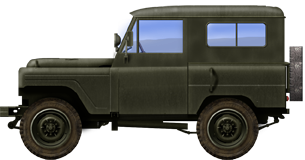 Hardtop version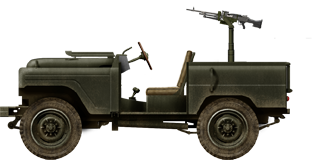 Jongla with an FN-Mag, 1971 war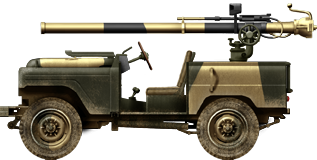 Jongla with an M40 Recoiless Rifle, 1971 war
---
Axis Trucks

Purchase this pagemarker and support the site !
Sd.Kfz 2, 6, 7, 8, 9, 10 and 11 were half-tracks designed just before the war as prime movers, to carry supplies, ammunition, personal, and tow artillery. Many were also converted during the war as armored versions carrying AA FLAK guns (Flakvierling, 37 mm, or the legendary 88 mm Rheinmetall als used as tank hunters), or were converted as nebelwerfer (rocket launching armored vehicles). They were built by Hanomag, Steyr, Mercedes-Benz, Bussing and many other manufacturers until 1945, over 20,000 half-tracks.
---
Cold War & Modern Vehicles
Modern Trucks