37 mm M6 Gun Motor Carrier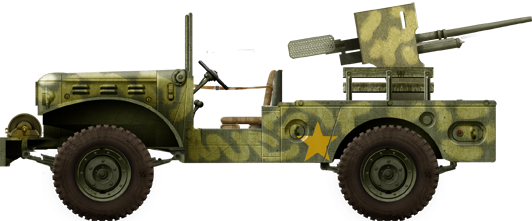 USA (1941) Tank destroyer - about 5,380 built
The "Fargo", first American tank hunter
The 37 mm Gun Motor Carriage M6 (GMC) was the first American tank destroyer of the war. It was designed in a rush. When America declared war on Japan on 8th December 1941, Japan's allies, Germany and Italy, declared war on the United States, bringing America fully into World War II.
The United States Army needed to equip its infantry units with a mobile anti-tank support weapon. At that stage, the 37 mm (1.46 in) Gun M3, introduced in 1940, was the standard anti-tank gun of the day. The 37 mm calibre was thought to be effective against Japanese armored fighting vehicles and the 1940 generation of German tanks that were used to invade Poland and France.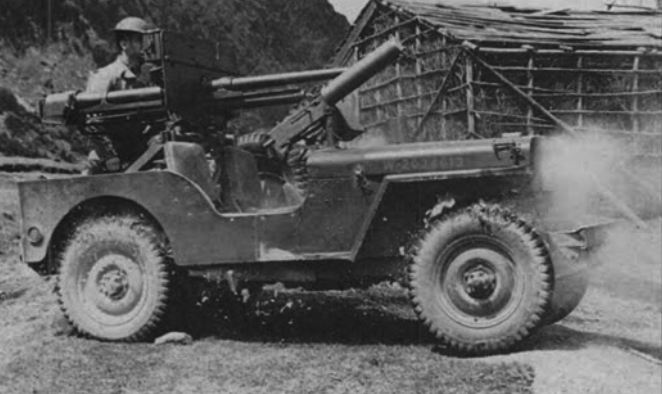 Early tests performed with an M3A1 mount on a standard Ford GP showed the vehicle could not take the recoil stess. The experiment was abandoned for a sturdier platform - Source: Weapons of Patton's armies, p.118
By early 1942, trials began. The designers soon found out that the standard Jeep was not suitable to take the 37 mm gun's recoil when it was fired. A new gun platform vehicle needed to be found. The Dodge WC 52 3/4 ton truck looked like an extended Jeep.
It was the only vehicle available in large numbers that could be quickly converted into an anti-tank weapon. It was also the cheapest at only $4,265 a piece. A 3-inch
GMC M10 Wolverine tank destroyer
cost $47,905. The M6 Fargo soldiered on to the end of the war. Other companies were involved in its construction. Dodge built over 5,300 vehicles, although not all were armed with the 37 mm.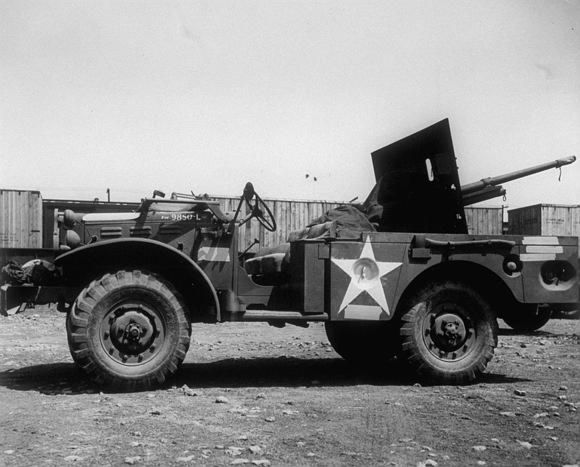 Dodge WC55 M6 37 mm GMC, as built in mid-1942 - Photo" Olive-Drab.com
Development
By November 1941, US Army 'tank attacker' formations were created to support infantry units. They were tested in war game exercises in the Carolinas with some success. By late 1941, it was proposed that Tank Destroyer (TD) battalions be created. One was to be assigned to each division plus 165 additional ones at the disposal of the US Army General Head-Quarters (GHQ). On 27th November 1941, the first of the 53 TD battalions were created, controlled by GHQ, headed by
Leslie McNair
. They preferred cheaper gun carriers for this purpose and not tanks. The impetus of an aggressive armored fighting unit's mobility was hindered by the use of towed anti-tank guns. The
en portee
self-propelled gun (SPG) solution was believed to be the best solution.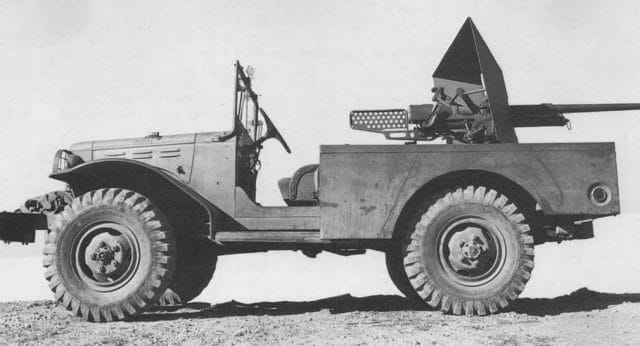 Factory-fresh, bare M6 GMC ordnance photo - Source: National Archives, From Weapons of Patton's armies, p.120
Factory codes and trials
After the unsuccessful trials of mounting the 37 mm (1.46 in) M3 gun on Jeeps, the same gun was mounted on longer, sturdier 3/4 trucks, with a better range, room and ammunition storage facilities. In the summer of 1941, the prototype was given the project name of the T21. The T22 was the developed alongside, a larger armored 6x6 vehicle that will lead to the
M8 Greyhound armored car
.
The various tests on the T21 included rear-mounted and forward-mounted guns. The production model was going to be called the 'M4 37mm Gun Motor Carriage' but this was quickly changed as the 'M6 37mm Gun Motor Carriage' to avoid confusion with the 'M4 37 mm gun carriage' which was a towed anti-tank gun. The Dodge/Fargo series of light military trucks were mass-produced: over 255,000 were produced and 5,380 were converted into M6 37 mm GMCs.
Design of the M6 Fargo
The final M6 was developed from a 3/4ton 4x4 Dodge WC52 truck, a combination that was factory designated the WC55. The vehicle was totally unarmored, except for the large 0.25 in (6.4 mm) thick gun shield, which only protected the crew when facing the enemy. Caught from the side or the rear, the crew were open to injury from small arms fire and exploding high explosive shell shrapnel.
The rear of the vehicle's chassis was fitted with a star-type riveted pivot and the gun was normally fired to the rear. When fired forward, the gun could not be fully depressed, and the blast could shatter the windshield and injure the driver and co-driver. Firing from the rear, the gun shield also protected the driver and it facilitated a quick escape or change of location. The vehicle was capable of carrying eighty rounds.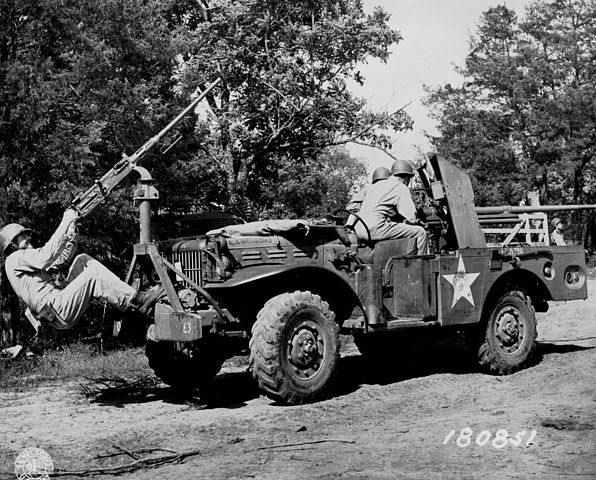 Improvised front mount for an M2 HMG cal.50 (12.7 mm) on the M6 GMC. It was used for anti-aircraft protection - Photo: Olive-Drab.com
There is no photo evidence so far of additional armor being mounted on the vehicle. The M6 GMC offered good off-road capabilities thanks to its large roadwheels and semi-elliptic leaf spring, although it was inferior in cross country performance to the half-tracks, especially in the muddy winter months in Tunisia. Its Dodge T-214 6 cylinder 4-cycle inline gasoline engine developed 99 hp (74 kW) for a 29.7 hp/metric ton power to weight ratio and top speed of 55 mph (89 km/h) on road. Its operational range was about 180 miles (290 km) by road.
The M3 37 mm gun
The 1940 37 mm (1.46 in) M3 gun was produced mainly by the Watervliet Arsenal. It fired the M74 Armor Piercing (AP) shot, which could penetrate 1.4 inches (36 mm) of armor at 500 yds (460 m). In order to improve performance, the Armor Piercing Capped (APC) M51 projectile was fielded. It could penetrate 2.4 in (61 mm) of armor at 500 yds. The High Explosive (HE) M63 Projectile was also used as an anti-personal round. The gun could depress from -10° to +15°, had a 60° traverse, and a 25 rate of fire per minute with a well-trained crew. The ammunition round's dimensions were 37 mm × 223 mm. The breech had a vertical block, the recoil lessened by an hydrospring. The muzzle velocity was 884 m/s (2,900 ft/s) and it had a maximum range of 6.9 km (4.3 miles).
The M6 GMC Fargo in action
The design was standardized in February 1942, production started in March, and lasted until October, when the 5,380th came out of the factory floor. It was the first and most current American tank destroyer when the
1st Division
, the "Big Red One", landed in Tunisia, North Africa for
Operation Torch
. Two units used them, the 601st and 701st Tank Destroyer Battalions, until early 1943.
The initial idea of using three tank destroyer units, one light, one heavy and one towed was soon abandoned. A mixed heavy (M3 75mm GMC) and light (M6 37mm GMC) unit was introduced before the landing in North Africa.
By early 1942, the British 8th Army reported that their
2 pdr (40 mm) gun
was already no longer sufficient and their 6-pdr was preferred (soon copied by the US and called the 57 mm M1). It was found the smaller caliber gun could not penetrate the uparmored German tanks. The US Army was aware of these reports but still deployed these now obsolete guns in North Africa. The M6 GMC rapidly became disliked by its crews and the vehicle was sent on to the Pacific Theatre, where it served in 1943 and 1944.
Knowing the standard M3 gun was now obsolete, the US Army planned its successor. The M3 GMC and T12 GMC replaced it, based on the standard White
M3 half-Track
. The M6 GMC was declared 'limited standard' in September 1943 but its use lasted until January 1945 when it was finally declared obsolete and retired for good. Its North African service left the impression of a failed expedient, its gun described in reports as "woefully inadequate" against German armor. By mid-1943, remaining M6s were converted back into WC carriers, while the 37 mm guns were mounted onto
M2 halftracks as the M2 w/ M3 37 mm.
These were used by the armored infantry, and were others given to the French Army, which later made their way with FFI (Interior French Forces) in France. They were used due to a lack of better solutions from the liberation until 1945. Comparatively, the M3 GMCs gave far better results.
Links and sources
US tank destroyers in combat, Steven J Zaloga, 1996.
RP Hunnicut: Armored Car: A History of American Wheeled Combat Vehicles
Weapons of Patton's armies
https://en.wikipedia.org/wiki/Dodge_WC_series
https://www.robertsarmory.com/M6.htm
More specs on https://afvdb.50megs.com/usa/37mmgmcm6.html
https://www.tankdestroyer.net/things/manuals
https://www.warwheels.net/M6_GMCindex.html
GMC M6 Fargo specifications

Dimensions (L-W-H)
4.52 x 2.2 x 2.1 m 14ft 8in x 7ft 2in x 6ft 9in
Curb weight, battle ready
3300 kg (7,350 lbs)
Crew
4 (driver +3 gun crew)
Propulsion
Dodge T-214 6 cyl. gas. 99 hp
Top speed
55 mph (89 km/h) road
Maximum range
180 miles (290 km) road
Armament
37 mm (1.46 in) M3 gun
Armor
6.4 mm (0.25 in) gun shield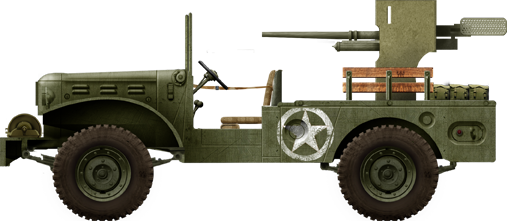 M6 GMC, 601st TD batallion, Tunisia, November 1942.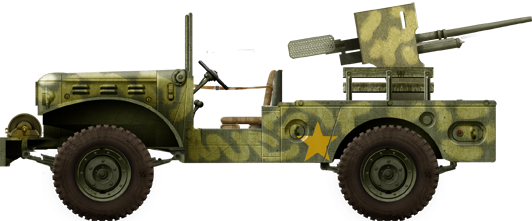 Camouflaged M6 GMC, Tunisia, winter 1942-43.
---
Nice photo of a brush mud-painted M6 GMC in Tunisia using cactus to camouflage. There were extra rear stowage racks and the shield protection was somewhat augmented by the addition of the crew's latched stores - Photo: Zaloga, US TDs in combat
Video of a 37 mm GMC life fire demo by Forgottenweapons.com
Allied ww2 Vehicles

British Vehicles
-AEC Armoured Command Vehicle (415)
-AEC Matador
-Albion CX22S
-Albion FT15N
-Albion WD.CX24
-Austin K2/Y Ambulance
-Austin K3
-Austin K4
-Austin K4 Dropside
-Austin K5
-Austin K6 GS
-Austin K6 Gantry
-Bedford MW
-Bedford OXA Armoured
-Bedford OXC Semi-trailer
-Bedford OXD GS
-Bedford OYC Tanker
-Bedford OYD GS
-Bedford QL series (QLD, QLR/QLC QLT TC)
-CMP FAT
-CMP Truck
-Commer Q2
-Crossley Q-Type
-Diamond T tank transporter
-Guy Quad-Ant FAT
-Guy Lizard ACV
-Humber FWD
-Karrier K6
-Karrier K6
-Leyland Hippo Mk I/II
-Leyland Lynx
-Leyland Retriever
-Mack EXBX
-Morris 15cwt
-Morris CDSW
-Morris ML Ambulance
-Morris C8 GS/FAT
-Morris Commercial CD series
-Morris Commercial CS8
-Morris C9
-Morris GS Terrapin
-Morris PU
-Scammell Pioneer SV1S/SV2S
-Thornycroft Nubian
-Thornycroft Tartar

French Vehicles
-Berliet DGRA, GDC, GDM, VDCA, 30
-Bernard fuel carriers.
-Citroën Kégresse P14, P17, P19, T23, 32U, 45
-Delahaye ?
-ELMAG (Alsace) ?
-Ford France ?
-Hotchkiss PKW Typ680, 686, 686 PNA.
-Isobloc buses, W843M medical bus
-Laffly V15R, S15R, S20TL, W15T.
-Latil TAR H2
-Lorraine 37L and 38L tractors
-Matford (Alsace) F917
-Panhard & Levassor ?
-Peugeot 202, 402, DMA, DK, DK5
-Renault AHS, AHN, AHR, AGC, ADK, ADH, AHSs
-Saurer type 3CT
-Simca 5, 8
-Somua MCL, MCG
-Talbot ?
-Unic TU1, P107
-Trippel (Alsace) SG6
-Willeme DU10

Soviet Trucks
-BZ-38
-GAZ AA M1927 M1932 M1941
-GAZ–MM
-GAZ AAA M1937
-GAZ AAA M1940
-GAZ-60
-GAZ-65
-Ford Marmon HH6 Katiusha
-SU-1-12
-SU-4
-SU C-6
-SU-12
-Yag-6
-Yag-10
-Yag-10 SPG
-ZIS-5/V/BZ
-ZIS-5 armored
-ZIS-6
-ZIS-12
-ZIS-22M HT
-ZIS-33 HT
-ZIS 41 HT
-ZIS 42M HT
-FN-Kégresse T3
Soviet Artillery Tractors
-Komsomolets (4,041 pre-war)
-T-26-T
-STZ-3 (3,658 pre-war)
-STZ-5 (7,170 pre-war)
-Komintern (1,017 pre-war)
-Voroshilovets (228 pre-war)
-Kommunar (504 pre-war)
-YA-12 (1,666)
Soviet staff cars
-GAZ A
-GAZ M1 "Emka"
-GAZ 11-73
-GAZ 61-73
-GAZ 67
Amphibious armoured cars
-PB-4
-PB-7
-BAD-2

US Trucks
-Ford B3000 S
-Ford V3000S
-Ford V3000A,
-Ford BB
-Ford V8-51
-Ford m1931
-Ford V8 M1937
-T1E1(M1) half-track
-T5 half-track
-T7 half-track
-T9 half-track
-G8T 2-1/2 ton 4x2 Truck
-International B2
-International model 1937
-Chevrolet m1931
-Chevrolet m1936
-Chevrolet G-506 ​1 1⁄2-ton 4x4
-Chevrolet G-7107 4-1/2 ton 4x4
-Chevrolet 3116 1-1/2 ton 4x2
-Studebaker US6x4 U7
-Studebaker US6x4 U-6
-Studebaker US6x6 U-5 6x4
-Studebaker US6 U4 bz35S 2-1/2 ton 6x6 truck
-Dodge 1⁄2-ton Ambulance
-Dodge 1⁄2-ton Carry-all
-Dodge 1⁄2-ton (Radio) Command Reconnaissance
-Dodge 1⁄2-ton Truck, Closed Cab
-Dodge 1⁄2-ton Truck, Open Cab
-Dodge 1⁄2-ton (Radio) Panel Van
-Dodge 1⁄2-ton Telephone Service (K50)
-Dodge 1⁄2-ton Trucks, Emergency Repair
-Dodge WC-51/52 (3⁄4-ton Trucks, Weapons Carrier)
-Dodge WC-53 (3⁄4-ton Carryall)
-Dodge WC-54/64 (3⁄4-ton Ambulance)
-Dodge WC-55 (3⁄4-ton Truck, M6 Gun Motor Carriage)
-Dodge WC-56/57/58 (3⁄4-ton (Radio) Command Reconnaissance)
-Dodge WC-62/43 (G-507, 11⁄2-ton, 6x6 truck)
-Dodge M6 GMC
-GMC CCKW Cargo Truck
-GMC CCKW CCKW-353
-GMC SWB CCKW-352
-GMC 1939 ACKWX 353 3 ton 6x6 truck
-GMC AFWX-353 3 ton 6x4 truck
-GMC DUKW 353 2-1/2 ton 6x6 truck
-GMC C.O.E. AFKWX
-Diamond T Model 980/981 12-ton 6x4 trucks (G159)
-Diamond T Model 968 4-ton 6x6 truck (G509)
-Diamond T Model 967
-Diamond T Model 970
-Diamond T Model 972
-Diamond M26 Dragon Wagon
-Diamond M19 Tank Transporter
-Diamond T Model 980
-Diamond T 4-ton 6x6 truck
-Autocar U8144T 5/6-ton 4x4 truck
-Brockway/LaFrance 6-ton 6x6 truck, G512, 514, 547, 569
-White/Corbitt 6 ton 6x6 Prime Mover
-Brockway
-Corbitt
-Ward LaFrance
-Four Wheel Drive Auto Company (FWD) SU-COE 5-6 ton 4x4
-White Motor Company
-Inl KR-11 5 ton 4x2 dump truck
-Inl M5-6 318 2-1/2 ton 6x6 swb
-Mack NR15 10-ton 6x4
-Reo 28 XS 10-ton 6x4

Small truck/car & Misc.
Bantam Reconnaissance Car
Ford GTB
6x6 Willys 'MT-TUG' ("Super-Jeep")
-Willys MB light truck
-Ford GPA ("Seep")
Buick Century Series 60
1941 Plymouth P11 Staff Car
Ford Fordor 1942 Staff Car
Harley-Davidson WLA motorcycle
---
Axis Trucks

Purchase this pagemarker and support the site !
Sd.Kfz 2, 6, 7, 8, 9, 10 and 11 were half-tracks designed just before the war as prime movers, to carry supplies, ammunition, personal, and tow artillery. Many were also converted during the war as armored versions carrying AA FLAK guns (Flakvierling, 37 mm, or the legendary 88 mm Rheinmetall als used as tank hunters), or were converted as nebelwerfer (rocket launching armored vehicles). They were built by Hanomag, Steyr, Mercedes-Benz, Bussing and many other manufacturers until 1945, over 20,000 half-tracks.

German Military trucks
-Opel Blitz
-Opel Maultier
-Mercedes-Benz L3000
-Magirus A3000
-Krupp Protze Kfz.19
-Krupp Protze Kfz.21
-Krupp Protze Kfz.68
-Krupp Protze Kfz.69
-Krupp Protze Kfz.70
-Krupp Protze Kfz.81
-Krupp Protze Kfz.21
-Krupp Protze Kfz.83
-Borgward B 3000
-Skoda Rad Schlepper
-Ost RSO Porsche 175
-Steyr Type 2000A
-Einheits Lkw Kfz.62
-Krupp LKW L3
-Bussing-Nag 4500
-Opel Blitz Omnibus
-Bussing-Nag L
-Mercedes-Benz L1500
-Beute Studebaker
-Krupp L3H
-Hanomag SS-100
-Beute Ford B3000 S, V3000S, V3000A
-Beute Ford model BB
-Beute Ford model V8-51
-Beute Tatra 111

German Staff Cars
-Horch 81
-Horch 108
-
VW 182 Kübelwagen
-
VW Schwimmwagen
-
Sd.Kfz.2 Kettenkrad

Italian Military trucks
L. Trucks (Autocarro Leggere)
-Breda-32
-Breda-40
-Breda-41
-ОМ-32 Autocarretta da Montagna
-ОМ-36DM
-Camioneta SPA TL.37
-Camioneta AS.43
-SPA CL39
-SPA ТМ40
-Fiat 618
Med. Trucks (Autocarro Medio)
-Alfa Romeo 430RE
-Alfa Romeo 800RE
-Breda Dovunque-41
-Bianchi Miles
-Ceirano-50СМ
-FIAT-626 NM
-Isotta Fraschini D65
-Isotta Fraschini D80
-SPA Dovunque-35
-SPA Dovunque-41
-SPA AS.37
-SPA-38R
-Autocarro Dovunque SPA 41/42
H. Trucks (Autocarro Gigante)
-FIAT-633NM
-FIAT-634N
-FIAT-666
-Fiat 661
-Lancia Ro
-Lancia 3Ro
-Lancia EsaRo
-ОМ Taurus
-ОМ Titano
-Autocarreta Mod.35
-Autocarri Unificati Ursus

Artillery tractors
-L.3 trattore leggero (hypothetical) for da. 47/32
-Pavesi Р4.31 (L140)
-Fiat 727 - half-track artillery tractor
-SPA TM40 - wheeled artillery tractor
-Semicingolato Breda Tipo 61 (SdKfz-7 under licence)

Staff Cars
-Alfa Romeo 6С2500 Coloniale
-Fiat 508M/CM Ballila
-Fiat 1100 (1937) (Balilla-1100 Coloniale)
-Lancia Aprilia Coloniale
-Bianchi VM 6C
-Fiat 2800 CMC

Motorcycles
-Benelli 500 M36/VLM
-Bianchi Supermil 500
-Gilera 500 LTE
-Moto Guzzi Alce/Trialce
-Volugrafo Aermoto 125

IJN ww2 vehicles
-Toyota 4x4 Su-Ki (Amphibious truck)
-
Isuzu Type 94 truck
-Type 94 6-Wheeled Truck
-Type 95 Mini-truck
-Type 97 4-Wheeled Truck
-Type 1 6-Wheeled Truck
-Type 2 Heavy Truck
-Toyota KB/KC Truck
-Nissan 80 Truck
-Nissan 180 Truck
-Amphibious Truck "Su-Ki"

Tractors
-Type 92 5 t Prime Mover "I-Ke"
-Type 98 6 t Prime Mover "Ro-Ke"
-Type 92 8 t Prime Mover "Ni-Ku"
-Type 95 13 t Prime Mover "Ho-Fu"
-Type 94 4 t Prime Mover "Yo-Ke"
-Type 98 4 t Prime Mover "Shi-Ke"
-Type 96 AA Gun Prime Mover
-Type 98 20 mm AA Machine Cannon Carrier
-Type 98 Half-tracked Prime Mover "Ko-Hi"
-Type 98 20 mm AA Half-Track Vehicle
-Experimental Heavy Gun Tractor Chi-Ke
-Experimental Crawler Truck
-T G Experimental Crawler Truck
-Fordson Prime Mover
-Pavessi Gun Tractor
-50 hp Gun Tractor
-Komatsu 3 ton Tractor
-Light Prime Mover
-Clarton Prime Mover
-Holt 30

Staff cars
-Toyota AA/AB/AC
-Type 93 6/4-Wheeled Passenger Car
-Type 95 Passenger Car "Kurogane"
-Type 98 Passenger Car
-Model 97 Nissan Staff Car, Nissan 70

Motorcycles
-Rikuo Motorcycle
-Rikuo Type 97 Motorcycle
-Rikuo Type 93 side car

Misc.
-Type 94 Ambulance
-Type 94 Repair Vehicle
---
Cold War
(Section pending completion)