The 6x6 Ural heavy duty beast of burden
The long legacy of ZIL (Ural)
The Ural-4320 is a general purpose off-road 6x6 vehicle, produced by the Ural Automotive Plant. The plant was created in 1941 at Miass, Chelyabinsk Oblast in the wave of moving industries to the east by Stalins order, including the giant complex of "tankograd" built at break neck speed at the foot of the Uralic mountains, far from reach by the German army. UralAZ (nothing to do with UralMash) still exist today and is a relativly healthy company which produced trucks for the military. It was a dependency of ZIL (1916), moved to this region.
During the war, the company produced notably the unbiquitous ZIS-5 (about 1 million produced), ZIS-6 used as a 6x6 base for the BM-13 Katiusha (20,000+ built) and ZIS-22/42M half-tracks series. The tradition was maintained during the cold war with a wide variety of military 4x4 and 6x6 models some used as self-propelled rocket-launchers. They have seek also ad-hoc military used as gun platforms in many conflicts around the globe, insurrections and civil wars due to its cheap and reliable base, all-terrain capabilities and heavy duty payload. Some were also armored
1
2
.
Precursor: An east-German Ural 375
another precursor, the Zil-131 also used as the 9P138 rocket launcher system
Development of the Ural 4320
Introduced in 1976, the 4320 is still, remarkably, in production today. The wheel arrangement was designed for heavy dury cargo, people and trailers, on roads and off-road with the adequate suspensions sytems. The vehicle is well-known to serve as a base for for the
BM-21 "Grad"
rocket launcher system, successor of the ww2 Katiusha. It was a diesel-powered development of the Ural-375D. The latter also called
Ural-375
was produced in the 1960-70 decade and sold to 10 countries outside USSR. It was itself replacing the 1958 ZiL-157, replacing the postwar Zil 121/151. One of these developments was the
BTR-152
. UralAZ celebrated a total production of 530,000 trucks and 1.3 million of truck engines in 1972 and manufacture of the Ural 375H and 377H continued until 1983. In 1977 the new 5-tonne truck Ural-4320 was designed. However with the end of the cold war, and despite in 1987, UralAZ celebrated its millionth truck, the company was turned into a private venture and focalised on the civilian market.
Design of the Ural 4320
There is a single one chassis, 6x6, declined with two engines. The 11.2L YaMZ-236M2 V6 turbo diesel and 14.9L YaMZ-238M2 V8 diesel, coupled with a transmission 5-speed manual. In dimensions it was 7,366 mm (290.0 in) in lenght, 2,500 mm (98.4 in) width, and the Height was variable, from the 2,715 mm (106.9 in) in open bay, to 3,005 mm (118.3 in) with tent. Higher versions exists when the armament and armor or special cabs are used. It was still very close to the dimensions of the ZIL-131 and Ural 375D (7,350 mm x 2,960 mm x 2,980 mm, Curb weight 8,400 kg). Still very close to the model 375, the Ural 4320 had a KamAZ petrol engine which replaced the Ural-375-740 V8 diesel KamAZ (10852 cm3, 210HP). Compared to the 375:
Ural 375 specifications
Seating Capacity (cab): 3
Curb weight: 6700 kg
Payload: 5000 kg plus trailer 5000 kg (on road), or 3,500 kg plus trailer 4000 kg off road.
Suspension: solid axles with leaf springs.
Engine: V8 gasoline (carburetor) ZIL-130
Displacement: 6,960 cc (bore 3.94", stroke 4.36")
Compression Ratio: 6.5:1.
Top speed: 80 km/h
Brakes: drums, with pneumatic control.
---
Ural 4320 specifications (*Ural 375)
Cab design: Forward-mounted engine
Seating capacity (in cab): 3, 3*
GVWR: 15,300 kg (33,750 lb) or 14,975 kg (33,000 lb)*
Weight of load carried: 6,000 kg (13,200 lb) and 5,000 kg (11,000 lb)*
Suspension: Solid axles, leaf springs, rear wheels at balance-cart
GVWR of towed trailer: 11,500 kg (25,350 lb)
Top speed: 82 km/h (51 mph)/75 km/h (47 mph)*
Engine: liquid-cooled V8 diesel/V6 diesel*
Power: 240 PS/177 kW or 180 PS/132 kW*
Transmission: Five-speed gearbox, two-speed distributor box with interaxle locked differential.
Body: Metal, with tailgate, removable bows and a canopy, two foldable sides and one removable middle benches.
Seating capacity: 27
---
The chassis has good ground clearance, ideally suited for Siberia and bad roads in general, snow, sand or big rocks. It is supremely reliable (at least by Soviet standards, as it met little success on the export market), easy to repair and maintain. from the 1990s the Ural-4320 (and 5557) saw their headlights relocated on the bumper but after a special order for the Ministry of Defence, a narrow bumper and wing-mounted headlights both sides of the grille made their apparition on the production line.
The model is able to towing trailers or artillery pieces Western counterparts. It has a full-time all wheel drive and centralized tyre pressure system. With preparation it can ford water obstacles up to 1.75 m deep and operate in extreme climatic conditions, ranging from -50°C to +50°C.
Other facts & figures about the Ural 4320 truck
Variants of the Ural 4320
The civilian versions mostly found in the countryside and remote areas of Siberia are fire, garbage and logging trucks. The
1BA15
/URB-3A3 drilling system are used for water, oil and gas drilling, also based on the same chassis. In 1981, based on a 4320 model truck 8 tons Ural-5920 was presented with a Caterpillar engine.
Ural-4320
: Basic model, metal cab and 7.9 tons payload
Ural-4320-19
: Long chassis, 12 tons payload (normally coupled with the YaMZ-236M2 engine.
Ural-43203:
Reinforced front suspension
Ural-43204:
Reinforced chassis for increased payload
Ural-43206:
4x4 with 180 hp JAMZ-236 diesel, 4200 kg payload.
Ural-43206-41:
4x4 Sub-variant with the 230 hp JAMZ-236NE2 turbodiesel
Ural-43206-0551:
4x4 variant with a 4-door cab, 3600 kg payload
Ural-44202:
Truck tractor, semi-trailer 4x4 often used as logging truck.
Ural-5557/55571:
12–14 m wide chassis development and low-profile tires (CTIS) for special uses.
Ural-4320/5557 40/41
Three seat, two-door civilian cab
Ural-4320/5557-44
Same but two-door cabin and sleeping bed above
Ural-4320/5557-48/58/59
Updated model with better cabin and large volume bonnet, sprung driver's seat
Operators
Angola (Unknown), Colombia (800), Cuba (Unknown), Greece (Unknown), Guatemala (Unknown), Laos, Mexico (73 in 2008), Philippines (20 donated 2017), Russia (Unknown, about 8000+), Uruguay (36), Venezuela (320). These are all used by the military. See also:
//www.military-today.com/trucks/ural_4320.htm
//en.wikipedia.org/wiki/Ural-4320
//en.wikipedia.org/wiki/Ural_Automotive_Plant
//commons.wikimedia.org/wiki/Category:Ural-4320
//russiandefpolicy.blog/tag/ural-4320-31/
//tanknutdave.com/the-russian-ural-4320-military-truck/
//www.trucksplanet.com/catalog/model.php?id=2542
8x8 Iveco cab Ural 5323 variant: https://en.wikipedia.org/wiki/Ural-5323
Modern one on Gazglobal: //gazglobal.com/uralaz/ural-next/ural-next-onboard/
Firetruck: //www.usptk.ru/en/usptk-product-catalog/fire-fighting-tankers/ural-chassis/ac-7-5-40-ac-7-5-50-ural-4320/
On sale: //www.mortarinvestments.eu/products/jeeps,-trucks-a-bikes-3/ural-4320-and-ural-5557-138
Sound: //pole.se/product/ural-4320/
Author's Renditions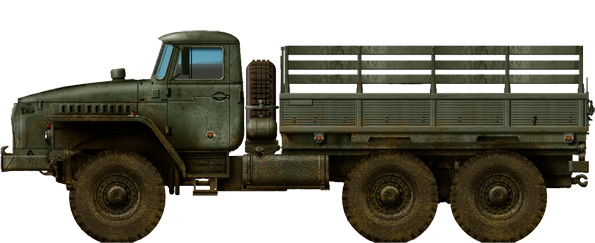 The basic vehicle, in standard configuration & open bay.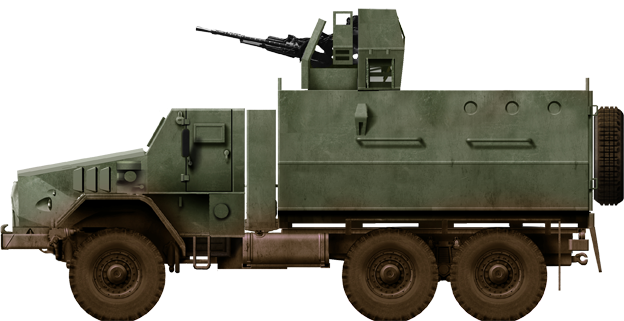 Angola used thse trucks in the 1980s Angola conflict with south africa, and sub-groups like FAR used them as weapon platforms, usually for ZPU AA mounts, and in this case, a rare armored APC also with a ZPU-2 Mount. Capacity seems to have been ten infantrymen. The engine front, top, and cab are all armored. A spare roadwheel is placed at the rear, one one of the two doors.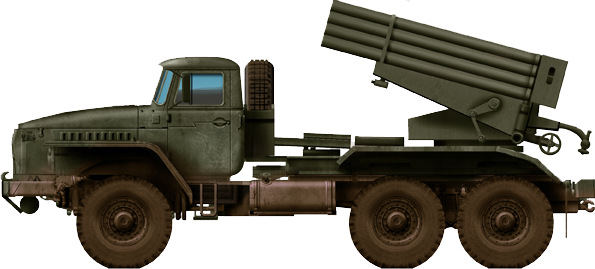 BM-21 RL
Not done yet
Canvas close cab, 4x4 russian military variant
Gallery
Lenghtened Ural 4320-19 version
Armored Ural 4320 with modular trailer
Cheremushksy's Ural 4320 6x6-trailer logging truck (Arkhangelsk_Oblast)
6x6 armored MRAP/Police model in dislay at Interpolitex 2016, by Vitaly Kuzmin.
6x6 4320 VV at Interpolitex
6x6 armored cab standard KUNG, returning from a parade on May 9th, 2011 in Moscow. (For all credits : wikimedia commons)
Ural 4320 logging truck at Zakarpattya. Notice it's painted in factory olive green despite its civilian use.
---
Axis Trucks

Purchase this pagemarker and support the site !
Sd.Kfz 2, 6, 7, 8, 9, 10 and 11 were half-tracks designed just before the war as prime movers, to carry supplies, ammunition, personal, and tow artillery. Many were also converted during the war as armored versions carrying AA FLAK guns (Flakvierling, 37 mm, or the legendary 88 mm Rheinmetall als used as tank hunters), or were converted as nebelwerfer (rocket launching armored vehicles). They were built by Hanomag, Steyr, Mercedes-Benz, Bussing and many other manufacturers until 1945, over 20,000 half-tracks.
---
Cold War & Modern Vehicles
Modern Trucks