Laffly W15T (1939)

Light 6x6 Tractor, about 300 built 1939-40
About the Laffly S15 family
The Laffly company was originally a manufacturer of heavy vehicles, trucks and buses for the 1920s and 1930s. The cmpany of course also looked after juicy state contracts for the army and worked on all-terrain vehicles. The Laffly chassis 6×6 was such designs, distinguished by an advanced transmission and an innovative suspension system as well as the two pairs of extra free roller wheels under the nose and between main axles to overtake any obstacles. This design was soon spotted and tested by a military commission. The Laffly S15 was successful and declined into the following:
-Laffly S15T light artillery tractor (towing the modernized 75 mm mle 1897 and Canon de 105 court mle 1935 B howitzer).
-Laffly S15R personnel carrier and reconnaissance vehicle. Lighter rear cab, new transmission for higher road speed.
-Laffly S15TOE, an armored, turreted version of overseas theatre of operations and scout car for the colonies.
-Laffly S15L Ambulance version
-Laffly V15T 4x4 light tractor for the 25 mm AT gun, recce/staff car
-Laffly W15T: Low-profile version made by Hotchkiss for towing the 47 mm gun.
Production of the W15T
In 1938, the company introduced the Laffly W15 T light artillery tractor, to answer specifications for such vehicle. The W15 T was derived from the Laffly S15, but had both higher performance and a smaller profile, making it more difficult to target. A reconnaissance and liaison version called Laffly W15 R (R stands for "reconnaissance") was also offered but not approved, not prototype built. The army selected the light tractor in 1939 after extensive tests until mid-1939 and a first batch of 75 vehicles was ordered on September 2, 1939. A second batch of 15 vehicles followed on September 17. And by December 21, it was revised to 150 to be delivered by January 1940.
Due to Laffly's limited production capacities, the army ordered it to be carried out by Hotchkiss, in collaboration with Laffly Unicorn. The Hotchkiss W15T were given a more powerful 2,300 cc Hotchkiss 486 petrol engine, reaching 55 hp at 3,300 rpm. However since produced needed time to ramp up, by December 1939, the Ministry of Armaments decided to order 1,440 more from Citroën, then 1,650, deliverable within six months, from April 1940. By December 1939, Citroën received the W15T documentation and blueprints, and the first 1938 Laffly W15T. The Citroën model differed from the Hotchkiss one by its 1,911 cm3 engine and Citröen gearbox common to the Type 32 truck. Its body was tailored for the type of gun towed, but a standardized bodywork suitable for all guns was developped and planned for production in 1941.
The initial Hotchkiss W15 T was tailored to tow the 47 mm Mle 1937 anti-tank gun. But only 78 are delivered in this configuration out of 160 vehicles and the remaining production was stored and not deployed until June 1940. In between the army approved the development of the
Laffly W15 TCC tank destroyer
, which 47 mm gun under mask was directly mounted on the aft bed of the vehicle as a platform. Hotchkiss also produced the successor of the S15 T, towing the 75mm and 105 C Model 1935 Bourges. Only 4 were made but not ordered in June 1940. In September 1939, the reconnaissance version Hotchkiss W15 R, was eventually ordered too, to 350 units, to be ported later to total order of 489 W15 Rs in May 1940. Production was to start after the W15 T was done, so planned for 1941. But of course it never took place.
The Citroën W15 T was specialized for towing the Hotchkiss 25 mm Mle 1938 AA gun, the first of which entered service in April 1940, but only a few were delivered to AA artillery sections, inteded to be intregrated to W15 TCC5 batteries as well.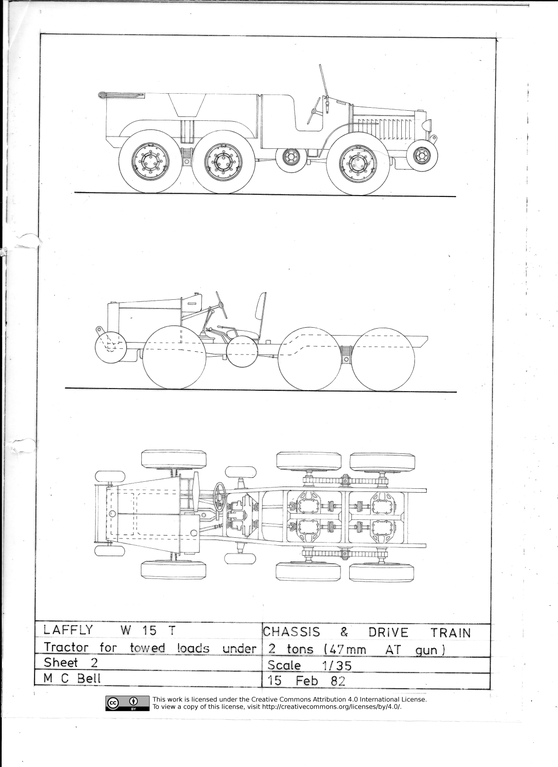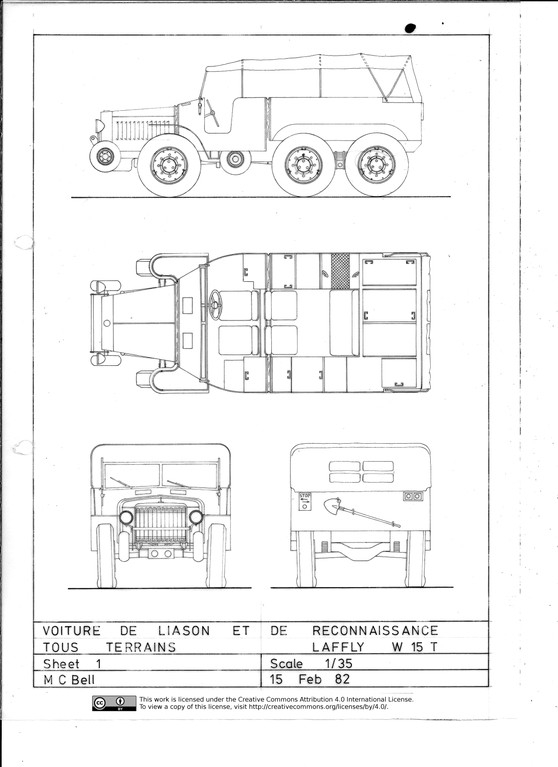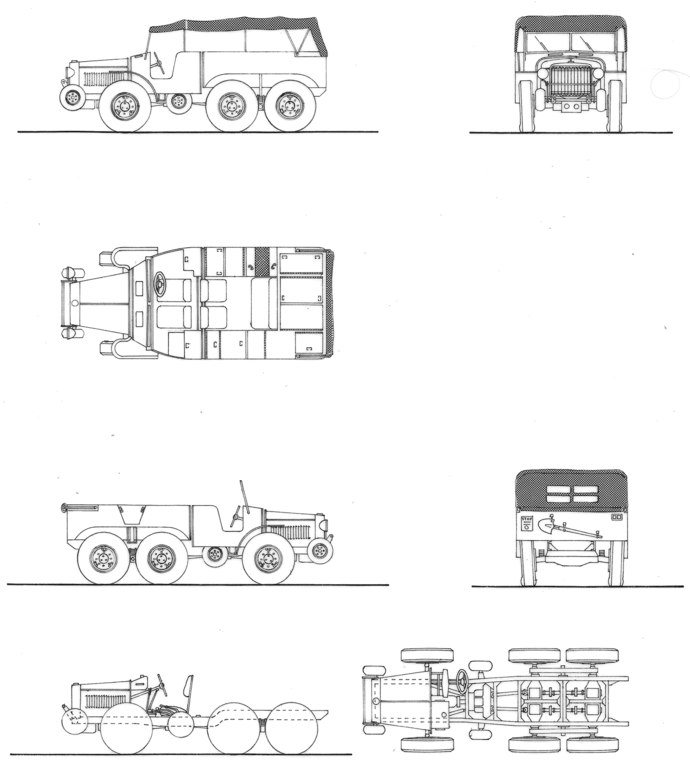 Drawing by Mike Bell (cc)
Design
The W15T received a new chassis compared to the S15, weighing less than 700 kg, consisting of two U-shaped steel spars, with three axles with four-wheel drive. The first wheelbase spanned 1.845 m, the second 1.00 m. The front suspensions used coil shock absorbers, while the rear axles used traditional leaf springs. They were independent without tie rod which allowed a reduction in the height of the chassis over the ground, keeping the profile low but off-road capabilities intact, even improved compared to the S15.
As for other Laffly models, thse vehicles were unique for their forward pair of small freewheels, at the nose to manage embankments and steps. A second pair was placed placed between the first and second axle and under the operator's cabin, to better digest bumps. The Laffly W15 had a load capacity of 1,200 kg. Its towing capacity was 1,800 kg, allowing the towing of most artillery, antitank or AA pieces of the French Army, including the '75'.
Specs Laffly W15T
Dimensions :
4,64 x 1,90 x 1,96 m
Total weight, battle ready :
2,85 Tons light, 3,90 tons FL.
Crew :
2(+6)
Propulsion :
Hotchkiss 486 diesel 2 300 cm3 60 ch 3 200 tr/min
Speed :
50 km/h (30 mph)
Range (road/off road) :
?
Production
Circa 300
Lins/Src
The TCC variant on tank encyclopedia
W15TCC on chars-francais.com
on milbweb.net
W15T on Youtube
On the S15
All W15 Models kits on scalemate
---
Axworthy, Mark; Scafes, Cornel; Craciunoiu, Cristian (1995). Third Axis, Fourth Ally: Romanian Armed Forces in the European War, 1941-1945. London: Arms and Armour.
G.N. Georgano, World War Two Military Vehicles: Transport & Halftracks, Osprey Publishing, 2004
Scafes, Cornel I; Scafes, Ioan I; Serbanescu, Horia Vl (2005). Trupele Blindate din Armata Romana 1919-1947. Bucuresti: Editura Oscar Print.
Vauvillier, F. & Touraine, J.-M. L'automobile sous l'uniforme 1939-40, Massin, 1992
Illustrations
Basic Laffly W15T with tarpaulin, 1939
Laffly W15T with tarpaulin
W15T towing the Puteaux (APX) 47 mm SA37 antitank gun, May 1940
W15T towing rhe 25 mm SA 34, same.
W15T camouflaged, June 1940
Same, another carmouflage variant
W15T in Kufra, fall 1941, used by Leclerc's desert column
W15TTC tank hunter, June 1940
Armored prototype of the W15TTC, June 1940. See also a drawing by Mike Bell
Photos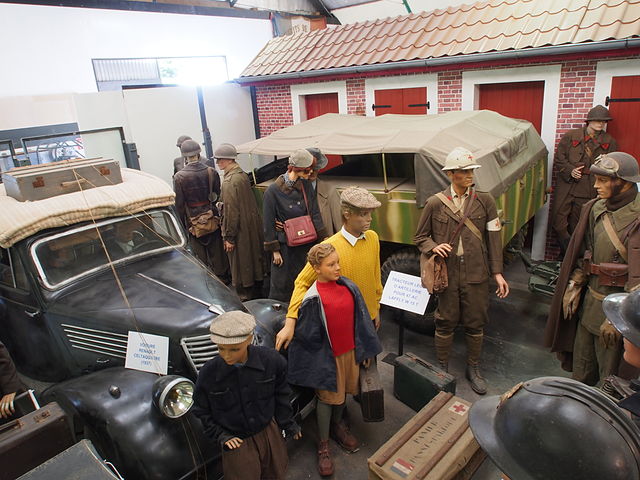 Laffly W15T at the Fort of Fermont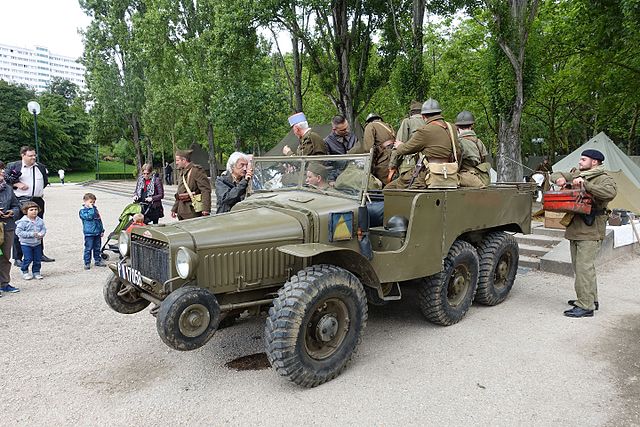 Laffly W15T in an exhibit, "France under uniform"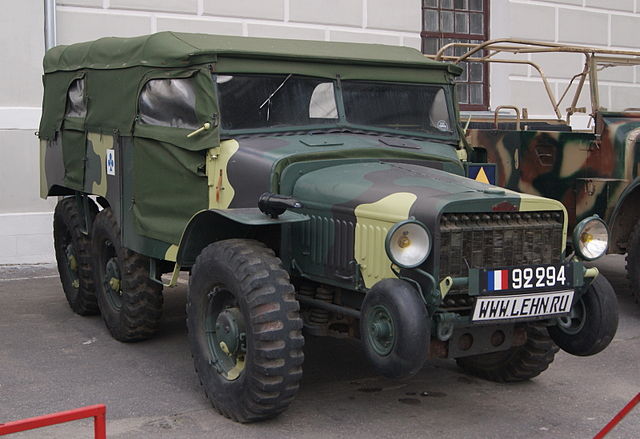 Laffly W15T in a Russian Museum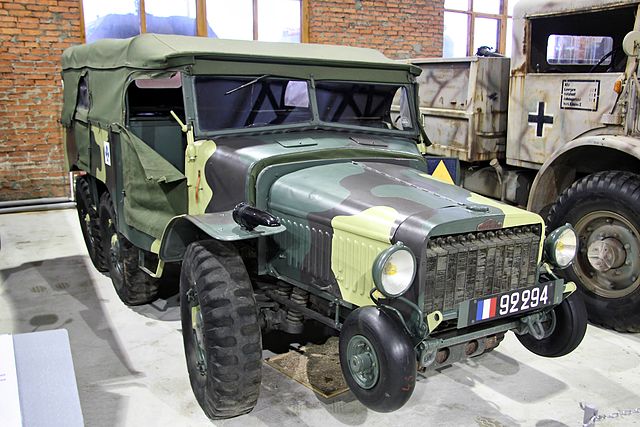 Laffly W15T in a Russian Museum
---
Axis Trucks

Purchase this pagemarker and support the site !
Sd.Kfz 2, 6, 7, 8, 9, 10 and 11 were half-tracks designed just before the war as prime movers, to carry supplies, ammunition, personal, and tow artillery. Many were also converted during the war as armored versions carrying AA FLAK guns (Flakvierling, 37 mm, or the legendary 88 mm Rheinmetall als used as tank hunters), or were converted as nebelwerfer (rocket launching armored vehicles). They were built by Hanomag, Steyr, Mercedes-Benz, Bussing and many other manufacturers until 1945, over 20,000 half-tracks.
---
Cold War & Modern Vehicles
Modern Trucks