About Leyland
Leyland Motors was founded by James Sumner in 1896 as the "Lancashire Steam Motor Company" and at the start of the century grew as Britain's major commercial vehicle manufacturer, later to swallow many other brands. In 1907 the used of internal combustion engines led to the company being renamed Leyland Motors in 1907, and a first lorry, the X3, being provided. In WWI Layland delivered to the British Army some 6,000 3-ton 4x2 S4X4/S5X4 trucks for the RAF. This was the start of the decades long partnership.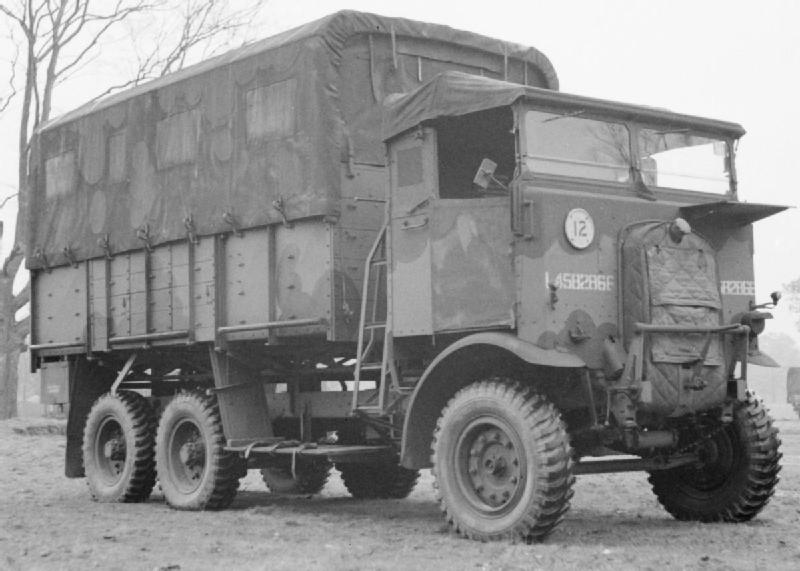 In the 1920s Leyland produced a 3-ton 6x4 "subsidy" truck, the "Terrier" mainly for the British Army. It was declined in normal and forward control versions and obtained Diesel engines from 1933. In 1939, the Terrier became the Retriever, with 6,500 built total. But Leyland also produced the 6-ton Badger (4x2 1935), 10-ton Hippo -6x4 1935) 3-ton Lynx (4x2 1938), the latter as Mk I (pre-war commercial with military open cab) and Mk II (1944) as off-road capable logistic heavy truck, with closed cab. By 1975 British Leyland Motor Corp. was nationalised but lost money to the point it was purchased in 1987 by the Dutch company DAF (Leyland-DAF, until 1993) now part of Paccar Group (Pacific Car and Foundry) from 1998.
Development of the Terrier/Retriever
The company worked on 6 x 4 chassis declined in several classes from 1926 onwards, and arrangement praised by the War Office to the point its staff encouraged other manufacturers to do the same under provision of special subsidies. In the late 1930s, its final model, the Terrier became a staple of off-road comercial use thanks to its WD-patented articulated rear bogie. Although by 1938 4x4 chassis were preferred over 4x6, the latter stayed in production due to delination in multiple specialized variants, which needed a heavy load at the rear. Soon before the war, the Terrier was proposed in normal-control and forward-control chassis with standard WD-pattern open cab, canvas and sidescreens. This became the base for the Retriever.
It should be noted that the 1933 Terrier was used as a base for the rare Irish
Leyland Armoured Car
, of which only four were made and used until 1980. Converted in Ashenhurst of Dublin, at first they used an armoured hull was built with plating and turrets from an obsolete Peerless armoured car for the prototype but later this was changed for the three more vehicles when Landsverk L60 tank turrets were purchased. This story is for another day.
Long story short, the Retriever was designed specifically for the Army in September 1939 and produced from there with some military additions until 1945. It was otherwise virtually identical to the Terrier.
Technical Specifications
The first models had an open cabin with canvas top while later versions opted for a windscreen and metal doors. It was delivered with a rigid ladder type frame chassis, but with twi rear drive axles (6×4) which were both articulated. These were modified on behalf of the British War Office and this specification was ported to all other trucks built for the British Army. As standard they had a three tons payload. Other comparable trucks of the time were the Crossley Motors IGL8, Guy Motors FBAX, Thornycroft Tartar, Karrier CK6.
The Leyland Retriever had a front cab, rear cargo section, open cab and canvas roof. It was not a proper "cab over engine" as the latter was inside the driving compartiment, filling it, while the radiator was the only thing to emerge from the cabin face. The driver in these early versions was not protected, not even by a windscreen. There were no doors but rolled canvas on either side, usually strapped close to the radiator, and a roof tarpaulin maintained by a fan-type frame anchored aft of the two-seat cabin.
The Retriever had a sturdy four-cylinder water cooled overhead camshaft petrol engine (capacity 5,895 cc)(360 cubic inches) of displacement, with carburettor, rated for 73 hp at 2.120 rpm. It was protruding in the center of the cab, dividing it into two, with the gearbox levers and dashboard to the right. This enable to fit a light cover for it, and it could be maintained from inside the cabin. The fuel tank had a capacity of 141 liters, installed forward, below the chassis, aft of the cabin, with a large fuel intake on the left. Below the cabin floor was located the gearbox, with four speeds, two reduction gear to drive in high and low gear. The transfer case was a 2-speed auxiliary box.
The cargo area comprised tall wooden panels, not folding, only the back panel could. It comprised four removable frames on which was strapped the canvas roof. There was a spare tire mounted between the cab and flatbed, plus tooling. In general, crowbar, axe and shovels were attached on either side of the cabin, close to the door. The vehicle normally drove on the four rear wheels and this army-designed rear axle was made state-available to all truck manufacturers working for the British army, all with a three-tonne payload engine.
The vehicle's brakes were Hydraulic with servo-assistance and it ran on tyres of the 9.00 - 20 inches type. Mobility is rather foggy. For top speed it was supposed to reach 45-50 kph on road, 30 off-road, probably able to ford one meter of water without preparation, and its 141 liter (31 gallons) capacity gave it a range of 312 km (195 miles).
Deployment
The Retriever soon became a staple of the British Army logistic train, and was used virtually on all fronts, from the Campaign of France in 1940 to North Africa, Sicily and Italy, France and the low countries, Germany, and possibly in limited numbers to the far east. The vehicle was also exported to USSR via lend-lease, and were even among the first British deliveries via the Arctic route, Murmansk and Archangelsk in 1941/42. These were standard 3-ton 6x4 vehicles.
In total, 6,542 were produced, coming with variants and open or close bodies. The "classics" were the Breakdown Gantry, special Machinery or Bridgelaying truck. In Africa at least the canvas folding hood and sidescreens were appreciated, but it was less so in Europe. Only from 1943 was a windshield installed. Those were at forst shipped to Russian which moderately appreciated the open cab in winter...
Variants
Specialized variants
Gantry vehicle, tarp. down to show the interior (pinterest)
Cargo Truck: Standard 3-ton payload. The vehicle was not used for troop transport, but in that case 12-16 or more.
Bridgelayer Truck: Pontoons and bridging elements loaded aft.
Mobile workshop: Rear rigid cabin (standard model mass-produced to be fitted on similar 6x4)
Platform for searchlight: Standard RAF searchlight installed on the flatbed. Used notably during the Battle of Britain.
Gantry truck: "closed tilt" system with with pulley aft, and protruding forward section over the cab
Salvage Crane Truck (3t Coles MkVI type gasoline-electric drive and separate generator).
Some vehicles were used as salvage trucks with a 5 ton winch/electrical generator driven by PTO. The gantry version had a hand operated travelling block and the liftinh hight could be adjusted by towing down the front end as far as needed. The centre section of side panels could hinged down in horizontal position for extra floor space on thegantry versuin, or even double-folding at ground level.
The unique version of Field Marshall Montgomery used a "caravan body" with a bureau, a bed, furniture and personal working and living quarters. He used this vehicle from the D-day landings until the end of the war in Europe.
The armoured Variant: Beaver-Eel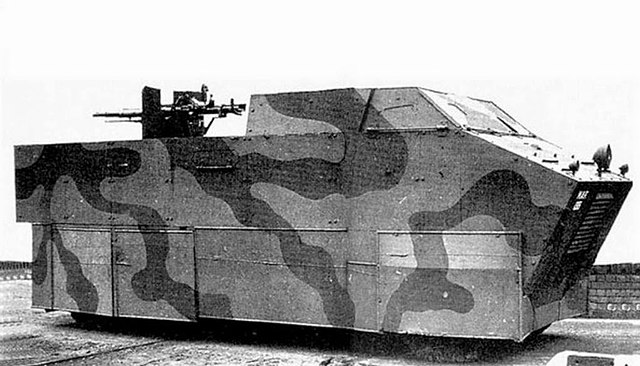 There was also an armored version called the Leyland Beaver-Eel. It was a 1940 improvized conversion in the wake of home guards "funnies", and it had a fully armoured front body, cabin and rear open space, also armoured, housing generally a 20mm gun and one of several 7.7 MGs. It was specialized for the defence of military airfields in Britain, with 336 converted in several variants, used especially during the Battle of Britain and afterwards with new airfields close to the front. The use of the projector Retriever variant around the field, workshop and gantry one for the service of aircraft allowed commonality of parts and maintenance.
Leyland Retriever specifications

Lenght
6.85 m (269 inches)
Width
2.27 m (89 inches)
Height
3.45 m (136 inches)
Total weight, battle ready
Unknown
Crew
2 (Driver, co-driver) +16 infantry
Propulsion
4-cyl. liquid cooled petrol 5.895 cm3 (360 cu in) 73hp/2.120 rpm
Suspension
Leaf springs
Speed (road)
c45 kph
Range
141 liter (31 gallons), Range 312 km (195 miles)
Production
6542
Read More/src
Google books trucks and tanks
On panzerserra.blogspot.com
reviews.ipmsusa.org
On kfzderwehrmacht.de
On motor-car.net
On scalemates.com
On armyvehicles.dk
Monty's caravan iwm.org.uk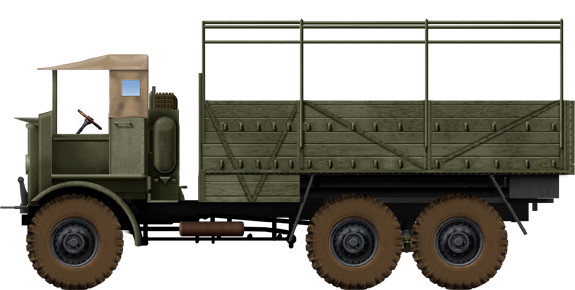 Basic Vehicle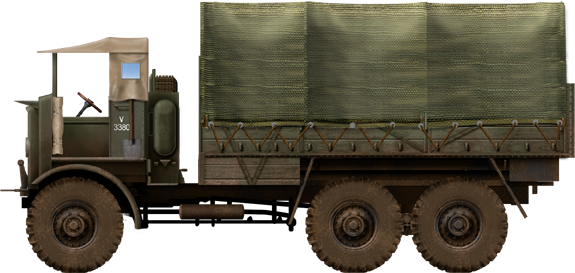 Field combat vehicles (unit unknown) with tarpaulin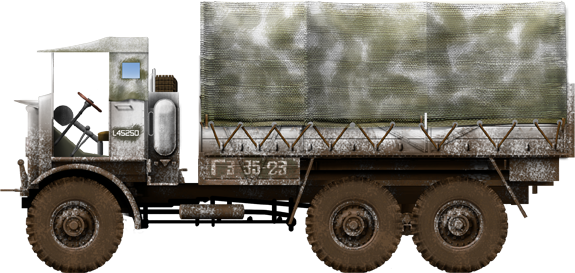 Soviet vehicle, winter 1942-43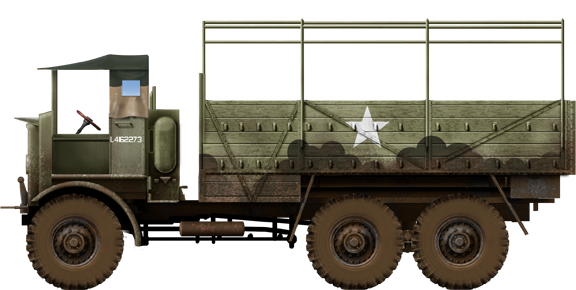 Retriever camouflaged, Europe late 1944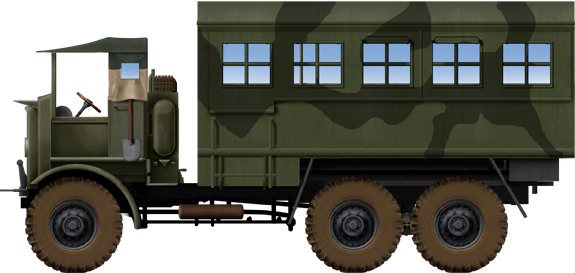 Retriever with cabin, 1945
---
Additional photos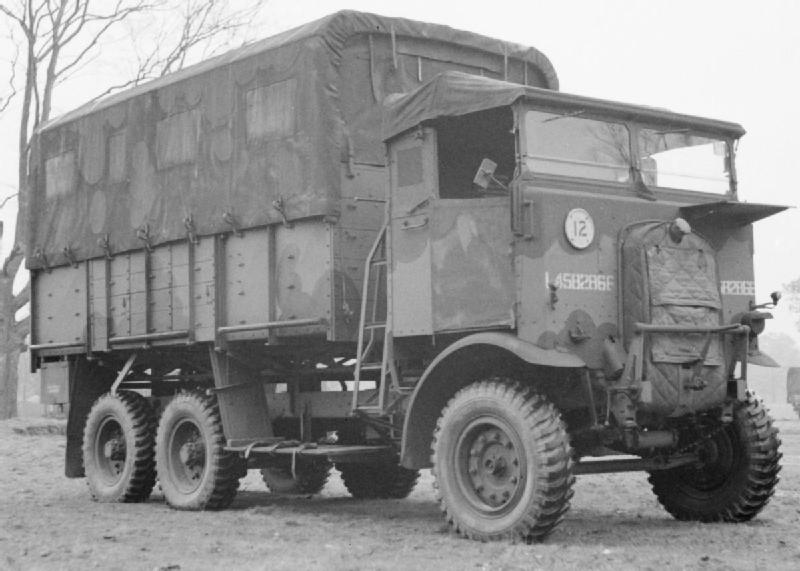 Retriever on the field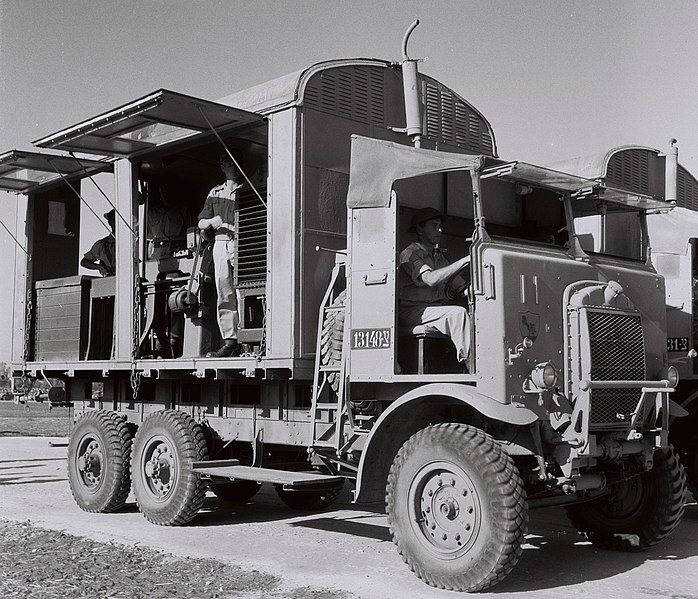 Retriever Mobile workshop usd by the Irsaeli postwar (Tel Aviv 1949 parade).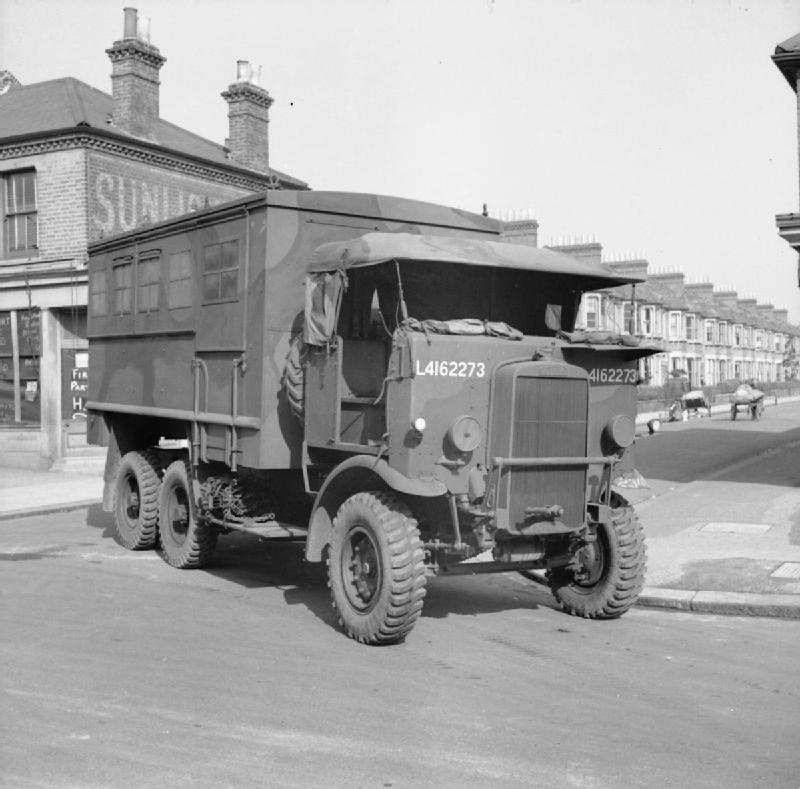 Retriever wireless radio lorry variant, 18 March 1941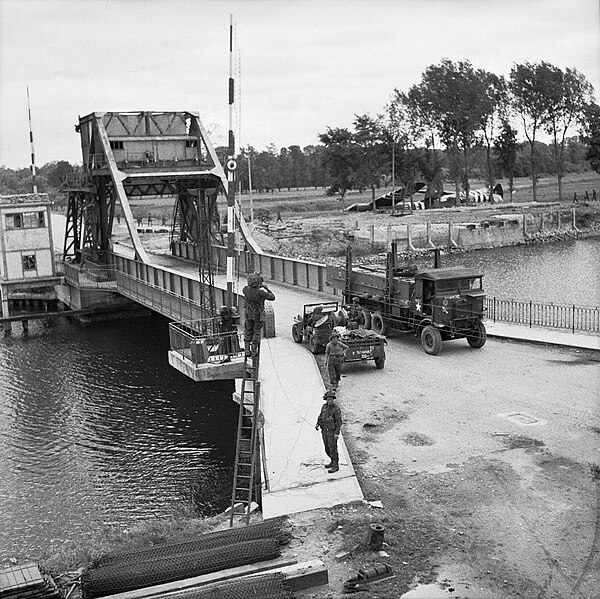 Retriever corssing Pegasus Bride in June 1944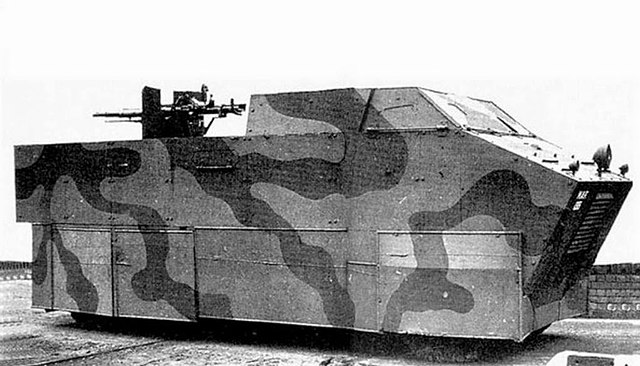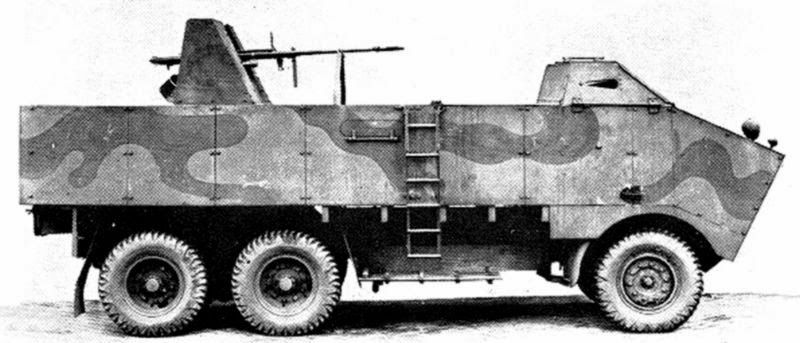 Leyland Beaver Eel, with skirts and without
---
Axis Trucks

Purchase this pagemarker and support the site !
Sd.Kfz 2, 6, 7, 8, 9, 10 and 11 were half-tracks designed just before the war as prime movers, to carry supplies, ammunition, personal, and tow artillery. Many were also converted during the war as armored versions carrying AA FLAK guns (Flakvierling, 37 mm, or the legendary 88 mm Rheinmetall als used as tank hunters), or were converted as nebelwerfer (rocket launching armored vehicles). They were built by Hanomag, Steyr, Mercedes-Benz, Bussing and many other manufacturers until 1945, over 20,000 half-tracks.
---
Cold War & Modern Vehicles
Modern Trucks