The American standard light truck
As with the previous model A, there were heavier commercial vehicles. They were available with either the venerable four or the more powerful V-8. The four cylinder truck got the designation "BB", following a practice started with the "TT" and "AA" trucks.
The previous Ford AA (1927-32)
These trucks are easily mistaken[why?] for B or V-8 commercial cars built on the passenger car chassis. Sedan deliveries, pickups, and station wagons were the best remembered of these. They had elongated bodies and stiffer springs, and were generally shown in the commercial car catalogue, even if the wagon was the most expensive body style[citation needed] available on the passenger car chassis. "
Differences between the Ford AA and BB
in 1932 Ford introduced its first Flathead V8, especially popular because it was used until around 1954. There were some big differences between the AA and BB truck designations. Ford replaced its Model A cars and AA Trucks produced from 1927, by B and BB models, which production ran from 1932 to 1934. Large trucks used the AA/BB nomenclature as opposed to cars and pickups. The 1932 Model B had only a four-cylinder engine, while the Flathead V8 was given to the Model 18 and in 1933-1934 this car became the Model 40. The 1932 Model BB was offered both with the same standard four-cylinder or the optional Flathead V8 unlike cars. Another differences wit the AA were their longer wheelbase, 131.5 or 157 in. They also had stronger frames for heavy duty payloads and transmissions were beefed up as wheels, springs, tires and axles. It was an all-round improvement as well as the standard wire wheels replaced by reinforced steel wheels. BB trucks were sold with just chassis and engine, chassis and cab and naled rear frame, allowed independent coachbuilders to modify them at will given their purpose. The Flathead V8 stayed an option independent of the wheelbase. It was not systematic even on heavy duty long wheelbase models.
Design
General design
The BB had longer wheelbases of 131.5 or 157 in. (3340 or 3988 mm), a reinforced frame, heavy duty transmissions and axles, and bigger wheels. Wire wheels were standard on the light duty cars, the heavier got steel wheels (some of them dual on the rear axle). There was a separate catalogue offering popular body styles, rolling chassis or chassis and cab. Many local coachbuilders offered their coachwork to customers in need of more specific solutions. During the Depression, also ambulances, hearses, or fire trucks found their way to budget-minded communities and organizations.
Engine
Other than with the Model B automobiles, BB designated four as well as eight cylinder trucks. V-8 was strictly an option, even for heavy trucks. The bulk of these vehicles came with a sturdy four cylinder engine.
The Ford BB WB157 (ford 157 inches) 1934
Military use
The US Army ordnance did not listed the Ford BB during the interwar and during WW2 apart of course The Jeep, 'SEEP', the GTBC, Ford provided only modern military trucks, notably the G8T 2-1/2 ton 4x2 (and of course the 6x6 M8 armored cars and derivative M20, the Sherman M4A3 tank and the M36 Jackson Tank Destroyer). However Ford BBs were present in many armies around the world, especially in south america, where it took part to several wars.
Ford also had assembly plants in Holland, Belgium, France (Matford), Spain, Sweden, Denmark and Rumania. Even though production of the BB ended in 1934 in the USA, The V8 became standard option, and continued many more years in Europe, both US or Canadian Ford plants supplying kits for these BB upgrades and spare parts supply.
The main US Military truck during the interwar was the FWD 2-ton 4x4 from 1930, chosen for its off-road capabilities (unlike the Ford BB). From 1934, the Indiana 16x4 4x4 came along. From 1939 it was the Ford 2+1⁄2-ton 4x4 (a few prototypes with Marmon Herrington) and Dodge 1+1⁄2-ton and 1+1⁄4-ton 4x4 trucks in 1939-40.
French Ford BB
It was called there the Matford. Matford S.A. was formally created on 1 October 1934, when Ford produced V8 trucks and cars in Mathis, an Alsatian company. The volume passenger car production ended in 1940 with the buildup of truck orders for the French army, though an unknown number were made during the German occupation at least until 1942. (http://dvole.free.fr/matford/catalu.htm) Trucks with a long wheelbase (3,34 m - 3,99 m) and sepcific cab used 13 or 21 CV engines (Base denomination for 1934: BB. In 1935-1936: V8-51. In 1937: V8-75/V8-79. In 1938-1939: V8-82Y/V8-81Y).
Soviet Ford BB
The truck took another name while built under licence by GAZ: The
GAZ AA.
The latter had a single axle at the rear while the AA had a double axe for a heavier payload. Over one million of both models were produced before WW2 broke out, making it, with the ZIS-5, the most common lorry in the Soviet army.
German Ford BB
Ford BB was introduced in Germany in 1932 (Modell 1932), identical to the American model. Its 4 cylinder engine developed 52 HP and it was different from earlier versions by its curved headlight supporter. It was manufactured from 1932 to 1939, and could acrry a payload of 2.5 tons, with a smaller variant carrying a 1.75 ton payload. Like the US model, it had two different wheelbases and different cabins. During wartime they were fitted with Notek camouflage headlight and used as towing vehicles, notably for the 5cm Pak 38. The modell 1937 had a the straight headlight supporter and simplified cab.
Ford BB specifications

Dimensions (L-W-H)
WB: 2.13m - Size 4.5 x 1.63 x 1.75 m (182 x 64 x 45 in)
Curb weight, battle ready
1010 kg (7,350 lbs) 1610 kgs FL
Crew
1 driver + crew
Propulsion
Ford 4-cyl 2,200 cc, 60 hp
Top speed
40 mph (70 km/h) road, 10 kph swimming
Maximum range
Unknown
Armament
None
Armor
None
Illustrations

A basic Ford BB truck V8, with naked flatbed, long wheelbase, large roadwheels for off-road tests, in olive green livery. Army evaluations, 1930

Ford Truck Model 1931, a modernized version of the BB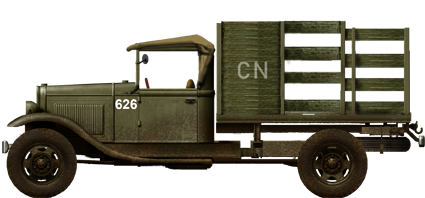 Bolivian Ford model 1931, Paulista war

Ford V8 (Model 1936-37), an evolution of the Model 1931 and BB

Ford/MH T-9 half-track, partly based on he same chassis and engine, modified by Marmon Herrington
GAZ AA, the Soviet version
Links/Src
In german service
autoroundup.com
www.worldwarphotos.info
www.hotelroomsearch.net
www.fordfan.de/lkw
www.trucksnl.com/de
www.fordbarn.com
usautoindustryworldwartwo.com
auto.howstuffworks.com
---
Axis Trucks

Purchase this pagemarker and support the site !
Sd.Kfz 2, 6, 7, 8, 9, 10 and 11 were half-tracks designed just before the war as prime movers, to carry supplies, ammunition, personal, and tow artillery. Many were also converted during the war as armored versions carrying AA FLAK guns (Flakvierling, 37 mm, or the legendary 88 mm Rheinmetall als used as tank hunters), or were converted as nebelwerfer (rocket launching armored vehicles). They were built by Hanomag, Steyr, Mercedes-Benz, Bussing and many other manufacturers until 1945, over 20,000 half-tracks.
---
Cold War & Modern Vehicles
Modern Trucks