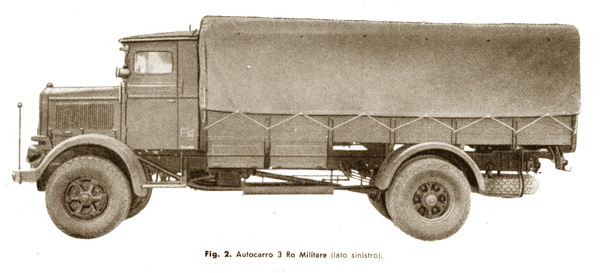 Factory photo at Lancia of the base military model
Design
The engine is at the front, a Lancia type 102 diesel, four-stroke, 5 cylinders in line. It develops a total capacity of 6875 cm³ for an output of 93 hp at 1860 rpm. Initially it had an inertia flywheel starter with flexible coupling, and a manual front crank system to launch it. For the suviving vehicles after the war it was replaced by and electric starter. There is a 12V electrical system which only feed the lighting and signaling, and a Marelli D90R3 12/1100 dynamo but no battery. The rear drive use a long transmission shaft, with manually lockable differential. The meachanical gearbox offered a normal four speed and reverse gear, plus 4 reduced-speed and reduced reverse with dry single-plate clutch.
This power is passed onto the ground by four spoked steel wheels (deeper aft) fitted with 270 X 20 tires. These are twin tires on the rear axle, but all four are equipped with leaf spring suspensions and expanding shoe type brakes. The latter are acting on the four wheels, with two separate circuits for the pedal and lever. The frame is made up of straight steel side members connected by 5 welded, and 2 bolted cross members supporting the engine. Its step is 4.30 m.
The military cabin is standard, bacjwards type and supplied by Viberti, with a single right-hand drive seat and large left seat (enough for two or more). It also have movable windshields hinged at the top, and half doors without side windows. The Germans standardized on these their own cabin caled "Einheits" in wood to save metal. The vehicle is normally used for transport in its own large flatbed, but has a towing capacity as at the rear a 9500 kg winch is welded. For towing a trailer a hitch it is fitted with a Marelli-type compressed air brake which can also be used to inflate tires. The 3Ro had a remarkable capacity: It could carry 32 equipped soldiers (about the size of an Italian 1940 HQ platoon, 1 officer and 28 men), or 6390 kg of cargo, materials and ammunition. It was also used as a base for many self-propelled vehicles, a workshop, a military bus, a command car, a tank transporter among others. A batallion was 876 strong, so could be transported by 30 trucks (27 + three for supplies)
src
.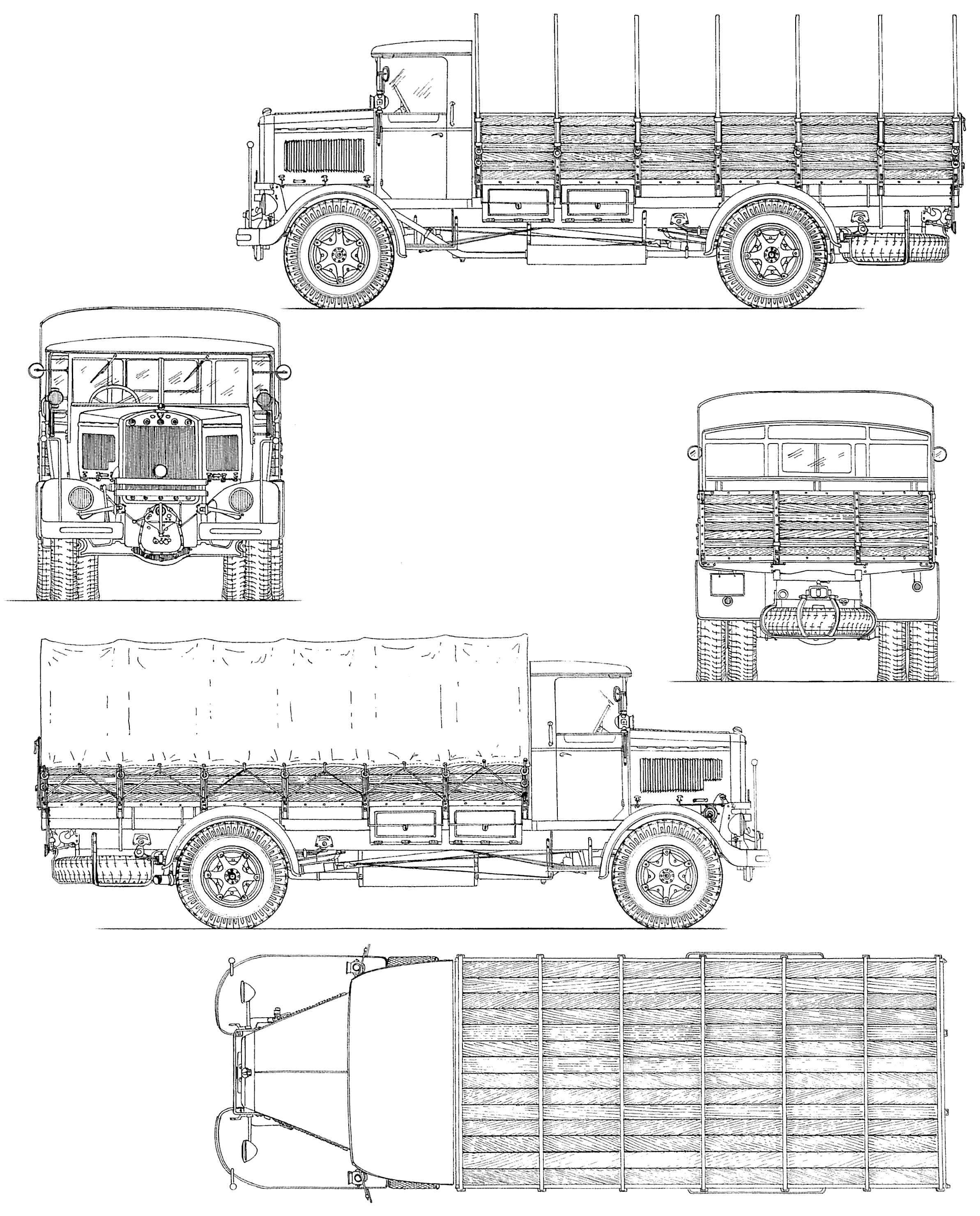 Blueprint of the type
Production
The first series called "464" was produced from 1938 to 1946. It was characterized by its "short" wheelbase, only 4.30 m. The "564 series" was produced from 1938 to 1943 with a 4.79 m wheelbase. The 266 series is characterized by a long wheelbase of 4.85 m. 611 were produced from 1939 to 1949. From 1941, 142 of the 466 series were produced with the same long wheelbase, and power supply using gasogen. The 566 serie was produced after the war, from 1945 to 1947. It has an electric starter, lager width at 2.5 meters, fitted with a new disc braking system and "full floating" rear axle instead.
Models
3Ro NM (564B): Military truck (diesel) produced in 9,490 units from 1938 to 1943, 4,300 mm (169.3 in) wheelbase
Civilian 3Ro (564): Identical chassis, gasoline engine, 1,307 units until 1945
3Ro 564C: Modified with trailer, 1936-1947: 3,336 made.
3Ro P* (266P): Stretched chassis - buses/coaches 4,850 mm (190.9 in) WB**
3Ro PL* (266PL): Same but 5,600 mm (220.5 in) WB
3Ro BM (564B): Benzina Militare (petrol-engine), production 1943-1945, 408***
Esaro: Short WB of 3,650 mm (143.7 in), 2000 made 1943-46, 21 diesels in 1946.
*Production 1939-1949: 837 total **In 1941 some 3Ro 266P were built with a Tipo 102C natural gas engine developed from the inline-five diesel (four valves per cylinder). ***The Tipo 102B inline-five petrol was derived from the diesel, with 16-valve heads. ****5-cylinder petrol and diesel engines. 650 mm (25.6 in) shorter wheelbase than the standard 3Ro.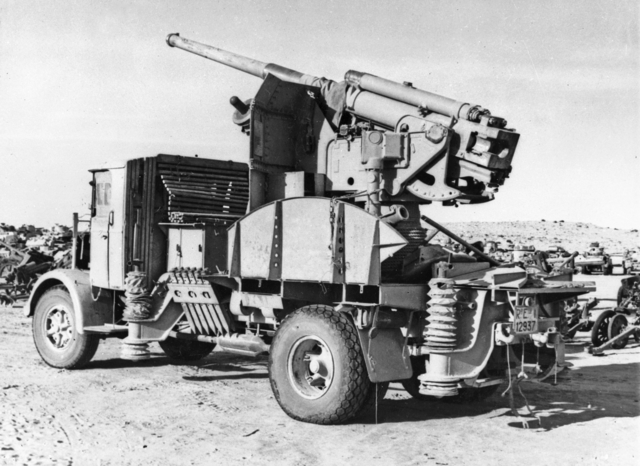 Lancia Esaro 90/53
Lancia 3Ro Blindato APC, partially armored, used by German troops in 1944 - From Beutepanzer.ru.
Variants
The load-bearing frame structure allowed a large number of variants and fittings, some created in the field or in specialized body shops. On the 3Ro chassis, Viberti, Zagato and others adapted their own cabins and built notably buses for the civilian market. The 3Ro P version (1940) met success. From 1942, the Lancia Esaro was developed with a shorter wheelbase. There was a single fully armored version (
article here
), called the Lancia 3ro blindato. Only two were converted by the Italian Social Republic (RSI) army, and especially tthe two converted armored cars went to the Camice Nere'(Black Shirts). Two were built by the Arsenal of Piacenza, and served in 1944-45 with XXXVI° Brigata Nera "Natale Piacentini and XXVIII° Brigata Nera "Pippo Astorri". Other variants were partially armored, and served with both the Germans and Italian infantry.
Basic version: Wooden flatbed plus arched frame, 4.79 m wheebase.
Viberti fuel tanker (5000 liter tank)
Viberti water tanker (5000 liter/two 2000 liter tanks)
Mobile workshop Modello 38
Mobile office (with trailer). One was was donated in 1941 by the Italian Command to General Erwin Rommel.
Ammunition carrier for 90/53 gun batteries: Four metal containers, 210 shells.
Artillery tractor: Towing a standard artillery piece in two and crew, plus crew and ammo supplies in the flatbed.
Horse transport: Raised sides, side rails and loading platforms laterally hooked onto the sides (7 horses)
Tank transporter: Directly or towing Viberti/Bartoletti type fifth wheel trailers.
Self-propelled anti-aircraft (Breda 20/65 Mod. 1935).
90/53 autocannon
100/17 autocannon
3Ro Blindado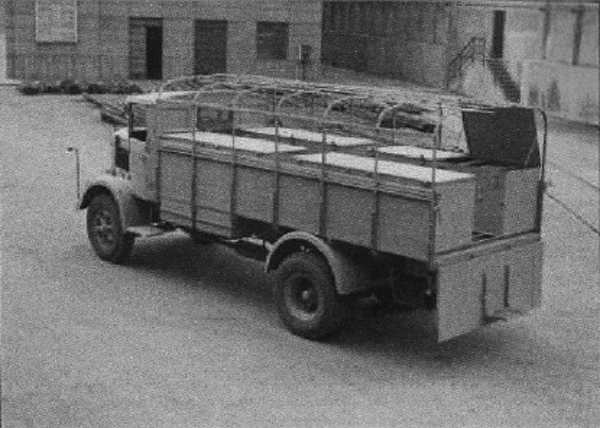 Portamunizioni (ammo carrier version)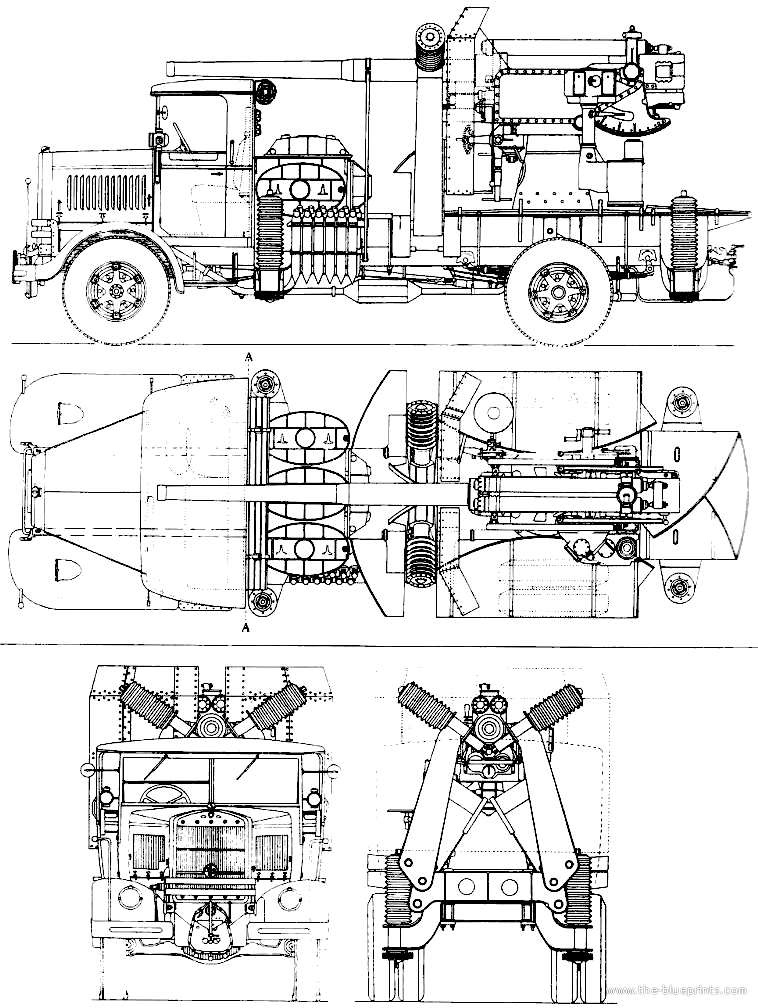 Blueprint of the autocannone 90/53 su Lancia Ro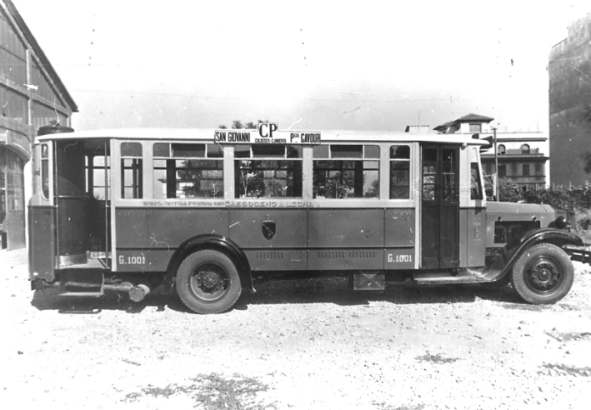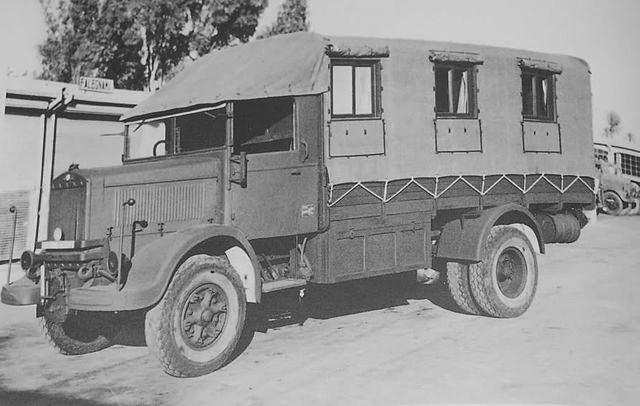 Operational use
This truck became the standard troop carrier whenever available, also largely used by the Germans when available in North Africa. Also during that time, both in North Africa and Sicily self-propelled arillery versions were converted: The top of the cab was cut away, sideboards made lower, and with it, the Lancia 3 Ro became a self-propelled gun (portee) for the Cannone da 90/53 and the WW1-vintage 100/17 howitzer. The Germans used it in Sicily and in Italy as well, and this included the versions they produced (Einheits cabin). In fact after the Italian armistice (September 1943), the Wehrmacht cpatured all the Lancia Ro and 3Ro thy could to moorize their infantry in Italy. In April 1944, they gave an order to the Lancia factory they controlled, for 772 3Ro. Production went on from January 1944 to February 1945. The cold war Italian army also used the 3Ro in its late production versions, and the last one was retired only in 1964. Some have been preserved since.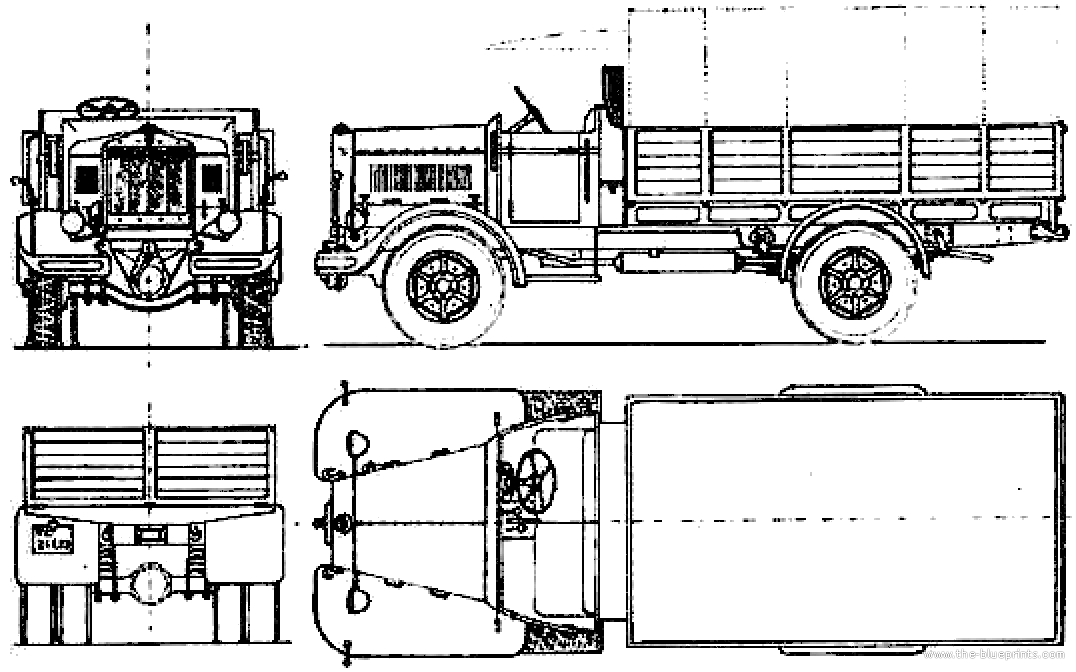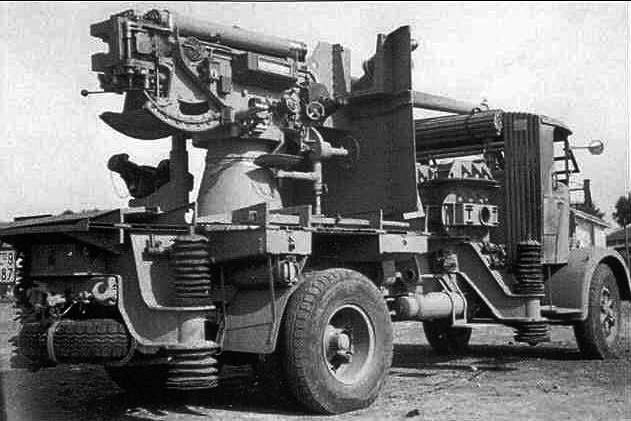 Back of the 90/53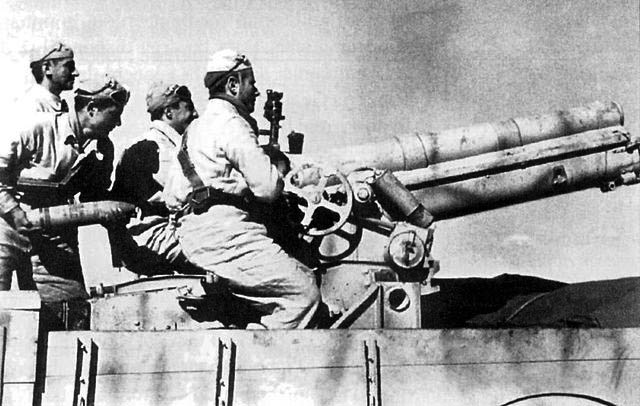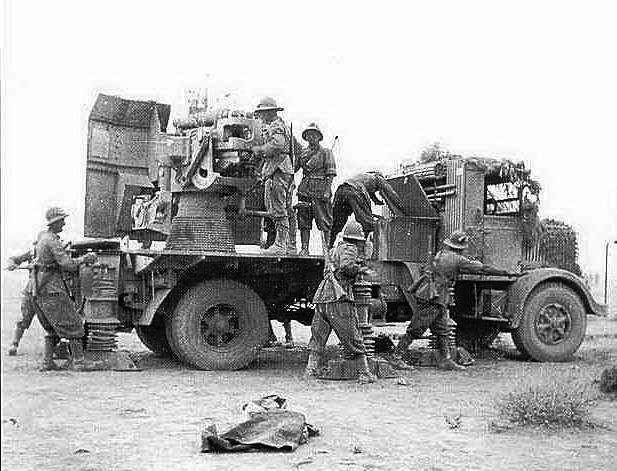 Links about the Lancia 3ro
lancia 3ro wikipedia.it
Hungarian use, in Polish
Web archive (V. Bourguignon)
On O5M6
In french (archive)
On the 90/53 portee
In french italie1935-45.com
Lancia forum
---
Pignacca, Brizio (2003). Ruote in divisa: un secolo di veicoli militari (1st ed.). Vimodrone (Milan): Giorgio Nada Editore.
Condolo, Massimo (2001). Camion Lancia (1st ed.). Fondazione Negri.
Storia illustrata del camion italiano. Edizione Neri.
Pignato, Nicola; Cappellano, Filippo (2002). Gli autoveicoli da combattimento dell'esercito italiano, vol. 1/2 (1st ed.). Rome: USSME.
Ceva, L.; Curami, A. La meccanizzazione dell'esercito fino al 1943. USSME.
Pignato, Nicola. Gli autoveicoli del Regio Esercito nella seconda guerra mondiale. Storia Militare.
Riccio, Ralph; Pignato, Nicola. Italian Truck Mounted Artillery: In Action. In Action Series. Squadron/Signal Publications.
Amatori, Franco; et al. (1992). Storia della Lancia — Impresa Tecnologie Mercati 1906–1969. Milan.
Lancia 3Ro M specifications

Dimensions
7,084 mm, Width 2,350 mm, Height 3,000 mm.
Total weight, battle ready
4.135 kg (no payload)
Crew
2 (driver, co-driver) + 32 troops
Propulsion
Lancia 102N, 5 cylinders diesel 6 875 cm3, 93 ch/1.860 rpm
Top speed
45 km/h (30 mph) road
Payload
7.365 kg and 12 tonnes max overall ( lbs)
Transmission & suspension
4 + 1 speed, leaf spring
Maximum range (on/off road)
450 km (cons. 24 liters/100 km)
Armament
None, used as SPG
Armor
6 to 8 mm (0.2-0.3 in)
Production
See notes, above 9,000
Reference illustrations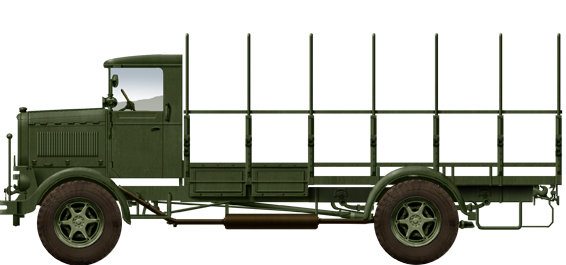 Standard truck fresh from the factory in regular army olive green, 1939. The wooden rear open trunk is not yet assembled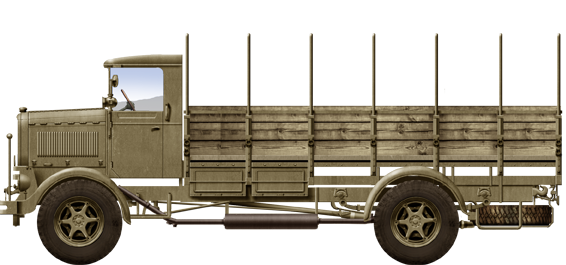 Lancia-3Ro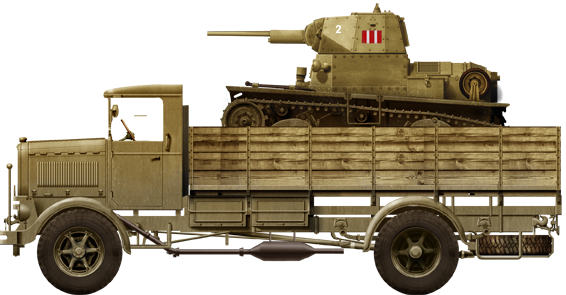 Lancia-3Ro-tank-transport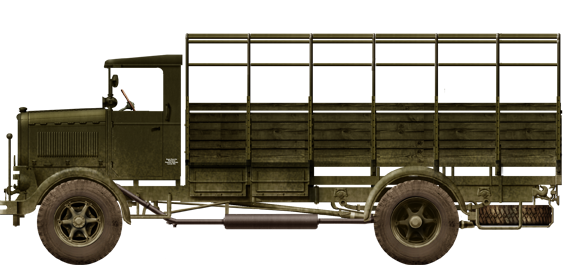 Lancia-3Ro-Greece1940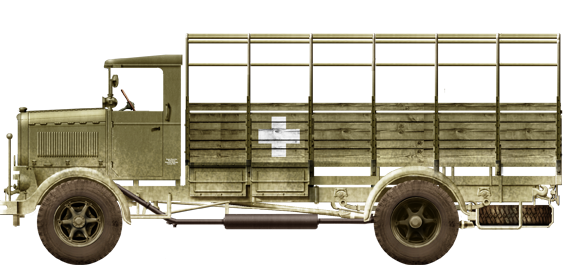 Lancia-3Ro-NorthAfrica1941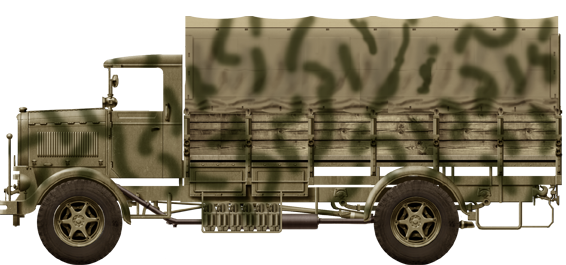 Lancia-3Ro-camo-libya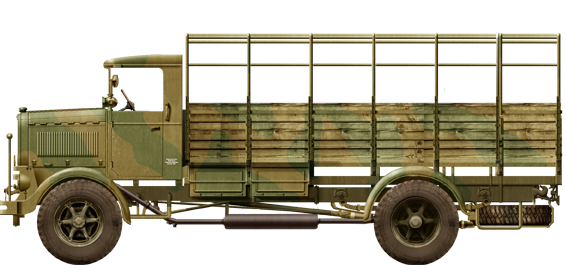 Lancia-3Ro-light-camo-NAF42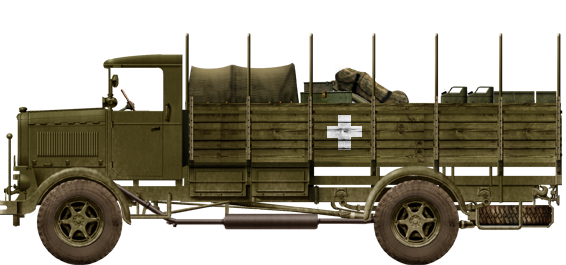 Lancia-3Ro-green-loaded

Lancia-3Ro-Germanservice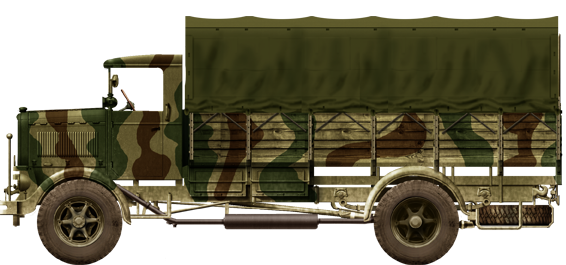 Lancia-3Ro-german-italy-1944

Lancia-3Ro-German-prod

Lancia-3Ro-Einheits-camo
---

Autocannone da 100/17 su Lancia 3Ro, batterie volanti, Reparto Esplorante Corpo d'Armata di Manovra, Libya, 1941.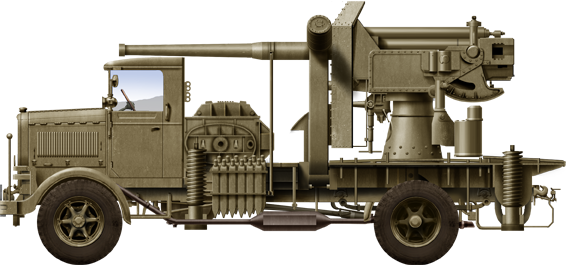 Autocannone 90/53 su Lancia 3Ro, DI Gruppo, 132 Artillery Regiment, 132 Ariete Armored Division, Egypt, 1942.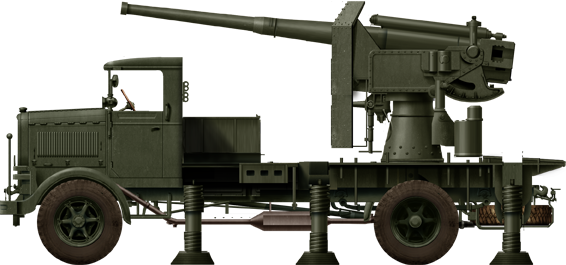 Same in green livery, Sicily, 1943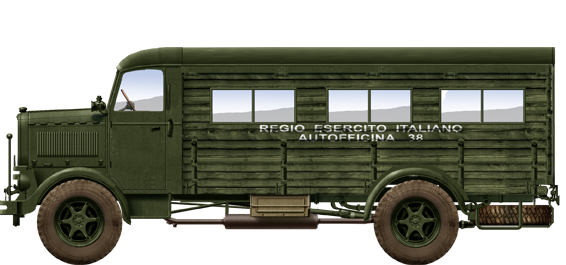 Lancia 3Ro Autofficina (Mobile command post)
Lancia 3Ro Blindato wit the "black brigade" in 1944. Illustration by Yuvnashva Sharma.
Photos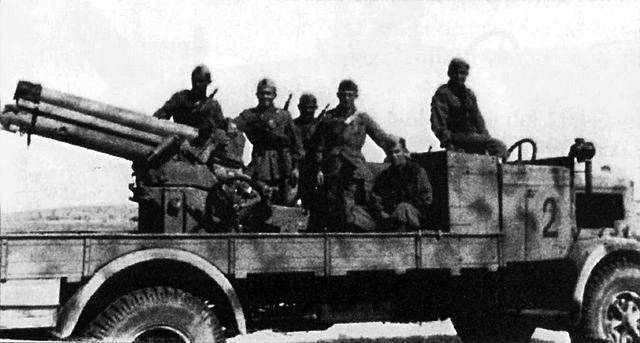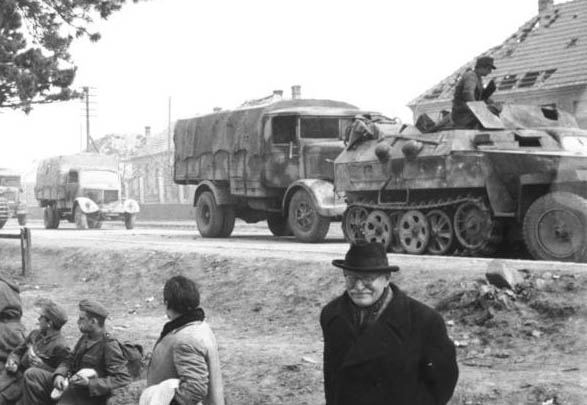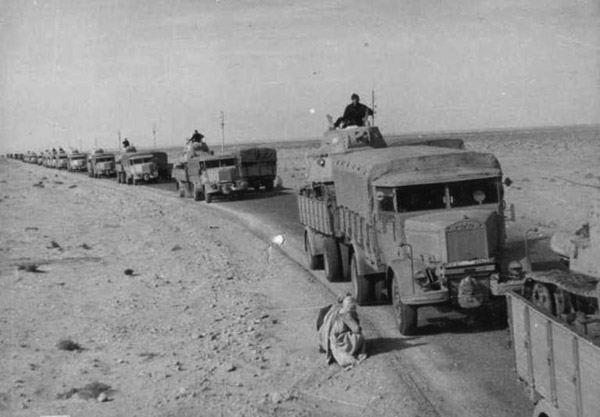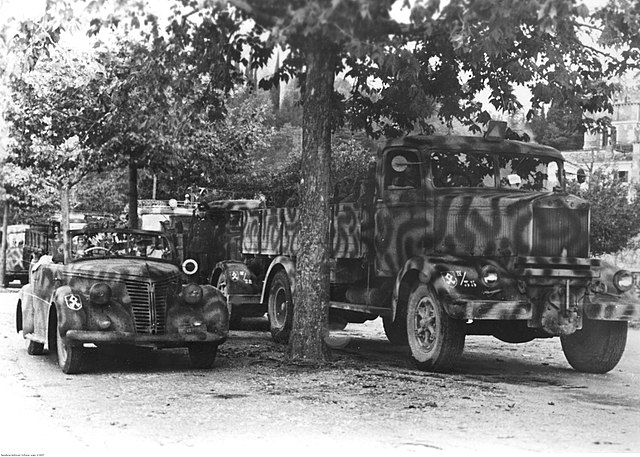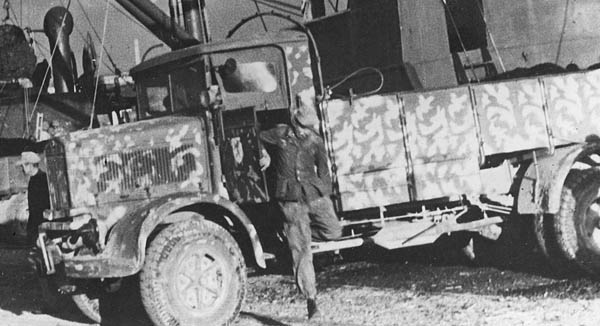 ---
Axis Trucks

Purchase this pagemarker and support the site !
Sd.Kfz 2, 6, 7, 8, 9, 10 and 11 were half-tracks designed just before the war as prime movers, to carry supplies, ammunition, personal, and tow artillery. Many were also converted during the war as armored versions carrying AA FLAK guns (Flakvierling, 37 mm, or the legendary 88 mm Rheinmetall als used as tank hunters), or were converted as nebelwerfer (rocket launching armored vehicles). They were built by Hanomag, Steyr, Mercedes-Benz, Bussing and many other manufacturers until 1945, over 20,000 half-tracks.
---
Cold War & Modern Vehicles
Modern Trucks