mythical Jeep MB
stopped production in 1945 but was so popular that production switched to the Willys MC (Jeep CJ or to be exact CJ3A) version for the cilivian market in 1946, and its army equivalent the M38 in 1950. The manufacturer, Willys, took into account the multiple experiences of servicemen around the world to create the M38. It was mechanically revised to be more robust, practical, easier to resupply, etc. Later appeared the M38A1 this type adapted from the CJ-5. In all, 54,435 were manufactured until 1955 (61,423 when including Canadian Vehicles and depending on sources). They soldiered in Korea and Vietnam among others, and with many other armies around the world to end with collectors. Many are still operating today.
The new Military Jeep
The Willys M38 was military reviewed version of the Willys MB produced by Willys-Overland Motors (later American Motors Corporation or AMC). The M38 was developed as a variant of the civilian
CJ-3A
, and realy tailored for the United States military. The M38 was introduced in 1950 (not 1949 as often seen), used as the primary tactical vehicle for the U.S. Army and Marine Corps in the Korean War. Mofifications made to the CJ-3A and upgrades enhance its off-road capabilities in military operations.
Key features and specifications:
General Design
The vehicle was very similar to the original Jeep and the CJ, keeping about the same specifics and hull design. Dimensions, wheelbase 80 inches, overall length circa 133 inches, seating capacity for two passengers in the front and could accommodate additional personnel or equipment in the rear cargo area. Body was the same sturdy steel one, with foldable windshield and canvas top. The chassis was of the ladders type with spars and the Bodywork in sheet metal with or without door and folding windscreen with wipers, minimalistic removable dashboard with the essentials (speedometer, oil and gasoline levels, temperature...). It had a 24-volt electrical system, blackout lights, and new waterproof ignition system. Externally it was also changed in some ways:
Larger diameter headlights, revised blackout lights
Revised one-piece windscreen with wipers
Access hatch to the 2nd battery in front of the windshield
Opening on the right side of the hood (air intake/booster connection)
Pioneer tools fixed on the passenger side (axe and shovel)
New larger filling caps in recess on the left side panel
There were chassis reinforcement plates ublike on the CJ-3A stamped "M" for Military, and tie-down shackles dded to the front bumper and behind the rear bumpers, pointing down for gandling. There was also four "footman loop" style anchors on either sides also for handling. (The vehicle was airlifted at the end of the Korean War thanks to larger helicopters). Military tires, rimmed with internal hump "tubeless" style, bigger. The rear panel was hinged and bolted at the top so to stupport the weight stress of the spare tire and a aside it, the usual 20 liter jerrycan.
There were C-channels for hood cord and doors added to the windshield's frame. It had at its bttom a centered bolted ventilation hatch as well as, vacuum wipers, and anchors for rifle stand, so to be always close to action. The handbrake was located to the left of the steering wheel and driver, and there were nameplates and instructions riveted to a steel base, screwed to the dashboard on the 1st version. A glove box was installed also on the far right plus a twist lock toolbox, under the passenger seat.
Engine
2.2-liter (Displacement 2199 cc), inline-four (4-cylinder in line) "Go Devil" gasoline engine L4-134, with an ouptut of 60 hp at 3,600 rpm, and maximum torque of 14.5 mkg SAE at 1,800 rpm.
Four-Wheel Drive:
Like its civilian counterpart, the M38 had a part-time four-wheel-drive system, allowing it to tackle challenging terrains and off-road conditions.
Transmission:
Three-speed manual transmission with a two-speed transfer case, for six forward gears and two reverse gears. As revised it had the following:
New oversized gearbox T.90
New transfer case (26-tooth drive gear)
Larger diameter clutch, 215 mm
New axles with Dana 44 with 8/42 teeth ratio
New Celeron gears
Larger steering box
Return axis fixed on the front crossbar
24 Volt shielded ignition for winter.
Externally larger diameter headlights
One-piece windscreen with wipers
new filling hole on the left side panel.
The Warner GEARBOX T-90, was manual with 3 forward and 1 manual reverse gears, 1st gear not synchronized with ratios 1 = 2.79, 2 = 1.55, 3 = 1.00, Rev = 3.79. The Spicer transfer case Model 18 was provided with 2 manual speeds, manual front axle engagement and Ratios of PV = 2.43, and GV = 1.00.
Suspensions
Suspension: It had a robust leaf-spring suspension system, offering improved stability and off-road performance. Front Axle bridge Spicer rigid Model 25 floating and rear axle one, Spicer Model 44-2 semi-floating, Ratio: 5.38. So front and rear rigid axles, front 12-leaf semi-elliptical, twin and rear 13-leaf semi-elliptical, twin rear and four hydraulic schock absorbers.
Wheels and Brakes
The brake Type were using a single circuit hydraulic, with the master cylinder fixed to the frame. The Front brakes had drums 228.60 mm x 44.45 mm and at the rear 228.60 mm x 44.45 mm. The Parking brake was of drum type at the rear with output of transfer box, external jaw, control by rod and lever. The wheels were solid steel rimmed ones, five in all (one spare at the back) 4.50 x 16 inches, 5 holes, 139.7 mm center distance (). The tyres were of the 700 x 16, type, 6 ply.
Other technical Caracteristics
The shielded electrical system had Douglas connectors and the sealing was repeated to other important components. Batteries for example were located in waterproof boxes. Headlights with brush guards were also sealed. The Military blackout lights were bigger than the MB and also waterproof. There was also a revised closed circuit of ventilation connected to the air filter and a larger gas tank, coming with a brand new, much larger external filler cap. The Carter YS 637S carburettor was sealed as well and floor drains had a rotating figure, 8-plug. The flanged end was added to the muffler, to attach an immersion extension.
The engine is reinforced with lifting hooks added to the cylinder head for easier replacement. The fuel pump has a vacuum pump to be more efficient and the Cuno oil filter used a T-handle for simpler cleaning by rotation. The bottom of the grille was also hinged to facilitate the removal of the engine and transmission units.
The Jeep Reloaded (M38A1).
The Jeep Willys M38 (internally known as "Willys MC" was officialy named "¼ TON 4 x 4 UTILITY TRUCK M38" and first military model since the 1940 Willys MB, clone the Ford GPW. The Willys M38 is essentially a "militarized", much reinforced version of the Jeep CJ-3A and used Army standards, notably its waterproof/shielded 24 V electrical system and "blackout lights" but also the generator, starter, gauges, switches, are all military standard. Army requirements included a greater bearing capacity and the vehicle was larger and heavier, so the venerable 60 hp flathead motor was no longer powerful enough, so the designer had to play truicks via a higher ratio, using differentials and transfer case. This enabled a faster production as most was still common to the WW2 jeep, and by the end of 1952, was introduced the Willys M38A1 (Internally Willys MD) which had round fenders, raised hood to accommodate the F-type engine, which also came with overhead intake valves (68 HP, 6.9:1 compression ratio).
Canadian model Willys M38 CDN4
The Willys M38 CDN was a tailored version assembled by Ford Canada, based in Windsor, Ontario. Parts came from Willys, same as the late production Willys M38 but with a changed nameplate with "TRUCK UTILITY ¼ TON 4X4 M38 CDN W/WN, FORD MOTOR CO. OF CANADA LTD". These were the series F-100001 to F-102135 (so 2,135 produced), without any Ford logo. They had Goodyear Canada tires, as well as Kelsey Canada rims and all the hardware was also produced locally, but the model in addition had a manual priming pump with 2 injectors in the intake manifold for winter operation.
The Willys M38 CDN were finished at Hagersville, Ontario to received their stenciled Canadian Army CAR number above the left front rail, near the bumper, under the doors and sides of the hood in some case. The Canadian vehicle also was fitted with a convoy light inside the right rear chassis corner, illuminating the rear deck. Its cover was painted white, with black letters. The Canadian M38 often also had aboard fire extinguisher (the rear left of rhz front fender) and also for winter operations, a heater TB 9-2855-37 which used Hot water and thus could be used for tea, installed in the floor, left of the passenger's seats, with defrost hose and outside outside plug through the tool box.
Production
The vehicle was just manufactured as the Korean War started, as was not in sufficient numbers before 1954, gradually the already present Willys MB and Ford GPWs, which were wearing out fast, some seeing action since 1941. Between September 1950 and July 1952, Willys managed to crank up 45,500 M38 for the US Army its its main Toledo Plant in Ohio. Aside, 6,800 extra vehicles were produced until 1955 for export. In fact, the US Government soon contacted Canada for additional supplies: On September 29, 1951, Willys has a contract with the Canadian government for assembly at Ford Canada (Windsor) under license, bit mostly making parts assembly from Willys. Ford assembled around fifty "M38 CDNs" in late 1951 from parts to study the design and setup the production line, which sped up the process, and production started by February 1952 as local suppliers were also ready to provided more parts and replace thos from Willys. Production of the Canadian M38 ended in November 1952, and only Willys resumed production of the M38A1 for export until 1955.
The M38 and M38A1 in action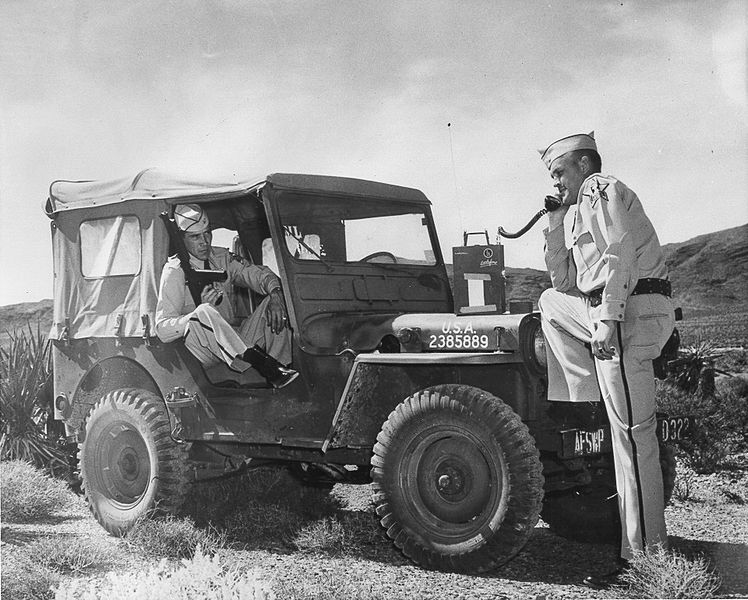 Jeep M38 in Korea
Both the baptism of fire and main action of the M38 were in the Korean War; However with 55,000 vehicles in service, not all sent in Korea, it was hardly more common than the Willys MB/Ford CJ already delivered from WW2 stocks in very large quantities. However when things turned ugly in Vietnam from 1965, the M38 was rarer, replaced by the M151 and M151A1. Photos shows however there were still dozens in use in various service. Some were used also by Australian forces. They were borrowed from the US Army with US markings still visible beside the red kangaroo. They were used also by the 88th Transportation Company, 86th Signal Bat. and many other unuts until 1969. A photo showed Bob Hope sitting in one, on the way to do his annual Christmas show for the 101st at Freedom Hill in 1969. In fact their larger user was the always late USMC, which were given surplus M38A1 when replaced in the army by the M151. However the USMC had them gradually replaced in turn by their own M422 "mighty mite".
Still, the Jeep was considered by many to be a death trap with their tendency to do a roll over in really rough terrain and they were in general prime targets for the VC, assuming they were staff vehicles with VIPs. MPs also used the M38, with their own markings in Saigon. As for armament, they were equipped with the same universal pintle mount that can accept the M1919A4 or the M1920 M2HB Browning "ma Deuce" as well as improvized bazookas and recoiless rifles. Jeeps were frequently deployed to patrol the paerimeters of large military installations, making a ten miles perimeter to survey. M151s were preferrably used on the frontline. They were in relatively short supply with companies given two at any time, rarely three or four. Dodge 3/4 tons were preferred, or even the Jeep CJ-6 and its pickup bed.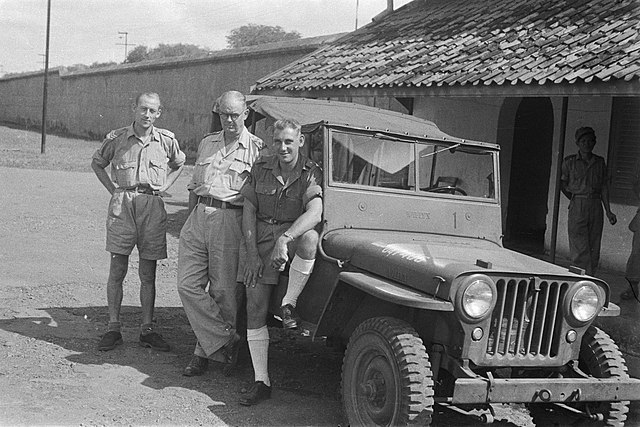 Dutch M38 Jeep in Indonesia
After Vietnam, the M38 and M38A1 were either passed on to the National Guard, or depending on their general state, mothballed and sold to the civilian market, likely in the late 1970s. Since they "looked the part" of WW2 Jeeps they saw also a lot of action with various Hollywood productions. Collectioners loved it also because it was easy to mistake for the WW2 Jeep in the general public's eye, going as far as removing some features (like the side fuel cap) to bring them closer to the original. In any case, the Willys M38 is still praised by collectioners today. However, they were also used by others countries. Most of the vehicles used in Vietnam were passed onto the ARVN until the fall of Saigon in 1975. They saw action in the Laotian Civil War and the Lebanese Civil War in the 1980s among others.
Willys M38 (1950)
Dimensions (L-w-h)
129.875 in (3,299 mm), rest as CJ-3
Wheelbase
80 in (2,032 mm)
Curb weight, battle ready
1080 kg ( lbs)
Crew
1+3 (driver +3 passengers)
Propulsion
Willys 134 cu in (2.2 L) Hurricane I4
Transmission
3-speed manual 2 reverse, 2-speed Dana-18 transfer case
Top speed
110 km/h (65 mph) road, 50 km/h (29 mph) off-road
Maximum range
500 km (290 mi)
Gallery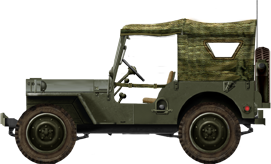 Willys M38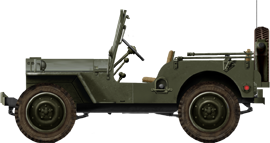 Willys M38 with tarpaulin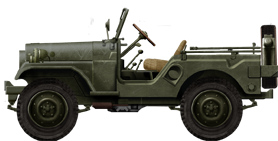 M38A1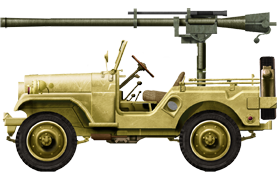 M38A1 with 105mm Recoiless Rifle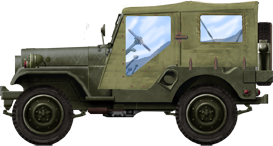 M38A1 with tarpaulin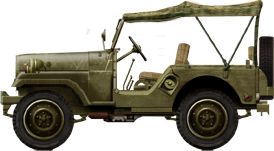 M38A1 Nekaf, Dutch East Indies 1960s
---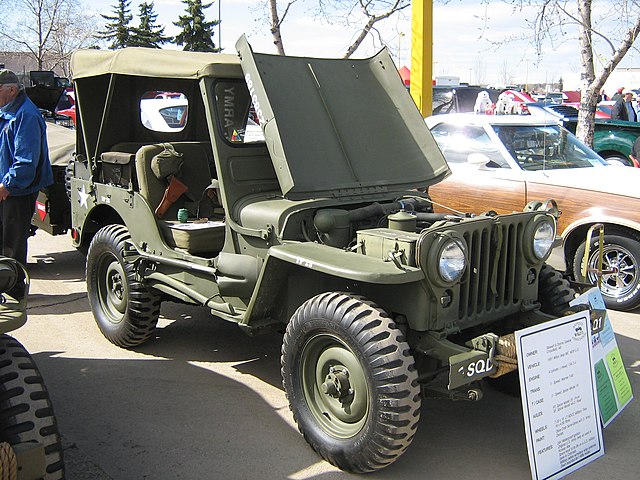 WillysM38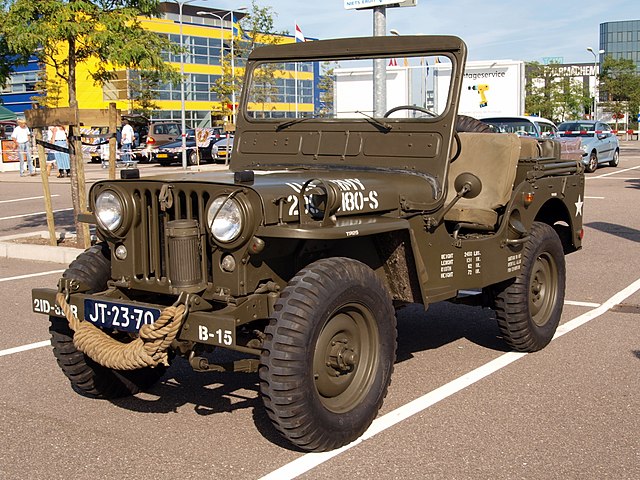 Willys_M38_JT-23-70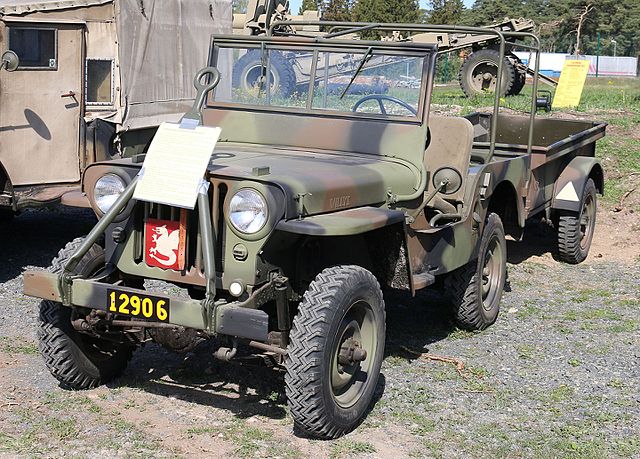 Willys_jeep_M38_trailer_Artillerimuseet_2017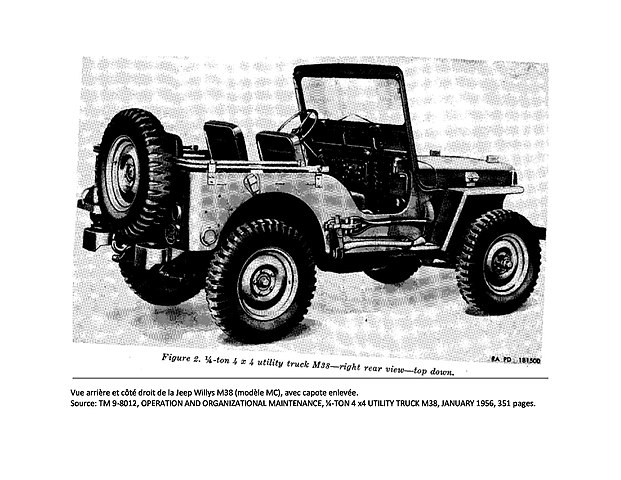 M38-manual1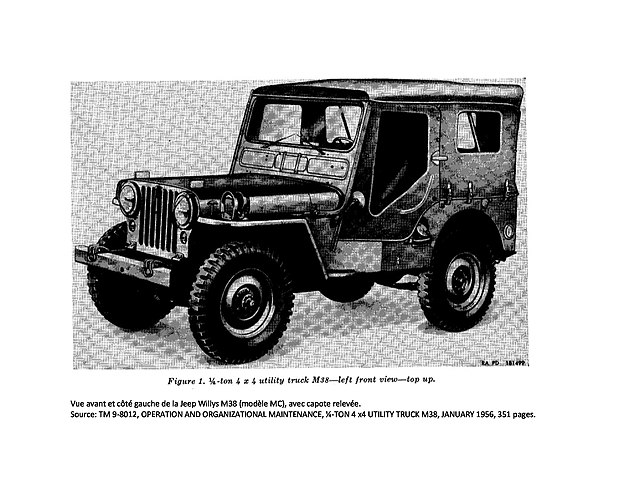 M38-manual2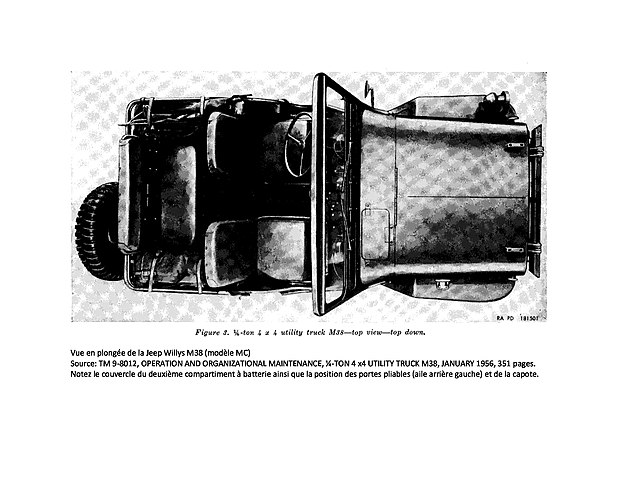 M38-manual3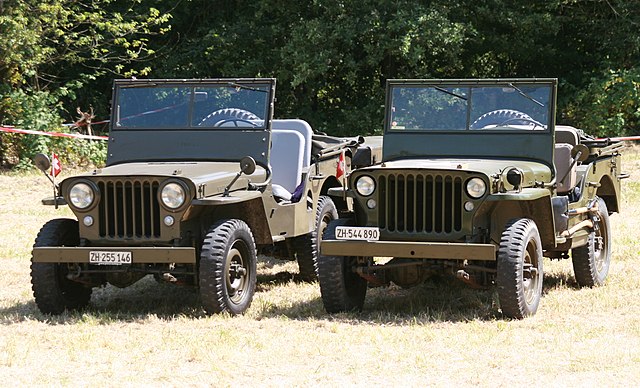 MFT_6_2015_660_2Jeeps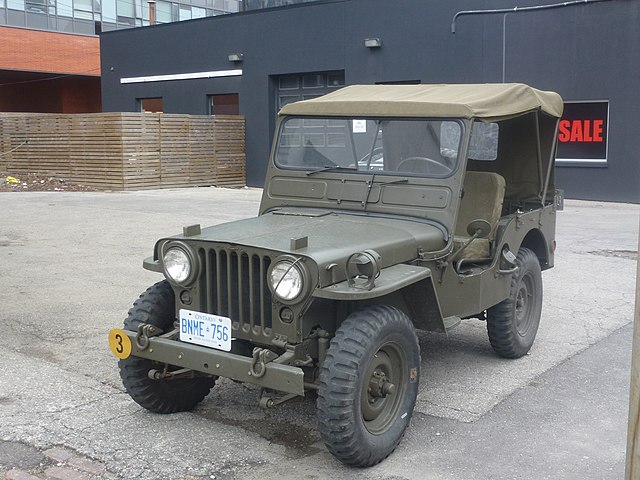 heritage_jeep_Berkeley_King_Street_2014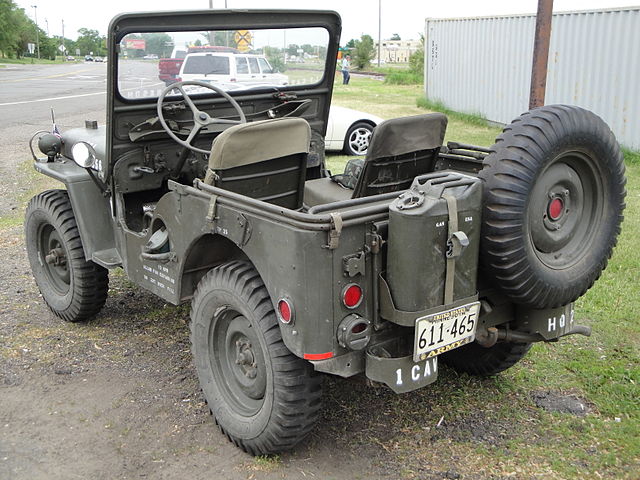 DVS1mn_53_Willys_Jeep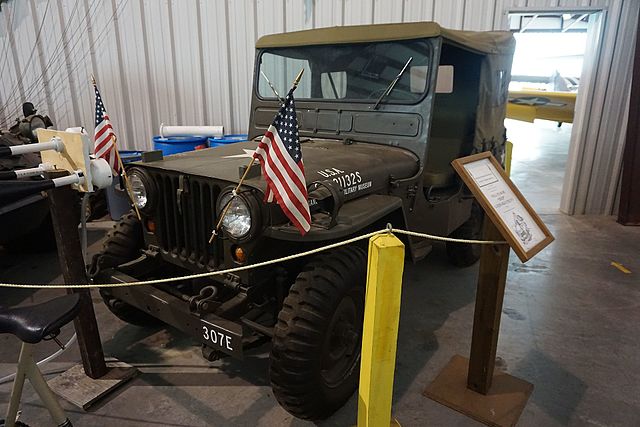 Arkansas_Air_Military_Museum_May_2017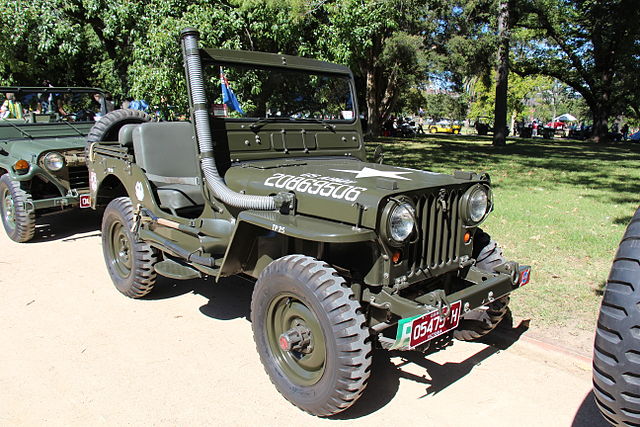 The very close C3-Ja
Links
Wiki
souchman-home.com
cherokee-fr.com
willysmjeeps.com
g503.com
CC photos
Technical Manual TM 9-8012 Willys M38
Technical Manual TM 9-1804B M38 Power Train Body and Frame
Technical Manual TM 9-1804A Engine Willys L-134 by Department of the Army
TM 9-804 M38 Jeep, 1950
Book: Brown, Arch (1994). Jeep: The Unstoppable Legend. Lincolnwood, IL US: Publications International. p. 64.
---
Axis Trucks

Purchase this pagemarker and support the site !
Sd.Kfz 2, 6, 7, 8, 9, 10 and 11 were half-tracks designed just before the war as prime movers, to carry supplies, ammunition, personal, and tow artillery. Many were also converted during the war as armored versions carrying AA FLAK guns (Flakvierling, 37 mm, or the legendary 88 mm Rheinmetall als used as tank hunters), or were converted as nebelwerfer (rocket launching armored vehicles). They were built by Hanomag, Steyr, Mercedes-Benz, Bussing and many other manufacturers until 1945, over 20,000 half-tracks.
---
Cold War & Modern Vehicles
Modern Trucks