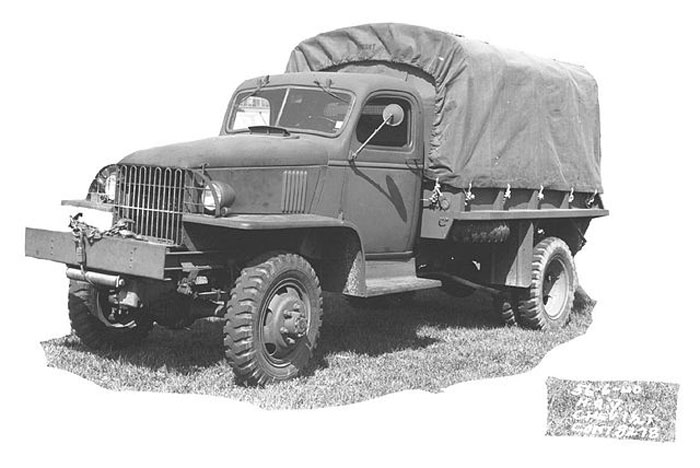 Design
The Chevrolet G 7100 Truck, 1 1/2-Tons, 4×4 was a short truck, just 4,38 m long from bumper to bumper, for 1,99 m in width and 1,93 m in hight, as much as a standing tall GI. It weighted just 2,100 kg, its nomenclature weight corresponding to its empty, body-less chassis jauge. Its useful Payload took place on its rear flatbed, of 800 kg (Ibs). The latter was enclosed in a classic folding panels, hinged below, and secured by simple revolving pins and chains, to avoid accidental release after vibrations on a bumpy roads.
The 7100 was powered at the front by a Chevrolet BV1001, 6-cylinder in-line with overhead valves, gasoline-fed for a total capacity of 3,858 cc, or 72 horsepower. It was capable to giving the truck unladen a top speed, of a flat road of 80 km/h, for an operational range of 430 km. These figures varied with some specialized models.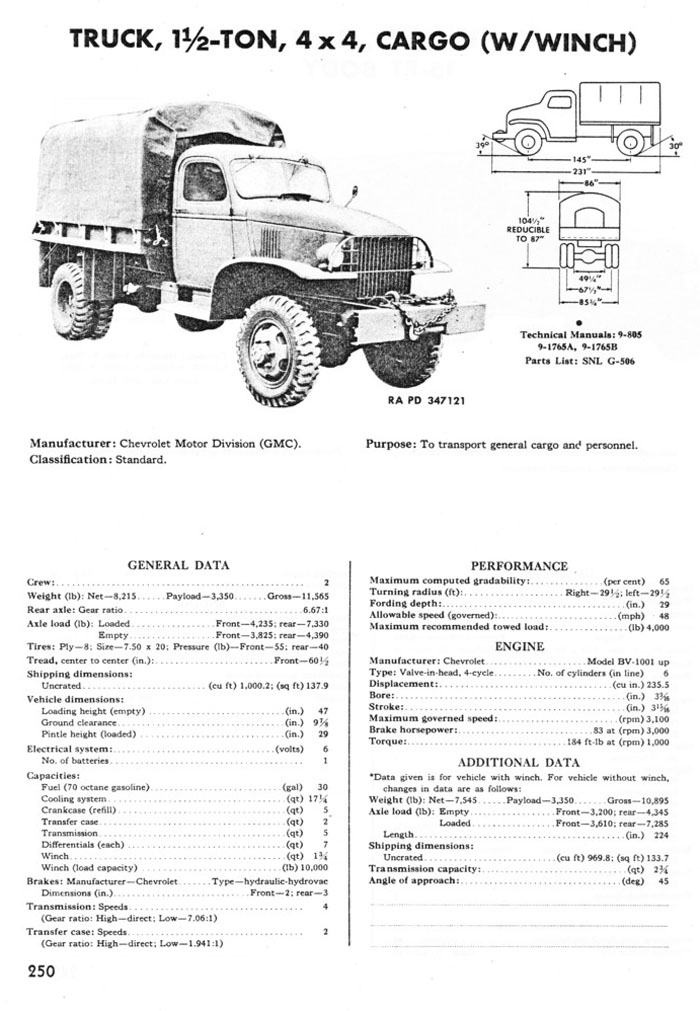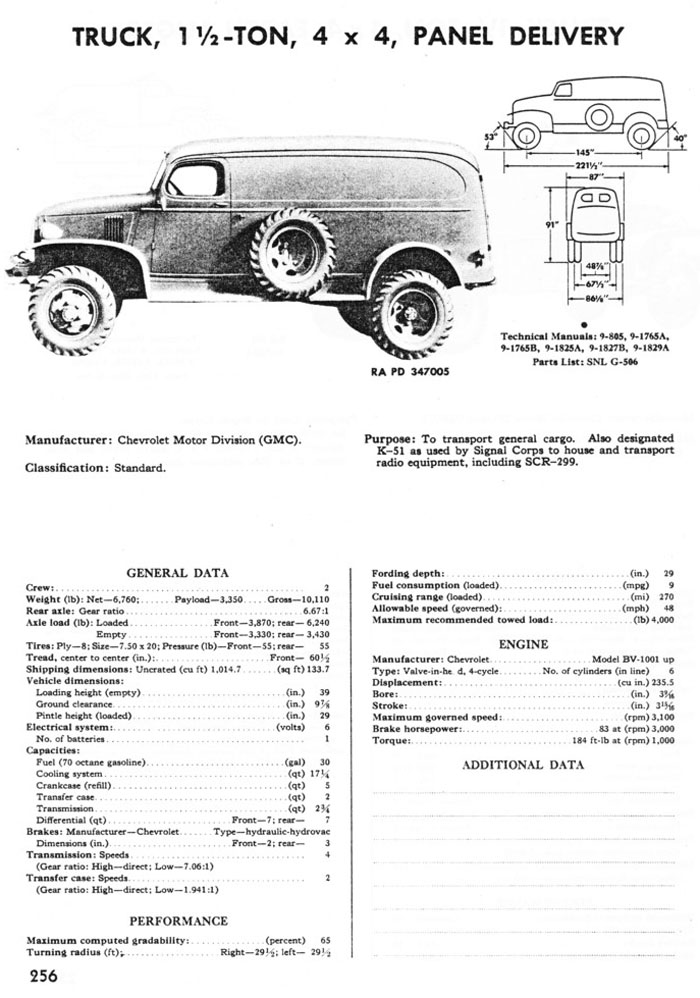 US Ordnance ONI plates about the standard G7107 and Panel Delivery version
The Chassis of the G506 was of the ladder frame type, with two live beam axles, resting on semi-elliptic leaf springs. These vehicles also used the standard GM "banjo type" axles, also shared in the later GMC CCKW 2+1/2 ton. Three wheelbases were developed, akthough seeing very different productions:
125 in (318 cm) extra short wheelbase (SSWB), used on the sole G7128 Bomb servicer
145 in (368 cm) standard short wheelbase SWB
175 in (444 cm) for the rare LWB
All the G506 had hydraulic brakes, with vacuum boost. They also shared the same 7.50-20" tires, with dual rear tires. The G-506 also used always the same closed Chevrolet cab, shared with the GMC CCKW, but three models made exception:
-The panel van of the Army Signal Corps (with a full enclosed body after the front cab)
-Open cab for the bomb servicer -Cab over engine for the rare long-bodied cargo truck.
Pilot models delivered just had simple flat top panels of the front fender, production trucks eventually were produced with standard arches over at the fender crowns, despite they were more complicated to manufacture. The aft axles was protected by two semi-rigid flat, vertical mudguards. There was also a spare tyre usually stored under in between the chassis forward ladder. The panel van had two, either side of the body. Others don't have any, like the M6 bomb disposal truck.
Engine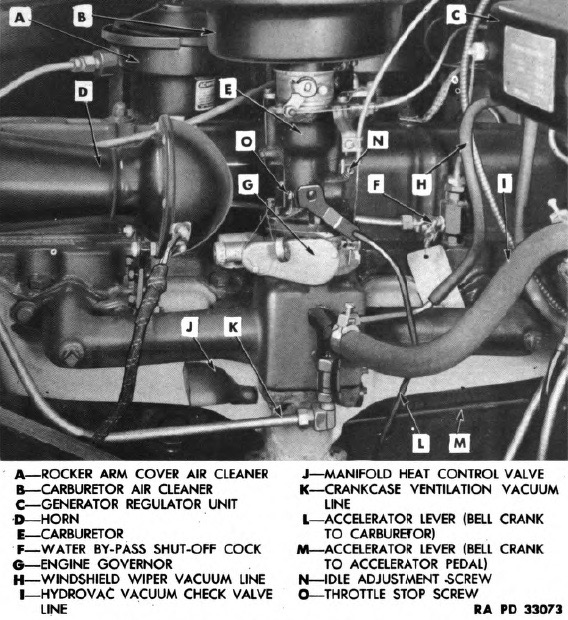 Chevrolet BV-1001
The G506 used a Chevrolet BV-1001-UP, a 235 cu in (3.9 L), overhead valve, inline-six cylinder (gasoline) engine developing 83 hp (62 kW) at 3,100 rpm and 184 lbf/ft (249 N/m) of torque at 1,000 rpm. This is a smaller version of the engine used in the GMC CCKW, but still, many parts were common lowring the overall cost of the whole. This engine was also used by all variants, whatever the load they carried or task they did, which is quite remarkable on an ordnance supply point. All models also passed this power through the same four-speed manual, non-synchronized transmission, with a two-speed transfer case (To be precise, 4 speed transmission and 2 speed transfer case).
Variants & production
A new range appeared, once the needs of regular trucks was filled, at the end of 1942. There were also technical updates on the regular mchine, all under the name G7100. These versions coresponded to different uses and needs in the field such as tractor, dump, ammunition transport, fire fighting vehicle, radio, ambulance, workshop, enclosed utility truck... During the war, the US military purchased 167,373 4x4 1-1⁄2-ton trucks overall. Chevrolet supplied the great majority of them, about 150,000, but according to the 1946 revised U.S. military's Summary Report of Acceptances, Dodge which initially delivered the 1+1⁄2-ton 4x4 truck only produced 6,762 VF G-621 series in 1940, Ford (Marmon-Herrington) and Diamond supplying another 6,271 and 136 units, so that 154,204 were left to Chevrolet's Pontiac West Assembly, and Yellow Coach/GM Truck and Coach plants.
G4103: Stake and platform COE, K-33 truck
G4112: Truck cargo, LWB 4X4
G4163: Truck cargo, W/Winch 4X4
G4174: Truck cargo, LWB 4X4
G7103: No cab version
G7105: Panel body (K-51, K-70 van)
G7106: Dump body, no winch (9,008 buil)
G7107: Cargo body, no winch (86,871 built)
G7113: cab tractor version
G7116: Dump body, 7106 with winch (5,133 built)
G7117: Cargo body, 7107 with winch (26,207 built)
G7127: Truck cargo, LWB (383 built)
G7128: M6 bomb service truck G35, SSWB (7,868 built)
G7132: Stake and platform COE (K-54 Truck)
G7132: Stake and platform COE (K-54 Truck)
G7163: Telephone body with earth borer/pole setter (K-44 truck)
G7173: Telephone maintenance body (K-43 truck)

---

USAAF versions
E5 turret trainer
J3 field lighting truck
J4 field lighting truck
J5 field lighting truck
fire truck, class 135, fog and foam
Chevrolet 1 1/2 ton 4x4 Cargo Truck (G7107 and G7117)
The G7017 was the standard cargo truck in the serie, with a fixed aft 9-foot body flatbed and hinged panels, framing for canvas cover and standard enclose cab. However, it was produced with cargo beds made of both wood on metal framing. The G7117 was the same, but with a front-mounted PTO winch. They shared the sae engine and tranmission as the rest of the serie.
Chevrolet 1 1/2 ton 4x4 Cargo Dump (G7106 or G7116)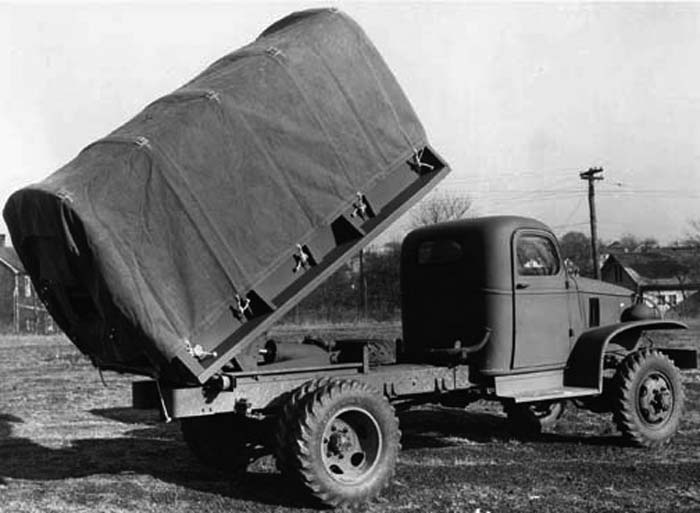 The Chevrolet 1 1/2 ton 4x4 Cargo Dump (G7106/G7116 depending on the use of a winch or not) looked like a standard G506 cargo truck but was fitted with a hydraulic cylinder lifting and dumping its 9-feet flatbed in the cargo body. The G7116 was given a new bumper to house the front PTO winch. Both G7106 and G7116 had the same standard wheelbase of 145 inches, same six cylinder engine and transmission.
Chevrolet 1 1/2 ton 4x4 Panel Truck (G7105)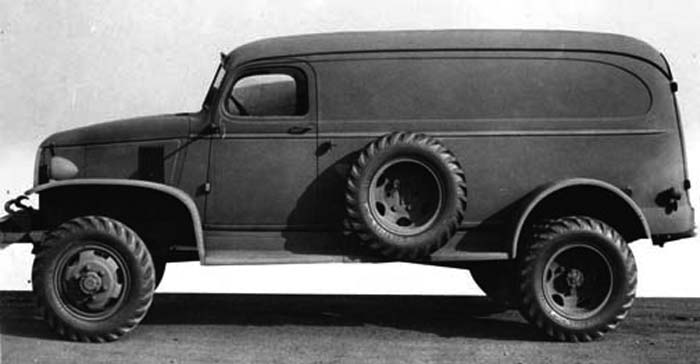 Named by the grunts the "chevy panel van", the G7105, K51 body was the panel van version, with a completely enclosed cabin and two aft doors. The G7105 was very close to the Dodge WC panel "carryall" truck (G505 series), but carried more and had dual rear wheels. It was often used by the Signal Corps as a radio truck, redesignated K-51. Same engine and transmission as the rest of the serie.
Chevrolet 1 1/2 ton 4x4 Truck Tractor (G7113)
The standard trailer tractor, the G7113 was a standard closed cab truck, used to haul light and general purpose cargo trailers for specific tasks: Delivering ammunition, rations or medical supplies as any useful payloads. It was powered by the same dependable Chevrolet 235 cu. in. 83 hp. 6-cyl. 4 speed transmission/2 speed transfer case as the G506 series but wiht a slightly longer wheelbase of 145 inches (3.69).
Chevrolet 1 1/2 ton 4x4 LWB Cargo Truck (G7127)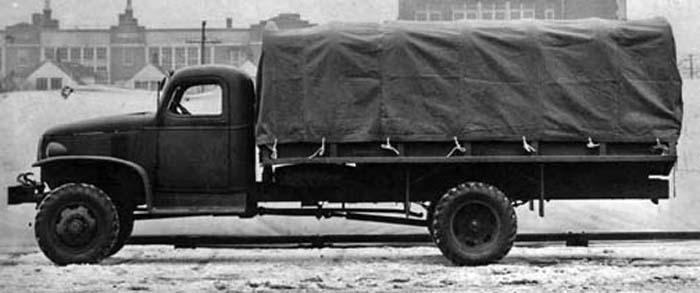 The sole LWB or "Long Wheel Base" of the serie, the G7127 had a closed cab and was otherwise identical to the regular vehicle of the G7107 type, but with a 15 feet cargo bed (4.572 m) instead of the standard 9 feet one (2.74 m) of the SWB, making for a rather large wheelbase of 175 inches (4.44 m). It was powered by the same usual Chevrolet 235 cu. in. 83 hp. six cyl. mated to a four speed transmission, two speed transfer case, but with a longer tunnel and transmission shaft. It was a rarity as only 383 were delivered.
G7128 M6 Bomb Service Truck G35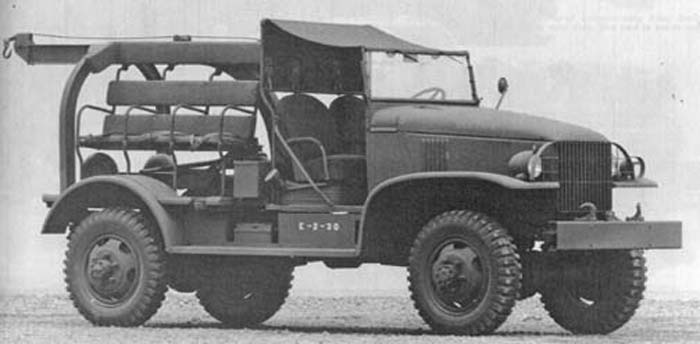 The Chevrolet 1 1/2 ton 4x4 Bomb Service Truck was part of the G506 series, referred to as the M6 Bomb Service Truck. It was normally used on airfields and ammunition dumps and would tow the M5 bomb trailer. The G7128 wheelbase was 125 inches, shorter than the SWB G506 series trucks, also referred as "super short". Behind the soft-top driver's cab, one of rare with this type of cab, the was a working area with troop seats. A monorail crane extended all the way to the rear with an overhang. A hoist wiuld lift and move the ordnance for its disposal. The M6 was powered by a Chevrolet 235 cubic inches 83 horsepower, six cylinder engine, mated to a four speed transmission and two speed transfer case.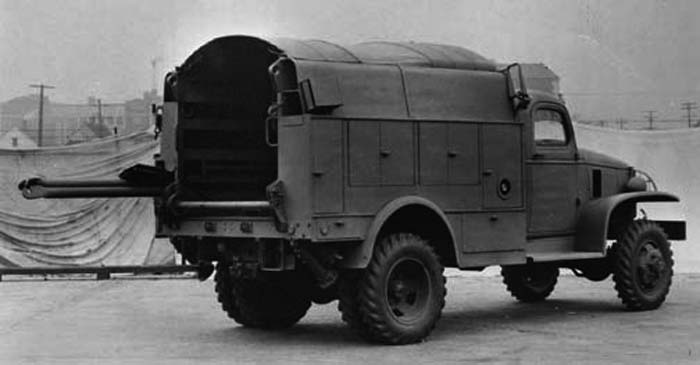 chevrolet G7173 Telephone Maintenance K43
Combat use
Introduced in 1940, the Chevy G506 did not saw action with the US but on some bases in the Philippines, at Pearl Harbor (used by the Navy notably) and at home. It was first used by the US Army in North Africa (Operation Torch) fom November 1942, and from there served in North Africa, Sicily, Italy, Normandy, Germany, and in the far Pacific. Scores were delivered to the allied army, in particular to USSR, which obtained 47,700 of the G7107 and G7117 trucks (the latter had winches) as part of the Lend-Lease program. The Soviet Red Army improved dramatically especially early to mid-1943 due to this supply alongside the Studebaker US6s, many being turned into new roles they were not created for initially, like mobile workshops and Katiusha rocker launchers. These vehicles were also provided in limited quantities to the British, Dutch, Chinese, and Free French.
Books
Crismon, Fred (1994): U.S. Military Wheeled Vehicles. Motorbooks International, Crestline Series
Charles K. Hyde: Arsenal of Democracy: The American Automobile Industry in World War II
Chief of Ordnance Office; Military Vehicle Preservation Association, eds. (2010).
Summary Report of Acceptances, Tank-Automotive Materiel, 1940-1945 (Revision).
Detroit: U.S. Army Service Forces, Office: Chief of Ordnance-Detroit, Production Division, Requirements and Progress Branch
Crismon, Fred W (2001). US Military Wheeled Vehicles (3 ed.). Victory WWII Pub.
Doyle, David (2003). Standard catalog of U.S. Military Vehicles. Krause Publications.
Dunn, Walter Dunn (1995). The Soviet economy and the Red Army, 1930–1945. Greenwood
Ware, Pat (2014). The Illustrated Guide to Military Vehicles. Hermes House.
TM 9-765 Bomb Service Truck M6 (Chevrolet). US War Dept. 1942.
-ton 4x4 Truck (Chevrolet). U (1943). TM 9-805 1+1⁄2-ton 4x4 Truck (Chevrolet).
TM 9-2800 Standard Military Motor Vehicles. US War Dept. 1943.
Links
On wikimedia commons
About the M6 bomb disposal truck
archive.org/details/TM9-2800
Trucks on o5m6.de
G7017 Red Army
Red army G7117 BM8 Katiucha
Red Army 7117 Parm type B field repair workshop
Red army G7117 BM-13 Katiusha version
olive-drab.com
On D-Day Overlord
Model kits
All model kits via scalemates search engine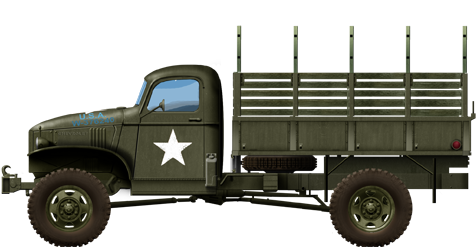 Standard Chevrolet G7107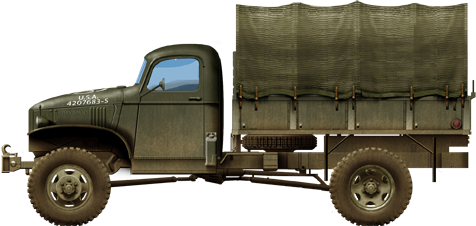 G1707 with canvas

G7106 Dump truck, carrying fuel bins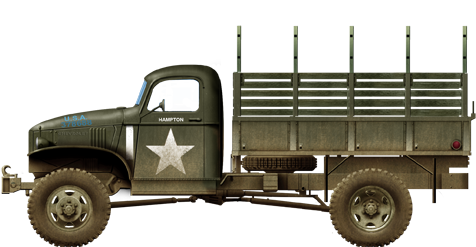 G7107 "Hampton" with open frame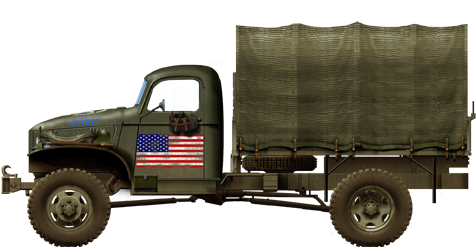 G7107 Operation Torch Nov. 42
G7107 in Italy 1944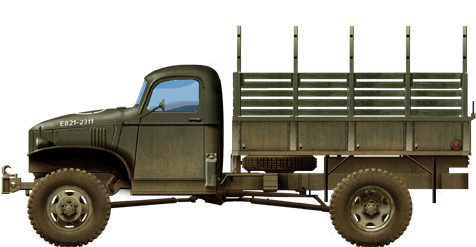 G7107 in Nomandy 1944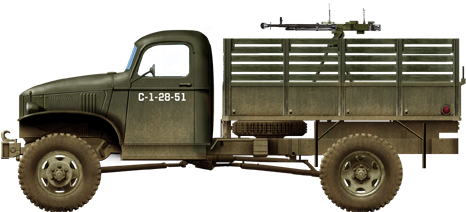 Red Army G7107 used as troop transport with a DshK

G7127, LWB version (only 300+ built)
---
Variants

GM 7105 Panel Truck

G7117 Katiusha BM-2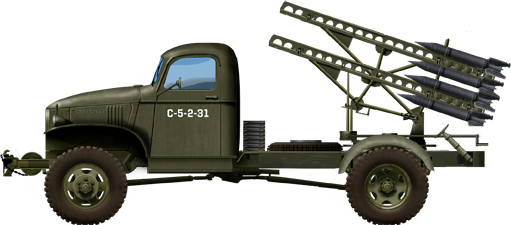 Red Army G7117 BM-16-16 Katiusha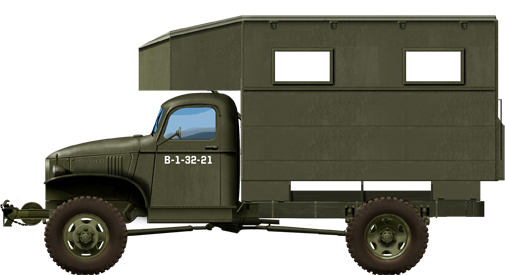 G7117 Parm type B field repair workshop (red army variant)
Photos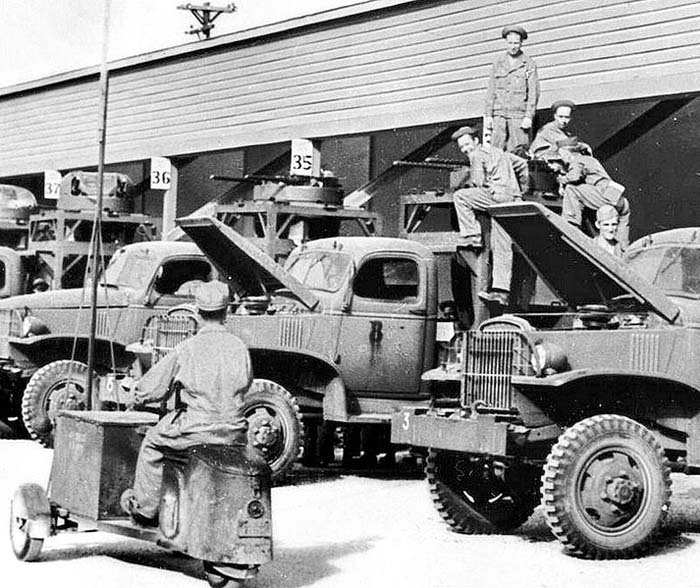 Buckingham Army Airfield turret trainers 1944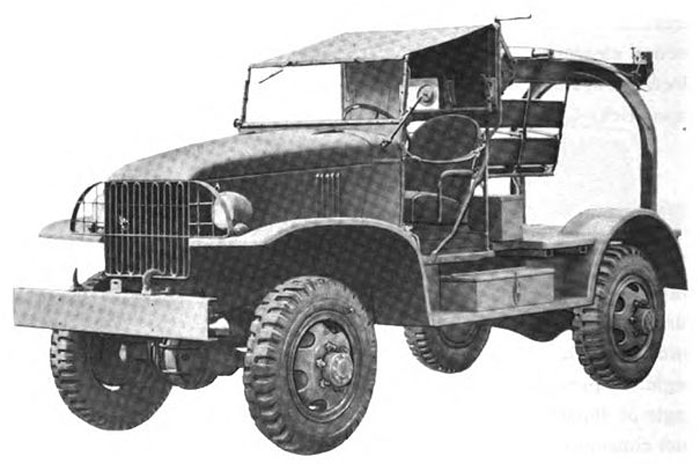 G506 M6 bomb servicer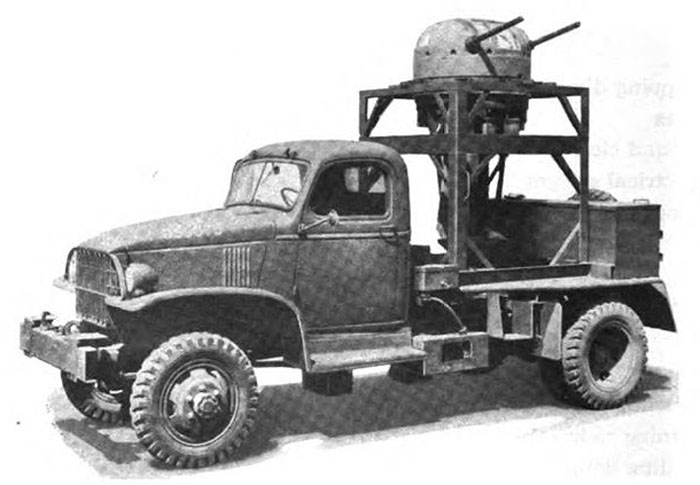 USAAF G506 E5 turret trainer
G-506 4x4 Chevrolet G7163 Earth borer Pole setter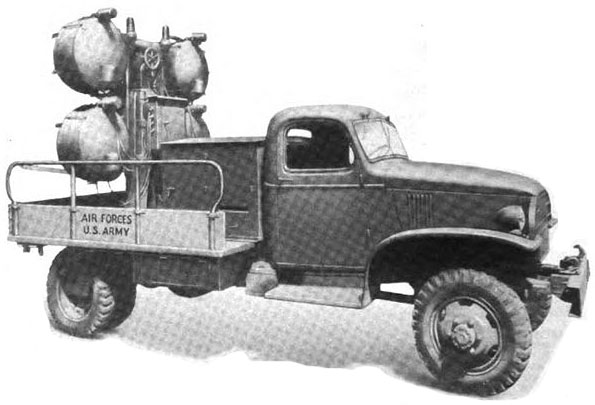 G506 UAAF field lighting truck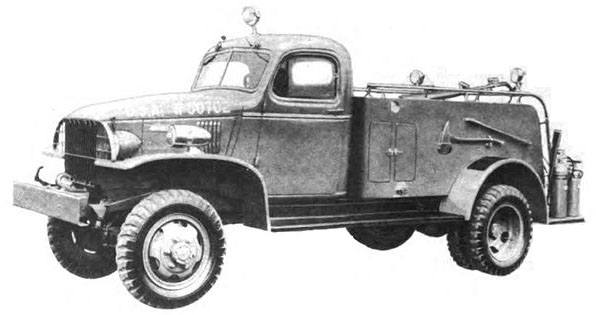 G506 USAAF airfield crash fire truck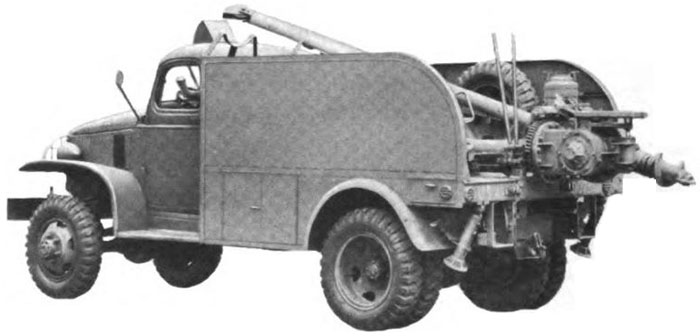 G506 earth borer pole setter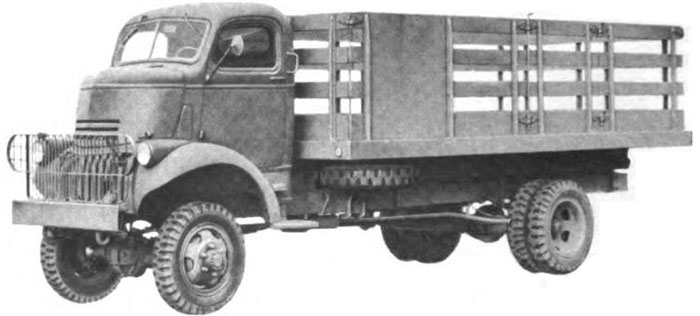 G506 COE stake platform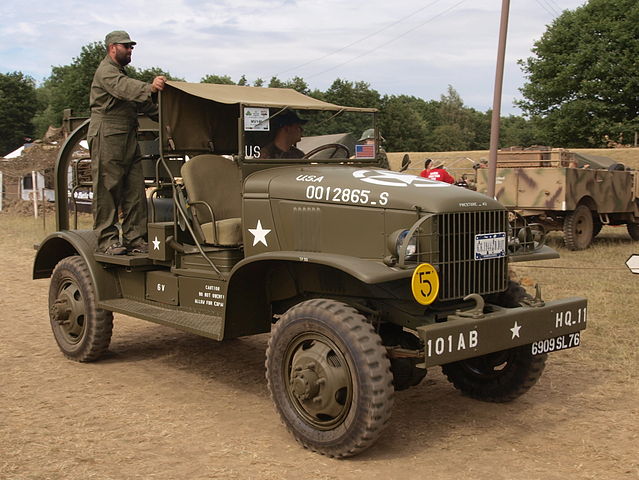 Chevrolet M6 Bomb Carrier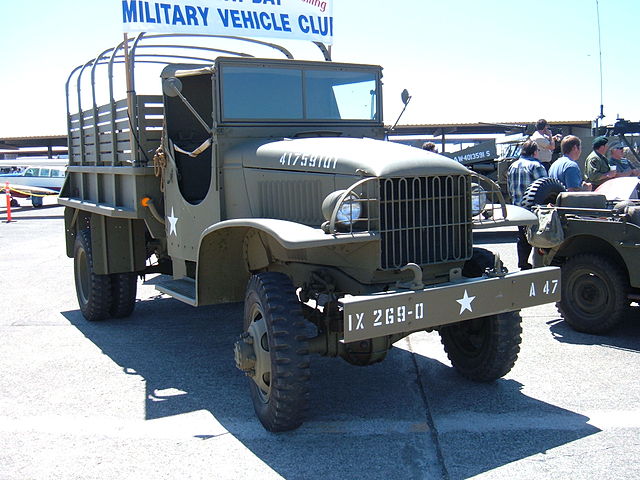 Chevrolet 1.5 ton truck open cab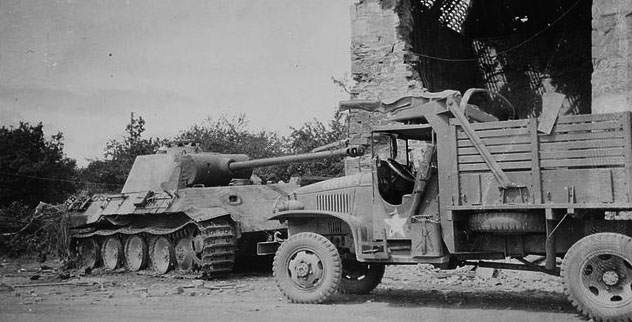 George Peck Collection Photo open cab truck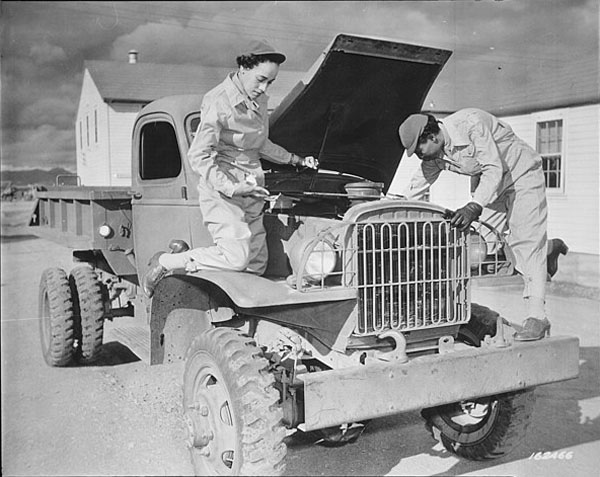 Auxiliaries Ruth Wade and Lucille Mayo service a G506 truck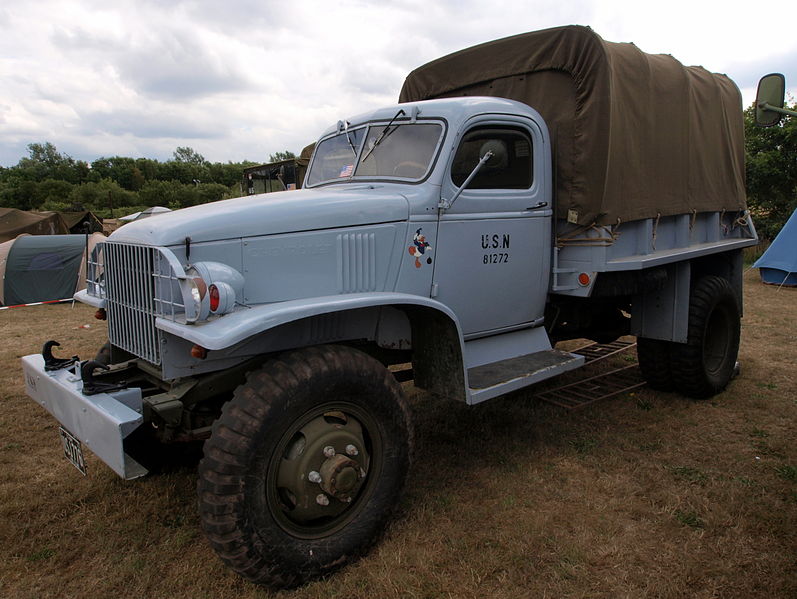 Navy CCK 352 4x4 truck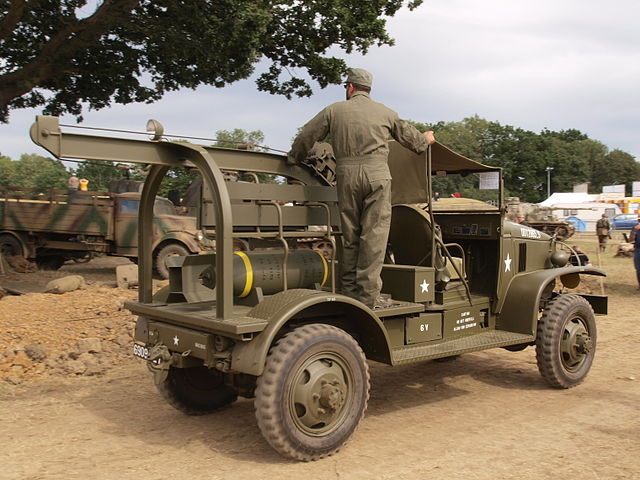 Chevrolet M6 Bomb Carrier, 1943 (owner Yohann Legros)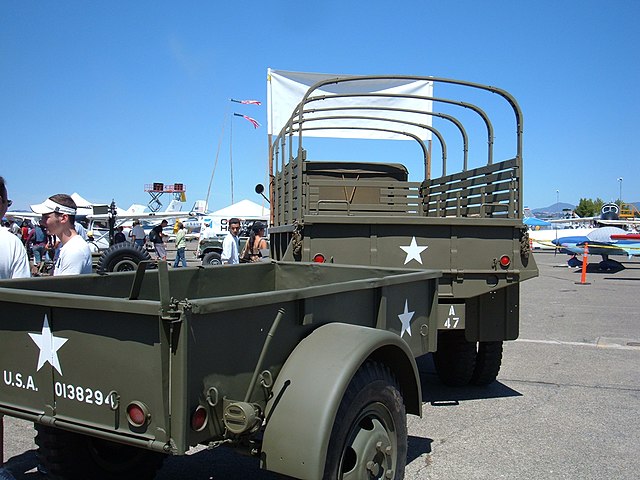 GMC506-1942 Ben-Hur Trailer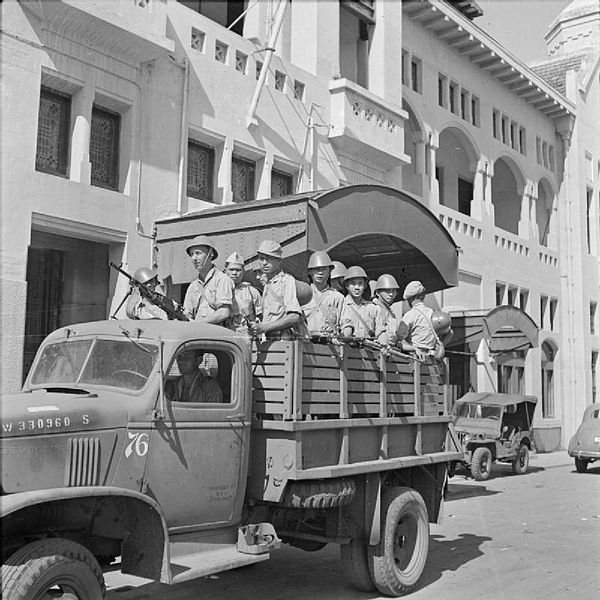 British Occupation of Java SE5732
---
Axis Trucks

Purchase this pagemarker and support the site !
Sd.Kfz 2, 6, 7, 8, 9, 10 and 11 were half-tracks designed just before the war as prime movers, to carry supplies, ammunition, personal, and tow artillery. Many were also converted during the war as armored versions carrying AA FLAK guns (Flakvierling, 37 mm, or the legendary 88 mm Rheinmetall als used as tank hunters), or were converted as nebelwerfer (rocket launching armored vehicles). They were built by Hanomag, Steyr, Mercedes-Benz, Bussing and many other manufacturers until 1945, over 20,000 half-tracks.
---
Cold War & Modern Vehicles
Modern Trucks