Albion CX 22 (1940)

Artillery Heavy Tractor Truck, 532 produced
The standard medium artillery tractor towing the 5.5 in gun
The Albion CX22S appeared in late 1943 to supplement the Scammell Pioneer heavy artillery tractor which production was too slow. In service, the CX22S provided the British Army prime mover for the US-lend lease 155mm Long Tom and British BL 7.2-inch howitzer. Albion would deliver 532 CX22S artillery tractors, starting in November 1943 and until June 1945 and they stayed in service in the 1950s as well.
About Albion motors
Founded in 1899, Albion Motors was purchased by Leyland Motors in 1951 but manufacture under the Albion brand went on until 1972, and afterwards under Leyland. It was maintained in Scotstoun (Glasgow) until 1980. Production or military lorries started with the british Army in WWI, when the ccompany delivered 3 ton trucks powered by a 32 hp engine. The company became well known in the interwar for its buses as well. In 1930, the Company started to gain orders for the military and military trucks started to grow in its overall production.
In 1937, Albion developed a 3 ton forward control 6x4 truck soon to be adopted by the army as the BY1. Its standard body types included a cargo, breakdown, engineers and workshop types. Versatile it was widely used until June 1940, when the BY3 appeared with a 6-cylinder engine. By May 1941, the BY3 was itself superseded by the BY5, which had abetter engine, a homegrown 6-cylinder, type EN208B 4.566 cm3 unit. This vehicle was used to carry the "Folding Boat Body No.1 Mk II" (Weymanns), and was used also as bridging vehicle. In short it became widely used by the Royal Engineers in Europe during WW2. The production late-type had full windscreen, but it ceased in 1945.
Development of the Albion CX22
The CX22S was based on Albion's CX23N 10-ton truck. It commenced production in 1943, broadly similar to the CX24, but designed as a heavy gun tractor. It was was never used as an articulated unit. Longer than the WD.CX24 and wider its frontal appearance in particular was massive. Originally it was to be fitted with a petrol engine but the Army changed its requirement for a diesel engine in June 1943. Also it had provision for a heavier tyre equipment, single at the rear. The prototype also was fitted with a cast aluminum radiator. In production however it was replaced by a more suitable military copper top tank type. However still it was but much shorter than the CX24's radiator. In total, the production of the Albion CX22 ran from November 1943 to June 1945 with a grand total of 532 vehicles. The Contract No.S 2191 stipulated a total order for 750, curtailed in June 1945 when the hostility ceased. The Census range was H5191353 to H5192102 and Chassis number range went from 63700A to 63774L.
Design
The CX22 cab had bench seating for three and the rear body bench could accomodated four while folding seats had two more sat along multiple stowage for tools, equipment and ammunition. Basically the perfect artillery crew vehicle. The CX22S was also fitted with an 8 long tons capacity (8.1 t) Scammell vertical-spindle winch. It was installed under the rear body and assist when towing the gun to the truck, or other tasks. It was tailored for towing a 14 tons 8 inches howitzer, and the total moving weight fully laden reached 29 tons 4 cwt., while its unloaded weight was 16 tons 10cwt, down to 11 tons totally unladen "naked".
The inflation system used a Clayton Dewandre air pressure assisted mechanical on the rear bogie. The Handbrake system used Clayton Dewandre air pressure assisted mechanical on the rear bogie and the trailer brake system had a twin air coupling and cable servo system. Electrical system called for a 24V split load system plus four 6V 150 A/hr batteries. The Charging system was a Simms 24V, 55DB1X dynamo coupled with a JCDT324X regulator. The Wheel sizes were 13.50-20", low pressure, later changed to 14.00-20" model for better cross-country capabilities, all were sculpted and reinforced for cross-country or a simple radial type at the front axle.
Powerplant and mobility
The CX22S was a 6x4 truck powered by a 100 bhp (75 kW) six-cylinder inline diesel engine. It was served by a four-speed gearbox, with in addition a two-speed auxiliary gearbox. The EN244 engine developed 9.1 litres and it was manufactured at the time with a cast-iron crankcase, in place of an aluminum one. The 6-cylinders had a 4.5/8" bore and 5.1/2" stroke. Total capacity was 9,085 cc, for 105 bhp @ 1850 rpm. Fuel tank capacity was 75 gallons and fuel consumption 8 mpg laden, authorizing a range on full tank 600 miles, on flat, but the vehicle off road performances were down to around 30 kph and 200 miles. Cooling capacity for the radiator was 8 gals. Its 4F-1R Gearbox was coupled with an auxiliary gearbox with 1:1 & 2.15:1 speed ratio.
Matador specifications

Lenght
25 ft 6 in (7.77 m)
Width
8 ft 9 in (2.67 m)
Height
10 ft 4 in (3.15 m)
Total weight, battle ready
Unladen 11 tons 6cwt, FL 16 tons 10cwt.
Crew
2 +artillery team
Propulsion
6-cyl inline Albion EN244 diesel 100 hp/1,750rpm
Transmission
4F1Rx2, main and secondary gearboxes, 6x4 drive
Payload
5.13 long tons (5.21 t)
Suspension
Live axles on semi-elliptical multi leaf springs
Speed (road)
45 kph (28 mph)
Range
Circa 800 km (600 mi)
Armament
None (personal weapons)
Production
532 1943-45.
The CX22 in action
The CX22 was a heavy artillery towing vehicle. It was tailored for towing the BL 7.2-inch howitzer, but was also found suited for the lend-lease 155 mm Long Tom. It was used in Italy since itr introduction in late 1943 early 1944 and gradually grew in numbers in all units until the northern European campaign in the Netherlands and Germany. After WW2, the vehicle stayed as a maintay tractor for heavy artillery until being phased out in the late 1950s, reaching the civilian market. From there, it was declined into a multiple types of bodies: Utility Van, workshop, dump truck, crane and salvage vehicle. The last were still rolling well into the 1990s. Other in between were purchased by collectioners and restored to a WW2 livery.
Read More/src
About the DY5 on armyvehicles.dk
On trucksplanet.com
Same, on the related CX24
More specs on anti-aircraft.co.uk
Photos at Duxford
Video footage
More cc photos
wiki
Model kits on scalemates.com
QHQ metal model kit on brukhme.com
Pat Ware, A complete directory of military vehicles, Wigston: Anness Publishing Ltd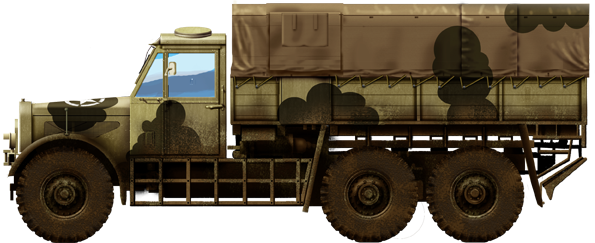 In Italy, January 1944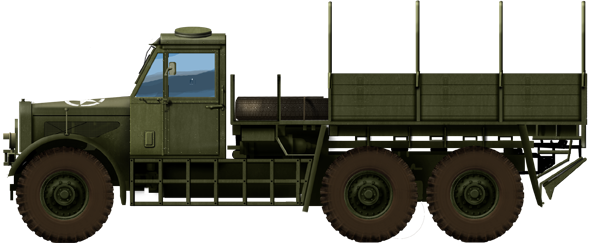 Vehicle without tarpaulin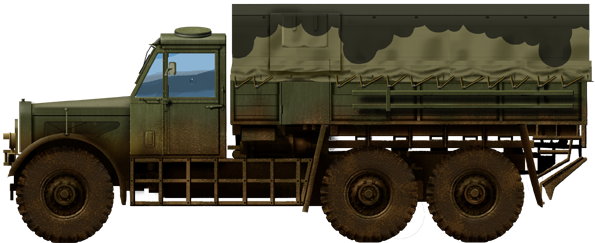 Vehicle in the Netherlands, December 1944

CX22 towing a British Royal Artillery 7.2 inches howitzer

CX22 towing a 8-in US "long tom" heavy gun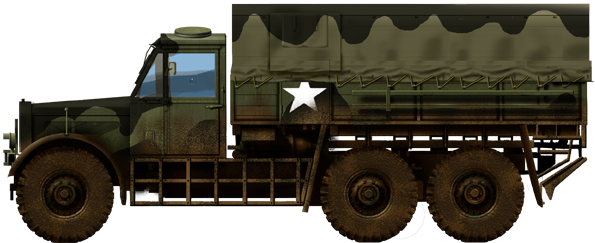 CX22S in March 1945, Germany.
---
Additional photos
---
Axis Trucks

Purchase this pagemarker and support the site !
Sd.Kfz 2, 6, 7, 8, 9, 10 and 11 were half-tracks designed just before the war as prime movers, to carry supplies, ammunition, personal, and tow artillery. Many were also converted during the war as armored versions carrying AA FLAK guns (Flakvierling, 37 mm, or the legendary 88 mm Rheinmetall als used as tank hunters), or were converted as nebelwerfer (rocket launching armored vehicles). They were built by Hanomag, Steyr, Mercedes-Benz, Bussing and many other manufacturers until 1945, over 20,000 half-tracks.
---
Cold War & Modern Vehicles
Modern Trucks