M1161 Growler (1999)

USA - Airborne Light Strike Vehicle, 1,600 built 2009-2023.
The M1161 Growler is the official "Internally Transportable Light Strike Vehicle" or ITV-LSV, designed to be carried internally by the V-22 Osprey. The M1161 and M1163 (USMC variant) were both certified on this machine, as utility light strike and fast attack vehicle and thus smaller than usual while being indeed extra light, replacing for good the M151 jeeps variants and the previous Interim Fast Attack Vehicle (IFAV). Designed from 1999, it is in service from 2009. The separated US Marine Corps variant two-seat M1163 is a prime mover combined with the M327 towed 120mm heavy mortar or ammunition hauler. The base cost is $209,000 USD, production estimated to 1,600 machines so far.
Design development of the M1161
The precessor: AMG M151
The arrival on the scene of the V22 Osprey, a subject already well treated
here
enabled a whole new range of possibilities. Much faster than a classic heavy helicopter such as the Boeing CH47 Chinook or CH-53 Stallion had not an internal bay large enough to carry vehicles, and they are of an old design (1960s) and relatively slow and unwieldy gas-guzzlers. The V22 was the first tiltrotor in service in the world, and despite controversial and difficult development, is today the go-to solution for fast-heavy lift VTOL operations.
It enabled also the capability to carry light vehicles with the troops due to its larger internal bay, which motivated soon a dedicated program. Note that both the CH-47 and 53 could still lift and carry any vehicle light enough for the task, such as the
HMMV
(Hummer). Development for the Growler started in 1999, by American Growler, when the US Marine Corps requested a vehicle transportable by a V-22 Osprey. The first design proposed recuperated many elements from the M151 which needed to be replaced mixed with new tailored parts and systems. The major change was a reduction in width in order to fit within the V-22's cargo bay with some margin. However major components from the M151 were reused.
To not start with a totally blank page, American Growler reused its commercial UV 100 DB off-road vehicle chassis, powertrain and most components, but the manufacture of variants was transferred to General Dynamics. From the time the prototype was ready in the early 2000s, two different versions were developed side by side: The M1161 light strike vehicle (LSV) and the M1163 prime mover variant, for the Expeditionary Fire Support System (EFSS) requirement program, specified to be able of towing the heavy 120mm mortar. For this, the company needed to create separate 36-round ammunition trailers, which became the M1162 trailer. However at some point it was dedicated to cancel it, as the same 35 lb mortar shells could be carried by the M1163 Prime Mover itself, a two-seat ammo carrier variant of the same vehicle.
Design of the M1161
General caracteristics
The M1161 reused part of the M151 and UV-100 DB chassis elements, for a Curb weight of 2,058 kg (4,537 lb) and 3,872 kg (8,536 lb) at maximum payload, which is rated at a maximum of 900 kg (2,000 lb) cross-country. The chassis is 4.14 m (163 in) long, 1.5 m (59 in) wide, and 1.19 m (47 in) tall when the roof is folded inside the bay, and 1.84 m (72 in) unfolded, in standard road height or up to 1.92 m (76 in) at maximum clearance. It carries three, a driver and 3 passengers, with one seated close to the driver and two seated back to back at the rear. This left enough space for payload and one of the crew can stand on a central platform to man the onboard weapon.
Powerplant & Mobility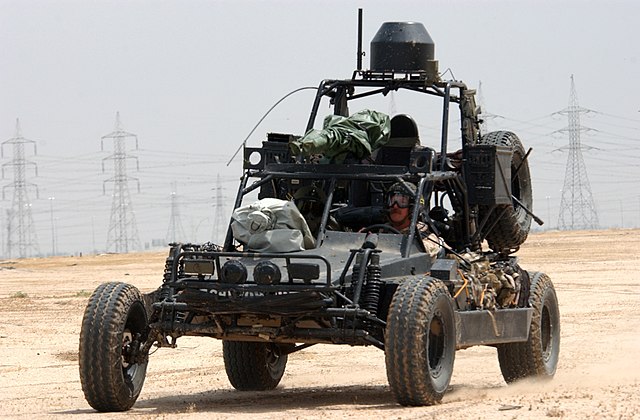 US Navy Seals Dune Buggy
As the M1161 is not only air-transportable but also meant to be very fast. Its power unit ios a 2.8 Liter In-line 4-cylinder OHV 12-valve turbo-diesel from subcontractor Navistar Defense rated at 132 bhp at 3,600 rpm and 230 ft lbs torque at 2,000 rpm. It is coupled with a General Motors 4L70E 4-speed automatic transmission with overdrive, and a Chrysler 2-speed manual transfer case with 2WD Hi/Lo and 4WD Hi/Lo. Fuel capacity is 91 litres (24 US gal) thanks to two 45 litres (12 US gal) fuel tanks running on JP-8 (avgas) but also commercial diesel or the military-grade DF-2 or JP-5.
The suspensions comprised Air ride gas bladder systems, height-adjustable in the field, using the dash control panel. Steering is on Four wheels via joystick control, and auto-centering. As for performances, the M1161 can reach 137 km/h (85 mph) on paved roads, down to 105 km/h (65 mph) cross-country which is still exceptional. Operational range rises up to 657 km (408 mi) unrefueled.
Protection
The M1163 shown here, is a barebone vehicle leaving no place at all for any protection, at least at first glance. In reality the engine's fuel tank is self-sealing and place in such a way to be buffered from small arms fire. Also the seats are Kevlar frag-resistant, but it's about it. Due to the standard flat chassis and seats attachement, no protection is offered against IEDs and mines. There are no doors, but at least the tubular frame protects the driver and co-driver in case of rollover. There are no smoke projectors either.
Armament
The M1161 LSV is armed with a M2HB .50cal BMG machine gun and/or a M240G 7.62mm Machine gun. This position could be swapped by a Mk19 40mm automatic grenade launcher. The M1163 Prime Mover tows a 120mm mortar derived from the well-known French Brandt RT-120, built in the United States forces as the M327 Dragon Fire. The first vehicle is designed for cross-country scouting to forward unit and can be deployed with snipers, hence the adaptation of a rifled precision extended range munition (PERM) system. The M240G is the US variant of the standard NATO FN-MAG, introduced in 1977. The G version is capable of 650–950 rounds/min at 2800 ft/s and up to 1800 m (1969 yds) range.
The M1163 is armed with nothing but an optional pintle mount for the M240G 7.62mm LMG. It's payload was the M327 Dragon Fire. Based on Thales 2R2M, it is rated at 10 rounds per minute and four sustained, with an effective firing range of 8,200 m and up to 13,000 m rocket assisted.
Final development, production and deployment (2004-2014)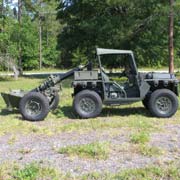 On November 10, 2004, the Marine Corps Systems Command (MCSC) awarded the contract M67854-05-D-6014 at a fixed-price and cost and fee contract line-item numbers for a base year plus six option years. This wetn to General Dynamics Ordnance and Tactical Systems (GDOTS), at $12,057,159. This specified the procurement of 66 EFSSs and 650 ITVs. The MCSC had chosen between two other offers. On September 2007 Senator Carl Levin of the Senate Committee on Armed Services compensated by another contract one loser of this market, Rae-Beck Automotive LLC as subcontractor.
By 2008, unit cost rose by 120% at $209,000 unit-based. The prime mover contract also rose by 86% at $1,078,000 per unit. But the Marine took delivery of these starting in January 2009, for extensive field tests a full year before the contracted delivery date. On August 2011, some two hundred and nine M1161s and one hundred and two M1163s rolled of the line, 42 more M1163s on order to be completed, for an eventual full total of 266 M1161 ITVs and 145 M1163 prime movers. They were deployed apparently in Afghanistan with MARSOC in 2011-2014.
It was revealed the vehicles were plagues by throttle system after a May 2012 accident at MCB Camp Pendleton in California. and so the entire fleet was grounded, before firm issues were identified and corrected on all vehicles. At RIMPAC 2014, an USMC units fitted one of the M1163 with a Torc Robotics' Ground Unmanned Support Surrogate (GUSS) system, testing it unmanned. The goal is to dispense a crew aboard to load a total of 1,600 lb (730 kg) of equipment, usable as a "mule". It was also tailored and tested as unmanned medical evacuation vehicle with four stretchers and again, not diver. The GUSS ITV is able able to follow any personal with a beacon at a preset distanceadvancing at infantry pace, 8 mph (13 km/h). Direct control or manual operation can be reclaimed at any moment.
⚙ M1161 specifications

Dimensions
Lenght 163 in (414 cm), Width 59 in (150 cm), variable height
Weight
Overall, max 8,536 lb (3,872 kg)
Payload
8,000 lb (500 kg)
Engine
TURBO DIESEL/JP8 ENGINE
Performances
Top speed 120 kph, range 400 miles
Armament
Ring mount, general purpose (3 types)
Tactical Mobility
4x4. Carried internally by V22, or sling-mounted
Fate
In June 2012, the United States Special Operations Command (USSOCOM) expressed interest in procuring Non Developmental Item (NDI) vehicles that would be highly mobile, V-22 transportable platforms.[12] The Marines are seeking a replacement for the Growler ITV, running parallel with SOCOM's efforts to develop a new Osprey-transportable vehicle.[12] The effort comes from higher demand in operations and the service's Expeditionary Force 21 concept, which emphasizes lighter forces. Quick-reaction Marine expeditionary units typically deploy with as many as 20 ITVs.
A limited objective experiment and technical assessment was conducted by the Marine Corps Warfighting Laboratory in September 2015 to define the need and find vehicles to fill it,[9] performing missions ranging from light strike to logistics and casualty evacuation.[13] The conclusion was that the ITV vehicles were ineffective as a strike vehicle, but worked well as a logistics vehicle by removing a lot of weight from Marines' backs.[9]
Manufactured between 2004 and 2010, Growler ITV procurement and fielding was ineffectively timed since operations in Iraq and Afghanistan led to most units relying on armored vehicles because of the threat of roadside bombs. Originally intended for infantry, Growlers were fielded primarily with reconnaissance, marine special operations, and artillery communities. A new ITV would be fielded with infantry forces to serve company-sized landing teams. Although designed for light strike, experiments have shown an ITV's greatest roles to be casualty evacuation (CASEVAC) and logistics to lighten individuals' loads. Replacement efforts were anticipated to begin in 2018.[9]
Read More/Src
Illustrations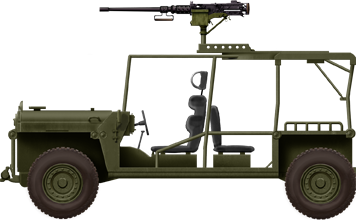 M1161 ITV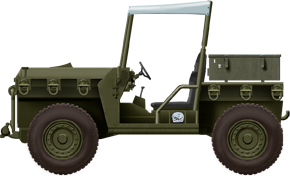 M1163 Prime Mover
Photos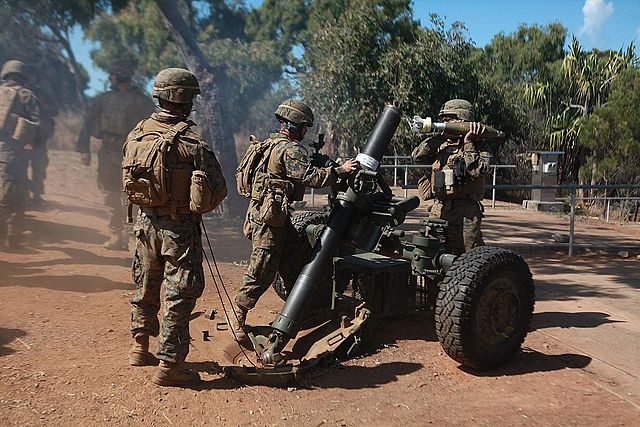 M327 120mm Mortar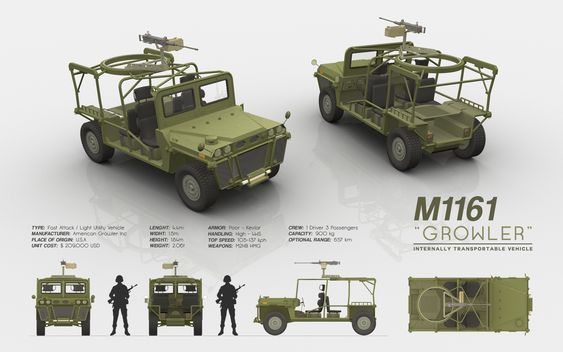 M1161 rendition on Deviantart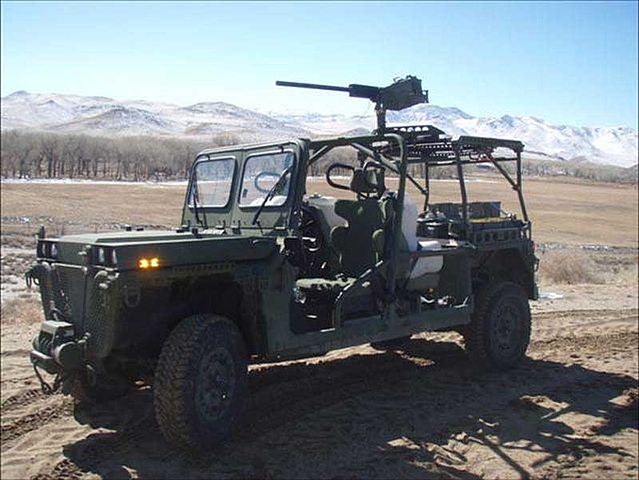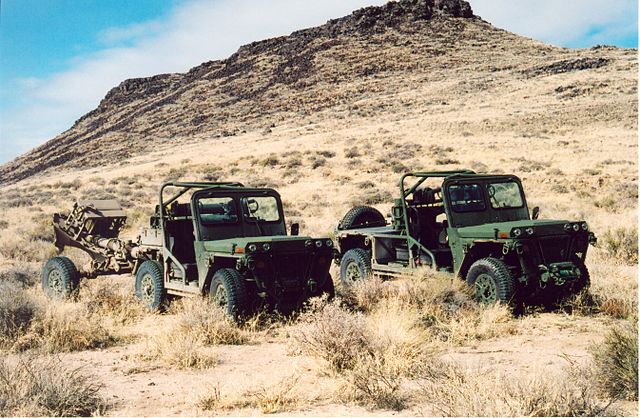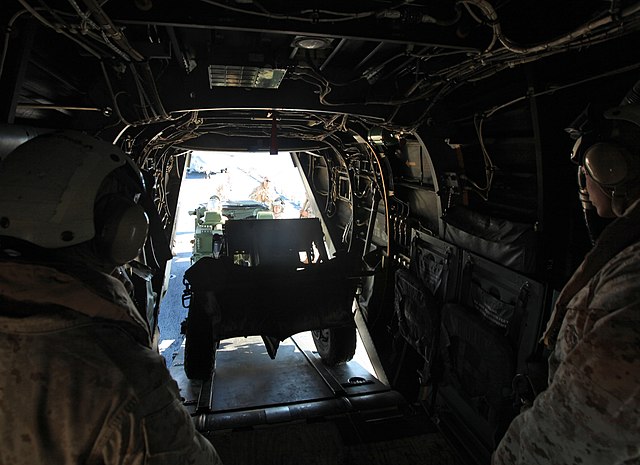 Videos
---
Axis Trucks

Purchase this pagemarker and support the site !
Sd.Kfz 2, 6, 7, 8, 9, 10 and 11 were half-tracks designed just before the war as prime movers, to carry supplies, ammunition, personal, and tow artillery. Many were also converted during the war as armored versions carrying AA FLAK guns (Flakvierling, 37 mm, or the legendary 88 mm Rheinmetall als used as tank hunters), or were converted as nebelwerfer (rocket launching armored vehicles). They were built by Hanomag, Steyr, Mercedes-Benz, Bussing and many other manufacturers until 1945, over 20,000 half-tracks.
---
Cold War & Modern Vehicles
Modern Trucks