AEC Matador (1938)

Artillery Medium Tractor Truck, 9,000 produced
The standard medium artillery tractor towing the 5.5 in gun
The AEC Matador was designed to fill a niche between light and heavy artillery tractors, tailored to carry in particular the standard British 5.5 in gun. A sturdy 4x4 vehicle with good off-road caracteristics it was found versatile and became one of the most prolific and well-used truck by all British Royal Artillery units in WW2 (after the Morris "quad").
About AEC
Associated Equipment Company (AEC) was a British vehicle manufacturer specialized in rather heavy and specialized vehicles such as buses, motorcoaches and trucks, in activity from 1912 until 1979. AEC became a brand acornym, and the vehicle was also manufactured under the ACLO brand. The company origins are drawn from the 1855 London General Omnibus Company (LGOC), amalgamating and regulating horse-drawn omnibus services in the capital. In 1912, after the success of the X-type bus, LGOC was taken over by the Underground Group in London and a specialized branchwas created which became AEC. Its first produc was naturally another bus, base don the X-Type and in 1916 the 3-ton Y-type lorry, widely used by the army.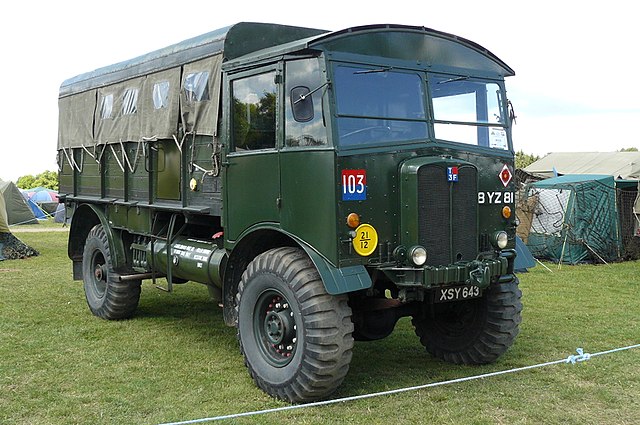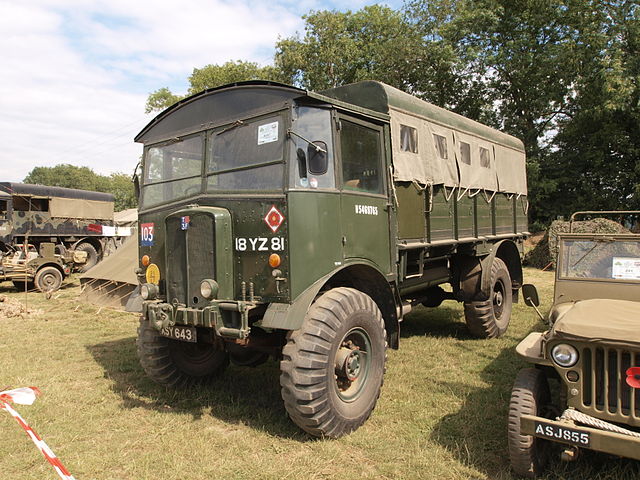 Matador at War and Peace show, UK
In 1927 the company moved to a new, larger plant at Southall. The next year, a new team of designers was consituted around G. J. Rackham, appointed Chief Engineer and Designer (previously in Leyland Motors). Under hos supervision, AEC models became evern more reliable and appreciated. Next, from 1929 onwards, AEC produced its famous "M" (Majestic, Mammoth, Mercury...) lorries serie, and its "R" (Regent, Regal, Renown...) Bus serie. The "M-models" saw their production goine don until the war, while diesel engines were introduced in the 1903s. Until 1938, AEC partnered also with English Electric for trolleybuses and in 1932 took a controlling interest in the British subsidiary of the American Four Wheel Drive (FWD) company, enaling more off-road capable components in its range, but marketed under the Hardy brand until 1936.
Development of the Matador
The company in 1938 had all the cards in hands to participate in army contracts, with a 4x4 truck, from 1938. Already at that date, the company proposed the commercial 4x2 Matador lorry using Hardy FWD components. Soon, it was converted to a full 4x4, made sturdied, using a bigger engine, stronger flatbed, and proposed to the Army. Its early planes were derived from the 4-ton 4 x 4 truck designed by Charles Cleaver and produced by Hardy Motors and FWD, in the early 1930s already. Hardy Motors was absorbed by AEC in 1932. By 1937, the first prototype was ready. The next year, the Matador 853 received a more powerful 7.431 cm3 petrol engine, and was presented and tested in 1938. However late that year, the War Office wanted a diesel, while placing an order for 200 vehicles, all with a medium tractor body.
Its first prototype was delivered on January, 9th, 1939. In between AEC reingineered the chassis for the new diesel engine which was adopted for production: It was called O853, and delivered in November 1939. For the ordnance it was known as the medium artillery tractor (MAT), assigned to the 5.5" gun (140 mm). In the Royal Ordnance it was well placed beteen Morris Quad Field Artillery Tractor (light) and the Scammell Pioneer Heavy Artillery Tractor. The first was towing the ubiquitous 25 pdr, while the second was used for towing the 7.2" gun (182 mm).
Design
Body
These efforts culminated in prototype released in 1939, answering War Ministry guidelines for towing the 114mm, 140mm and 152mm howitzers (4, 4.5 and 5 inches) when needed. It was to be capable also of transporting the gun team and ammunition at the rear. The cabin roof of the first models was shape in a certain way, with a peacetime shape, but in production it was much simplified as a curved roof with flat front, while the last models, Mark IV, had a circular hatch cut for aerial observation, covered with a small tarp.
The cabin was very simple and sturdy. It used a wooden frame, covered with steel plates to spare strategic materials. The body itself was made of lumber, but with a folding rear drop side. Side doors for the crew were used. Special slides were installed on the flatbed to facilitate loading and unloading of shells.
Powerplant and mobility
The engine was a AEC 7.58 1 6-cylinder, which developed an output of 95 hp. Top speed was 58 km/h light. The vehicle of course was a true 4x4, with independent suspensions on leaf springs, for off-road runs. The 1950s batch was given a more powerful 105 hp AEC A187 diesel engine. The AEC 6-cylinder diesel type A173 was very reliable. It developed 7.581 cm3 (462 cubic inches) of displacement. Its output was 95 horsepower at 1.780 rpm, best served by a 4 speed transmission with 2 speed transfer case. Its electrical system was Hybrid, up to 12/24 volt. As for brakes, it had two Hydraulic, air-assisted ones only for the early production, Mark I-II and full air brakes for late production, Mark III-IV. It had generous tyres, 13.50 - 20. For achieving its 575 km (360 miles) range, it had a fuel capacity of 182 liter (40 gallons).
Other characteristics
Due to it's excellent traction and output, the Matador was often used as recovery tractor. As for options, the Matador coukld receive an additional 5/7 ton Turner winch. It came with a 76 m long cable () suitable for example, to tow itself out of trouble, another truck, or an artillery piece stuck in the mud. This appreciable feature made the vehicle able to be at ease on any terrain, even the most unforgiving. It could could tow also a standard single axle trailer, to carry more shells for example in supply role;
Matador specifications

Lenght
6.32 m (249 inches)
Width
2.39 m (94 inches)
Height
3.10 m (122 inches)
Total weight, battle ready
7.132 kg (15.850 lb.)
Crew
2 (Driver, co-driver) +artillery team
Propulsion
AEC 6-cylinder 95 HP
Suspension
Leaf springs
Speed (road)
50 kph (60 mph)
Range
575 km (360 mi)
Armament
None (personal weapons)
Production
9,000 1938-45.
Production & variants

Scenery showing a Matador in 1944 and crew operating the Royal Ordnance 5.5 inches howitzer
Civilian production of the Matador ceased in 1941 while production was focused entirely for the army. About 1944, AEC managed to deliver close to 10,000 vehicles, a considerable industrial effort by British standards. AEC produced the 4x4 Matador artillery tractor, which also provided a trusted basis for the Deacon a self-propelled 6-pounder anti-tank gun, an armoured command car, and even a wheeled tank. Production reached a total of 8,612 Matador, not including the conversions and 1950-51 batches.
General Load Carrier
The General Load Carrier had a special all-steel body, with folding sides for facilitated loading. Large sections of the tarpaulin could be also removed. Some sub-variants had a platform box to carry heavy equipment like compressors.
6x6 AEC Marshall
A 6x6 version was designated as the "AEC Marshall" but almost always called the Matador. Its official royal ordnance name was "Armoured Command Vehicle, A.E.C., 6 x 6" and it was propelled by a more powerful 6 cylinder 150 H.P. diesel. The layout wa completely different and it was more roomy as a command vehicle. Only 151 were made before the end of the war.
More.
Another of these 6x6 variant called O854 was used as tanker and mobile crane for the RAF.
Four hundred AEC Armoured Command Vehicle, popularly known as the "Dorchester" (after the hotel), were built on the Matador and Marshall chassis for the 6x6 variant. Production of the AEC Armoured Car started in 1941. Three Marks were built, with guns from 40 mm to 75 mm, totalling 629 vehicles. They remained in use post-war. They were given several sets of medium and log range (high and low power radio sets and transmission equipment), plus a staff tent mounted on the outside. They became nomadc HQs by default for the British army during the war.
Churchill entrusted the studry chassis to be converted into a wheeled tank, large enough to carry tank turrets. It was not answering any specification for a heavily armed reconnaissance vehicle, but was designed and tested on the Matador chassis as a private venture. The company however managed to show its prototype publicly at the Horse Guards Parade in London in 1941. Of course it made quite an impression on Winston Churchill. He immediately pressed for an order. In total, 629 vehicles would be built in three variants until 1944, using more powerful guns and larger turrets.
The Matador in action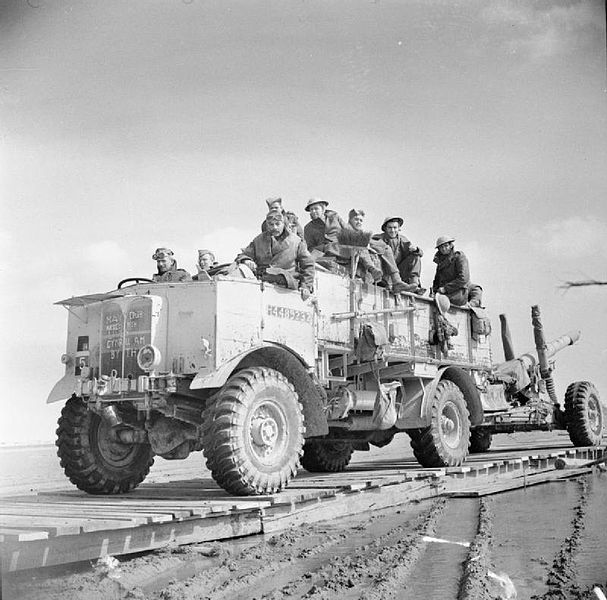 Matador in Libya-Tunisia, towing a 4.5 in gun, note the removed cabin top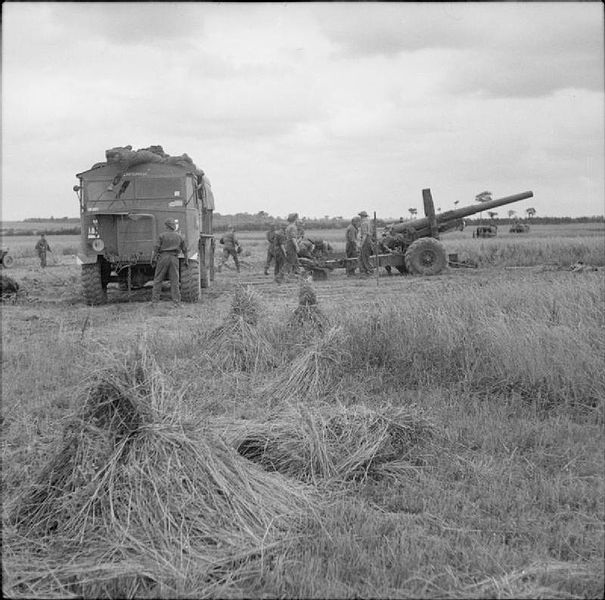 Matador in action in Normandy, 1944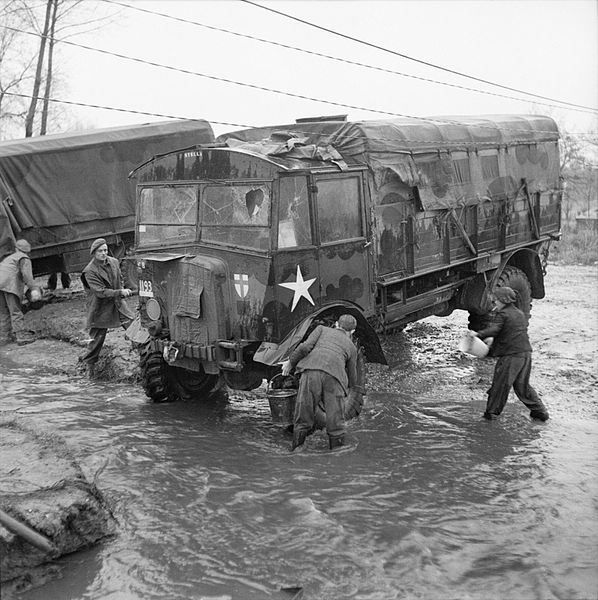 Dutch and British troops trying to clean a Matador from a village stream on 25 November 1944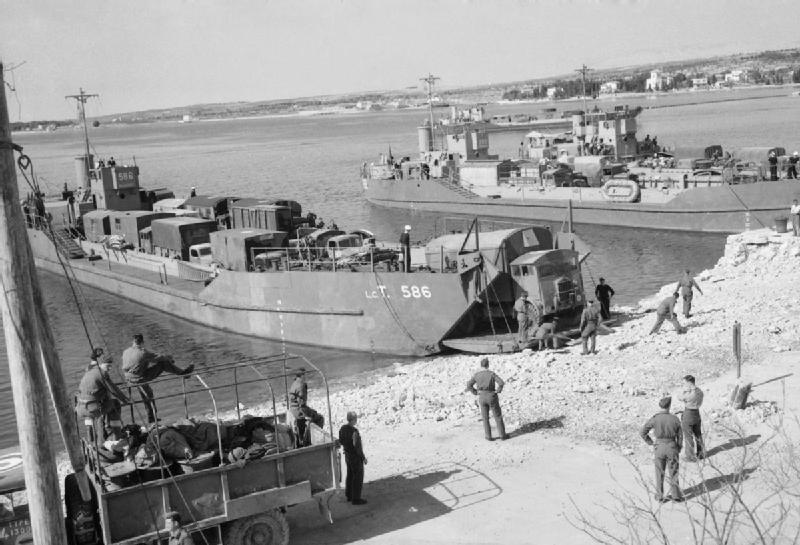 Matador landing from an LCT with supplied for the Balkan air force in Italy, 1944 (IWM)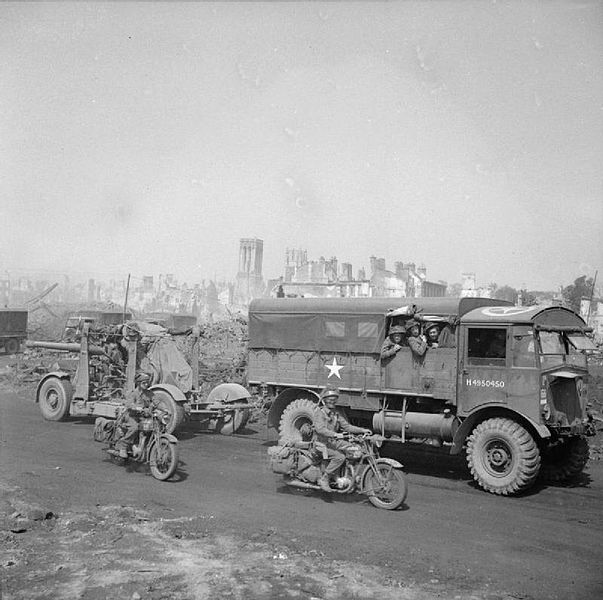 Matador towing a captured German 88mm gun on Germany, 1945
In the desert, the Matador was very popular, praised by its crews for its reliability, and often the latter would removed altogether the cabin roof. It proved also very useful to pull out of the sand others transports or trailers, when no suitable tractors were available. Since the Matador was best suited for towing artillery it was generously attrubited to British Royal Artillery regiments throuhgout WW2, finding action at each deployments, overwhelmingly however in Europe. Possible use of these in Burma in 1945 after reinforcements is also possible.
A further requirement for trucks led to a further order of 200 Matadors produced in 2 batches in 1950 and 1951. It was done as a stopgap measure pending the arrival of the Militant and Leyland Martian military trucks. The Matadors soldiered on until the early 1970s until disposed of. An amazing legacy for an amazing military truck.
The British Air Force became the main users of the Matador, with 400 in service from different versions. They were generally painted grey and were used for towing heavy bombers and carrying bombs and other loads. The RAF ordered also nearly 1.000 vehicles in 1950, probably drawn from stocks and refurbished by AEC instead of newly built. The RAF used its Matador many more years after this, as drawbar tractor, 5 ton cargo truck (with steel body sides) and generator vehicle for airfield equipment.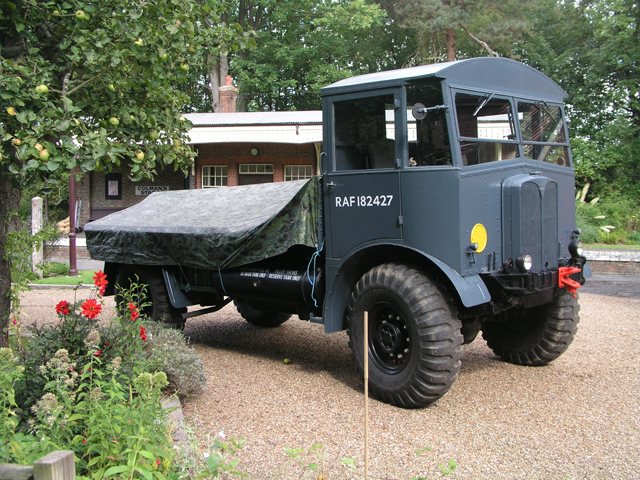 Matador of the RAF at Maynard Field exhibit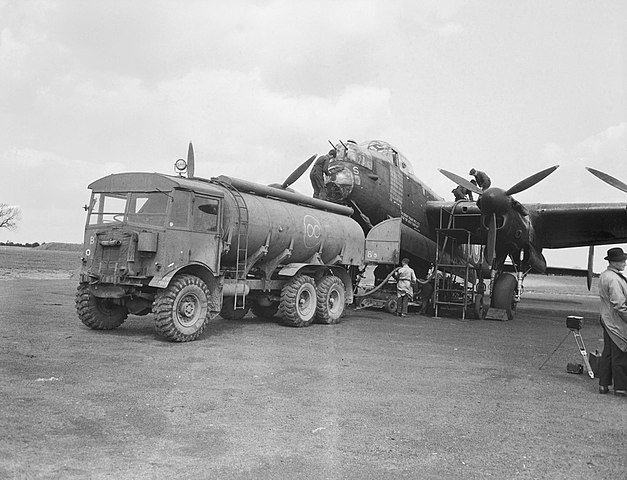 AEC 854 6x6 fueld truck at RAF Henson 1944
Read More/src
armyvehicles.dk
wiki
Archive - commercialmotor.com
On busmuseum.com
More photos
On encyclopedie-des-armes.com
Video documentary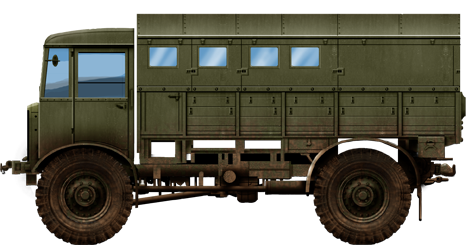 AEC Matador Mark.I (early production) in 1939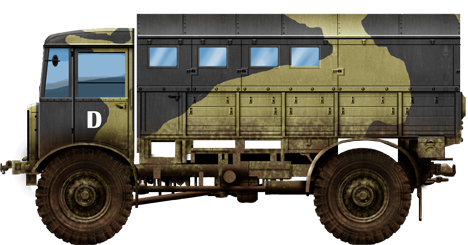 Camouflaged Matador I in North Africa, 1942. Note the enclosed rear compartment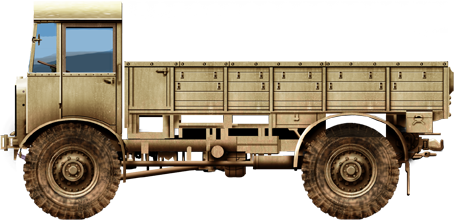 Matador Mark.II in Egypt, late 1942

Matador Mark.I towing a 25-pdr gun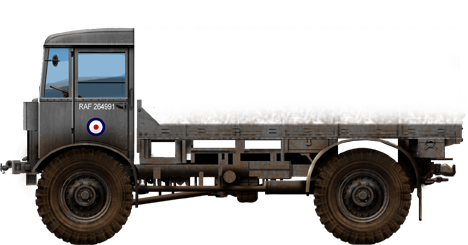 Matador Mark.I in service with the RAF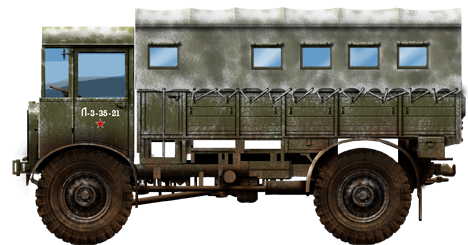 Lend-lease Matador II in Soviet service, winter 1943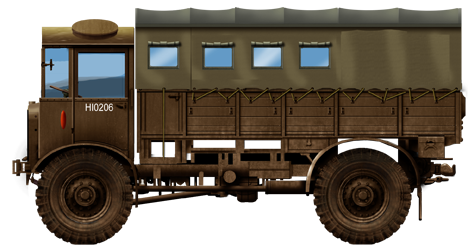 AEC Matador Mk.IV with a brown livery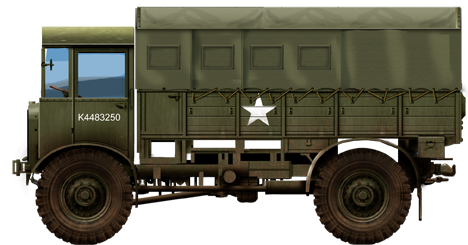 "Gazala" Mark III in Normandy, summer 1944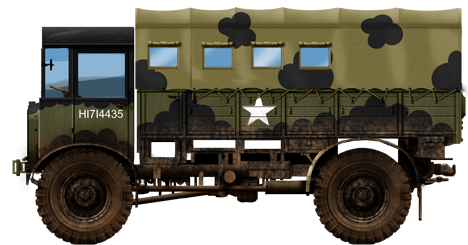 Matador III in 1945, typical northwestern European camuflage

AEC Matador Mk.III towing a 4.5 inches howitzer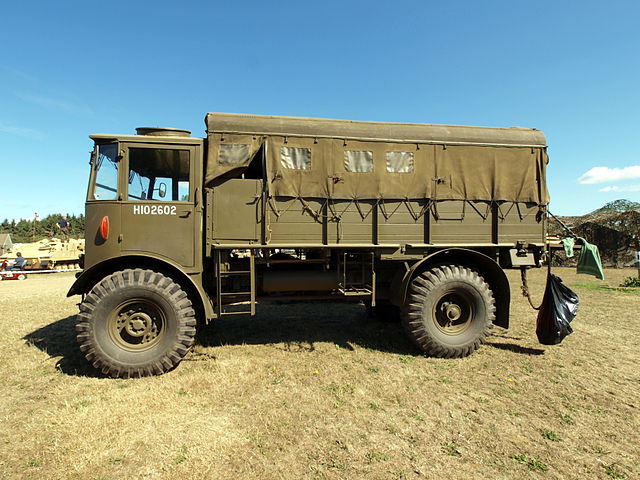 Matador of 1944 in Holland
---
Armoured Variants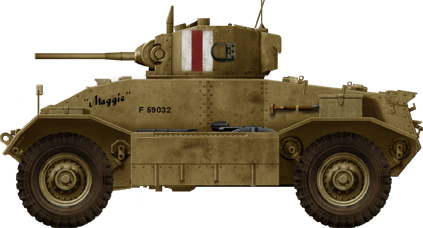 AEC Armoured Car Mark I. The largest, heaviest British armored car in WW2 and early example of what a "wheeled tank" should be.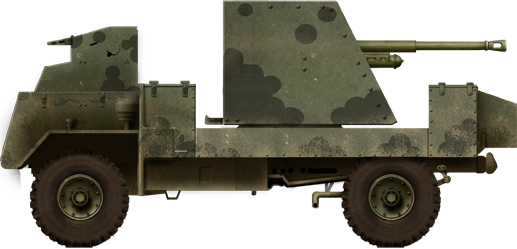 AEC GC Mark I (gun carrier) in North Africa. In late 1942 and early 1943 the "Deacon" armoured 6-pounder anti-tank gun was produced on a Matador chassis by Royal Park, for the North African campaign.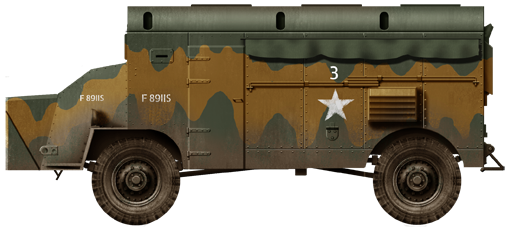 AEC Dorchester armoured command car, Normandy 1944. A 6x6 variants was also produced.
---
Additional photos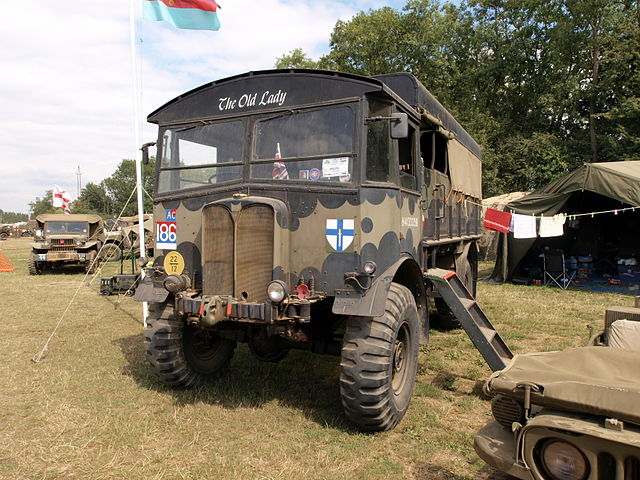 AEC Matador "the old lady"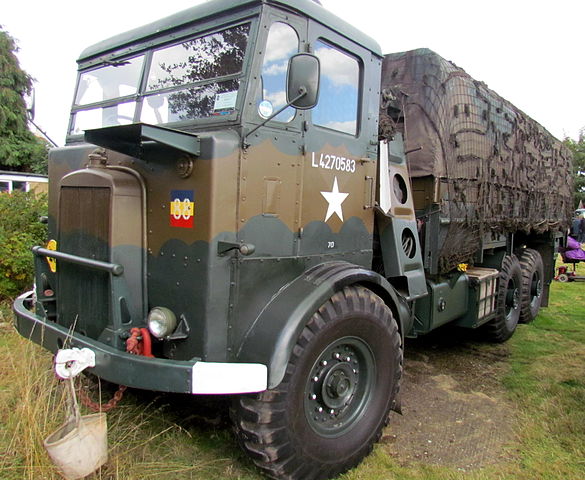 Matador 6x6 truck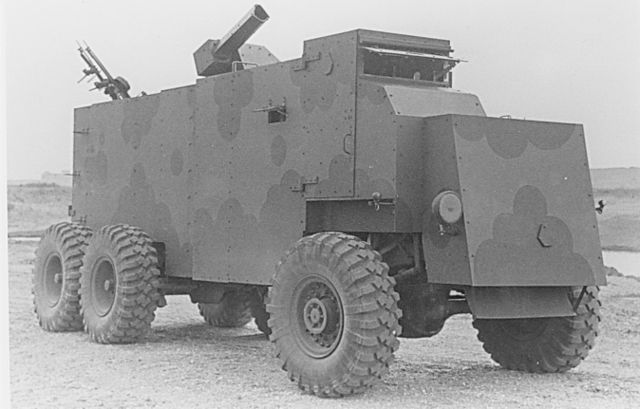 Derivative Mark I heavy cockatrice armoured truck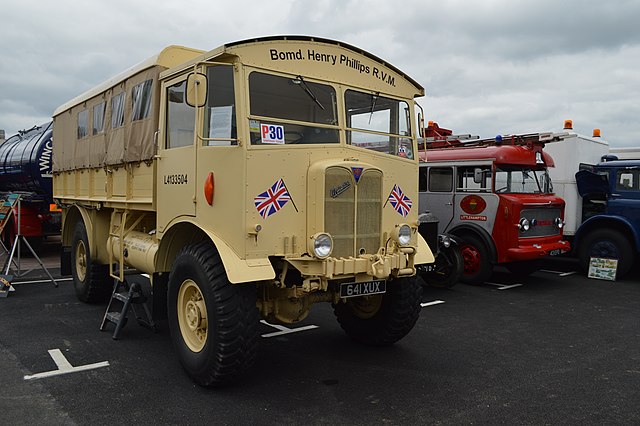 Matador with a beige livery
---
Axis Trucks

Purchase this pagemarker and support the site !
Sd.Kfz 2, 6, 7, 8, 9, 10 and 11 were half-tracks designed just before the war as prime movers, to carry supplies, ammunition, personal, and tow artillery. Many were also converted during the war as armored versions carrying AA FLAK guns (Flakvierling, 37 mm, or the legendary 88 mm Rheinmetall als used as tank hunters), or were converted as nebelwerfer (rocket launching armored vehicles). They were built by Hanomag, Steyr, Mercedes-Benz, Bussing and many other manufacturers until 1945, over 20,000 half-tracks.
---
Cold War & Modern Vehicles
Modern Trucks