A light tractor for airborne troops.
The Kettenkrad officially called SdKfz 2, was, in fact, an abbreviation of "Kleines Kettenkraftrad HK 101". Ketten meaning "tracks", and kraftrad "motorcycle", later shortened. The other official designation was SdKfz 2, for "Sonderkraftfahrzeug" or "special purpose vehicle". It was first specified by the RML as an airborne tractor for paratroopers and glider-borne infantry, to fit inside the hold of a Junkers 52, with excellent off-road capabilities, being capable of carrying two infantrymen and up to 500 kgs of munitions as well as towing a small multipurpose trailer (Sd.Anh.1), with a cable drum mounting device, or alternatively mortar, machine-guns, ammunitions, etc. NSU Werke AG from Neckarsulm was the first to design a successful prototype through Heinrich Ernst Kniepkamp idea (NSU chief engineer), ready for trials in June 1939, and patented. This was the only half-track small enough to be steered as a motorcycle (at fast speed), however an ingenious system engaged front wheels brakes like any tank for sharper turns, although reducing the overall speed by the way. The Kettenkrad had a tremendous grip, due to its tracks system, and often was seen climbing a 25 degree or more sloping ground. It has a watercooled Opel four cylinder in-line engine with (OHV), with a compression ratio of 6:1, a three speed (one reverse) gearbox, and a SOLEX Off-road carburettor type 32 FJ-II. Transmission was passed by a single plate dry clutch.
The Kettenkrad during the war.
The first units equipped with the SdKfz 2 were not paratroopers but regular Wehrmacht infantry units, often scout detachments. Largely available by the beginning of 1941, They were put in action during the summer of 1941 (operation barbarossa). Most of them served on the eastern front since they were well suited for bad roads, thick mud, snow, sand and heavy dust as well. They proved reliable and highly versatile, beeing used as small artillery tractors, fast infantry transports, sanitary transport, scouts, cable-layers, eventually ending the war as runway aircraft tugs. From 1944, a part of the production was diverted to Stoewer from Stettin. The Kettenkrad was not armed, although they were sometimes used to carry an infantryman equipped with an MG 34 or MG 42 machine-gun, acting as a harassing vehicle. The Kettenkrad was used by the Africa Korps, in Italy, France, in any weather and on all kind of terrains. It was used often by Gebirgsjaeger units (Alpine troops), or engaged against partisans throughout Europe, in the balkans, and in general all rugged or woody locations and mountaineous ridges. Two versions existed together, with different size field communication wire spools mounted behind the driver, as beeing the SdKfz 2/1 and 2/2.
After the war.
With more than 8300 of these "tracked motorcycles" built, and 550 more after the war, until 1948, many usages were found for them. Their excellent towing capabilities made them suitable for agriculture tractors, but they were also often seen in logging/lumbering camps, lumber-mills, firemen brigades, and in general in mountain stations and all kind of remote locations. Many of them survived until the eighties, under good conditions. All of them but a few which were not sold to scrap metal are collection items, spread around many museums and private collections, often in running conditions, a testimony for their sturdiness... The concept of tracked motorcycle was never followed and the kettenkrad will probably remain one of its kind forever.
Links about the Kettenkrad
A study on the Kettenkrad.
Specs Kettenkrad 2/2
Dimensions :
3 x 2 x 1,2 m
Total weight, battle ready :
1,56 Tons max.
Crew :
1(+2)
Propulsion :
Opel 4-cyl in line OHV 1488 cm3, 36bhp@3400 rpm
Speed :
70 km/h (44 mph)
Range (road/off road) :
150 km
Total production
8345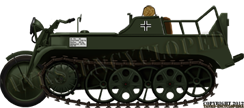 One of the very first serial SdkFz 2, Germany, december 1940.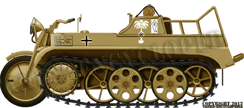 An Afrika korps kettenkrad, Libya, october 1942.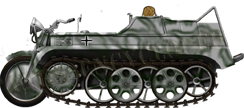 An eastern front Kettenkrad, Stalingrad, december 1942.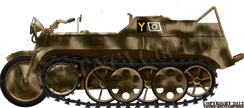 A SS Panzergrenadiere Kettenkrad, Normandy, june 1944.
A kettenkrad in Russia, with Sd.Anh.1 trailer, 1943 (bundesarchive).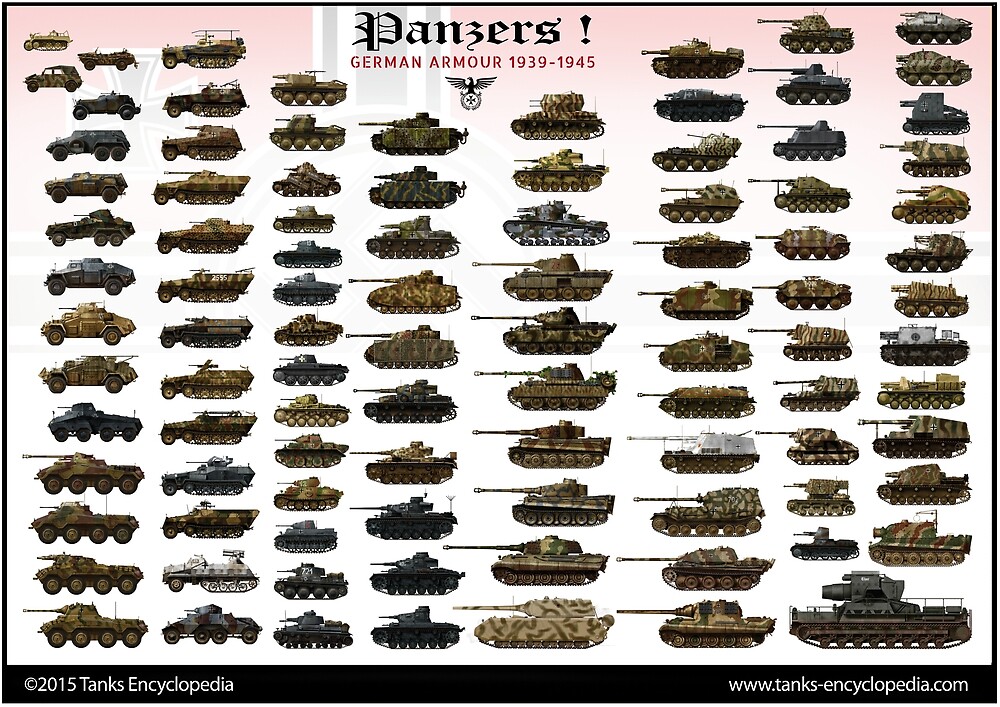 Germans Tanks of ww2
---
Axis Trucks

Purchase this pagemarker and support the site !
Sd.Kfz 2, 6, 7, 8, 9, 10 and 11 were half-tracks designed just before the war as prime movers, to carry supplies, ammunition, personal, and tow artillery. Many were also converted during the war as armored versions carrying AA FLAK guns (Flakvierling, 37 mm, or the legendary 88 mm Rheinmetall als used as tank hunters), or were converted as nebelwerfer (rocket launching armored vehicles). They were built by Hanomag, Steyr, Mercedes-Benz, Bussing and many other manufacturers until 1945, over 20,000 half-tracks.
---
Cold War & Modern Vehicles
Modern Trucks