Sd.Kfz.2 Kettenkrad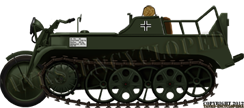 Germany (1940-44) Moto-track. About 8,345 built
A light tractor for airborne troops.
The Kettenkrad officially called SdKfz 2, was, in fact, an abbreviation of "Kleines Kettenkraftrad HK 101". Ketten meaning "tracks", and kraftrad "motorcycle", later shortened. The other official designation was SdKfz 2, for "Sonderkraftfahrzeug" or "special purpose vehicle". It was first specified by the RML as an airborne tractor for paratroopers and glider-borne infantry, to fit inside the hold of a Junkers 52, with excellent off-road capabilities, being capable of carrying two infantrymen and up to 500 kgs of munitions as well as towing a small multipurpose trailer (Sd.Anh.1), with a cable drum mounting device, or alternatively mortar, machine-guns, ammunitions, etc. NSU Werke AG from Neckarsulm was the first to design a successful prototype through Heinrich Ernst Kniepkamp idea (NSU chief engineer), ready for trials in June 1939, and patented. This was the only half-track small enough to be steered as a motorcycle (at fast speed), however an ingenious system engaged front wheels brakes like any tank for sharper turns, although reducing the overall speed by the way. The Kettenkrad had a tremendous grip, due to its tracks system, and often was seen climbing a 25 degree or more sloping ground. It has a watercooled Opel four cylinder in-line engine with (OHV), with a compression ratio of 6:1, a three speed (one reverse) gearbox, and a SOLEX Off-road carburettor type 32 FJ-II. Transmission was passed by a single plate dry clutch.
The Kettenkrad during the war.
The first units equipped with the SdKfz 2 were not paratroopers but regular Wehrmacht infantry units, often scout detachments. Largely available by the beginning of 1941, They were put in action during the summer of 1941 (operation barbarossa). Most of them served on the eastern front since they were well suited for bad roads, thick mud, snow, sand and heavy dust as well. They proved reliable and highly versatile, beeing used as small artillery tractors, fast infantry transports, sanitary transport, scouts, cable-layers, eventually ending the war as runway aircraft tugs. From 1944, a part of the production was diverted to Stoewer from Stettin. The Kettenkrad was not armed, although they were sometimes used to carry an infantryman equipped with an MG 34 or MG 42 machine-gun, acting as a harassing vehicle. The Kettenkrad was used by the Africa Korps, in Italy, France, in any weather and on all kind of terrains. It was used often by Gebirgsjaeger units (Alpine troops), or engaged against partisans throughout Europe, in the balkans, and in general all rugged or woody locations and mountaineous ridges. Two versions existed together, with different size field communication wire spools mounted behind the driver, as beeing the SdKfz 2/1 and 2/2.
After the war.
With more than 8300 of these "tracked motorcycles" built, and 550 more after the war, until 1948, many usages were found for them. Their excellent towing capabilities made them suitable for agriculture tractors, but they were also often seen in logging/lumbering camps, lumber-mills, firemen brigades, and in general in mountain stations and all kind of remote locations. Many of them survived until the eighties, under good conditions. All of them but a few which were not sold to scrap metal are collection items, spread around many museums and private collections, often in running conditions, a testimony for their sturdiness... The concept of tracked motorcycle was never followed and the kettenkrad will probably remain one of its kind forever.
Links about the Kettenkrad
A study on the Kettenkrad.
Specs Kettenkrad 2/2
Dimensions :
3 x 2 x 1,2 m
Total weight, battle ready :
1,56 Tons max.
Crew :
1(+2)
Propulsion :
Opel 4-cyl in line OHV 1488 cm3, 36bhp@3400 rpm
Speed :
70 km/h (44 mph)
Range (road/off road) :
150 km
Total production
8345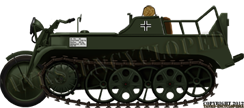 One of the very first serial SdkFz 2, Germany, december 1940.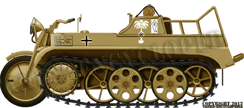 An Afrika korps kettenkrad, Libya, october 1942.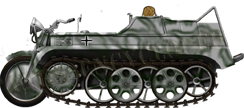 An eastern front Kettenkrad, Stalingrad, december 1942.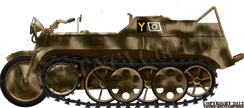 A SS Panzergrenadiere Kettenkrad, Normandy, june 1944.
A kettenkrad in Russia, with Sd.Anh.1 trailer, 1943 (bundesarchive).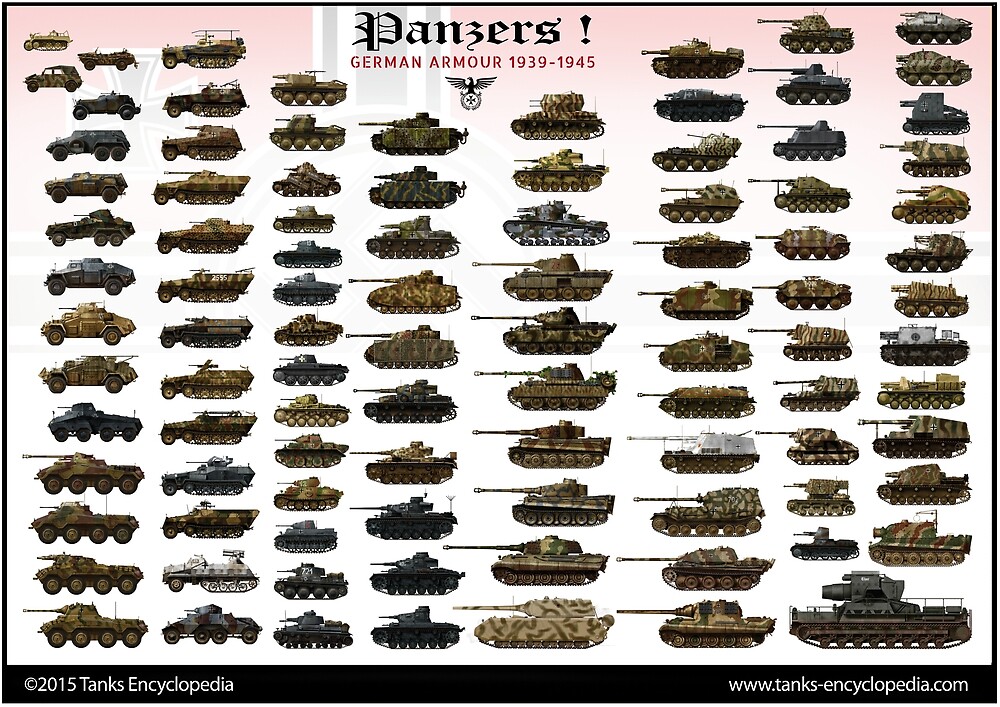 Germans Tanks of ww2
WW1 Vehicles

British Vehicles
FR: Berliet CBA, Berliet Type M, Châtillon-Panhard, Latil TAR, Panhard-Genty 24 HP, Renault EG
Allied ww2 Vehicles

British Vehicles
-AEC Armoured Command Vehicle (415)
-AEC Matador
-Albion CX22S
-Albion FT15N
-Albion WD.CX24
-Austin K2/Y Ambulance
-Austin K3
-Austin K4
-Austin K4 Dropside
-Austin K5
-Austin K6 GS
-Austin K6 Gantry
-Bedford MW
-Bedford OXA Armoured
-Bedford OXC Semi-trailer
-Bedford OXD GS
-Bedford OYC Tanker
-Bedford OYD GS
-Bedford QL series (QLD, QLR/QLC QLT TC)
-CMP FAT
-CMP Truck
-Commer Q2
-Crossley Q-Type
-Diamond T tank transporter
-Guy Quad-Ant FAT
-Guy Lizard ACV
-Humber FWD
-Karrier KT4
-Karrier K6
-Leyland Hippo Mk I/II
-Leyland Lynx
-Leyland Retriever
-Mack EXBX
-Morris 15cwt
-Morris CDSW
-Morris ML Ambulance
-Morris C8 GS/FAT
-Morris Commercial CD series
-Morris Commercial CS8
-Morris C9
-Morris GS Terrapin
-Morris PU
-Scammell Pioneer SV1S/SV2S
-Thornycroft Hathi (1924)
-Thornycroft Nubian
-Thornycroft Tartar

French Vehicles
-Berliet DGRA
-Berliet GDC
-Berliet GDM
-Berliet VDCA
-Berliet 30
-Bernard fuel carrier
-Citroën Kégresse P14
.
-Citroën Kégresse P17
-Citroën Kégresse P19
-Citroën Type 23
-Citroën 32U
-Citroën T45
-ELMAG
-Fiat France 38R
-Ford France
-Hotchkiss PKW Type 680
-Hotchkiss 686
-Hotchkiss 686 PNA
-Isobloc W843M medical bus
-Laffly S15R
-Laffly S15T
-Laffly V15T
-Laffly V15R
-Laffly 20TL
-Latil TAR H2
-Latil M2Tl6
-Matford F917
-Panhard K113
-Panhard K113
-Peugeot 202
-Peugeot 402
-Peugeot DMA
-Peugeot DK
-Peugeot DK5
-Renault AHS
-Renault AHN
-Renault AHR
-Renault AGC
-Renault ADK
-Renault ADH
-Renault AHSs
-Saurer type 3CT
-Simca 5 staff car
-Simca 8 staff car
-Somua MCL
-Somua MCG
-Talbot staff car
-Unic TU1
-Unic P107
-Trippel SG6
-Willeme DU10

Soviet Trucks
-BZ-38
-GAZ AA M1927 M1932 M1941
-GAZ–MM
-GAZ AAA M1937
-GAZ AAA M1940
-GAZ-60
-GAZ-65
-Ford Marmon HH6 Katiusha
-SU-1-12
-SU-4
-SU C-6
-SU-12
-Yag-6
-Yag-10
-Yag-10 SPG
-ZIS-5/V/BZ
-ZIS-6
-ZIS-12
-ZIS-22M HT
-ZIS-33 HT
-ZIS 41 HT
-ZIS 42M HT
-FN-Kégresse T3
Soviet staff cars
-GAZ A
-GAZ M1 "Emka"
-GAZ 11-73
-GAZ 61-73
-GAZ 67
Amphibious armoured cars
-PB-4
-PB-7
-BAD-2

US Trucks
-Ford B3000 S
-Ford V3000S
-Ford V3000A,
-Ford BB
-Ford V8-51
-Ford m1931
-Ford V8 M1937
-T1E1(M1) half-track
-T5 half-track
-T7 half-track
-T9 half-track
-G8T 2-1/2 ton 4x2 Truck
-International B2
-International model 1937
-Chevrolet m1931
-Chevrolet m1936
-Chevrolet G-506 ​1 1⁄2-ton 4x4
-Chevrolet G-7107 4-1/2 ton 4x4
-Chevrolet 3116 1-1/2 ton 4x2
-Studebaker US6x4 U7
-Studebaker US6x4 U-6
-Studebaker US6x6 U-5 6x4
-Studebaker US6 U4 bz35S 2-1/2 ton 6x6 truck
-Dodge 1⁄2-ton Ambulance
-Dodge 1⁄2-ton Carry-all
-Dodge 1⁄2-ton (Radio) Command Reconnaissance
-Dodge 1⁄2-ton Truck, Closed Cab
-Dodge 1⁄2-ton Truck, Open Cab
-Dodge 1⁄2-ton (Radio) Panel Van
-Dodge 1⁄2-ton Telephone Service (K50)
-Dodge 1⁄2-ton Trucks, Emergency Repair
-Dodge WC-51/52 (3⁄4-ton Trucks, Weapons Carrier)
-Dodge WC-53 (3⁄4-ton Carryall)
-Dodge WC-54/64 (3⁄4-ton Ambulance)
-Dodge WC-55 (3⁄4-ton Truck, M6 Gun Motor Carriage)
-Dodge WC-56/57/58 (3⁄4-ton (Radio) Command Reconnaissance)
-Dodge WC-62/43 (G-507, 11⁄2-ton, 6x6 truck)
-Dodge M6 GMC
-GMC CCKW Cargo Truck
-GMC CCKW CCKW-353
-GMC SWB CCKW-352
-GMC 1939 ACKWX 353 3 ton 6x6 truck
-GMC AFWX-353 3 ton 6x4 truck
-GMC DUKW 353 2-1/2 ton 6x6 truck
-GMC C.O.E. AFKWX
-Diamond T Model 980/981 12-ton 6x4 trucks (G159)
-Diamond T Model 968 4-ton 6x6 truck (G509)
-Diamond T Model 967
-Diamond T Model 970
-Diamond T Model 972
-Diamond M26 Dragon Wagon
-Diamond M19 Tank Transporter
-Diamond T Model 980
-Diamond T 4-ton 6x6 truck
-Autocar U8144T 5/6-ton 4x4 truck
-Brockway/LaFrance 6-ton 6x6 truck, G512, 514, 547, 569
-White/Corbitt 6 ton 6x6 Prime Mover
-Brockway
-Corbitt
-Ward LaFrance
-Four Wheel Drive Auto Company (FWD) SU-COE 5-6 ton 4x4
-White Motor Company
-Inl KR-11 5 ton 4x2 dump truck
-Inl M5-6 318 2-1/2 ton 6x6 swb
-Mack NR15 10-ton 6x4
-Reo 28 XS 10-ton 6x4

Small truck/car & Misc.
Bantam Reconnaissance Car
Ford GTB
6x6 Willys 'MT-TUG' ("Super-Jeep")
-Willys MB light truck
-Ford GPA ("Seep")
Buick Century Series 60
1941 Plymouth P11 Staff Car
Ford Fordor 1942 Staff Car
Harley-Davidson WLA motorcycle
---
Axis Trucks

Purchase this pagemarker and support the site !
Sd.Kfz 2, 6, 7, 8, 9, 10 and 11 were half-tracks designed just before the war as prime movers, to carry supplies, ammunition, personal, and tow artillery. Many were also converted during the war as armored versions carrying AA FLAK guns (Flakvierling, 37 mm, or the legendary 88 mm Rheinmetall als used as tank hunters), or were converted as nebelwerfer (rocket launching armored vehicles). They were built by Hanomag, Steyr, Mercedes-Benz, Bussing and many other manufacturers until 1945, over 20,000 half-tracks.

German Military trucks
-Opel Blitz
-Opel Maultier
-Mercedes-Benz L3000
-Magirus A3000
-Krupp Protze Kfz.19
-Krupp Protze Kfz.21
-Krupp Protze Kfz.68
-Krupp Protze Kfz.69
-Krupp Protze Kfz.70
-Krupp Protze Kfz.81
-Krupp Protze Kfz.21
-Krupp Protze Kfz.83
-Borgward B 3000
-Skoda Rad Schlepper
-Ost RSO Porsche 175
-Steyr Type 2000A
-Einheits Lkw Kfz.62
-Krupp LKW L3
-Bussing-Nag 4500
-Opel Blitz Omnibus
-Bussing-Nag L
-Mercedes-Benz L1500
-Beute Studebaker
-Krupp L3H
-Hanomag SS-100
-Beute Ford B3000 S, V3000S, V3000A
-Beute Ford model BB
-Beute Ford model V8-51
-Beute Tatra 111

German Staff Cars
-Horch 81
-Horch 108
-
VW 182 Kübelwagen
-
VW Schwimmwagen
-
Sd.Kfz.2 Kettenkrad

Italian Military trucks
L. Trucks (Autocarro Leggere)
-Breda-32
-Breda-40
-Breda-41
-ОМ-32 Autocarretta da Montagna
-ОМ-36DM
-Camioneta SPA TL.37
-Camioneta AS.43
-SPA CL39
-SPA ТМ40
-Fiat 618
Med. Trucks (Autocarro Medio)
-Alfa Romeo 430RE
-Alfa Romeo 800RE
-Breda Dovunque-41
-Bianchi Miles
-Ceirano-50СМ
-FIAT-626 NM
-Isotta Fraschini D65
-Isotta Fraschini D80
-SPA Dovunque-35
-SPA Dovunque-41
-SPA AS.37
-SPA-38R
-Autocarro Dovunque SPA 41/42
H. Trucks (Autocarro Gigante)
-FIAT-633NM
-FIAT-634N
-FIAT-666
-Fiat 661
-Lancia Ro
-Lancia 3Ro
-Lancia EsaRo
-ОМ Taurus
-ОМ Titano
-Autocarreta Mod.35
-Autocarri Unificati Ursus

Artillery tractors
-Breda 51
-Breda 52
-Breda 61 (licenced SdKfz-7)
-Fiat-SPA T.L.37
-Pavesi Р4.31 (L140)
-Fiat 727 - half-track artillery tractor
-SPA TM40 - wheeled artillery tractor

Staff Cars
-Alfa Romeo 6С2500 Coloniale
-Fiat 508M/CM Ballila
-Fiat 1100 (1937) (Balilla-1100 Coloniale)
-Lancia Aprilia Coloniale
-Bianchi VM 6C
-Fiat 2800 CMC

Motorcycles
-Benelli 500 M36/VLM
-Bianchi Supermil 500
-Gilera 500 LTE
-Moto Guzzi Alce/Trialce
-Volugrafo Aermoto 125

IJN ww2 vehicles
-Toyota 4x4 Su-Ki (Amphibious truck)
-
Isuzu Type 94 truck
-Type 94 6-Wheeled Truck
-Type 95 Mini-truck
-Type 97 4-Wheeled Truck
-Type 1 6-Wheeled Truck
-Type 2 Heavy Truck
-Toyota KB/KC Truck
-Nissan 80 Truck
-Nissan 180 Truck
-Amphibious Truck "Su-Ki"

Tractors
-Type 92 5 t Prime Mover "I-Ke"
-Type 98 6 t Prime Mover "Ro-Ke"
-Type 92 8 t Prime Mover "Ni-Ku"
-Type 95 13 t Prime Mover "Ho-Fu"
-Type 94 4 t Prime Mover "Yo-Ke"
-Type 98 4 t Prime Mover "Shi-Ke"
-Type 96 AA Gun Prime Mover
-Type 98 20 mm AA Machine Cannon Carrier
-Type 98 Half-tracked Prime Mover "Ko-Hi"
-Type 98 20 mm AA Half-Track Vehicle
-Experimental Heavy Gun Tractor Chi-Ke
-Experimental Crawler Truck
-T G Experimental Crawler Truck
-Fordson Prime Mover
-Pavessi Gun Tractor
-50 hp Gun Tractor
-Komatsu 3 ton Tractor
-Light Prime Mover
-Clarton Prime Mover
-Holt 30

Staff cars
-Toyota AA/AB/AC
-Type 93 6/4-Wheeled Passenger Car
-Type 95 Passenger Car "Kurogane"
-Type 98 Passenger Car
-Model 97 Nissan Staff Car, Nissan 70

Motorcycles
-Rikuo Motorcycle
-Rikuo Type 97 Motorcycle
-Rikuo Type 93 side car

Misc.
-Type 94 Ambulance
-Type 94 Repair Vehicle
---
Cold War
(Section pending completion)