Development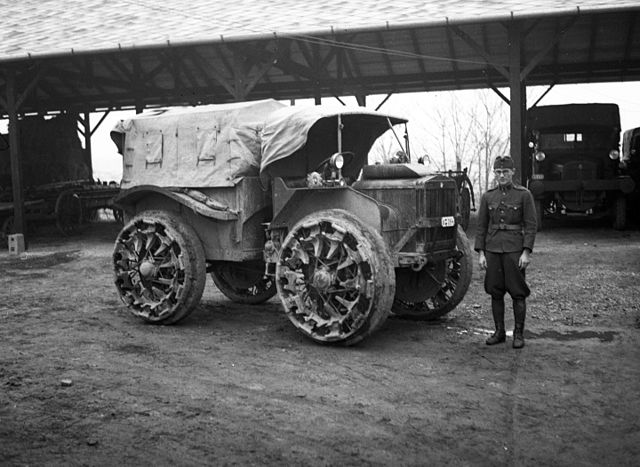 Pavesi 35PS
Italian heavy artillery tractors for divisional artillery were created already in 1912: The first was the Fiat 20 gigante (giant). Postwar, the first tractor was the Pavesi 35 PS (From Pavesi Tolotti) and the P4/100 manufactured by Fiat-S.P.A. from 1923. In July 1927 a publication started that Ernesto Breda in Milan tested a tractor with four-wheel drive and independent suspension, which was later presented to the military equipment commission for comparative tests against the updated Fiat 20B and Pavesi 26 as the Italian military looked to modernize its tractor fleet for the 1930s.
In 1929, the commission concluded the vehicle was good but too long and asked for a reduced wheelbase. This became the "Breda 4-wheel drive tractor". Comparative tests in early 1930 definitely showed the superiority of the Breda tractor, which design was now outdated. Thus, the Government passed a first order for the Army, but a modified model for an extra campaign of realistic and gruelling test with heavy artillery regiments.
Breda started to deliver naked chassis in 1931, the bodywork being provided by the Arsenale Regio Esercito Torino not far away from Milan. The name became "Trattrice Breda a 4 RM" (TB 4RM). In early 1932, the tractor had passed all field tests in unit with flying colors and get an approval "Trattrice Pesante 32" or reduced as Breda TP 32. Two more went through a second campaign of intensive tests to confirm a much larger order. The TP 32 started to be distributed to heavy artillery regiments from 1933 until 1934 whe production ceased.
Design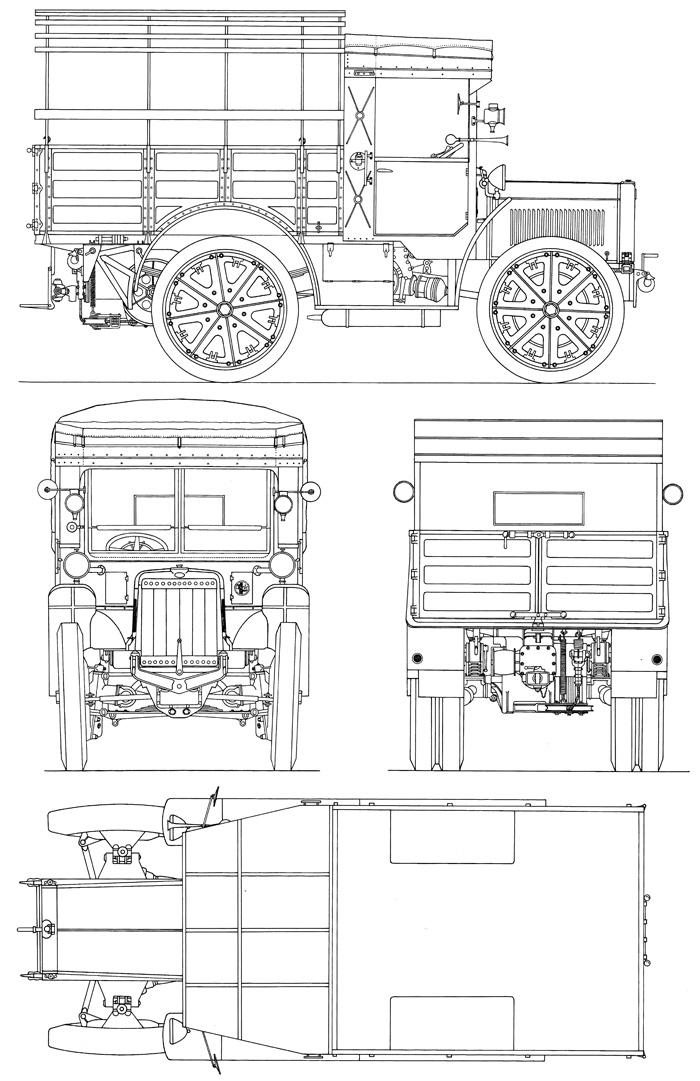 Reconstituted blueprint of the type
The Breda TP 32 tractor was powered by a Fiat-SPA 8,136 cm3 watercooled petrol engine, four in-line cylinders plus side valves. Maximal power at 1,450 tr/min was 84 hp. Top speed on flat was 30 km/h, but due to the couple, it stayed stable even on a high slope, consumpiion however was 80 L/100 km in normal condition, so not towing anything. On a slope or off-road with a heavy artillery piece it rose quickly to 100L for the same distance and more. But the vehicle was essentially designed for towing an artillery piece transport ed by rail to the front. So distances were not considerable.
It had a lower revolution like most tractors to guarantee very high torque at the expense of speed. The engine was coupled with a dry multi-plate clutch, engaging a five-speed gearbox (one more in reverse). The transverse drive shaft comprised three differential groups, allowing only the first to directly receive gearbox moves, the two others transmitting these to the four drive wheels, ensuring a perfect 4x4 torque at all speeds. The vehicle measured 5,15 m in lenght for 2,08 min in width, and 3 meters in height for a 2,650 mm wheelbase. It weighted 8,400 kg in working order.
The front wheels only were steered, and had independent suspensions with reversed transverse leaf spring. The rear suspension however had longitudinal semi-elliptical leaf springs. This was a three-point suspension which enable the tractor to deal with the most unforgiving terrain. All four wheels were large, made in very robust cast steel, which rims mounted a 980x205 semi-pneumatic tire accommodating in the mud or snow extra steel grousers. The rear axle had twin wheels for better grip close to the point of traction.
The chassis was made with a three-part cast steel shell. It ensure extra robustness, even under heavy towing strain. The front chassis section supported the engine, the central one received the reduction gear and differentials with the cabin mounted above, and the rear section's flatbed received a transmission and winch with a 7.5 tonnes capacity plus 50 m steel cable. Both were also heavy duty, cast, in order to support heavy loads.
The cabin and engine were covered by metal sheeting, reinforced by framing at cabin level and topped by utility toolbox on the roof, covered by a tarpaulin. Behing the cabin was located the pressed steel utility compartment, with flatbed, 2.5 m long, 1.88 m wide and 0.7 m high with the side panels up. Only the two-leaf rear dropside however were foldable down, but side walls can be dismounted.
Production
Soc. Italiana E. Breda per Costruzioni Meccaniche SpA made thousands of them. Exact numbers are in research. It was replaced by the Breda TP40 and SPA TM40, which production reached nowhere near the TP 32. It was quite a formidable effort in scale given deliveries went on for only two years.
Variants
Breda TP 32 Girafa: tow truck version with crane*
Breda TP 33: version with increased wheelbase from 2.65 to 3.82 meters
Breda TP 32 Coloniale: version with diesel engine intended for the desert of the Italian colonies in Africa
The 1934 towing tractor called "Giraffe" had a crane installed on the flatbed. This reovery vehicle when not working, need the two stabilizing arms of the crane stored on the sides. This model saw service in the Spanish Civil War and Ethiopia (Second Italo-Ethiopian War). One was also sent to East Africa in 1938, and colonial version was worked on. It became the only srviceable vehicle during the rainy season, and quite precious.
Operational use
A TP 32 today, massimo foti via Flickr
The first operational deployment started in the Spanish Civil War, 20 being sent by Mussolini in Spain to assist volunteer Italian Battalions's heavy artillery units. From June 1940, the Breda TP 32s were pressed in all active regiment as the main tractor for the Cannone da 149/35, 149/40, Howitzers of the 149/13, 210/22 and 305/17 type, as well as the large 260/9 siege mortar. Each 149/40 battery on paper had nine Breda TP 32 tractors (two per unit, one in reserve). From April 30, 1943, the Regio Esercito listed still some 1,372 Breda TP 32 serviceable of the modello 32, 33, 40 and 41 and eight wreckers. The TP 32 stayed in service also with the few artillery unit of the RSI in 1944-45, and stayed in service with the army until the 1950s, the remainder being sold to Italian Railways, at first for towing army wagons.
Apart the Royal Italian Army, some were "recovered" by the Wehrmacht after the Italian capitulation and used for towing their own heavy artillery until May 1945. Bulgaria received some, although little detail is known, and so did Hungary, where it was widely used by the Royal Hungarian Territorial Army for towing the Ansaldo cannone da 210/22 Modello 1935.
As said above, one surprising aspect was the vehicle was still in use well after the end of WW2: Indeed already 1934, the FF.SS (Italian railway exploitation company) used Breda TP 32s for hauling rail freight wagons on road. This system enabled a larger delivery of goods to depots close to the nearest railway line. It was a solution before heavy duty freight trucks were developed postwar. For this, the vehicle needed to be adapted, and it was given a compressed air braking system. The FF.SS in 1940 had 67 of these in service. In 1945, only 29 remained in working order and they were hard at work for the reconstruction of the country in 1946-1950, starting by freeing derailed and damaged wagons and locomotives lying along the tracks after allied actions.
The FF.SS soon was in need of more tractor and thus started to refurbish as many former military tractors as possible, in several series, the ones being modified for a more tailored use, with a new Lancia type 102 engine installed, no roof box on cabin nor tarpaulin, new cabin, new mobile headlights and in some case, a bumper and new wheels damped by brand new Pirelli Artiglio tires. This proved a sound move. Giving a clue of their reliability, the last were not retired and replaced before the 1980s.
Books and Links about the Brea TP 32
Nicola Pignato et Filippo Cappellano, Autoveicoli tattici e logistici del Regio Esercito Italiano, 2005
Autoveicoli del Regio Esercito nella Seconda Guerra Mondiale, Storia Militare.
Il grande libro dei camion italiani, Sergio Puttini & Giuseppe Thellung di Courtelary, Giorgio Nada Editore, 2010
Le trattrici pesanti Breda, Nicola Pignato.
Gli autoveicoli tattici e logistici del Regio Esercito italiano fino al 1943: Nicola Pignato, Filippo Cappellano 2005
Gli Autoveicoli del Regio Esercito nella Seconda Guerra Mondiale: Nicola Pignato Storia Militare, Parma 1998
German Military Vehicles of World War II, Jean-Denis Lepage, 2007.
---
on wikipedia.it
www.centoventesimo.com
italie1935-45.com
www.klcn.nl
oorlogsmuseum.nl/
---
Amatori, Franco; et al. (1992). Storia della Lancia — Impresa Tecnologie Mercati 1906–1969. Milan.
Breda TP 32 specifications

Dimensions
7,084 mm, Width 2,350 mm, Height 3,000 mm.
Total weight, battle ready
4.135 kg (no payload)
Crew
2 (driver, co-driver) + 32 troops
Propulsion
Lancia 102N, 5 cylinders diesel 6 875 cm3, 93 ch/1.860 rpm
Top speed
45 km/h (30 mph) road
Payload
7.365 kg and 12 tonnes max overall ( lbs)
Transmission & suspension
4 + 1 speed, leaf spring
Maximum range (on/off road)
450 km (cons. 24 liters/100 km)
Armament
None, used as SPG
Armor
6 to 8 mm (0.2-0.3 in)
Production
See notes, above 9,000
Reference illustrations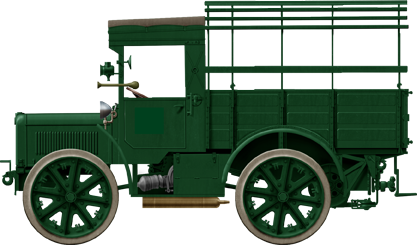 Breda TP 32 in the standard Verde Sciuro in 1939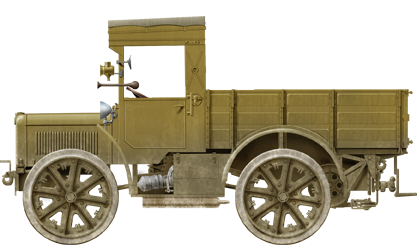 TP 32 in Libya 1940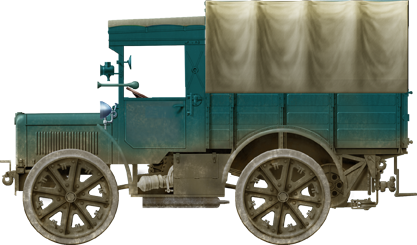 TP 32 in Grigioverde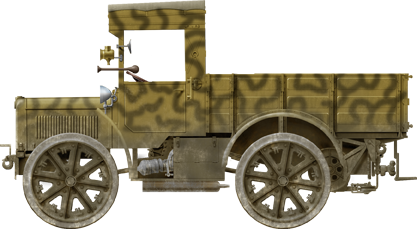 TP 32 camouflaged
Photos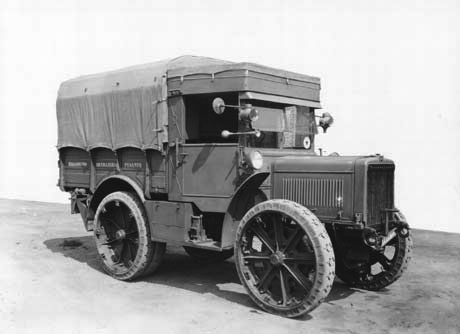 Breda TP 32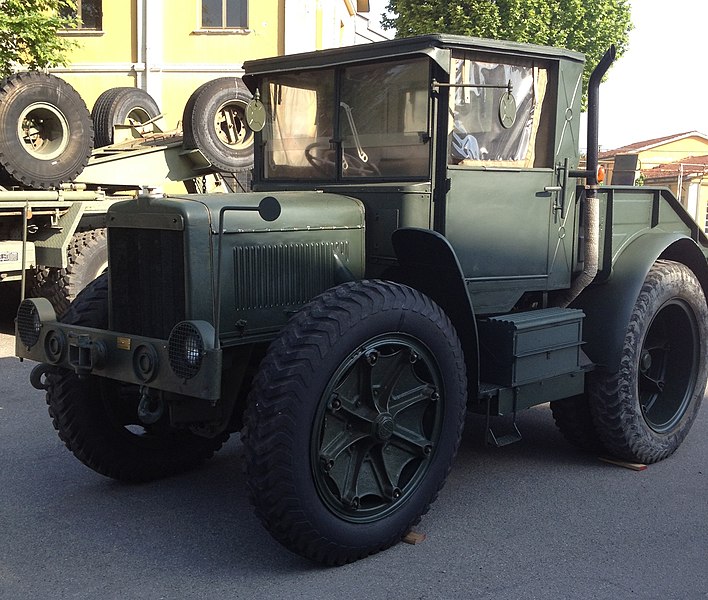 Breda TP 32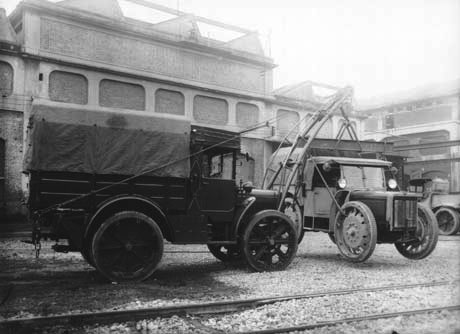 TP 32 Gru (Giraffe)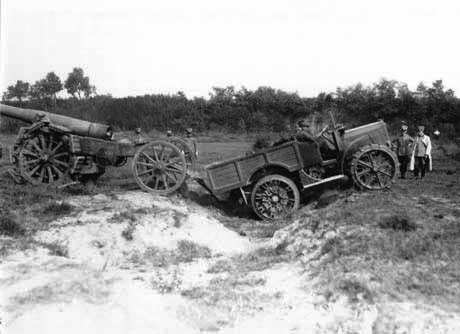 TP 32 towing the Obice da 149/35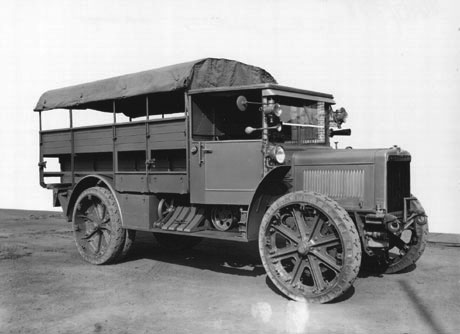 TP 33
---
Axis Trucks

Purchase this pagemarker and support the site !
Sd.Kfz 2, 6, 7, 8, 9, 10 and 11 were half-tracks designed just before the war as prime movers, to carry supplies, ammunition, personal, and tow artillery. Many were also converted during the war as armored versions carrying AA FLAK guns (Flakvierling, 37 mm, or the legendary 88 mm Rheinmetall als used as tank hunters), or were converted as nebelwerfer (rocket launching armored vehicles). They were built by Hanomag, Steyr, Mercedes-Benz, Bussing and many other manufacturers until 1945, over 20,000 half-tracks.
---
Cold War & Modern Vehicles
Modern Trucks