MAN 630 L2

West Germany - Bundeswehr (1951)
4x4/4x6 5-ton truck, 30,000 built
The MAN 630 L2 is a cold war german military truck produced from 1952 to 1972. The L1 and L3 were civilian, only the L2 was used by the Bundeswehr and also exported to Belgium. Designed to be a versatile and all-terrain based on a NATO standard also used by other manufacturers, it could carry troops, supplies, and equipment over rough terrain. The MAN 630 L2 had a payload of 5 tons and 7 tons towing capacity. Nicknamed "emma", 20,000 were delivered from 1952 to 1972 according to some source, 30,000 with all sub-variants.
Origin
About MAN
Maschinenfabrik Augsburg Nürnberg (MAN) -founded 1758, St. Antony ironworks in the Rurh- is based in Münich, known for its commercial vehicles and diesel engines through MAN Truck & Bus, MAN Latin America and also possessing the manufacturer Sinotruk. MAN was owned by Traton, Volkswagen AG and from 2021 MAN SE merged with Traton SE, the latter replacing MAN SE. For the list of military trucks from MAN, look at the cold war west german trucks page.
Origins of the vehicle
The postwar context in Germany was pretty dramatic between allied and Soviet occupation zones, no army but a police force under control, and from 1947, the cold war setting in, with a massive soviet army camping in Berlin and in eastern Germany. The partition was effective in 1949 when the four occupation zones were reunited into West Germany, a federal Republic. German rearmament was quick to restart due to this new tension, but it would take until 6 May 1955 for the Federal Republic of Germany to join NATO. The Bundeswehr was from then to be equipped with national production, after a primary US-supply.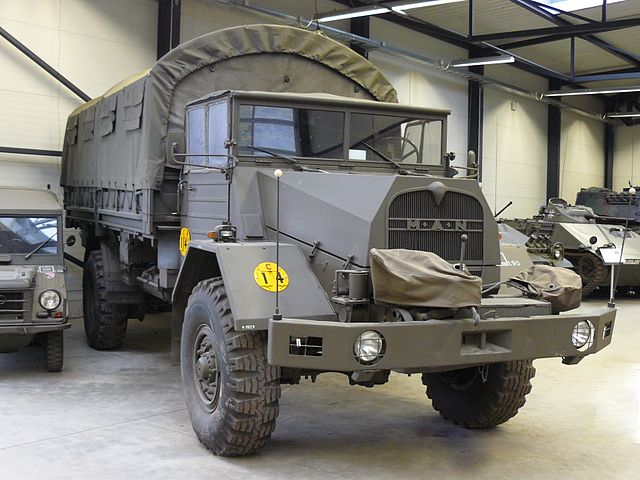 Now preserved in a museum, "Emma" darwes the DWK Munga and other vehicles in the room, including an IFV.
Thus for trucks in 1950, the situation was very contrasted: Still extant WW2 trucks, new trucks when productionw as restarted, based on WW2 or even prewar models, British and US-supplied trucks. This made for a nigthmarish management of maintenance, parts and supplies across the board. Soon, the Federal government decided to relaunch the production of more modern models in 1950 already. This program saw the creation of new models from major truck manufacturers: In 1945 already, Borgward restarted the BE3000, Henschel the HS 115 in 1951 and the same year Hanomag with the AL 28, MAN with the 630, Mercedes with the LG 315/46... The latter in particular were sturdy, large and modern models reusing some late WW2 truck solutions and innovations.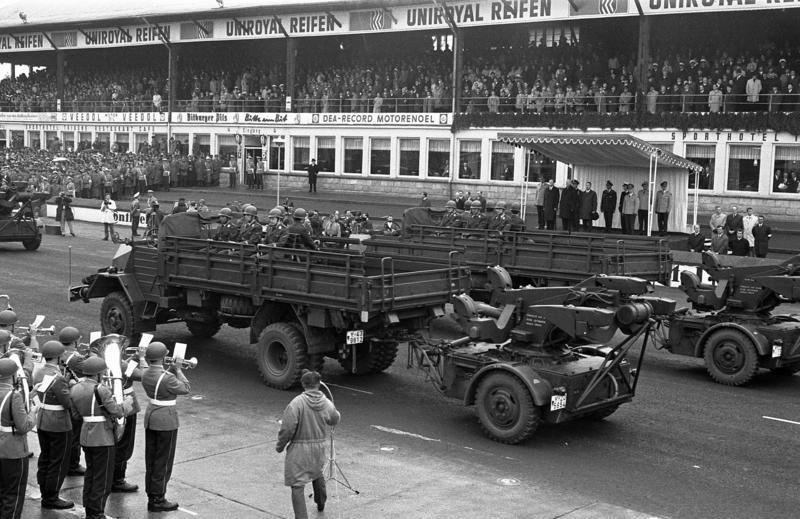 B145 at Nürburgring Bundeswehrparade for NATO forces
As for the MAN 630, it was supposed to answer a procurement call in 1950 for a 5-tonnes payload class (later a 3-tonnes class was specified in 1955). The specifications called for a versatile and all-terrain vehicle that could carry troops, supplies, and equipment over rough terrain. The MAN 630 L2 was ready for production in 1952, and it went on until 1972, as a proof of the design soundness. The L1 and L3 were developed in parallel as civilian variants. The vehicle was so widely used by the Bundeswehr it became one of its default troop transporter alongside the Mercedes-Benz LG 315.
Design of the MAN-630
The MAN 630 L2 was powered by a 6-cylinder, 7.7-liter diesel engine with an output of 125 horsepower, making for a top speed of 60 km/h (37 mph). Its payload capacity was of 5 tons and it could tow a trailer up to 7 tons. The vehicle was caracterized by a 4x4 drive system and 5-speed manual transmission. The MAN 630 was that first generation Bundeswehr wheeled vehicles which is still fondly remembered by most former members of the Bundeswehr today, affectionately nicknamed "Emma" or "MAN omnivore" or "5-tonner" given its maximum payload. Bundeswehr standard designation was "LKW 5to MAN L2A/L2AE".
Both the MAN 630 L2A and the L2AE were off-road two-axle trucks, both had all-wheel drive, and the same 100 kW multi-fuel engine (centre-spherical engine) displacing 8.275 litres. Due to the multi-fuel engine, the MAN 630 can also be operated with anything else than diesel in the event of supply shortages, like diesel-petrol mixtures or even pure motor oils. This was one of NATO standard military specifications, coupled with simplicity and ease of production. The shape of the cab and engine hood, squarish with flat surface was made for manufacturing simplification, tailored to rapidly ramp-up production. This typical "boxy look" was not appealing, but common to at least three major truck models of the time: The 6x6 MAN 630, and the 4x4 Mercedes LG 315/46 and Ford G398, both of the 3-ton class, produced in 1958. The "cometitor" of the MAN 6x6 was the Magirus-Deutz 178, which also shared the same boxy look.
The 630 L2AE as a two-axle lorry had the regular U-profile ladder frame shared by the L2 model. Front and rear axle are leaf-sprung with live beam axles. Tires are 14-inch wheels, 14,00-20, eHD. The main braking system is pneumatic (dual-circuit) with drum brakes, on all wheels. There is also an exhaust brake, and mechanical parking brake for the rear wheels. The steering system is hydraulically assisted with a worm-and-roller system. These were modern solutions for the time.
The powerplant is a MAN D 1246, straight-six cylinders diesel, caracterized by the following points:
M direct injection system
Overhead valves, Naturally aspirated.
Cylinders with 112 mm bore, 140 mm stroke, displacing 8.276 L.
Rated 130 PS (96 kW) at 2000/min
Maximum torque 52 kpm (510 Nm) at 1600/min
Dry single-disc clutch
Non-synchronised, constant mesh six-speed gearbox ZF Allklauengetriebe Type 6–55
Input torque 55 kpm (539 Nm) horizontal/H-shift layout
Final torque sent to a short propeller shaft to a two-speed transfer gearbox
Twelve speeds forward, two reverse gears.
Default setting: Torque to the rear axle only
Differential to split the torque evenly between front and rear axle**
Standard fuel NATO F-46 petrol*
Fuel consumption rated 25 L/100 km
Top speed of 66 km/h.
Range unknown (likely +1,000 km)
*Like all M-System engines, it is multifiel and can run on premium, super, kerosene, waste oil, jet fuel, and diesels such as the EN 590 and DIN 51601.
**The Belgian MAN 630 L2AE were fitted with a central differential lock. Bundeswehr ones does not have differential locks.
Chassis Designations:
-630 L2AE: 6 (Payload) t max, limited to 5 t for Bundeswehr (BW) vehicles) 130 hp.
L: (Lastkraftwagen) Lorry, 2: second model series, A: all-wheel drive, E: single tires (without: twin tires or two rear axles)
L1
L1:
Civilian base model, rear-wheel-drive, lorry and tractor.
L1A:
Off-road-model with switchable front-wheel-drive, lorry and tractor.
L2
L2A:
Twin rear tires, base model with additional and switchable front-wheel-drive, lorry and tractor.
L2AE:
Single rear tyres at the rear. Not available as a tractor.
L3
L3:
Civilian base model, rear-wheel-drive, lorry and tractor, long-bonnet, forward control body style.
L3A:
Off-road model with switchable front-wheel drive. Lorry, tractor, long-bonnet, forward control body.
Service
From 1958, around 20,000 vehicles were delivered to the Bundeswehr. Most were divided into variants with flatbeds and tarpaulins and variants with rar cabins. Some were built with special superstructures as:
-Pershing 1A missile TEL
-General purpose articulated lorry
-Large Antenna Command/Communication vehicle
-Map HQ vehicle
-Field kitchen
-Mobile drinking water treatment vehicle
-Mobile radar station
-Mobile tower for field airports etc.
Most of the 1st generation vehicles were retired in the 1980s and 1990s, the bulk of which were was resold to Africa via civilian trading companies, and the remainder ended in private hands in Germany. Collectioners around the word also had some.
Belgian armed forces "land component" was the only army outside the Bundeswehr to acquire the vehicle, later passed on (as those of the Bundeswehr) to the Turkish army.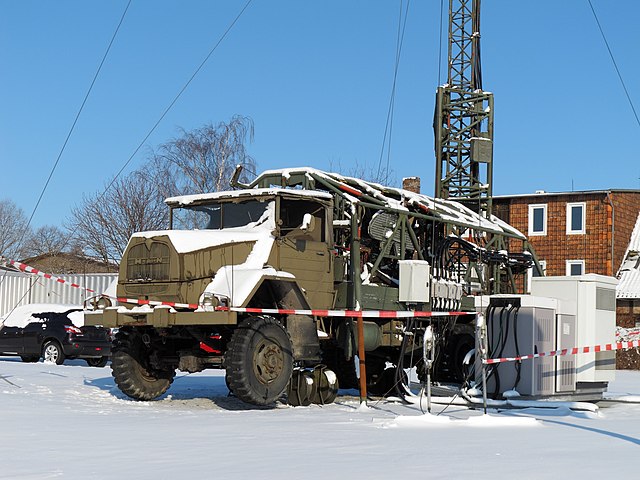 The impressive Mobilfunk Basisstation in Brauschweig
Radar Wagen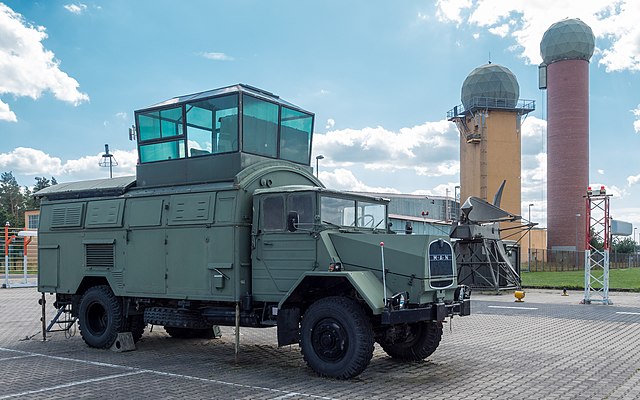 L2A FSA Mobiler Tower, Berlin Gatow
Src/Read More
armedconflicts.com/
panzerbaer.de/
man630.de/
panzerbaer.de/
commons.wikimedia.org/
---
On scalemates
paulmeekins.co.uk
tankograd.com
---
Blume, Peter; Vollert, Jochen (2012). 'Emma': Der MAN 630 L2 A / L2 AE LKW 5 t gl in der Bundeswehr/'Emma': The MAN 630 L2 A / L2 AE 5-ton Truck in Modern German Army Service. Militärfahrzeug Spezial No. 5040
Quarrie, Bruce. Encyclopaedia of the German Army in the 20th Century. Patrick Stephens Limited.
Automobile Engineer, Volume 44, January-December 1954, p. 158
Journal of the Institute of Petroleum, Volume 40, 1954, p. 209
Hans Christoph Graf von Seherr-Thoß (auth.): Zeittafel des MAN-Nutzfahrzeugbaus, in Hellmut Droscha (ed.)
Werner Oswald: Kraftfahrzeuge und Panzer der Reichswehr, Wehrmacht und Bundeswehr, 1st edition, Motorbuch-Verlag
Hans Christoph Graf von Seherr-Thoß (auth.): Physikalisch-chemische Vorgange bei der Verbrennung im Fahrzeug-Dieselmotor mit Direkteinspritzung. Springer
Materialamt des Heeres (ed.): Technische Dienstvorschrift 2320/011-12 für LKW 5t MAN 630 L2A und L2AE, 11/1972
Gallery of models

L2AE basic vehicle in summer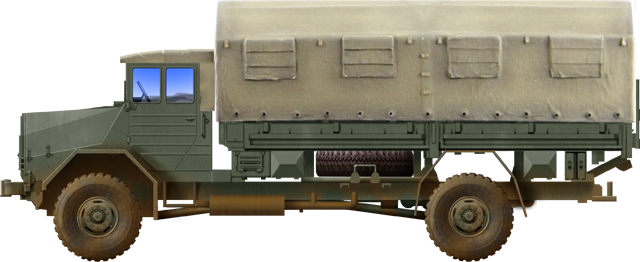 L2AE with tarpaulin

L2A in winter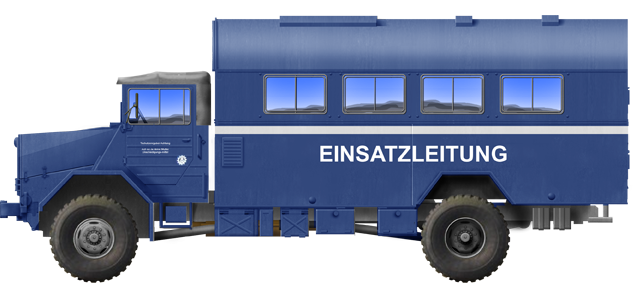 L2A Box body vehicle THW Operational management Branch Nuremberg
---
man-630-l2-ae-5t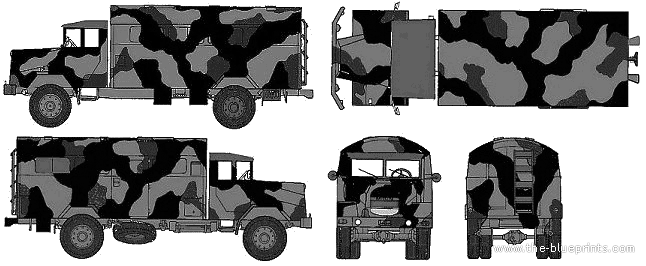 man-630
Photos
BS_Mobile_BTS_2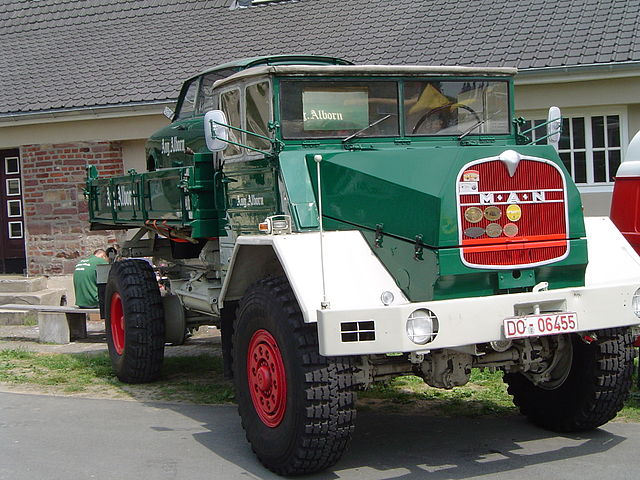 Oldtimertag_Flugplatz_Meschede_Schuren_MAN630L1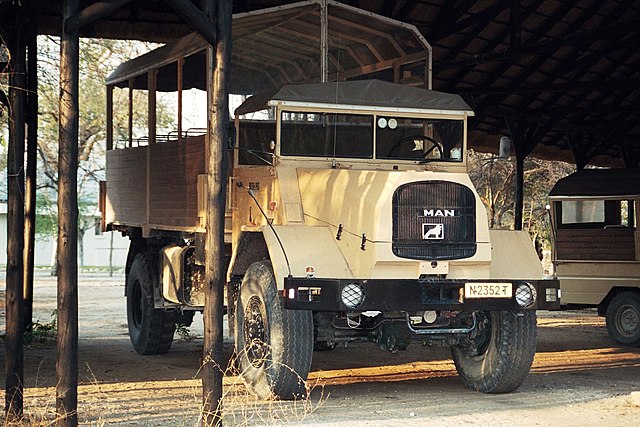 NamibieMan630-safari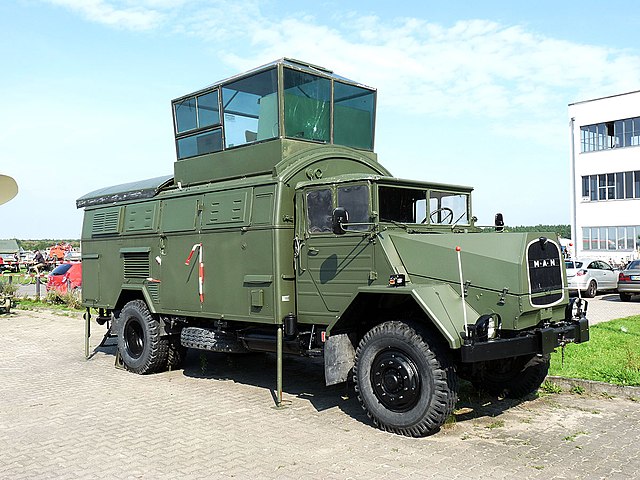 MAN-Tower_Gatow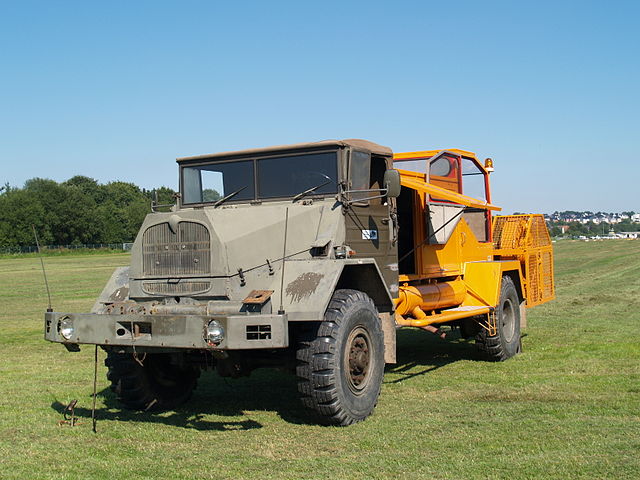 MAN_630_L2AE_glider-launching-winch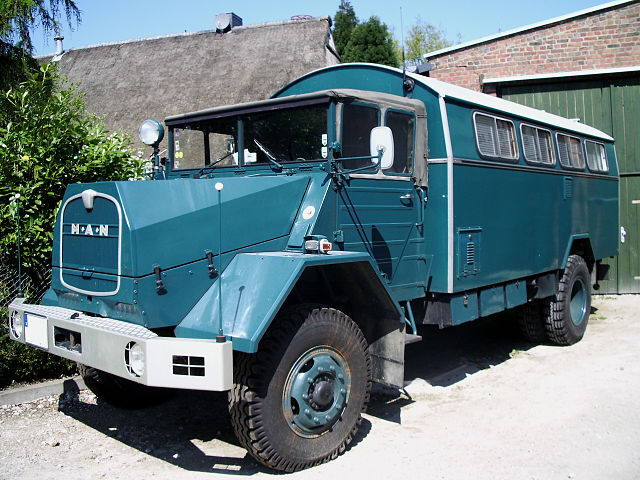 /MAN_630_L2A_Kommandowagen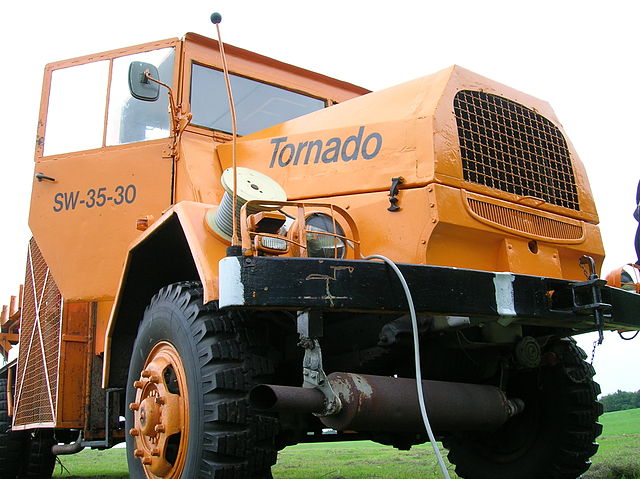 Flugplatz_St_Michaelisdonn_winch_01-L1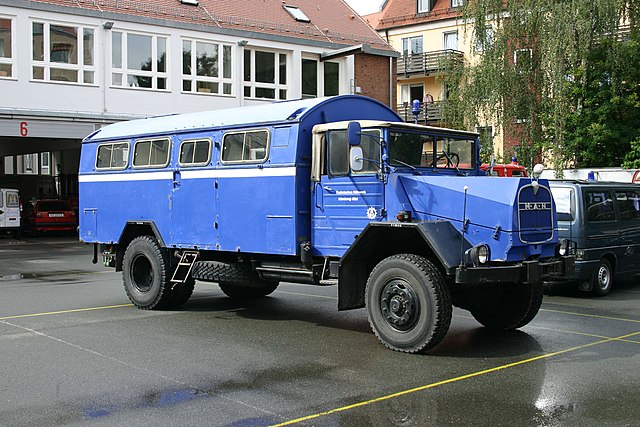 Emma_elw_fnfm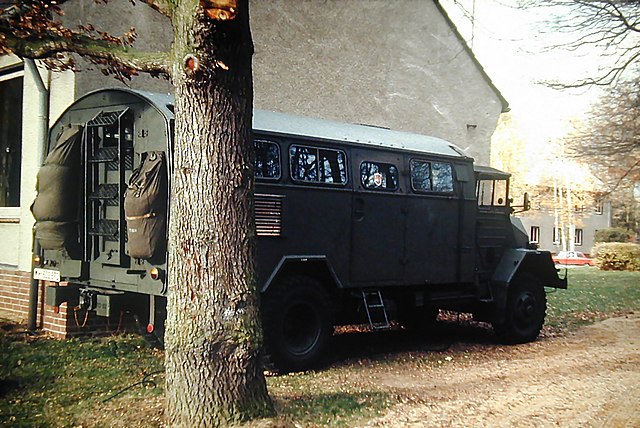 Kaserne_Haus_Hardt_Fernmeldefahrzeug_Kompanie_6-11_ca_1986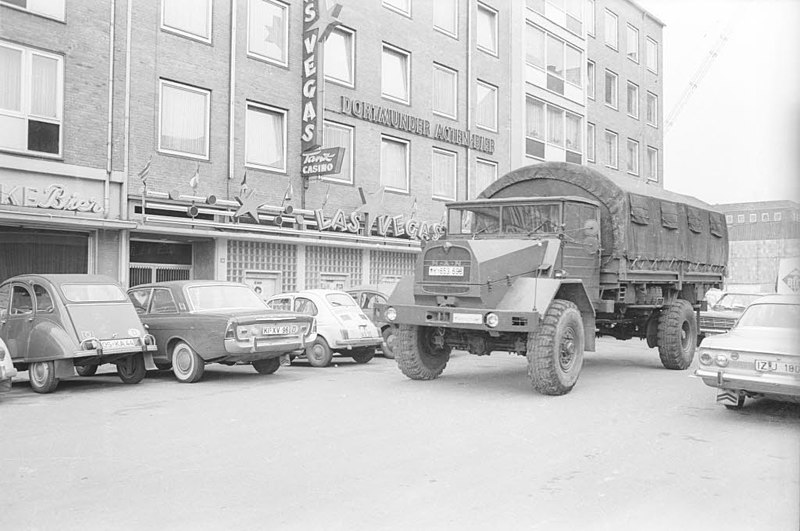 MAN630_der_Bundeswehr_front_Las Vegas_dance_hall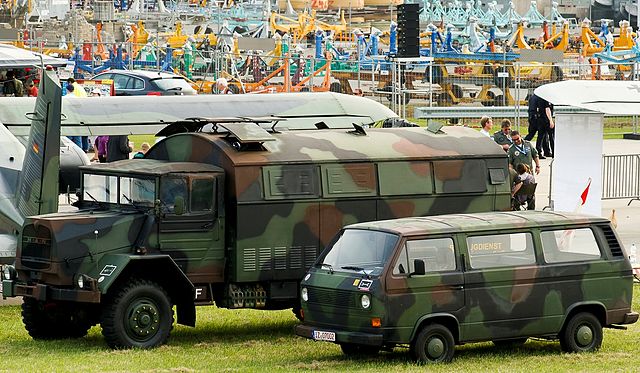 Ex-Bundeswehr_vehicles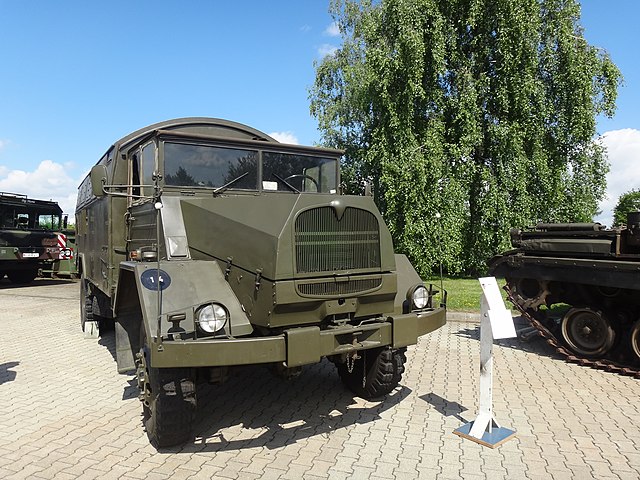 MAN_5to_InstKo_2012-06-23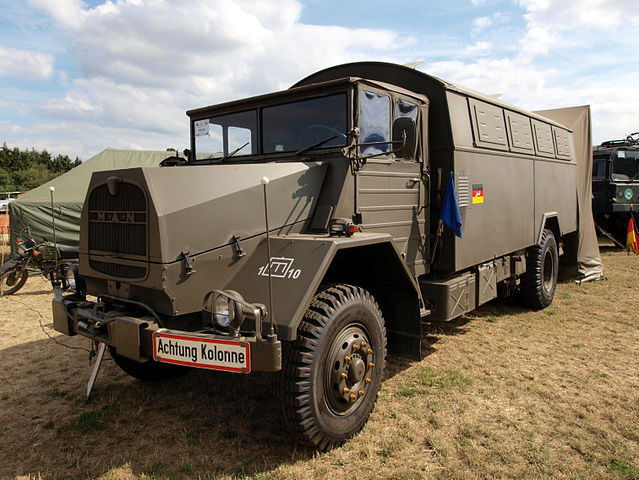 MAN_630_BW_pic1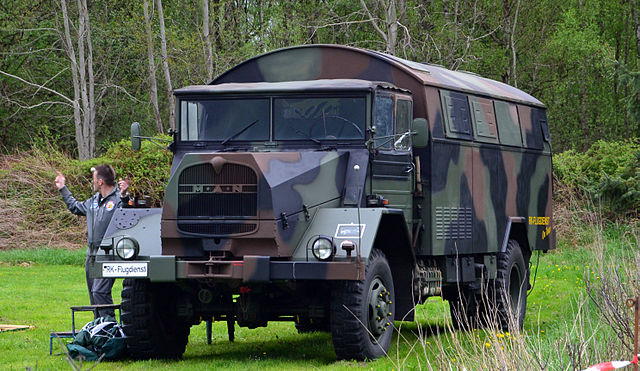 MAN_630_BW_RK-Flugdienst
---
Axis Trucks

Purchase this pagemarker and support the site !
Sd.Kfz 2, 6, 7, 8, 9, 10 and 11 were half-tracks designed just before the war as prime movers, to carry supplies, ammunition, personal, and tow artillery. Many were also converted during the war as armored versions carrying AA FLAK guns (Flakvierling, 37 mm, or the legendary 88 mm Rheinmetall als used as tank hunters), or were converted as nebelwerfer (rocket launching armored vehicles). They were built by Hanomag, Steyr, Mercedes-Benz, Bussing and many other manufacturers until 1945, over 20,000 half-tracks.
---
Cold War & Modern Vehicles
Modern Trucks