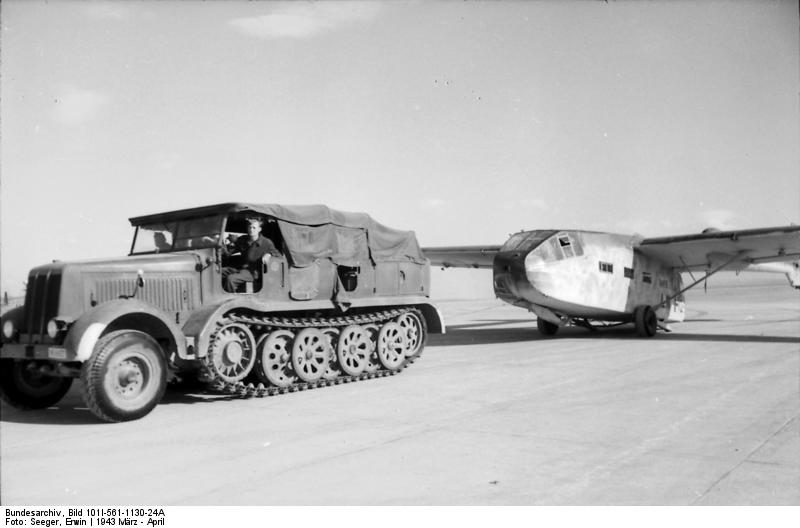 Sdkfz 8 towing a Gotha Go 242
Design development
Well before a request came from the transportation bureau in 1932, already Dipl.Ing. Ernst Kniepkamp of the Military Automotive Department (Wa Prüf 6) started studies of a family of such vehicles, inspired by French and Russian examples. After the Nazis came to power in 1933, they decided to vote the construction of protoypes, which were turned to companies across Germany, quickstarting the true development and testing phase of several models. Daimler-Benz already started work on tits own half-track in 1931—32. It was called ZD.5. and weighed 9.3 tonnes, propelled by a Maybach twelve-cylinder capable of 150 horsepower (150 PS). This was the latest, powerful DSO 8 gasoline engine of the firm. Its upper body had three bench seats and the suspension called for the WW1 era Marienwagen II (so no interleaved roadwheels or torsion bars).
Daimler-Benz later was asked by Wa Prüf 6 to combined the best features of the DB s7 prototype of 1934 with its ZD.5. The engine was from the ZD.5, two bench seats but a new upper body and wheeltrain as the S7. The technical solutions which resulted of this marriage funded the Sd.Kfz. 8 basic design, weighing 14.4 tonnes and now able of towing 12 tonnes. In 1936 it was further developed as an improved model called the DB s8. It now weighted 15 tonnes. The following DB 9 model came in 1938 with a mire powerful Maybach HL85 TUKRM engine, a 0.8 tons payload (1,800 lb), same towing capacity and weight. Daimler-Benz tried to place their diesel OM 48/1 but it was rejected by the Waffenamt (Army Weapons Office). The final DB 10 was a second production version introduced in October 1939, which became the focus of wartime production until 1945.

Sd.Kfz.8 DB10 in Italy, summer 1944 (gothic line) towing a 21 cm Mörser 18.
Design
The Sd.Kfz. 8 used a ladder frame chassis, and was powered by a Maybach 12-cylinder HL 85 TUKRM gasoline which was water-cooled at 8.52 litre (520 cu in). It developed 185 horsepower (188 PS) and was coupled with a semi-automatic ZF transmission, with four forward and one reverse gears. The driver selected his gear, initiating it by depressing the clutch. Both tracks and wheels were used for steering and its system allowed shallow turns using only the wheels. Like in a tank however, brakes could be applied to the tracks, accompanying the wheels when turned. The drive sprocket had rollers rather than the teeth, but that was often the case on German half tracks. The rear suspension comprised six double roadwheels, overlapping and interleaved (Schachtellaufwerk), also usual, but mounted on swing arms, sprung by torsion bars instead, robably because of the heavy duty nature of the vehicle. It also had an idler wheel at the rear, used as track tensioner. The front wheels on their side, were given classic leaf springs but completed by shock absorbers.
The upper body comprised three bench seats. The forward one hosted the driver and his assistant and another free guest, two others for the crew of six, generally a gun battery, so 11 personal (a squad) plus the driver and assistant. The rear cargo area also contained storage compartments. They were placed in the separator benches with traps on both sides, and there were two more in the rear of the chassis. The windshield as customary was foldable, to enchance visibility and a large canvas mounted above the rear storage compartment, fastened to the windshield top when erected. This compartment was roomy enough to store an utility payload above, including the folded tarpaulin. When used as artillery towing vehicle, rounds were stored in the aft compartment below, with one large two-flap access trap on either side and two single flap at the back so that they could be easily accessed at all time.
The Sd.Kfz. 8 was given a base towing capacity of 12 tonnes but the wartime production DB 10 version was able to tow up to 14 tonnes, making it able of towing large planes like bombers and gliders. The vehicle also came with two fuel tanks, one of 40 litres (11 US gal) and the other of 210 litres (55 US gal) so 250 l (55 imp gal; 66 US gal) in total for an operational range of 250 km (160 mi) on road and 125 km (78 mi) cross-country. This was a large and relatively slow vehicle, but suited to its role as heavy artillery towing vehicle.
Variants
Ten 8.8 cm Flak 18 ausf Sd.Kfz 8 or "8.8 cm Flak 18 (Sfl.) auf Zugkraftwagen 12t (Sd.Kfz. 8)" were produced. The guns were mounted on pedestals, based on older chassis, of the DB s8 and DB 9, in 1939. It was more familiar under the name "Bunkerflak" or "Bufla" an early tank hunter deployed with a gun shield. The gun crew however had little protection. The driver's cab was replaced by a lower armored cupola and the engine compartment was protected by a 14.5 millimetres (0.57 in) frontal armor. At 20 tonnes and 7.35 metres long, it was impressive, nothwistanding the gun carried. Although it could fire ahead in general, traverse was limited to 151° on either side, to avoid the blast creating a cab concussion. Elevation was about -3° +15°. They went to the first company, Panzerjäger-Abteilung 8 taking part in the Invasion of Poland in 1939, France in 1940 and survived long enough for Operation Barbarossa in 1941. The Panzerjäger-Kompanie 601 in January 1942, third company, Panzerjäger-Bat. 559 in April it only had three vehicles left, lost for good in March 1943.
HK 1601
A completely revised version hich was an experimental attempt to create the "universal" towing half track, combining the SdKfz 8 and SdKfz 9, of 18 tonnes. It never came to fruition and was abandoned.
Schwerer Zugkraftwagen 12 to Daimler-Benz DB 10, gepanzert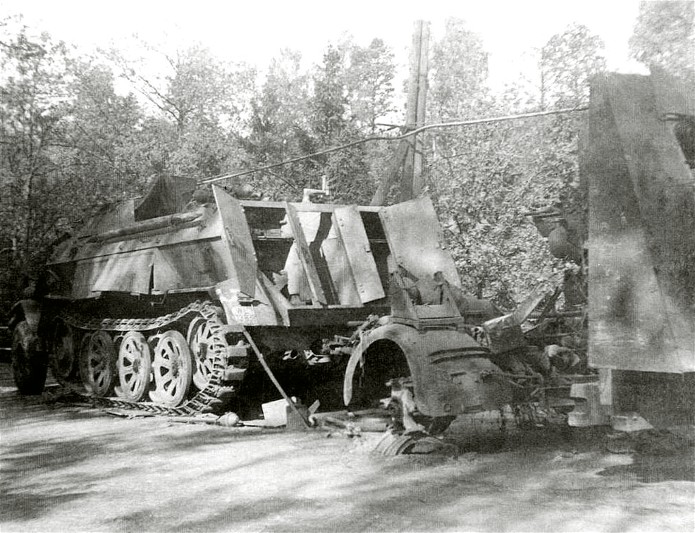 One of these vehicles (possible abbrviation "SZwgn-12 DB10 Gpzt") in position with its 88 mm trailer seen behind. SRC
A rare armoured version of the Sd.Kfz 8, it was a fully armored artillery tractor. Its production is unknown, with estimated ranging from between 20 to 30 units. Compared to the Sd.Kfz 251 it was gargantuan, dwarfing it. It was an armored towing vehicle for the 88 mm FLAK trailer. The idea was to integrate "flying" artillery units that could be deployed fast on the battlefield, and protecting the crews underway. Only one survived, now in Poland at the Tomaszow Mazowiecki Museum. It will be the object of a dedicated article on tank encyclopedia.
Production and use
Daimler-Benz and Krupp, Krauss-Maffei and Škoda manufactured the type, the first two in much larger quantities, at an estimated unit price at the time of 46000 Reichmark. Krauss-Maffei produced 315 vehicles in 1940—41, Škoda abut that niumber in 1944-45. 1615 were available on 20 December 1942, 507 more delivered in 1943, 602 in 1944 and about 4000 in total. The Sd.Kfz. 8 was also operated by Romanian during the war and by Czechoslovakia after the war. The Sd.Kfz. 8 was almost always used as a tractor for heavy artillery pieces and apart the "Bufla" it was too useful to be declined into mutiple variants. In 1942, four Sd.Kfz. 8 were connected together as a giant trailer for the 30.5 cm gun barrel (Batterie Mirus).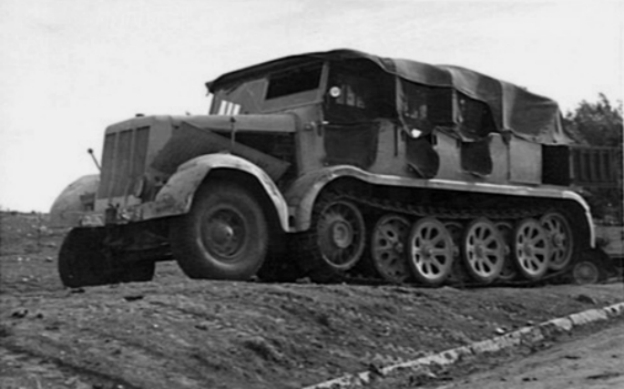 SdKfz 8 in Libya, 1941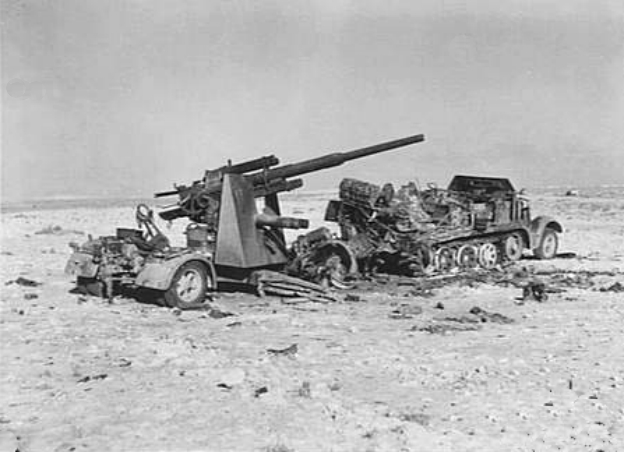 Burnt out Sd.Kfz.8 and 88 mm off El Alamein, 1942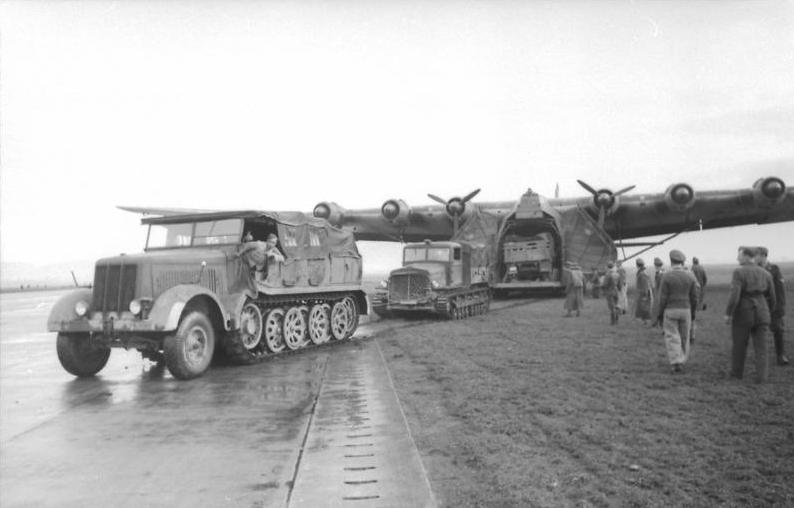 Bundesarchiv - SdKfz8 towing a tractor out of a Me 323 Gigant in Tunisia, early 1943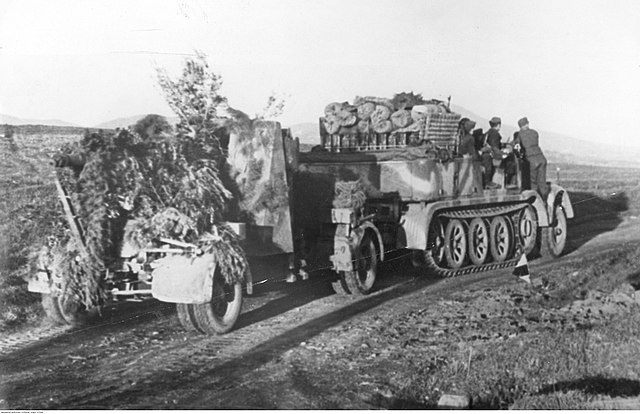 SdKfz.8 towing a 88 mm FLAK on trailer in the Balkans February 1944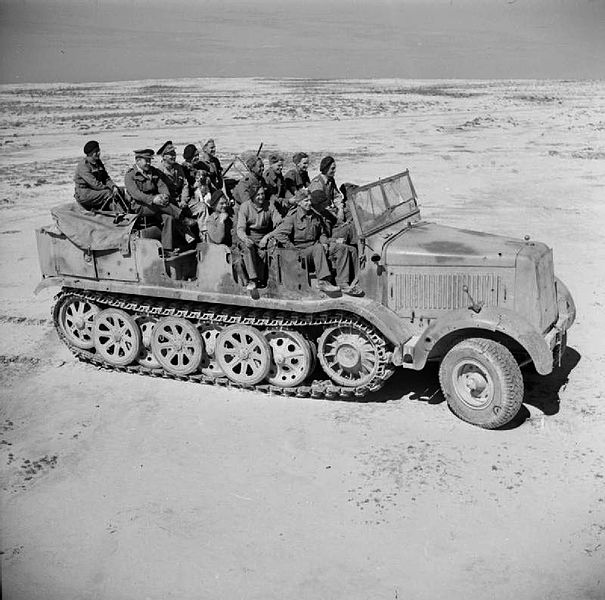 Captured Sdkfz 8 by British troops in Africa being tested, 1943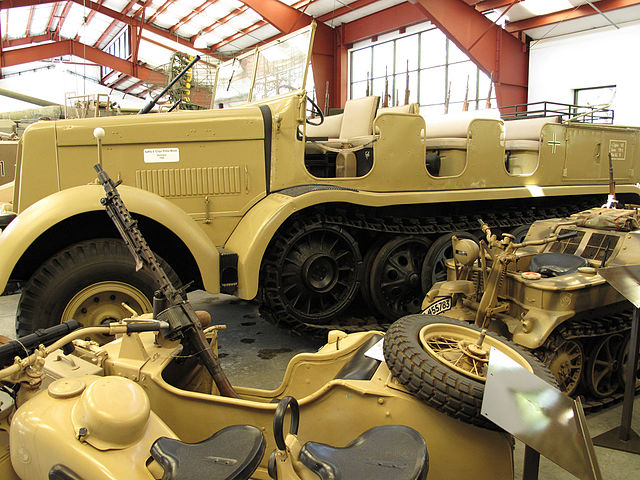 preserved Sd.Kfz.8 in Kubinka Museum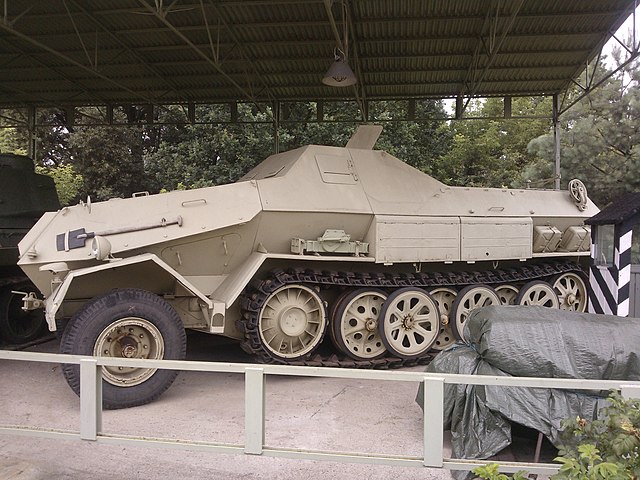 Preserved Sd.Kfz.8 Gepanzert in Czechoslovakia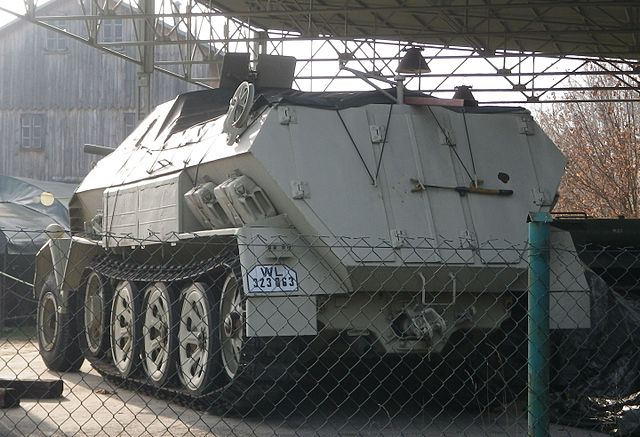 Same, rear view
Links about the Sd.Kfz.8
The Flak 18 auf Sd.Kfz.8 on Wikipedia
The Sd.Kfz.8 on wikipedia.com
On panzerserra
Commons
ww2 photos gallery
On forosegundaguerra.com
On asphm
The Sd.Kfz.8 on perth mil. modelling
The Sd.Kfz.8 at militracks (video)
D.B. Sd.Kfz.8 specifications

Dimensions
7.35 m (24 ft 1 in) x 2.5 m (8 ft 2 in) x 2.77 m (9 ft 1 in)
Total weight, battle ready
14,700 kg (32,400 lb)
Crew
2 (driver, co-driver) + 11 troops
Propulsion
Maybach HL85 TUKRM 8.5L 12-cyl. water-cooled petrol 185 hp
Top speed
51/21 km/h (32/13 mph) road/off-road
Payload
2,550 kg (5,620 lb)
Transmission & suspension
4 + 1 speed ZF - torsion bar
Maximum range (on/off road)
250/125 km (160/78 mi)
Armament
None, but the 8.8 cm FLAK variant
Armor
6 to 8 mm (0.2-0.3 in)
Production
Daimler-Benz, Krupp, Krauss-Maffei, Škoda 1937–1944 - 46000 Reichmark
Gallery

Sd.Kfz.8 DB8, standard dunkelgrau, Poland 1939

Sd.Kfz.8 DB9, standard dunkelgrau, France 1940

Sd.Kfz.8 DB9 in north Africa, 1941
Sd.Kfz.8 DB9 Operation Barabarossa 1941

Sd.Kfz.8 DB9, eastern front, Spring 1942

Sd.Kfz.8 DB9 in the eastern front, 1942

Sd.Kfz.8 DB9, Kharkov, winter 1942-43

Sd.Kfz.8 DB9, Russia 1943

Sd.Kfz.8 DB9 in Russia, 1941

Sd.Kfz.8 DB9, Russia 1943

Sd.Kfz.8 DB9 in Normandy, summer 1944

Sd.Kfz.8 DB10 Afrika Korps, Tunisia spring 1943

Sd.Kfz.8 DB10 in Italy, 1944

Sd.Kfz.8 DB10 eastern front 1944/45. The vehicle was armored by a front plate and another on the windshield with side flaps. It was towing a 88 mm FLAK trailer.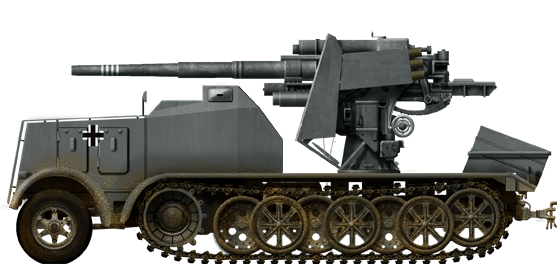 8.8cm Flak 18(Sf.) auf Schwere Zugkraftwagen 12t (Sd.Kfz.8). Only ten were so converted.
---
Axis Trucks

Purchase this pagemarker and support the site !
Sd.Kfz 2, 6, 7, 8, 9, 10 and 11 were half-tracks designed just before the war as prime movers, to carry supplies, ammunition, personal, and tow artillery. Many were also converted during the war as armored versions carrying AA FLAK guns (Flakvierling, 37 mm, or the legendary 88 mm Rheinmetall als used as tank hunters), or were converted as nebelwerfer (rocket launching armored vehicles). They were built by Hanomag, Steyr, Mercedes-Benz, Bussing and many other manufacturers until 1945, over 20,000 half-tracks.
---
Cold War & Modern Vehicles
Modern Trucks