A simplified GAZ AA ?
The GAZ-MM is a medium-duty truck produced at the Gorki Auto Plant from 1938 to 1948 and Ulyanovsky Auto Plant until 1956, making it one of the oldest design still manufactured in the 1950s. Indeed, the base vehicle was a modernized variant of the GAZ-AA truck itself based on the 1929 Ford AA which licence was purchased. The main differences, other that simplifications in design, was the used of the GAZ-M1 engine, bringing output to 50 hp while the cost and construction time was halved. In all 150,000 were estimated built. It went on the tire tracks of the one million GAZ-AA of the Soviet Army and was still around in the 1960s in some areas of the Soviet Union, often relegated to civilian service, only seeing a short cold war service as many new modern models came about also in the 1950s.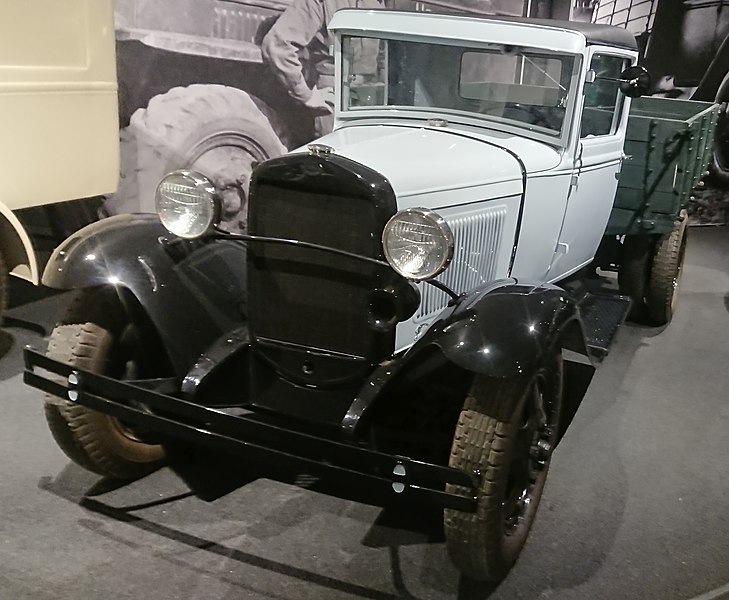 GAZ-AA in a museum, in civilian colors
Genesis
The
GAZ AA
was a copy of the
Ford AA (1929)
which was licenced despite some oppostion in the US. Ten Ford Model AA and later BB trucks were already assembled in 1930 at the NAZ plant (Nijni Novgorod Automobilni Zavod). Soviet engineers soon derived their own "translated" mechanical blueprints for mass production. There were a few changes like a thicker steel and upgraded suspension system. What became the "Gorki Automobilni Zavod" (after Maxim Gorki) produced the GAZ-AA from 1932, with a daily output of 60 trucks, many from knock-down kits sent by Ford, and then completely on site until 1938. In 1941 they made the majority of all trucks deplmoyed by the Red Arm being completely ubiquitous. They were declined into dump trucks, semi-trucks (MS), and fire trucks (PMG-1) as well as tractors.
Design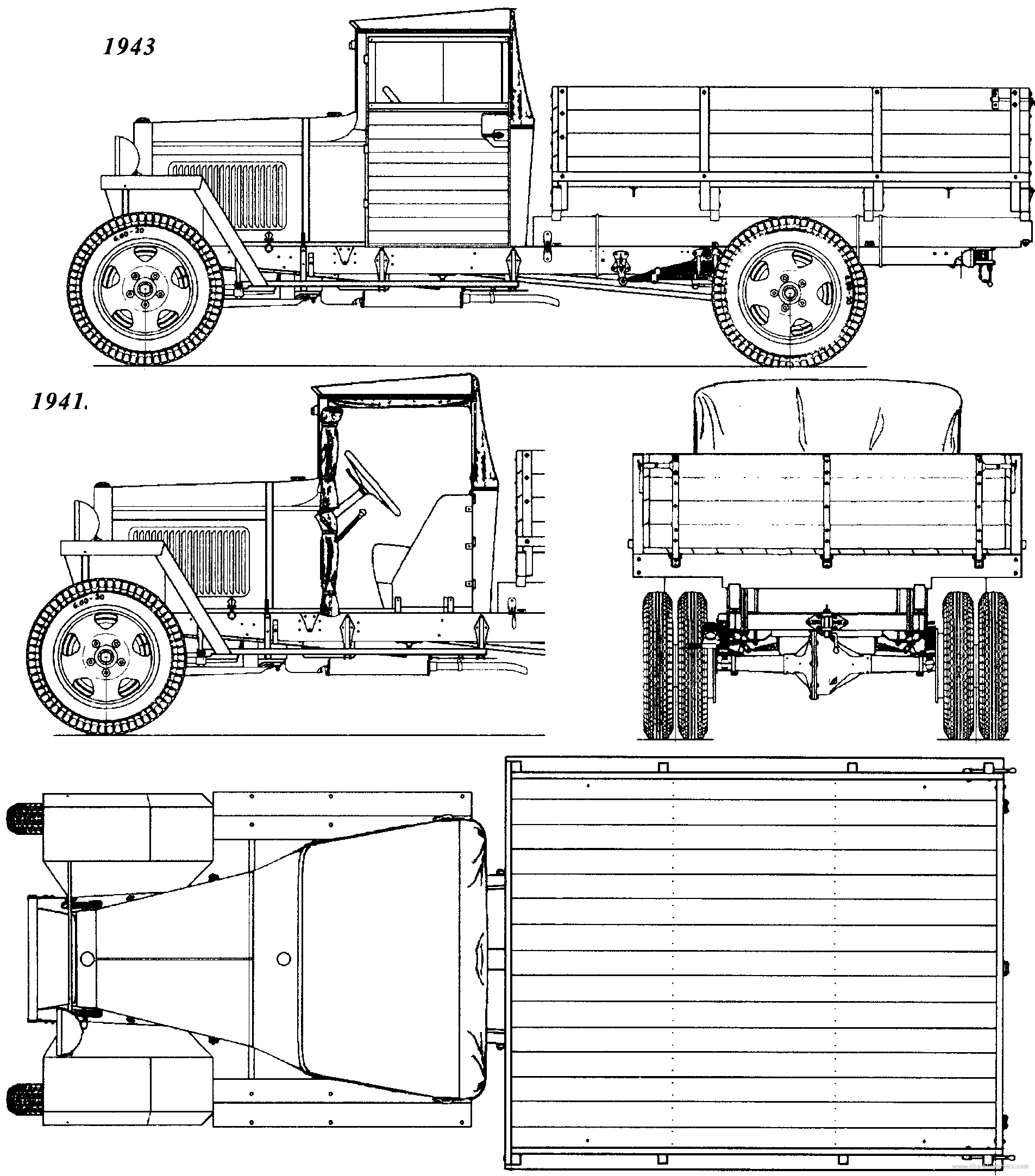 However in 1937 there were concerns that its cost could be lowered and production faster if some simplifications were made to the design. But above all, a better engine was considered, which turned out to by the one of the GAZ M staff car. This was a far more modern 4-cylinder unit delivering 50 hp with more torque and a better planetary management for the gearbox. These modifications were submitted to the GBTU the same year and accepted, with a transition at the GAZ plant allowing thse changes. The GAZ-MM like its predecessor shared a ladder frame type chassis, with proven leaf spring suspension. The cabin was the same as the GAZ-A, adapted for a lorry. This means that early examples had metal doors and roof, which was changed in 1942.
Description:
The GAZ-MM was a standard lorry, medium-duty truck rated with a carrying capacity of 1.5 tons (1500 kg) with a more powerful GAZ-M engine (50 hp), reinforced suspension, new steering and cardan shaft. External differences in 1940-41 were nil, but the 1942 GAZ-MM-V standard brought simplified, angular wings, no bumper and other missing or modified features. Externally the MM had a wooden-tarpaulin cabin and by 1942 without doors but canvas protection, and the trademark angular wings made by bending low grade, or available iron, still on vehicles manufactured in 1946-1949.
Interior, note the very spartan dashboard, with three dials.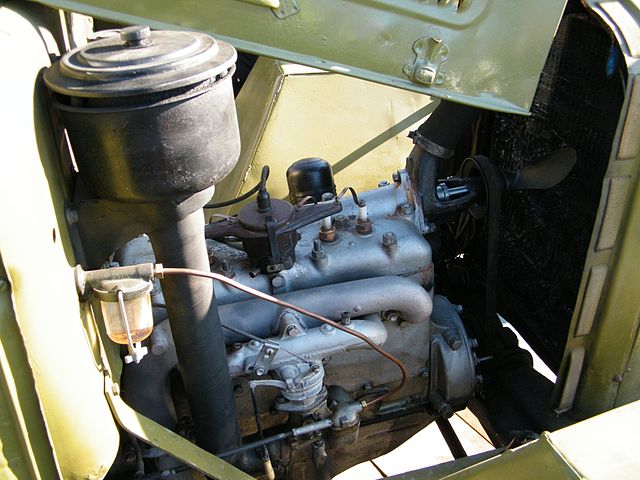 Engine block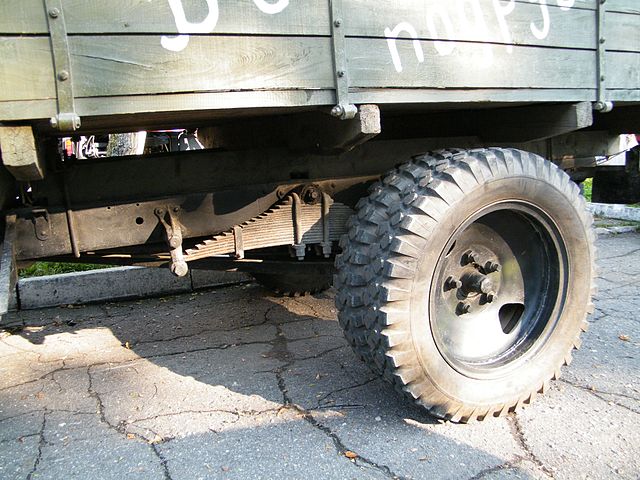 Rear suspensions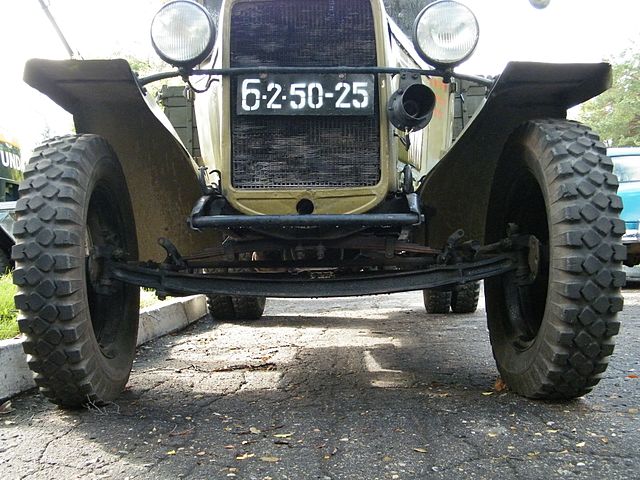 Forward suspensions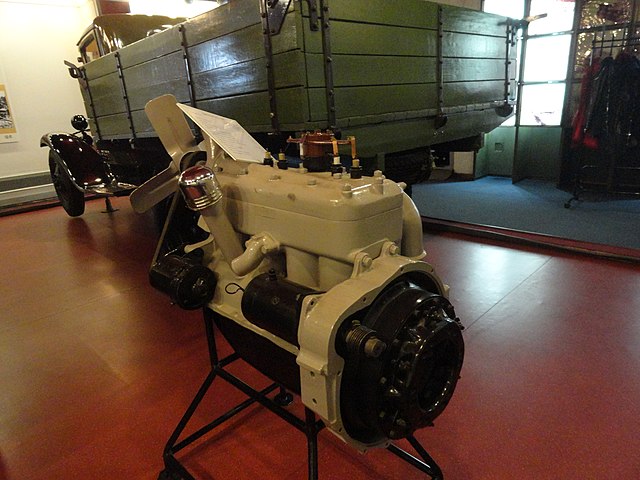 Engine in exhibition
Length: 5.2 m;
Width: 2 m;
Height: 1.9 m;
Ground clearance: 20 cm;
Wheelbase: 3.3 m;
Configuration: 2x4 chassis (Twin roadwheels rear axle);
Weight: 1.75 tons;
GAZ M engine power: 50 hp;
Top speed 70 km/h.
The list of further porposed modifications included:
-The replacement of metal doors for framed wooden ones.
-The replacement of the metal roof for a framed canvas one
-The replacement of classic fenders by simpler angled ones
-Simpler tailgate lights
-Single forward light
Most were ported in production creating the sub-variant GAZ MM V from 1942.
The engine was improved by Soviet engineers to see an increase from 40 to 50 horsepower, using however the same standard AI-52 gasoline. The combustion tolerances were such however that it was not rare that drivers refueled the trucks with kerosene. Lubricants from the Autoly and nigrol brands common in industry were used and the manual gearbox still had four speed, three forward, one reverse.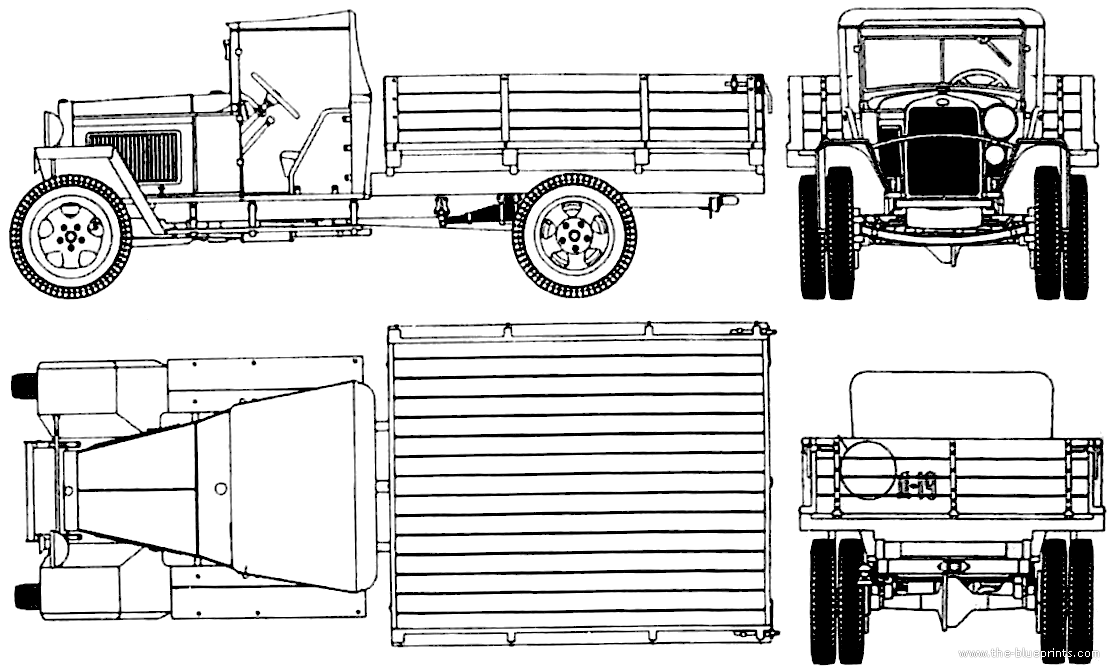 The rear suspension and transmission arrangement comprised a pipe acteing as a longitudinal thrust tree, with an enclosed cardan shaft, made stronger due to the better output on the GAZ MM. Its main disadvantage was the constant contact of the beam with its bronze bushing, loosing over time its quality, and failing. The front suspension was also imporved with a new jet thrust mount enabled by better working resource. But in any case, these trucks were "abused" with constant overload leading to serial breakdowns.
Production
The GAZ MM was produced for a long time, and in different years, more manufacturers from all over the country were involved in the final assembly at the Gorky plant. The latter produced MM from 1937 to 1948. In the 47th year of the last century, production capacity was transferred to UAZ (until 1956). For the first two years, 1938-39, it was not possible to fully launch the production for an improved truck due to the shortage of the required power units, which went in priority to the AAA and BA-10 models. Mass production only really started in 1940, but lasted until 1956.
In 1942 a further simplified variant of the truck appeared, called the GAZ-MM-V, and again, productionw as initially slow due to material shortages while the GAZ-MM continued. After WW2 ended, production of the GAZ-MM fully restarted but no longer at Gorki plant which now focused on the more modern GAZ-51 based on the Studebaker US6. It was transferred instead to the Ulyanovsky Auto Plant, and lasted until 1956.
By then, having a truck of such old design (the twenties !) was rather odd, but it was not frontline, only given to suppletive units and in garrisons and military specialized services far remote of the west, notably in Siberia and the far east. Some historians believed that at Ulyanovsk production was not restarted, but battered GAZ-MM and AA possibly, were instead carefully repaired, refusbished, with brand new parts, delivering brand new vehicles in appearance only.
Overall, to the 985,000 GAZ-AA manufacted since 1932 were added the GAZ-MM and derivatives with records of 138,600 delivered in 1941-1945. But there are recored of 200,000, which can only be explained by a remaining production until 1950 (or 1956 -if that was not a simple refusbishment).
About the GAZ-MM V
During the "Great Patriotic War" the lack of resources urged engineers to create an even simpler version received the MM-V index. This led to create several modifications: The wooden cabin received a roof tarpaulin without framing, and in 1942, doors were eliminated outright, replaced by canvas for weather protection. Angled wings were now switched to lower quality, even "pig iron", far simpler to bend in shape, but also lesss urable and subject to rapid corrosion.
Variants
GAZ-MM: basic truck, 50 hp engine. produced 1938-1941 by GAZ
GAZ-MM-V (GAZ-MM-13): simplified with the wooden/canvas or canvas flaps (1943) and wooden cladding/doors (1944). Low-grade iron fenders. No silencer, bumpers, front brakes, only headlight and wiper on the driver's side, only rear folding side. Produced until 1947 at GAZ, and in 1947-1950 at the (UAZ). According to some [what?] data, the release of a lorry continued until 1956 [source not specified 143 days]
UAZ MM: Same produced by Ulyanovsk Automobile Plant in 1947-1950, and up to 1956
GAZ-410: dump truck variant, load capacity 1.2 tons, all-metal self-unloading type body produced 1938-1950
GAZ-42: Gas generator to produced wooden-based type fuel, 35-38 liters. Low power, only 1 ton payload shared with 200 kgs of chocks, production 1938-1949.
GAZ-43: Gas generator version running on coal, with smaller gas generator. Small batches 1938-1941.
GAZ-44: Gas-balloon version running on on liquefied petroleum gas (LPG) with cylinders located under the cargo platform. Small batch in 1939.
GAZ-60: Serial half-track (with rubber-metal caterpillar driven from the standard axle) 1938-1943.
GAZ-65: Caterpillar-wheel drive from rear wheels, prototype 1940, abandoned due to excessive consumption.
GAZ-03-30: 17-seater general purpose bus, wooden frame with metal lining built by Gorky Bus Plant (GZA) 1938-1942 and based on MM-V in 1945-1950.
GAZ-55 (M-55) ambulance: Has extra rear axle shock absorbers, 10 (2 cabin, 8 rear cab including 4 on stretchers). Produced 1938-1950, most common Soviet ambulance in WW2.
4M GAZ-MM AA truck fitted with quadruple 4M Maxim M1910 gun.
72-K GAZ-MM: AA with a 25 mm automatic air defense gun M1940 (72-K)
The GAZ MM in service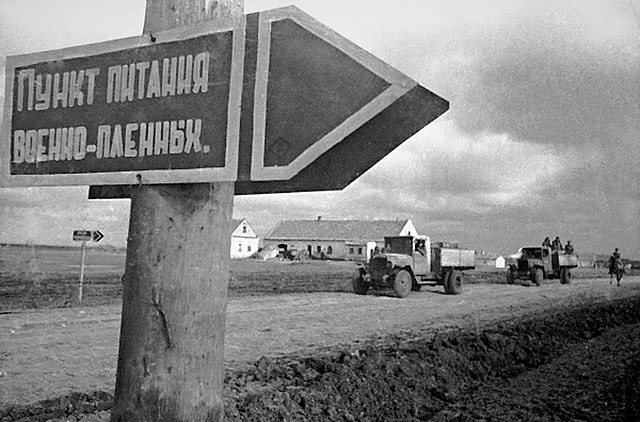 GAZ-ММs in April 1944
As soon as it entered service, the GAZ MM in 1940 was appreciated for its more powerful and modern engine, as well as more rugged tyres. In 1941, the Red Army had 151,100 vehicles GAZ-MM, which many ekements were also shared by the BA-64 armored car produced until the 1950s and widely exported.
It arrived in units present in all eastern frontline duties, for the same missions as the GAZ-AA, supply and troop transport. Some also were produced in specialized variants, like converted AA trucks which came in three "flavors": The M4 with the old style quad liquid-cooled Maxim arrangement, and soon swapping to the DshK heavy machine gun on a bolted tripod on the flatbed, and finally the 20 mm AA gun. In 1942, production swapped on the even more simplified MM V, but production standards degraded as well.
A large number of GAZ-MM were still in service with the Red Army until 1962. The same year, a decree was issued, banning operation of any truck with mechanical brakes. As as a result, the GAZ AA/MM always around were written off. At least from Soviet service, it is known that some (in the same package as GAZ-AA vehicles were sent to China and North Korea) while the bulk ended on the civilian market, now purchased for a few rubles by peasants and small organizations alike, which prolongated their service years by many more years, until the 1980s for some.
In general, the GAZ MM was quite a common sight, with a grand total of circa 200,000 vehicles, making it the go-to Transport truck of the Red Army. It was appreciated for its simplicity of design and easy maintenance, drivers being able to carry out prompt repairs in the field without support. However as the war progress, the quality of these vehicles left much to be desired, making breakdowns more frequent as well, as rapid degradation, notably for the GAZ MM V.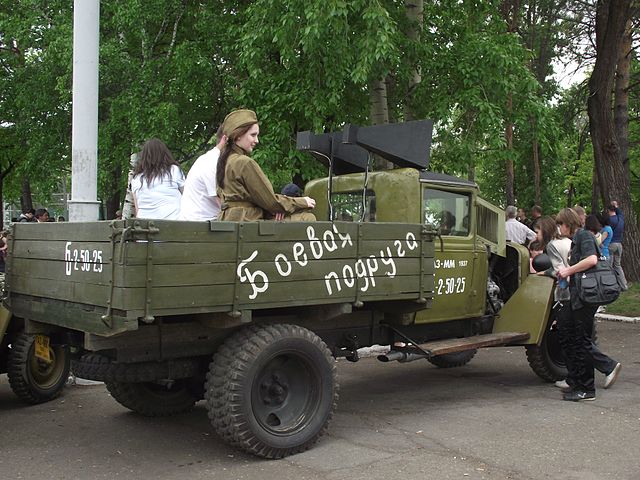 GAZ-ММ propaganda vehicle as of today
As a legacy to the vehicle, in 1984, the GAZ MM was dedicated in a song by Veniamin Basner based on Mikhail Matusovsky poem "Front-line truck", and present in the feature film "Report from the Line of Fire" (directed by Leon Saakov and performed by Eduard Khil). Another GAZ MM is now exhibited at the Museum of Russian Military History in Padikovo (Istra District), Moscow Oblast.
Sources/Read More
Andy Thompson: Trucks of the Soviet Union: The Definitive History. Behemont 2017
militaryarms.ru
denisovets.ru
www.zr.ru
shukach.com
drive2.ru/
en.wikipedia.org
commons.wikimedia.org
ru.wikipedia.org
Standard trucks

Unmarked GAZ MM V in 1941

Open cab MM-V 1943 vehicle, further simplified version

Rare camouflaged MM V at Kursk summer 1943

Winter 1943-44
Muddy serie vehicle in 1944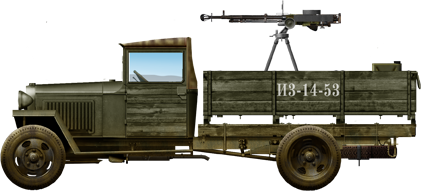 Support AA vehicle with a DsHk heavy machine gun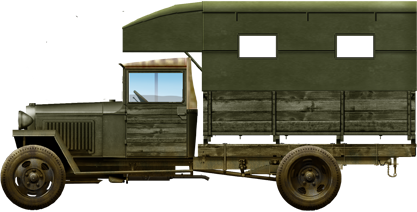 GAZ-MM V Utility Workshop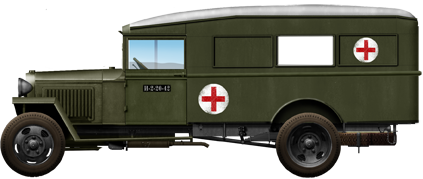 GAZ-55 Ambulance

GAZ-MM dump truck
72-K GAZ-MM AA truck (to come)
Gallery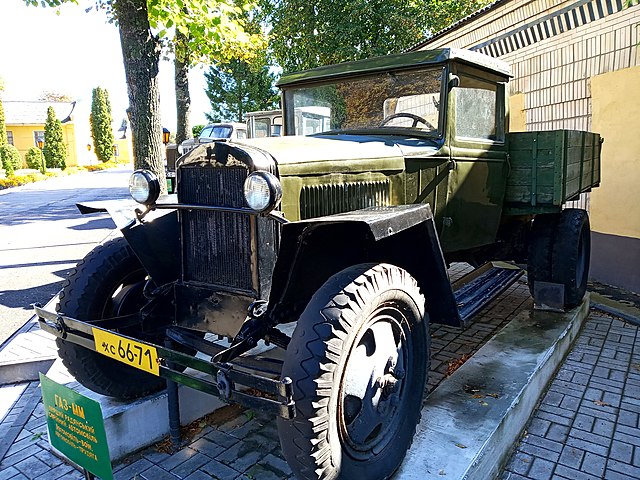 Early GAZ MM with new fenders and metal doors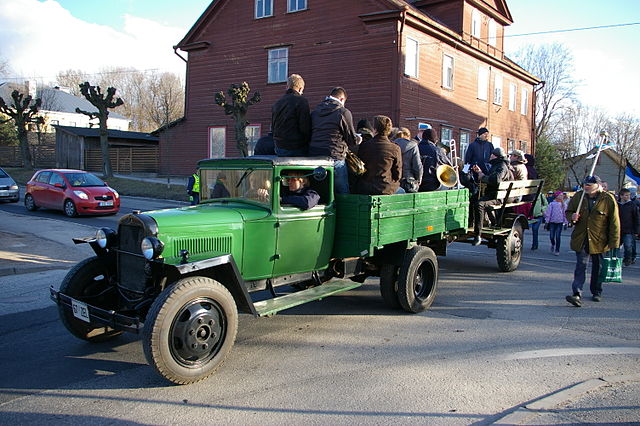 Rasketehnika GAZ MM, parade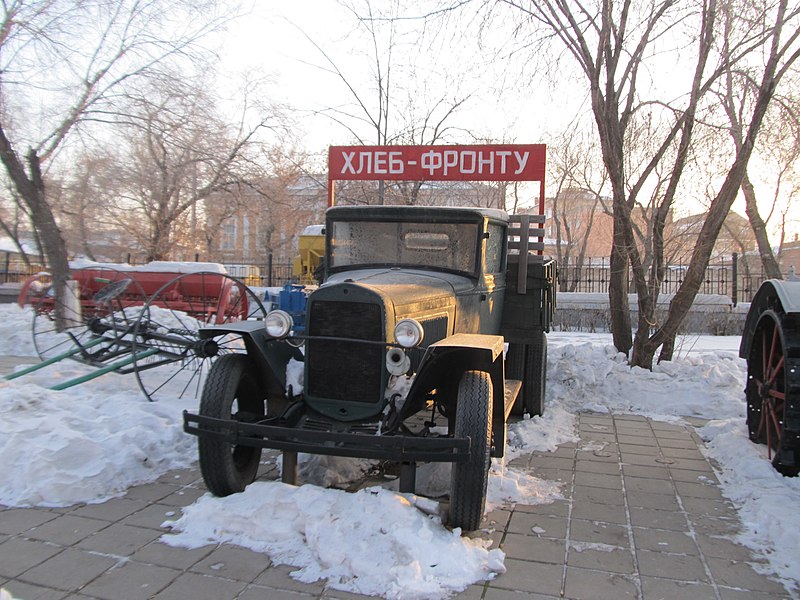 GAZ MM Museum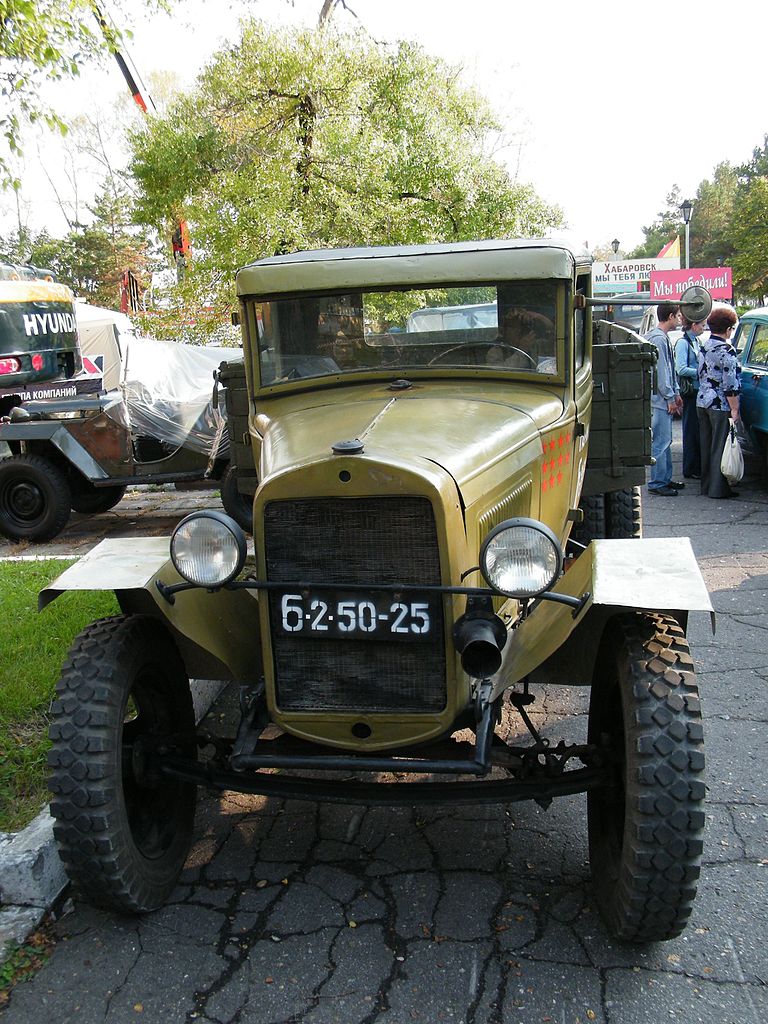 GAZ-ММ exhibit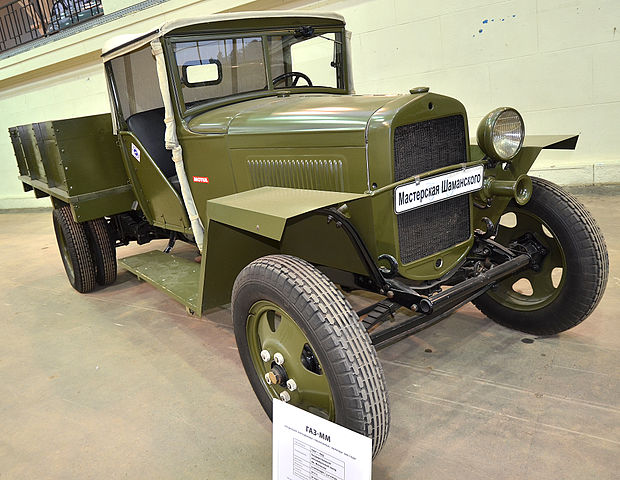 1943 Model (open) with metal side flaps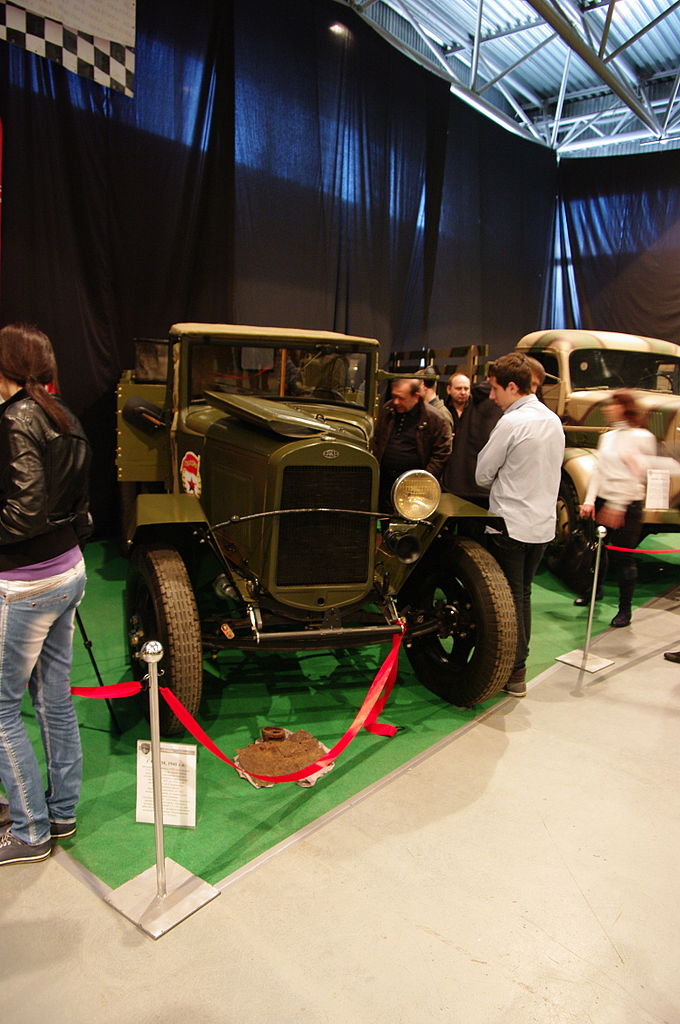 Guards vehicle at Kiev Retro Auto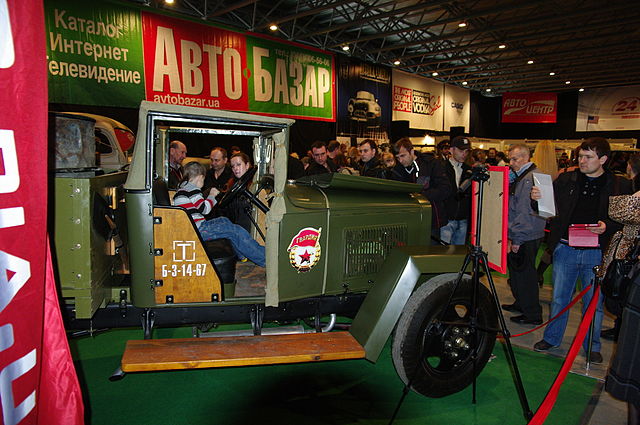 Guards vehicle at Kiev Retro Auto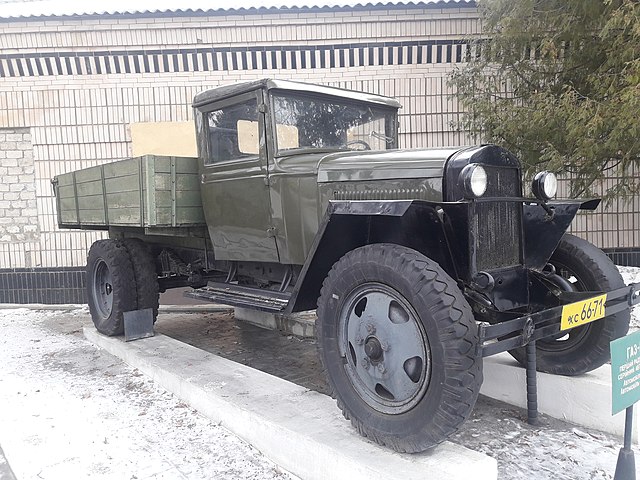 Museum vehicle
GAZ MM at "old timer"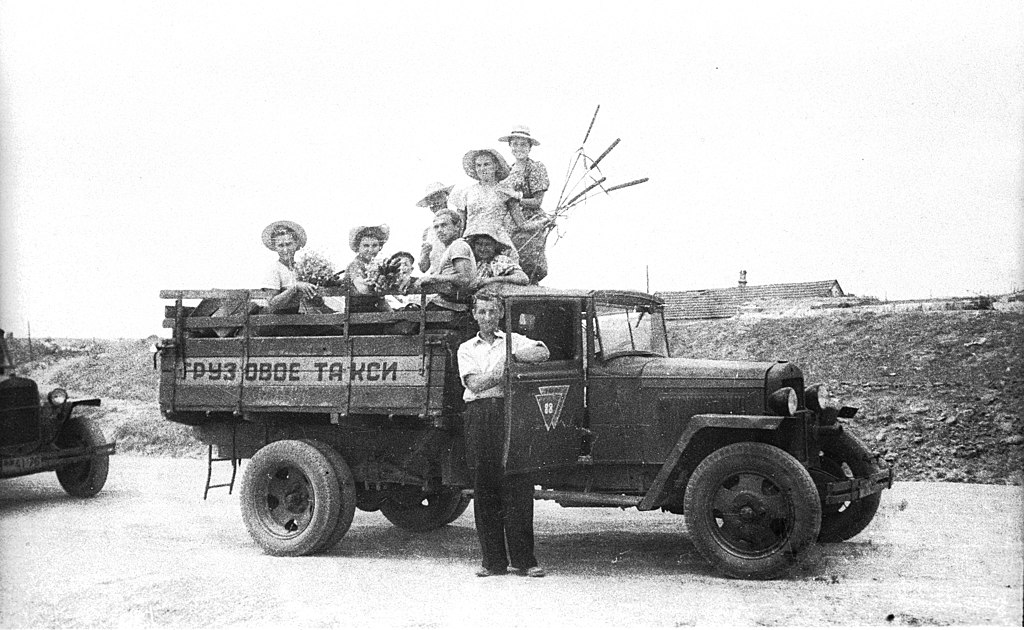 Civilian vehicle postwar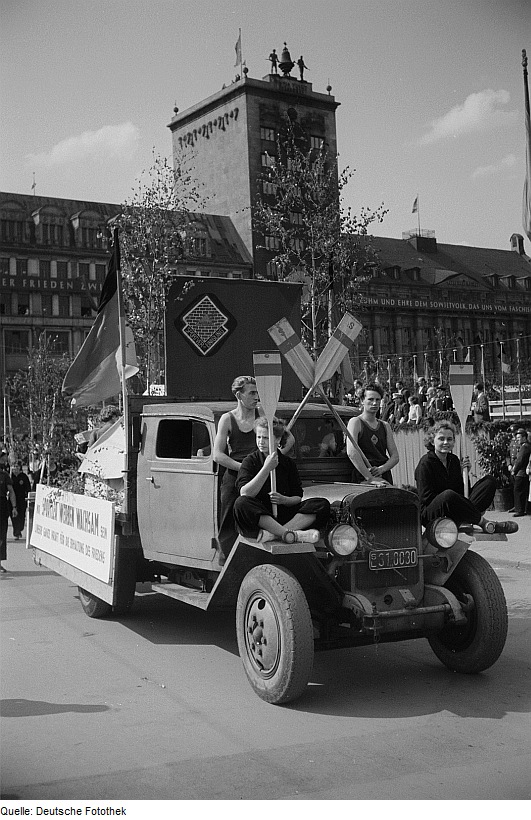 GAZ MM Demonstration Vehicle in Leipzig, 1953
---
Axis Trucks

Purchase this pagemarker and support the site !
Sd.Kfz 2, 6, 7, 8, 9, 10 and 11 were half-tracks designed just before the war as prime movers, to carry supplies, ammunition, personal, and tow artillery. Many were also converted during the war as armored versions carrying AA FLAK guns (Flakvierling, 37 mm, or the legendary 88 mm Rheinmetall als used as tank hunters), or were converted as nebelwerfer (rocket launching armored vehicles). They were built by Hanomag, Steyr, Mercedes-Benz, Bussing and many other manufacturers until 1945, over 20,000 half-tracks.
---
Cold War & Modern Vehicles
Modern Trucks