The Indonesian Spec Ops Vehicle
The P6 ATAV is an Indonesian Light Attack Vehicle manufactured by PT Sentra Surya Ekayaja (SSE Defence). First public appearance dates back from the Indo Defence 2016 exhibition. Now distributed as Rantis (kendaraan taktis — tactical vehicle) by the Indonesian military, it is a light "special operations" quick air-transportable vehicle for the Indonesian special forces.
About PT Sentra Surya Ekayaja (SSE Defence)
Bima M-31 FAV (left) and P6 ATAV (right) side by side
PT. Sentra Surya Ekajaya is an Indonesian company located at Tangerang, Banten Province. It specializes in designing, engineering and manufacturing Special Mission Vehicles, as well as their repowering, customization, armoring and repair. It also proposes a range of integrated protective solutions, modules and options for these vehicles and constantly improves existing systems through its R&D department. It managed a design process tailored to its clients specific needs. Its offer comprises Reconnaissance Squad Vehicle, Special Mission Light Tactical Vehicle, Rocket Launcher & Radar Armoured Vehicle, Armoured V VIP Bus, Armoured Personal Carrier, Armoured Ambulance, Mobile Communication Vehicle, law enforcement applications for Police and Anti Riot operations or other civilian applications as Armored bank funds Transporter and Armored Civil Escape Car for governmental purposes.
The current offers comprises three main vehicles:
P2 APC ARMORED PERSONNEL CARRIER
P2 COMMANDO Vehicle
Air transportable VLRA 4x4-TDN/TDE 4.36 STL Truck
Design
Booklet
P6 ATAV is manufactured by SSE Defence also responsible of the locally assembled or created P2 Pakci, P2 Commando, and P3 Cheetah. The P6 is generally similar to P3, but with a wider and shorter body. It uses the same tubular frame for lightness, "open" body configuration without door but still protective glass, two panels placed forward of the frame, with an opening for the driver. The chassis is constructed from high grade steel material, plus dual aluminium for lightness as originak specs asked for air-transportability by helicopter, so under a certain weight without any load. This chassis was also exported to become the Light Strike Vehicle of Singapore and US General Dynamics Flyer entering a competition for a light tactical vehicles for the SEALS. The vehicle was designed to be embarked in the C-130 Hercules, two in line on the flatbed and the remaining space used to paradrop the extra gear.
General caracteristics
In dimensions, the P6 ATAV is onlt 4.6 m long for 2.3 m wide, and 1.5 m in height. The tubular frame protected the heads of the operators forward and back with a set of interconnected tubes. The forward frame is divided into two by a "V" set of tubes running along the roof and the central section is further strenghtened by a set of double "V-Y" tube arrangement. Additional perforrated panels are welded to the rear tubes to define the rear engine compartment with louvres and cooling grilles, topped by by two detachable open storage bins on either side of it for easier access. In front of the engine compartment is located a double bull bar arrangement protecting the main winch. There is a set of four forward light protected by mesh, including two blackout lights and same aft.
Powerplant & Mobility
For the engine, it uses a 4-cylinder turbo diesel 2,300 cc. rated for 142 HP at 3,400 RPM, maximum torque of 144 PS (142 horsepower) with a rear engine configuration. Just like the Flyer, the engine is located at the rear, with extra storage and spare roadwheel forward. As an offroad vehicle, the P6 uses independent suspension on all four axles and the engine also runs the forward offroad winch. Although unarmoured in its base configuration (V1-V2), the P6 uses "run flat" military grade tire and automatic transmission. There os a full fuel tank of 120 litres to procure a range of 500 km at average speed, but it is capable of achieving 120 km/hour on flat.
Armament
The P6 is a light tactical vehicle, so armed pereffably by small arms, with three mount points. One is located on top of the "H" bars running on the roof, with the user being located behind the driver-co-driver's positions. There are two pintles on either side for light 5.56 mm weapons, manned by the rear passengers. On the central platform is installed a standard NATO 7.62 mm MGs or equivalent. This top mount is generally equipped with a Reutech RCWS 7.62 mm or 12.7 mm gun (like the Browning M2HB) and/or the Metravib PILAR gunshot detection system. The company plans in the future a stronger mount in order to place and anti-tank missile, surface-to-air missile, or minigun.
Protection
The P6 ATAV has light armor protection (aluminium) to ensure lightweight and agility. Only the P6 ATAV V3 is fully armoured as a variant, possessing with STANAG level 1 standard alumnium plating fitted on the openings defined by the tubes either sides. There is the addition of the bullet-proof glass. The protection is only partial, over the sides and front, and not immune against AP rounds from heavy machine guns or heavy shrapnel. There are no smoke dischargers nor NBC protection. The fact only V3 is partially protected means the article is on truck encyclopedia and not on tank-afv.com.
⚙ P6 ATAV specifications

Dimensions
4.6 x 2.3 x 1.5 m ()
Weight
2.5 tons ()
Payload
4-5 passengers, 500 kgs equipments/armament
Engine
4-cyl. turbo diesel 2,300 cc 142 HP/3,400 RPM p/w 56 HP/ton
Performances
120 km/h
Armament
One pintle, two side pintles, optional, see notes
Armor (V3 only)
Aluminium, steel
Tactical Mobility
Fuel 120 litres, 500 km
Status
The vehicle is currebtly used by the Korps Pasukan Khas (Paskhas), special forces of the Indonesian Air Force (TNI-AU) which recently received an undisclosed number of P6 ATAV V3 assault vehicles. The All-Terrain Assault Vehicle (ATAV) series domestically designed and manufactured is in production since 2016.
The partially armoured P6 ATAV V3 (Version 3) started to be delivered to Paskhas, differing by its four-doors closed-cabin STANAG 1 level. The central platform has been strenghtened to accept the Routech Rogue 12.7 mm Remote Controlled Weapon Station (RCWS) coupled with the Metravib PILAR V acoustic gunshot detection system as standard for quick reaction response. Total weight rosed to 2.6 tons and crew capacity from five (V-1, V2)) to four.
Up to 30 P6 ATAV of all versions have been delivered so far to the Indonesian Army Special Forces Command but also the Navy Marine Corps (Kormar) and Paskhas (Air Force). By July 27, 2021, procurement and delivery of the Military Airworthiness Certificate for the P6 ATAV V3 was signed by the Indonesian Ministry of Defense. It was represented by the Head of Puslaik, and MoD Laksma TNI Teguh Sugiono held in the Work Room of the Head of Puslaik Lt. 10 Gd. AH Nasution. The Rantis P6 ATAV V3 is used as fast reaction assault vehicle suitable both for forest and urban combat. Lightness and low low silhouette and a 2+3 seat configuration for the V1-V2 is completed by forward STANAG 4569 Level 1 shot-resistant glass. The vehicle thus is in service from 2021 by the Indonesian Air Force's Korpaskhas Bravo Unit.
The latter's former name was the Fast Action Troop Command (Kopasgat). But the P6 ATAV is also used by elite forces of the Indonesian Navy (SEALS equivalent) in the Jala Mangkara Detachment (Denjaka) and the Indonesian Army Special Forces Command (Kopassus). The vehicle has not being used in any known active operation so far but it's covert operation nature meant it's unlikely to be public anyway.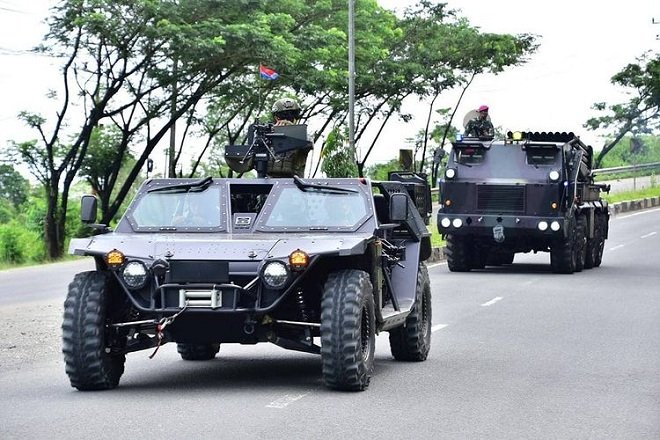 P6 used by the Marines Special Forces in Papua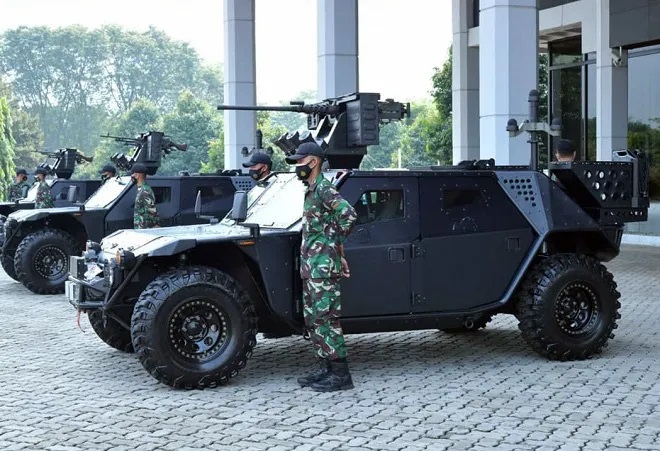 Rantis P5 ATAV V3 in composed doors panels, RCWS and Gunshot Detection System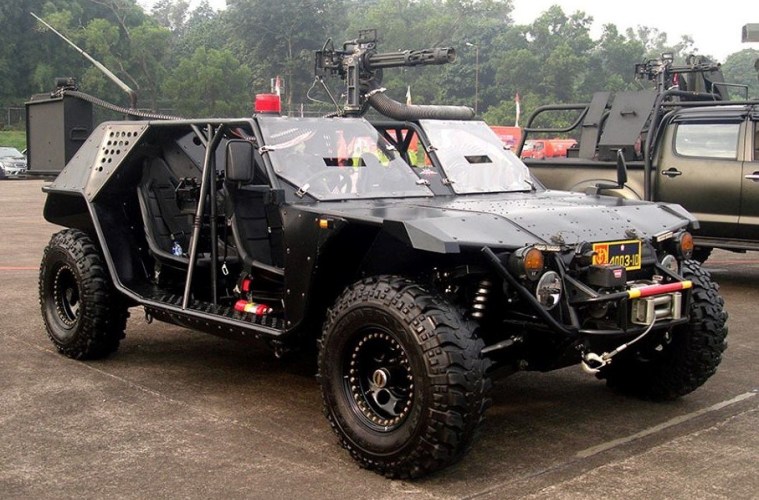 V1 version with Minigun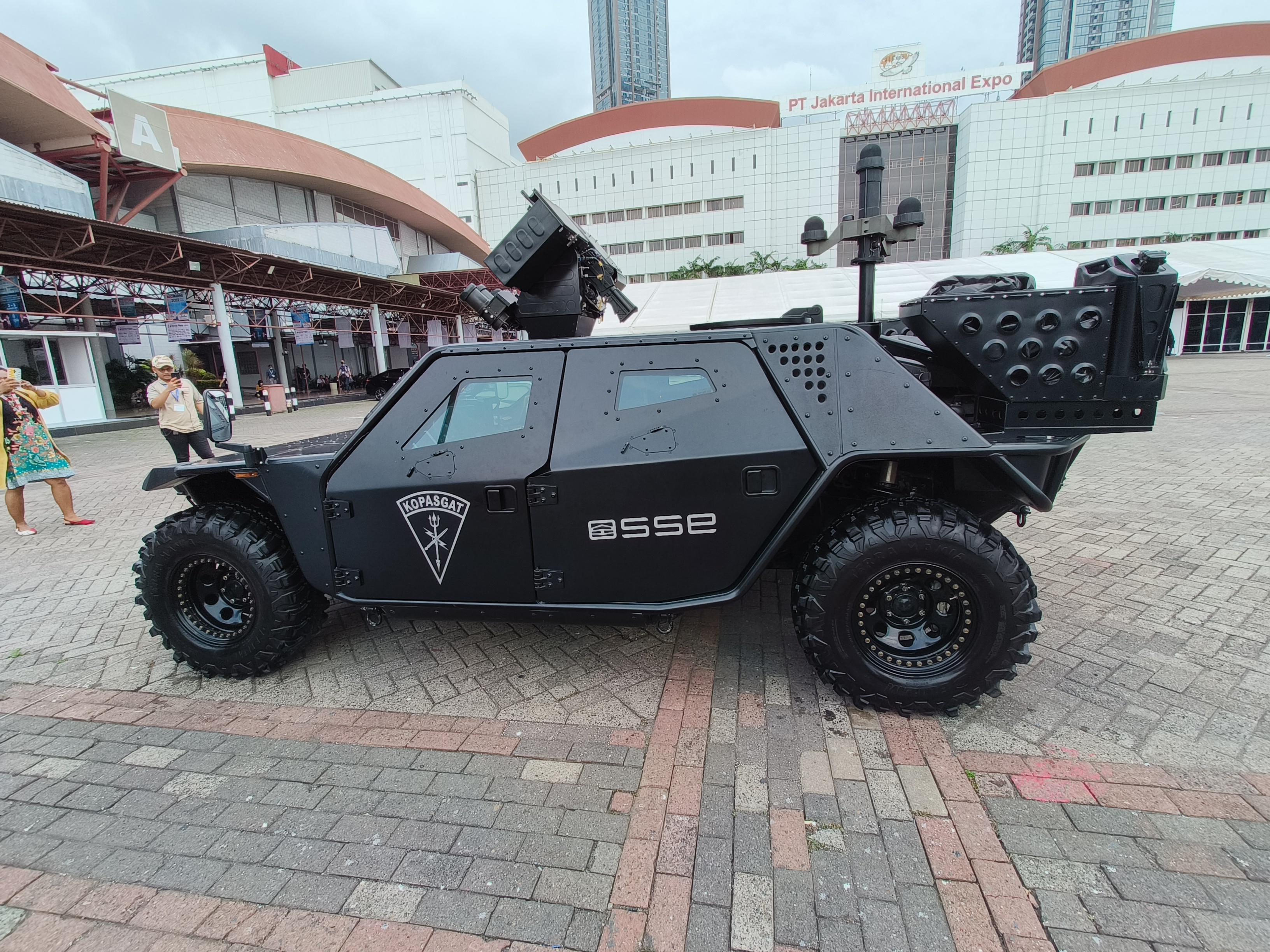 HD photo of the V3 Fast Action Troop (army) Assault Vehicle Equipped with RCWS and Gunshot Detection System
Illustrations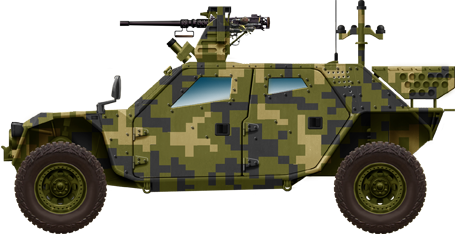 Demonstration P6 ATAV V3 in 2016 exhibit digital camouflage with 12.7mm RCWS and Gunshot Detection System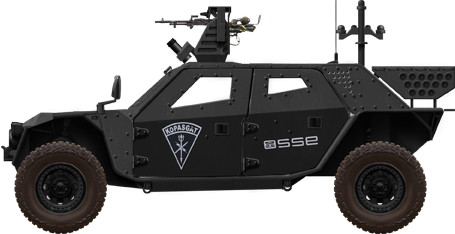 P6-ATAV V3 of the Kopasgat, same configuration but with GMPG
Photos
Various photos from pinterest
3D
Videos
SSE P6 ATAV All Terrain Attack Vehicle
PRESIDEN NAIK RANTIS BAJA ANTI PELURU KELAS DUNIA BUATAN TANGERANG
Sources
P6 ATAV wiki
epicos.com
On armyrecognition.com
cnnindonesia.com/
airspace-review.com
gridoto.com/
tribunnews.com
mediajawatimur.pikiran-rakyat.com
garudamiliter.blogspot.com
kupastuntas.co
www.kkip.go.id
marinir.tnial.mil.id
indomiliter.com
kompas.com
gbp.com.sg
---
Axis Trucks

Purchase this pagemarker and support the site !
Sd.Kfz 2, 6, 7, 8, 9, 10 and 11 were half-tracks designed just before the war as prime movers, to carry supplies, ammunition, personal, and tow artillery. Many were also converted during the war as armored versions carrying AA FLAK guns (Flakvierling, 37 mm, or the legendary 88 mm Rheinmetall als used as tank hunters), or were converted as nebelwerfer (rocket launching armored vehicles). They were built by Hanomag, Steyr, Mercedes-Benz, Bussing and many other manufacturers until 1945, over 20,000 half-tracks.
---
Cold War & Modern Vehicles
Modern Trucks