WW2 Japanese Army Trucks
Like other industrial nations, and interested by UK's own tests in the 1920s, Japan began motorizing its army and create motorized infantry regiments to go with its newly formed armoured regiments. Gradually, and especially until the end of the 1930s for operations in China, the Army purchased a variety of trucks to carry troops and supplies. This increased in WW2 with a variety of lorries and trucks built by mostly by Toyota, Nissan and Isuzu. These were the Type 94 6-Wheeled Truck, Type 95 Mini-truck, Type 97 4-Wheeled Truck, Type 1 6-Wheeled Truck and Type 2 Heavy Truck for the latter, and Toyota KB/KC Truck, Nissan 80 and 180 Trucks, plus the Amphibious Truck
Toyota "Su-Ki"
.
Development of the Type 94
The Type 94 was initially developed in 1933 as part of the Imperial Japanese Army's program to sponsor independent motor companies, in order to provide the army with a reliable truck platform. This was to counter the already tested existing civilian lorries which had poor performance in the field. Isuzu showed their design and a prototype was tested and eventually accepted in 1934. This sturdy 6x6 configuration gave all satisfaction in terms of range, reliability, and most important, off-road capabilities.
Design of the Type 94
The Type 94 was a 6x6 army truck design, fitted with an Otsu diesel engine that was capable of propelling it at speeds of up to 60 km/h while preserving range. The vehicle itself neither unarmed and unarmored, but carried two spare tires on the side for maintenance. The crew comprised single driver and the practical payload was 1,300 kgs of cargo, or and infantry platoon. Total weight was around 4,800 kilograms, total length 5.3 metres. Its army requirements design made it, unlike its civilian-based predecessors, highly reliable in the field and very capable of traveling cross country, helped also by a high clearance, to traverse the rough jungle terrain where it mostly served. Variants built during the war included an optional gasoline engine, a soft top and hard top conversions for the driver cabin roof.
The Type 94 in action
The Type 94 served abundantly in China and used widely across the Pacific Theater. Its performances were praised already in the late 1930s and was quickly adopted as the standard truck of the Imperial Japanese army. It served throughout until 1945 while thousands had been produced.
Links/sources about the Type 94 Lorry
The Type 94 on Wikipedia -in Japanese)
Japanese trucks overview
The Type 94 on pala.org
Isuzu Type 94 specifications

Dimensions
5.4 x 1.9 x 2.7m
Total weight
3.5-4.8 tons (1.5 tons payload)
Crew
1 (Plus infantry platoon)
Propulsion
Gasoline Engine (Ko Model) or Otsu Diesel Engine:
43hp/1,500rpm or 68hp/2,800rpm
Top speed
45-60 km/h
Range (maximal at cruise speed)
Unknown
Total production
Unknown - possibly 5000+ 1934-45
---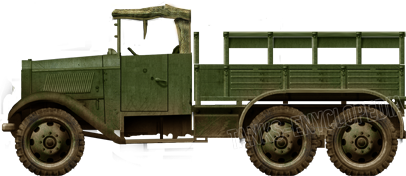 Rendition by D Bocquelet, Tanks Encyclopedia of the Type 94 6x6 Imperial Japanese army truck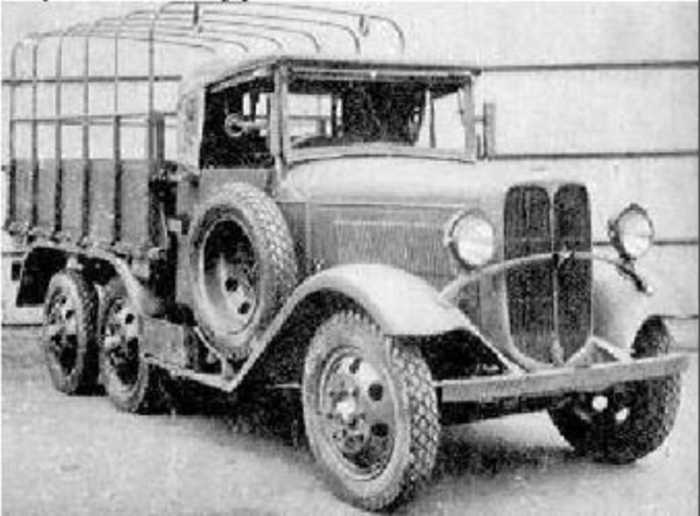 Factory photo of the 6x6 IJA army truck
A Type 94 supplying the Imperial Japanese Army's 16th tank regiment (equipped with Type 95 Ha-Go) on Marcus Island, ww2, date unknown.
---
Axis Trucks

Purchase this pagemarker and support the site !
Sd.Kfz 2, 6, 7, 8, 9, 10 and 11 were half-tracks designed just before the war as prime movers, to carry supplies, ammunition, personal, and tow artillery. Many were also converted during the war as armored versions carrying AA FLAK guns (Flakvierling, 37 mm, or the legendary 88 mm Rheinmetall als used as tank hunters), or were converted as nebelwerfer (rocket launching armored vehicles). They were built by Hanomag, Steyr, Mercedes-Benz, Bussing and many other manufacturers until 1945, over 20,000 half-tracks.
---
Cold War & Modern Vehicles
Modern Trucks