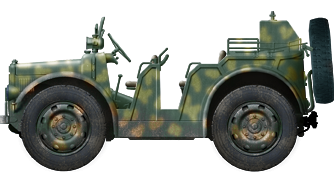 The off-road wheeled tractor
The TL.37 was an Italian artillery tractor manufactured by Società Piemontese Automobili (SPA), a subsidiary of Fiat. They were praised for their good off-road performances due to a torky Fiat engine and very large wheels, customary of Italian artillery tractors since WW1. The SPA TL37 soldiered in North Africa, Sicily, Italy, Greece, Yugoslavia and Russia, many captured by Germany after September 1943. It was used by the Italian Army until 1948 with a total production averaging 3,500 vehicles, conversions included, which were many.
Origins and development of the TL.37
The previous Pavesi P4/100
Essential component of mobile artillery units, tractors used by Italy were mostly wheeled. These were the Heavy Artillery Tractor Pavesi P4/100 MODELLO 30A, the other heavy Artillery Tractor Breda TP 32 and the Light Artillery Tractor SPA TL-37, the SPA TM 40 and the Fiat OCI 708 CM and Breda TP40.
The history of Italian light artillery tractors for divisional artillery started from 1932, with the development of the Pavesi P4/100 TL140 (later TL 31) used for the first time during the Spanish Civil War. However on the bad roads of Spain and on all terrains, it suffered from adequate suspensions, and was considered bulky. A new model was worked out for a "tratore leggera" from 1935. It was intended to tow 75 and 100 mm artillery pieces. Like the TL.31, it was to ba four wheel drive, and the axles would accept interchangeable solid rubber or classic valve tires. Other specifications were for this tractor to accomoate up to six men and its engine having enough torque for towing the 75 and 100 mm at 40 km/h on any roads, as well as climbing 60% grade slopes.
Based on this, The FIAT-S.P.A. model abbreviated "TLa" for "Trattore Leggero per artiglieria", light tractor for artillery won apparaisale from the staff in 1938 against the Breda C.F. It was then renamed TL 37 after the acceptance year, and so production was setup in October 1937 as a firm order was placed for tractors. 24 were sent to Libya already in 1938 to test towing of the 75/27 modello 1906 gun and at the same time an ammunition trailer carrying 100 shells, plus the crew of six and their gear and personal weapons. These tests were considered quite satisfactory. The TL37 indeed proved its superiority over tracked designs in the desert. The Australians captured some in 1941 and judged it simply as the best artillery tractor of North Africa.
Design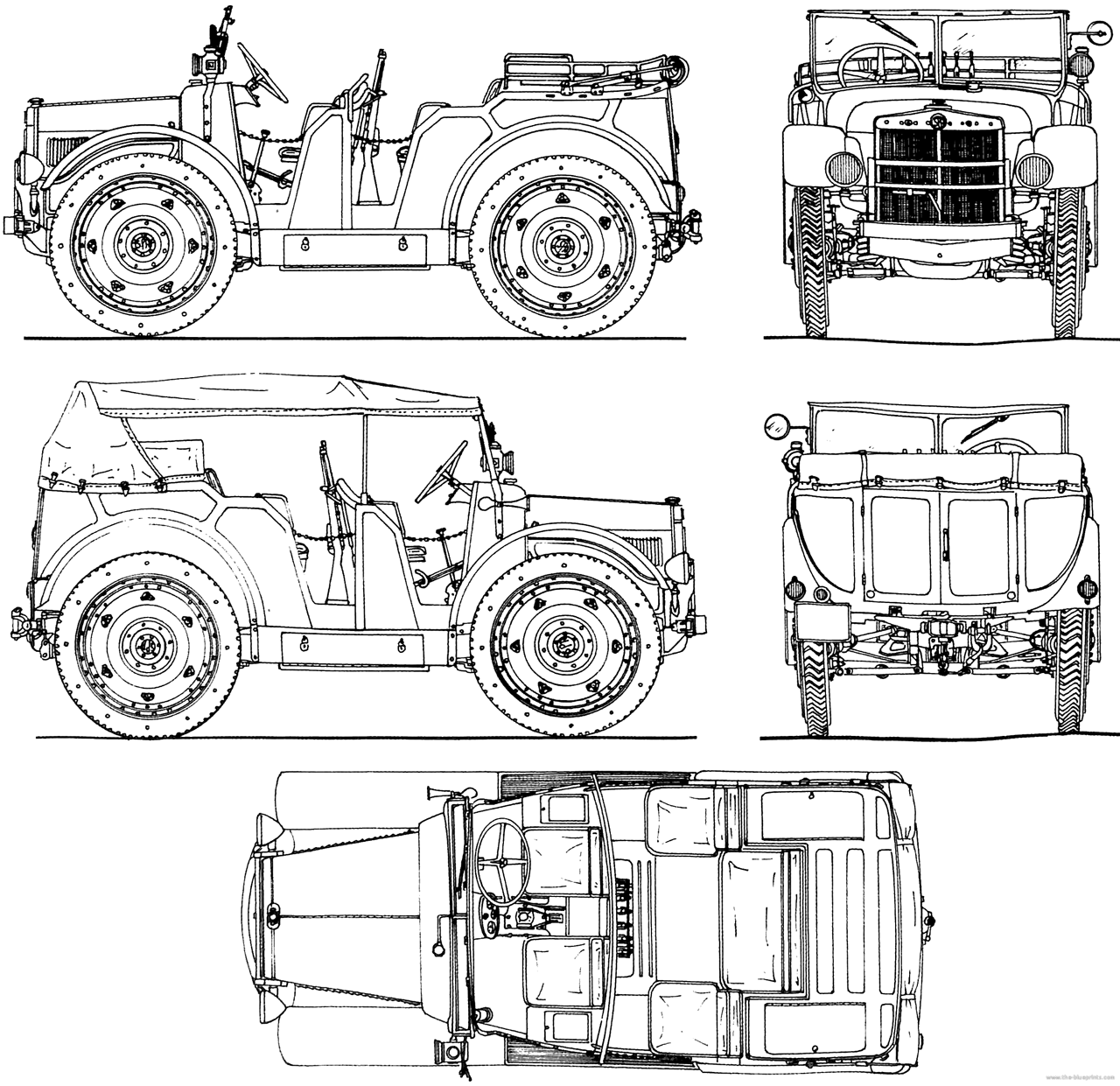 The Fiat SPA TL37 was a very innovative vehicle at the time with a forward cabin, and all-directional four-wheel drive, reducing its turning circle to below 9 meters at 4.5 meters, essential to manoeuver after "deposing" the towed artillery piece in the right direction. The vehicle was able to run at night thanks to forward muguards headlights. It also had a self-recovery capacity thanks to its 2-ton rear winch, also its maximum towing capacity. It could carry also 800 kg payload on and inside its its back trunk, less the ammunition. The crew comprised a driver, five gunners and 250 kg of ammunition stored in the rear trunk. They sat on two seats at the front, two at the rear, plus a bunk in a recess of the trunk, storing extra gear on the floor and suspending rifles to the handbars.
However some aspects were still old school: The engine ignition was started by hand-cranking. The Royal Army also as per the specification had to equip it with an antiquated side valve engine instead of the new overhead valve engines developed by FIAT. This engine had a capacity of 4,053 cc for 52 hp in all, equivalent of 16,35 hp/t for the ratio weight/power. The latter indeed were considered by the General Staff to be less reliable. From them, if the valves broke, they would damage the engine (an assertion that was proven false).
The staff also wanted to avoid batteries in the engine, considered as a source of problems. Due to this, the vehicle was fitted with equally old style acetylene headlights. However through production changes in 1943 lighting became electric and batteries installed. The hand-crank starter proved a real problem during the Russian campaign, where vehicles being abandoned simply because it was not possible to start the engine as frost solidified oil.
Production
Although not very fast and with somewhat finnicky mechanical solutions, the TL37 was ordered in large series from Fiat SPA. Modifications were made in fact to all carriages from WWI artillery pieces (which Italy had aplenty), fitting them with so-called "elektron wheels" or solid tires, to allow faster traction without damaging them. They had indeed to withstand 40 km/h, which was a revolution compared to the 10 km/h of traditional horse-drawn traction.
Monthly production however quickly proved insufficient: Only 150 left the factory in the first half of 1941, all versions combined, notably the AS37 Sahariana truck. This proved totally inadequate to replace losses and equipping all artillery regiments.
According to the Regio Esecito 1942 organizational chart, any motorized artillery group was to operate no less than eighteen TL37s at full strength, and ten AS37s trucks in support, all based on the same chassis. By June 1, 1940 Italy however had only converted 467 WWI-era 75 and 100 mm guns for mechanized traction. And the intended new 75/18 modello 35 and 37 still did not entered service. On April 30, 1943 however, there were 2,267 TL37s in service in various versions (AS37 truck excluded) of the TL37 "Libia" with either the Artiglio and Sahariana tires, and equipped with auxiliary tanks.
This also included the TL37 Coloniali and TL37 Pontiere, used for engineering teams, making for a grand total all combined of about 3,500 vehicles delvered in 1948, since after modernization of the production (which never stopped under German control) ran until 1946.
Models & variants
Fiat SPA TL37 Pontiere chassis - Fiat archives via De Agostini coll. on getty images
The TL.37 was firstly intended to tow the Breda Canone 75/27 Modello 1906 or the Canone 100/17 (Škoda 10 cm Vz. 1914) or ammunition trailers. It was also used as a rolling kitchens, or a recovery vehicle with a crane, to recover damaged trucks and light tanks. Some variants had seen also a towing vehicle for a radio/command wagon and towing a tank trailer to refuel armored vehicle on the field. The TL37 "Libia" version has the "Artiglio" rigid tires. The TL37 Sahariana and the TL37 Coloniale had auxiliary fuel tanks. The TL37 Pontiere was another amazing conversion for engineers (see below). Furthermore, starting from base chassis were developed the Autocarro Libia 75/27 Mod. 1911, the AS37 Sahariano truck, the S37 armored personal carrier and the SPA-Viberti AS43 reconnaissance armored car.
SPA S37 Autoprotetto: Armored Personal Carrier
Fiat SPA AS37 Sahariano: Standard Truck
SPA AS43 Recce version
Fiat SPA TL37 Pontiere (Engineering vehicle)
Autocannone da 75/27 su FIAT-SPA T.L.37 Libya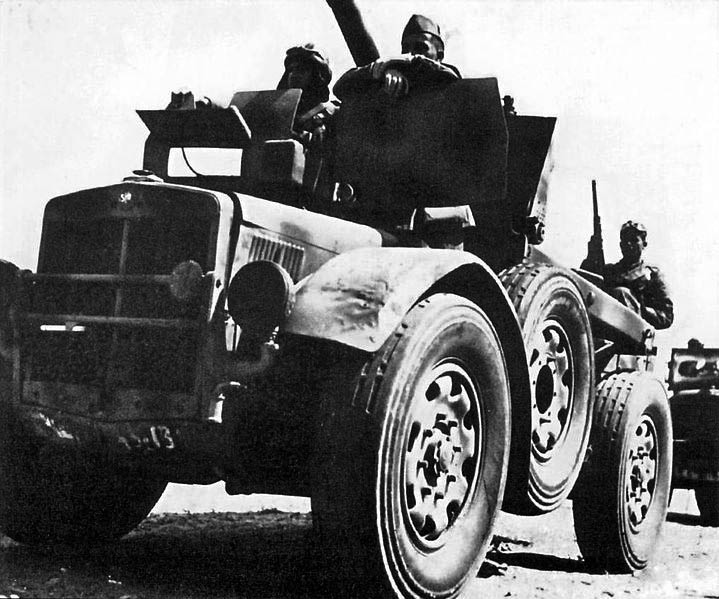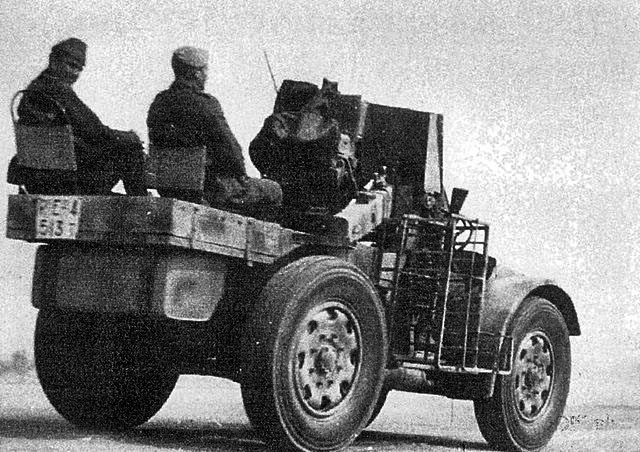 This vehicle was built in 20-30 units after the outbreak of hostilities in Libyan workshops of the 12th Self-Grouping AS (North Africa) to compensate for the lack of self-propelled guns. The basic TL37 model Libya with the rear part of the frame modified to accommodate a 75/27 Mod. 1911 cannon, deprived of wheels, with a shield reduced in height and a firing sector limited to the front sector. In running configuration, the barrel was raised at the front between the driver's and foreman's seats. In some specimens these two positions were protected by a front shield. Behind the piece the servants took place on two seats.
It was assigned to the batteries of the XVI Autoportato Group of the Raggruppamento Celere A.S. and, in 1942, the 136th Motorized Artillery Regiment of the 136th Armored Division "Young Fascists", which fought in Tunisia in 1943. It seems 82 were requisitioned, purchased or captured en 1944/45 by the Wehrmacht and some were sent to Hungary.
Fiat S37 Autoprotetto:
The FIAT SPA S37 Blindato was developed in 1941 on the chassis of the TL 37 in its "Libya" version, renowned for its excellent handling of all terrain. After some field demonstrations carried out by Fiat, the Regio Esercito ordered 150 conversions in 1942. This light, semi-armored vehicle was for police missions in Italy against partisans in the occupied Balkans.
From September 8, 1943, the Armistice of Cassibile, 37 of them were captured by the Wehrmacht and pressed into service with the 7th SS-Freiwilligen-Gebirgs-Division Prinz Eugen. They were renamed "Gepanzerte Manntransportwagen S37(i) but some extra vehicke also swa service against them, captured by Yugoslav partisans.
Fiat SPA TL37 Pontiere:
The TL 37 Pontiere was created in 1941 to meet a Regio Esercito demand for an engineering transport vehicle transporting pontoon bridges. This special version was ordered to 484 vehicles in all until 1943. A drum winch with a capacity of 3.5 tons was installed on the rear, resting on a modified cross member of the frame. The very thick steel towing cable measured 57 m. The rear trunk also contained specific tooling for the erecting of the bridges, and the spare wheel support was raised.
Operational use

A row of Fiat SPA TL37s with guns in battery
The TL37 took part in the North African Campaign since its beginnings in Libya in 1938, but divisions also carried it in Russia and some deployed it in the Balkans as well, Greece and Yugoslavia. In addition to the Regio Esercito it was also used by the Regia Marina in harbour for carrying heavy equipments and ammunitions, or by Regia Aeronautica for towing heavy planes, notably bombers. This tractor was also acquired by the Hungarian army. The armistice came, but the vehicle had its manufacture maintained by Germany after the capture of FIAT, to be used by the Wehrmacht as the Gepanzerte Manntransportwagen S37(i). 75 were delivered in 1944, and 7 in January 1945. The Germans too, appreciated its torque and off-road qualities. It was mostly use for towing medium arillery pieces such as the 10.5 cm leFH 18 and equivalents. A few also served with the RSI. It remained in service with the Italian army until 1948.
Links/sources about the SPA TL 37
Wiki EN
On https://www.o5m6.de
Wiki FR
Wiki IT
On kfzderwehrmacht.de
On asphm.com, rare video of the Pontiere.
On ww2db.com
Walkaround photos
On milweb.net
On armedconflicts.com
Video of the vehicle on muddy ground
Various kits on scalemates
---
Gli Autoveicoli del Regio Esercito nella Seconda Guerra Mondiale, Nicola Pignato, Storia Militare, Parma 1998
Amatori, Franco; et al. (1992). Storia della Lancia — Impresa Tecnologie Mercati 1906–1969. Milan.
Stato Maggiore dell'Esercito archivos – Ufficio Storico, Roma 2005
Nicola Pignato et Filippo Cappellano, Autoveicoli tattici e logistici del Regio Esercito Italiano, 2005
Autoveicoli del Regio Esercito nella Seconda Guerra Mondiale, Storia Militare.
FIAT TL.37 specifications

Dimensions:
Length m. 4.130 x Width m. 1.830 x Height m. 2.180
Weight:
3,180 kgs light
Crew:
1 driver +5 gun crew
Propulsion:
FIAT 18TL 4 cyl. inline 52 hp
Top speed:
c38.2 km/h road
Transmission & suspension
Manual 4+4 speeds, 4x4 leaf spring
Maximum range (on/off road)
170 km (? liters)
Armament
None, personal weapons
Production
2,267 TL37 alone, 3,500 all combined, chassis-based.
Reference illustrations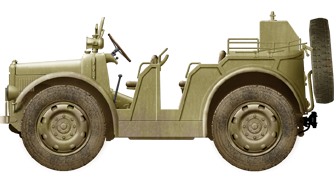 TL37 Sahariano painted in "Sabbia", Lybia, 1940.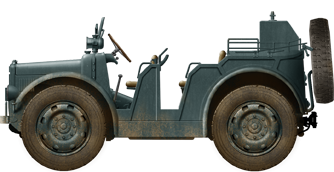 Vehicle in Grigioverde livery, Eastern front, winter 1942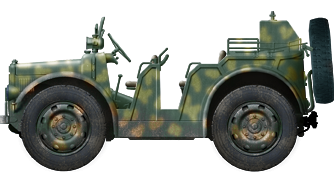 TL-37 in Sicily, 1943

Tracting a Cannone da 75/27 Modello 1911

tracting a Cannone sa 75/32 Modello 1937
In German service, 1944
Variants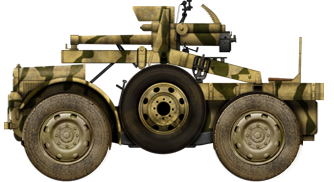 Self Propelled gun conversion Autocarro da 75/27
Fiat SPA AS 37 Sahariano Truck
Viberti-Fiat AS.43
Fiat Autoprotetto S37 Troop carrier
Photos
The two versions of the base TL37: TL37 "Libia" with the "Artiglio" rigid tires (top) and TL37 Sahariana/Coloniale with inflated tyres.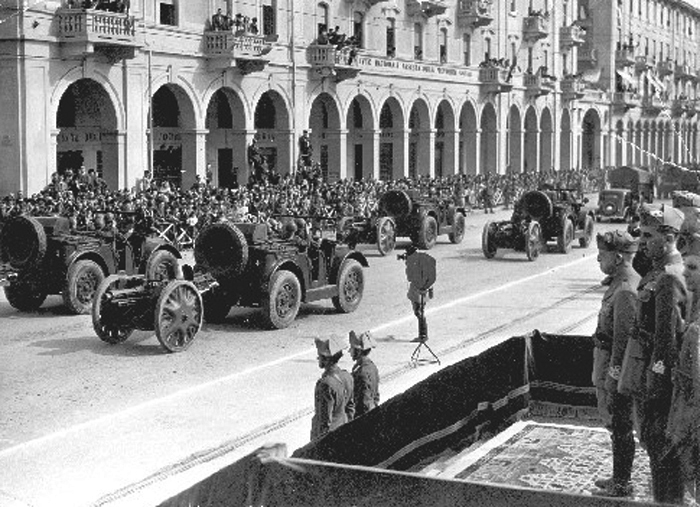 Vehicles parading, towing a 100mm gun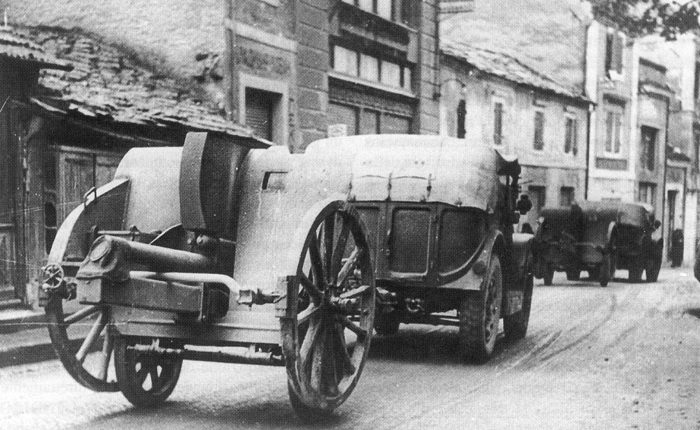 Same, towing the 75mm Skoda gun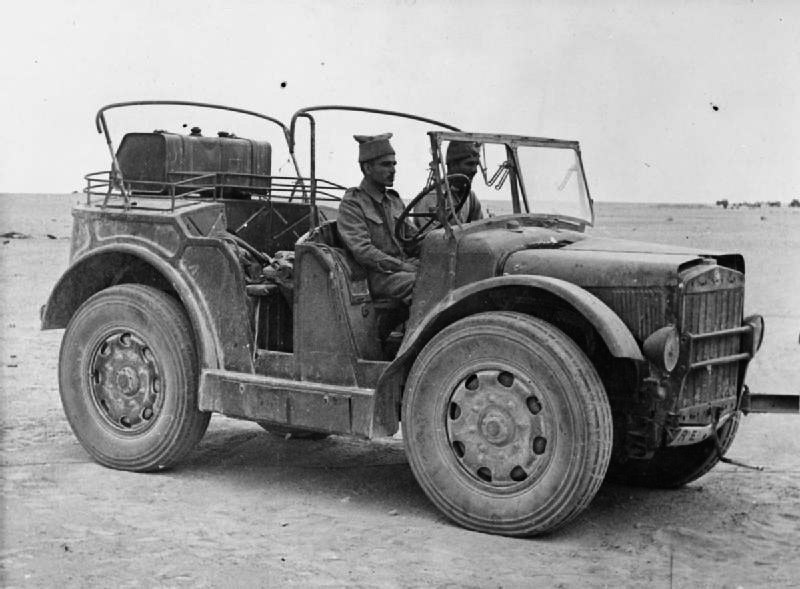 Captured TL37 Sahriano, with the additional rera fuel tank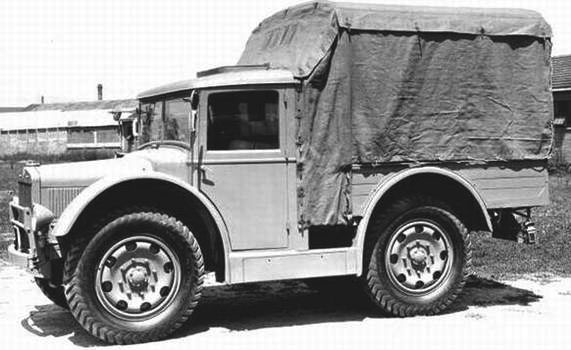 The AS37 Sahariano Truck, sucessfully used in North Africa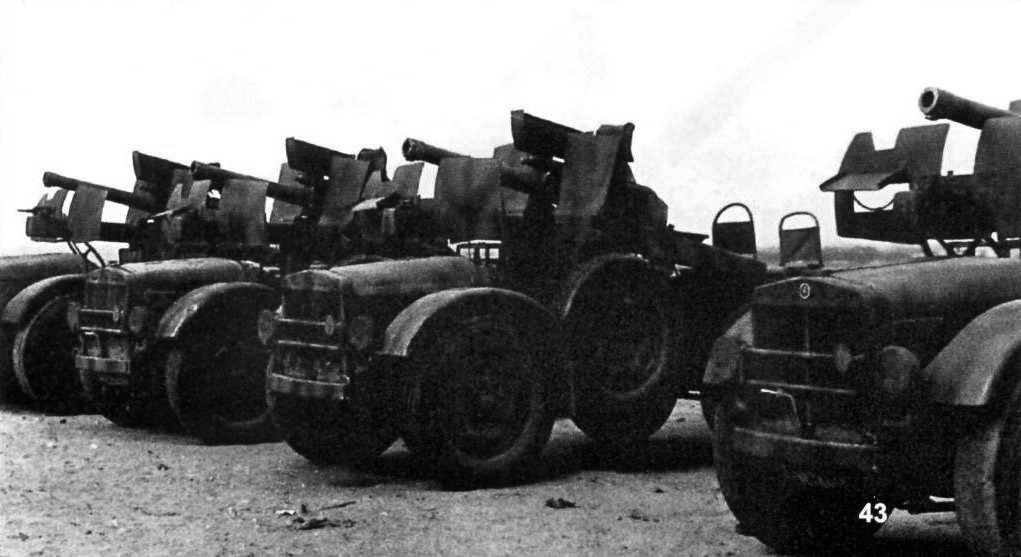 A formation of Autocannone da 75/27 su FIAT-SPA T.L.37 Libya
---
Axis Trucks

Purchase this pagemarker and support the site !
Sd.Kfz 2, 6, 7, 8, 9, 10 and 11 were half-tracks designed just before the war as prime movers, to carry supplies, ammunition, personal, and tow artillery. Many were also converted during the war as armored versions carrying AA FLAK guns (Flakvierling, 37 mm, or the legendary 88 mm Rheinmetall als used as tank hunters), or were converted as nebelwerfer (rocket launching armored vehicles). They were built by Hanomag, Steyr, Mercedes-Benz, Bussing and many other manufacturers until 1945, over 20,000 half-tracks.
---
Cold War & Modern Vehicles
Modern Trucks