The heavy duty 6x6
One of the unsung heroes of WW2, forgotten compared to the CCWK, was the Diamond T, a common, heavy tactical 6×6 truck which had the G-number G-509. Cargo models were called 4-ton (3,600 kg) for their load over all terrain, all weather. But other bodies were made, wrecker, dump among others. They were replaced by the M39 series 5-ton 6×6 trucks after the war, still used by the National Guard in the 1980s, whereas many "T4" as simplified saw action in Korea and even Vietnam. In this page we will see mainly the 6x6 4 ton version as other derivatives will be covered in separate articles, such as the 6x4 mainly used and known as the M20 (M19 Tank Transporter).
Development and production
The Diamond T company was founded in 1905 in Chicago by CA Tilt, which went from his shoemaker business to automotive, with a first 114 inches lorry called the Diamon T already, reflecting the the original letter and logo. Several four cylinder cars were made in 1907, 1908 and 1909, followed by the Model D in 1940, Model E in 1910 and back to the model T, 124 inchs wheelbase, in 1911. Truck production only started in 1928 with Six-cylinder engines from Continental and Hercules. In 1933 appeared new all-steel covered cab with doors and roll-up windows, streamlined in 1935 with a V-shaped windshield and reworked hood. The basic shape stayed the same for cabs until 1951.
Diamond T, Model 80 1937 "streamlined"
Next, a serie of improvements were made on what would become the basis for the military type: In 1940 a Hercules six-cylinder gasoline as 118 horsepower (88 kW) diesels but also Cummins 200 horsepower (150 kW) diesels were added as options until the choice was fixated on the Hercules six-cylinder gasoline/diesel 118 horsepower (88 kW) (and still the Cummins) improved again in 1942. In 1940, answering a US Army specification for a 4 tons 6x6 heavy truck, usable to carry heavy payload and as tractor for artillery pieces and for other specialized uses. Production of the Model 967 (factory designation) started in early 1941, loosely traced back to the model T of 1935. But in fact two families emerged from this specification, a 6x6 and a 6x4, both model T, with various factory designations. The Model 80,201 and 202 emerged with various engines, as pickups powered by the Hercules QX-series 6-cylinder. The model 80 was produced from 1936 to 1938, the Model 201 from 1938 to 1949. The company also provided the G509 a wide range of military trucks from 1940, inclduing the G7102 half track.
Model 980, 12-ton 6x4 truck (G159)
Not covered in this article, these were ballast tractors, used as tank transporters. They were initiated b a resuest of the British military, followed by a precise design submitted to US companies through lend-lease. They ended as being used also by the US Army in WW2. These were powered by a 895 cubic inches (14.7 l) Hercules DFXE diesel engine (185 hp, 138 kW) geared very low so to demonstrate enough torque to pull a trailer up to 115,000 pounds (52,000 kg) and move the heaviest tanks in service, including the massive Churchill. Early models still had the commercial cab shared by the 4-ton G509 but from August 1943 it was changed for the standard open military cab with tarpaulin. The latter was designed to to be assorted with a universal ring mount on top, mounting either a Browning M1919A4 0.3 in LMG or a M1920 0.5 in Heavy Machine gun. Its long butterfly hood had vertical louvers on both sides which differed from the G509.
A short "ballast body" saw a bumper comprising a military-grade, mid-mounted winch. Closed tool compartments on both sides allowed to unstuck the vehicle, while there were also two open containers forward a bottom-hinged tailgate. The main aft box could hold 18,000 pounds (8,200 kg) of ballast to increase traction on the rear tandem axles. It also carried the M9 Rogers trailer as tank tractor, the result being known as the
M19 tank transporter
, perfectly able to carry all variants of the M4 Sherman and derivatives. Some were also delivered to the USSR under Lend-Lease. The Model 981 had front rollers for winch cables. That was the only way to recoignise them.
Model 967/68/69/70 4-ton 6x6 truck (G509)
This is the model covered in the present article. This was the basis for the T 968/970 cargo, T 969 wrecker as the T 972 and 975 sub-variants. The base version was the T 967. It was fitted with the early 1940 enclosed cab and no winch forward.
Engine and driveline:
All standardized models used the Hercules RXC engines: 529 cu in (8.7 L) L-head inline
6 cylinder gasoline engine
Output 131 horsepower (98 kW) at 2100 rpm
Torque: 396 pound force-feet (537 Nm) at 1000 rpm.
It was coupled witrh a 5-speed manual transmission caracterized by a very low 1st and overdrive 5th gear. The transfer case had a high and low range, plus neutral for power take-off operations. This propulsion was only engaged on the front axle, which were were of the Timken double reduction "pumpkin" type.
Most trucks also had a front-mounted 15,000 pounds (6,800 kg) Gar Wood winch. It was given a 300 feet (91 m) steel cable, one of the strongest gar for off-road salvage of any US Army truck outside specialized ones. The Winch was capable of towing out from sticky mud a similar Diamond T with its payload, or another heavy truck. It seems also two trucks were used for towing away most standards tanks like the Sherman. Only the dump trucks built before June 1944 had no winch.
The winch was driven off by the transmission in neutral mode. It was operated from inside the cab, which was handy in winter. Wrecker and later dump truck with the winch had a separate installation: The winh were driven off the transfer case with the transmission in gear, not in neutral.
Chassis:
All models had a ladder frame type chassis, with three live axles. The front Timken axles was suspended by leaf springs, the rear tandem axles also had leaf springs, but with locating arms. The chassis existed also in two wheelbases:
-Standard: 151 inches (3.8 m) -sometimes called swb -Long: 172 inches (4.4 m) of lwb, used by the pontoon cargo truck.
-Tires were of the 9.00x20 type, with dual rear tires.
-Brakes used full air comprssion, with drum brakes on all wheels.
-Trailer air connections allowed to apply trailer-brakes, with a hand lever for the trailer brakes alone.
Cabs:
Early models had commercial type cabs. However from June 1944, open "universal" military cabs were introduced. They were much simpler and cheaper to produce and easier to use in combat, allowing an armament to be added in the shape of a ring mount above and aside the cab, which was enclosed by a tarpaulin and had no side windows. The weight reduction also induced helped improving the payload as well.
The early enclosed cab type was sometimes equipped also with a ring for a .50 cal. machine gun, but it was reare. In fact, only every fourth truck in production had such ring mount. The idea was in case of attack, groups of four truck had at least one equipped for some defence. The orther reason was the ring mount was in short supply.
G7102 half track and attempts of armored vehicles
Indeed, production of some variants of the White M3 half track were made by Diamond T as well as the main troop carrier, with a White 160AX engine. No need to cover these as they differed little from the actual M3 Half Track, and were indeed armored. They provided indeed a large part of the 53,000 built total in WW2 alongside Autocar (and White of course). Aside these, there were proposals to transform the 6x6 G980 into an utility armored truck, and then a simple armored car for a variant of the M19 tank transporterd. But this led to designing the M25, which replaced in 1942 the M19 already. It had nothing to do however with the Diamond T as designed and built by the Knuckey Truck Company, the only tractor that can manage the new Fruehauf Trailer, too heavy for the Diamond T.
Other Variants
T980
Model 967
Pre-standard prime mover cargo truck (21 built as wreckers) appearing in early 1941 with the Hercules RXB 501 cubic inches (8.2 l) inline 6-cylinder engine. It had a one-piece brush guard forward as main recoignition point.
Model 968 Cargo
The mass production improved version of the T 967. The 969 had a open cab, often armed, while the 968A as well as the 698 B were short wheel base or SWB variants. The basic cargo model was a prime mover. It could tow the 155 mm howitzer M1 along with the gun crew, equipment, and ammunition.
It had a rear pintle hitch allowing towing up to 11,000 pounds (5,000 kg) payload off-road and even 25,000 pounds (11,000 kg) on road. In standard it had a short wheelbase, rear overhang, so reduced to just 11 feet (3.4 m) feet long. Folding sideboards were provided, troop seats and bows to cover the compartment fully with a tarpaulin. It also had two spare tires mounted inside the body and across the front rather than under the chassis. Early models were all steel body cabs, replaced from 1942 by open wooden types.
Model 969 Wrecker
Main WW2 medium wrecker truck of the US Army. This standard had the Holmes W-45 heavy-duty military wrecker bed installed aft, with twin boom and two 5-ton winches forward of the bed, and the bumper, front-mounted winch. Various additional recovery equipments could be mounted as well as the W-45 kit was designed to be very modular. It had notably its own air compressor. The whole vehicle weighed 21,350 pounds (9,680 kg), towing 25,000 pounds (11,000 kg) if needed. It was delcined into the 969A and B varying on equipment details. There was a sub-version for the Corps of Engineers as a water-distributing unit.
The wrecker was essentially designed as a Holmes twin-boom type. It had aswinging boom, powered hoist cable, on both sides.
-Booms were rotated to the rear when towing, and connected at the ends in a A-frame configuration which was well trusted and rock solid.
-In lifting mode, both booms could be separated, rotated 90% forward to the side. Then, an outrigger was lowered to increase the lifting capacity.
-Powered take-off on the transfer case drove a transmission, which had two winches in the wrecker frame.
-Controls on both sides allowed the winch to raise or lower them independently. -The wrecker truck body had lower sides on the rear half, tapering to the front floor. It made a clearance for the boom to swing.
-A brace for the wrecker frame was used to hold a spare tire. The equipment also comprised welding tanks with an air compressor for a blowtorch, cables, block and tackle. It also used chains and pulleys, tow-bars among others. Everything to recuperate a wreck in any condition anywhere and extract it quickly, towed to safety.
Model 970 Cargo truck
The Model 970 was designed originally to carry bridging pontoons. It had a 16 inches (406.40 mm) longer bed than for the Model 968, but on the same wheelbase. As a prime mover it had a limited cargo bed aft, so the Engineers asked this fixed, and wanted a larger body to carry bridge pontoons.
The spare tire was moved behind the cab, loke on the Wrecker.
The vehicle was equipped with a 12 feet (3.66 m) long bed, further back on the chassis.
The wheelbase was longer for better weight distribution.
Towing capacity was 11,000 pounds (5,000 kg) off-road, 25,000 pounds (11,000 kg) on-road, but on greater turning radius.
Model 972 dump truck
Largest US Army dump truck in WW2, not fitted with front winches, but fitted after a Corps of Engineers request from June 1944. The dump bed was 12 feet (3.7 m) long, creating a 4 cubic yards (3 m3) steel body. This could be raised and lowered via an hydraulic cylinder and lever under the body.
This system was powered by the tranmission in gear, via a power take-off on the transfer case.
Controls were inside the cab.
It was equipped by a tailgate hinged from the top or bottom. When hinged at the top, the bottom could be opened while dumping. It was activated by a lever at the left front corner of the body at the height of the cab's window.
The body front had stone-shield covering the cab to avoid projections
The spare tire was mounted between the cab and body, vertically.
Model 975 bridge truck
This was the standard bridge truck, built for the Canadian Army in WW2. The 975A and 975 were called "Canadian bodies" and shared the same parts on a long wheel base. But they varied in details. The Canadians also developed the Crane, Mark VI (Coles Crane), based on a short wheelbase version. 1,500 LWB chassi (201" wheelbase) were purchased by the RCA. They could be alternaitvely fitted with Cargo, bridge, and "workshop" van bodies when needed.
Other specialty bodies
In addition to the ponton and dump trucks, Engineers required the conversion of around 2,000 chassis for "specialty bodies".
Two engineer bodies used the short wheelbase chassis. Some were distributors with nozzles on the rear, spreading water or decontamination (or chemical at large) liquids in an even pattern when driving forward.
-The water distributor version's tank held some 1,000 US gallons (3,800 l).
-The asphalt distributor carried 800 US gallons (3,000 l), with in-built heater.
-Another, third shortwheelbase version was used for Chemical Warfare. It had a standard swinging boom body to lift and move chemical containers.
The long wheel base engineer bodies were the following
-Flatbed with cab protector, mid-ship winch for self-loading, heavy equipment transport.
-Van Body (13 feet/4.0 m) for map-making and printing sections.
T 969 cargo specifications

Dimensions (L-W-H)
7.39 x 2.51 x 2.94 ( in)
Curb weight, battle ready
9,300 kg ( lbs) Load 4,000 kgs
Crew
1 driver + crew
Propulsion
Hercules RXC, SV 106 hp at 2200 rpm, 5-1 Gbx, 11 hp/t
Top speed
65 kph ( mph) road
Maximum range
265 km, 227 L gas T, 23L/100 km
Armament
1x Cal.0.5 Browning or 0.3 in LMG.
Armor
None
Read More/src
The M20 on model-maniac.nl
Same Diamond T models: Best source overall
On wardrawings.be
Other books
Manuals TM9 811
Manuals M20 6x4
In Russian service
In Russian service
U.S. Army Diamond T Vehicles in World War II Didier Andres, Casemate Pub.
Videos
Diamond T980 of-road test
75th Anniversary of the first Diamond T 980's to be built for the British Army
Diamond T 968 969 980 981 Convoy WW2 6x6 YWE Yorkshire Wartime Experience 75th anniversary
History of Diamond T Trucks - Truck History Episode 27
On motor-lifestyle.com (FR sub)
Model Kits
Matchbox 1/76 M19 Tank Transporter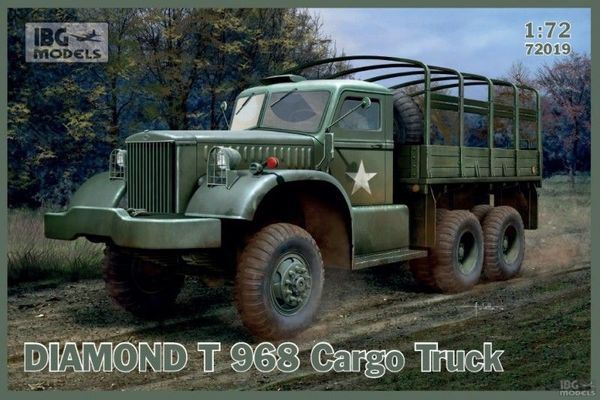 T 968 Cargo Truck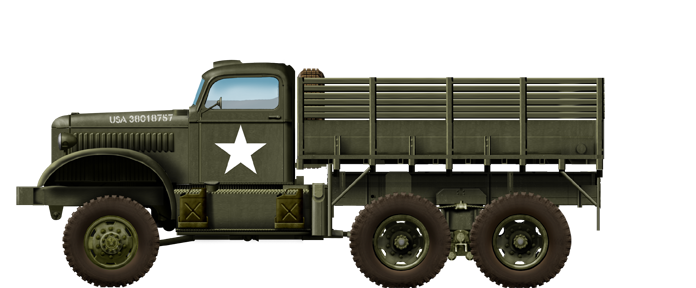 Diamond T 967 Cargo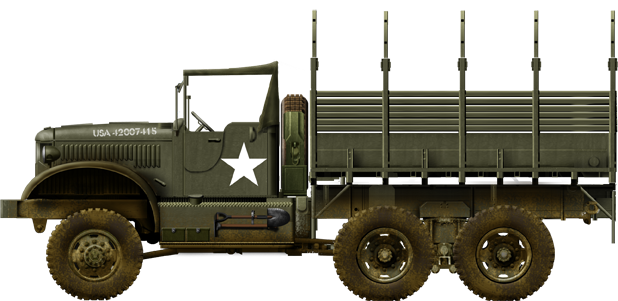 Diamond T 968 Cargo with the simplified open cab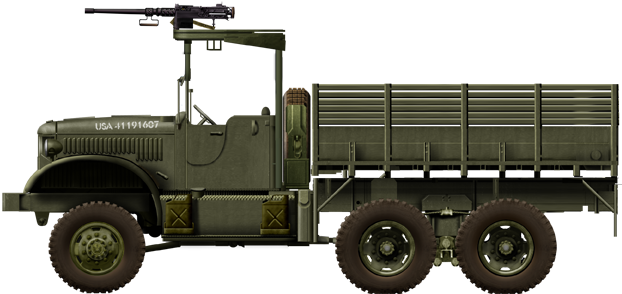 Diamond T 969 Cargo with open cab and HMG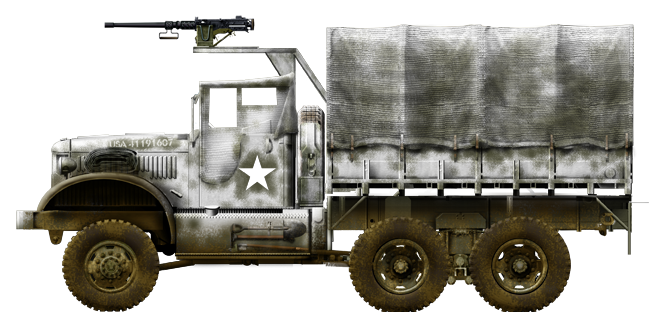 Diamond T 969 Cargo, Battle of the Bulge, Dec. 1944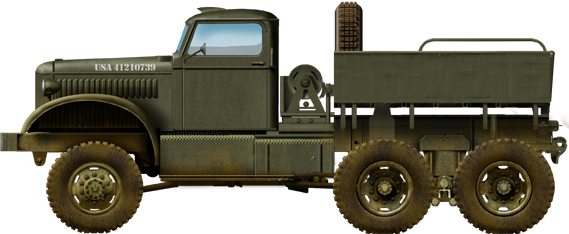 Diamond T980 (M16 Tank Transporter) without trailer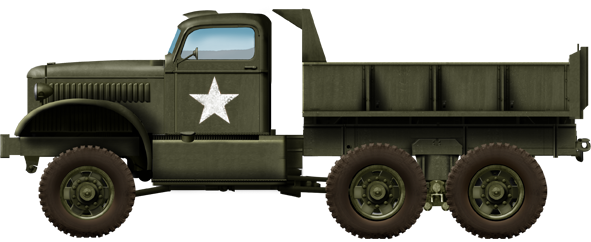 Early T 972 Dump Truck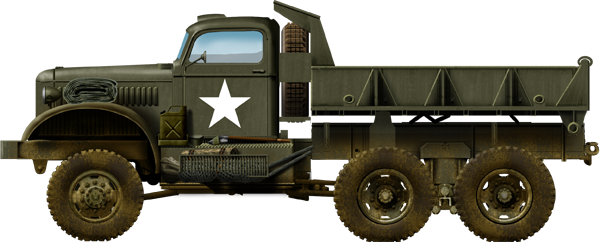 Late T 972 Dump Truck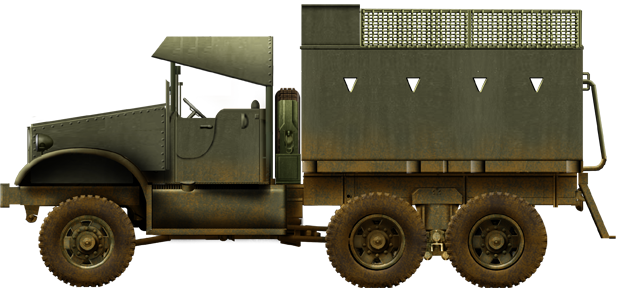 Modified Cuban Diamond T 968 transformed as an APC in the 1960s
Photos
M19 Tank Transporter system carrying a Grant tank, based on the Model 980 or G159 6x4.
Model 980 tractor, US Army in Tunisia
Diamond T M20 tractor, with tarpaulin
Diamond T981 6x6 with the trailer hidden behind. Note the standard open cab and ring mount for the Browning 0.5 in HMG.
Model 969A Wrecker in 1943
Same, in 1941, with the original cab.
T969 Wrecker
Same, rear view
---
Axis Trucks

Purchase this pagemarker and support the site !
Sd.Kfz 2, 6, 7, 8, 9, 10 and 11 were half-tracks designed just before the war as prime movers, to carry supplies, ammunition, personal, and tow artillery. Many were also converted during the war as armored versions carrying AA FLAK guns (Flakvierling, 37 mm, or the legendary 88 mm Rheinmetall als used as tank hunters), or were converted as nebelwerfer (rocket launching armored vehicles). They were built by Hanomag, Steyr, Mercedes-Benz, Bussing and many other manufacturers until 1945, over 20,000 half-tracks.
---
Cold War & Modern Vehicles
Modern Trucks