The 8x8 beast of burden for many systems
In the beginning of the 1960s, MAZ started development of a new all-wheel drive chassis, given the designation MAZ 543. This was the company's 4th generation heavy duty utility chassis. It derived from the MAZ 537G, but the engine and cabin were entirely modified, based on a longer frame. The new chassis was given indeed a 525 hp D12A-525A V12 diesel with automatic transmission better torque converter on a 3-speed gearbox. It was declined into the base, A and M versions for the base vehicle, but it was also declined into a multitude of systems. Here, we do not only cover the Scud TEL but other variants as well.
Genesis of MAZ-543
Evolution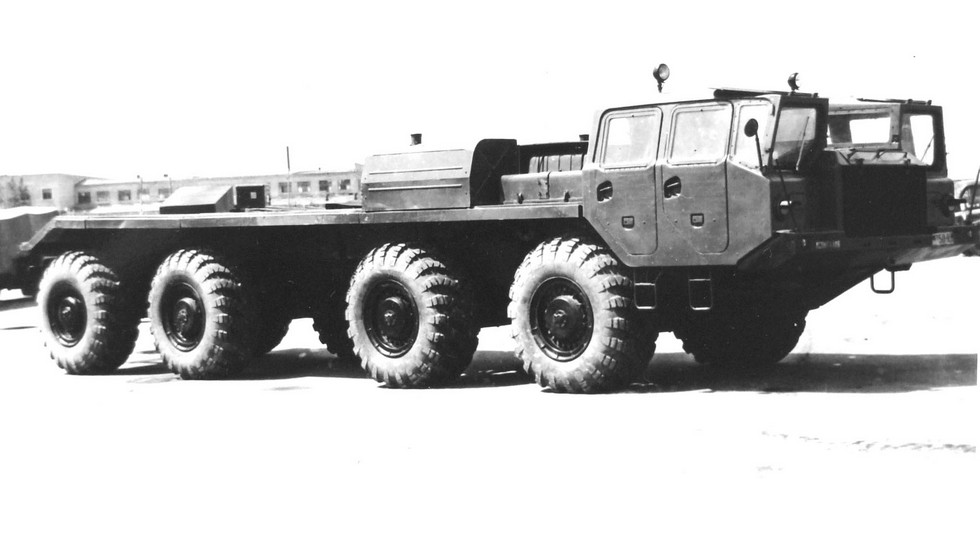 Prototype of the MAZ 543
With the rise of ballistic rockets, the Soviet Army needed a transport to carry them and eventually able to deploy them as well. MAZ company created the MAZ-543 8×8 truck, but it came from a long lineage, going back to the late 1950s; Aapart from powerful tracked vehocles that can lift 20-30 tons rockets, there was a need for a faster self-propelled wheeled chassis, designed for light to medium missile systems with their launchers.
Such chassis were created in SKB ZIL design unit, Shaposhnik design bureau receiving the task of developing a long wheeled chassis, a better solution that tracks to achieve greater speeds while still retaining an off-roa capability. First, the bureau contacted ZIL and its chief designer VA Grachev, to analyze possible solutions. This analysis showed variants and arrangements with a rocket nose over cabin solution, as declined on the ZIL-135E and ZIL-135LM. The other was the "rocket behind the cab" of the ZIL-135K.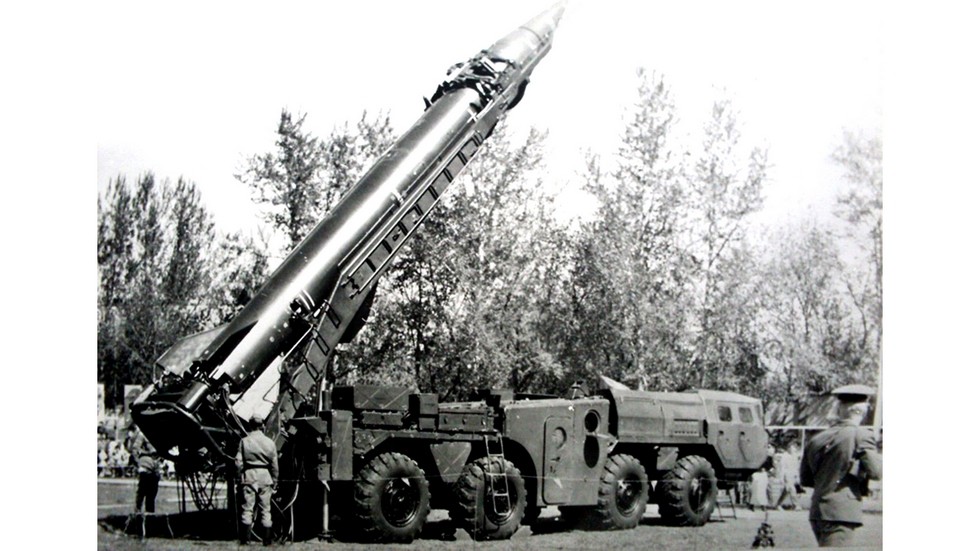 MAZ 543 TEL scud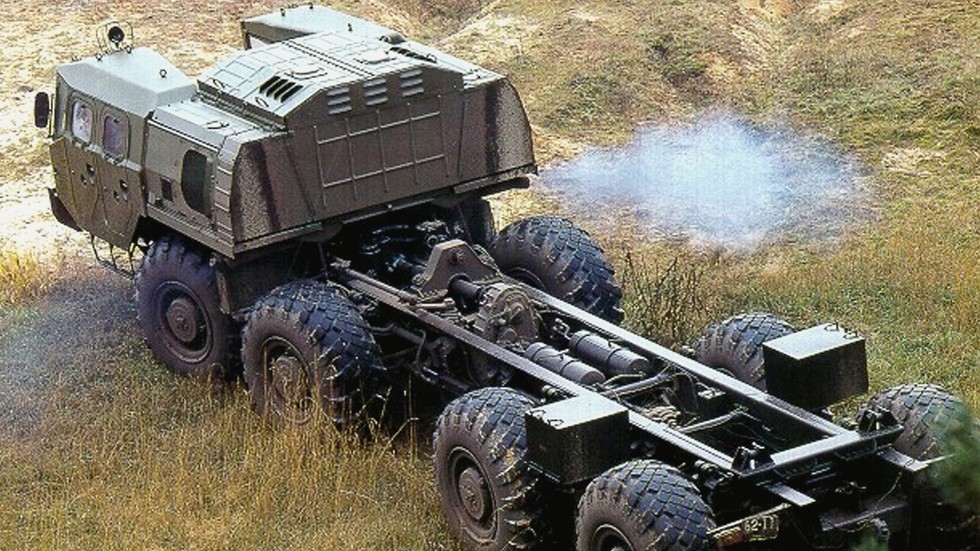 Chassis top view
But none were accepted as the intended new missile was too long.
As a result, the chassis layout saw a divided cab, with the rocker and its lifting system located in between.
Thus, the chassis was almost equal to the length of the rocket. The overall height of the vehicle also dropped sharply, making it easier to conceal in operations (and to be spotted). This chassis was almost completely standardized to meet the MAZ-537 truck tractor specifications, but only differing from it by its split cabin. Seats in those were in tandem, making for a crew of four, enough to operate the whole system.
The new vehicle's wheelbase was increased to 7.7 m and the final MAZ-543 turned out to be a powerful, mobile, yet still compact (11,7 m x 3 m x 3 m) vehicle with high cross-country capability and suitable for operation in extreme temperatures, from -40 to +50.
Design
The MAZ 543A and MAZ 543M had fiberglass side cabins and othger modifications. There was a different radiator and the front split to let the missile rest between both cabins is also different. All variant had wheelbase of 7.7 meters, and their top speed is 60 kph for a gargantuan (but expected) fuel consumption of 80 liters per 100 km. The first version of the new 'light chassis variant' of the MAZ 543 had an utility payload of 19.1 tonnes. The first 6 prototypes were manufactured in the spring of 1962 and Mass production started in 1965. Quite specialized TELs with their two separate cabins, with the missile and its erector in between, followed by utility gear, hydraulic and eletric system lifting the missile. The two twin-door cabins left and right had excellent visibility and intercom.
The single MAZ V12 engine had a 38.8 liter capacity giving out 525 horsepower.
Independent torsion bar suspension was used of all wheels, reinforced by telescopic shock absorbers, and a centralized tire inflation system to cope with the most snowy and muddy terrains proper to Russia. The wheelbase was increased to 7,700 mm, track became 2,375 mm. Due to these unusually large dimensions for a truck, they did fit with any norms for public roads. But even with their heavy load, they could keep up in swamps, sand and deep snow with a rather high average speed required from this generation of mobile launchers as specified.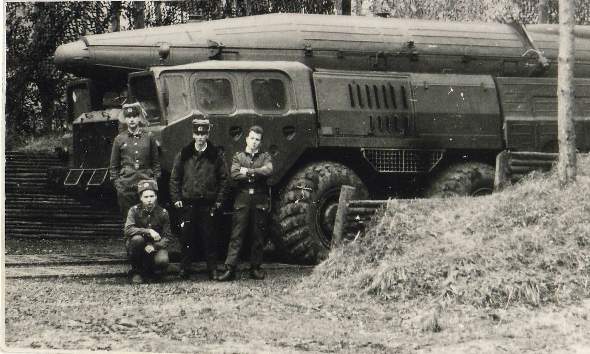 OTR-22
Production
From March 1959, Minsk Automobile Plant started its own production of wheeled TELs, and 543 series became its main product, all equipped with V12 engines. The first trucks were made in 1962 but first known interntionally when paraded on the red square in 1965. The new vehicles soon became the basis for the 8K14 missile system ad constitued a way better platform than the tracked chassis initially sued for it which had a rough ride and vibrations endengering the missile. The basic chassis was used for a large veriety of missiles.
In all production was of 1,631 vehicles until the late 1980s. One of the first uses was for a base chassis for the TEL 9K71 'Temp' system and the 9P117. But the most famous remains the 1963, MAZ 543A, with a payload of 19.4 tonnes. It was developed for the 9P120 'Temp-S' missile TEL and mass production started in 1966. Main difference from the basic MAZ 543 had the missile is shifted forward to the both front cabins. Until the middle of 2000s, more than 2,600 chassis were made, finding many uses.
High traction qualities and reliability made the MAZ-543 desirable not only for the military, but also for the cikivial market for heavy duty roles in Siberia. Civil modifications MAZ-543 with the onboard cargo platform received the MAZ-7310 index, the MAZ-7901 pipeline, the MAZ-7510 truck, and the MAZ-73132 truck tractor.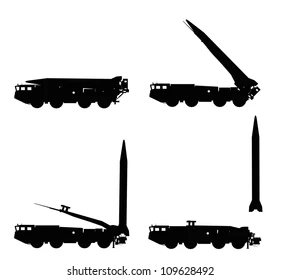 MAZ 543M was the last in this lineage of famous military chassis. The first prototype MAZ 543V was made in 1972, mass production started four years later in 1976. The new version was unified with other versions 543 and 543A, but was fitted with a single cabin shifted to the left. Early chassis had headlights fitted in the front bumper. Later version got headlights integrated in the front mask. The only design feature of MAZ 543M was two 370 liters fuel tanks additionally equipped with centrifugal pumping pumps. Payload is increased to 22.2 tonnes. Crub weight - 21.1 tonnes, GVW - 43.5 tonnes. Other technical data was similar to MAZ 543/543A. A flatbed version joined the lineup in 1978. More then 4,500 copies were produced till 2000s. The carrier vehicle far outlasts its weapons systems, caught by technology progress. Since 1986, the 543M is also produced in China by Wanshan.
9K72 Elbrus: The Scud missile launcher system
The scud missile is probably the most famous (or infamous) tactical missile of the cold war. Its name came back thousands of times in newsreels around the world in the 1970s and up to the 2000s. Technically, the 9K72 Elbrus was the Scud-C (NATO SS1c Scud-B) was basically the first modern soviet tactical missile to enter service in the late 1960s. The whole scud faily is not the subject here, but its development goes back to the R11 rocket developed in 1946-1950, to create a ballistic missile with similar performance to the German V-2 rocket. The first entered service in 1955 under NATO name SS-1b Scud-A (R-11 Zemlya ballistic missile). Its forerunner was the SS-1 Scunner, a failed attempt to copy the V-2 rocket. The R-11 however had a better design, smaller and differently shaped, developed the legendary Korolyev OKB, entering service in 1957. Its engine was designed by A. M. Isaev. It was far simpler than the V-2's multi-chamber design, used an anti-oscillation baffle, was suitable for cheap, mas production and indeed at the head of a whole family wich improved on performances until practically the end of the cold war.
The R-17 (later R-300) Elbrus or NATO SS-1c Scud-B entered service in 1961, and is able to carry either a conventional HE or 5-80 kt yeld thermonuclear wahread, as well as chemical. It measured 11.35 m (37.2 ft) for 0.88 m (2 ft 11 in) in diameter, propelled by a single liquid-fuel rocket engine mixing kerosene and corrosion-inhibited red fuming nitric acid with unsymmetrical dimethylhydrazine as igniter. Top speed is Mach 5, range 300 km (190 mi) with an accuracy of 450 m (1,480 ft). The last Scud-d entered service in 1989 and had far greater performances.
Combat use:
Yom Kippur War, Iran–Iraq War, Gulf War, Afghan Civil War (1989–1992), Yemeni Civil War (1994), First Chechen War, Second Chechen War, Libyan Civil War, Syrian Civil War, Yemeni Civil War (2015–present), Saudi Arabian-led intervention in Yemen, 2020 Nagorno-Karabakh conflict.
This is certinly not over. The following operators had it: Afghanistan, Belarus, Bulgaria, Czechoslovakia, Czech Republic, East Germany, Hungary, Iraq, Poland, Romania, Russia, South Yemen, Slovakia, the United Arab Emirates and Ukraine. Current operators are: Algeria, Armenia, the Democratic Republic of the Congo, Egypt, Iran, Kazakhstan, Myanmar, North Korea, Libya, Oman, Syria, even the United States (circa 30 Scud-B, four TELs acquired in 1995), Vietnam and Yemen.
The missile was copied and produced under licence or not by the following: Iraqi Al Hussein, Al Abbas and Al Hijarah, North Korea (Hwasong-5, 6, 7, 9 and Rodong-1), Iranian Shahab-1, 2, 3, Qiam 1, Yemeni Houti forces Volcano (Burkan 1, 2). The missile was also carried by the ZIL-131 tractor truck with a reload trailer called 2T3M1 Transporter. They followed the MAZ-543 brigades.
Variants (MAZ-543 chassis)
The MAZ 543M used as a chassis for the following:
-MAZ-543M basic truck BM-30 Smerch (carries the BM-30 Smerch Multiple rocket launcher), MAZ-543P (carries the 9K72 Elbrus launcher (9P117)), MAZ-543P (19,600 kg payload) carrying the 9K76 Temp-S system, MAZ-547 with SS-20 Saber IRBM (which is a six-axle version, used as TEL), MAZ-7910 carrying and operating the air defense missile complex S-300 and sub-variant carrying the S-300PMU-2, and MAZ-74106 fitted with the air search radar 64N6 BIG BIRD for the S-300PM.
An indirect variant is the WS2400 1986" PRC own version of MAZ-543. Designated WS580 and later WS2400, it was built by Wanshan Special Vehicle, a subsidiary of China Aerospace Sanjiang Space Co. Ltd. part of CASIC. It uses a more modern German diesel while transmission and hydraulics are manufactured by Wanshan, most under licence from ZF Friedrichshafen.
Missile launcher 9K58 "Smerch"
Introduced in 1989, it is a heavy rocker launcher (SPRL), probably studied in the early 1980s, with a prototype spotted in 1984. Its pending replacement is the current 9A52-4 Tornado revealed in 2018. The 9K58 "Smerch" was designed by the Splav State Research and Production Enterprise. It carried twelve 30 cm rockets (12 inches) with a max range of 90 km (56 miles). Cuuently used by 17 countries, it saw combat in the Second Chechen War, in the Donbas, in the Syrian Civil War and the 2020 Nagorno-Karabakh war.
Missile launcher 5P85 (S300/SA-10 "Grumble") TEL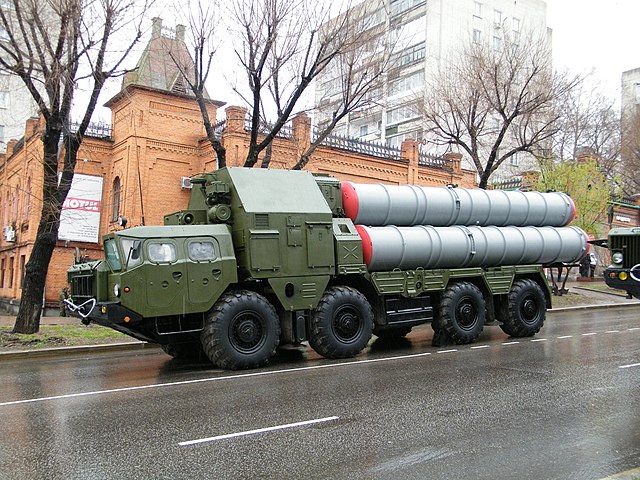 The 5P85 is a family of missile launch vehicles, based on the MAZ-543 8x8 standard heavy truck of the Soviet Union. The 5P85 is the global name for the weapopns system associated with the S-300 long-range missile, as a mobile air defense system. It was developed in the Soviet Union by the late the 1970s. This Transporter, Erector and Launcher (TEL) vehicle had its first version 5P85ME introduced in 1978, followed by others, and largely sold abroad to about 19 operators, and all but two of them still had them in their inventory. Russia today alone had 352 vehicles active in the 2000s. They took part in many operations and wars. During the invasion of Ukraine in 2022, two were lost as of today.
Missile launcher "Rubezh-A"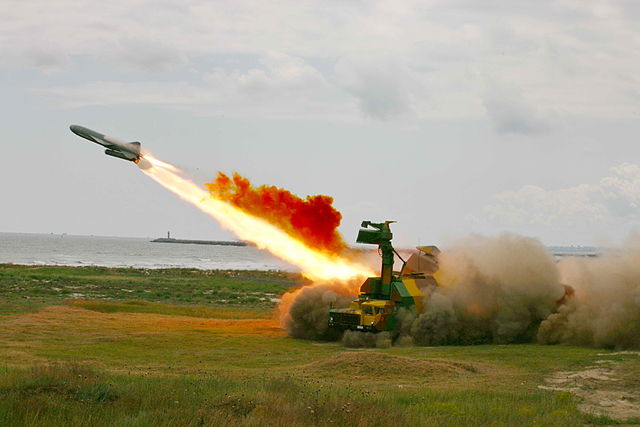 Romanian 4K51 Rubezh missile launch
Yugoslav Rubzeh launcher (tanks encyclopedia). Called the 4K51, more commonly known 'Rubezh' (frontier), this is a coastal defense system fully integrated with radar and fire control on a MAZ-543 chassis. It was created to carry the SSC-3 Styx antiship missile, and therefore is often used on coastal areas. The missile is also called the P-15 Termit. Entering service in 1978, it replaced the 4K44b Redut. It is still in use by Cuba, Vietnam and Syria, plus some Russian Marines Batallions. The carrier vehicle is called 3P51 (GRAU index). The system was scheduled for replacement by the 1990s 3K60 Bal.
.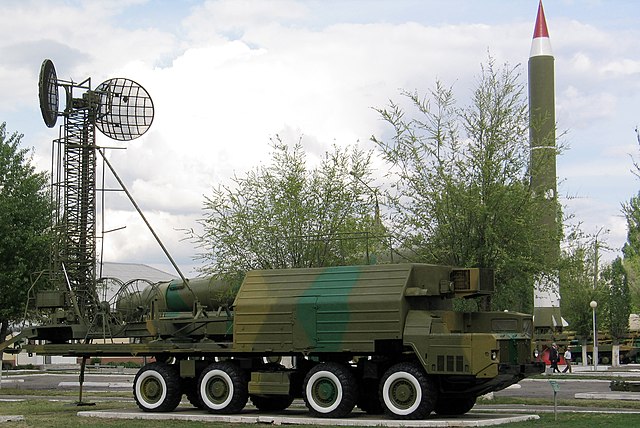 15V75 tropospheric communication station
Coastal artillery system "Coast"
Coastal artillery system A-222 "Bereg"
Mobile missile sytem 3K60 "Bal"
Mobile missile sytem "Temp 2S"
Mobile missile system "Pioneer"
Mobile missile system "Topol"/"Topol-M"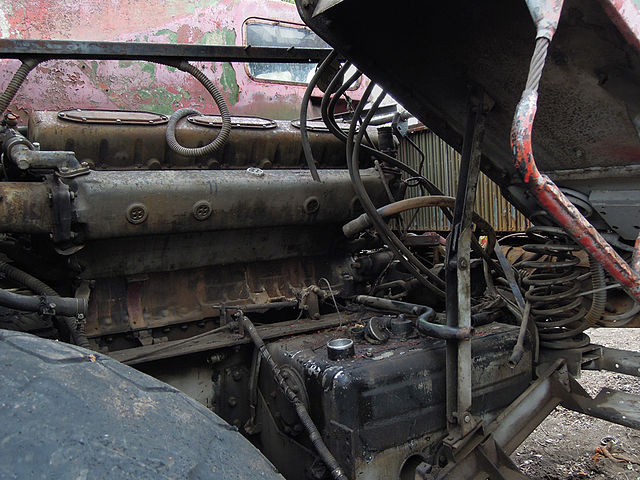 MAZ-7310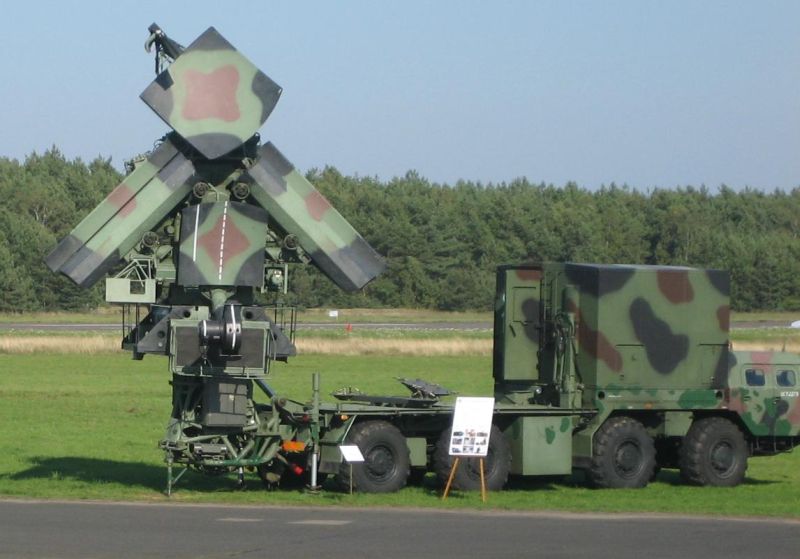 MAZ-543 radar system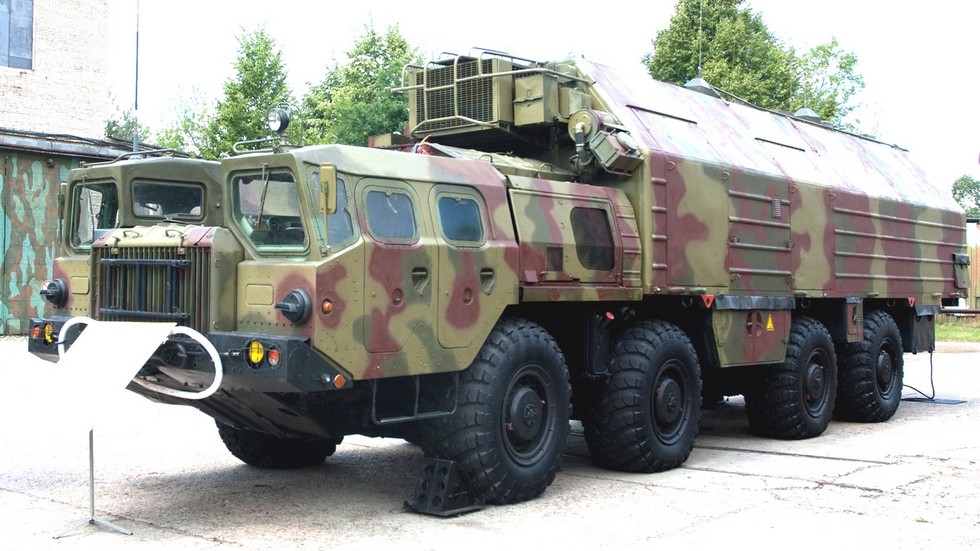 MAZ 543a command post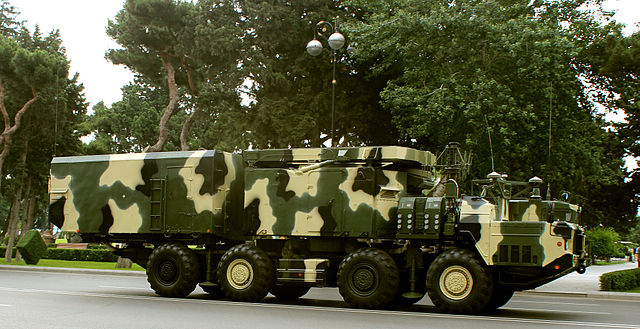 Military_parade_in_Baku_2013_Maz543
Others non-TEL/Civ Variants:
MAZ 7310 Utility truck
MAZ AA 60 Airport Firefighting truck
Work In Progress ! - Much more to come.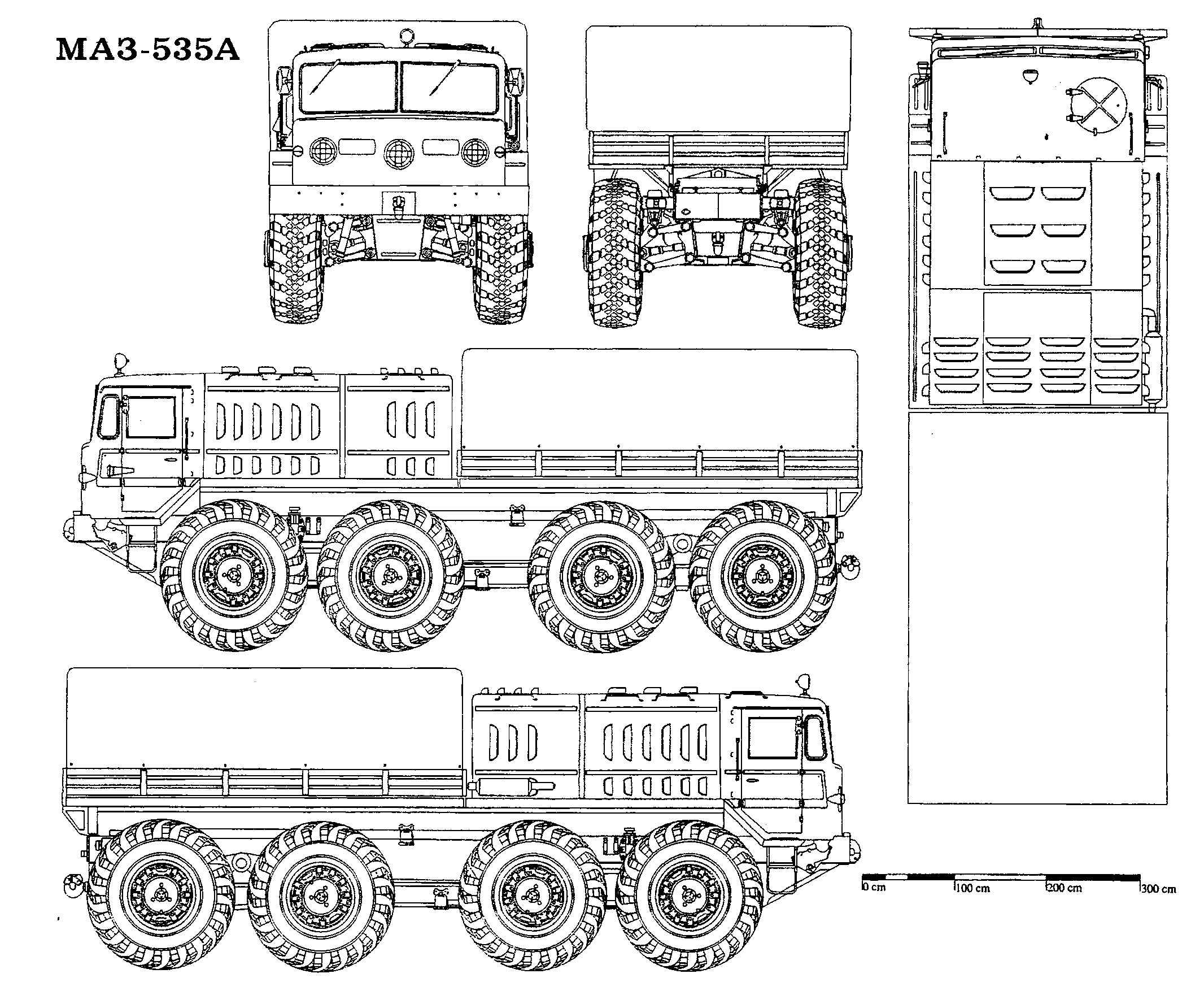 MAZ-543A
Read more/Src
Osprey Scud-Ballistic-Missile-and-Launch-Systems-1955-2005
TELs (genetic)
globalsecurity.org
military-today.com
On trucksplanet.com
armedconflicts.com
ausairpower.net - Legacy-SAM-Upgrades
ausairpower.net - APA-Grumble-Gargoyle
cat maz
Wik
wikfr
turbosquid.com
forum.juhlin.com
Gallery
Illustrations

Basic MAZ-543 utility 8x8 truck as delivered as "naked chassis"
---
9K72 Elbrus

Soviet SS-1с Scud B (9K72 Elbrus) system, 1965

East German 9K72 Elbrus, 1970

Iraqi 9K72 Elbrus, 1985



Three liveries of the Libyan 9K72, 1980-97

MAZ-543 Iraqi Gulf War, 1991

Iraqi MAZ 543 during the Iran-Iraq war 1980s

Iranian amry MAZ 543

Russian MAZ-543 in winter manoeuvers
---
9P85 S-300 TEL

Camouflaged 5P85D, 1980s

Basic green 5P85S "master" TEL in the late 1980s

5P85DU TEL in the 1990s

5P85TE2

Ukrainian 5P85S in the 2014 parade in Kiev
Photos
9K72 Elbrus with the erected launcher on display in Bulgaria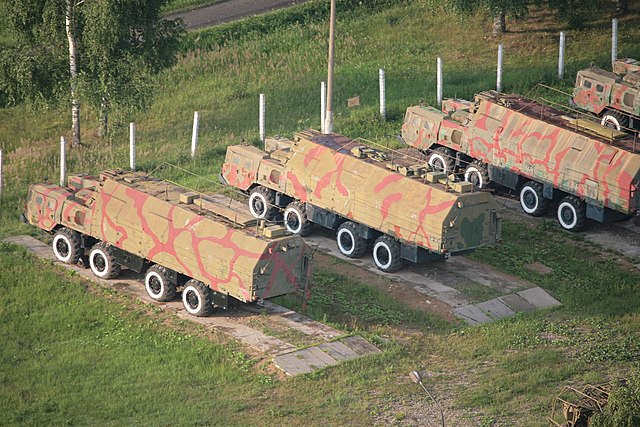 maz-7440 at yaroslav-2011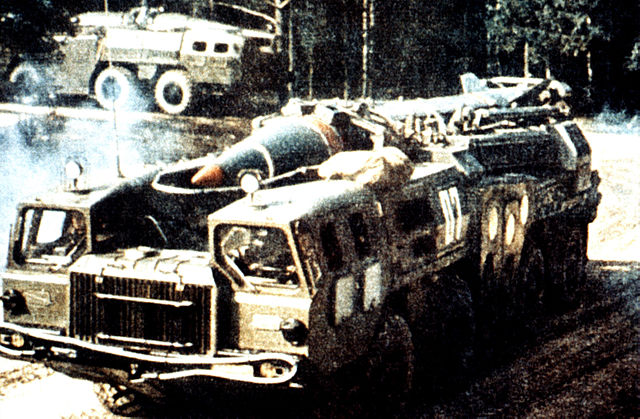 SS-1C_Scud_B_missiles_on_TEL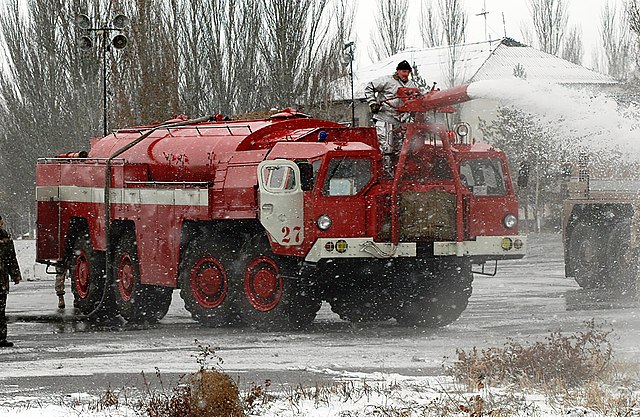 MAZ-543_airport_tender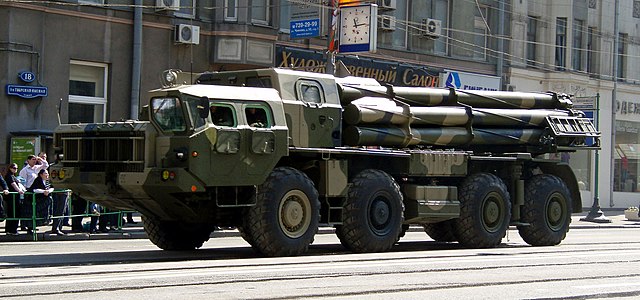 RSZO_Smertch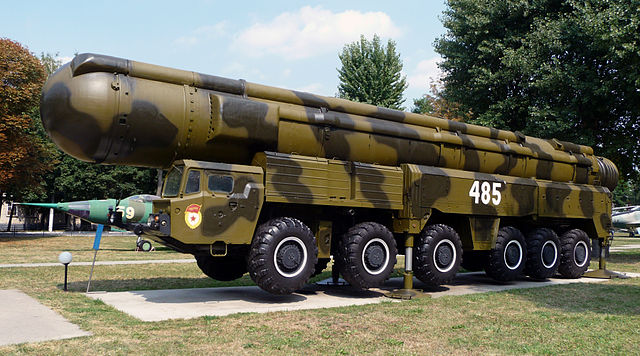 RSD-10_2009_G1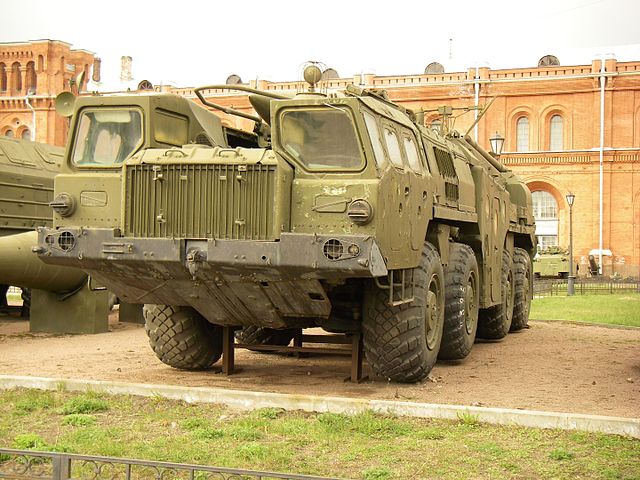 9P117_9K72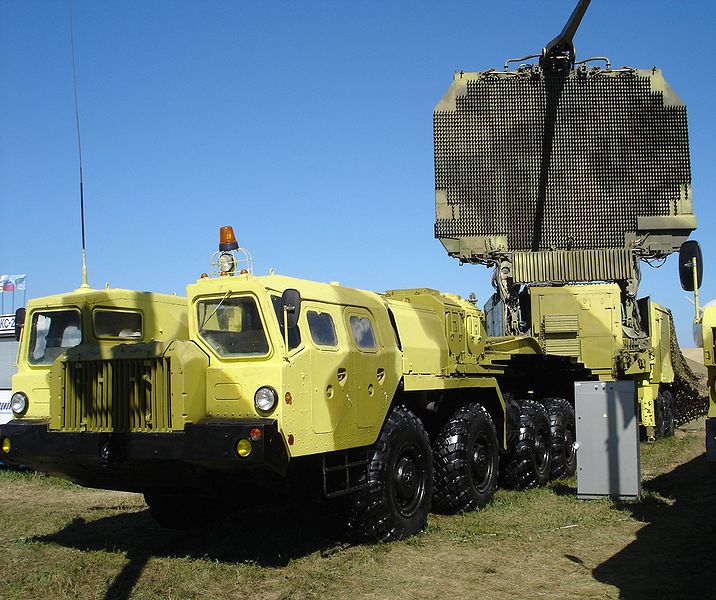 S-300PMU2_64N6E2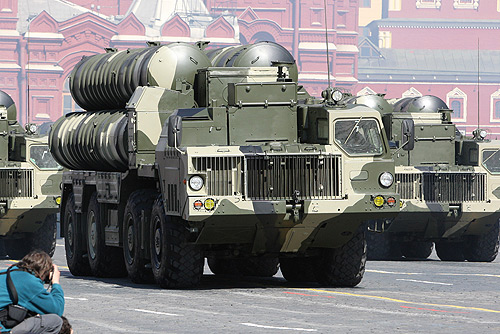 MoscowParade2009_7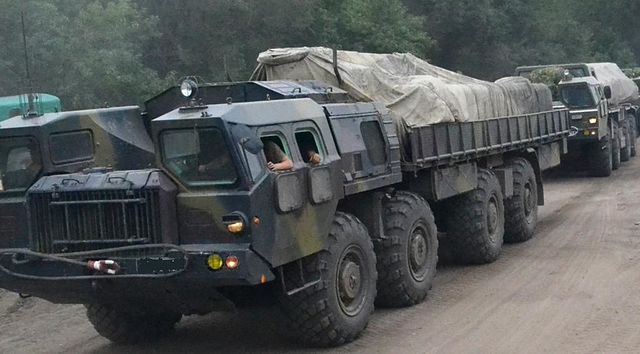 MAZ-543-truck_Anti-terrorist_operation_in_eastern_Ukraine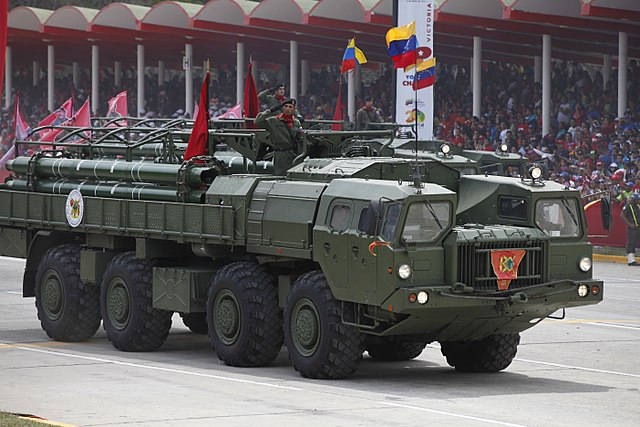 MAZ-543-Caracas_parade
---
Axis Trucks

Purchase this pagemarker and support the site !
Sd.Kfz 2, 6, 7, 8, 9, 10 and 11 were half-tracks designed just before the war as prime movers, to carry supplies, ammunition, personal, and tow artillery. Many were also converted during the war as armored versions carrying AA FLAK guns (Flakvierling, 37 mm, or the legendary 88 mm Rheinmetall als used as tank hunters), or were converted as nebelwerfer (rocket launching armored vehicles). They were built by Hanomag, Steyr, Mercedes-Benz, Bussing and many other manufacturers until 1945, over 20,000 half-tracks.
---
Cold War & Modern Vehicles
Modern Trucks