The Fiat 618 is a civilian light truck launched in 1934 by Fiat V.I., manufactured from 1934 to 1937 but less successful than the Fiat 621. This 4x2 vehicle powered by a Fiat 118A engine (also found on the Fiat 518 Ardita) was available in many variants and versions for for civilian uses and produced under license in Poland (Fiat Polski PF 618 Grom). Production was circa 5,000 and 4000+ military "618MC" manufactured from 1935, used in East Africa and c1,358 on the northern front, tropicalized, transformed as ambulances, workshops, gun tractors or AA trucks.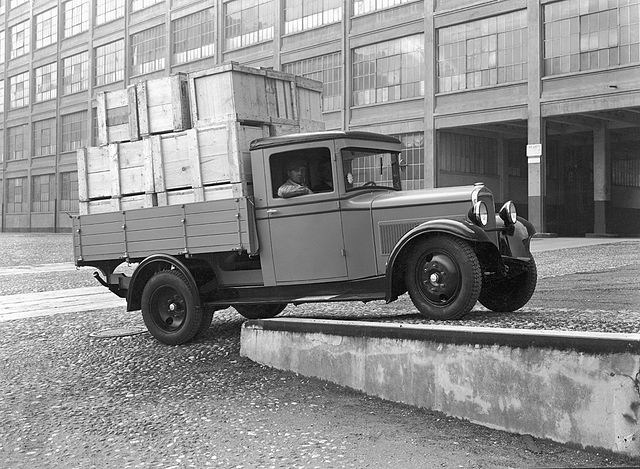 Civilian Vehicle
Design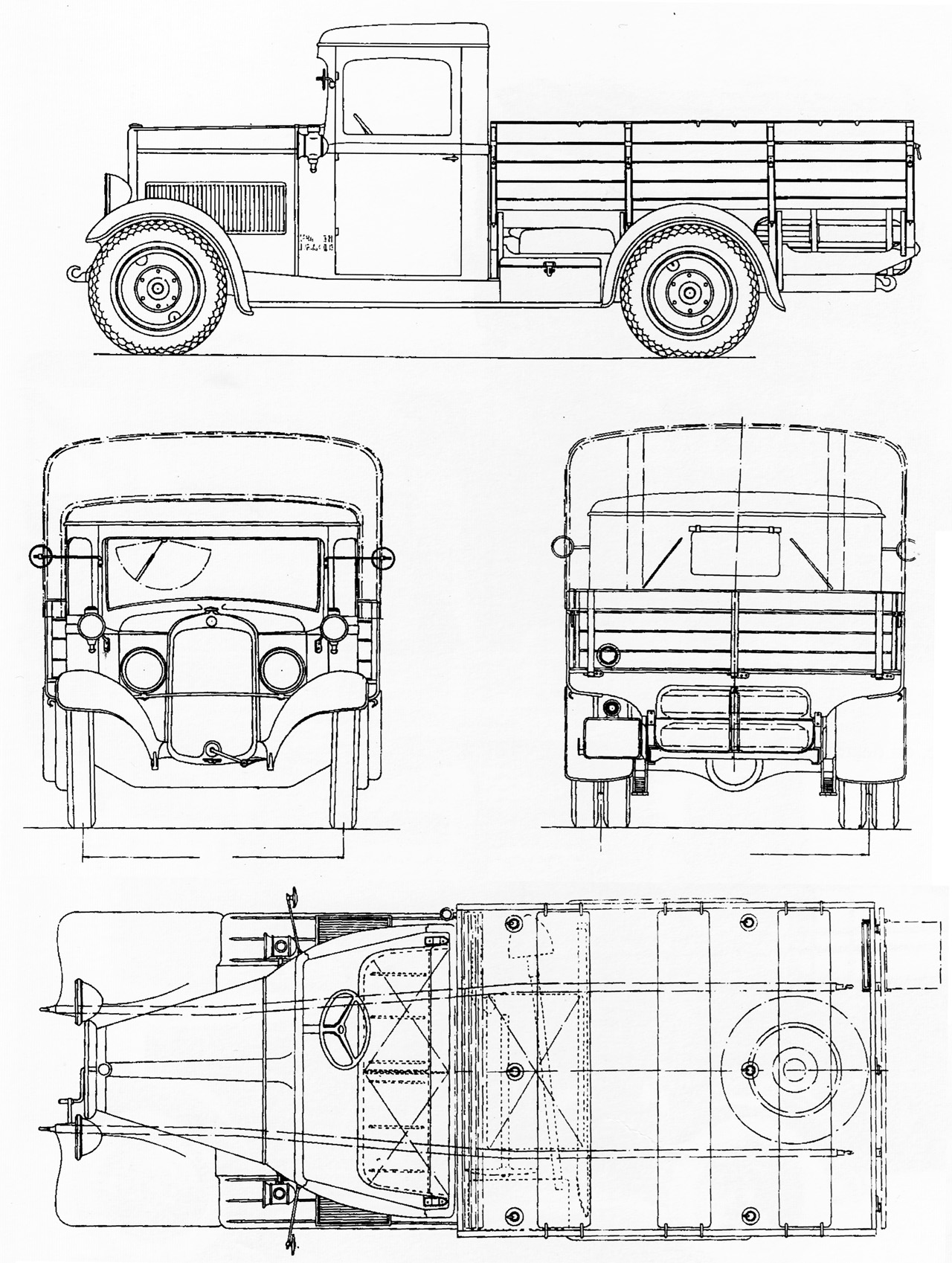 Blueprint reconstitution, 5 views of the Fiat 618
The Fiat 618 was 4t vehicle (max load), Empty mass 2.1 t, 1.25 t payload, with a Length of 4.7m, 3.05 m wheelbase, track of 1.54 m, width of 1.94m and height of 2.5m to the top of the frames. It was powered by a Fiat 118A 4-cylinder in-line petrol engine, water-cooled, 1944 cm3 rated for 43 HP at 3.800 rpm. Traction was 4×2 rear for a top speed on flat of 65 km/h and had a range of 300 km on road. Off-road capabilities were reduced on the Civilian variant, but the C and MC had reinforced leaf spring suspensions and better tyres, larger and thicker. There was a single spare tyre mounted underneath the chassis at the rear.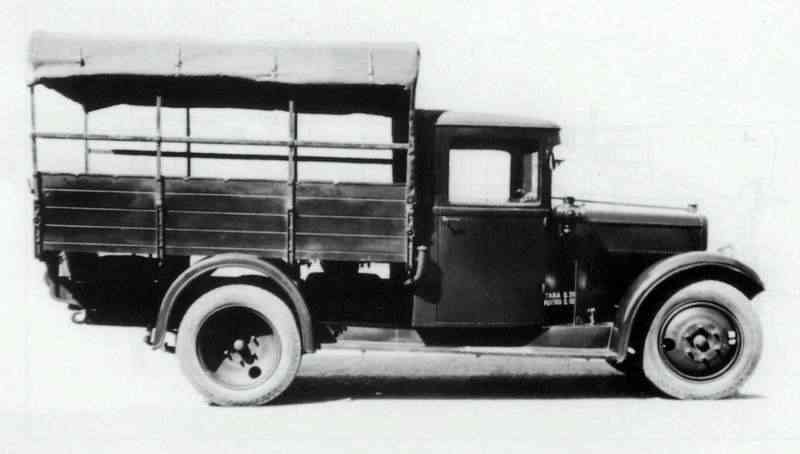 Fiat 618C
Additional storage boxes also were planed on the steps either side for tooling. The driver had access to a petrol lamp close to him in addition to electric arc lamps on the fenders. The cab had a flat front windshield protected under the shade of the forward roof structure and well as pillars on both sides. Electric starter with manual backup. There were hooks on the bumpers fowards and rear. The cab housed only a driver and passenger, with six more seated on storage bunks on either side, facing each others.
Variants
Civilian Fiat 618.
There were quicky variants (civilian) also, like the Viberti Fiat 618 Cinemobile produced by the Istituto Luce in 1936 in its original version, with the "Balilla" for sound takes from 1935 and the dedicated cinematography "Victoria 5" using multiple 35 mm camera from Milan-based Cinemeccanica, incorporated into the van bodywork. It also provided the basis for Fire Brigade vehicles with the Bergomi body shop.
Military sub-versions of the 618, other than the MC, is the "Coloniale", a tropicalized variant with modified tires, reinforced suspensions, sand filter for the radiator.
Fiat 618: Basic civilian vehicle
Fiat 618 MC: Military version, same as the C but no sand filter
Fiat 618C: "Coloniale", tropicalized variant with sand filter
Fiat 618 Ambulanza
Fiat 618 Recovery truck
Fiat 618 AA (St Etienne MG bolted mount on flatbed)
Fiat 618 Bus (Based on the Ambulanza, 2x8 seats)
Fiat 618 RA (Air Force), rescue, tender, cisterna.
FIAT 618C "Coloniale"
Italian soldiers in the back of a Fiat 618C Coloniale truck, Africa 1936 - pin by Paolo Marzioli
The Fiat 618 Coloniale or simply Fiat 618C was the initial military version of the truck, in production by 1935 for the Ethiopian War. It saw use on the northern front and in Somalia with more than 1,300 in the field. However soon overheating engines issues emerged, but FIAT quickly remedied these by providing a kit, tested at the 1938 training maneuvers in Libya. However it was judged unsuitable for colonial use and more than 2,000 of these vehicles saw heavy use in Spain, with the Volunteer Troop Corps. Use as supply and troop carriers, artillery tractor and many srved as improvized AA trucks with a St. Étienne heavy machine gun mounted on the flatbed. Some were transformed as recovery vehicles.
The only really purpose-built variant became the ambulance version and a 16-seater bus. Apart the Voluntary Militia for National Security and Royal Guardia di Finanza, Public Security Agents and Royal Air Force, the latter was declined into a crane rescue, starter and towing vehicle, as well as a fire truck for rapid intervention on the airfield's crash site. Out of production in 1937 for the SPA CL39, the truck was still found in many places in the Second World War, the last being used by the RSI until 1945.
Polski Fiat PF 618 Grom
Civilian Polski Fiat PF 618
Production license for farious Fiat models was granted in 1932 to Polish Państwowe Zakłady Inżynierii (PZInż). It was extended in 1937 to produce the models Fiat 621, 508, 518 Ardita and 618. The later was produced locally as Polski Fiat 618 and also as FP 618 Grom ("Thunder"). PZInż modified these to better tolerate the cold, for the Military, whereas the civilian market vehicles were made by "Polski Fiat". The FP was declined into a 11-seater bus, 6x4 ambulance and radio van mobile station. The saw action during the quick war of September 1939, being captured afterwards both by Soviet and German forces, but moslty used locally. They were not tailored for the eastern front. A fully dedicated article will be made.
Operational use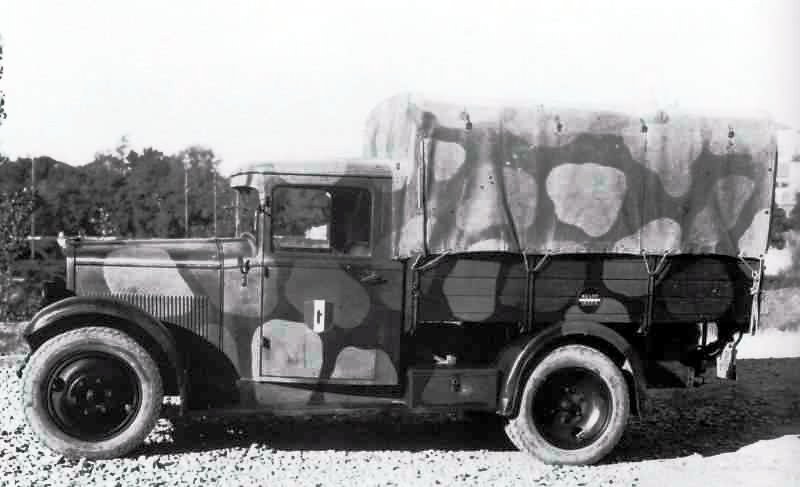 Italian Volunteers Fiat 618C, Spain 1938
Fiat V.I. soon after the Fiat 618 was deployed in East Africa and Libya called for some urgent modifications for thess hot climates. During exercises carried in May 1938, in Libya, the general staff concluded that despite some additions like better tyres and sans filter, drivers were obliged to remove the engine hood entirely and carrtying large quantiies of fuel and water as gaskets swollen, causing leaks. It was in the end found unsuitable for colonial use also because of large transmission ratios better for road only, and "excessive speed".
The FIAT 618MC saw action in the Spanish Civil War, with Spanish army receiving 2,000 of these. It was used as impromptu weapon carrier by nationalists on the field and other experiments. Some were mounted Breda 20 mm anti-aircraft guns, others were transformed as field workshops, ambulances, tow trucks and light artillery tractors for towing the 65mm/17 and 37mm/45 guns or 3.7 cm PaK 36 German anti-tank gun. Italy also used these variants, as well as produced tailored variant made as ambulance, also used by the the Guardia di Finanza (Italian Financial Police) and Regia Aeronautica (Italian Air Force). The FIAT 618 was replaced in military service by the SPA CL39, but the 618M Coloniale, tropicalized, was still found in East Africa, with a milder climate, and soldiered on until the capitulation in 1943. One is preserved today in the Historical Museum of Italian Military Motorization.
Books/Links about the Fiat 618C/MC
The tactical and logistical vehicles of the Royal Italian Army up to 1943, vol. II, Army General Staff, Historical Office, Nicola Pignato and Filippo Cappellano, 2005.
The Vehicles of the Royal Army in the Second World War, Nicola Pignato, Military History.
One hundred years of Fiat trucks, Negri Foundation.
---
Luce Cinemobile
poliziadistato.it
Fiat 518 Ardita
wardrawings.be
model kit on armorama
on wikipedia.it
---
old.timer.pl/618.html
magnum-x.pl: pf-618
PF 618 Grom, dobroni.pl/
storicar.it/rassegna_cinemobile
On the PF 618 Grom
---
Amatori, Franco; et al. (1992). Storia della Lancia — Impresa Tecnologie Mercati 1906–1969. Milan.
618C specifications

Dimensions
4.7 x 1.94 x 2.5m (3.05 m wheelbase)
Total weight, battle ready
Empty mass 2.1 t, 4t Fully Loaded
Crew
2 (driver, co-driver) + 12 troops
Propulsion
Fiat 118A, 4-cyl. diesel 1944 cm3, 43 ch/3.800 rpm
Top speed
65 km/h (35 mph) road
Payload
1.25 t
Transmission & suspension
4+1 speed, leaf spring
Maximum range (road)
300 km
Production
See notes, c4,000
Reference illustrations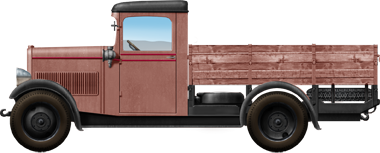 Standard Civilian truck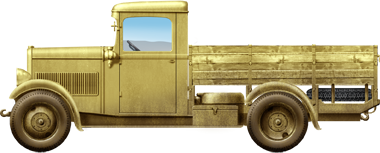 Fiat 618 Coloniale in Ethiopia, 1935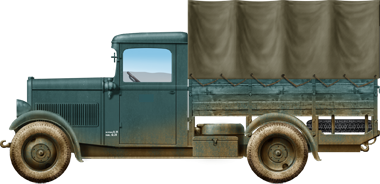 Fiat 618MC in Grigioverde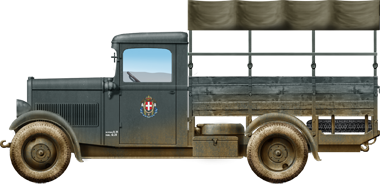 618MC of the Regia Aeronautica, 1941
618 MC in Verdescuro livery, Royal Army, Sicily 1943.png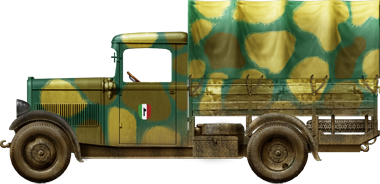 Italian Volunteers Fiat 618C, Spain 1938
(More to come)
Photos
Civilian coach (pinterest)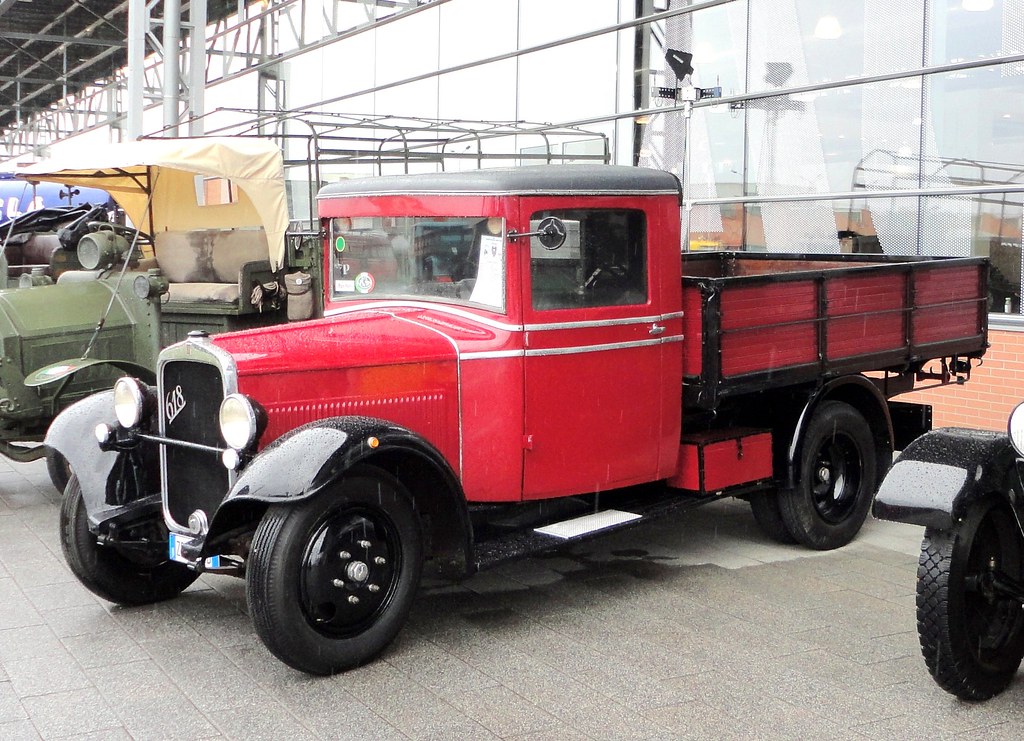 Another civilan vehicle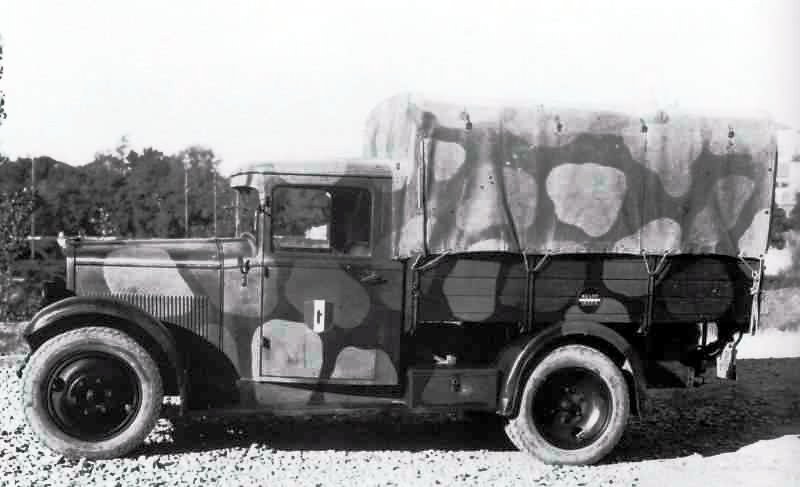 Italian Volunteers Fiat 618C, Spain 1938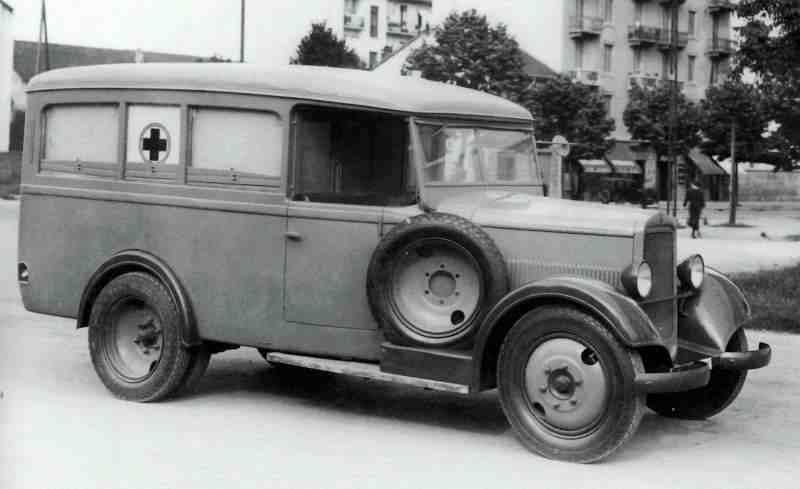 Fiat 618C Ambulanza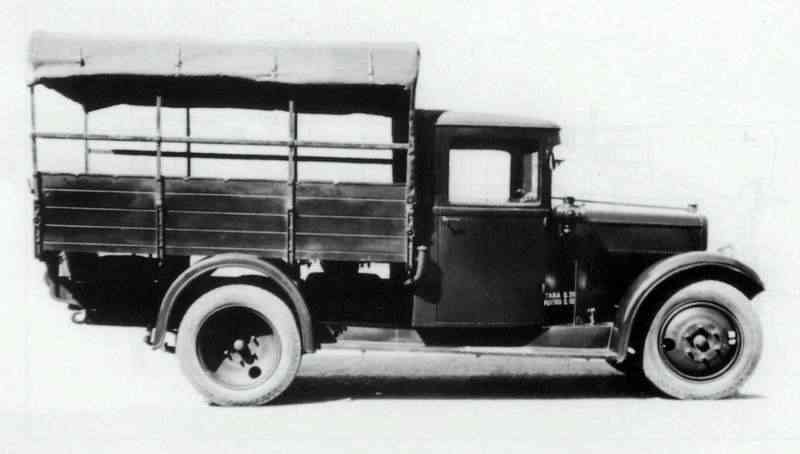 Fiat 618 Coloniale
LUCE Fiat 618 Cinemobile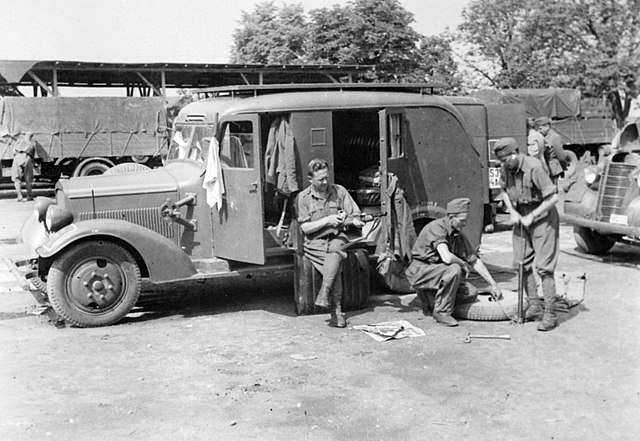 Polski Fiat Radio Station
---
Axis Trucks

Purchase this pagemarker and support the site !
Sd.Kfz 2, 6, 7, 8, 9, 10 and 11 were half-tracks designed just before the war as prime movers, to carry supplies, ammunition, personal, and tow artillery. Many were also converted during the war as armored versions carrying AA FLAK guns (Flakvierling, 37 mm, or the legendary 88 mm Rheinmetall als used as tank hunters), or were converted as nebelwerfer (rocket launching armored vehicles). They were built by Hanomag, Steyr, Mercedes-Benz, Bussing and many other manufacturers until 1945, over 20,000 half-tracks.
---
Cold War & Modern Vehicles
Modern Trucks