Taian HTF5680A1 (2010)
The truck that kills aircraft carriers.
Of course the present subject is about the TEL (Transport Erector Launcher) of the PLA, not the missile. However since the vehicle was tailored to carry the later, they are both impossible to separate. The company behind it, Tai'an DONGYUE I./E. GROUP CO.LTD. from Shandong province, is a heavy specialized truck manufacturer, or "Taian Special Vehicle company" working with DongYue for parts. It is derived from the more general-purpose flatbed, conventional HTF5680 12x12 vehicle hich deserves its own future post.
Design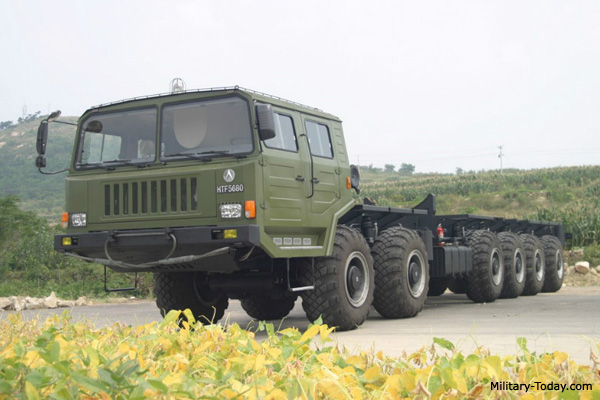 Base vehicle HTF5680 (military-today.com)
The Taian HTF5680 is a special wheeled chassis, 12x12, specially developed to carry ballistic missiles. Taian Special Vehicle company developed the HTF5680 which is in service with Chinese armed forces. The special wheeled chassis could carry up to 35 000 kg. It has a four-door cab, large enough for the driver and 5 passengers, which are operators for the launching system.
The vehicle is likely powered by a Deutz turbocharged diesel engine rated for 517 hp. It is license-built in China and common to most multi-axle PLA vehicles. Like most military trucks for added traction, it is provided with a central tyre inflation system. Tyre pressure can be adjusted automatically while the move to improve mobility over sand, mud and snow. The vehicle has some degree of cross-country mobility and is able to manage rugged terrain, but at slow speed given its sensitive payload. It's normal use is on hard surface, such as roads.
The Taian HTF5680A1 only differs by a different cab and the trailer is modified to house a different payload. The cab had a dimple on the roof in order to accommodate the ballistic missile's tip, like most TELs. I that case, the vehicle is tailored to use the DF-26 ballistic missile.
Mobility
Maneuverability of the vehicle as tested shown it capable of climbing a gradient up to 60%, including fully loaded. It is able to ford a river 1.1 m deep, but other field caracteristics are unknown. Meant for conventional hard surfaced roads, the HTF5680A1 is still able to perform cross-country transport over rugged terrain, a tactical advantage over conventional trucks (like the ones carrying the Agni missile range).
Characteristics
Weight (empty): 35 t, Payload: Unknown
Cab seating: 1 + 5 men
Length 17.6m, Width 3m, Height 3m
Configuration: 12x12
Engine Deutz diesel: 517 hp
Top speed, road: 65 km/h
Range: Circa 800 km
Armour: None
Armament: DF-26 SLBM
The missile
Vehicle with a camouflaged protection for the DF-26 missile (Pinterest)
The DF-26 missile carried is an IRBM capable of a 3,000–5,471 km (1,864–3,400 mi) range, so better than the DF-21 on which is based on. Its existence was revealed in 2014, but it was first publicly revealed in 2015 and it was in service that year. Its capabilities enabling for example to strike Guam from the coast of China, and targets far out in the south, Indonesia or India, from the spratley islands. Its warhead is particularly suited for anti-ship usage. Contrary to conventional sea-skimming antiship missiles, there are little countermeasures to ballistic missile from a ship. The pentagon consider this threat very real for its pacific task forces.
This missile is in service with Second Artillery Corps, the de facto strategic missile forces of the Chinese army. Chinese sources claim it is the most advanced intermediate-range ballistic missile worldwide, and it outlawed both in the US and Russia due to their own Intermediate-Range Nuclear Forces Treaty ban, signed in 1987. The Indian Agni V is the best equivalent, although older. But the Chinese claim the DF-26 is far superior. It is a two-stage solid-fuel missile with a 3-4,000 km range, while other sources claims it is rather beyond 5 000 km. Its payload is extimated by experts around 1,2, and up to 1,8 tons, and of course, simple nuclear warhead (yeld unknown, estimated around 200 kt).
Some sources alleged its internal navigation system its linked with the Chinese BeiDou satellite navigation system with a 100 m accuracy at the most, perhaps as low as 10 m. Another Chinese report states the anti-ship variant with a conventional warhead is powerful enough to destroy an aircraft carriers, hence its reputation over the years.
For memory, the Chinese PLA operates today also the following Transporter erector launchers (TELs): TA580/TAS5380 TA5450/TAS5450, WS2300, WS2400, WS2500 and WS2600 and tractor trucks Hanyang HY4260 and HY4330. All in all,the heavy duty Chinese PLA family also comprised the Shaanxi SX2220, SX2306, SX2300, Taian TA5350, TA5380, TA5450, TA5690, HTF5680 and Wanshan WS2180, WS2180, WS2250, WS2300, WS2400, WS2600, WS21200, and WS51200.
Read More/Src
On militarywatchmagazine.com
htf5680 on military-today.com
DF-26 on military-today.com
On missilethreat.csis.org
On china-arms.com
On armyrecognition.com
Old janes.com article
australiandefence.com.au
thaimilitaryandasianregion.wordpress.com
wiki
Illustrations

Taian HTF5680A1 TEL of the Army, in travel mode, with parade tyres. Note: I could not find other alternative camouflage but variation of the classic PLA tricolor. The vehicle seems not to be operated by PLAN.
Photos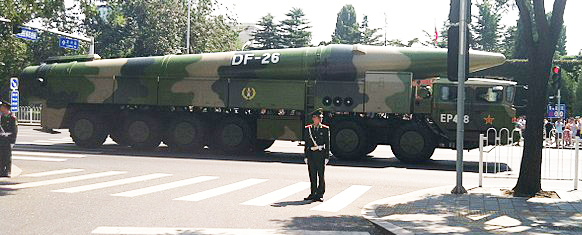 Dongfeng HTF5608A1 in a parade, the 12-wheeled version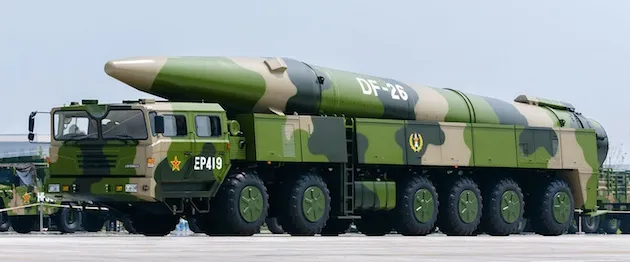 HTF5608A1 of the PLA reference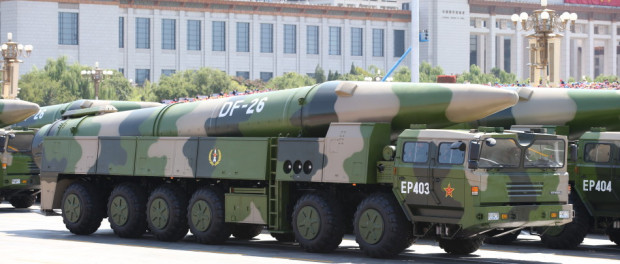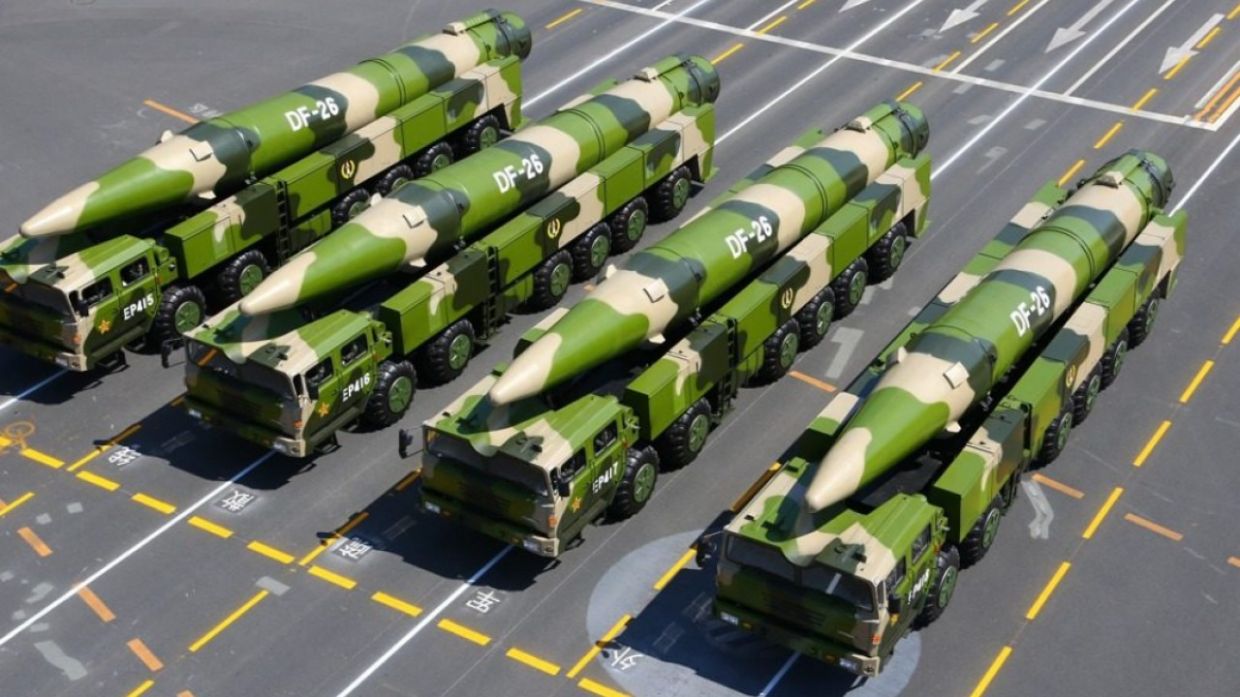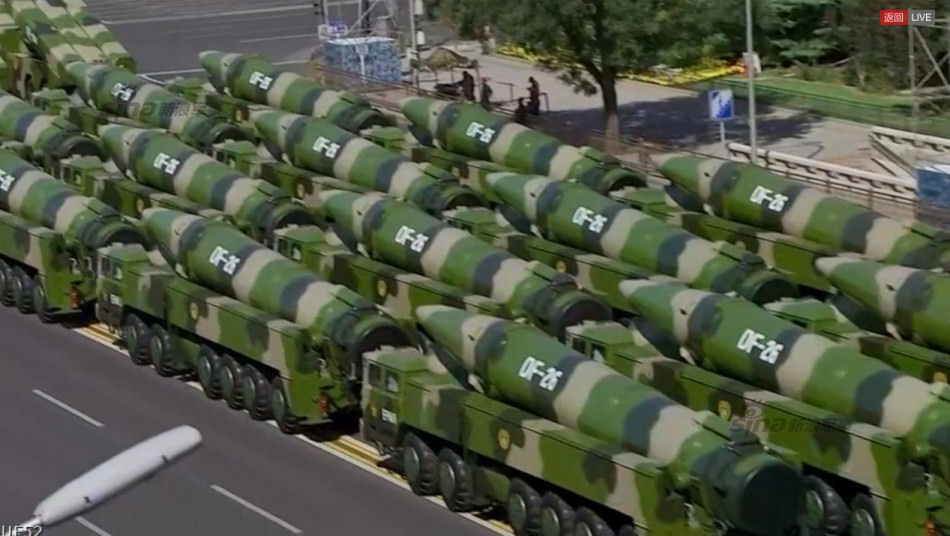 2015 Parade vehicles (public reveal)
---
Axis Trucks

Purchase this pagemarker and support the site !
Sd.Kfz 2, 6, 7, 8, 9, 10 and 11 were half-tracks designed just before the war as prime movers, to carry supplies, ammunition, personal, and tow artillery. Many were also converted during the war as armored versions carrying AA FLAK guns (Flakvierling, 37 mm, or the legendary 88 mm Rheinmetall als used as tank hunters), or were converted as nebelwerfer (rocket launching armored vehicles). They were built by Hanomag, Steyr, Mercedes-Benz, Bussing and many other manufacturers until 1945, over 20,000 half-tracks.
---
Cold War