Ashok-Leyland Hippo A2 TEL (2009)

Circa 10 Indian TELs for the AGNI II MRBM (2011-2023)
With only 12 TEL with the AGNI II operational in the single 335 Missile Group at Secunderabad by 2017, using either the Ashok-Leyland (covered there) or a Tata TEL (photos not found yet), this Indian deterrence system is in short supply, but the vector is able to reach either Pakistan and southern China, both with conventional and nuclear warhead. The system was operational by 2009, with the IIa (later Agni IV introduced in 2011).
About the Indian Nuclear Program
The story of the Agni family of missiles is narrowly linked to the birth of Indian nuclear weapons industry. The Agni appeared after the short range Prithvi type, first internally designed ballistic missile. The Tata Group (HQ Mumbai) was also behind (with many other subcontractors) the intercontinental range ballistic missiles developed by India and named after one of the five elements of nature found in the Baghavad-Gita, a strange comeback to R. Oppenheimer's personal obsession for ancient sanskrit texts. The Agni ('fire') are all nuclear weapons capable and either medium to long range, surface to surface ballistic.
The Agni-I was developed under the Integrated Guided Missile Development Program (lGMDP), tested in 1989. It became a special program in the country defence budget and adequately funded. The Agni family now comprises the Agni-I MRBM (700–1,200 km), Agni-P MRBM (1,000-2,000 km, under development), Agni-II (current article, see below), Agni-III IRBM (3,000–5,000 km), Agni-IV IRBM (former IIa, 3,500–4,000 km), Agni-V ICBM (7,000–8,000 km) and Agni-VI ICBM (11,000–12,000 km in development). For all these, TEL trucks were designed and built with trailers to carry and launch them. For simplification the trailer would be named here "A2" as the earl type is unknown (so far).
Design: Ashok-Leyland Hippo
The standard A2 trailer is pulled either by an Asho-Leyland or tata truck, but it seems liiking at parades, the former is the main vehicle, with the latter perhaps used as backup at the 335 Missile Group at Secunderabad. Ashok-Leyland as a brand (now headquartered in Chennai, owned by the Hinduja Group) was founded in 1948 as Ashok Motors, later Ashok Leyland in 1955. Second largest manufacturer of commercial vehicles in India (32.1% market share 2016) and third largest manufacturer of buses in the world, tenth of trucks. The Leyland Hippo was a 6x4 heavy general service cargo truck made by Leyland Motors from 1929 and in production for 40 years. The last version was purchased for production in India by Ashok.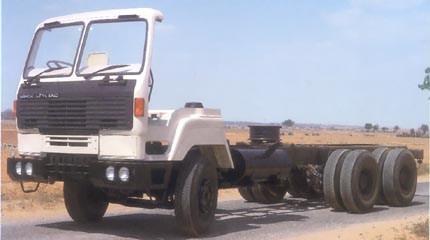 Naked Ashok-Leyland Hippo tractor (src truckplanets.com)
There is little, bar to no information available about the specific Ashok-Leyland Hippo tractor built by India.
Characteristics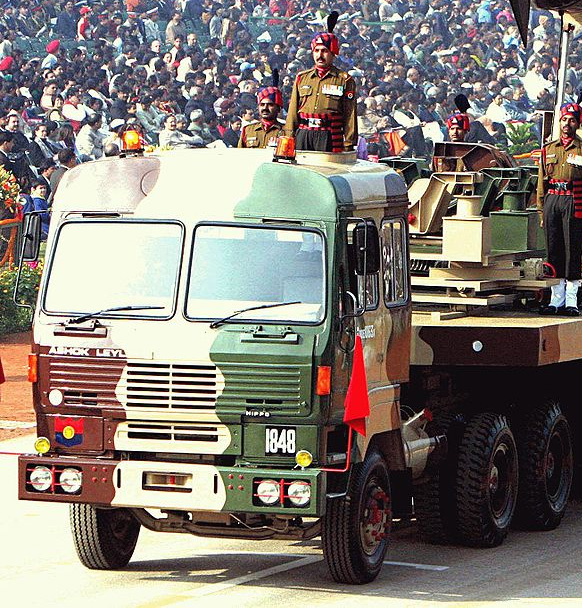 The Ashok Leyland Hippo includes three-axle models for road/off-road use with a gross chassis weight for the 6x4 of 25 t, which fits the bill for the trailer and the 17 tons loaded, combat ready Agni II missile. Tractors are powerful enough for towing 49t road trains and they have an exceptionally sturdy frame with drum brakes and spring suspension. The truck's cabin is large enough for five operators seating, two forward, three at the back, with the truck commander standing through a rear-left hatch, also usable to use a light machine gun for self-defence as customary for british military trucks, Leyland included since before WW2. The MG type is unknown and no photos shows is ever used that way.
The truck face shows two windglasses with central pillar, wipers, two forward opening hindged doors, two large side mirrors, two roof corner flashing lights, two pairs of mesh-protected road lights, two blackout lights, two side warning spots and flag poles. The main fuel tanks are accessible between the forward single wheel axle and two aft twin axles (so 6x4).
Mobility
It's a six-cylinder diesel engine Ashok Leyland or IVECO betwene 9.5 and 11.1 liters capacity which is installed, for an output ranging from 200-255 hp in power. Gearboxes are manual 9-speed also made by Ashok. The A2 trailer was designed for the Agni-II missile which is longer and larger than the Agni I, and is provided with a serie of support to carry the missile in layed position.
However the missile is not erected all the way up 90° vertical but just enough to be launched at circa 45° angle raised by two pairs of robust hydraulic arms after of the main launcher. Neither the top speed or the truck range are known. The trailer is resting on a stepped structure to the tractor with deployable legs to rest idle, and the weight of the missile is supported by a set of four pairs of roadwheels of the same type on either side, non-directional, 16 wheels, and combined with the tractor, 26 tires total. The trailer is relatively tall from its belly to the platform about 1 m, containing all the power systems necessary to lift the missile launcher. No information is available on this.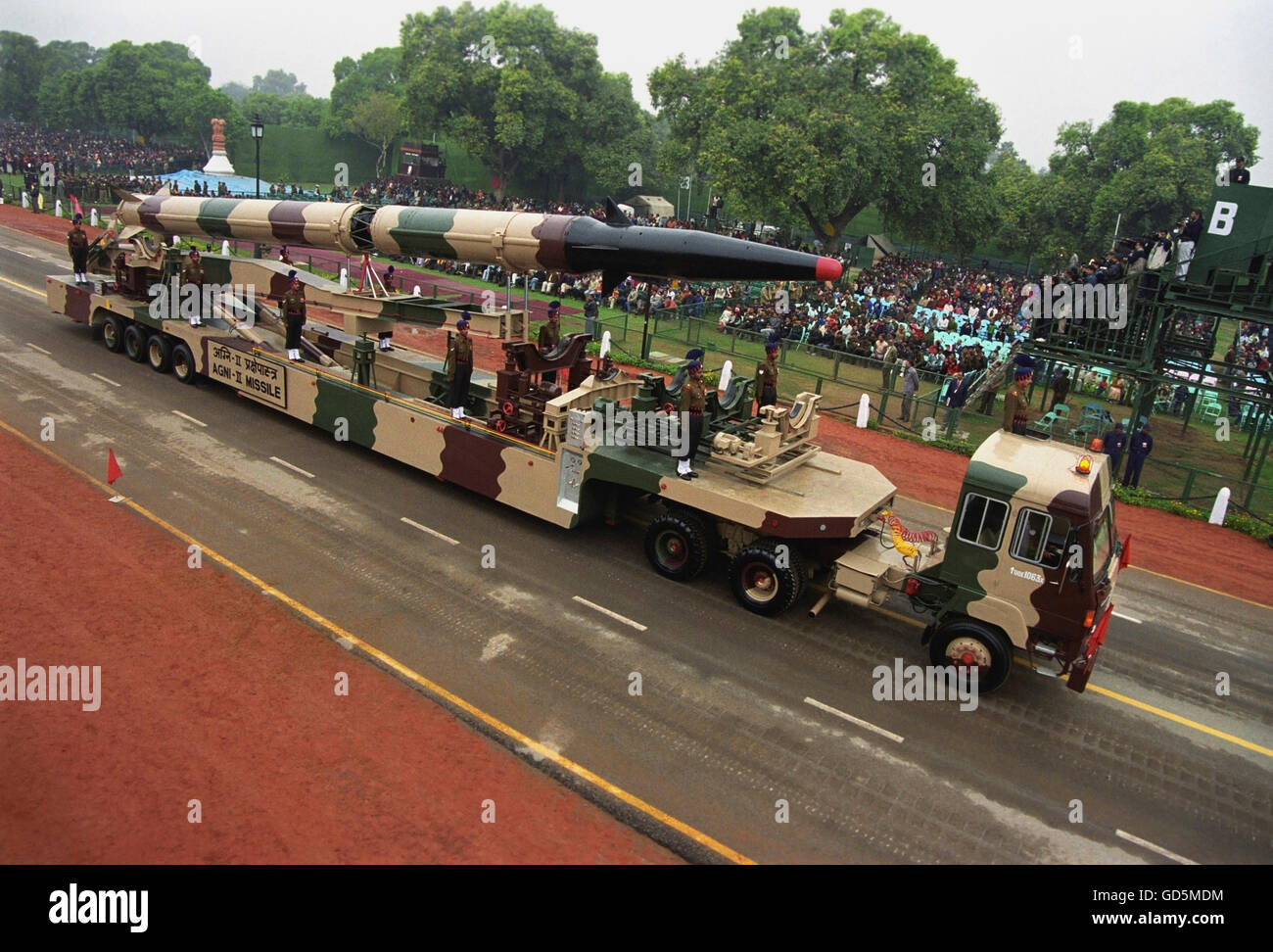 alamy photo showing the left side of the trailer and its control panel (13 February 2008 parade).
Appearance-wise, the vehicles are shown with two variants:
All green, Green and sand camouflage, both with white missile, or tri-tone olive green, sand and brown, missile camouflaged also, in broad wavy stripes, or same tones but complex jungle-like pattern.
The Agni II missile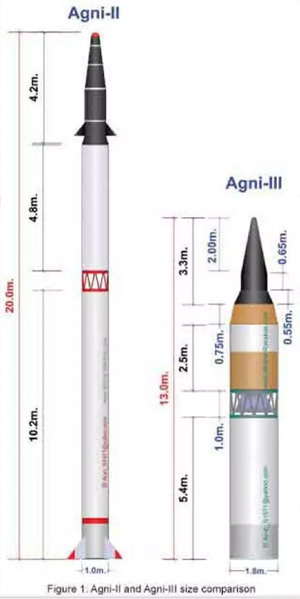 The Agni-II is a MRBM (Medium Range), so able to fly over 2,000 to 2,500 km. The missile is 20 metres long, weighting around 18 tonnes and using solid propellant on its two stages. This is India's "credible deterrence" against China and Pakistan. It was test-fired in operationa context on 9 August 2012 and by 7 April 2013 one nuclear-tipped Agni-II was launched from Odisha, Bhadrak district by army personnel, followed by a night trial from the Abdul Kalam Island, also Odisha coast, on 16 Nov 2019.
Agni-II (lit.'Fire'), is the second strategic ballistic missile of this family as mainstay of the Indian strategic nuclear deterrence. The Agni-II is still a medium-range MRBM, with two solid fuel stages plus Post Boost Vehicle (PBV) integrated with its Re-entry Vehicle (RV). The body is made of a carbon-carbon composite material, light and resisting high thermal stresses of re-entry. The Agni II used a two-stage guidance system: Until mid-course, it uses a a ring laser gyro inertial navigation system which can be corrected by GPS/NavIC satellite guidance data underway, and for terminal approach, Radar scene correlation, recently upgraded to active radar homing (IIa). Its accuracy is circa 30 to 40 m CEP.
The Agni-IIA not only used more sophisticated and lighter materials, but features a better range and operating regime., it latter became artificially the Agni-IV to link with the Agni-III (long range). The first of these was launched by December 2010 (failure) and in November 2011 (success). The special strategic command force tested it on a range of 2,000 km from Wheelers Island (Orissa coast). By June 2017 less than 10 Agni-II and IIA launchers were operationally deployed, at the 335 Missile Group at Secunderabad (12 TEL vehicles, 2 spare).
Quick Specs (Agni II)
Weight: 16,000 kg (35,000 lb), dimensions 21 x 1.3 m
Warhead: 1,000 kg (2,200 lb) Conv. HE-unitary/penetration/sub-munitions/incendiary/thermobaric or nuclear
Engine: Multi-stage solid rocket, solid fuel
Operational range: 2,000–3,500 km at up to 230/405 km, 3.5 km/s (14,040 km/h)
Guidance system: Ring laser gyro inertial navigation system/GPS/NavIC and Radar scene correlation.
Read More/Src
trucksplanet.com
wikipedia.org/wiki/Agni-II
carnegieendowment.org
slideshare.net/ agni fam.
indianexpress.com
indiatoday.in
Ashok_Leyland wiki
ashok-leyland official site
Ashok Leyland Hippo - bro.gov.in
defense-update.com/
ww.b14643.de
thehindu.com
eduindex.org/
defenceforumindia.com/
Illustrations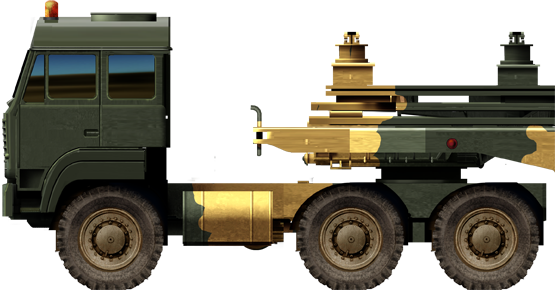 A2 Truck Tractor

Complete A2 trailer

Early trailer type (estimation)
Photos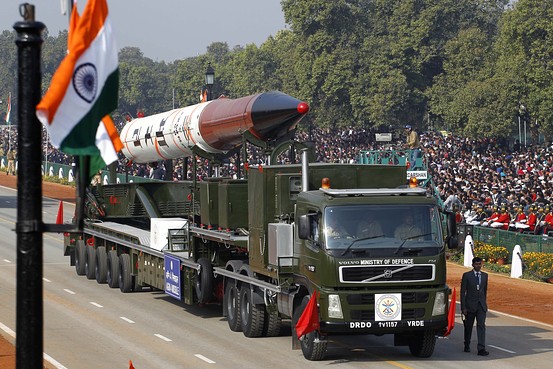 Agni 1 on Volvo TEL
Agni I for comparison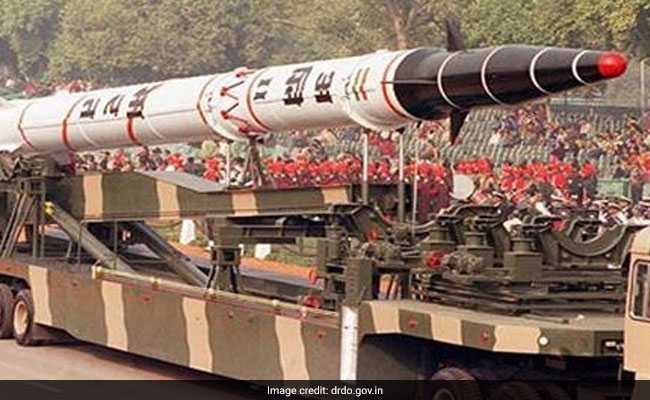 First variant of camouflage (DRDO.gov.in)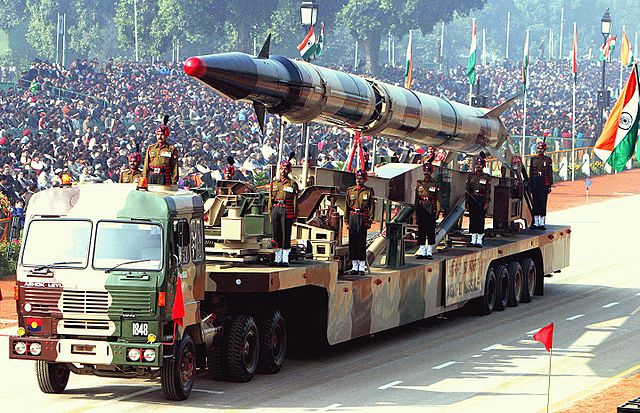 Republic_Day_Parade_2004
Agni II or IIa
Agni II with a different livery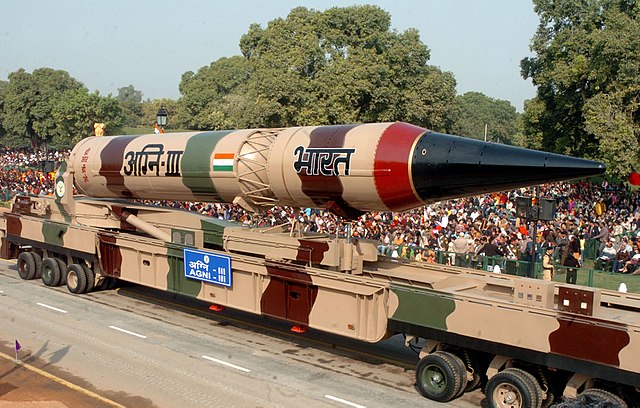 Agni III for comparison, a much larger model, the trailer is assorted.
---
Axis Trucks

Purchase this pagemarker and support the site !
Sd.Kfz 2, 6, 7, 8, 9, 10 and 11 were half-tracks designed just before the war as prime movers, to carry supplies, ammunition, personal, and tow artillery. Many were also converted during the war as armored versions carrying AA FLAK guns (Flakvierling, 37 mm, or the legendary 88 mm Rheinmetall als used as tank hunters), or were converted as nebelwerfer (rocket launching armored vehicles). They were built by Hanomag, Steyr, Mercedes-Benz, Bussing and many other manufacturers until 1945, over 20,000 half-tracks.
---
Cold War & Modern Vehicles
Modern Trucks